Staff Directory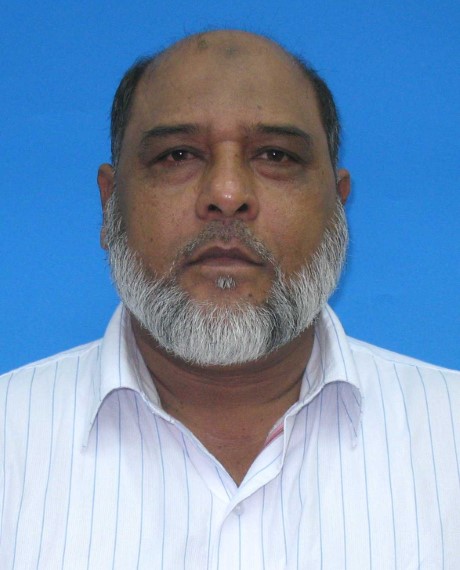 Academic Qualification
Doctor of Philosophy in History - Doctor of Philosophy, Aligarh Muslim University
Master of Philosophy in History - Masters Degree, Aligarh Muslim University
Master of Arts in History - Masters Degree, University of Gorakhpur
Bachelor in Biology - Bachelor Degree, Shibli National College
Arshad Islam (Assoc. Prof. Dr.)
Associate Professor
IIUM Gombak Campus
KULLIYYAH OF ISLAMIC REVEALED KNOWLEDGE AND HUMAN SCIENCES
---
Expert Profile
Arshad Islam is an Associate Professor of History at the International Islamic University Malaysia (IIUM). He joined the university in 1991 and has since taught a number of courses in Southeast Asian History, Indian History, History of Science, Islamic History and Civilization, Rise and Fall of Civilizations and Central Asian History. His research interests include the Malay Sultanates, the Coming of Islam to South and Southeast Asia, Central Asian History,Islamic Architecture and Islamic City. He has acted as an external examiner of postgraduate theses from various universities and reviewed articles for refereed journals both in Malaysia and abroad.
Arshad is the author of Islam in Sindh (Kuala Lumpur: IIUM Press, 2001), and a few articles on Islamic reform movements, "The Rise of the Seljuqs and their State in Central Asia" (2013), "The Taj: An Architectural Marvel or an Epitome of Love?" (2013), and "Allama Shibli and the Early Muslim League: A Dissenting Voice" (2013). He has also written the preface for Encyclopedia of Islamic Shariat (10 Vols. Set), Pentagon Press, New Delhi, 2010. He was the Chairman of the International Conference on Colonialism and Decolonization: Challenges and Prospects, organized by the Department of History and Civilization, IIUM in 2012.
Arshad won the Gold Medal at Research Invention and Innovation (IRIIE) exhibitions at IIUM in 2011 and 2013.His published journal articles include "Babri Mosque: A Historic Bone of Contention," The Muslim World (April 2007), and"The Backlash in Delhi: British Treatment of the Mughal Royal Family following the Indian 'Sepoy Mutiny' of 1857," Journal of Muslim Minority Affairs (June 2011; Routledge, UK). He has been invited to give lectures in Azerbaijan, Canada, India, Italy, Kazakhstan, Kirgizstan, Pakistan, the Philippines, Taiwan and Turkey, on topics related to History and Islamic Civilization.
Area of Specialisation
Humanities ~ Humanities ~ Historical and Civilisation Studies ~ Other Historical and Civilisation Studies n.e.c. - History of South & Southeast Asia
Teaching Responsibilities
| | |
| --- | --- |
| A SURVEY IN ISLAMIC HISTORY & CIVILIZATION | 2010/2011 2011/2012 |
| ANCIENT INDIAN CIVILIZATION | 2013/2014 2006/2007 2020/2021 2018/2019 2009/2010 2010/2011 2005/2006 2007/2008 2017/2018 2004/2005 2002/2003 |
| ANCIENT INDIAN CIVILIZATIONS | 2001/2002 1999/2000 |
| COLONIALISM IN THE MUSLIM WORLD | 2014/2015 2015/2016 2016/2017 2019/2020 2018/2019 2017/2018 2013/2014 |
| EARLY SOUTH ASIAN CIVILISATION | 1995/1996 1996/1997 |
| FINAL YEAR PROJECT I | 2019/2020 2020/2021 |
| FINAL YEAR PROJECT II | 2020/2021 2019/2020 |
| HISTORY OF MALAYSIA I | 1997/1998 1992/1993 1995/1996 1993/1994 1994/1995 2001/2002 1996/1997 |
| HISTORY OF MALAYSIA II | 1999/2000 1992/1993 1997/1998 1996/1997 1998/1999 1995/1996 2002/2003 1993/1994 2000/2001 1994/1995 |
| HISTORY OF SCIENCE | 2005/2006 2012/2013 2014/2015 2004/2005 2011/2012 |
| HISTORY OF SOUTHEAST ASIA BEFORE 1500 C.E | 2012/2013 2011/2012 |
| HISTORY OF THE AYUBIDS & MAMLUKS | 2020/2021 2019/2020 2018/2019 |
| INDIA UNDER THE SULTANS & MUGHALS | 2005/2006 2014/2015 2017/2018 2015/2016 1999/2000 2018/2019 2008/2009 2006/2007 1993/1994 2012/2013 1998/1999 2020/2021 2016/2017 2002/2003 2011/2012 2007/2008 2009/2010 2013/2014 1996/1997 2004/2005 2021/2022 2003/2004 2019/2020 1994/1995 2010/2011 2000/2001 2001/2002 |
| INTRODUCTION TO HISTORY | 2011/2012 2010/2011 2008/2009 |
| INTRODUCTION TO HISTORY AND CIVILIZATION | 2011/2012 2008/2009 2016/2017 2007/2008 2009/2010 |
| ISLAH & TAJDID MOVEMENT | 2010/2011 2012/2013 2013/2014 2008/2009 |
| ISLAH & TAJDID MOVEMENTS IN THE MUSLIM WORLD | 2016/2017 2010/2011 2015/2016 2013/2014 2012/2013 2011/2012 |
| ISLAM & THE MUSLIMS IN THE MALAY WORLD UP TO | 2002/2003 2003/2004 |
| ISLAM IN CENTRAL ASIA | 2020/2021 2005/2006 2012/2013 2010/2011 2008/2009 2006/2007 2007/2008 2016/2017 2018/2019 2011/2012 2014/2015 |
| ISLAM IN THE MALAY WORLD | 1993/1994 1995/1996 1991/1992 1994/1995 1998/1999 2001/2002 2002/2003 1999/2000 2000/2001 1997/1998 1992/1993 1996/1997 2003/2004 |
| ISLAMIC ART AND ARCHITECTURE | 2017/2018 2014/2015 2019/2020 |
| ISLAMIC CITY | 2012/2013 2017/2018 2014/2015 |
| ISSUES IN THE ISLAMIZATION OF KNOWLEDGE | 2011/2012 2016/2017 2015/2016 2012/2013 2013/2014 2014/2015 |
| MODERN HISTORY OF SOUTH ASIA | 2020/2021 2021/2022 2019/2020 |
| MODERN HISTORY OF SOUTHEAST ASIA | 2010/2011 |
| MUSLIM COMMUNITIES IN NON MUSLIM STATES | 2003/2004 |
| MUSLIM HISTORIOGRAPHY | 2002/2003 |
| RESARCH PAPER II | 2013/2014 |
| RESEARCH PAPER 1 | 2013/2014 |
| RESEARCH PAPER I | 2017/2018 2018/2019 |
| RESEARCH PAPER II | 2018/2019 2017/2018 2014/2015 |
| RISE & EXPANSION OF ISLAM TO 132 AH | 2005/2006 2004/2005 2006/2007 2003/2004 |
| RISE & FALL OF CIVILIZATIONS | 2013/2014 2011/2012 |
| RISE AND FALL OF CIVILIZATIONS | 2008/2009 2020/2021 2012/2013 2017/2018 2010/2011 2009/2010 2019/2020 2011/2012 2015/2016 2018/2019 2013/2014 2014/2015 2021/2022 |
| RISE AND SPREAD OF ISLAM TO 132AH | 2006/2007 |
| SUR.OF MALAY HIST.& CIVIL.BEFORE 1400 CE | 1992/1993 1998/1999 1999/2000 2001/2002 2002/2003 1994/1995 2004/2005 1995/1996 2000/2001 2006/2007 1997/1998 |
| SURVEY OF ISLAMIC HISTORY & CIVILISATION | 2000/2001 2001/2002 |
| SURVEY OF ISLAMIC HISTORY & CIVILIZATION | 2003/2004 2001/2002 2004/2005 2002/2003 2005/2006 2006/2007 2017/2018 |
| THE ABBASID CALIPHATE | 2007/2008 2009/2010 2008/2009 |
Research Projects
Completed
| | |
| --- | --- |
| 2016 - 2018 | Origin and Development of Unani Medicine: An Analytical Study |
| 2012 - 2012 | The Recovery of the Muslim's Past and the Others : Islamic perspective on history |
| 2010 - 2015 | Built-up Structures at International Islamic University Malaysia (IIUM): An Apercu |
| 2009 - 2011 | Social life and Nature of Social Interaction among Muslim:An Exploratory study from an Islamic Perspective |
On-Going
Award & Recognition
| | | |
| --- | --- | --- |
| 19 Jan, 2016 | University Innovation Award - IIUM | University |
| 18 Jan, 2016 | examine PhD thesis - Aligarh Muslim University | International |
| 21 Feb, 2014 | University Innovation Award - IIUM | University |
| 19 Feb, 2014 | University Innovation Award - IIUM | University |
| 21 Feb, 2013 | University Innovation Award - IIUM | University |
| 21 Dec, 2007 | Award for 15 Years of Service - IIUM | University |
Publications
Article
| | |
| --- | --- |
| 2021 | East India company strategies in the development of Singapore. Social Science, Humanities and Sustainability Research, 2 (3) pp. 37-55 |
| 2021 | New paradigm in addressing Islamophobia: an analytical study based on the life of the Prophet Muhammad (PBUH). Intellectual Discourse, 29 (1) pp. 71-88 |
| 2021 | Pan-Islamic international cooperation and anticolonialism: South Asia, Turkey, and Southeast Asia. Hamdard Islamicus, 44 (1) pp. 9-28 |
| 2021 | The expansion of Penang under the East India company. Research in Economics and Management, 6 (3) pp. 31-46 |
| 2021 | The Silk Route: A Dynamic Cross Border Trading. eTijari Inspiring Millennial Entrepreneurs, 1 (8) pp. 1-1 |
| 2021 | The strategies and practices of Sheikh Azizur Rahman Nesarabadi in the pursuit of unity in diversity and harmony: the global viewpoint. Advances in Social Sciences Research Journal, 8 (1) pp. 520-538 |
| 2020 | The effects of Japanese occupation in Sabah: during and after World War II (1941-1963). Intellectual Discourse, 28 (2) pp. 511-528 |
| 2020 | مكتوب مليشيا =Letter from Malaysia. Maarif, 6/206 (12) pp. 473-473 |
| 2019 | A critical analysis of the unity movement in Bangladesh: Shaikh Azizur Rahman's "unity in diversity". Journal of Research in Philosophy and History, 2 (2) pp. 153-171 |
| 2019 | Charismatic political leadership and Tun Dr Mahathir Mohamad's Malaysia: power, control, stability and defence. Intellectual Discourse, 27 (2) pp. 475-505 |
| 2019 | Indian Muslims' support for Ottoman Pan-Islamism: the case of Shibli Nu'mani. Intellectual Discourse, 27 (1) pp. 197-220 |
| 2018 | A scattered life: the lived experiences of Rohingya refugee mothers in Malaysia. Al-Shajarah, Special Issue: Migration and Refugee Studies () pp. 107-122 |
| 2018 | Bureaucracy: Max Weber's concept and its application to Pakistan. Journal of International Relations and Diplomacy, April 2018, Vol. 6, No. 4, 251-262, 6 (4, serial number 55) pp. 251-262 |
| 2018 | Origin and development of Unani medicine: an analytical study. Intellectual Discourse, 26 (1) pp. 23-49 |
| 2018 | The failure of the Muslim league in post-colonial Pakistan: a critical appraisal. American Journal of Humanities and Social Sciences Research (AJHSSR), 2 (10) pp. 28-34 |
| 2018 | Turkish waqf after the 2004 Aceh tsunami. Intellectual Discourse, 26 (Special Issue (Waqf)) pp. 1047-1064 |
| 2018 | Unani methods of cure in the Indian subcontinent: an analytical study. International Journal of Engineering & Technology, 7 (2) pp. 480-487 |
| 2017 | The civilizational role of Islam in the Indian subcontinent: the Delhi Sultanate. Yeni Turkiye, Yil 23 (Sayi 96) pp. 89-102 |
| 2017 | The civilizational role of Islam in the Indian subcontinent: The Delhi sultanate. Intellectual Discourse, 25 (1) pp. 103-136 |
| 2016 | The Mongol invasions of Central Asia . Intenational Journal of Social Science and Humanity, 6 (4) pp. 315-319 |
| 2015 | The genesis of Persian and Urdu languages and literatures in India . Asiatic, 9 (2) pp. 158-172 |
| 2013 | Allama Shibli and the early Muslim League: A dissenting voice. Intellectual Discourse, 21 (2) pp. 197-219 |
| 2013 | The Taj: an architectural marvel of an epitome of love?. Australian Journal of Basic and Applied Sciences, 7 (9) pp. 367-374 |
| 2012 | The Rise of the Seljuqs and their State in Central Asia. Australian Journal of Basic and Applied Sciences, 6 (12) pp. 410-417 |
| 2011 | British annexation of Sindh: an introspection . Journal of the Pakistan Historical Society, LX (4) pp. 77-103 |
| 2011 | The Backlash in Delhi: British Treatment of the Mughal Royal Family following the Indian "Sepoy Mutiny" of 1857. Journal of Muslim Minority Affairs, 31 (2) pp. 197-215 |
| 2011 | The contribution of Muslims to science during the Middle Abbasid Period (750-945). Revelation and Science, 1 (1) pp. 39-56 |
| 2010 | Arab navigation in the Indian Ocean before European dominance in South and Southeast Asia : a historical study . Journal of the Pakistan Historical Society, 58 (2) pp. 7-23 |
| 2007 | Babri Mosque: a historic bone of contention . Muslim World Journal of Human Rights, 97 (2) pp. 259-286 |
Conference or Workshop Item
| | |
| --- | --- |
| 2021 | The Indo-Turkic cultures and civilizational exchanges between Central Asia and South Asia (c. 700-1500 CE). In: Turkey, Pakistan and Central Asia: Partnership for Peace International Conference, |
| 2019 | An Introspective Consideration of Multifaith Relationships and CivilisationBuilding in India During Muslim Rule: Ganga-Jamuni Tehzib. In: I.International Asia Pacific Studies Symposium, |
| 2019 | Pan-Islamic international cooperation and anticolonialism: South Asia, Turkey, and Southeast Asia. In: 2nd International Conference on Global Peace (ICGP), |
| 2018 | A panoramic account of Ibn Batuta's voyage to maritime Southeast Asia. In: 2nd International Ibn Batuta Conference on Travel, Trade, Tradition and Trajectories, |
| 2018 | Flourishing of arts, culture, literature and history during the Mughal Era (1526-1857). In: International Conference on Religion, Culture and Governance in the Contemporary World (ICRCG 2018), |
| 2018 | Indian Muslims' support for Ottoman Pan-Islamism: the case of Shibli Nu'mani. In: The International Congress on Sultan Abdul Hamid II and His Era on the Occasion of the Centenary of His Death, |
| 2017 | Ali Fuat Başgil (1893-1967): a principled pragmatist. In: On his 50th Death Anniversary, "Ali Fuad Başgil as a Thinker and his Political Struggles" International Symposium, |
| 2017 | An historical analysis of multifaith cooperation and civilisation building in India during Muslim rule. In: 5th International Seminar on Interfaith Harmony & Tolerance, |
| 2017 | Sindh through the age. In: 1st International Conference On Sindh Studies, |
| 2017 | Unani methods of cure in the Indian subcontinent: An analytical study. In: ASIA International Multidisciplinary Conference 2017, |
| 2016 | Origin and development of Unani medicine: an analytical study. In: 2nd World Congress on Integration and Islamicisation: Focus on Medical and Health Care Sciences (2WCII 2016), |
| 2015 | Islamic Science in the late Abbasid (945-1258). In: Islamic Science insd, |
| 2014 | Contribution of Darul Musannefin: history of Islam in Europe. In: Three Day Shibli Centenary International Seminar 2014, |
| 2014 | Shaykh Ahmad Sirhindi (971/1564-1034/1624) : A Socio-Religious Reformer Of Mughal India. In: proceedings of the 23rd IAHA Conference, |
| 2014 | The Mongol invasions of Central Asia. In: International Conference on Education and Social Sciences (ICESS 2014), |
| 2014 | The spread of Islam in India and Southeast Asia. In: The Arab influence on Indigenous Culture of Mappila Muslims, |
| 2011 | Achievements of Muslims in the field of science and technology. In: International Conference Devoted to the 810th years of Mahmmad Nasireddin Tousi, |
| 2010 | The spread of Islam in Central Asia : a comparison with Southeast Asia. In: Proceedings of the International Conference: Islamic Civilization in Central Asia, Astana, |
| 2010 | The Taj: an architectural marvel of an epitome of love?. In: IIUM Research, Innovation & Invention Exhibition (IRIIE 2010), |
Book
| | |
| --- | --- |
| 2017 | Caliph Al-Mansur and Hulagu Khan. IIUM Press, International Islamic University Malaysia, ISBN: 978-967-418-628-9 |
| 2017 | Ibn Taymiyyah as an Islamic historian. IIUM Press, International Islamic University Malaysia, ISBN: 978-967-418-575-6 |
| 2017 | Influence of middle east on pondok and madrasah education in the malay peninsula in the 19th and early 20th centuries. IIUM Press, International Islamic University Malaysia, ISBN: 978-967-418-578-7 |
| 2017 | Influence of Middle East on pondok and madrasah education in the Malay Peninsula in the 19th and early 20th Century. IIUM Press, International Islamic University Malaysia, ISBN: 978-967-418-578-7 |
| 2017 | Japanese policy on islam and malay-muslim community during its occupation of Malaya, 1941-1945. IIUM Press, International Islamic University Malaysia, ISBN: 978-967-418-580-0 |
| 2017 | Marriage is definitely made in heaven: a phenomenological study on the marital satisfaction of Indian Muslim women. IIUM Press, International Islamic University Malaysia, ISBN: 978-967-418-573-2 |
| 2017 | Political leadership in Turkey and Recep Tayyib Erdogan. IIUM Press, International Islamic University Malaysia, ISBN: 978-967-418-576-3 |
| 2017 | Political leadership in Turkey and Recep Tayyip Erdogan. IIUM Press, International Islamic University Malaysia, ISBN: 978-967-418-576-3 |
| 2017 | The East African Muslim welfare society (1945-1968): the case of Tanzania. IIUM Press, International Islamic University Malaysia, ISBN: 978-967-418-498-8 |
| 2017 | The hajj from Malaysia: its history, management and impact on the Malay society, 1975-2005. IIUM Press, ISBN: 978-967-418-500-8 |
| 2017 | The natives and Chinese community in Sabah, 1945-1963. IIUM Press, International Islamic University Malaysia, ISBN: 978-967-418-637-1 |
| 2017 | The rise of the Fatimids, 280-296 A.H. 893-909 C.E.. IIUM Press, International Islamic University Malaysia, ISBN: 978-967-418-638-8 |
| 2017 | The role of bureaucracy in the politics of Pakistan (1947-1969). IIUM Press, ISBN: 978-967-418-501-5 |
| 2017 | The role of bureaucracy in the politics of Pakistan 1947-1969. IIUM Press, ISBN: 9789674185015 |
| 2013 | Chinggis khan and his conquest of Khorasan: causes and consequences. Lap Lambert Academic Publishing, ISBN: 9783659317255 |
Book Section