Staff Directory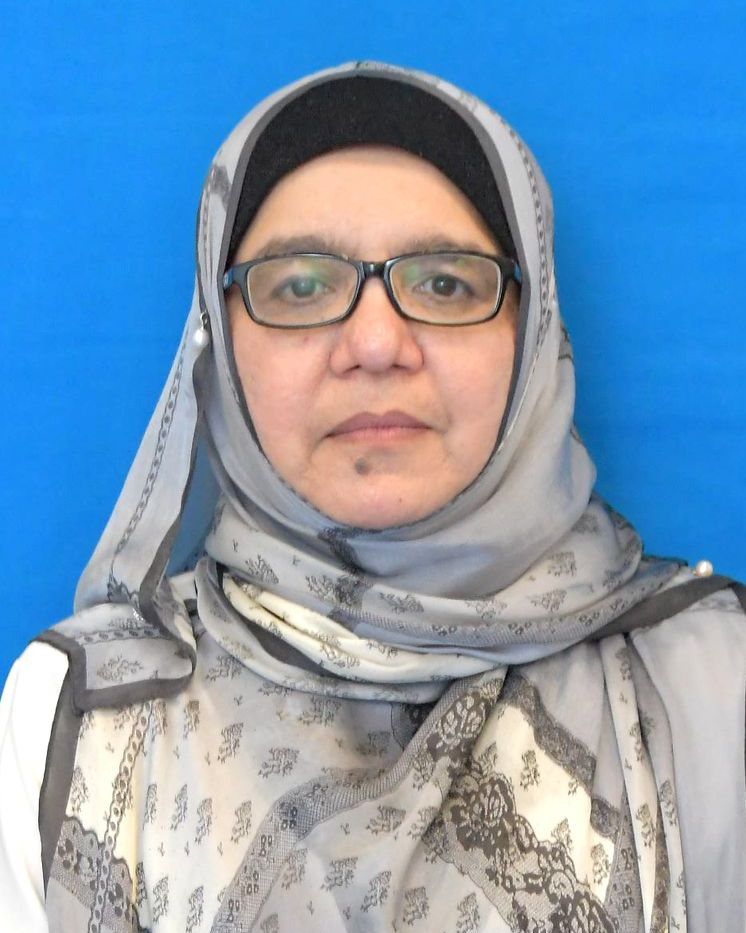 Academic Qualification
Master of Pathology- Haematology - Masters Degree (Clinical Specialist), Universiti Sains Malaysia (USM)
Medical Doctor - Masters Degree, Universiti Kebangsaan Malaysia (UKM)
Siti Aesah @ Naznin Muhammad (Prof. Dr.)
Professor
IIUM Kuantan Campus
KULLIYYAH OF MEDICINE
---
Expert Profile
Dr Naznin started her career as a haematopathologist in Kulliyyah of Medicine, International Islamic University Malaysia in 1998. Prior to that, she served as a pathologist in the field of Haematology and Transfusion Medicine in Hospital Raja Perempuan Zainab II, Kota Bharu, Kelantan and Hospital Tengku Ampuan Afzan, Kuantan, Pahang. She teaches in the field of Haematology, Transfusion Medicine and General Pathology for both medical and health sciences undergraduates and basic medical sciences and clinical sciences postgraduates. She presently serves as a haematopathologist in Hospital Tengku Ampuan Afzan, Kuantan, Pahang.
Her research work, paper presentations and publications in the field of Haematology and Transfusion Medicine are diverse. They include thalassaemias, myelodysplastic syndrome, transient myelopoiesis, blood film and bone marrow examinations, immune thrombocytopenic purpura, transfusion reactions, informed consent in transfusion medicine, donor deferral and other related topics.
In addition, she has a special interest in Medical Education mainly related to teaching-learning methods in medicine particularly Problem-based Learning (PBL). She conducts PBL workshops for other medical schools as well as non-medical academicians at university and college levels. She also carries out trainings in assessment methods for medical and health sciences academicians. Her research, publications and presentations in the field of Medical Education include PBL, case method, Islamic Input in medical curriculum and the teaching of ethics. She is also a panel member for the Malaysian Qualification Agency for the Malaysian medical schools accreditation.
Area of Specialisation
Medical And Health ~ Medical And Health Sciences ~ Clinical Medicine ~ Pathology - Pathology / Haematology
Teaching Responsibilities
| | |
| --- | --- |
| BASIC GENERAL SURGERY POSTING | 2019/2020 2013/2014 |
| BODY REACTION TO PHYSICAL, CHEMICAL & BIOLOGICAL AGENTS | 2015/2016 2014/2015 2010/2011 2017/2018 |
| BODY REACTIONS TO PHYSICAL, CHEMICAL AND BIOLOGICAL AGENTS | 2020/2021 |
| CARDIOVASCULAR, RESPIRATORY AND HAEMOPOIETIC SYSTEMS | 2020/2021 |
| CARDIOVASCULAR, RESPIRATORY, BLOOD AND BLOOD FORMING ORGANS | 2017/2018 2013/2014 2016/2017 2011/2012 2018/2019 2012/2013 2014/2015 2019/2020 |
| NORMAL RESPONSE & PROCESS TO DISEASED STATE | 2016/2017 2011/2012 2017/2018 2014/2015 2018/2019 |
| NORMAL RESPONSE AND PROCESS TO DISEASED STATE | 2020/2021 |
| NORMAL STRUCTURE & FUNCTION OF THE HUMAN CELL, TISSUE & BODY SYSTEM | 2012/2013 2015/2016 2017/2018 2011/2012 2014/2015 2018/2019 2013/2014 |
| NORMAL STRUCTURE & FUNCTION OF THE HUMAN CELL, TISSUE & BODY SYSTEMS | 2020/2021 2019/2020 |
| STRUCTURE & FUNCTION IN NORMAL & DISEASED STATES & BEHAVIOURAL SCIENCE | 2019/2020 2020/2021 |
| THE ALIMENTARY AND HEPATOBILIARY SYSTEMS | 2011/2012 2017/2018 2014/2015 2012/2013 2018/2019 2020/2021 2016/2017 |
| THE ENDOCRINE, REPRODUCTIVE AND URINARY SYSTEMS | 2020/2021 |
| THE ENDOCRINE, REPRODUCTIVE URINARY SYSTEMS | 2015/2016 2019/2020 2014/2015 2018/2019 |
| THE LOCOMOTOR AND NERVOUS SYSTEMS | 2019/2020 2017/2018 2014/2015 2010/2011 2020/2021 2015/2016 |
| TRANSFUSION SCIENCE & BLOOD BANKING | 2014/2015 |
Research Projects
Completed
| | |
| --- | --- |
| 2015 - 2018 | Molecular Mechanism of Tualang honey on 12% Cholesterol diet induced nonalcoholic steatohepatitis (NASH) animal model |
| 2014 - 2017 | The Effects of Tualang Honey on Non-Alcoholic Steatohepatitis in rat Model |
| 2014 - 2018 | Immunoprotective Effect of Virgin Cocunut Oil Against Cyclophosphamide-induced Histological Changes in Lymphoid Tissues |
| 2014 - 2017 | Paraoxonase-1 (PON-1) and Hepatotoxicity: Bridging the Gap in the Mechanism of Atherosclerosis in Chronic Organic Arsenic Exposure |
| 2012 - 2015 | Study On Molecular Diagnostic Method of Synovial Sarcoma |
| 2011 - 2013 | (RU2011) Applying the 'Case Method' in the teaching of Basic Medical Science in a Medical curriculum |
| 2011 - 2014 | Validation of Potential Markers in Cardiovascular Research |
| 2011 - 2015 | RU 2011 -Retention of basic sciences knowledge in medicel student of clinical years. |
| 2011 - 2014 | RU 2011 -MYC and BLC2 Gene expression in Burkitt Lymphoma and diffuse large B-cell lymphoma |
| 2008 - | A Cytogenetic and Clinical Profile of Children with Austinm in Kuantan, Pahang |
| 2008 - 2011 | Psychosocial Problems of Patients with Thalassaemia and Their Families: A Quantitative Study |
| 2004 - 2007 | Establishment of Research Methods and Protocols in Our Proposed Cyntogenetics in the Laborartory of the Kulliyyah of Medicine |
On-Going
| | |
| --- | --- |
| 2021 - Present | Evaluation of Tumour-Associated Macrophages and CSF-1 Expression in Invasive Breast Carcinoma |
| 2021 - Present | Development of Intervention Programme Framework for Soft Skills and SASMEC @IIUM Core Values Competency |
| 2021 - Present | IIUM Crisis Action, Research and Education (iCARE) |
| 2021 - Present | Optimization of Polymerase Chain Reaction-Based Method for Detection of FMS-Like Tyrosine Kinase (FLT3) and Nucleophosmin 1 (NPM1) Mutations in Acute Myeloid Leukaemia |
| 2019 - Present | The Identification of microRNAs Pathogenic Pathway in Acute Myocardial Infarction of Young Adults |
| 2019 - Present | The integration of soft skill components in Objective Structured Clinical Skills Assessment (OSCSA) within undergraduate nursing program |
| 2018 - Present | Molecular Approach Of Attenuation Of Non-Alcoholic Steatohepatitis With Tualang Honey Supplementation In Animal Model |
| 2011 - Present | Evaluation and Enhancement of New Islamic Input In Medical Program (IIMP) Curricular |
Publications
Article
| | |
| --- | --- |
| 2021 | FLT3 and NPM1 mutations in patients with Myeloid neoplasms. International Journal of Allied Health Sciences, 5 (1) pp. 2118 |
| 2021 | Lipid profiles changes in 12% high cholesterol diet induced nonalcoholic teatohepatitis animal model following supplementation of Tualang honey and diet modifications. International Journal of Allied Health Sciences (IJAHS), 5 (1) pp. 2164 |
| 2021 | Soft skill elements in structured clinical nursing assessment for undergraduate nursing students: a systematic review. Enfermería Clínica, 31 (Supplement 2) pp. S58-S62 |
| 2021 | The application and factors influencing the implementation of non-invasive prenatal testing (NIPT) worldwide: a review. International Journal of Allied Health Science, 4 (4) pp. 1671-1682 |
| 2020 | Histopathological changes of the flaxseed extract on skin wound healing in diabetic rabbits. Open Access Macedonian Journal of Medical Sciences, 8 (A) pp. 881-892 |
| 2020 | The pursuit of Covid-19 animal models. IIUM Medical Journal Malaysia (IMJM), 19 (2) pp. 27-33 |
| 2019 | Differential expression of miR-101 and miR-744 in nasopharyngeal carcinoma in Pahang state of Malaysia. Walailak Journal of Science and Technology, 16 (5) pp. 295-306 |
| 2019 | Evaluation of high resolution melting technique for detection of JAK2-V617F mutation in formalin-fixed paraffin-embedded specimen from myeloproliferative neoplasm cases. International Medical Journal Malaysia, 18 (2) pp. 95-100 |
| 2019 | Expression of microrna-101 in formalin-fixed paraffin- embedded samples of nasopharyngeal carcinoma. Malaysian Journal of Biochemistry and Molecular Biology, 22 (2) pp. 60-63 |
| 2019 | Integration of Islamic values in undergraduate nursing program: An expository analysis. International Journal of Care Scholars, 2 (2) pp. 5-8 |
| 2019 | Non-alcoholic steatohepatitis animal model induction. World Journal of Pharmacy and Pharmaceutical Sciences, 8 (4) pp. 1523-1538 |
| 2019 | The effect of flaxseed extract on skin elasticity of the healing wound in rabbits. The International Medical Journal Malaysia, 18 (1) pp. 5-12 |
| 2018 | Early effects of high cholesterol diet on the kidney of an animal model. PONTE, 74 (3/1) pp. 168-178 |
| 2018 | Protective effect of virgin coconut oil on cyclophosphamide-induced histological changes in lymphoid tissues. International Medical Journal Malaysia, 17 (3) pp. 65-74 |
| 2018 | Red cell antibody screening: a single centre experience. International Medical Journal Malaysia, 17 (Supplementary Issue No 1) pp. 33-33 |
| 2018 | The effect of flaxseed extract on skin elasticity of the healing wound in rabbit. Asian Journal of Medicine and Biomedicine, Supplementary 3 () pp. 109 |
| 2018 | The expression of microrna-744 (MIR-744) in nasopharyngeal carcinoma: a preliminary study. International Journal of Allied Health Sciences, 2 (1) pp. 191-203 |
| 2018 | Tualang honey effects on high cholesterol diet induced nonalcoholic steatohepatitis in an animal model. World Journal Of Pharmacy And Pharmaceutical Sciences, 7 (2) pp. 1383-1396 |
| 2017 | Early effects of high cholesterol diet on the kidney of an animal model. International Medical Journal Malaysia (IMJM), 16 (supp. 1) pp. 20 |
| 2017 | MGMT and SPOCK2 promoter methylation in diffuse large B-Cell lymphoma: a study in two tertiary health centres in the East Coast of Malaysia = Metilasi promoter MGMT dan SPOCK2 dalam diffuse large B-cell lymphoma: satu kajian yang dijalankan di dua pusat Kesihatan di Pantai Timur Malaysia. Malaysian Journal of Health Sciences, 15 (2) pp. 77-82 |
| 2017 | p16 tumor suppressor gene methylation in diffuse large B cell lymphoma: a study of 88 cases at two hospitals in the East Coast of Malaysia. Asian Pacific Journal of Cancer Prevention, 18 (10) pp. 2781-2785 |
| 2017 | Renoprotective role of tualang honey against high cholesterol diet induced acute kidney diseases in an animal model. International Medical Journal Malaysia (IMJM), 16 (supp. 1) pp. 26 |
| 2017 | Renoprotective role of tualang honey against high cholesterol diet induced acute kidney diseases in an animal model. Journal of Applied Pharmaceutical Science, 7 (12) pp. 97-101 |
| 2016 | Clinical and cytogenetic profiles of children with autism in Kuantan Pahang. International Medical Journal Malaysia, 15 () pp. 56-56 |
| 2016 | Detection of SYT-SSX mutant transcripts in formalin-fixed paraffin-embedded sarcoma tissues using one-step reverse transcriptase real-time PCR. The Malaysian Journal of Pathology, 38 (1) pp. 11-18 |
| 2016 | Misconceptions about disease among parents of thalassaemic patients: A qualitative study. International Medical Journal Malaysia, 15 (Supplemenet Issue) pp. 96-96 |
| 2016 | Organic arsenical exposures stimulates atheroscleorosis through oxidative stress increase and adhesion molecule expression. Journal of Applied Pharmaceutical Science, 6 (11) pp. 040-051 |
| 2016 | Pyrosequencing-based quantitative identification of p16 methylation in diffuse large b-cell lymphoma at two centres in the east coast of malaysia. Journal of Biomedical and Clinical Sciences, 1 (1) pp. 12-17 |
| 2015 | Atherosclerosis in chronic organic arsenic (monosodium methylarsonate) exposure. The Malaysian Journal of Pathology, 37 (2) pp. 188-188 |
| 2014 | Inherited anti-thrombin deficiency in a Malay-Malaysian family: a missense mutation at nucleotide g.13267C>A aka anti-thrombin Budapest 5 (p.Pro439Thr) of the SERPINC 1 gene. The Medical Journal of Malaysia, 69 (1) pp. 27-30 |
| 2012 | Paraoxonase-1 (PON1) activity in serum and various anticoagulated-plasma . The Malaysian Journal of Pathology, 34 (2) pp. 216-216 |
| 2011 | Screening for thalassaemia among group of students of a higher institution – our experience. International Medical Journal Malaysia, 10 (1) pp. 3-6 |
| 2011 | Thalassaemia : a study on the perception of patients and family members. Medical Journal of Malaysia , 66 (4) pp. 326-334 |
| 2011 | Thalassaemia: A study on the perception of patients and family members. Medical Journal of Malaysia, 66 (4) pp. 326-334 |
| 2010 | A descriptive study of blood films of patients serologically positive for dengue in Hospital Tengku Ampuan Afzan, Kuantan. International Medical Journal Malaysia, 9 (2) pp. 35-37 |
| 2010 | Problem-based learning as viewed by medical students in a non-problem based medical curriculum. Medical Education, 44 (Supp 1) pp. 6 |
| 2008 | The impact of the teaching of ethics in a medical and allied health sciences curriculum in International Islamic University Malaysia. International Medical Journal Malaysia, 7 (1) pp. |
| 2008 | The impact of the teaching of rthics in a Medical and Allied Health Sciences curriculum in International Islamic University Malaysia. International Medical Journal Malaysia, 7 (1) pp. |
Conference or Workshop Item
| | |
| --- | --- |
| 2021 | Development and evaluating content validity of CSAI tools. In: 3rd International Conference on Nursing (ICONURS) 2021, |
| 2021 | Microarray data analysis to identify differentially expressed genes and biological pathways associated with Tualang Honey supplementation in NASH animal model. In: MSPP 34th Scientific Meeting 2021 Trailblazing The Translational Research, |
| 2021 | Numeracy skills for undergraduate nursing students' clinical skill assessment: an expository analysis. In: 4th Virtual Aceh International Nursing Conference (AINC) 2021, |
| 2021 | Soft skill elements in structured nursing clinical skill assessment on medication procedure: a clinical audit. In: 24th East Asian Forum of Nursing Scholars (EAFONS) Conference 2021, |
| 2021 | Sperm morphology and testis histological changes in 12% high cholesterol diet administered rats following Tualang honey supplementation and diet modifications. In: MSPP 34th Scientific Meeting 2021: Trailblazing The Translational Research, |
| 2021 | The effects of Tualang honey on sperm profile in high cholesterol diet induction animal model. In: Monash Initiate 2021 the Inaugural Monash International Health Science and Technology Conference, |
| 2021 | The effects of Tualang honey on sperm profile In mixed cholesterol diet administered rats. In: YSN-ASM International Scientific Virtual Conference (ISVC) 2021, |
| 2021 | Tualang honey supplementation attenuates the lipid profile In high cholesterol diet induced non-alcoholic steatohepatitis animal model. In: Monash Initiate 2021 the Inaugural Monash International Health Science and Technology Conference, |
| 2020 | Lipid profiles changes in 12% high cholesterol diet induced non-alcoholic steatohepatitis animal model following supplementation of Tualang honey and diet modifications. In: Kuantan Research Day 2020, |
| 2019 | Effects of flaxseed extract on skin wound healing in animal model. In: International Conference on Pharmaceutical Research and Pharmacy Practice cum 14th IIUM-MPS Pharmacy Scientific Conference (ICPRP 2019), |
| 2019 | Fetal down syndrome: determining the risk based on fetal-specific DNA methylation ratio. In: 5th International Conference on Public Health (ICOPH 2019), |
| 2019 | Knowledge on Down Syndrome and Down Syndrome prenatal screening tests among pregnant women in Kuantan, Pahang. In: International Postgraduate Research Conference (2nd IPRC), |
| 2019 | Non-invasive prenatal testing: MeDIP-PCR to detect trisomy 21 from maternal plasma. In: Graduate Research Symposium 2019, |
| 2019 | Soft skill elements in structured clinical nursing assessment for undergraduate nursing student: a systematic review. In: 4th International Conference on Global Health (ICGH) in conjunction with the 7th Asian International Conference in Humanized Health Care (AIC-HHC) 2019., |
| 2019 | The effect of tualang honey in chronic exposure of high cholesterol diet in animal model. In: 5th Medical Research Symposium, |
| 2018 | The effect of flaxseed extraction on skin elasticity of the healing wound in rabbit. In: 3rd ASEAN Congress on Medical Biotechnology and Molecular Biosciences, |
| 2017 | Analysis of sample rejection at newly established pathology laboratory of the International Islamic University Malaysia Medical Centre (IIUMMC). In: 27th MACB Conference, |
| 2017 | Electron microscopic changes of the liver following exposure to organic arsenic. In: 2nd International Anatomical and Biomedical Scientific Conference 2017 (IABS), |
| 2016 | Effects of serum stored at various temperature and freeze-thaw cycles on selected biochemical parameters. In: Medical Research Symposium & Pacific Partnership in conjunction with Kuantan Research Day 2016, |
| 2016 | Epigenetic methylation status of P16, MGMT and SPOCK2 in diffuse Large B cell lymphoma. In: Medical Research Symposium & Pacific Partnership in conjunction with Kuantan Research Day 2016, |
| 2016 | Methylation status of MGMT and SPOCK2 in diffuse large B-cell lymphoma. In: 3rd Pan Asian Biomedical Science Conference, |
| 2016 | Nigella sativa oil extracts improves dyslipidaemia in high fat diet (HFD) animal model. In: Medical Research Symposium & Pacific Partnership, |
| 2016 | Nigella sativa oil extracts improves dyslipidaemia in high fat diet (HFD) animal model. In: Medical Research Symposium & Pacific Partnership in conjunction with Kuantan Research Day 2016, |
| 2016 | Tualang honey improves non alcoholic steatohepatitis animal model. In: Medical Research Symposium & Pacific Partnership, |
| 2016 | Tualang honey improves non alcoholic steatohepatitis animal model. In: Medical Research Symposium & Pacific Partnership in conjunction with Kuantan Research Day 2016, |
| 2015 | Chronic Monosodium Methylarsonate (MSMA) exposure induces oxidation of Low Density Lipoprotein (LDL) and early atherosclerosis development. In: International Conference on Advancement in Science and Technology (iCAST 2015) - 'Frontiers in Biotechnology', |
| 2014 | Academic stress and coping strategies of forst year IIUM medical students. In: International Research, Invention and Innovation Exhibition 2014 (IRIIE2014), |
| 2013 | "Case Method" in the teaching of disciplines in Basic Medical Sciences in IIUM . In: 8th International Medical Education Conference, |
| 2013 | Retention of Knowledge in Preclinical Disciplines by Clinical Students in the IIUM Medical Programme. In: IIUM Research, Invention and Innovation Exhibition, IRIIE 2013, |
| 2013 | Retention of knowledge in preclinical disciplines by clinical students in the IIUM medical programme. In: 8th International Medical Education Conference, |
| 2012 | Paraoxonase-1 (PON1) activity in serum and various anticoagulated-plasma . In: 11th Annual Scientifc Meeting, College of Pathologist, |
| 2012 | Preliminary analyses on detection of SYT-SSX fusion-transcripts in Synovial Sarcoma. In: 11th Annual Scientific Meeting, College of Pathologist Malaysia, |
| 2011 | Thalassaemia management: patients' and family members' perspectives. In: 9th Malaysian National Haematology Scientific Meeting, |
| 2011 | Thalassaemia: a study on the perception of patients and family members. In: 12th International Conference on Thalassaemia and the Haemoglobinopathies 14th TIF International Conference for Patients and Parents , |
| 2010 | Academician's knowledge and perception towards 'One Best Answer (OBA)-Type' multiple choice questions implementation in IIUM, medical faculty curriculum. In: 7th Asia Pacific Medical Education Conference (APMEC), |
| 2010 | Academician's knowledge and perception towards 'one best answer (OBA)-type' multiple choice questions implementation in IIUM, medical faculty curriculum (Poster presentation). In: 7th Asia Pacific Medical Education Conference (APMEC), |
| 2009 | A review of transfusion reaction reports for the year 2008. In: 4th National Transfusion Medicine Conference 2009, |
| 2009 | A survey on perception and knowledge of transfusion medicine among final year medical students. In: 4th National Transfusion Medicine Conference, |
Book
Book Section