Staff Directory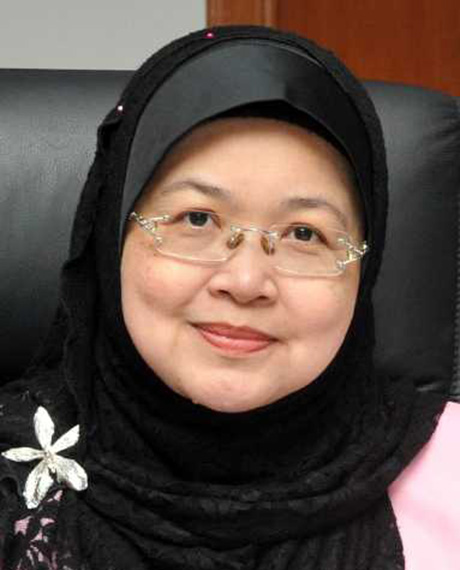 Academic Qualification
Ph.D. in Law - Doctor of Philosophy, University College London
Master of Comparative Laws - Masters Degree, International Islamic University Malaysia
Bachelor Degree in Laws - Bachelor Degree, Universiti Malaya (UM)
Diploma in Shariah Law and Practice - Diploma, International Islamic University Malaysia
Zaleha Bt Kamaruddin (Prof. Dato' Sri Dr.)
Professor
IIUM KL Campus
INTERNATIONAL INSTITUTE OF ISLAMIC THOUGHT AND CIVILISATION
---
drzaleha@iium.edu.my
1246
Expert Profile
Prof. Dato' Sri Dr. Zaleha Kamarudin
was appointed the first female rector of the International Islamic University Malaysia, in 2011 making her the first woman to head an Islamic university in the Muslim world. During her tenure as the Rector, she has successfully developed and completed five big projects based on PFI, which include: the completion of residential colleges accommodating 5,000 students, the first teaching hospital in Malaysia which is Shari'ah compliant located in Indera Mahkota campus, the university mosque in Kuantan, and two more campuses (i.e. Gambang campus for Centre for Foundation students and Pagoh campus for Kulliyyah of Languages and Management). Two buildings were also initiated and completed during her tenure at the Waqf Complex based on Waqf from the Lembaga Tabung Angkatan Tentera (LTAT) and the Ruler of Ajman.
She is also the first woman to be appointed as a Shariah Appellate Court Judge (Terengganu) in Malaysia's Shariah judicial history, in 2018.  Prior to her appointment as the Rector of IIUM, she was on secondment as the Deputy Director-General of the Malaysian Institute of Islamic Understanding (IKIM).
At the State level, she was appointed as a member of the Selangor Council of Religious Affairs (MAIS) for 10 years (2004 – 2014) and also a member of the Fatwa Committee for the State of Selangor. Recently, in 2020, she has been appointed as a member of the Religious Council of Pahang. She is the Deputy-Chair for the Board of Governors of University College Yayasan Pahang (UCYP) and also chairs the Yayasan Tabung Tuanku Chancellor of UCYP.
At the Federal level, she was a member of the Technical Committee on Shariah and Civil Laws (2005-2018), Department of Islamic Religious Affairs, Prime Minister's Department, where she was involved in drafting fourteen model laws. As an appointed member of the National Religious Council, she was appointed to chair the Panel on Current Issues on Women and Islam (PISWI) from 2010 until 2018. PISWI was sanctioned by the Council of Rulers as a think-tank with specific mandate in contemporary issues involving Islam, women and children's rights. In 2017, she was also appointed as the Head, Law Cluster for the Islamic Consultative Council.  Recently in 2019, she has been appointed as an exco member of Inns of Court, Malaysia.
Internationally, she is recognized as a leading authority on Comparative Family Laws focusing on the Convention on the Elimination of All Forms of Discrimination Against Women (CEDAW), Convention on the Rights of the Child (CRC) and other relevant Hague Conventions applicable to family and children. Her research interest includes Private International Law with specific focus on cross-border children's issues.
Professor Zaleha was also invited by the Government of
Canada (co-Chair of the Working Party on Mediation) in cooperation with the Permanent Bureau of the Hague Conference on Private International Law and the Netherlands Ministry of Foreign Affairs to present keynote addresses on the Islamic perspectives on cross-border Parental Child Abduction
in April 2014 at The Hague, November 2014 in Kuala Lumpur, June 2015 in Macau and June 2016 in Tokyo. She was also appointed as an Independent Expert by the Hague Conference on Private International Law (HCCLH) in Malta IV Conference in May 2016 and as a Resource Person in the Focus Group Discussion on 'Compatibility of the Convention on the Civil Aspects of International Child Abduction (The 1980 Convention) to Islam and Indonesia National Law in November 2016 in Jakarta, Indonesia. She has also been appointed as expert witness on custody cases involving Malaysians in the Netherlands, Australia and the United Kingdom.
Professor Zaleha has been invited as a keynote speaker in various conferences from the Far East to the West. In 2009, she was invited as a guest of Lord Daniel Brennan and spoke on "governance of Islamic Family Law" at a programme in the House of Lords, UK.  She was also invited to deliver the
prestigious
13th Al-Sanhuri Annual Lecture at Harvard Law School in 2012, where she spoke on the transformation of the Islamic legal system in the 21st century.  In May 2012, she delivered a keynote speech at a High-Level Thematic Debate at the UN headquarters in New York. In March 2014, she underwent training in Geneva on procedures for preparation on claims to the Human Rights Council and attended Regular Sessions on observer status. In March 2019, she represented the OIC Women Consultative Council in a high-level panel discussion at the 63rd Commission on the Status of Women (CSW63) in New York.
As a consultant trainer who believes in research-based contributions in women's issues, Professor Zaleha has been actively involved in UN-Habitat training workshops all over the world.  She is also engaged with the International Institute of Public Policy and Management (INPUMA), University of Malaya training programs where she is known as a champion of women rights through property rights.  She is currently preparing a training module with her team based on her edited book entitled Approaches to Empowering Muslim Women through Property Rights.
She is also a Deputy-Chair (Asia) in the OIC Women Advisory Council (2016-2020). In 2019, she was appointed as chair of working committee on promotion of the OIC Plan of Action on Advancement of Women (OPAAW). She spent her sabbatical leave in 2019 to focus on OPAAW and was appointed as part of the team to work on an OIC project to develop strategic plan for marriage and family institution. She is also actively involved in the drafting of the OIC Gender Policy.
In 2005, she headed a major consultancy project on "Assessing Delays in Disposition of Matrimonial Cases in the Malaysian Shariah Courts" followed by "Assessing Delays in Implementation of Maintenance Orders in the Malaysian Shariah Courts". These researches provided a strong basis for the setting up of the Family Support Authority in Malaysia. She has also collaborated with the United Nations Development Programme (UNDP) and the Ministry of Women, Family and Community Development in 2008 on a major consultancy project entitled "Towards Achieving 30 Percent Women as Decision-Makers." Her research served as an impetus for the historical appointment of women judges in the Shariah judiciary in Malaysia.  In 2014, she was appointed by the Malaysian Government as a Lead Consultant to develop the Maqasid Shariah Index for Malaysia, and at the successful completion of the project, she was appointed in 2015 as the Deputy Chairman of the Governance of Maqasid Shariah Index Committee.
Her expertise is also acknowledged by the International Consortium for Law and Religion Studies (ICLARS) based in Milan, Italy, by listing her in "Who's Who" database in law and religion. Her experience as a member of the Board of Governors for the Asian Law Institute at the National University of Singapore (NUS), which was formed to facilitate collaboration and encourage excellence in research and teaching in Asian law (2005-2009), has assisted her network with all law schools in Asia.  To date, she has published/edited twenty-five books, and more than one hundred articles in areas related to family law, children's rights, and women's rights. 
Professor Zaleha has served as the Chief Editor of IIUM Law Journal and Tafhim of IKIM. She is also a member of international advisory boards of several internationally refereed journals, including Islamic Studies of the Islamic Research Institute, Islamabad, Pakistan, Faculty of Business and Administration, International University of Sarajevo, Bosnia, University Sharif Ali, Brunei Darussalam and KADEM, Journal of Women Studies, Turkey.  For the past twenty years, she is a member of the International Society for Family Law (ISFL) and International Society for Prevention of Child Abuse and Neglect (ISPCAN).
       In terms of corporate experience, in her capacity as the Rector of IIUM she was a member of the

Board of Directors' of IIUM Holdings Sdn. Bhd;

Board of Directors, OUM & UNITEM Sdn Bhd; and Member, Board of Directors METEOR Sdn Bhd.  She was also a member of

Board of Trustees of

the Malaysian Islamic Economic

Development Foundation (YAPEIM),

2012 – 2017

; Member, Board of Directors,

Yayasan Pahang, 2014 – 2018; Member, Board of Directors, Maahad Tahfiz Negeri Pahang (MTNP), 2012 – 2015.
Area of Specialisation
Social Science ~ Social Science ~ Law Enforcement ~ Other Law Enforcement n.e.c. - LAW ENFORCEMENT AND REFORM
Social Science ~ Social Science ~ Law ~ Family Law
Social Science ~ Social Science ~ Law ~ Other Law n.e.c. - GENDER ISSUES
Teaching Responsibilities
| | |
| --- | --- |
| COMPARATIVE FAMILY LAW | 2001/2002 2004/2005 2006/2007 2002/2003 2003/2004 1999/2000 |
| FAMILY LAW I | 1995/1996 1993/1994 2016/2017 2018/2019 |
| FAMILY LAW II | 1994/1995 1995/1996 1997/1998 2016/2017 |
| ISLAMIC FAMILY LAW | 2003/2004 |
| ISLAMIC FAMILY LAW 1 | 2003/2004 |
| ISLAMIC FAMILY LAW I | 2002/2003 2000/2001 2001/2002 |
| ISLAMIC FAMILY LAW II | 2003/2004 1999/2000 2000/2001 2001/2002 |
| JURISPRUDENCE II | 1993/1994 |
| LAW OF TORTS II | 1998/1999 |
| LAW RESEARCH METHODOLOGY | 2007/2008 2008/2009 2006/2007 2009/2010 |
| PROBATE AND THE LAW OF SUCCESSION I | 2000/2001 1999/2000 2002/2003 |
| RESEARCH METHODOLOGY | 2020/2021 |
| RESEARCH METHODOLOGY AND THESIS WRITING | 2019/2020 |
| UNDANG-UNDANG KELUARGA | 1999/2000 2000/2001 |
Research Projects
Completed
| | |
| --- | --- |
| 2019 - 2020 | Preparation of OIC Strategy for Family and Marriage Institution Empowerment |
| 2017 - 2017 | Malaysia's Accession to the Hague Children's Conventions: The Feasibility Analysis |
| 2016 - 2017 | Indeks Syariah Malaysia 2017 |
| 2016 - 2017 | Defining the Concept of Civilization and Implication in International Affairs. |
| 2015 - 2016 | New Title: "Kedah Darul Aman: Umara' dan Ulama' Tonggak Kekuatan Ummah" Buku Tokoh-Tokoh Ulama' Kedah Darul Aman |
| 2014 - 2014 | Developing A Model of Maldives Islamic University and Strategic Plan |
| 2011 - 2012 | Islamic Family Law : Demystifying Shari'ah In The Protection Of Children ' Rights Volume III |
| 2009 - 2012 | The Conflicts of Child Custody in Malaysia: Sole Custody vs Joint Custody |
| 2009 - 2011 | A Voyage of Discovery from Common Law to Shariah and Beyond: Legal Education in Malaysia with Special Reference to AIKOL |
| 2008 - 2008 | Assessment of the Working Draft of the Haque Convention on the International Recovery of Child Support and Other Forms of Family Maintenance: Islamic Family Law as Practiced in Malaysia Perspective |
| 2008 - 2012 | Violence Against Women in the Muslim Communities: An Analysis |
| 2008 - 2011 | Ahmad Ibrahim: His Thoughts and Contributions in Family Law in Malaysia. |
| 2007 - 2008 | Insights into the Interrelationship and the Associated Tension between Syariah and Civil Family Law in Malaysia |
| 2007 - 2008 | Access to Justice: The Human Dignity of Muslim Women and Divorce in Malaysia |
| 2006 - 2006 | Violence against Women in Muslim Communities Socio-Legal Perspective (Part 1) New Title: Confronting Violence Againts Women in the Muslim Communities: Causes and Solutions |
| 2005 - 2011 | A Preliminary Study On Non-Custodial Father's Contact With Their Children After Divorce In Malaysia |
| 2004 - 2004 | Postgraduate Promotion and Admission Survey-Phase 1 |
On-Going
| | |
| --- | --- |
| 2020 - Present | Exploring the Concepts and Development of Gender Equity vs Gender Equality in the 21st Century: Islamic Worldview |
| 2014 - Present | Pembangunan Pelaksanaan Indeks Syariah Dalam Pentadbiran Negara |
| 2013 - Present | IIUM New Year Address : Strategic Focus Areas for 2014 |
| 2013 - Present | IIUM New Year Address 2014 : Achievements for the Year 2013 |
| 2013 - Present | Empowering Muslim Women Through Property Rights |
| 2013 - Present | The Multidimensional Role of Fatwa and the Legal Systems of Modern Muslim State |
| 2013 - Present | The Formulation of an Online Dispute Management Framework and the Implementation of E-family Expert Portal in Malaysia |
| 2013 - Present | IIUM New Year Address : The 2013 Achiements and Strategic Focus Areas for 2014 |
| 2009 - Present | Family Law and Ethics Unit (FAME) |
| 2009 - Present | Quranic Guidance for Good Governance Unit (QGGGR) |
| 2008 - Present | International Law and Maritime Affairs Research Unit (ILMA) |
| 2007 - Present | Property Law Research Unit (PLRU) |
Award & Recognition
| | | |
| --- | --- | --- |
| 06 Feb, 2017 | Outstanding Contribution to the Promotion of Higher Education in the Islamic World Award - Islamic Educational, Scientific and Cultural Organisation (ISESCO) | International |
| 06 Jun, 2016 | Life Time Achievement Award Recognition - Fatih University | International |
| 06 Nov, 2015 | Conferment of Honorary Doctorate in Law (Honoris Causa) - University of East London | International |
| 06 Jun, 2013 | Jewels of Muslim World Award - 4th OIC World Biz | International |
| 06 Jun, 2012 | Best Mother's Award - Institute of Ayesha Siddeeqa | International |
| 24 Oct, 2011 | Darjah Kebesaran Sultan Ahmad Shah Pahang - Kerajaan Negeri Pahang | State |
| 22 Feb, 2004 | Quality Research Award (Kulliyyah) - International Islamic University Malaysia | Kulliyyah |
| 04 Mar, 2003 | Excellent Researcher Award - International Islamic University Malaysia | Kulliyyah |
| 16 Mar, 2002 | Excellent Researcher Award - International Islamic University Malaysia | Kulliyyah |
Publications
Article
| | |
| --- | --- |
| 2020 | A critical evaluation of the OIC plan of action for the advancement of women (OPAAW). Journal of Islamic Law Review, 16 (2) pp. 117-154 |
| 2020 | Gender, law and society in Islam. Al-Shajarah, 25 (2) pp. 361-365 |
| 2020 | Mapping the trends of the family institution: a comparative literature review. Al-Shajarah, 25 (2) pp. 297-314 |
| 2020 | The necessity for the formulation of an online family dispute resolution management framework in Malaysia. Journal of Information Systems and Digital Technologies (JISDT), 2 (1) pp. 1-15 |
| 2018 | International parental child abduction in the Malaysian Legal context: addressing issues and the way forward. IIUM Law Journal, 26 (2) pp. 275-306 |
| 2018 | International parental child abduction in the Malaysian legal context: issues and the way forward. IIUM Law Journal, 26 (2) pp. 275-306 |
| 2016 | 'Transformative Accommodation': towards the convergence of Sharīah and common law in Muslim minority jurisdictions. Arab Law Quarterly, 30 (3) pp. 245-261 |
| 2015 | Examining the policy of mandatory premarital HIV screening programme for Muslims in Malaysia. Pertanika Journal of Social Science & Humanities, 23 (S) pp. 129-140 |
| 2015 | Justification for state intervention in family matters: an analysis from the context of islamic jurisprudence. Journal of Contemporary Islamic Studies, 1 () pp. 33-49 |
| 2014 | The plight of Gaza's women and children. New Straits Times, () pp. 14-14 |
| 2013 | Between ideals and reality: violence against women and the real image of women in Islam. The Journal of Oriental Studies, 23 (1) pp. 79-93 |
| 2013 | Customer relationship management approach for MyFamily system: a framework. Middle-East Journal of Scientific Research, 15 (9) pp. 1249-1254 |
| 2012 | The Hague Service Convention 1965: Is it Shari'ah Compliant?. Australian Journal of Basic and Applied Sciences, 6 (11) pp. 2-6 |
| 2012 | The Islamic Legal System in Malaysia and the Quest for Transformation in the 21st Century. Australian Journal of Basic and Applied Sciences, 6 (11) pp. 74-82 |
| 2011 | 'Big bang' and family values. The Star Online, () pp. |
| 2011 | Bahagia selepas bercerai? . Mingguan Malaysia, () pp. 8 |
| 2011 | Belajar bukan berkahwin . Mingguan Malaysia, () pp. 23 |
| 2011 | Between social change and law. The Star Online, () pp. |
| 2011 | Di sebalik tabir isu kualiti peguam sivil. Official Website of Institute of Islamic Understanding Malaysia, () pp. |
| 2011 | Dysfunctional families and crime: righting wrongs. Islam and Civilisational Renewal, 3 (1) pp. 75-89 |
| 2011 | Jentayu yang pergi. Mingguan Malaysia, () pp. 23 |
| 2011 | Lima rukun penting pastikan universiti Islam setaraf barat . Berita Harian, () pp. 27 |
| 2011 | Membudayakan penyelidikan universiti : lahir modal insan minda kelas pertama dunia Islam perlu berterusan . Berita Harian, () pp. |
| 2011 | Selembut sutera, sekeras besi. Mingguan Malaysia, () pp. 21 |
| 2011 | Share parenting after the divorce. The Star Online, () pp. |
| 2011 | Susah mahu jadi peguam?. Mingguan Malaysia, () pp. 23 |
| 2011 | Transformasi perundangan Islam elak persepsi negatif. Berita Harian, () pp. 37 |
| 2011 | Why Islamic legal system needs a shift. The Star Online, () pp. |
| 2010 | A Malaysian perspective on Qur'anic governance : family autonomy vs state intervention.. Islam and Civilisational Renewal, Special Issue: Religion, Law, and Governance in Southeast Asia, 2 (1) pp. 78-90 |
| 2010 | Getting leaders to end child abuse. The Star Online, () pp. N42 |
| 2010 | Good family governance the Quran way. The Star Online, () pp. N44 |
| 2010 | Good family governance: the Qur'an Way . The Star , () pp. |
| 2010 | Is death for infanticide right?. The Star Online, () pp. N52 |
| 2010 | Menyemarakkan budaya penyelidikan dalam dunia Islam.. Visi, (112) pp. |
| 2010 | Our right to women judges. The Star Online, () pp. |
| 2010 | Permata pengislahan perundangan Islam - biografi Profesor Emeritus Tan Sri Datuk Ahmad Mohamed Ibrahim / Abdul Monir Yaacob, Mohamad Arifin, Najibah Mohd Zin dan Siti Shamsiah Md Supi, ISBN 9789833698578. VISI- Majalah Kefaham Islam, (109) pp. 42-45 |
| 2010 | Promoting gender mainstreaming. The Star Online, () pp. N48 |
| 2010 | Protection of rights in divorce. The Star Online, () pp. N44 |
| 2010 | Regulating children's rights. The Star Online, () pp. |
| 2010 | Social problems and its relationship with family institution in FELDA settlements: the local perspectives. European Journal of Social Sciences, 14 (3) pp. 369-386 |
| 2010 | Some home truths behind youth crime. The Star Online, () pp. |
| 2009 | Conversion and its legal effect on the family. The Star, () pp. |
| 2009 | Nafkah anak tak sahtaraf yang beragama Islam: peruntukan undang-undang di Malaysia. Jurnal Hukum, 28 (1) pp. 3-16 |
| 2009 | Polemics of polygamy. The Star Online, () pp. |
| 2009 | When fathers move out of the home. The Star, () pp. |
| 2009 | Why more woman are petitioning for divorce. The Star Online, () pp. |
| 2008 | Protecting Muslim women against abuse of polygamy in Malaysia: Legal perspective. Hawwa: Journal of Women of the Middle East and the Islamic World, 6 (2) pp. 176-201 |
| 2007 | Education for all and children's right to education in Malaysia. Educational Awakening : Journal of the Educational Sciences, 2 (2) pp. 169-190 |
| 2005 | Psycho-legal readiness of women volunteers in combating drug abuse in Malaysia. Malaysian Journal of Social Policy and Society, 2 () pp. 17-32 |
Conference or Workshop Item
| | |
| --- | --- |
| 2019 | What women should know about OPAAW. In: Ally for Future 2019, |
| 2019 | Women security and global challenges: empowering women through legal framework. In: International Conference on Women Security And Global Challenges (ICWSGC2019), |
| 2016 | External Constraints of Waqf in Non-Muslim Countries. In: 5th International Awqaf Magazine Conference, |
| 2015 | Examining the policy of mandatory premartial HIV screening programme for Muslims in Malaysia. In: 4th International Conference on Law & Society (ICLAS IV) 2015 , |
| 2015 | Prevention of illegal marriages: a maqasid al-Shari'ah perspective. In: International Conference on Maqasid Al-Shari'ah in Public Policy and Governance, |
| 2011 | Endo sensor bacterial endotoxin detector in liquid biological samples. In: 2nd International Conference on Biotechnology Engineering (ICBioE 2011), |
| 2011 | Shaping Islamic moderation in Malaysia: why women's role is important? . In: International Seminar on Islamic Moderation and Its Role in Reform and Development, |
| 2011 | Speaker on " 5 characteristics of excellent Muslims women" (5 ciri wanita Islam cemerlang). In: Women Excellent Seminar, |
| 2010 | Convention on the service abroad of judicial and extrajudicial documents in civil and commercial matters: Shari'ah perspective . In: Seminar on the Harmonizationof Syariah and Civil Law in Malaysia, |
| 2010 | Dysfunctional families and crime: righting wrongs . In: International conference on the Family Institution in the 21st Century: Ideals and Realities, |
| 2010 | Muslim women in contemporary societies: realities and opportunities. In: IIUM Research, Innovation & Invention Exhibition (IRIIE 2010), |
| 2010 | Qur'anic governance : family vs state. In: Conference on Law, Religion and Governance in Southeast Asia, |
| 2009 | Living in hell - domestic violence against women in Muslim minorities communities in the US and UK: comparative analysis . In: International Conference on Jurisprudence of Minorities in the light of the higher objective of Islamic law (Maqasid al-Shari'ah): identity and integriti, |
Book
| | |
| --- | --- |
| 2020 | Approaches on Empowering Muslim Women through Property Rights. ISTAC-IIUM Publications, ISBN: 978-983-9379-71-6 |
| 2019 | Indeks Syariah Malaysia aspek perundangan. IIUM Press, International Islamic University Malaysia, ISBN: 978-967-418-779-8 |
| 2018 | Malaysia - Family and succession law. Wolters Kluwer, ISBN: 9789065448880 |
| 2016 | Muslim women promoting peace. IIUM Press, International Islamic University Malaysia, ISBN: 978-967-418-449-0 |
| 2013 | IIUM: The premier global Islamic university. IIUM Press, ISBN: 978-967-418-270-0 |
| 2011 | Islamic family law : demystifying shari'ah in the protection of children's right Volume III.. IIUM Press, ISBN: 9789674180263 |
| 2011 | Legal education in Malaysia. IIUM Press, ISBN: 9789674181260 |
| 2009 | Keluarga syurga : wanita dan undang-undang. Blue-T Publications Sdn. Bhd., ISBN: 9789675401367 |
| 2009 | Muslim women in contemporary societies : reality and opportunities . IIUM Press, ISBN: 978-983.3855-99-5 |
| 2008 | International encyclopaedia of law: family and succession law. Kluwer Law International, ISBN: 978-90-654-4945-0 |
| 2006 | Malaysian family laws : an annotated bibliography (1933-2000). Research Centre, IIUM , ISBN: 983-2957-96-6 |
| 2005 | Divorce laws in Malaysia. Malayan Law Journal Sdn Bhd, ISBN: 9679626334 |
| 2004 | Islamic family law: new challenges in the 21st century. Research Centre, International Islamic University Malaysia, ISBN: 9839727982 |
| 2003 | Sosial issues in Malaysia : muslim women's perspectives (work, law, politics and education). Ilmiah Publishers, ISBN: 983-2571-22-7 |
| 2002 | Kamus istilah undang-undang keluarga Islam. Zebra Editions, ISBN: 983-2617-00-6 |
| 2001 | Islamic family law issues 2000. IIUM Press, International Islamic University Malaysia, ISBN: 983-9727-19-2 |
| 1998 | Introduction to divorce laws in Malaysia. Cooperative Limited, International Islamic University Malaysia, ISBN: 983-2051-00-2 |
| 1997 | Isu-isu kekeluargaan dan undang-undang . Angkatan Belia Islam Malaysia (ABIM), ISBN: |
| 1995 | Women's issues : women's perspectives . Women's Affairs Secretariat (WAFA), ISBN: 983-9727-01-X |
| 1988 | Strict liability in criminal law : a comparative approach. Nurin Enterprise, ISBN: |
Book Section
| | |
| --- | --- |
| 2020 | Pemikiran Profesor Ahmad Ibrahim dalam undang-undang keluarga. In: Institut Kefahaman Islam Malaysia (IKIM), ISBN: 978-983-2718-73-4, pp. 225-246 |
| 2020 | The reconstruction of Muslim women's property rights in the 21st Century. In: Equinox Publishing Ltd, ISBN: 9781781798386, pp. 172-189 |
| 2019 | The International Islamic University Malaysia at thirty-five: accelerating transformation, 2012-2018. In: IIUM Press, ISBN: 978-967-491-035-8, pp. 69-89 |
| 2019 | The International Islamic University Malaysia at thirty-five: accelerating transformation, 2012-2018. In: IIUM Press, ISBN: 978-967-491-035-8, pp. 69-89 |
| 2018 | Talak tiga: pendekatan dan alasan penghakiman di Mahkamah Syariah di Malaysia. In: Dewan Bahasa dan Pustaka (DBP), ISBN: 978-983-49-1372-4, pp. 150-187 |
| 2015 | "Living in hell": A comparative analysis of domestic violence against women in Muslim minority communities in the USA and UK. In: The Other Press, ISBN: 978-983-9541-98-4, pp. 205-246 |
| 2015 | "Living in hell": A comparative analysis of domestic violence against women in Muslim minority communities in the USA and UK. In: The Other Press, ISBN: 978-983-9541-98-4, pp. 205-246 |
| 2014 | Equality clause of modern constitutions, women and Islamic law. In: SerialsPublications, ISBN: 9788183876247, pp. 32-61 |
| 2014 | Obligations under CEDAW and their implementations in selected Muslim countries. In: SerialsPublications, ISBN: 9788183876247, pp. 85-120 |
| 2013 | From a Ramshackle Estate to a garden of knowledge and virtue: a campus for a Premier Global Islamic University. In: IIUM Press, ISBN: 9789674182700, pp. 101-123 |
| 2013 | From a Ramshackle Estate to a garden of knowledge and virtue: a campus for a Premier Global Islamic University. In: IIUM Press, ISBN: 9789674182700, pp. 101-123 |
| 2013 | International Islamic University Malaysia: the university with a soul. In: IIUM Press, ISBN: 9789674182700, pp. 3-21 |
| 2013 | Internationalising a model of Islamic educational excellence. In: IIUM Press, ISBN: 9789674182700, pp. 79-99 |
| 2013 | Internationalising a model of Islamic educational excellence. In: IIUM Press, ISBN: 9789674182700, pp. 79-99 |
| 2013 | Islam and science: the Kulliyyah of Science at the International Islamic University Malaysia. In: IIUM Press, ISBN: 9789674182700, pp. 211-223 |
| 2013 | Islam and science: the Kulliyyah of Science at the International Islamic University Malaysia. In: IIUM Press, ISBN: 9789674182700, pp. 211-223 |
| 2013 | Islamisation and internationalisation: the Kuantan Campus. In: IIUM Press, ISBN: 9789674182700, pp. 125-137 |
| 2013 | Islamisation and internationalisation: the Kuantan Campus. In: IIUM Press, ISBN: 9789674182700, pp. 125-137 |
| 2013 | Islamisation, harmonisation and convergence: Ahmad Ibrahim Kulliyyah of Laws' journey. In: IIUM Press, ISBN: 9789674182700, pp. 181-193 |
| 2013 | Islamisation, harmonisation and convergence: Ahmad Ibrahim Kulliyyah of Laws' journey. In: IIUM Press, ISBN: 9789674182700, pp. 181-193 |
| 2013 | Kulliyyah of Architecture and Environmental Design: building on a rich heritage. In: IIUM Press, ISBN: 9789674182700, pp. 225-237 |
| 2013 | Kulliyyah of Architecture and Environmental Design: building on a rich heritage. In: IIUM Press, ISBN: 9789674182700, pp. 225-237 |
| 2013 | Kulliyyah of Engineering; Producing a Muslim engineer. In: IIUM Press, ISBN: 9789674182700, pp. 239-249 |
| 2013 | Kulliyyah of Engineering; Producing a Muslim engineer. In: IIUM Press, ISBN: 9789674182700, pp. 239-249 |
| 2013 | Malay intelligentsia's quest for an Islamic university and the future of "Islamization of human knowledge' in International Islamic University Malaysia. In: IIUM Press, ISBN: 9789674182700, pp. 23-45 |
| 2013 | Malay intelligentsia's quest for an Islamic university and the future of "Islamization of human knowledge' in International Islamic University Malaysia. In: IIUM Press, ISBN: 9789674182700, pp. 23-45 |
| 2013 | Relevantisation and islamisation: the experience of the Kulliyyah of Islamic Revealed Knowledge and Human Sciences. In: IIUM Press, ISBN: 9789674182700, pp. 171-179 |
| 2013 | Relevantisation and islamisation: the experience of the Kulliyyah of Islamic Revealed Knowledge and Human Sciences. In: IIUM Press, ISBN: 9789674182700, pp. 171-179 |
| 2013 | The effectiveness of an integrated curriculum: economics programme at the International Islamic University Malaysia. In: IIUM Press, ISBN: 9789674182700, pp. 153-168 |
| 2013 | The effectiveness of an integrated curriculum: economics programme at the International Islamic University Malaysia. In: IIUM Press, ISBN: 9789674182700, pp. 153-168 |
| 2013 | The Institute of Education: premiering global Islamic education. In: IIUM Press, ISBN: 9789674182700, pp. 259-275 |
| 2013 | The Institute of Education: premiering global Islamic education. In: IIUM Press, ISBN: 9789674182700, pp. 259-275 |
| 2013 | The Institute of Islamic Banking and Finance. In: IIUM Press, ISBN: 9789674182700, pp. 277-289 |
| 2013 | The Institute of Islamic Banking and Finance. In: IIUM Press, ISBN: 9789674182700, pp. 277-289 |
| 2013 | The Kulliyyah of Economics and Management Sciences: integrating conventional economics with islamic values and ethics. In: IIUM Press, ISBN: 978-967-418-270-0, pp. 195-209 |
| 2013 | The Kulliyyah of Economics and Management Sciences: integrating conventional economics with islamic values and ethics. In: IIUM Press, ISBN: 978-967-418-270-0, pp. 195-209 |
| 2011 | An insight to legal protection of children: demystifying Shari'ah in the protection of children's rights. In: IIUM Press, ISBN: 9789674180249, pp. xi-xvii |
| 2011 | Education for all and children's right to education in Malaysia. In: IIUM Press, ISBN: 9789674180553, pp. 53-74 |
| 2011 | The interrelationship and the associated tension between Shari'ah and civil family law in Malaysia: harmonisation as a solution. In: IIUM Press, ISBN: 9789670225890, pp. 21-29 |
| 2011 | The legal rights of Muslim children in polyygamous marriages. In: IIUM Press, ISBN: 9789674180249, pp. 1-30 |
| 2010 | Family and succession law : Malaysia. In: Kluwer, ISBN: 978-90-654-4888-0, pp. |
| 2009 | Access to justice: the human dignity of Muslim and women divorce in Malaysia. In: IIUM Press and IIMU, ISBN: 9789833855995, pp. 39-54 |
| 2009 | Hukum harta sepencarian dari sudut pandangan wanita peneroka Felda: satu laporan kajian awal. In: Jabatan Undang-Undang Islam, Kulliyyah Undang-Undang Ahmad Ibrahim & Pusat Undang-Undang Harun M. Hashim, Universiti Islam Antarabangsa, ISBN: 9789834120368, pp. 35-58 |
| 2009 | Hukum harta sepencarian dari sudut pandangan wanita peneroka Felda: satu laporan kajian awal. In: Jabatan Undang-Undang Islam, Kulliyyah Undang-Undang Ahmad Ibrahim & Pusat Undang-Undang Harun M. Hashim, Universiti Islam Antarabangsa, ISBN: 9789834120368, pp. 35-58 |
| 2009 | In defence of Islam: American Muslim women write back. In: IIUM Press, ISBN: 978-983-3855-99-5, pp. 55-76 |
| 2003 | An insight to the ethics of assisted reproduction: balancing rights and responsibilities. In: Medical Law and Ethics Unit, Law Centre. Ahmad Ibrahim Kuliyyah of Laws, ISBN: 983-301-900-5, pp. 140-154 |
| 2003 | Justice delayed is justice denied. In: Ilmiah Publishers, ISBN: 983-2571-22-7, pp. 60-102 |
| 2001 | Islamic family law in Malaysia: An overview. In: IIUM Press, ISBN: 983-9727-19-2, pp. 1-30 |
| 1995 | Women and divorce : legal response. In: WAFA, ISBN: 983-9727-01-X, pp. 37-74 |