Staff Directory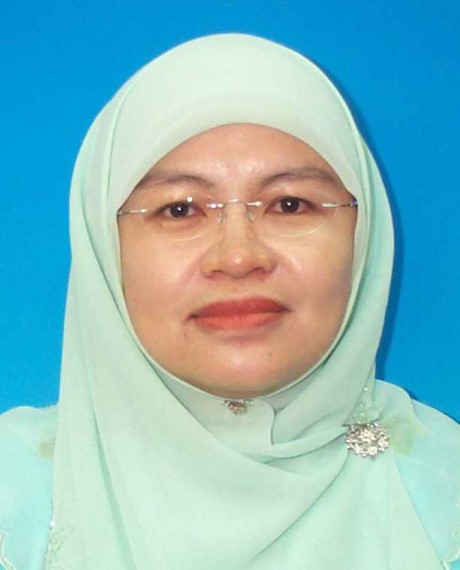 Academic Qualification
Doctor of Philosophy in Training Management - Doctor of Philosophy, Universiti Putra Malaysia (UPM)
Master of Business Administration - Masters Degree, Universiti Putra Malaysia (UPM)
Bachelor of Business Administration - Bachelor Degree, Pacific Lutheran University, WA
Diploma in Education - Diploma, Universiti Malaya (UM)
Junaidah Binti Hashim (Prof. Datin Dr.)
Professor
IIUM Gombak Campus
KULLIYYAH OF ECONOMICS AND MANAGEMENT SCIENCES
---
junaidahh@iium.edu.my
4713
Expert Profile
Professor Datin Dr. Junaidah Hashim started her career as lecturer at Department of Business, Kuliyyah of Economics & Management Sciences in 1998. She started her career in IIUM as Assistant Professor. She taught General Management courses, Organisational Behaviour, Human Resource Management and Compensation. Later she introduced a new course, Training Management, which was not taught at the school yet at that time. In 2004, she was promoted to an Associate Professor, and later in 2010 she obtained her Professorship.
Professor Datin Dr. Junaidah, gained practical experience by working 12 years in Malaysian private sector. After joining the academic institution, she continued to serve private companies and public organisations by providing training and conducting applied research. She is an expert known in the field of human resource in Malaysia. She was awarded a project for Train & Place Program by the Ministry of Human Resources, Malaysia. She has been appointed as consultant by the Human Resource Development Council, Malaysia. She has completed several research projects for Human Resource Development Council, Malaysia.
Through many years working in International Islamic University Malaysia, she has developed a new research interest on Islamic Human Resource Management. She was among the pioneer authors published her work on Islamic HRM. She authored four books on the subjects and more than 50 research articles in national and international journals. Her articles have been published in highly reputable journals such as Personnel Review, Journal of European Industrial Training, Journal of Workplace Learning, Gender in Management, and International Journal of Training and Development. She is at the editorial board of Employee Relation: The International Journal.
Professor Datin Dr. Junaidah has won several awards. In 2001, she has won Excellent Teacher award at the university level. She won first place best paper award at Islamic management conference in 2007. In 2008, she won another award, Quality Research Award (Faculty level), and in 2014, she received the award for highest citation in Indexed Journal Social Sciences at International Islamic University Malaysia.
Area of Specialisation
Economics, Business And Management ~ Economics, Business And Management ~ Human Resource Development (HRD) ~ Training Management - Human Resource Development
Professional Membership
2008 - 2015: Member of Profesional Body / Association, Malaysian Institute of Management
2009: Member of Profesional Body / Association, Australia New Zealand Management Association
Teaching Responsibilities
| | |
| --- | --- |
| COMPENSATION MANAGEMENT | 1999/2000 2017/2018 2016/2017 2018/2019 2004/2005 2001/2002 2007/2008 2002/2003 2020/2021 2000/2001 2019/2020 2003/2004 2015/2016 |
| ENTREPRENEURSHIP | 2014/2015 2013/2014 |
| FINANCIAL MANAGEMENT I | 1997/1998 |
| HUMAN RESOURCE MANAGEMENT | 1999/2000 1998/1999 2006/2007 2001/2002 2000/2001 2014/2015 2013/2014 2017/2018 2010/2011 2009/2010 2015/2016 2008/2009 2018/2019 2004/2005 2019/2020 2002/2003 2012/2013 2016/2017 2007/2008 2003/2004 2020/2021 |
| MANAGEMENT OF HUMAN RESOURCES | 2013/2014 2000/2001 2014/2015 |
| MARKETING PRINCIPLES | 1999/2000 |
| ORG BEHAVIOUR AND THEORY | 2001/2002 2000/2001 |
| ORGANIZATIONAL BEHAVIOUR | 1995/1996 |
| PRACTICAL TRAINING (BBA) | 2009/2010 2010/2011 |
| PRINCIPLES AND PRACTICE OF MANAGEMENT | 2000/2001 1999/2000 2002/2003 1998/1999 |
| SEMINAR ON COMTEMPORARY ISSUES IN MANAGEMENT | 2013/2014 2014/2015 2015/2016 |
| TRAINING MANAGEMENT | 2001/2002 2006/2007 2007/2008 2002/2003 2003/2004 2020/2021 2014/2015 2016/2017 2018/2019 2012/2013 2017/2018 2009/2010 2019/2020 2015/2016 2004/2005 |
| TRANNING MANAGEMENT | 2000/2001 2009/2010 |
Research Projects
Completed
| | |
| --- | --- |
| 2016 - 2017 | National Survey of Research and Development (R&D) 2016 |
| 2015 - | Projek Kaji Selidik Indeks Kepuasan Pelanggan Jabatan Perkhidmatan Korporat, Bahagian Perkhidmatan & hal Ehwal Korporat, Tenaga Nasional Berhad |
| 2015 - 2017 | Constructing and Validating Measures of Islamic Human Resource Management Practices |
| 2015 - 2016 | Strategi Kesejahteraan Ekonomi di Kalangan Belia Malaysia |
| 2014 - 2015 | Formulating Career Women Retention Model in Malaysia |
| 2013 - 2014 | Reconceptualising Social Skills in Organizations:Exploring the Relationship Between Networking, Mentoring, Personality and Career Success |
| 2013 - 2015 | Self-Determination and Entrepreneurial Intention: Examining the Role of Attitude, Subjective Norms, and Perceived Behavioural Control as Mediator |
| 2012 - 2013 | Spirituality, Integrity and Counterproductive Work Behaviors among Employees of Selected Organisations in Malaysia |
| 2011 - 2012 | HRM Practices Of Knowledge Intensive And Non-Knowledge Intensive SMEs and Its Relationship With Employees Competencies |
| 2010 - 2011 | HRM Practices in Micro Enterprise Focusing on Employees' Satisfaction & Comitment |
| 2010 - 2011 | The Effects of Religiosity, Sprituality and Personal Values on Employees' Commitment and Performance |
| 2009 - 2010 | A Textbook on "Human Resource Development' |
| 2008 - 2011 | Competence, Performance and Train ability of Older Civil Servants in Malaysia |
| 2008 - 2011 | Towards a Model of Succession Planning in the East Coast Region |
| 2008 - 2009 | Graduates Employment in Malaysian SMES |
| 2008 - 2010 | Motivation to Learn ICT among Senior Public Service Officers in Malaysia |
| 2008 - 2011 | Employability Model of Disabled Employees in Malaysia |
| 2008 - 2010 | Academic Excellence as Selection Criteria Among Selected Malaysian Employers |
| 2008 - 2011 | Perception of Selected Young Employee towards an Extension of Retirement Age in Malaysia |
| 2007 - 2009 | The Influence of Islamic Human Resource Management Practices on Organizational Commitment, Job Satisfaction and Turnover Intention among Selected Emplyees in Malaysia |
| 2007 - 2009 | SME Owner-Manager?s Dilemma in Succession Planning: Malaysian Case |
| 2007 - 2009 | An Investigation of Self-Directed Learning among Muslim Managers. |
| 2006 - 2010 | Islamic Human Resource Practices Among Selected Muslim-Owned Organization in Malaysia |
| 2006 - 2006 | The Influence of Learning Styles and Learning Barriers in Information Communication Technology Adoption among Working Women in Malaysia |
On-Going
| | |
| --- | --- |
| 2020 - Present | Selected Readings of Human Resource Management in Islamic Context |
| 2017 - Present | Formulating A Retention Model by Using The Job Embeddedness Theory in Private Islamic Schools in Malaysia |
| 2016 - Present | Internet and Persons with Disabilities: Implication towards Digital Inclusion Policy |
| 2015 - Present | Formulating an Islamic Model for Women Entrepreneurs Involved in International Business |
| 2008 - Present | Small and Medium Enterprises and Entrepreneurs Development Unit (SME) |
| - | Women for Progress Research Unit (WPRU) |
Award & Recognition
| | | |
| --- | --- | --- |
| 15 Apr, 2010 | Quality Award - INTERNATIONAL ISLAMIC UNIVERSITY | University |
| 15 Apr, 2008 | Quality Award - INTERNATIONAL ISLAMIC UNIVERSITY | University |
| 15 Aug, 2007 | Best Paper Award: Best paper award (First place) a??Religion as a determinant in self-directed learning at workplacea?? - International Conference on Management from Islamic Perspectives | International |
| 16 Mar, 2002 | Excellent Teacher Award - International Islamic University Malaysia | Kulliyyah |
Publications
Article
| | |
| --- | --- |
| 2021 | Graduate employability: perception of graduate students on soft skills towards employability in Bangladesh. Journal of International Business and Management, 4 (4) pp. 1-14 |
| 2020 | An exploration of the youth's perception toward social entrepreneurship development: evidence from Bangladesh. JEMA: Jurnal Ilmiah Bidang Akuntansi dan Manajemen, () pp. 88-104 |
| 2019 | Soft skills practiced by managers for employee job performance in Ready Made Garments (RMG) sector of Bangladesh. Journal of International Business and Management (JIBM), 2 (4) pp. 1-15 |
| 2018 | Exploring factors of adult disabilities satisfaction towards motives of internet use in Malaysia. International Journal for Studies on Children, Women, Elderly And Disabled, 4 () pp. 251-259 |
| 2018 | Factors influencing digital skill competencies among persons with disabilities in Malaysia. Human Communication A Journal of the Pacific and Asian Communication Association, 1 (2) pp. 54-72 |
| 2018 | Job embeddedness and retention: a study among teachers in private Islamic schools in Malaysia. Malaysian Journal of Consumer and Family Economics, 21 (S1) pp. 125-138 |
| 2018 | Mediating effect of technological innovation on the relationship between HRM, and performance in selected SMEs in Malaysia. International Journal of Business and Tehnopreneurship, 8 (1) pp. 77-94 |
| 2017 | Mediating effect of communication power on the relationships between networking and career success: a structural equation modeling approach. Communications of the IBIMA, 2017 () pp. 424146-1 |
| 2017 | The role of autonomy as a predictor of entrepreneurial intention among university students in Yemen. International Journal of Entrepreneurship and Small Business, 30 (3) pp. 325-340 |
| 2016 | Formality of HRM practices matters to employees satisfaction and commitment. Journal of Human Resources Management and Labor Studies, 4 (1) pp. 47-64 |
| 2016 | Servant leadership towards career success: An Islamic approach. Gading Journal for the Social Sciences, 1 (2) pp. 1-7 |
| 2016 | Social media influence on Malay families resilience towards the challenges of Internet = Pengaruh media sosial ke atas dayatahan keluarga Melayu terhadap cabaran Internet. Jurnal Komunikasi Malaysian Journal of Communication, 32 (2) pp. 648-669 |
| 2015 | The moderating effect of employee relations on networking towards workplace happiness among married women in Malaysia. Procedia Social and Behavioral Sciences, 211 (1) pp. 306-312 |
| 2014 | Communication networks, organizational contacts and communication power in grooming professionals for career success. Jurnal Komunikasi: Malaysian Journal of Communication, 30 () pp. 219-242 |
| 2014 | Competence, performance and trainability of older workers of higher educational institutions in Malaysia. Employee Relations, 36 (1) pp. 82-106 |
| 2014 | Islamic spirituality development and ethical workplace conduct: conceptual paper. International Journal of Global Management Studies Professional , 5 (1) pp. 42-60 |
| 2014 | Predictors to employees with disabilities' organisational behaviour and involvement in employment. Equality, Diversity and Inclusion, 33 (2) pp. 193-209 |
| 2014 | Predictors to employees with disabilities' organisational behaviour and involvement in employment . Equality, Diversity and Inclusion , 33 (2) pp. 193-209 |
| 2013 | Authentic leadership, trust, and employees' work engagement: a comparative study of Islamic and conventional banks in Malaysia. Journal of Global Business Advancement, 6 (2) pp. 152-166 |
| 2013 | Communicating and sharing working relationships with older employees. Journal of Communication Management, 17 (2) pp. 100-121 |
| 2013 | Establishing linkages between religiosity and spirituality on employee performance. Employee Relations, 35 (4) pp. 360-376 |
| 2013 | I am worth more and I deserve more. IIUM Journal of Case Studies in Management, 4 (1) pp. 13-20 |
| 2013 | Who benefits from training: big guy or small fry?. Development and Learning in Organizations, 27 (3) pp. 14-17 |
| 2012 | Academic excellence as selection criteria among Malaysian employers. Higher Education, Skills and Work-Based Learning, 2 (1) pp. 63-73 |
| 2011 | A study on the implementation of talent management practices at Malaysia companies.. Asian Journal of Business and Management Sciences, 1 (4) pp. 147-162 |
| 2011 | Family-owned businesses: towards a model of succession planning in Malaysia. International Review of Business Research Papers, 7 (1) pp. 251-264 |
| 2011 | Perception of young employees on communicating and sharing working relationships with older employees in higher learning institutions in Malaysia . Jurnal Komunikasi Malaysian Journal of Communication, 28 (2) pp. 51-71 |
| 2011 | Role of organizational justice in determining work outcomes of national and expatriate academic staff in Malaysia. International Journal of Commerce and Management, 21 (1) pp. 82-93 |
| 2010 | Human resource management practices on organisational commitment: the Islamic perspective. Personnel Review, 39 (6) pp. 785-799 |
| 2009 | Islamic revival in human resource management practices among selected Islamic organisations in Malaysia. International Journal of Islamic and Middle Eastern Finance and Management, 2 (3) pp. 251-267 |
| 2008 | Competencies acquisition through self-directed learning among Malaysian managers. Journal of Workplace Learning, 20 (4) pp. 259-271 |
| 2008 | Learning barriers in adopting ICT among selected working women in Malaysia. Gender in Management: An International Journal, 23 (5) pp. 317-336 |
| 2008 | Organisational behaviour associated with emotional contagion among direct selling members. Direct Marketing : an International Journal , 2 (3) pp. 144-158 |
| 2006 | Human resource development practices as determinant of HRD climate and quality orientation . Journal of European Industrial Training, 30 (1) pp. 4-18 |
| 2001 | Training Evaluation: Clients Roles. Journal of European Industrial Training, 25 (7) pp. 374-379 |
Conference or Workshop Item
| | |
| --- | --- |
| 2019 | A conceptual paper on perception of society and social entrepreneurship intention among business graduates in Bangladesh moderated by innovation. In: IIUM International Conference on Business Management (IICBM 2019), |
| 2018 | Factors influencing digital skill competencies among persons with disabilities in Malaysia. In: 12th Biennial Convention of the Pacific and Asian Communication (PACA): Communication and Industrial Revolution 4.0, |
| 2018 | Factors of adult disabilities satisfaction towards motives of internet use in Malaysia. In: 4th Putrajaya International Conference on Children, Women, Elderly and People with Disabilities (PICCWED 4) 2018, |
| 2018 | Family influence on disabled children exposure towards digital acceptance. In: 4th Putrajaya International Conference on Children, Women, Elderly and People with Disabilities (PICCWED 4) 2018, |
| 2018 | Internet and persons with disabilities: implication towards digital inclusion policy. In: MCMC Research Symposium: Maximising Individual and Societal Participation in the Digital Economy through Digital Inclusion 2018, |
| 2018 | Job embeddedness and retention: a study among teachers in private Islamic schools in Malaysia. In: 3rd Applied International Business Conference 2018 (AIBC 2018), |
| 2016 | Constructing and validating measures of Islamic human resource management practices. In: "28th International Business Information Management Association Conference - Vision 2020: Innovation Management, Development Sustainability, and Competitive Economic Growth", |
| 2016 | Islamic HRM, creativity and innovativeness: workplace happiness as a mediator. In: 7th International Conference on Economics, Business and Management (ICEBM 2016), |
| 2015 | Boosting workplace happiness among married working women through employees training and career growth. In: 3rd International Conference on Educational Research And Practice Professional Educators as Global Leaders (ICERP 2015), |
| 2015 | Workplace bullying in Malaysia: incidence, consequences and role of organisational support. In: 13th Eurasia Business Economics Society Conference (EBES), |
| 2013 | Conceptualising the evaluation of HRIS in public sector . In: 2013 International Conference on Information Processing, Management and Intelligent Information Technology, |
| 2013 | Employability skills, job performance and promotability of employees working in SMEs Malaysia. In: ASEAN Consortium on Department of Economics Conference 2013, |
| 2013 | Spirituality, integrity and counterproductive work behaviours among employees of selected Islamic organisations in Malaysia. In: 2012 GEBF Annual on Global Economics, Business and Finance, |
| 2013 | Use of social networks sites (SNS), career success and information power. In: 2013 International Conference on Information Processing, Management and Intelligent Information Technology, |
| 2012 | Authentic leadership, trust, and employees' work engagement: a comparative study of Islamic and conventional banks in Malaysia. In: 9th Academy of Global Business Advancement Conference, |
| 2012 | Job performance and academic excellence of graduates. In: Fifth International Conference of Education, Research and Innovation, |
| 2012 | Mediating effect of integrity on workplace spirituality and counterproductive work behaviours. In: Terengganu International Business and Economics Conference 2012 (TIBEC III), |
| 2012 | Mediating effect of integrity on workplace spirituality and counterproductive work behaviours. In: Terengganu International Business and Economics Conference 2012 (TIBEC III), |
| 2011 | HRM practices in micro enterprises focusing on employees' satisfaction and commitment. In: 10th International Conference of the Academy of HRD (Asia Chapter), |
| 2011 | Internal customer satisfaction towards HRM practices and its influence on external customers and organisational outcomes. In: 10th International Conference of the Academy of HRD (Asia Chapter), |
| 2011 | The accessibility of workplace built environment to the disable employees in Malaysia. In: International Conference on Universal Design in Built Environment (ICUDBE 2011), |
| 2011 | The accessibility of workplace built environment to the disabled employees in Malaysia. In: International Conference on Universal Design for Built Environment 2011 (ICUDBE 2011), |
| 2011 | Working in multicultural environments: a conceptual analysis of the effects of spirituality, religiosity, and personal values on employee performance. In: AIB 2011 Annual Meeting Nagoya, Japan June 24-28, 2011, |
| 2011 | Young and older workers: competence, performance and trainability . In: Eurasia Business and Economics Society (EBES) 2011 Conference, |
| 2010 | Effects of religiosity, spirituality, and personal values on employee performance: a conceptual analysis. In: 9th International Conference of the Academy of HRD (Asia Chapter), |
| 2010 | Learning behaviours and motivation to learn in various cultural backgrounds. In: 2nd Paris International Conference on Education, Economy and Society, |
| 2010 | Motivation to learn ICT among senior public service officials in Malaysia : a conceptual framework . In: 14th International Business Information Management Conference ( IBIMA), |
| 2009 | Academic excellence as selection criteria among selected Malaysian employers. In: International Conference on Business & Information (BAI 2009), |
| 2009 | Cultural influences on self-directed learning readiness among selected university students. In: International Conference on Teaching and Learning in Higher Education 2009 (ICTLHE09), |
| 2009 | Motivation to learn ICT among senior public service officials in Malaysia : A conceptual framework in Khalid Soliman . In: 12th IBIMA Conference on Creating Global Economies through Innovation and Knowledge Management, |
Book
Book Section
| | |
| --- | --- |
| 2017 | Use of Social Network Sites (SNS), career success and information power. In: Silverfish Books, ISBN: 978-983-3221-64-6, pp. 170-184 |
| 2017 | Use of Social Network Sites (SNS), career success and information power. In: Silverfish Books, ISBN: 978-983-3221-64-6, pp. 170-184 |
| 2016 | Factors influencing the loyalty of employee in relation to organizational climate from an Islamic perspective. In: Springer Nature, ISBN: 978-981-10-6052-6, pp. 233-241 |
| 2016 | Factors influencing the loyalty of employee in relation to organizational climate from an Islamic perspective. In: Springer Nature, ISBN: 978-981-10-6052-6, pp. 233-241 |
| 2011 | Case studies in Human Resource Management. In: IIUM Press, ISBN: 9789674181871, pp. 23-28 |
| 2011 | Human resource development and technology. In: Pearson Malaysia Sdn. Bhd., ISBN: 9789673491773, pp. 183-215 |
| 2011 | Human resource development and technology. In: Pearson Malaysia Sdn. Bhd., ISBN: 9789673491773, pp. 183-215 |
| 2011 | Human resource development from an Islamic perspective. In: Pearson Malaysia Sdn. Bhd., ISBN: 9789673491773, pp. 217-240 |
| 2011 | Human resource development from an Islamic perspective. In: Pearson Malaysia Sdn. Bhd., ISBN: 9789673491773, pp. 217-240 |
| 2011 | Human resource management practices in Islam and organisational outcomes. In: IIUM Press, ISBN: 9789675272943, pp. 55-86 |
| 2011 | Muslim small business owner : opportunities and threats. In: IIUM Press, ISBN: 978-967-5272-81-3, pp. 395-403 |
| 2011 | Muslim small business owner : opportunities and threats. In: IIUM Press, ISBN: 978-967-5272-81-3, pp. 395-403 |
| 2011 | Workplace accessibility to disabled employees in Malaysia . In: IIUM Press, ISBN: 9789674181307, pp. 11-19 |
| 2011 | Workplace spirituality and human capital development from Islamic perspective. In: IIUM Press, ISBN: 9789675272943, pp. 87-117 |