Staff Directory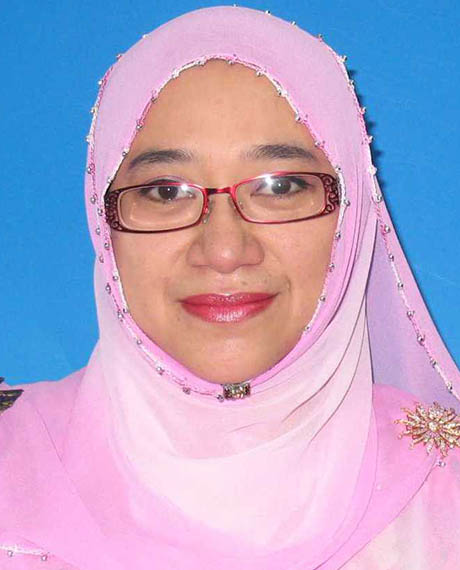 Academic Qualification
Doctor of Philosophy in Islamic Banking - Doctor of Philosophy, University of Durham
Master of Science (Accounting) - Masters Degree, International Islamic University Malaysia
Bachelor of Science in Accounting - Bachelor Degree, Philadelphia University
Ros Aniza Bt. Mohd. Shariff (Dr.)
Assistant Professor
IIUM Gombak Campus
KULLIYYAH OF ECONOMICS AND MANAGEMENT SCIENCES
---
Expert Profile
Dr. Ros Aniza Mohd Shariff joined the Kulliyyah of Economics and Management Sciences, International Islamic University Malaysia (IIUM) in 2000. Prior to that, she had worked with Kolej Universiti Islam Selangor (KUIS). She obtained her BSc in Accounting (Hon) degree from Philadelphia University, Amman, Jordan in 1998 and completed her Master's degree (MSc in Accounting) at IIUM with specialization in Islamic Accounting in 2003 and Ph.D degree from Durham University, in 2012. Her Ph.D thesis focused on service quality of Islamic and conventional banks in Malaysia.
To date, she has published articles in various journals, such as International Journal of Islamic Financial Services and International Journal of Education and Research. She has also presented papers in various conferences including the Durham Islamic Finance Summer School 2012 (Durham University, United Kingdom), 5th Kyoto-Durham International Workshop in Islamic Economics and Finance 2012 (Kyoto University, Japan), Gulf Research Meeting 2012 (Cambridge University, United Kingdom), 2nd Global Islamic Marketing Conference 2012 (United Arab Emirates University, UAE), British Accounting and Finance Association (BAFA) Conference 2011 (Aston University, United Kingdom),4th International Conference on Global Economic Crisis from Islamic Economic Perspectives 2010 (Kuwait University, Kuwait), Islamic Perspectives on Management and Finance Conference 2009 (Leicester University, United Kingdom), and International Islamic Banking Conference 2003 (Prato, Italy).
In addition to her involvement in the academic community, she is also actively involved in students activities at Mahallah level. She is the Principal of Mahallah Asma' since 2013. Previously, she was a fellow at Mahallah Sumayyah and Mahallah Hafsah. She is also honored to have been entrusted with various administrative positions related to student activities, including Director, Programme for Mahallah Committees Leadership Training (Mclead 2015), Treasurer for Inter-Mahallah Cultural Week (IMCW 2014), and Treasurer for Inter-Mahallah Sports Carnival (ISC 2015). Currently, she is IIUM's representative for Majlis Perumahan Universiti-Universiti Malaysia (MAPUM). On the national education front, she was appointed by the Ministry of Higher Education to be a committee member for preparing the guidelines for Public Higher Learning Institutions College Accommodation. She was also selected by MAPUM as a committee member on the harmonization of MAPUM's Policy and Objectives, and Residential College's Charges. Other opportunity given to her was to be selected by the Public Service Department to interview candidates for government scholarship award.
Presently, Dr. Ros Aniza is an Assistant Professor at the Department of Accounting, where she teaches undergraduate courses such as Intermediate Accounting, Advanced Accounting, Zakat Accounting and Accounting for Islamic Banks. She also teaches Accounting for Islamic Financial Institutions at the postgraduate level. Her research interest lies in the areas of Islamic Accounting, Accounting for Islamic Banks, Performance of Islamic Banks, Service Quality of Islamic Financial Institutions, Accounting for Zakat and Waqaf, Accounting Education and Financial Reporting and Disclosure.
Area of Specialisation
Economics, Business And Management ~ Economics, Business And Management ~ Accounting ~ Islamic Accounting
Professional Membership
2018: Member of Profesional Body / Association: (Certified Trainer of MDEC / Entrepreneurship Educators for MDEC), Malaysia Digital Economy Corporation
2018: Member of Profesional Body / Association: (Certified Trainer Alibaba Global e-Commerce Talent Program), Ministry of Higher Education
2019: Member of Profesional Body / Association: (Certified Trainer of HRDF/ Member ), Human Resource Development Fund
2021 - 2022: Member of Profesional Body / Association: (Member of Majlis Keusahawanan Mahasiswa Universiti Malaysia (MAKMUM)), Ministry of Higher Education
Teaching Responsibilities
| | |
| --- | --- |
| USRAH IN ACTION 1 | 2023/2024 |
Research Projects
Completed
| | |
| --- | --- |
| 2022 - 2023 | Quadruple Helix Network to Empower Youth & Single Mother for Sejahtera Community |
| 2013 - 2014 | Manual for Intermediate Accounting (ACC 2001) |
On-Going
| | |
| --- | --- |
| 2023 - Present | COMPOST WITH US: A SOCIAL ENTREPRENEURSHIP PROJECT |
| 2022 - Present | Knowledge Transfer on Accounting Practices and Digital Entrepreneurship For Sustainable Economic Growth of Asnaf Microentrepreneurs in Perlis. |
| 2021 - Present | KNOWLEDGE TRANSFER ON ACCOUNTING PRACTICES FOR SUSTAINABLE ECONOMIC GROWTH OF MICROENTREPRENEURS OF PUSAT KECEMERLANGAN PENDIDIKAN UMMAH (PACU) |
| 2021 - Present | Strategic Planning and Marketing Strategies for a Sustainable Asnaf Business Center |
| 2018 - Present | Shariah Non-compliant Events in Islamic Banks: Formulating a Mitigation Mechanism for the Application of Hybrid Products in Malaysia |
| 2017 - Present | The Analysis of Corporate Governance and Intellectual Capital in Indonesian Islamic Banks : A Study from organisational Growth Prespective |
| 2014 - Present | Modelling of an Accounting and Reporting Framework for Waqf in Malaysia |
| 2007 - Present | Islamic Accounting and Accountability Research Unit (IAARU) |
Publications
Article
| | |
| --- | --- |
| 2023 | Issues and challenges of takaful for micro, small, and medium enterprises (MSMEs) in Malaysia. Central European Management Journal, 31 (4) pp. 358-368 |
| 2023 | Proper waqf management and waqf accounting report: a mean to solve economic problems in Indonesia. International Journal of Emerging Trends in Social Sciences, 14 (1) pp. 38-44 |
| 2022 | Linking corporate governance with organisational growth: evidence from Indonesian Islamic banks. Journal of Islamic Accounting and Business Research, () pp. |
| 2016 | Determinants of maqāsiḍ al-shari'ah-based performance measurement practices: the case of Malaysian Islamic banks. International Journal of Economics, Management and Accounting, 24 (1) pp. 49-81 |
| 2016 | Determinants of Maqasid al-Shari'ah-Based performance measurement practices: the case of Malaysian Islamic banks. International Journal of Economics, Management and Accounting, 24 (1) pp. 49-81 |
| 2015 | Inculcating leadership skills through Mahallah leadership training (McLEAD 2015). International Journal of Education and Research, 3 (3) pp. 489-504 |
| 2005 | An exploratory study of Ijarah accounting practices in Malaysian financial institutions. The International Journal o f Accounting and Business Society, 13 (1/2) pp. 45-68 |
Conference or Workshop Item
| | |
| --- | --- |
| 2021 | The Power Of Entrepreneurial Skills For Graduates. In: Workshop on Entrepreneurship, |
| 2020 | Entrepreneurship and financial management for business. In: Business Capacity Building in conjunction with Entrepreneurship Carnival (EnCar) 2020, |
| 2020 | Factors influencing entrepreneurs' intention towards online business involvement. In: International Conference on Business Management (iCBM) 2019, |
| 2020 | Insight with the expert: a sharing with entrepreneurship bureau. In: Mahallah Representative Committee Leadership Training (McLead0 2020, |
| 2020 | Introduction to entrepreneurship. In: Business Capacity Building in conjunction with Entrepreneurship Carnival 2020, |
| 2020 | Let's spark the entrepreneurship in us.. In: Mahallah Asma' Hangout Series 3, |
| 2019 | Entrepreneurship development centre: expanding the interpersonal skills through entrepreneurship co-curricular activities. In: National University Co-Curriculum Conference 2019, organised by Universiti Putra Malaysia, 10-11 July 2019., |
| 2019 | Islamic financial transaction: analysis of shari'ah compliance objectives. In: Shari'ah Audit Executive Training Programme, |
| 2019 | Roles of shari'ah supervisory board. In: Shari'ah Audit Executive Training Programme, |
| 2019 | Shari'ah review & auditing: structure, process and reporting. In: Shari'ah Audit Executive Training Programme, |
| 2019 | Shariah framework for shariah compliance review, audit and governance. In: Shari'ah Audit Executive Training Programme, |
| 2018 | Evolusi kerjaya revolusi ekonomi: apa langkah graduan?. In: Konvensyen Keusahawanan & Kerjaya, |
| 2018 | Idea dan pengenalan kepada perniagaan. In: i-Taajir Training Session, |
| 2017 | Patronage factors of Islamic and conventional banks: an empirical study in Malaysia. In: First International Conference Integrating Contemporary Economics and Management Sciences with the Islamic Worldview, organised by Alneelain University, Khartoum, Sudan, 29-30 November 2017., |
| 2016 | Accounting for Ijarah. In: INTAC Workshop on Islamic Accounting, |
| 2016 | Accounting for Murabahah. In: INTAC Workshop on Islamic Accounting, |
| 2016 | Accounting for Zakat. In: INTAC Workshop on Islamic Accounting, |
| 2015 | Menangani isu-isu pelajar antarabangsa di mahallah : perkongsian pengalaman Universiti Islam Antarabangsa Malaysia. In: Konferensi Kebangsaan Pengurusan Non Residen 2015, |
| 2015 | Service quality performance of conventional and Islamic banks in Malaysia: an empirical Study. In: International Accounting Conference VI (INTAC VI), |
| 2015 | The Perception Towards Accounting Practices of Murabahah Among Accounting Students in Malaysia. In: International Accounting Conference VI (INTAC VI), |
Book
| | |
| --- | --- |
| 2021 | Annual Report 2019/2020 Entrepreneurship Development Centre. Entrepreneurship Development Centre, IIUM., ISBN: 978 - 967 - 18361 - 1 - 8 |
| 2021 | IIUM Entrepreneurship Educators Module 1.0. Entrepreneurship Development Centre, IIUM., ISBN: |
| 2020 | Entrepreneurship action plan Higher Education Institutions 2021-2025. Ministry of Higher Education, Malaysia, ISBN: 978-967-0888-61-3 |
| 2020 | Entrepreneurship handbook: let's start our own business!. Entrepreneurship Development Centre, IIUM, ISBN: 978-967-18361-0-1 |
| 2019 | Accounting for Islamic banks. International Institute of Islamic Thought (IIIT), ISBN: 978-967-14480-6-9 |
| 2016 | Garis panduan pembangunan mahasiswa kolej kediaman IPT. Kementerian Pendidikan Tinggi Malaysia, ISBN: 978-967-0888-13-2 |
| 2014 | Manual for Intermediate Accounting ACC 2001. Own self, ISBN: |
Book Section
Monograph