Staff Directory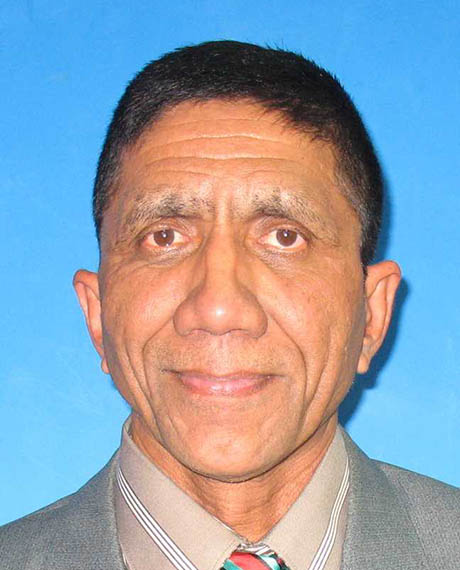 Academic Qualification
Ph.D in Aquaculture Biotechnology - Doctor of Philosophy, Universiti Putra Malaysia (UPM)
Master in Fish Biology - Masters Degree, Universiti Putra Malaysia (UPM)
Bachelor of Science in Fisheries (Hons.) - Bachelor Degree, Bangladesh Agricultural University
Ahmed Jalal Khan Chowdhury (Prof. Dr.)
Professor
IIUM Kuantan Campus
KULLIYYAH OF SCIENCE
---
jkchowdhury@iium.edu.my
5007
Expert Profile

Professor Dr. Ahmed Jalal Khan Chowdhury has been serving as an academic staff under Kulliyyah of science at International Islamic University Malaysia since 2000. He was one of the founding academic members of his Kulliyyah and Institute of Oceanography and Maritime Studies. Professor Jalal

was also specialized on Aquaculture (Phd) and Fish Ecology (MS) from the University Putra Malaysia. He has also specialization on Fisheries Engineering and planning from the University of Sterling, Scotland, UK.

His expertise and current research areas are focused on: Fisheries Management, Aquaculture and Aquatic Environment, Biodiversity, Environmental Sustainability, Halal Ecosystem and Food Security.
He has been serving as a member of several Committee at the University Level towards " Academic Promotion, Publication and Academic excellence". He taught as "Course Coordinator" of more than 10 teaching subjects since he joined under the "Department of Biotechnology and Department of Marine Science", Kulliyyah Science. He has experienced in supervising more than 60 undergraduate students, 20 Postgraduate students and 2 postdoctoral fellows. He has published more than 150 scientific articles in reputed International Journals (ISI and Scopus). He also published more than 60 articles in the prestigious International Conferences. Professor Jalal was awarded several prestigious awards in national and international exhibitions. He has published 4 books and more than 21 book chapters. He has show excellent contribution in Research and Development in IIUM. He has secured more than 1 million Ringgit research grants (both national and international as principal and co-researchers in his University. He was also served as consultants towards Fisheries and Management. He has more than 35 research projects. Out of them, 28 projects successfully completed. He has successfully completed an "International Collaboration Research Project" between Department of Marine Science, Sultan Qaboos Unversity, Oman and Kulliyyah of Science, IIUM. He was awarded several best awards at "Kulliyyah Level: Best Lecturer" in 2005 "Outstanding Researcher" in 2006 and 2018, Highest Publication, 2018; 'ACADEMIC ICON' 2018, 2019. He was appointed as "External assessor" for Academic Promotion in King Abdul Aziz University, Saudi Arabia and also appointed as external examiner for other Universities in Malaysia. He has been serving as "International Panelist" for assessing the Scientific proposals under Ministry of Science and Technology, Kazakhstan.

 

He is a member of Society for Conservation Biology, USA. British Ecological Society, Asian Fisheries' Society, Malaysian Nature Society, International Society of Zoological Sciences, Beijing, China and Vice President, International Water, Air, Soil Conservation Society.

Asian Fisheries Society. He is the Chief Editor, Science Heritage Journal under International Zibeline International Publishing. He

 

has been serving reviewers and editors of more than 15  reputed international and national ISI/Scopus Journals published by Springer, Willeys, Elsevier, etc. His expertise and research areas are focused on "Aquaculture and Fisheries Management, Environmental Biotechnology, Aquatic Biodiversity". He was also appointed as a member of several national and international societies for community services. He has served as an "Academic Administrators" as follows: Deputy Dean (Post Graduate and Research)(2009-2016; Head, Institute of Oceanography and Maritime Studies (INOCEM), Kulliyyah of Science effective from 1st Jan, 2017-31st Dec, 2017; Head of Research Initiative Grant Unit, effective from 1st Jan, 2018-31st Dec, 2018 under Research Management Center, Kuantan Campus; Head Internationalization and Global Network effective from 1st Jan 2019-31st June, 2021, Kulliyyah of Science. H

e has also served as a member of prestigious 'Council of Professors' in International Islamic University Malaysia since 2012.

He was awarded as the Fellow by the International Engineering and Technology Institute (IETI) in 2020. He was also awarded as " Successful People in Malaysia" by British pedia in 2020.  He was invited by Secretariat ASEAN-FEN (Fisheries Education Network) Webinar to present "Effects of Covid19 on Malaysian Fisheries held on 10-11th Oct, 2020. He was also received special invitation by Director General NACA as a plenary speaker at the International Forum to represent Malaysia for discussing about the 'Effects of Covid-19 on Aquaculture and Fisheries in Malaysia and mitigation strategies organized by Network of Aquaculture Center in Asia and Pacific (NACA), FAO and Chinese Academy of Fisheries Science held on 24-25th Nov, 2020 at Qingdao, China.
Area of Specialisation
Natural Science ~ Environmental Sciences ~ Environmental Issues and Assesment ~ Agro Waste - Agro-waste Management
Agricultural ~ Agricultural Science And Technology ~ Fisheries Sciences ~ Fisheries Ecology and Conservation - Fisheries and Management
Agricultural ~ Agricultural Science And Technology ~ Aquaculture ~ Other Aquaculture n.e.c. - Aquaculture
Agricultural ~ Agricultural Science And Technology ~ Aquaculture ~ Aquatic Environment - Aquatic Ecology
Biotechnology ~ Biotechnology ~ Marine Biotechnology ~ Other Marine Biotechnology n.e.c. - Environmental Biotechnology
Professional Membership
2010 - 2030: Member of Profesional Body / Association: (PERMANENT MEMBER), ASIAN FISHERIES SOCIETY
2015 - 2020: Member of Profesional Body / Association: (Member), MALAYSIAN FISHERIES SOCIETY
2016 - 2022: Member of Profesional Body / Association: (VICE PRESIDENT), INTERNATIONAL AIR, WATER, SOIL CONSERVATION SOCIETY
2017 - 2021: Member of Profesional Body / Association: (Member), INTERNATIONAL SOCIETY OF ZOOLOGICAL SCIENCES
2020 - 2021: Member of Profesional Body / Association: (MEMBER), BRITISH ECOLOGICAL SOCIETY
2020 - 2022: Member of Profesional Body / Association: (MEMBER), MALAYSIAN NATURE SOCIETY
Teaching Responsibilities
| | |
| --- | --- |
| AQUACULTURE | 2016/2017 2015/2016 2014/2015 2013/2014 2012/2013 2010/2011 2009/2010 2008/2009 |
| BIODIVERSITY | 2015/2016 2014/2015 2013/2014 2012/2013 2011/2012 2010/2011 2009/2010 2008/2009 2007/2008 2006/2007 2005/2006 2004/2005 |
| BIOTECHNOLOGY, LAW AND ETHICS | 2009/2010 2007/2008 2006/2007 2005/2006 2004/2005 |
| CLIMATE CHANGE ADAPTATION | 2021/2022 2020/2021 |
| ECOLOGICAL AQUACULTURE | 2021/2022 2020/2021 2019/2020 2018/2019 2017/2018 |
| ENVIRONMENTAL IMPACTS ASSESSMENT | 2021/2022 2020/2021 2019/2020 2018/2019 2016/2017 2015/2016 |
| ENVIRONMENTAL LAWS AND POLICIES | 2006/2007 2004/2005 |
| ENVIRONMENTAL MICROBIOLOGY | 2011/2012 2009/2010 2008/2009 2006/2007 2005/2006 |
| ENVIRONMENTAL SCIENCE | 2020/2021 2019/2020 2018/2019 2017/2018 2016/2017 2014/2015 |
| FINAL YEAR PROJECT (1) | 2020/2021 |
| FINAL YEAR PROJECT (2) | 2021/2022 |
| INTRODUCTORY MICROBIOLOGY | 2008/2009 2007/2008 2004/2005 2003/2004 |
| INTRODUCTORY TO MICROBIOLOGY | 2002/2003 |
| MARINE BIOLOGY | 2010/2011 2009/2010 2008/2009 2007/2008 |
| NUTRITION AND FEEDING | 2021/2022 2016/2017 |
| PROJECT SEMINAR | 2019/2020 2018/2019 |
| RESEARCH METHODOLOGY | 2010/2011 2009/2010 2008/2009 2007/2008 2006/2007 2005/2006 2004/2005 |
| WASTE MANAGEMENT | 2009/2010 |
Research Projects
Completed
| | |
| --- | --- |
| 2018 - 2019 | INVENTORY ON THE SPECIES COMPOSITION AND EXISTING METAL CONCENTRATION IN KUANTAN RIVER |
| 2016 - 2018 | Stereospermum Fimbriatum (Chicha) - Prospects of Antimicrobial Agent for Skin Infection |
| 2016 - 2017 | Conservation of Malaysian horseshoe crabs-A step for sustainable fishery practice |
| 2016 - 2018 | Species Inventory and Genetic Diversity of Fishes in Kuantan River Basin |
| 2016 - 2018 | Fisheries Conservation Towards Sustainable Development In Tropical Environment |
| 2016 - 2018 | Species Diversity and Seasonal Distribution of Fishes and Water Quality in Tropical River, Pahang, Malaysia |
| 2015 - 2018 | Captive Breeding and Induced Fertilization of Malaysian Horseshoe crab (Tachypleus gigas) for Sea Ranching and Future Artificial Sanctuary |
| 2015 - 2017 | Bacterial-Assisted Composting (BAC) of Food Waste |
| 2015 - 2016 | The Effect of Monsoon on Fish Larval (Ichthyoplankton Stages) Assemblage Changes in Kuantan River |
| 2014 - 2018 | Indoor Air Quality in Urban Child Care Institution (Nurseries & Kindergarten): The Characterization of Particulate Matter (PM) and Its Relation to Airborne Enteric Microorganisms |
| 2014 - 2017 | Pilot Study on the River Rehabilitation of Sg. Pusu |
| 2014 - 2016 | DNA Barcoding of Selected Commercial Fishes in Pahang River |
| 2014 - 2018 | Microbial Diversity of Pekan Peat Swamp Forest Soil and their Functional Potential Through Cultivation and Metagenomic Approach |
| 2013 - 2015 | Development of Adsorbent Materials from Selected Local Fruit Waste |
| 2013 - 2018 | Production of Non-Thermally Processed Alternative Ingredients for Halal Food Products |
| 2013 - 2015 | Genetic Variation and DNA Barcoding of Endangered Fishes in Pahang River |
| 2013 - 2016 | Study on the Contamination of Najs Mutawassitah in Fish and Water of Kuantan River |
| 2013 - 2016 | Screening of Mangrove Actinomycetes and Their Antimicrobial Potentials |
| 2012 - 2016 | Modelling of longitudal changes in bacterial community structure towards physico chemical and environmentals factors along the Pahang river |
| 2012 - 2014 | Growth and Survival of Malaysian Sport Fish Tor tambroides Fry by Applying Phototropic Bacteria as Feed Supplement. |
| 2012 - 2015 | Heavy metal and Antibiotic Resistance of the Bacterical Flora in Sediments of Coastal Water of Pahang, Malaysia |
| 2011 - 2012 | Diversity and Distribution of Plankton Communities in Kuantan, Pahang |
| 2011 - 2012 | KVC Book Project 2011- Sustainable Utilization of Malaysian Agrowaste |
| 2011 - 2013 | (RU2011) Isolation, diversity, and antimicrobial screening of actinomyctes isolated from mangrove sediments in Tanjung Lumpur, Pahang |
| 2010 - 2013 | Sigma subunit-Dependent adaptation of physiology and metabolic functions in burkholderia for effective bioremediation process |
| 2010 - 2013 | Chemoenzymatic Conversion of w-fatty acids extracted from Malaysian Giant Snakehead and catfish |
| 2010 - 2011 | Extraction and Characterization of Chitin and Chitosan Contents from Local Squid(s)and Tilapia Fish Scales |
| 2010 - 2012 | DNA Barcoding Of Horse Shoe Crab, Carcinoscopius Rotundicauda And Tachypleus Gigas From Coastal Water Malaysia |
| 2009 - 2010 | Environmental Impact of Antibiotic Resistance Transposed from Genetically Modified Organism to soil Bacteria |
| 2009 - 2010 | Bioaccumulation of heavy metal in Mangrove Crabs and Mollusks of Penor and Kuantan river,Pahang |
| 2009 - 2010 | Studies on Water Quality and Fish Communities in the Kuantan Estuary Pahang Malaysia |
| 2008 - 2010 | ?-fatty Acid Profiles of Mudskippers from Malaysian Mangrove and Intertidal Zones |
| 2008 - 2011 | Distribution of Heavy Metals and Their Pollution Effects on Fishes, Green Mussels and Sediments of Coastal Water Pahang, Langkawi Malaysia and Gulf of Oman |
| 2008 - 2009 | The Diversity and Distribution of Fishes in Pahang Estuary |
| 2007 - 2010 | Assessment of Heavy Metals concentration in Marine Commercial fishes of Pahang Estuary |
| 2007 - 2010 | Sediment Accretion and Sediment Characteristics of Pahang Estuarine Mangrove |
| 2007 - 2010 | Study on Microbial Ecology of the Coastal Water Langkawi |
| 2007 - 2010 | Geochemical and Sedimentological Characteristics Studies of Pahang Estuary, Malaysia |
| 2006 - 2012 | Studies on Mangrove in Pulau Toba, Langkawi |
| 2005 - 2007 | Physico-Chemical Characteristics and Sediment Environment of the Coastal Water, Pulau Tuba and its Nearby Islands, Langkawi |
| - 2020 | Environmental Determinants Influencing Fish Community Structure and Seasonal Diversity IN TROPICAL ESTUARY, KUALA PAHANG, MALAYSIA |
On-Going
| | |
| --- | --- |
| 2020 - Present | Development of High Quality Nutraceuticals and Functional Foods from Date (Phoenix dactylifera) Fruit using Innovative Methods |
| 2018 - Present | DNA Barcoding and Molecular Phylogenetics of Sharks in Malaysia |
| 2018 - Present | Environmental DNA Metabarcoding of Fishes in Balok River Kuantan, Pahang |
| 2018 - Present | Insight Analysis of Current Aquaculture Farming Practice Towards Incorporating Green and Shariah Compliant Elements |
| 2018 - Present | Insight Analysis of Current Aquaculture Farming Practice Towards Incorporating Green and Shariah Compliant Elements |
| 2015 - Present | Systematic and Phylogenetic Relationships of Sea Catfish (Siluriformes: Ariidae), in Sabah and Sarawak Waters, Malaysia |
| 2015 - Present | Epidemiology of Emerging Diseases and Disorders in Cage Cultured Pangasius Spp. in Pahang, Malaysia |
| 2012 - Present | Mini Ekspedisi Pelayaran Saintifik 2012 Bagi Zon Timur - Pulau Tioman |
| 2008 - Present | Mangrove Research and Information Unit (MARIU) |
| 2008 - Present | Environmental Profile of Kuantan Estuarine Mangrove |
| 2004 - Present | Functional Food and Nutraceuticals Research Unit (FFNRU) |
| - | Profiling fatty acids and mineral composition of Antarctic microalgae and their potential application in fish nutrition |
Award & Recognition
| | | |
| --- | --- | --- |
| 01 Apr, 2018 | Best product Award - MTE | National |
| 31 Mar, 2018 | Rector's Award for Special Contribution - International Islamic University Malaysia | University |
| 21 Mar, 2018 | PUBLICATION AWARD - International Islamic University Malaysia | University |
| 24 Feb, 2018 | Gold Medal - Malaysian Technology Exhibition | State |
| 10 Dec, 2015 | Award for 15 Years of Service - International Islamic University Malaysia | University |
| 01 Dec, 2006 | BEST QUALITY RESEARCH - Kulliyyah (Faculty) of Science, International Islamic University Malaysia. | University |
| 01 Dec, 2006 | Best Researcher Award - Kulliyyah (Faculty) of Science, International Islamic University Malaysia. | University |
| 01 Dec, 2005 | Best Teacher Award (Kulliyyah) - Kulliyyah (Faculty) of Science, International Islamic University Malaysia. | University |
Publications
Article
| | |
| --- | --- |
| 2021 | Growth optimization of mangrove Streptomyces for enhancement of actinorhodin production. Desalination and Water Treatment, 219 () pp. 217-222 |
| 2021 | Growth optimization of mangrove Streptomyces for enhancement of actinorhodin production. Desalination and Water Treatment, 219 () pp. 217-222 |
| 2021 | Haze episodes: identification of air pollutants and meteorological factors in Borneo, Central, Eastern, Northern, and Southern regions of Malaysia. Desalination and Water Treatment, 219 () pp. 31-39 |
| 2021 | Impact of Covid-19 on aquaculture and fisheries in ASEAN countries: some aspects of challenges, mitigations for future strategies in Malaysia. Desalination and water treatment, 241 () pp. 331-339 |
| 2021 | Isolation and identification of fungi associated with diseased freshwater fishes in Terengganu, Malaysia. Songklanakarin Journal of Science and technology, 43 (4) pp. 1131-1139 |
| 2021 | Marine actinomycetes from Malaysia marine environments with antagonistic potential. Desalination and Water Treatment, 219 () pp. 51-59 |
| 2020 | A review on introduced Cichla spp. and emerging concerns. Heliyon, 6 (11) pp. 1-11 |
| 2020 | Acute-lethal toxicity test on juvenile Oreochromis niloticus exposed to Piper betle extract under static exposure. Ecofeminism and Climate Change, 1 (2) pp. 79-87 |
| 2020 | Endophytic bacteria of Anisophyllea disticha (Raja Berangkat) from tropical lake environment in Malaysia. Desalination and Water Treatment, 188 () pp. 282-287 |
| 2020 | Environmental forensic study: tracing of pollution sources using environmetric technique in Balok and Tunggak Rivers near Gebeng industrial area, Kuantan, Pahang, Malaysia. Desalination and Water Treatment, 191 () pp. 118-125 |
| 2020 | Isolation of heavy metal resistance bacteria from lake sediment of IIUM, Kuantan. Desalination and Water Treatment, 188 () pp. 431-435 |
| 2020 | Membrane retention potential of Tachypleus gigas during early embryogenesis. Desalination and Water Treatment, 187 () pp. 17-23 |
| 2020 | Rare actinomycetes from Kuantan mangrove forest sediment. Journal Clean WAS, 4 (2) pp. 64-68 |
| 2020 | Reproductive seasonality and environmental effects in green turtle (Chelonia mydas) nesting at Penang Island, Malaysia. Journal of the Marine Biological Association of the United Kingdom, 100 (4) pp. 645-650 |
| 2020 | Screening of biodegradation potential for n-alkanes and polycyclic aromatic hydrocarbon among isolates from the north-western tip of Pahang. Desalination and Water Treatment, 191 () pp. 207-212 |
| 2019 | Assessment of bacteria and water quality parameters in cage cultured Pangasius hypophthalmus in Temerloh, Pahang River, Malaysia. Nature, Environment and Pollution Technology (NEPT), 18 (5 Special Issue) pp. 1479-1486 |
| 2019 | Biological activities and extraction technologies of Pheonix dactylifera: a review.. The Natural Products Journal, 9 (1) pp. 3-13 |
| 2019 | Building a case for the conservation of Malaysian horseshoe crabs. Fishmail, 27 ((May -December)) pp. 15-18 |
| 2019 | Citizen science frontiers horseshoe crab population regain at their spawning beach in East Peninsular Malaysia. Journal of Environmental Management, 232 () pp. 1012-1020 |
| 2019 | Ecology, ecosystem & conservation biology. Journal of Environmental Biology, 40 (3) pp. 407-408 |
| 2019 | Effect of lime-bone ratio on compressive strength and void fraction of recycled green ecological concrete. Nature Environment and Pollution Technology, 18 (5 (Special Issue)) pp. 1579-1583 |
| 2019 | Effects of shore sedimentation to tachypleus gigas (Müller, 1785) spawning activity from Malaysian waters. Journal of Sustainability Science and Management, 14 (1) pp. 41-60 |
| 2019 | Evaluation of green solution potentials of unripe banana (musasapientum) peel biomass. Acta Scientifica Malaysia (ASM), 3 (1) pp. 9-16 |
| 2019 | Green turtle nesting activity in Penang Island from 2010 to 2016. Journal of Sustainability Science and Management, 14 (5) pp. 26-42 |
| 2019 | Horseshoe crab bio-ecological data from Balok, East Coast Peninsular Malaysia. Data in Brief, 22 () pp. 458-463 |
| 2019 | Introduction environment, development and sustainability. Revista Internacional de Contaminacion Ambiental, 35 () pp. 7-9 |
| 2019 | Research on integrated technology of desulphurization, denitration and waste heat recovery of coke oven flue gas. Nature Environment and Pollution Technology, 18 (5 (Special Issue)) pp. 1621-1625 |
| 2019 | Sewage monitoring system based on artificial intelligence. Nature Environment and Pollution Technology, 18 (5 (Special Issue)) pp. 1601-1607 |
| 2019 | Study on calculation method of ecological environment flow rate of water conservancy and hydropower project in coal mining area. Nature Environment and Pollution Technology, 18 (5 (Special Issue)) pp. 1555-1560 |
| 2019 | Temperature influence on emergence success and swimming speed for In-situ nesting for Chelonia mydas in Penang Island, Malaysia. Emergence success of In-situ nests, 30 (3) pp. 111-128 |
| 2019 | Treatment of Taman Beringin landfill leachate using the column technique. Desalination and Water Treatment, 149 () pp. 370-387 |
| 2018 | Assessing nesting status of green turtles, Chelonia Mydas in Perak, Malaysia. Tropical Life Sciences Research, 29 (1) pp. 155-171 |
| 2018 | Bacterial population study in oil-contaminated and uncontaminated soils. Journal Clean WAS (JCleanWAS), 2 (2) pp. 6-9 |
| 2018 | Distribution, abundance, and clutch size of hawksbill turtle nests in Melaka, Malaysia. Malaysian Applied Biology, 47 (3) pp. 29-38 |
| 2018 | Diversity and community composition of fishes in the Pusu River Gombak, Malaysia. Journal of Coastal Research, Special Issue 82 Fall () pp. 150-155 |
| 2018 | Diversity, antimicrobial capabilities, and biosynthetic potential of mangrove actinomycetes from coastal waters in Pahang, Malaysia. Journal of Coastal Research, Special Issue 82 Fall () pp. 174-179 |
| 2018 | Ethical issues on using invertebrates in environmental and biomedical practices – a case study on living fossil horseshoe crab. International Medical Journal Malaysia, 17 (Special Issue 2) pp. 281-285 |
| 2018 | Fish scales as a bioindicator of potential marine pollutants and carcinogens in Asian sea bass and red tilapia within the coastal waters of Pahang, Malaysia. Journal of Coastal Research, Special Issue 82 Fall () pp. 120-125 |
| 2018 | Heavy metals and antibiotic resistance bacteria in marine sediment of Pahang coastal water. Journal CleanWAS, 2 (1) pp. 20-22 |
| 2018 | Importance of sand particle size and temperature for nesting success of green turtles in Penang Island, Malaysia. Chelonian Conservation and Biology, 17 (1) pp. 116-122 |
| 2018 | Islamic ethics of waste management towards sustainable environmental health. The International Medical Journal Malaysia, 17 (Special Issue 1) pp. 193-197 |
| 2018 | Macrobenthic diversity and community composition in the Pahang Estuary, Malaysia. Journal of Coastal Research, Special Issue 82 Fall () pp. 206-211 |
| 2018 | Multi-target tracking algorithm in intelligent transportation based on wireless sensor network. Open Physics, 16 (1) pp. 1000-1008 |
| 2018 | The discovery of physical properties of food waste in composting process.. International Journal of Engineering & Technology, 7 (2.29) pp. 460-468 |
| 2018 | The ethical significance of antibiotic resistance towards aquaculture practices. International Medical Journal Malaysia, 17 (Special Issue 2) pp. 295-301 |
| 2018 | Time series data intelligent clustering algorithm for landslide displacement prediction. Journal of Intelligent & Fuzzy Systems, 35 (4) pp. 4131-4140 |
| 2018 | Urban road traffic flow control under incidental congestion as a function of accident duration. Open Physics, 16 (1) pp. 1085-1093 |
| 2017 | α-glucosidase inhibitors isolated from Mimosa pudica L.. Natural Product Research, 33 (10) pp. 1495-1499 |
| 2017 | Between the bioactive extracts of edible mushrooms and pharmacologically important nanoparticles: Need for the investigation of a synergistic combination - A mini review. Asian Journal of Pharmaceutical and Clinical Research, 10 (3) pp. 13-24 |
| 2017 | Bio-monitoring selected heavy metal concentration in Nerita sp. collected from Tanjung lumpur mangrove forest.. Environment and Ecosystem science, 1 (1) pp. 4-7 |
| 2017 | Comparative study on spoilage and pathogenic bacteria in selected commercial marine and freshwater fishes. International Food Research Journal (IFRJ), 24 (Suppl.) pp. S298-S304 |
| 2017 | Effect of differential feed on the molting success and survival of horseshoe crab trilobite ( tachypleus gigas ). Malaysian applied biology, 46 (1) pp. 21-25 |
| 2017 | Environmental characteristics of clay and claybased minerals. Geology, Ecology, and Landscapes, 1 (3) pp. 155-161 |
| 2017 | Evaluation of graphical and multivariate statistical methods for classification and evaluation of groundwater in Alathur block, Perambalur District, India. Applied Ecology and Environmental Research, 15 (3) pp. 105-116 |
| 2017 | Evolution of human from primates - A review on religio-scientific discourse. Malayan Nature Journal, 69 () pp. 357-368 |
| 2017 | PCB biodegration using bacteria isolated from landfill leachate. Science Heritage Journal, 1 (2) pp. 7-10 |
| 2017 | Splitting the eggs methods: Comparison of egg survivorship between styrofoam and open area nests for Penang Island and turtle conservation. Malaysian Applied Biology, 46 (2) pp. 77-86 |
| 2017 | Splitting the eggs methods: Comparison of egg survivorship between styrofoam and open area nests for Penang Island turtle conservation. Malaysian Applied Biology Journal, 46 (2) pp. 77-86 |
| 2017 | Study on physicochemical parameters and distribution of phytoplankton in Kuantan estuary, Pahang. Environment and Ecosystem Science, 1 (1) pp. 8-12 |
| 2016 | Biosorption of Pb and Cu from aqueous solution using banana peel powder. Desalination and Water Treatment, 57 (1) pp. 303-314 |
| 2016 | Biotechnological potential of Kuantan mangrove actinomycete, Micromonospora K3-13. The International Medical Journal Malaysia, 15 (Supplement Issue) pp. 108-108 |
| 2016 | Can canola meal and soybean meal be used as major dietary protein sources for kuruma shrimp, Marsupenaeus japonicus?. Aquaculture, 452 () pp. 194-199 |
| 2016 | Flooding impact on distribution of pathogenic bacteria in Pahang River. The International Medical Journal of Malaysia, 15 (Supplement Issue) pp. 11-11 |
| 2016 | Impact of improper land use changes on flash flood and river system: a case of Sg Pusu. ARPN Journal of Engineering and Applied Sciences, 11 (8) pp. 5372-5379 |
| 2016 | Morphological variations of plicofollis species (Siluriformes: Ariidae) in peninsular Malaysia: An insight into truss network approach. Sains Malaysiana, 45 (1) pp. 1-7 |
| 2016 | Persistence of chloramphenicol in the fish flesh patin (Pangasius hypothalamus) and tilapia (Oreochromis niloticus). International Medical Journal of Malaysia, 15 (supplement) pp. 110 |
| 2016 | Review on antibacterial biocomposites of structural laminated veneer lumber. Saudi Journal of Biological Sciences, 23 (1) pp. S142-S147 |
| 2016 | Selective isolation and antagonistic activity of actinomycetes from mangrove forest of Pahang, Malaysia. Frontiers in Life Science, Vol. 9 (1) pp. 24-31 |
| 2016 | Universal reliance on LAL/TAL in bacterial endotoxin detection in drugs and parenteral – an ecological and economic perspective. International Medical Journal of Malaysia, 15 (Supplement) pp. 36 |
| 2015 | Antibiotic resistant bacteria from sediment of coastal water of Pahang, Malaysia. Jurnal Teknologi, 77 (24) pp. 65-70 |
| 2015 | Diversity and antimicrobial activity of mangrove soil actinomycetes isolated from Tanjung Lumpur, Kuantan. Jurnal Teknologi, 77 (25) pp. 37-43 |
| 2015 | DNA barcoding and genetic variation in caged pangasiids in Pahang River Basin. Jurnal Teknologi, 77 (25) pp. 31-36 |
| 2015 | Effect of azo dye on ammonium oxidation process and ammonia-oxidizing bacteria (AOB) in soil. RSC Advances, 5 (44) pp. 34812-34820 |
| 2015 | Food partitioning among fishes in Pahang River-estuary, Malaysia. Jurnal Teknologi, 77 (25) pp. 63-69 |
| 2015 | Growth Profile and Fatty Acid Accumulation of Four Chaetoceros Taxa Isolated from Coastal Water of Pahang, Malaysia. Sains Malaysiana, 44 (8) pp. 1077-1084 |
| 2015 | Impact of chitosan composites and chitosan nanoparticle composites on various drug delivery systems: a review. Journal of Food and Drug Analysis, 23 (4) pp. 619-629 |
| 2015 | Pure cultivation and morphological studies of four chaetoceros taxa from the Coastal Waters of Pahang, Malaysia. Sains Malaysiana, 44 (7) pp. 947-955 |
| 2015 | Selective isolation of Actinomycetes from mangrove sediment of Tanjung Lumpur, Kuantan, Malaysia . Malaysian Journal of Microbiology, 11 (2) pp. 144-155 |
| 2015 | Spatial and temporal distribution of bacterial communities and heavy metals (CR, CD AND PB) composition in sediments along Pahang river, Malaysia. Jurnal Teknologi, 77 (24) pp. 71-76 |
| 2015 | Spatial distribution trend of plankton in Sungai Pulai Estuary, the straits of Johor, Malaysia. Sains Malaysiana, 44 (9) pp. 1257-1262 |
| 2015 | Synthesis, spectroscopic and chromatographic studies of sunflower oil biodiesel using optimized base catalyzed methanolysis. Saudi Journal of Biological Sciences, 22 (3) pp. 332-339 |
| 2014 | Antimicrobial activity of banana (Musa paradisiaca L.) peels against food borne pathogenic microbes. Journal of Pure and Applied Microbiology, 8 (5) pp. 3627-3639 |
| 2014 | Antimicrobial activity of bBanana (Musa paradisiaca L.) peels against food borne pathogenic microbes. Journal of Pure and Applied Microbiology, 8 (5) pp. 3627-3639 |
| 2014 | Carotenoid contents in anoxygenic phototrophic purple bacteria, Marichromatium Sp. and Rhodopseudomonas Sp. of tropical environment, Malaysia . Oriental Journal of Chemistry, 30 (2) pp. 607-613 |
| 2014 | Particle formation and micronization using non-conventional techniques- review. Chemical Engineering and Processing: Process Intensification, 86 (2014) pp. 47-52 |
| 2014 | Population parameters of Rastrelliger kanagurta (Cuvier, 1816) in the Marudu Bay, Sabah, Malaysia. Iranian Journal of Fisheries Sciences, 13 (2) pp. 262-275 |
| 2014 | Studies on bactericidal efficacy of pumpkin (Cucurbita moschata Duchesne) peel. Journal of Coastal Life Medicine, 2 (2) pp. 146-153 |
| 2014 | Water Quality and Plankton Composition of Amblypharyngodon mola Monoculture Fish Pond in Bangladesh. International Journal of Emerging Trends in Science and Technology, 1 (7) pp. 1005-1014 |
| 2013 | Bioaccumulation of selected metals in fresh water haruan fish (channa striatus) collected from Pahang River Basin, Malaysia. Oriental Journal of Chemistry, 29 (4) pp. 1553-1558 |
| 2013 | Cultivable marine bacterial isolates from a sponge Hyattella cribriformis. Journal of Biological Sciences, 13 (1) pp. 26-32 |
| 2013 | Distribution and abundance of gelatinous zooplankton along Tamil Nadu coastal waters. Journal of Biological Sciences, 13 (1) pp. 18-25 |
| 2013 | Genetic diversity of horseshoe crab (Tachypleus gigas) in Malaysia revealed using microsatellite markers. Asian Journal of Animal and Veterinary Advances, 8 (1) pp. 63-72 |
| 2013 | Growth and total carotenoid, chlorophyll a and chlorophyll b of tropical microalgae (Isochrysis sp.) in laboratory cultured conditions. Journal of Biological Sciences, 13 (1) pp. 10-17 |
| 2013 | Limnological parameters affecting monthly abundance of Chironomid larvae in a fish pond and their role in the diet of catfish, Clarias batrachus. Journal of Biological Sciences, 13 (1) pp. 1-9 |
| 2013 | Macrobenthic diversity in horseshoe crab nesting ground-Balok Station, Pahang, Malaysia. Oriental Journal of Chemistry, 29 (4) pp. 1311-1318 |
| 2013 | Method development and validation of nitrofuran metabolites in shrimp by liquid chromatorgraphic mass spectrometric system. Journal of Biological Sciences, 13 (1) pp. 33-37 |
| 2013 | The potential role of Red Tilapia (Oreochromis niloticus) scales: allergic reaction test in mice. Journal of Applied Pharmaceutical Science, 3 (10) pp. 45-50 |
| 2012 | Bioaccumulation of heavy metals (Cd, Pb, Cu and Zn) in Scylla serrata (Forsskal 1775) collected from Sungai Penor, Pahang, Malaysia. Pertanika Journal of Tropical Agricultural Science, 35 (1) pp. 183-190 |
| 2012 | Diversity and distribution of fishes in tropical estuary Kuantan, Pahang, Malaysia . Pakistan Journal of Biological Sciences , 15 (12) pp. 576-582 |
| 2012 | Feeding ecology and food preferences of Carcinoscorpius rotundicauda collected from the Pahang nesting grounds. Sains Malaysiana, 41 (7) pp. 855-861 |
| 2012 | Isolation and screening of lactic acid bacteria, Lactococcus lactis from Clarias gariepinus (African catfish) with potential use as probiotic in aquaculture. African Journal of Biotechnology, 11 (29) pp. 7494-7499 |
| 2012 | Massive mortality associated with Streptococcus agalactiae Infection in Cage-cultured Red Hybrid Tilapia Oreochromis niloticus in Como River, Kenyir Lake, Malaysia. Journal of Biological Sciences, 12 (8) pp. 438-442 |
| 2012 | Sediment profiling of the nesting grounds of horseshoe crabs at East Peninsular Malaysia. International Journal of Biology, 4 (2) pp. 159-165 |
| 2012 | Spawning and nesting behaviour of Tachypleus gigas along the East coast of Peninsular Malaysia. International Journal of Biology, 4 (2) pp. 102-111 |
| 2012 | Studies on water quality and pathogenic bacteria in coastal water Langkawi, Malaysia. Journal of Environmental Biology, 33 (4) pp. 831-835 |
| 2012 | TAL - a source of bacterial endotoxin detector in liquid biological samples. International Food Research Journal, 19 (2) pp. 423-425 |
| 2012 | The distribution of selected metals in the surface sediment of Langkawi Coast, Malaysia. Oriental Journal of Chemistry, 28 (2) pp. 725-732 |
| 2012 | What is the best proportion of fish meal and soybean meal for better growth and survival of Macrobrachiurn rosenbergii post Larvae? . Asian Journal of Animal Sciences, 6 (4) pp. 203-208 |
| 2011 | Artificial seagrass: a habitat for marine fishes. Journal of Fisheries and Aquatic Science, 6 (1) pp. 85-92 |
| 2011 | Bioaccumulation of selected metals in the blood cockle (Anadara granosa) from Langkawi Island, Malaysia. Oriental Journal of Chemistry, 27 (3) pp. 979-984 |
| 2011 | Bioaccumulation of some metals by Green mussel Perna viridis (Linnaeus 1758) from Pekan, Pahang, Malaysia. International Journal of Biological Chemistry, 5 (1) pp. 54-60 |
| 2011 | Concentrations of lead copper and zinc in the bottom sediments of Tuba island waters of Langkawi, Malaysia. Oriental Journal of Chemistry, 27 (2) pp. 505-510 |
| 2011 | Distribution and diversity of carols on artificial reefs at Pasir Akar and Teluk Kalong, Redang Island, Malaysia. Journal of Applied Sciences, 11 (2) pp. 379-383 |
| 2011 | Effect of salinity on the egg hatching and early larvae of horseshoe crab Tachypleus gigas (muller, 1785) in laboratory culture. Journal of Applied Sciences, 11 (14) pp. 2620-2626 |
| 2011 | Effects of blood extraction on the mortality of Malaysian horseshoe crabs (Tachypleus gigas). Marine and Freshwater Behaviour and Physiology, 44 (5) pp. 321-327 |
| 2011 | Efficiency of Universal Barcode Gene (Coxi) on morphologically cryptic mugilidae fishes delineation. Trends in Applied Sciences Research, 6 (9) pp. 1028-1036 |
| 2011 | Heavy metal accumulation in commercially important fishes of south west Malaysian coast . Research Journal of Environmental Sciences, 5 (6) pp. 595-602 |
| 2011 | Heavy metal concentration in the surface sediment of Tanjung Lumpur mangrove forest, Kuantan, Pahang, Malaysia. Sains Malaysiana, 40 (2) pp. 89-92 |
| 2011 | Hydrology of the horseshoe crab nesting grounds at Pahang Coast, Malaysia. Oriental Journal of Chemistry, 27 (4) pp. 1475-1483 |
| 2011 | Molecular phylogeny of horseshoe crab. Asian Journal of Biotechnology, 3 (3) pp. 302-309 |
| 2011 | Perception of Halalan and Toyyeban for fish and fisheries products. Halal Pages 2011/2012, () pp. 30-34 |
| 2011 | Removal of nitrate and phosphate from municipal wastewater sludge by Chlorella Vulgaris, Spirulina Platensis and Scenedesmus Quadricauda. IIUM Engineering Journal, 12 (4) pp. 125-132 |
| 2011 | Spatial concentrations of Lead and Copper in bottom sediments of Langkawi coastal area, Malaysia. Research Journal of Environmental Sciences, 5 (2) pp. 179-186 |
| 2011 | Spatial variation and community composition of phytoplankton along the Pahang estuary, Malaysia. Asian Journal of Biological Sciences, 4 (5) pp. 468-476 |
| 2010 | Accumulation of metals in the gills of tilapia fingerlings (Oreochromis niloticus) from in vitro toxicology study. Journal of Fisheries and Aquatic Science, 5 (6) pp. 503-509 |
| 2010 | Antibiotic resistance microbes in tropical mangrove sediments, East Coast Peninsular, Malaysia. African Journal of Microbiology Research, 4 (8) pp. 640-645 |
| 2010 | Bacterial communities in Kuantan estuary of Pahang, Malaysia. Journal of Applied Sciences, 10 (8) pp. 652-657 |
| 2010 | Determination of some heavy metal concentrations in razor clam (Solen brevis) from Tanjung Lumpur Coastal waters, Pahang, Malaysia. Pakistan Journal of Biological Sciences, 13 (24) pp. 1208-1213 |
| 2010 | Distribution of Chromium, Manganese and Cobalt in the Bottom Sediment of Pahang River-Estuary, Pahang, Malaysia. Journal of Applied Sciences, 10 (23) pp. 3122-3126 |
| 2010 | DNA barcoding of Lates calcarifer (Bloch, 1970). Research Journal of Biological Sciences, 5 (6) pp. 414-419 |
| 2010 | DNA barcoding of Stolephorus indicus, Stolephorus commersonnii and Terapon jarbua of Parangipettai Coastal Waters. Biotechnology, 9 (3) pp. 373-377 |
| 2010 | Mechanism in the clot formation of horseshoe crab blood during bacterial endotoxin invasion. Journal of Applied Sciences, 10 (17) pp. 1930-1936 |
| 2010 | Spatial distribution of organic carbon contents of Langkawi island coastal waters, Malaysia. Oriental Journal of Chemistry, 26 (3) pp. 851 -855 |
| 2010 | The temporal variation of organic carbon during the pre-monsoon and post-monsoon seasons in Pahang river estuary, Pahang, Malaysia. Oriental Journal of Chemistry, 26 (4) pp. 1309-1313 |
| 2010 | Total phenolic content and primary antioxidant activity of methanolic and ethanolic extracts of aromatic plants' leaves. International Food Research Journal, 17 () pp. 1077-1084 |
| 2009 | Accumulation of lead and copper in Rhizophora apiculata from Setiu mangrove forest, Terengganu, Malaysia. Journal of Environmental Biology, 30 (5 Supp) pp. 821-824 |
| 2009 | Bacterial pollution in Molluscs Arch Clam, Orbicularia orbiculata and Blood Cockle, Anadara granosa of Pahang estuary, Malaysia. Journal of Biological Sciences, 9 (8) pp. 841-850 |
| 2009 | Geochemical proxy of sediment cores from Terengganu coastal water, Malaysia. Oriental Journal of Chemistry, 25 (1) pp. 9-14 |
| 2009 | Optimization of decolorization of methylene blue by lignin peroxidase enzyme produced from sewage sludge with Phanerocheate chrysosporium. Journal of Hazardous Materials, 162 (2-3) pp. 708-715 |
| 2009 | Optimization of lignin peroxidase production and stability by Phanerochaete chrysosporium using sewage-treatment-plant sludge as substrate in a stirred-tank bioreactor. Journal of Industrial Microbiology & Biotechnology, 36 (5) pp. 757-764 |
| 2009 | Storage stability of fish oil from Langkawi Island, Malaysia. Food Science and Technology Research, 15 (6) pp. 591-598 |
| 2009 | Studies on physico-chemical characteristics and sediment environment along the coastal waters Pulau Tuba, Langkawi Malaysia. Aquatic Ecosystem Health and Management (AEHMS), 12 (4) pp. 350-357 |
| 2009 | Variability of organic carbon content in bottom sediment of Pahang River Estuary, Pahang, Malaysia . Journal of Applied Sciences, 9 (24) pp. 4253-4257 |
Conference or Workshop Item
| | |
| --- | --- |
| 2019 | The implementation of Asean GAqP in overcoming Al-Jallalah related issues; with the focus on shariah-compliant and sustainability elements. In: International Symposium on Research in Innovation and Sustainability (Isoris) 2019, |
| 2017 | Bacteria communities in cage cultured Pangasius hypophthalmus in Pahang river, Malaysia. In: 10th Symposium on Diseases in Asian Aquaculture (DAA10), |
| 2016 | Antibacterial property of crude extract from stem-bark and leaves of Rhizophora apiculata against selected bacterial fish pathogens. In: Medical Research Symposium & Pacific Partnership in conjunction with Kuantan Research Day 2016, |
| 2016 | Antimicrobial activities of actinomycetes isolated from Malaysian tropical mangrove forest of Kuantan, Pahang. In: 5th International Conference on Environment, Energy and Biotechnology 2016, |
| 2016 | Common diseases of pangasius hypophthalmus farmed in Temerloh, Pahang, Malaysia. In: 2nd International Conference on Oceanography and Sustainable Marine Production (ICOSMaP 2016), |
| 2016 | Effect of recent flood on icthyoplankton and juvenile fish assemblage changes in Kuantan river revealed through DNA barcoding. In: 4th International Conference on Biotechnology Engineering 2016 (ICBioE 2016), |
| 2016 | Effect of sand mining on water quality index of Sg.Pusu. In: 4th International Conference on Innovations in Chemical, Agricultural and Environmental Engineering (ICICAE'2016, |
| 2016 | Heavy metals resistance bacteria in marine sediment of Pahang coastal water. In: 2nd International Conference on Oceanography and Sustainable Marine Production (ICOSMaP 2016), |
| 2016 | Quantification of pollution loads for the rehabilitation of Pusu River. In: International Conference on Engineering Technology (ICET 2016), |
| 2015 | Antibiotic resistant bacteria from sediment of coastal water of Pahang, Malaysia. In: International Conference on Advancement in Science and Technology (iCAST 2015) , |
| 2015 | Diversity and antimicrobial activities of mangrove actinomycetes isolated from Tanjung Lumpur, Kuantan. In: 5th International Conference of Advancement in Science And Technology (iCAST 2015), |
| 2015 | DNA barcoding of pomfret in Peninsular Malaysia. In: International Fisheries Symposium (IFS 2015), |
| 2015 | DNA barcoding of selected endangered and commercial fishes of Pahang river. In: International Conference of Clean Water, Air & Soil (CleanWAS 2015), |
| 2015 | DNA barcoding of selected endangered species of Pahang river. In: International Fisheries Symposium (IFS 2015), |
| 2015 | Morphological discrimination between wild and captive populations of climbing perch, Anabas testudineus using a truss network. In: International Fisheries Symposium (IFS 2015), |
| 2015 | Morphological discriminations of arius species (siluriformes: ariidae) in Peninsular Malaysia using Truss network approach. In: International Fisheries Symposium (IFS 2015), |
| 2015 | Smart system for real rime optimization of solid waste management in Malaysia . In: 2015 International Conference of Clean Water, Air & Soil, |
| 2014 | A new hope to control foodborne diseases and pollution: potential antimicrobial activity of banana (Musa paradisiaca) peels against food borne pathogenic microbes. In: International Research, Invention and Innovation Exhibition 2014 (IRIIE2014), |
| 2014 | Antibiotic resistant bacteria from sediment of coastal water of Pahang Malaysia. In: International Conference on Agriculture, Biology and Environmental Sciences (ICABES-14), |
| 2014 | DNA barcoding of Arius species (Siluriformes: Ariidae) found in Peninsular Malaysia waters, using mitochondrial Cytochrome oxidase subunit I gene.. In: Asian Fish Biodiversity Conference 2014 (AFBC 2014), |
| 2014 | Isolation and identification of microsatellite loci from climbing perch, Anabas testudineus. In: Asian Fish Biodiversity Conference 2014 (AFBC 2014), |
| 2014 | Potential antimicrobial activity of banana (Musa paradisiaca) peels against food borne pathogenic microbes. In: International Conference on Natural Products 2014, |
| 2014 | Review on the status and future prospects of heavy metal pollution in Malaysian coastal waters. In: Estuaries and Coastal protected areas, |
| 2014 | Selective isolation of actinomycetes from mangrove forest of Pahang, Malaysia. In: International Conference on Agriculture, Biology and Environmental Sciences (ICABES-14), |
| 2013 | Biofuel potential within chaetoceros species (bacillartophyceae) from coastal water of Pahang, Malaysia. In: International Conference on Oceanography and Sustainable Marine Production: A Challenge of Managing Marine Resources in a Changing Climate, |
| 2013 | Selective isolation of rare actinomycetes from mangrove sediment of Tanjung Lumpur, Kuantan. In: International Congress of the Malaysian Society for Microbiology 2013, |
| 2012 | Seeds and peels – from by-products to potentially commercial antioxidants towards industrial biotechnology. In: Malaysia Technology Expo 2012 (MTE 2012), |
| 2012 | Synthesis of fatty acid from locally isolated marine algae, Chaetocerosaffinis. In: Malaysian Science and technology Congress (MSTC 2012), |
| 2011 | Endo sensor bacterial endotoxin detector in liquid biological samples. In: 2nd International Conference on Biotechnology Engineering (ICBioE 2011), |
| 2011 | Fruit seeds and peels – from byproducts to potentially commercial antioxidants. In: IIUM Research, Invention and Innovation Exhibition 2011, |
| 2011 | Macrobenthic community at nesting grounds of horseshoe crabs (Tachypleus gigas and Carcinoscorpius rotundicauda) at Pahang Coast, Malaysia. In: 10th International Annual Symposium (UMTAS 2011), |
| 2011 | Minimizing impacts of climate change on coastal aquatic resources through the integrated mariculture. In: National Symposium on Climate Change Adaptation (CCA), |
| 2011 | Study on toxic chemicals in Kuantan (Pahang) River during pre and post monsoon season. In: The 24th Regional Symposium of Malaysia Analytical Sciences, |
| 2010 | Antibacterial activities of Musa Acuminate L. peel. In: 3rd International Conference on Advancement in Science and Technology (iCAST) 2010, |
| 2010 | Antioxidant study of methanolic and ethanolic extracts of Malaysian aromatic plants' leaves: towards industrial biotechnology. In: IIUM Research, Innovation & Invention Exhibition (IRIIE 2010), |
| 2010 | Bioaccumulation of Heavy Metals by Green mussel Perna viridis (Linnaeus ,1758) from Pekan, Pahang, Malaysia. In: 3rd International Conference on Southeast Asian Natural Resources and Environmental Management (SANREM 2010), |
| 2010 | Bioprospecting and economical source of chitin and chitosan: the sword shrimp udang minyak (Parapenaeopsis hardwickii) Malaysia. In: IIUM Research, Innovation & Invention Exhibition (IRIIE 2010), |
| 2010 | Determination of concentration of Zn, Cu, Cd and Pb in Scylla serrata (Forsskal 1775) from Sungai Penor, Kuantan . In: 9th International Annual Symposium on Sustainability and Management (UMTAS), |
| 2010 | Fatty acid, mineral and heavy metal contents of different Malaysia fish species. In: IIUM Research, Innovation & Invention Exhibition (IRIIE 2010), |
| 2010 | Human pathogenic bacteria in marine fishes:(sea perch, lates calcarifer) and (red snapper, lutjanus sanguineus) . In: International Conference on Aquatic Microbiology, (Status, Challenges, and Oppurtunities) - AMSCO 2010 , |
| 2010 | Human pathogenic bacteria in sea fish - siakap (SEA PERCH, lates calcarifer) and ikan merah (RED SNAPPER, Lutjanus sanguineus. In: IIUM Research, Innovation & Invention Exhibition (IRIIE 2010), |
| 2010 | Isolation and characterization of lactic acid bacteria from clarias macrocephalus (African Catfish) for potential probiotic purposes. In: IIUM Research, Innovation & Invention Exhibition (IRIIE 2010), |
| 2010 | Isolation and screening of lactic acid bacteria (LAB) from non-broiler chicken (Gallus gallus) for potential probiotic. In: IIUM Research, Innovation & Invention Exhibition (IRIIE 2010), |
| 2010 | Molecular phylogeny of horseshoe crab using mitochondrial Cox1 gene as a benchmark sequence. In: 4th International Conference on Postgraduate Education (ICPE 4). , |
| 2010 | Spirulina - a potential feed additive for the development of proteolytic enzymes and growth of the tropical sport fish Malaysian Mahseer (KELAH, Tor tambroides) FRY. In: IIUM Research, Innovation & Invention Exhibition (IRIIE 2010), |
| 2009 | Accumulation of selected heavy metals (Cu, Pb, and Zn) in muscle, stomach and gill of some marine commercial fishes of Pahang coastal water, Malaysia. In: International Conference on Marine Ecosystem 2009 (INCOMES 2009), |
| 2009 | Impact of coastal development on mangrove distribution in Kuantan, Pahang. In: JSPS-VCC Core University Program International Seminar on Wetland and Sustainability , |
| 2008 | Distribution and diversity of macroinvertebrates in Tasek Bera, Pahang. In: 19th Intervarsity Biochemistry Seminar, |
| 2008 | Distribution and genetic diversity of frog species in Tasek Bera, Pahang. In: 19th Intervarsity Biochemistry Seminar, |
| 2006 | Liquid State Bioconversion of Palm Oil Mill Effluent for Cellulase Production: Statistical Optimization of Process Conditions. In: 1st International Conference on Natural Resources Engineering & Technology, |
| 2006 | Statistical optimization of aeration and agitation for sewage treatment plant sludge treatment in stirred tank bioreactor. In: International Conference on Environment 2006, |
| 2005 | Optimum process conditions for effective bioconversion of sewage treatment plant sludge by pure bacterial culture. In: MTERM International Conference, |
Book
Book Section
| | |
| --- | --- |
| 2020 | Climate change and coastal defense in Malaysia: A review. In: Noor Publishing, ISBN: 978-620-2-79106-9, pp. 80-94 |
| 2020 | Climate change and coastal defense in Malaysia: A review. In: Noor Publishing, ISBN: 978-620-2-79106-9, pp. 80-94 |
| 2020 | Cultivation vs the 'omics' approach for microbial bioprospecting in the 21st century: coastal environment in Malaysia. In: Noor Publishing, ISBN: 9786202791069, pp. 25-34 |
| 2020 | DNA barcoding of ichthyoplankton and juvenile fishes of a tropical river in Malaysia. In: Springer, ISBN: 978-3-030-50074-0, pp. 237-251 |
| 2020 | DNA barcoding of rays from the South China Sea. In: Springer, ISBN: 978-3-030-50074-0, pp. 121-136 |
| 2020 | Heavy metal resistant bacteria from marine sediment of Pantai Balok, Pahang, Malaysia. In: Noor Publishing, ISBN: 9786202791069, pp. 52-59 |
| 2020 | Seasonal variations of fish diversity and species richness at the coastal water, Pekan, Pahang, Malaysia. In: Noor Publishing, ISBN: , pp. 1-16 |
| 2020 | Study of Glucose-6-Phosphate dehydrogenase activity assay in mangrove streptomyces for actinohordin and undercylprodigiosin production. In: Noor Publication, ISBN: 978-620-2-79106-9, pp. 17-24 |
| 2020 | Study of Glucose-6-Phosphate dehydrogenase activity assay in mangrove streptomyces for actinohordin and undercylprodigiosin production. In: Noor Publication, ISBN: 978-620-2-79106-9, pp. 17-24 |
| 2016 | Revised phylogeny of extant xiphosurans (Horseshoe Crabs). In: Springer International Publishing, ISBN: 978-3-319-41838-4, pp. 113-130 |
| 2016 | Revised phylogeny of extant xiphosurans (Horseshoe Crabs). In: Springer International Publishing, ISBN: 978-3-319-41838-4, pp. 113-130 |
| 2012 | Emergence of antibiotic resistant bacteria from coastal environment - a review. In: InTech, ISBN: 9789535104728, pp. 143-158 |
| 2011 | Agglutinin and antibacterial activities in oyster, Chama pacifica plasma . In: IIUM Press, ISBN: 9789674182007, pp. 298-304 |
| 2011 | Agrowaste towards sustainable by-products: Malaysian perspectives. In: IIUM Press, ISBN: 9789674180089, pp. 21-60 |
| 2011 | Antibacterial activities of green and ripens banana peel (Musa, AA cv. Sucrier) in Malaysia . In: IIUM Press, ISBN: 9789674182007, pp. 284-297 |
| 2011 | Aquaculture in Spain: a special emphasis on shellfish aquaculture. In: IIUM Press, ISBN: 978-967-418-197-0, pp. 141-145 |
| 2011 | Bioadsorption of heavy metals from synthetic waste water by tropical rambutan seed . In: IIUM Press, ISBN: 9789674182007, pp. 208-222 |
| 2011 | Bioethics and biotechnology: A holistic approach in Islamic perspectives . In: IIUM Press, ISBN: 9789674182007, pp. 1-15 |
| 2011 | Biotechnology potential tropical mangrove plant with special emphasis on Avicennia alba in Tanjung Lumpur, Pahang Malaysia . In: IIUM Press, ISBN: 9789674182007, pp. 154-167 |
| 2011 | Brazil: a future leader of the aquaculture sector. In: IIUM Press, ISBN: 978-967-418-197-0, pp. 129-133 |
| 2011 | Can DNA barcode accurately delineate living fossil (Horseshoe crab)and its different developmental stages?. In: IIUM Press, ISBN: 978-967-418-042-3, pp. 237-249 |
| 2011 | Characterization of Tachypleus Amebocyte Lysate (TAL). In: IIUM Press, ISBN: 978-967-418-042-3, pp. 333-342 |
| 2011 | Chitin and chitosan from fresh water fish tilapia (Oreochromis niloticus) scale . In: IIUM Press, ISBN: 9789674182007, pp. 223-235 |
| 2011 | Chitin and chitosan from potential shrimps and crabs of Malaysia . In: IIUM Press, ISBN: 9789674182007, pp. 236-243 |
| 2011 | Community based aquaculture in Bangladesh: Impacts of seasonal floodplain aquaculture on the livelihood of beneficiaries (dummy). In: IIUM Press, ISBN: 978-967-418-197-0, pp. 178-204 |
| 2011 | Conservation measures on horseshoe crab population – a global view . In: IIUM Press, ISBN: 978-967-418-042-3, pp. 359-367 |
| 2011 | Culture of Macrobrachium rosenbergii using soy bean meal in hatchery reared conditions . In: IIUM Press, ISBN: 978-967-418-197-0, pp. 146-153 |
| 2011 | Does continental drift influence in the genetic variability among the horseshoe crab population? . In: IIUM Press, ISBN: 978-967-418-042-3, pp. 287-296 |
| 2011 | Effects of salinity on the early growth of Tachypleus gigas larvae - an in vitro study. In: IIUM Press, ISBN: 9789674180423, pp. 147-154 |
| 2011 | Emerging interest on DNA barcoding technology and its application for high-tech biodiversity studies using COI gene as a reference sequence . In: IIUM Press, ISBN: 978-967-418-042-3, pp. 225-235 |
| 2011 | Endo sensor (TAL) production from Malaysian Horseshoe crab blood . In: IIUM Press, ISBN: 978-967-418-042-3, pp. 325-332 |
| 2011 | Environmental impact on the coastal aquaculture in Bangladesh: a review. In: IIUM Press, ISBN: 978-967-418-197-0, pp. 276-294 |
| 2011 | Evolution of horseshoe crabs – paleontological and Molecular viewpoint. In: IIUM Press, ISBN: 978-967-418-042-3, pp. 297-306 |
| 2011 | Extraction of chitin and chitosan from Malaysian cephalopods "Sotong mengaban" (Sepioteuthis lessoniana) and "Sotong jarum" (Loligo vulgaris) . In: IIUM Press, ISBN: 9789674182007, pp. 244-257 |
| 2011 | Factors involving in the clot formation of horseshoe crab blood . In: IIUM Press, ISBN: 978-967-418-042-3, pp. 307-316 |
| 2011 | Feeding ecology of Mangrove horseshoe crab Carcinoscorpius rotundicauda . In: IIUM Press, ISBN: 978-967-418-042-3, pp. 213-223 |
| 2011 | Fish diseases in small indigenous freshwater fishes of Bangladesh. In: IIUM Press, ISBN: 978-967-418-197-0, pp. 263-275 |
| 2011 | Food safety in shrimp aquaculture industries of Bangladesh: towards microbiology and biochemical approach . In: IIUM Press, ISBN: 978-967-418-197-0, pp. 238-249 |
| 2011 | Fruit kernels, peels and seeds – from by-products to commercial antioxidants. In: IIUM Press, ISBN: 9789674180089, pp. 1-20 |
| 2011 | Future prospects of marine fish farming in Indonesia. In: IIUM Press, ISBN: 9789674181970, pp. 33-40 |
| 2011 | Genetic diversity of tachypleus gigas population from West coast of Peninsular Malaysia . In: IIUM Press, ISBN: 978-967-418-042-3, pp. 275-285 |
| 2011 | Global distribution and taxonomy of extant horseshoe crabs. In: IIUM Press, ISBN: 9789674180423, pp. 1-9 |
| 2011 | Hydrology of horseshoe crab nesting ground at Pahang coast-Part 1 . In: IIUM Press, ISBN: 9789674180423, pp. 35-45 |
| 2011 | Hydrology of horseshoe crab nesting ground at Pahang coast-Part 2. In: IIUM Press, ISBN: 9789674180423, pp. 47-55 |
| 2011 | In-vitro study on the effect of salinity on the hatching success of Malaysian Horseshoe crab eggs. In: IIUM Press, ISBN: 9789674180423, pp. 137-146 |
| 2011 | Macrobenthic diversity at the horsehoe crab nesting ground, Pekan station, Pahang, Malaysia - Part 2. In: IIUM Press, ISBN: 9789674180423, pp. 109-125 |
| 2011 | Macrobenthic diversity at the horseshoe crab nesting ground, Balok station, Pahang, Malaysia - Part 1. In: IIUM Press, ISBN: 9789674180423, pp. 69-82 |
| 2011 | Macrobenthic diversity at the horseshoe crab nesting ground, Balok station, Pahang, Malaysia-Part 2 . In: IIUM Press, ISBN: 9789674180423, pp. 83-94 |
| 2011 | Metal concentration in horseshoe crab nesting ground along Pahang coast, Malaysia . In: IIUM Press, ISBN: 9789674180423, pp. 193-202 |
| 2011 | Methods for bacterial endotoxin quantification in reference to horseshoe crab blood studies . In: IIUM Press, ISBN: 978-967-418-042-3, pp. 317-324 |
| 2011 | Microbial communities and water quality of aquaculture potential Penor River, Pahang, Malaysia . In: IIUM Press, ISBN: 978-967-418-197-0, pp. 250-262 |
| 2011 | Molecular approach of macroinvertebrates in tropical wetland, Lake Bera, Malaysia: Towards the assessment of ecosystem health . In: IIUM Press, ISBN: 9789674182007, pp. 113-125 |
| 2011 | Phytoplankton communities in aquaculture potential Penor river Pahang Malaysia. In: IIUM Press, ISBN: 978-967-418-197-0, pp. 225-238 |
| 2011 | Revision on the molecular phylogeny of horseshoe crabs – Part 1 . In: IIUM Press, ISBN: 978-967-418-042-3, pp. 251-266 |
| 2011 | Revision on the molecular phylogeny of horseshoe crabs – Part 2. In: IIUM Press, ISBN: 978-967-418-042-3, pp. 267-274 |
| 2011 | Sediment characteristics of horseshoe crabs nesting ground at Balok station, Pahang, Malaysia. In: IIUM Press, ISBN: 9789674180423, pp. 155-164 |
| 2011 | Sediment profiling of the estuarine nesting ground of horseshoe crabs at East peninsular Malaysia. In: IIUM Press, ISBN: 9789674180423, pp. 165-174 |
| 2011 | Site selection and nesting behaviour of horseshoe crabs with special reference to Limulus polyphemus. In: IIUM Press, ISBN: 9789674180423, pp. 19-25 |
| 2011 | Status of Hilsa (Tenualosa ilisha) fishery in Bangladesh. In: IIUM Press, ISBN: 978-967-418-197-0, pp. 154-177 |
| 2011 | Tachypleus gigas mortality due biomedical bleeding process. In: IIUM Press, ISBN: 978-967-418-042-3, pp. 351-358 |
| 2009 | Studies of Physio-chemical characteristics and sediment environment along the coastal waters Pulau Tuba, Langkawi. In: IIUM Press, ISBN: 9789833855780, pp. 463-473 |
| 2006 | Biodiversity and marine biotechnology: a new era for the development of biotechnology industry. In: Department of Wildlife and National Parks Peninsular Malaysia, ISBN: 9834301006, pp. 67-74 |
Monograph