Staff Directory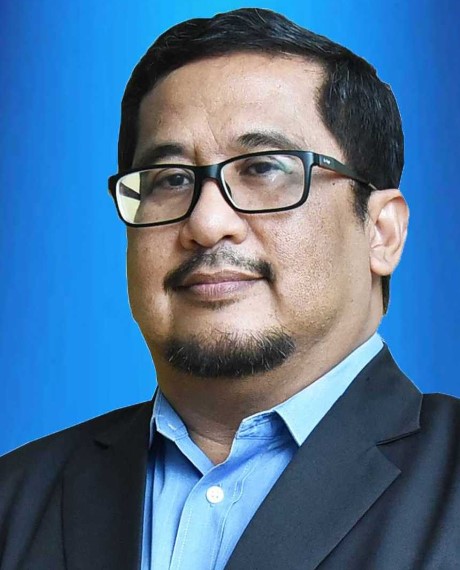 Academic Qualification
Doctor in Philosophy in Computer Network - Doctor of Philosophy, Loughborough University, Leicestershire
Master of Science in Information Management - Masters Degree, Universiti Teknologi MARA (UiTM)
Bachelor of Science in Information Technology - Bachelor Degree, Universiti Teknologi MARA (UiTM)
Diploma in Computer Science - Diploma, Universiti Teknologi MARA (UiTM)
Zulkefli Bin Muhammed Yusof (Assoc. Prof. Dr.)
Associate Professor
IIUM Gombak Campus
KULLIYYAH OF INFORMATION AND COMMUNICATION TECHNOLOGY
---
Expert Profile
Zulkefli M Yusof started his career with Standards and Industrial Research Institute of Malaysia (SIRIM) in 1986 as a programmer, and his last position was as an I.T. executive before leaving the organization in 2001 to join the International Islamic University Malaysia (IIUM) as a lecturer. He subsequently obtained his Ph.D in 2011 and as is Assistant Professor at the Department of Computer Science, Kulliyyah of Information and Communication Technology.
He had published in local and international journals, and book chapters in areas of ad hoc networks (VANET), and also cloud computing. He has taught Computer Networking, Advanced Networks, a Operating Systems courses, along with the supervision of final year projects and industrial attachments. His areas of expertise cover the small and enterprise networks, Ad-Hoc networks, cloud computing with the current researches focusing on network design, clustering and load balancing algorithms, and network performance analysis.
He is also a member of IEEE since 2011, and was also appointed as the external examiner for the Bachelor of Computer Science (Hons) Netcentric Computing program at the Faculty of Computer and Mathematical Sciences, MARA University of Technology (UiTM) in 2014.
Area of Specialisation
ICT ~ Information, Computer And Communications Technology (ICT) ~ Communication ~ High Speed Network - Computer Networks
Professional Membership
2020 - 2021: Member of Profesional Body / Association: (Member), Malaysia Board of Technologists (MBOT)
2020 - 2021: Member of Profesional Body / Association: (Member), Institute of Electrical and Electronics Engineers (IEEE)
Teaching Responsibilities
| | |
| --- | --- |
| ADVANCED NETWORKS | 2017/2018 2016/2017 2015/2016 2013/2014 2012/2013 2010/2011 2002/2003 2001/2002 |
| COMPUTER NETWORKING | 2017/2018 2016/2017 2015/2016 2014/2015 2013/2014 2012/2013 2011/2012 2010/2011 2009/2010 2002/2003 2001/2002 |
| DATA COMMUNICATION IN BUSINESS | 2013/2014 |
| ENTERPRISE NETWORK | 2021/2022 2020/2021 2019/2020 2018/2019 |
| FINAL YEAR PROJECT | 2017/2018 2014/2015 2013/2014 2012/2013 2011/2012 2010/2011 |
| FINAL YEAR PROJECT I | 2019/2020 2017/2018 2008/2009 2002/2003 |
| FINAL YEAR PROJECT II | 2020/2021 2019/2020 2008/2009 2002/2003 |
| INDUSTRIAL ATTACHMENT | 2017/2018 2016/2017 2015/2016 2014/2015 2013/2014 2012/2013 2011/2012 2010/2011 |
| MANAGEMENT INFORMATION SYSTEM | 2001/2002 |
| NETWORKING CONCEPTS AND PRACTICES | 2021/2022 2020/2021 2019/2020 2018/2019 2017/2018 |
| OPERATING SYSTEM | 2015/2016 2014/2015 2013/2014 2012/2013 2011/2012 2010/2011 |
| PROJECT WORK | 2001/2002 |
Research Projects
Completed
| | |
| --- | --- |
| 2019 - 2022 | Development of Framework for Smart Tourism Destination (STD) for Malaysia Ecotourism Sites in relation to Smart Tourism 4.0 initiatives |
| 2012 - 2016 | A novel model of routing protocol for mobile ad hoc networks based on link reliability |
| 2010 - 2015 | Implementation of Vehicular Ad hoc Network applications in Malaysia |
On-Going
| | |
| --- | --- |
| 2022 - Present | Blockchain-based Model for Deep Packet Inspection System |
| 2016 - Present | A Cloud Computing Framework for Sharing of Cloud Resources and Attacks Information Amongst Cloud Networks |
Award & Recognition
| | | |
| --- | --- | --- |
| 16 Jul, 2020 | Teknologis Profesional (Ts.) - Others | National |
Publications
Article
Conference or Workshop Item
| | |
| --- | --- |
| 2016 | WSN based sensing model for smart crowd movement with identification: a conceptual model. In: Multi Conference on Computer Science And Information Systems 2016, |
| 2015 | Simulation of Resources Sharing Architecture (ReSa) between clouds using Java programming. In: 2014 The 5th International Conference on Information & Communication Technology for the Muslim World (ICT4M 2014), |
| 2014 | Load-balancing technique in clustered mobile Ad-hoc networks. In: International Conference on Advanced Computer Science Applications and Technologies, ACSAT 2013, |
| 2014 | ReSA: architecture for resources sharing between clouds. In: 2014 Conference on Information Assurance and Cyber Security (CIACS), |
| 2014 | Sharing of attacks information across clouds for improving security:a conceptual framework. In: International Conference on Computer, Communication, and Control Technology (I4CT 2014), |
| 2013 | A security-based survey and classification of cloud architectures, state of the art and future directions . In: 2013 International Conference on Advanced Computer Science Applications and Technologies (ACSAT), |
| 2013 | Dynamic object replica placement using underlying routing protocols: ensuring the reliability. In: The 4th International Conference on Information & Communication Technology for the Muslim World (ICT4M), |
| 2013 | Fault tolerant cloud auditing. In: The 4th International Conference on Information & Communication Technology for the Muslim World (ICT4M), |
| 2013 | Implementation issues of vehicular ad hoc network applications: selected case studies in Malaysia. In: The 4th International Conference on Information & Communication Technology for the Muslim World (ICT4M), |
| 2009 | Performance metrics for the prediction of link and path availability in VANETs. In: IEEE 9th Malaysia International Conference on Communications, |
Book
Book Section