Staff Directory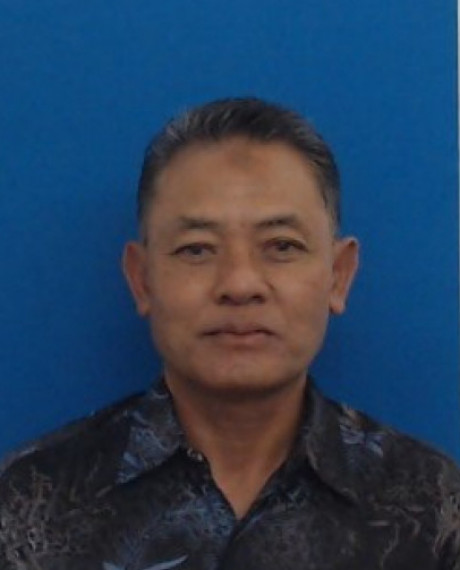 Academic Qualification
Teaching English to Speakers of Other Languages (TESOL) - Doctor of Philosophy, State University of New York/ University at Buffalo, NY
Teaching English as a Second Language - Masters Degree, Saint Michael's College, VT
English Language - Bachelor Degree, Western Kentucky University
Isarji Bin Hj. Sarudin (Prof. Dr.)
Professor
IIUM Gombak Campus
CENTRE FOR LANGUAGES AND PRE-UNIVERSITY ACADEMIC DEVELOPMENT
---
Expert Profile
Professor Isarji Hj. Sarudin joined the IIUM in 1986 and earned his Ph.D from the State University of New York at Buffalo in 1996. Prof. Isarji was Dean of the Centre for Languages and Pre-University Academic Development (CELPAD) from 1998 to 2008. He established the Institute for Language Advancement (IfLA) and IfLA/Al-Bukhari Foundation Programme in 2003. In 2009, he was invited as a visiting scholar by La Trobe University, Australia.
He was Head of Research from 2011 to 2014 and currently, he is the Director, Centre for Professional Development (CPD). He started teaching English at the Centre for Languages in 1986. Currently, he teaches Curriculum Design and Research Methodology at the Kulliyyah of Human Sciences and Kulliyyah of Languages and Management. As part of his research activities, Prof. Isarji presents and publishes regularly. He has co-edited several books including Research Insights in English Teaching and Learning (2011,) and Language Studies in the Muslim World (2011), and has contributed journal articles and chapters in various volumes.
He is also involved in contract research with numerous agencies including Education Performance and Delivery Unit, Educational Planning and Research Division, Institut Penilaian Negara, Ministry of Science, Technology and Innovation, National Key Result Area and University Kuala Lumpur. As an active Panel Member of Malaysian Qualification Agency, Prof. Isarji has audited more than 15 English language programmes at Malaysian public and private institutions of higher learning. He has designed and evaluated more than 20 English language programmes and conducted more than 25 training programmes in Outcome-based Education (OBE).
Prof Isarji received the best paper award in 2014 and 2011 and best research award at Kulliyyah level in 2007 and 2008. Prof. Isarji is also the Project Leader of an award winning Proficiency in Enterprise Communication (PEC), an internet-based English language test for employment purposes. PEC has won 4 gold medals in Invention, Innovation, and Design Expo 2013, International Invention, Innovation, Technology Exhibition 2013, Innovation, Invention, and Design in E-Learning 2013, and Invention and Innovation Award of Malaysian Technology Expo 2015. Furthermore, PEC has won four special awards; particularly, Bank Islam Diamond Award 2013, IIUM Commercial Potential Award 2014, Malaysian Technology Expo Best Award 2015, and finalist for National Innovation Award (Anugerah Inovasi Negara - AIN 2015), Ministry of Science, Technology and Innovation in 2015.
Area of Specialisation
Humanities ~ Humanities ~ Linguistics and Literature ~ Applied Linguistics - Curriculum Design, Program Evaluation, Language Planning and TESL
Professional Membership
2011 - 2014: Member of Profesional Body / Association, IATEFL
2011 - 2014: Member of Profesional Body / Association, Malaysian Qualifications Agency
2012 - 2014: Member of Profesional Body / Association, International Islamic College
2012 - 2014: Member of Profesional Body / Association, International Islamic College
Teaching Responsibilities
| | |
| --- | --- |
| (PEAS I)PRE-SESS.ENG.FOR ARABIC EXEMPTED I | 1994/1995 |
| ADVANCED ARABIC I | 2000/2001 |
| ADVANCED ENGLISH FOR HUMAN SCIENCES | 1995/1996 |
| CORE COMPETENCE LOWER | 1996/1997 |
| CORE COMPETENCE LOWER (CCL) | 1998/1999 1997/1998 2000/2001 2001/2002 1999/2000 |
| CORE COMPETENCE LOWER INTENSIVE (1ST HALF) | 2000/2001 |
| CORE COMPETENCE LOWER INTENSIVE (2ND HALF) | 2000/2001 |
| COURSE AND SYLLABUS DESIGN | 2015/2016 2014/2015 2013/2014 |
| COURSE DESIGN & MATERIAL EVALUATION | 2010/2011 2004/2005 2005/2006 2001/2002 2002/2003 2007/2008 2009/2010 2003/2004 2006/2007 |
| COURSE DESIGN & MATERIALS DEVELOPMENT | 2013/2014 2012/2013 2017/2018 2018/2019 2015/2016 2016/2017 2014/2015 2019/2020 |
| COURSE DESIGN AND MATERIAL EVALUATION | 2011/2012 |
| DISCOURSE ANALYSIS FOR ELT | 2009/2010 |
| EFFECTIVE PUBLIC SPEAKING | 1995/1996 |
| ENGLISH FOR ACADEMIC WRITING (EAW) | 2010/2011 |
| ENGLISH FOR OCCUPATIONAL PURPOSES (ICT) | 2010/2011 |
| LANGUAGE FOR OCCUPATIONAL PURPOSES-ENM | 2009/2010 2010/2011 2011/2012 |
| PRE-CORE COMPETENCE (PCC) | 1997/1998 |
| REMEDIAL PSES ENGLISH FOR POSTGRADUATE | 1995/1996 |
| RESEARCH METHODOLOGY | 2011/2012 |
| RESEARCH PAPER 1 | 2018/2019 |
| RESEARCH PAPER 2 | 2018/2019 |
| SFC: LISTENING SKILLS FOR ARABIC-EXEMPTED | 1996/1997 |
| SFC: READING SKILLS FOR ARABIC- EXEMPTED | 1996/1997 |
| SPECIAL ENGLISH FOR ARABIC MAJOR II | 1994/1995 |
| SYLLABUS DESIGN AND MATERIALS DEVELOPMENT | 2020/2021 |
| SYLLABUS DESIGN AND MATERIALS PREPARATION FOR TESL | 2007/2008 2005/2006 |
Research Projects
Completed
| | |
| --- | --- |
| 2015 - 2018 | Profiling Students? Productive Vocabulary Against the Vocabulary Word List |
| 2015 - 2018 | Integrating Multicultural Perspectives in Teaching and Learning |
| 2015 - 2015 | Kajian Pertimbangan Dasar 60:40 (60:40 Policy Review)Di Bawah Inisiatif PPM#49 Pengukuhan STEM |
| 2014 - 2017 | Positioning the English Language Curriculum Within the Internationl Language of the Common European Framework of Reference (CEFR) |
| 2014 - 2015 | Comparison Study on the Quality of Preschools in Malaysia |
| 2013 - 2013 | LAPORAN PETUNJUK SAINS, TEKNOLOGI DAN INOVASI (STI) 2013 |
| 2011 - 2012 | Kajian dan Pembinaan Instrumen Persetaraan Kriteria untuk Menilai Kualiti Pendidikan Prasekolah di Malaysia |
| 2010 - 2011 | Vocational English Test for International Communication (VET): A Study of Existing Standards and Industrial Needs |
| 2008 - 2012 | A Study of Cultural Sensitivity and English Language Teaching Materials of Muslim Learners and Teachers. |
| 2008 - 2012 | Developing a Framework for Evaluating English for Specific Purposes Programme |
| 2008 - 2011 | Faculty Assessment Competency: An IIUM Study |
| 2005 - 2008 | An Investigation of the Performance of the IIUM Teaching Staff in IELTS & An Investigation into the Comparability of the English Placement Test (EPT) and the International English Language Testing System (IELTS) |
| - 2014 | Kajian Unjuran Pelajar Akademik INSPEN |
| - 2009 | Computer-Mediated Communication (CMC) |
On-Going
| | |
| --- | --- |
| 2018 - Present | ALIGNING THE IIUM ENGLISH PROFICIENCY TEST STANDARDS TO THE COMMON EUROPEAN FRAMEWORK OF REFERENCE AND THE IELTS: EVIDENCE OF INTERNAL, PROCEDURAL AND EXTERNAL VALIDITY |
| 2014 - Present | Workplace Oral Communication Needs of Financial Services Employees |
| 2008 - Present | An Investigation of the Compatibility of the Policies and Practices of English for Specific Purposes Programs at Malaysian Public Universities and the Demands of the Industries for Graduates With Communicative Skills. |
| 2007 - Present | Testing and Assesment in Higher Education Research Unit (TASHE) |
Publications
Article
| | |
| --- | --- |
| 2019 | Program IPT punca pengangguran?. Utusan Malaysia, UIAM Berhujah () pp. 14 |
| 2018 | Gender, metacognition, and vocabulary learning strategies of Malay ESL learners. Advanced Science Letters, 24 (11) pp. 7988-7991 |
| 2017 | English language proficiency and initiatives of Malaysian universities. English Language Proficiency and Initiatives of Malaysian Universities, 12 (1) pp. 1-4 |
| 2017 | The assessment of writing within the CEFR scale : A Malaysian context. Advanced Science Letters, 23 (5) pp. 4944-4947 |
| 2016 | The Relationship between Vocabulary Size and Reading Comprehension of ESL Learners . English Language Teaching, 9 (2) pp. 116-123 |
| 2013 | Effects of metacognitive listening strategy training on listening comprehension and strategy use of ESL learners. World Applied Sciences Journal, 21 ((Special Issue of Studies in Language Teaching and Learning) pp. 57-66 |
| 2013 | Intensive English Language Programme: A Needs Assessment. World Applied Sciences Journal , 21 (2) pp. |
| 2013 | Measuring the vocabulary size of Muslim pre-university students. World Applied Sciences Journal, 21 (Special Issue 4) pp. 44-49 |
| 2013 | Needs assessment of workplace English and Malaysian graduates' english language competency. World Applied Sciences Journal , 21 () pp. 88-94 |
| 2013 | Oral presentation errors of Malaysian students in an English for Academic Purposes (EAP) Course. World Applied Sciences Journal, 21 ((Special Issue of Studies in Language Teaching and Learning) pp. 19-27 |
| 2013 | Stakeholders' Perceptions of an English for Occupational Purposes Course. World Applied Sciences Journal, 21 (Sp iss) pp. 73-87 |
| 2011 | Critical thinking dispositions of new intake engineering technology students . International Journal of Business and Technoprenuership, 1 (1) pp. 89-92 |
| 2009 | Motivation to learn a foreign language in Malaysia. GEMA Online Journal of Language Studies, 9 (2) pp. 73-87 |
Conference or Workshop Item
| | |
| --- | --- |
| 2019 | EPT and the CEFR: are they aligned?. In: 3rd International Language and Tourism Conference 2019 (ILTC 2019), |
| 2019 | EPT and the CEFR: are they aligned?. In: 3rd International Language and Tourism Conference 2019 (ILTC 2019), |
| 2018 | A systematic approach for developing course learning outcomes to fulfill accreditation requirements in Malaysia. In: 7th World Engineering Education Forum 2017, |
| 2018 | Alignment To CEFR And IELTS: The CELPAD IIUM Initiative. In: 6th British Council New Directions in English Language Assessment Conference: Standards in Learning Systems 2018, |
| 2017 | Integrating Islamisation and virtue in iCGPA at IIUM. In: Integrated Cumulative Grade Point Average (iCGPA) International Conference 2017, |
| 2015 | The role of vocabulary in reading comprehension. In: The Asian Conference for Language Learning 2015 (ACLL 2015), |
| 2014 | Measuring the vocabulary size of IIUM pre-sessional students . In: International Research Invention and Innovation Exhibition (IRIIE 2014) , |
| 2014 | Oral communication needs in the ICT industry. In: 3rd International Conference: Issues in Language Teaching and Learning amongst non-Native Speakers (ILANNS), |
| 2013 | An investigation of the relationship between metacognitive strategies and vocabulary size in an ESL environment. In: 2013 IEDRC Sydney Conferences, |
| 2013 | Oral communication skills in the financial services and telecommunication, technology, and media industries. In: 2013 IEDRC Sydney Conferences, |
| 2009 | A comparative analysis of Engineering students' problems in speaking and writing. In: International Conference on Teaching and Learning, |
| 2009 | Islamic cultural considerations in the selection and use of ESL materials in the language classroom). In: 7th World Conference on Muslim Education, , |
Book
Book Section
| | |
| --- | --- |
| 2020 | Office of Deputy Rector of Academic and Industrial Linkages. In: Centre for Professional Development (CPD), International Islamic University Malaysia., ISBN: , pp. 6-7 |
| 2019 | Accelerating academic innovation for quality teaching and learning. In: IIUM Press, International Islamic University Malaysia, ISBN: 978-967-491-035-8, pp. 181-191 |
| 2019 | Accelerating academic innovation for quality teaching and learning. In: IIUM Press, International Islamic University Malaysia, ISBN: 978-967-491-035-8, pp. 181-191 |
| 2013 | Islamic cultural considerations in the selection and use of ESL materials in the language classroom. In: IIUM Press, ISBN: 9789674182878, pp. 34-48 |
| 2011 | Communication anxiety among pre-university students. In: IIUM Press, ISBN: 978-967-418-028-7, pp. 23-35 |
| 2011 | English language competency for employment purposes: meeting the needs of the industry. In: IIUM Press, International Islamic University Malaysia, ISBN: 978-967-0225-23-4, pp. 179-208 |
| 2011 | Inculcating Islamic values in teaching western short stories to Muslim learners. In: IIUM Press, ISBN: 9789670225234, pp. 83-111 |
| 2011 | Responses to extensive reading: a survey of ESL learners. In: IIUM Press, ISBN: 978-967-418-028-7, pp. 71-87 |
| 2011 | The effects of oral communication strategy training on ESL learners' oral proficiency. In: IIUM Press, ISBN: 978-967-418-028-7, pp. 49-68 |
| 2008 | The English language proficiency of Malaysian Public University students. In: MOHE, ISBN: , pp. 40-65 |