Staff Directory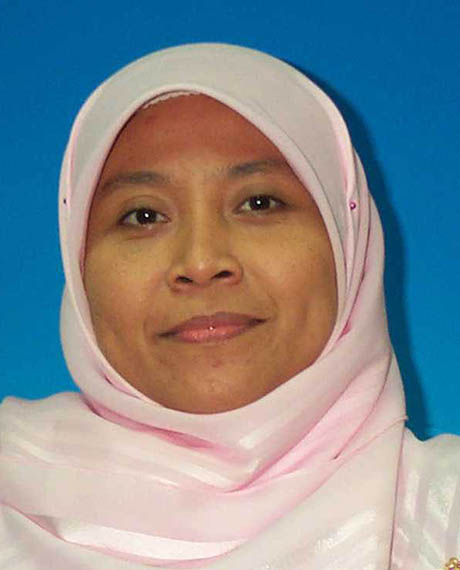 Academic Qualification
Managerial Economics - Doctor of Philosophy, Ranselear Polytechnic Institute, New York
International Economics - Masters Degree, Northwestern University
Economics - Bachelor Degree, International Islamic University Malaysia
Ruzita Bt Mohd Amin (Prof. Dr.)
Professor
IIUM Gombak Campus
KULLIYYAH OF ECONOMICS AND MANAGEMENT SCIENCES

Other's position:
Head, Office of the Deputy Rector (Student Development & Community Engagement)
---
Expert Profile
Professor Dr. Ruzita has served at the IIUM since 1987, and currently, she is a Professor at the Department of Economics, IIUM. She was Deputy Dean (Academic) of the Kulliyyah of Economics & Management Sciences from 2005 to 2007 and currently, she is the Head of the Disability Services Unit, IIUM. She was the Editor of the IIUM Journal of Economics & Management (currently known as the International Journal of Economics, Management & Accounting) for the periods of 1995-2004 and 2008-2011.
Her research interests include disability studies, social economics, development economics, economic integration and economic theory from the Islamic perspective. Her current research projects include "The Formulation and Application of an Integrated Development Index (I-Dex) based on Maqasid al-Shari'ah as a New Comprehensive Approach to Measuring Human Development", funded by the Islamic Research and Training Institute (IRTI), and "Understanding National Implementation of the UN CRPD in Malaysia: A Two-Phased, Mixed Methods Approach," in collaboration with the Institute of Disability & Public Policy, American University, USA, and the University of Malaya.
She was presented with the Special Award (for Academic Achievement) for Persons with Disabilities in Conjunction with the International Day for Persons with Disabilities, by the Ministry of Women, Family and Community Development (MWFCD), Malaysia, for the year 2012. She is currently a Member of the National Council of the Persons with Disabilities, under the MWFCD for the period from January 2013 to December 2016. As of August 2014, she was appointed as the Co-Chairman of the Committee on Universal Design and Built Environment of the National Council of the Persons with Disabilities.
Teaching Responsibilities
| | |
| --- | --- |
| ADVANCED ECONOMICS & ISSUES | 2017/2018 |
| BUSINESS ECONOMICS | 2008/2009 2007/2008 2006/2007 2005/2006 2004/2005 2003/2004 2002/2003 |
| BUSINESS MATHEMATICS | 1994/1995 |
| ECONOMETRICS I | 1996/1997 1995/1996 1994/1995 |
| ECONOMETRICS II | 1995/1996 1994/1995 |
| ECONOMICS FOR MANAGERS | 2000/2001 |
| INTERMEDIATE MACROECONOMICS 2 | 2005/2006 |
| INTERMEDIATE MACROECONOMICS I | 2022/2023 2021/2022 2020/2021 2019/2020 2018/2019 2017/2018 2016/2017 2015/2016 2014/2015 2013/2014 2012/2013 2011/2012 2010/2011 2009/2010 2003/2004 2002/2003 2001/2002 2000/2001 1998/1999 1997/1998 |
| INTERMEDIATE MACROECONOMICS II | 2015/2016 2014/2015 2013/2014 2009/2010 2008/2009 2007/2008 2006/2007 2005/2006 2002/2003 1999/2000 1990/1991 |
| INTERMEDIATE MICROECONOMICS 1 | 2005/2006 |
| INTERMEDIATE MICROECONOMICS I | 2022/2023 2021/2022 2019/2020 2018/2019 2015/2016 2012/2013 2009/2010 2008/2009 2007/2008 2006/2007 2005/2006 2003/2004 2002/2003 2000/2001 1999/2000 1998/1999 1997/1998 1996/1997 |
| INTERMEDIATE MICROECONOMICS II | 2002/2003 2001/2002 1999/2000 |
| INTERNATIONAL ECONOMICS | 2013/2014 2010/2011 |
| INTERNATIONAL MONETARY ECONOMICS | 2006/2007 2001/2002 1990/1991 |
| INTERNATIONAL TRADE : THEORY & POLICY | 2022/2023 2020/2021 2018/2019 2017/2018 2016/2017 2003/2004 2001/2002 2000/2001 1998/1999 |
| MACROECONOMICS | 1996/1997 1995/1996 |
| MICROECONOMICS | 1999/2000 1996/1997 1995/1996 |
| STATISTICAL METHODS | 1994/1995 |
Research Projects
Completed
| | |
| --- | --- |
| 2021 - 2022 | THE APPLICATION OF MAQASID AL-SHARIAH IN ADDRESSING THE NEEDS OF STUDENTS WITH LEARNING DISABILITIES IN AN INCLUSIVE EDUCATION CONTEXT |
| 2019 - 2020 | Kajian Peluang Pekerjaan Orang Kurang Upaya (OKU) di Malaysia |
| 2018 - 2021 | INTERNATIONAL ECONOMICS AND MUSLIM COUNTRIES |
| 2016 - 2021 | Household Debt in Malaysia: Economic, Physiological, Health and Social Impacts and the Role of Religiosity |
| 2013 - | Islamic Economic Framework for Waqf: Lessons from History,Comparative Best Practices and Developing Contemporary Models |
| 2010 - 2011 | An Analysis of Values of KENMS Students |
| 2010 - 2012 | Trade and Human Development in OIC Countries: A Panel Data Analysis |
| 2009 - 2010 | The Feasibility of an Islamic Common Market:An Analysis |
| 2009 - 2013 | Assessing Academic Department Efficiency at a Public University : the Case of the Kulliyyah of Economics & Management Science, International Islamic University Malaysia |
| 2007 - 2007 | A Decade of the WTO and Trade Performance of Muslim Countries |
| 2007 - 2008 | Prospects for Future Economic Integration Between Malaysia and Selected OIC Countries |
| 2007 - 2008 | Liberalization of Distribution Service: The Impact of Foreign Hyper-markets in Malaysia |
| 2004 - 2004 | An Empirical Analysis of Intra-Trade Among the League Of Arab Saudi |
| - 2010 | Malaysian Science and Technology Indicators 2010 |
On-Going
| | |
| --- | --- |
| 2023 - Present | Teaching dyslexic students in inclusive classrooms: Learning from the lived experience of teachers |
| 2021 - Present | Strategic Empowerment Of Visually Impaired Community (Se-Vic) Via Intelligence Mobility |
| 2014 - Present | Religiousity and Holistic Development in a Muslim Society: A Case Study on south Kalimantan, Indonesia |
| 2013 - Present | The Integrated Development Index (I-DEX): A New Comprehensive Approach to Measuring Human Development |
| 2011 - Present | The Integrated Development Index (I-Dex): A New Comprehensive Approach to Measuring Human Development |
| 2008 - Present | KAED Universal Design Unit (KUDU) |
| 2007 - Present | Prospect For future Economics Intergration among the League of Arab State |
| 2004 - Present | Trade, Regulation and Policy Research Unit |
Award & Recognition
| | | |
| --- | --- | --- |
| 16 Mar, 2002 | Quality Research Award (Kulliyyah) - International Islamic University Malaysia | Kulliyyah |
Publications
Article
| | |
| --- | --- |
| 2021 | The multi‑dimensional effect of household debt on urban individual well‑being in Klang Valley Malaysia. Social Indicators Research, 158 (1) pp. 23-44 |
| 2020 | Household debt and household spending behavior: evidence from Malaysia (hutang isi rumah dan tingkah laku perbelanjaan isi rumah: Bukti dari Malaysia). Jurnal Ekonomi Malaysia, 54 (1) pp. 111-120 |
| 2020 | The association between household debt and marriage satisfaction in the context of urban household in Klang Valley, Malaysia. Journal of Emerging Economies & Islamic Research, 8 (1) pp. 12-22 |
| 2019 | Holistic development and wellbeing based on maqasid al-shari'ah : the case of south kalimantan, Indonesia. Journal of Economic Cooperation and Development, 40 (4) pp. 1-22 |
| 2019 | Potential impact of trips-plus provisions on Malaysia's domestic pharmaceutical industry. Science International (Lahore), 31 (3 (May-June)) pp. 397-400 |
| 2019 | The extra costs of having a disability: the case of IIUM. Intellectual Discourse, 27 () pp. 829-854 |
| 2018 | Relationship between religiosity and individual economic achievement: evidence from South Kalimantan, Indonesia = العلاقة بين التدين والإنجاز الاقتصادي للأفراد: ادلة من جنوب كاليمانتان, إندونسيا. KIng Abdulaziz University Islamic Economics, 31 (2) pp. 3-16 |
| 2018 | The potential impact of Trans Pacific Partnership Agreement (TPPA) on Malaysia's trade. Science International (Lahore), 30 Section B (6 November-December) pp. 877-883 |
| 2017 | Oman's economic diversification cum trade structure. Omani Journal of Applied Sciences, 6 (1) pp. 10-24 |
| 2015 | A critical analysis of development indices. Australian Journal of Sustainable Business and Society, 1 (1) pp. 37-53 |
| 2013 | Trade and human development in OIC countries: a panel data analysis. Islamic Economic Studies, 21 (2) pp. 55-70 |
| 2011 | Are there prospects for future economic integration among Muslim countries? Evidence from selected OIC countries. International Journal of Economics and Management, 5 (1) pp. 179-215 |
| 2011 | Does trade among ASEAN members promote efficiency? sectoral evidence from the gravity model. International Journal of Humanities and Social Science, 1 (12) pp. 236-253 |
| 2011 | The quest for better economics graduates: reviving the pluralist approach in the case of the International Islamic University Malaysia . International Journal of Pluralism and Economics Education, 2 (1) pp. 96-113 |
| 2010 | A decade of the World Trade Organization and trade performance of Muslim countries. American Journal of Islamic Social Sciences, 27 (4) pp. 23-44 |
| 2009 | Towards an Islamic common market: are oic countries heading the right direction? . IIUM Journal of Economics and Management, 17 (1) pp. 133-176 |
| 2008 | Does the trade structure among the league of Arab states show potential for a successful regional economic integration? . Journal of Economic Cooperation Among Islamic Countries, 29 (4) pp. 37-70 |
| 2007 | A Survey on the objective of the firm and models of producer behavior in the Islamic framework. J.KAU: Islamic Econ, 20 (2) pp. 3-16 |
| 2005 | Economic integration among the members of the League of Arab States: an empirical evidence. Journal of Economic Cooperation and Development, 26 (3) pp. 77-102 |
| 2003 | Religiosity and social problems in Malaysia. Intellectual Discourse, 11 (1) pp. 77-87 |
| 2002 | Formation of desired values: the role of parents. International Journal of Social Economics, 29 (6) pp. 468-479 |
| 2002 | Values and their relationship to social problems in Malaysia: an Islamic framework. American Journal of Islamic Social Sciences, 19 (3) pp. 57-78 |
Conference or Workshop Item
| | |
| --- | --- |
| 2016 | Towards a disable–friendly, energy–efficient and sustainable green campus. In: EAU International Conference on Green Asia and Inclusive Sustainable Development 2016, |
| 2015 | Safeguarding wealth (Hifdh al mal) and its role in sustainable economic development in the OIC countries. In: International Conference on "Islam, Science and Sustainable Development: Maqasid al-Shari'ah and Humanity's Well-being, |
| 2015 | The potential impact of Trans-Pacific Partnership Agreement (TPPA) on Malaysia's access to medicine. In: Academics World 2nd International Conference, |
| 2015 | The potential impact of Trans-pacific Partnership Agreement (TPPA) on Malaysia's trade. In: Academics World 2nd International Conference, |
| 2014 | A critical analysis of development indices. In: Australian Academy of Business and Social Sciences Conference 2014 (in partnership with The Journal of Developing Areas), |
| 2011 | Malaysian science and technology indicators. In: IIUM Research, Invention and Innovation Exhibition (IRIIE) 2011, |
| 2011 | The quest for a 21st century Islamic economics curriculum for universities in the Muslim world: the case of IIUM. In: Proceedings of the First International Conference on Islam and Higher Education, |
| 2011 | Trade and human development in OIC Countries : a panel data analysis. In: 8th International Conference on Islamic Economics and Finance, |
| 2010 | Does trade among ASEAN members promote efficiency? Sectoral evidence from the gravity model.. In: International Conference on the Asian Economic Cooperation, |
| 2010 | Economic integration among asean countries: evidence for gravity model. In: IIUM Research, Innovation & Invention Exhibition (IRIIE 2010), |
| 2009 | Provision of barrier-free environment at waterfront development in Malaysia. In: ICUDBE 2009 -International Conference of Universal Design In Built Environment , |
| 2008 | An analysis of social problems in Malaysia: the case of Johor. In: National Conference on Social Problems in Malaysia, |
| 2008 | Prospects for future economic integration among the League of Arab States. In: Proceedings of the International Conference on Business Globalization in the 21st Century, |
Book
Book Section
| | |
| --- | --- |
| 2015 | The Integrated Development Index (I-Dex): a new comprehensive approach to measuring human development. In: Bloomsbury Qatar Foundation , ISBN: 978-9927-118-22-7, pp. 159-172 |
| 2015 | The Integrated Development Index (I-Dex): a new comprehensive approach to measuring human development. In: Bloomsbury Qatar Foundation , ISBN: 978-9927-118-22-7, pp. 159-172 |
| 2013 | Islamic economics education in Malaysia: a comparative analysis of the Bachelor of Shari'ah (Shari'ah and Economics), University of Malaya, and the Bachelor of Economics, International Islamic University Malaysia. In: Centre for Islamic Economics, International Islamic University Malaysia & International Institute of Islamic Thought, ISBN: 9789834460013, pp. 109-149 |
| 2013 | The effectiveness of an integrated curriculum: economics programme at the International Islamic University Malaysia. In: IIUM Press, ISBN: 9789674182700, pp. 153-168 |
| 2013 | The effectiveness of an integrated curriculum: economics programme at the International Islamic University Malaysia. In: IIUM Press, ISBN: 9789674182700, pp. 153-168 |
| 2011 | Provision of barrier-free environment at waterfront development in Malaysia. In: Kuala Lumpur, ISBN: 978-967-418-205-2, pp. 114-147 |
| 2010 | Are there prospects for future economic integration among Muslim countries? Evidence from selected OIC countries. In: IIUM Press, ISBN: 9789670225012, pp. 3-28 |
| 2009 | Reorientating the economics programme at the IIUM. In: IIUM Press, ISBN: 9789675272103, pp. 125-144 |
Monograph