Staff Directory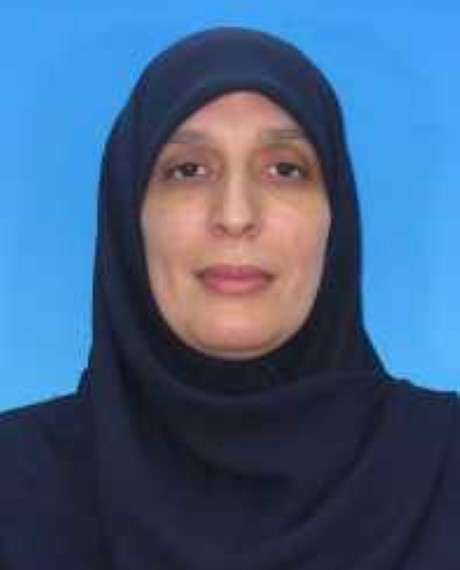 Academic Qualification
PhD in Usul Al Fiqh - Doctor of Philosophy, Algier University
Master of Islamic Revealed Knowledge and Heritage (Fiqh and Usul Al Fiqh) - Masters Degree, International Islamic University Malaysia
Bachelor in Islamic Studies - Bachelor Degree, Algier University
Halima Boukerroucha (Dr.)
Assistant Professor
IIUM Gombak Campus
AHMAD IBRAHIM KULLIYYAH OF LAWS
---
Expert Profile
Halima obtained her bachelor's degree in Fiqh and Usul al-Fiqh from the University of Algiers, her Master's in Fiqh and Usul al-Fiqh from IIUM, and Ph.D in Fiqh and Usul Fiqh from the University of Algiers.
She has worked as an assistant professor at the Department of Islamic Law (Ahmad Ibrahim Kulliyyah of Laws) IIUM from 2008 till now.
Halima has published one book, four chapters in book and several articles in refereed journals. She has also presented several papers at international conferences.
She is a consultant for the Italian Institute for Islamic Studies, advisor for IIUM Students' Clubs and different NGOs in Malaysia and Algeria.
Her contribution in the area of da'wah and Islamic thought consists of delivering talks and organising workshops on: Sirah as a foundation for a comprehensive change, the role of contemporary Muslim woman in ensuring a balanced society, ethics and its impact on the prosperity of the Ummah.
Area of Specialisation
Humanities ~ Humanities ~ Religious Studies ~ Religious Education - Fiqh Usul al-Fiqh Maqasid al-shari'ah Legal Maxims
Teaching Responsibilities
| | |
| --- | --- |
| ASBAB AL-IKHTILAF (ARABIC) | 2012/2013 2011/2012 |
| ASBAB AL-IKHTILAF II (ARABIC) | 2008/2009 |
| MAQASID AL-SHARI'AH AL-ISLAMIYYAH | 2022/2023 2021/2022 |
| MAQASID AL-SHARI'AH AL-ISLAMIYYAH (ARABIC) | 2021/2022 2020/2021 2019/2020 2017/2018 2016/2017 2015/2016 2014/2015 2013/2014 2012/2013 2011/2012 2010/2011 2009/2010 2008/2009 |
| THESIS | 2013/2014 |
| TRANSACTIONS IN ISLAMIC LAW I (ARABIC) | 2010/2011 |
| USUL AL FIQH II (PRINCIPLES OF ISLAMIC JURISPRUDENCE II) | 2021/2022 |
| USUL AL FIQH II (ARABIC) | 2017/2018 2016/2017 2015/2016 2014/2015 2013/2014 2010/2011 2009/2010 |
| USUL AL FIQH II(ARABIC) | 2008/2009 |
| USUL AL FIQH III (ARABIC) | 2020/2021 2019/2020 |
| USUL AL FIQH III (PRINCIPLES OF ISLAMIC JURISPRUDENCE III) | 2022/2023 2021/2022 |
| USUL AL FIQH IV (ARABIC) | 2019/2020 |
Research Projects
Completed
| | |
| --- | --- |
| 2014 - 2017 | Approaches in Addressing Family Issues in Muslim Countries: A Critical Appraisal |
| 2008 - 2011 | The Issue of Usul Methodology in the Contemporary Ijtihadi Thought |
| 2008 - 2012 | Maqasid Al-Shariah for Legal Education |
| - 2023 | Utilization of Waqf in financing Widows, Orphans and divorced women?s Alimonies . |
On-Going
| | |
| --- | --- |
| 2020 - Present | The Effect of Online Games on Children Mental Abilities in Light of Maqasid Shariah in Intellect Preservation (Hifdh al-Aqal) |
| 2016 - Present | Financial Liabilities of Women and Their Eligibility in the Management of Its Ownership in Islam |
| 2016 - Present | A Maqasidi Approach to Spying in the Context of Khalwat (Close Proximity) |
| 2009 - Present | Family Law and Ethics Unit (FAME) |
Publications
Article
| | |
| --- | --- |
| 2022 | الجرائم اإللكترونية: ماهيتها، وأنواعها، والتشريعات القانونية لمواجهتها في القانون العماني. المجلة الالكترونية الشاملة متعددة المعرفة لنشر الأبحاث العلمية والتربوية, () pp. 1-20 |
| 2022 | حرية ال أ ري والتعبير بين القانون المص ري والشريعة الإسلامية. International Journal for Muslim World Studies (IJMWS), 19 (2) pp. 133-176 |
| 2022 | حوكمة الشركات في المملكة العربية السعودية: القواعد النظامية والتنظيمية واإلطار العملي. Journal of University Studies for Inclusive Research, 3 (1) pp. 8234-8256 |
| 2020 | اﻟو ﺴﺎطﺔ اﻟﻘﻀﺎﺌﯿﺔ ﻓﻲ ﺘﺴوﯿﺔ اﻟﻤﻨﺎزﻋﺎت ﻓﻲ اﻟﻘﺎﻨون اﻷردﻨﻲ: دراﺴﺔ ﺘﺤﻠﯿﻠﯿﺔ ﻨﻘدﯿﺔ. International Journal of Muslim World Studies, 18 (2) pp. 25-47 |
| 2020 | الوساطة القضائىة القضايا الأسرية في ماليزيا : تحد ياتالتطبيق، وأفاق التطوير. Journal of Islam in Asia, 17 (3) pp. 1-39 |
| 2017 | التكييف القانوني لتقنيات التناسل المساعدة "دراسة مقارنة بين الشريعة الإسلامية والقانونية" = Legal characterization for reproduction techniques. International Journal of Muslim World Studies, 15 (1) pp. 3-61 |
| 2016 | The standard of care in traditional medicine and modern medicine. Journal of Asian and African Social Science and Humanities, 2 (2) pp. 152-162 |
| 2015 | Alternatives to custodial sentences: a Maqasidi approach. Pertanika Journal of Social Science & Humanities, 23 (S) pp. 19-30 |
| 2015 | حوكمة المؤسسات المالية الإسلامية: البنك المركزي نموذجا = Shariah governance for Islamic financial institutions: the experience of the Central Bank of Malaysia . Algerian Review of Economic Development, 2 (2) pp. 105-120 |
| 2014 | التأجير التمويلي اللاحق موازنة بين جملة الأداءات العقدية. Majallat ISRA al-Dauliyah al-'Alamiyah al-Islamiyah, 5 (2) pp. 125-157 |
| 2014 | مراجعة كتاب: القواعد الفقهية وتطبيقاتها في المعاملات المالية المعاصرة = Muraja'ah kitab: al-qawa'id al-fiqhiyah wa-tatbiqatiha fi al-mu'amalat al-maliyah al-mu'asirah. Majallat ISRA al-Dauliyah al-'Alamiyah al-Islamiyah, 5 (1) pp. 151-158 |
| 2012 | إشكالية المنهج الأصوليي في الفكر الاجتهادي المعاصر = Problem of jurisprudential method in the contemporary Ijtihede thought = Masalah kaedah Yurisprudensi kontemporari Ijtihede. Journal of Islam in Asia, 9 (1) pp. 1-26 |
Conference or Workshop Item
| | |
| --- | --- |
| 2017 | al-Tahkeem al-Ilictroni Wa al-Qanun al-Wajib al-Tatbik fi Majaal al-Muamlaat al-Ilictronia التحكيم الإلكتروني والقانون الواجب التطبيق في مجال المعاملات الإلكترونية. In: International Conference on Dispute Resolution 2017 (ICDR 2017), |
| 2017 | الوساطة القضائية في تسوية المنازعات في القانون الأردني دراسة تحليلية نقدية = Judicial mediation in the settlement of disputes in Jordanian law: a critical analytical study. In: International Conference on Dispute Resolution 2017 - Modern Trends in Effective Dispute Resolution, |
| 2016 | The standard of care in traditional medicine and modern medicine . In: Conference on Law and Economics 2016, |
| 2015 | ظاهرة القرآنية عند مالك بن نبي ومحمد أركون. In: The 5th International Annual Qur'anic Conference (MUQADDAS V), |
| 2014 | Alternatives to custodial sentences: a Maqasidi approach. In: International Conference on Law, Order and Criminal Justice 2014, |
| 2014 | Education in Africa. In: 1st African Youth Conference 2014, |
| 2014 | ضمانات جودة البحث العلمي. In: Skills and Mechanisms of Scientific Research: From Idea to Publication, |
| 2013 | إشكالية التكامل بين مناهج العلوم الاجتماعية والمنهج الأصولي عرض وتقويم = The issue of integration between social science and usuli methodology . In: International Seminar on Usul al-Fiqh (i-SUFI 2013), |
| 2012 | تقويم منهجي لمعالجة قضايا الأسرة. In: Contemporary Fiqh: Issues and Challenges, |
| 2011 | منهج التدريس بالكفاءات وفاعليته في تعليم اللغات (Manhaj al-tadris bi-al-kafa'at wa-fa'iliyatiti fi ta'lim al-lughat). In: لمؤتمر الدولي الثاني للغات الذي ينظمه مركز اللغات بالجامعة الإسلامية العالمية ماليزيا من 22 إلى 24 أبريل 2011م, |
| 2009 | الأمن البيئي بين الشريعة الإسلامية والمواثيق الدولية (al-Amn al-bii bayn al-shari'ah al-Islamiyah wa-al-mawathiq al-dawliyah). In: International Conference on Harmonisation Between Shari'ah and Civil Law, |
Book
Book Section
| | |
| --- | --- |
| 2021 | Maqasidi approach to child marriage with special reference to the preservation of lineage (hifz al-nasl). In: Department of Syariah Judiciary Malaysia & Ahmad Ibrahim Kulliyyah of Laws, IIUM, ISBN: 978-967-0870-86-1, pp. 149-169 |
| 2021 | الحقوق المشتركة بين الزوجين في الشرع: دراسة فقهية تحليلية = Mutual rights between spouses: a juristic aAnalytical study. In: Department of Syariah Judiciary Malaysia, ISBN: 978-967-0870-89-2, pp. 19-39 |
| 2011 | (Muhaddidat al-syakhsiyah al-ibda'iyah 'inda al-imam al-syafi'i) . In: IIUM Press, ISBN: 9789670225777, pp. 185-233 |
| 2011 | رسالة الإمام الشافعي : بحث في دواعي التأليف (Risalah al-Imam al-Shafi'i : bahth fi dawa'i al-ta'lif). In: Research Center IIUM, ISBN: , pp. 1-24 |
| 2011 | رسالة الإمام الشافعي : بحث في دواعي التأليف (Risalah al-imam al-Shafi'i: buhuth fi dawa'i al-ta'lif). In: IIUM Press, ISBN: 9789670225777, pp. 153-181 |
| 2011 | محددات الشخصية الإبداعية عند الإمام الشافعي = The determinants of personal creativity of Imam al-Shafii. In: IIUM Press, ISBN: 987-976-0225-77-7, pp. 151-182 |
| 2008 | منهج الفتوى عن الإمام الشوكاني = Fatwa methodology according to Imam al-Shawkani . In: Universiti Sains Islam Malaysia (USIM), ISBN: , pp. 195-230 |
| 2007 | العنف الأسري: مدخل للفهم وآليات للتجاوز = Family violence: an overview and proposed solutions. In: Centre for Research and studies Ministry of Awqaf and Religious Affairs Qatar, ISBN: , pp. 355-381 |
Monograph