Staff Directory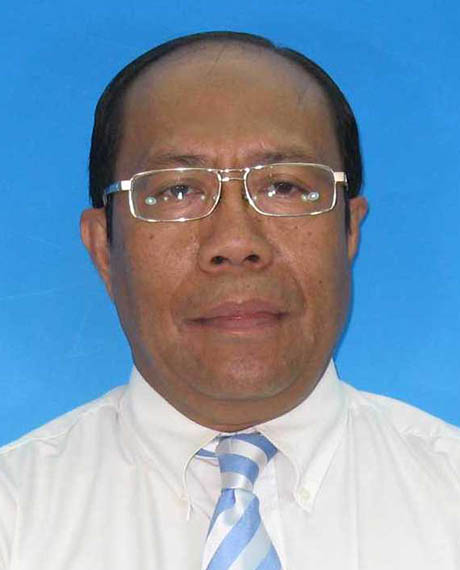 Academic Qualification
Service Marketing - Doctor of Philosophy, Universiti Putra Malaysia (UPM)
Master of Management in Management Science - Masters Degree, Universiti Utara Malaysia (UUM)
Bachelor of Economics in Analytical Science - Bachelor Degree, Universiti Kebangsaan Malaysia (UKM)
Hairuddin Bin Mohd Ali (Prof. Dr.)
Professor
IIUM Gombak Campus
KULLIYYAH OF EDUCATION
---
hairuddin@iium.edu.my
5365
Expert Profile
Hairuddin bin Mohd Ali obtained his Certificate of Education in 1972 and was offered a teaching job in one of the remote primary schools in Pahang. After he obtained his B.Econs. (Hons) in April 1979 he continued teaching in one of the secondary schools in his hometown. He excelled in his teaching career and his last position was principal of a secondary school. He left his position as a school principal and enrolled into a Master of Science (Management) programme at UUM and graduated in 1995. He was posted to Institute Aminuddin Bakri (IAB) as a lecturer cum trainer where he was actively involved in training of the MOE officials, Principals, Headmasters and Schools staff in management and leadership. The environment encouraged him to pursue his Ph.D which he completed in 2006. His last position was as the Head of Centre, Consultancy and Mentoring, IAB. In 2009, he left IAB for KOEDU IIUM and took up a teaching position here. He was appointed as Head, Department of Social Foundations and Educational Leadership, KoEd, from 2013 to 2014.
At the Kulliyah he had several tasks such as the chairperson for the Malaysian Education Deans Council (MEDC) National Conference in 2013. At the same time, he managed to lead a group of his colleagues for his first FRGS. Until now he has managed to secure two FRGS worth RM 118, 000.00. He also won a Silver Medal and three Bronze Medals in IRIIE 2011. Prof Hairuddin has successfully supervised more than ten Master of Education students and five Ph.D students. At the moment, he is focusing on research and publications.
Presently, he is an Associate Professor at the Department of Social Foundation and Educational Leadership Kulliyyah of Education.
Area of Specialisation
Economics, Business And Management ~ Economics, Business And Management ~ Human Resource Development (HRD) ~ Other Human Resource Development (HRD) n.e.c. - Human Resource Development
Social Science ~ Social Science ~ Education ~ Administration - Educational Management and Leadership
Engineering Tech ~ Applied Sciences And Technologies ~ Energy Technology ~ Other Energy Technology n.e.c. - Management
Engineering Tech ~ Applied Sciences And Technologies ~ Energy Technology ~ Other Energy Technology n.e.c. - Management
Economics, Business And Management ~ Economics, Business And Management ~ Human Resource Development (HRD) ~ Other Human Resource Development (HRD) n.e.c. - Human Resource Development
Humanities ~ Humanities ~ Linguistics and Literature ~ Language, Media and Culture (Including Social Networks, Impact on Society (Age and Gender), Audience Perception) - Teacher Education
Humanities ~ Humanities ~ Linguistics and Literature ~ Applied Linguistics - Educational Management and Administration
ICT ~ Information, Computer And Communications Technology (ICT) ~ Software ~ Simulation System - Management
Professional Membership
2007 - 2012: Member of Profesional Body / Association, Allumni UPM
2015: Member of Profesional Body / Association: (Life-membership), Malaysian Society of Educational Administration & Management
2016 - 2022: Member of Profesional Body / Association: (Members), Majlis Professor Negara
2020 - 2022: Member of Profesional Body / Association: (Member), Akademi Professor Malaysia
Teaching Responsibilities
| | |
| --- | --- |
| CHANGE MANAGEMENT IN EDUCATION | 030901 |
| CIVICS AND CITIZENSHIP EDUCATION | 2012/2013 2011/2012 2010/2011 |
| CONTEMPORARY ISSUES IN EDUCATIONAL MGMT & LDR | 2019/2020 |
| CURRICULUM AND INSTRUCTION | 2015/2016 |
| CURRICULUM AND INSTRUCTIONAL LEADERSHIP | 2020/2021 |
| CURRICULUM DEVELOPMENT | 2009/2010 |
| EDUCATIONAL LEADERSHIP | 030201 |
| EDUCATIONAL PLANNING & EVALUATION | 2020/2021 2019/2020 2018/2019 2017/2018 2015/2016 2014/2015 2013/2014 2012/2013 2011/2012 2010/2011 2009/2010 2008/2009 |
| EDUCATIONAL PLANNING AND EVALUATION | 2021/2022 2016/2017 |
| GOOD PRACTICES OF SUCCESSFUL ORGANISATIONS | 040401 030401 |
| INSTRUCTIONAL SUPERVISION | 031101 |
| ISLAMIC PERSPECTIVES IN ADMINISTRATION & HR | 2021/2022 |
| ISLAMIC PERSPECTIVES IN ADMINISTRATION AND HUMAN RELATION | 2021/2022 |
| MANAGEMENT OF EDUCATIONAL ORGANISATIONS | 040301 030301 |
| MANAGEMENT OF INSTITUTIONS OF HIGHER LEARNING | 2020/2021 |
| MGT. OF INSTITUTIONS OF HIGHER LEARNING | 2018/2019 2017/2018 2016/2017 2015/2016 2014/2015 2013/2014 2012/2013 2010/2011 2009/2010 |
| ORGANIZATIONAL BEHAVIOR IN EDUCATION SETTINGS | 2017/2018 |
| QUALITY MANAGEMENT IN EDUCATION | 030501 |
| SCHOOL MANAGEMENT & LEADERSHIP | 2016/2017 2015/2016 |
| SCHOOL MANAGEMENT AND LEADERSHIP | 2020/2021 |
| SCHOOL MANAGEMENT AND SUPERVISION | 2019/2020 2018/2019 2017/2018 2016/2017 2015/2016 2014/2015 2013/2014 2012/2013 2011/2012 2010/2011 2009/2010 |
| SOCIAL WORK FOR COMMUNITY SERVICE | 2012/2013 2011/2012 2010/2011 2009/2010 |
| SOCIOLOGY OF EDUCATION | 2021/2022 |
| STRATEGIC MANAGEMENT IN EDUCATION | 031001 |
| THE SCHOOL AND THE COMMUNITY | 2021/2022 |
| THEORIES IN EDUCATIONAL ADMINISTRATION | 2011/2012 |
| THEORIES IN EDUCATIONAL MANAGEMENT & LEADERSH | 2020/2021 |
| THEORIES IN EDUCATIONAL MANAGEMENT & LEADERSHIP | 2020/2021 2019/2020 2018/2019 |
| THEORIES IN EDUCATIONAL MANAGEMENT AND LEADERSHIP | 2021/2022 |
Research Projects
Completed
| | |
| --- | --- |
| 2018 - 2022 | Modelling Strategic High Performance Transformative Education for TN50 World Class Education in pursuit of Malaysia?s Global Economic Competitiveness. |
| 2016 - 2020 | Malaysian Strategic Leadership Practice Inventory (MSLP): Profiling the Malaysian Aspiring School Principals for the Sustainability of High Performance Education |
| 2013 - 2016 | Strategic Leadership Practices Of Malaysian Educational Leaders As Determinants For The Achievement Of Malaysia Education Blueprint (2013-2025) Aspiration Outcomes. |
| 2012 - 2015 | Malaysian Human Capital Empowerment through Enchancing Vocational Schools Appeal : What Works in Vocational Schools |
| 2011 - 2013 | Practices Of Educational Management And Leadership In Selected South East Asian Countries (KVC- Edited Book Project 2011) |
| 2011 - 2013 | A University's Quality Services : A Forgotten Responsibility (KVC- Edited Books Project 2011) |
| 2011 - 2013 | Quality Assurance Evaluation Model for National Universities Commision in Nigeria |
| 2011 - 2013 | Exploring the Relationship Between Quality Culture and Organizational Climate with Workforce Performance |
| 2010 - 2011 | The Relationship of Factors Contributing to infusing Islamic Manners (Adab)in Secular Classroom among Malay and non Malay speaking Muslim teachers in Public Primary School in Southern Thailand. |
| 2010 - 2011 | Perception Student on the Services Delivered by Educational Administration in Institute of Education (INSTED,IIUM) |
| 2010 - 2014 | Leadership and Fellowship Practices of Educational Leaders as Potential Predictors for Organizational Key Results Areas (KRA) Achievement: A Study on Malaysian Education Leaders |
| 2009 - 2011 | Service Quality Management Practice as Perceived by the Customers |
On-Going
| | |
| --- | --- |
| 2020 - Present | Validating and Profiling Lifelong Learning Attributes (LLLA) Among Academic Staff of Islamic Tertiary Education Institutions |
| 2018 - Present | Modelling University Quality Services for Foreign Students in Malaysia for Economic Growth and Internalization Best Practices |
| 2018 - Present | Modelling University Quality Services for Foreign Students in Malaysia for Economic Growth and Internalization Best Practices |
| 2016 - Present | Profiling the Effects of Urban Poverty on the Academic Achievement of Students from different Ethnic Groups in Major Malaysian Cities |
| 2012 - Present | Kajian Arah Aliran dan Unjuran Kemasukan Pelajar di Institusi Pengajian Tinggi (IPT) dari Negara-Negara OIC |
Award & Recognition
| | | |
| --- | --- | --- |
| 11 Jun, 2014 | Cerificate of Participation, International research, invention and innovation exhibition (IRIIE 2014) - RMC, International Islamic University Malaysia | International |
| 16 May, 2014 | Tokoh Guru Daerah Jerantut 2014 - Pejabat Pendidikan Daerah Jerantut Pahang Darul Makmur | State |
| 04 Apr, 2011 | Bronze medallist for IRIIE 2011 - RMC, IIUM. | University |
| 04 Apr, 2011 | Certificate of appreciation for the achievement of "silver medal" IRIIE 2011. - RMC, IIUM. | University |
| 31 Dec, 2007 | Anugerah Perkhidmatan Cemerlang - Ministry of Education Malaysia | National |
| 06 Apr, 2003 | Ahli Mahkota Pahang - Palace Of Pahang | State |
| 31 Dec, 1998 | Anugerah Perkhidmatan Cemerlang - Ministry of Education Malaysia | National |
Publications
Article
| | |
| --- | --- |
| 2022 | Islamic workplace spirituality influence on organizational effectiveness of Indonesian States' Islamic Higher Education Institutions. Equity in education and society, 0 (0) pp. 1-21 |
| 2021 | Influence of participatory decision making on job satisfaction: evidence from an Islamic tertiary institution with moderating role of staff experience. IIUM Journal of Educational Studies, () pp. |
| 2021 | Influence of participatory decision making on job satisfaction: the moderating effect of staff experience. IIUM Journal of Educational Studies (IJES), 9 (4) pp. 58-76 |
| 2021 | Islamic workplace spirituality influence on organizational effectiveness of Indonesian states' Islamic higher education institutions: was it operational?. Equity in Education & Society, () pp. |
| 2021 | The impact of service quality dimensions on students' satisfaction: a study of international students in Malaysian public universities. IIUM Journal of Educational Studies, 9 (2) pp. 80-108 |
| 2021 | The influence of urban poverty on students' academic optimism: does government assistance play a role?. IIUM Journal of Educational Studies, 9 (4) pp. 37-57 |
| 2021 | Validating a model of organizational citizenship behavior from Islamic perspective for Indonesian Islamic higher education institutions: a structural equation modeling approach. IIUM Journal of Educational Studies, 9 (2) pp. 64-88 |
| 2019 | Evidence of relationships between teaches' leadership style practices for learning and student academic press/emphasis. Journal of Social Sciences Research., 8 (2 ( Special Issue )) pp. 208-214 |
| 2019 | The future sustainability of Malaysian higher education institutions: what matters most?. Asian Academy of Management Journal, 24 (1) pp. 171-186 |
| 2019 | Validating a model of strategic leadership practices for Malaysian vocational college educational leaders: a structural equation modeling approach. European Journal of Training and Development, 43 (1-2) pp. 21-38 |
| 2018 | Balanced scorecard for future sustainability of Malaysian higher education institutions. The European Proceedings of Social & Behavioural Sciences, () pp. 1-13 |
| 2018 | The quest for successful internationalization of Bangladesh's higher education: investigating the strategic leadership characteristics of academic leaders. Al-Shajarah, Special Issue (Special Issue: Education 2018) pp. 1-24 |
| 2017 | Strategic leadership practices and students' aspiration outcomes: what works in Malaysian vocational colleges?. Al-Shajarah, Special Issue Education () pp. 77-95 |
| 2016 | Organisational climate as a predictor of workforce performance in the Malaysian higher education institutions. Quality Assurance in Education, 24 (3) pp. 416-438 |
| 2015 | Achieving sustainability in Nigerian higher education institutions: responsive role of the leaders. Advance in the Multidiscplinary and Scientific Research, 1 (2) pp. 9-16 |
| 2015 | Determinants of students' outcome: a full-fledged structural equation modelling approach. Asia Pacific Education Review, 16 () pp. 579-589 |
| 2015 | Distributed leadership and empowerment influence on teachers organizational commitment. Academic Journal of Interdisciplinary Studies, 4 (1 S1) pp. 73-84 |
| 2015 | Do strategic leadership and self efficacy among school leaders make a difference?. Asian Social Science, 11 (27) pp. 219-234 |
| 2015 | Investigating the influence of distributed leadership on school effectiveness: a mediating role of teachers' commitment. Journal of Educational and Social Research, 5 (1 S1) pp. 163-174 |
| 2015 | Mediating roles of leaders toward sustainability trends of higher education institutions. Journal of Creative Writing, 2 (1) pp. 66-84 |
| 2015 | The internationalization of East Asian higher education: globalization's impact. Edited by John D. Palmer, Amy Roberts, Young Ha Cho, and Gregory S. Ching, New York: Palgrave Macmillan, 2011, (1st edition), pp. 230. ISBN 978-0-230-10932-2 (hardback). IIUM Journal of Educational Studies, 3 (1) pp. 112-119 |
| 2015 | The relationship between job satisfaction, organizational commitment and organizational citizenship behavior among secondary school teachers in Katsina state. FUDMA Journal of Science and Educational Research (FJSER), 1 (1) pp. 122-130 |
| 2014 | An empirical validation of excellent work culture scales: evidence from selected established higher education institutions in West Malaysia. Asian Social Science, 10 (19) pp. 96-106 |
| 2013 | Influence of distributed leadership on school effectiveness. International Journal of Management, IT and Engineering, 3 (3) pp. 129-140 |
| 2013 | Investigating the quality management initiatives in higher educational institutions on customer satisfaction. International Journal of Modern Business Issues of Global Market (IJMBIGM), 1 (2) pp. 12-25 |
| 2013 | Preliminary finding of psychometric properties of the existing Quality Assurance Evaluation Model (QAEM) for National Universities Commission (NUC) of the federal Republic of Nigeria. GSE Journal of Education 2013 Emerging Trends for Sustainability in Glocal Education: Opportunities and Challenges, 1 (1) pp. 213-245 |
| 2012 | Creating a healthy organization: changing role of a successful education leader. International Business Education Journal (IBEJ), 5 (1) pp. 49-59 |
| 2012 | Investigation of Malaysian higher education quality culture and workforce performance. Quality Assurance in Education, 20 (3) pp. 289-309 |
| 2012 | The quest for strategic Malaysian Quality National Primary School Leaders. International Journal of Educational Management, 26 (1) pp. 83-98 |
| 2011 | Kemahiran konseptual dalam menghadapi cabaran pendidikan masa kini: perspektif pengetua dan guru besar novis di Malaysia. Jurnal Pengurusan dan Kepimpinan Pendidikan, 22 (2) pp. 1-18 |
| 2011 | Leadership and strategic planning practice: basis for quality education. International Journal of Management and Entrepreneurship, 7 (1) pp. 135-154 |
| 2010 | Surveying the practice of strategic planning for school excellence. International Business Education Journal (IBEJ), 3 (1) pp. 79-98 |
| 2007 | Faktor kepengikutan sebagai strategi meningkatkan kapasiti organisasi: Satu kajian di sekolah-sekolah kebangsaan Malaysia.. Jurnal Pengurusan dan Kepimpinan Pendidikan, 17 (2) pp. 135-151 |
Conference or Workshop Item
| | |
| --- | --- |
| 2018 | Evidence of relationships between teachers' leadership style practices for learning and student academic press/Emphasis.. In: 4th ASIA International Conference (AIC 2018), |
| 2018 | Teachers' leadership styles for learning and student academic press/emphasis: a weird relationship?. In: 4th ASIA International Conference (AIC2018), |
| 2017 | Balanced scorecard for sustainability of Malaysian Higher Education Institutions: Myth or facts?. In: 3rd Asia International Conference (AIC 2017), |
| 2017 | Education mobility as a driving force for the coexistence, development and sustainability of Islamic Higher Education Institutions: The International Islamic University Malaysia's Perspective. In: The 4th International Islamic Studies Conference (4th IISC), |
| 2017 | Education mobility as one of the grand strategies for higher education institutions' sustainability in 2020s: An academic perspective. In: 3rd International Conference on Education (ICEDU 2017), |
| 2017 | Future sustainability of Kulliyyah of Education, International Islamic University Malaysia: The Way Forward. In: Seminar Nasional Majlis Dekan Pendidikan Universiti Awam 2017, |
| 2015 | Distributed Leadership and Empowerment Influence on Teachers Organizational Commitment.. In: 4th International Conference on Social Sciences, |
| 2015 | Investigating the influence of distributed leadership on school effectiveness: a mediating role of teachers' commitment. In: 5th International Conference on Social Sciences - Prishtina Edition (ICSS 2015), |
| 2013 | Leading beyond sustainability in Nigerian higher education institutions: imperatives for quality management and technology acceptance. In: International Science, Technology, Education, Arts, Management & Social Sciences (ISTEAMS) Research Nexus Conference, 2013, |
| 2013 | Pengaruh kepimpinan pengetua ke atas amalan prinsip-prinsip pengurusan kualiti menyeluruh (TQM). In: Seminar Kebangsaan Kali ke IV: Majlis Dekan Pendidikan IPTA 2013, |
| 2013 | Preliminary finding of psychometric properties of the existing quality assurance evaluation model (QAEM) for National Universities Commission (NUC) of the federal republic of Nigeria. In: GSE-Global Summit on Education 2013, |
| 2013 | Psychometric analysis on sustainability awareness and integration in managing higher educational institutions in Nigeria. In: International Science, Technology, Education, Arts, Management & Social Sciences (ISTEAMS) Research Nexus Conference, 2013, |
| 2013 | Psychometric properties for the alternative quality assurance evaluation model (QAEM) leadership characteristics of leaders (LCL) for national universities commission (NUC) accreditation instruments of the federal republic of Nigeria. In: The 1st International Conference in Islamic Education (YRU-ICCE 2013), |
| 2013 | School administrators' and teachers' level of awareness, interests and practices in learning culture. In: Seminar Kebangsaan Kali ke IV: Majlis Dekan Pendidikan IPTA 2013, |
| 2013 | School teachers' time management in classroom. In: Seminar Kebangsaan Kali ke IV: Majlis Dekan Pendidikan IPTA 2013, |
| 2013 | Strategic leadership style of school principals in selected Islamic private secondary school in Pattani, Thailand. In: The 1st International Conference in Islamic Education (YRU-ICCE 2013), |
| 2013 | The gap between primary and secondary schools teachers in followership style at ADNI Islamic School, Malaysia. In: Seminar Kebangsaan Kali ke IV: Majlis Dekan Pendidikan IPTA 2013, |
| 2013 | Tret personaliti pengetua dan guru besar novis di Malaysia. In: Seminar Kebangsaan Kali ke IV: Majlis Dekan Pendidikan IPTA 2013, |
| 2013 | Using CFA for the Alternative Quality Assurance Evaluation Model (QAEM) For National Universities Commission (NUC) of the Federal Republic of Nigeria. In: Seminar Kebangsaan Kali ke IV: Majlis Dekan Pendidikan IPTA 2013, |
| 2012 | Concept, development and implementation of islamic management standards in malaysian education institutions. In: International Annual Conference on Islamic Educational Management (IACIEM) 2012, |
| 2011 | A study of the relationships between strategic planning practices and perceived school excellence. In: IIUM Research, Invention and Innovation Exhibition (IRIIE) 2011, |
| 2011 | Determinants of teachers' practice of infusing Islamic manners (adab) in the secular classrooms in the Southern Thailand. In: IIUM Research, Invention and Innovation Exhibition (IRIIE) 2011, |
| 2011 | Strategic leadership characteristics for Quality Malaysian National Primary Schools Education (QMNPSE) leaders. In: IIUM Research, Invention and Innovation Exhibition (IRIIE) 2011, |
| 2011 | The followership styles of Malaysian National Primary School (NPS) deputy heads involved in the School Improvement Programme (SIP). In: IIUM Research, Invention and Innovation Exhibition (IRIIE) 2011, |
| 2010 | Determinants of muslims teachers' practice on infusing islamic manners(Adab) in the classroom in the three southern boarder provinces. In: National Research Conference 2010, |
| 2009 | Does wisdom matter? A case study of strategic school leaders. In: 1st Regional Conference on Educational Leadership and Management, |
Book
Book Section
| | |
| --- | --- |
| 2021 | Investigating the teachers' leadership styles for learning and students' academic press/emphasis. In: Book Publisher International, ISBN: 978-93-5547-049-2, pp. 37-40 |
| 2016 | Educational leadership and administration from Islamic perspectives: an overview. In: ITBM, ISBN: 978-967-460-202-4, pp. 3-23 |
| 2016 | Elite education and education for social progression. In: Institut Terjemahan dan Buku Malaysia, ISBN: 978-967-460-202-4, pp. 81-94 |
| 2016 | Elite education and education for social progression. In: Institut Terjemahan dan Buku Malaysia, ISBN: 978-967-460-202-4, pp. 81-94 |
| 2016 | Ethical leadership: theory, practice & implication. In: Institut Terjemahan & Buku Malaysia (IBKM) and International Islamic University Malaysia (IIUM)., ISBN: 9789674602024, pp. 25-40 |
| 2016 | Ethical leadership: theory, practice & implication. In: Institut Terjemahan & Buku Malaysia (IBKM) and International Islamic University Malaysia (IIUM)., ISBN: 9789674602024, pp. 25-40 |
| 2016 | Leadership styles of school principals and followership styles of supervisors: learning from educational institutions in Maldives. In: Institut Terjemahan & Buku Malaysia Berhad, ISBN: 978-967-460-202-4, pp. 295-312 |
| 2016 | Leadership styles of school principals and followership styles of supervisors: learning from educational institutions in Maldives. In: Institut Terjemahan & Buku Malaysia Berhad, ISBN: 978-967-460-202-4, pp. 295-312 |
| 2016 | Leadership, education and social change: the Qura'anic view. In: Institut Terjemahan & Buku Malaysia Berhad, ISBN: 978-967-460-202-4, pp. 45-79 |
| 2016 | Practices of the integrated education system in selected Islamic religious schools: implication for school leadership in the Malay archipelago. In: Institut Terjemahan & Buku Malaysia Berhad, ISBN: 978-967-460-202-4, pp. 99-124 |
| 2016 | Practices of the integrated education system in selected Islamic religious schools: implication for school leadership in the Malay archipelago. In: Institut Terjemahan & Buku Malaysia Berhad, ISBN: 978-967-460-202-4, pp. 99-124 |
| 2016 | School-parental involvement in public secondary schools in Katsina State, Nigeria: implication to Muslim educational leaders. In: Institut Terjemahan & Buku Malaysia Berhad, ISBN: 978-967-460-202-4, pp. 315-346 |
| 2016 | School-parental involvement in public secondary schools in Katsina State, Nigeria: implication to Muslim educational leaders. In: Institut Terjemahan & Buku Malaysia Berhad, ISBN: 978-967-460-202-4, pp. 315-346 |
| 2016 | Situational leadership practices of principals as perceived by teachers at Pondok Modern, Gantor, Indonesia. In: Institut Terjemahan & Buku Malaysia Berhad, ISBN: 978-967-460-202-4, pp. 171-211 |
| 2016 | Situational leadership practices of principals as perceived by teachers at Pondok Modern, Gantor, Indonesia. In: Institut Terjemahan & Buku Malaysia Berhad, ISBN: 978-967-460-202-4, pp. 171-211 |
| 2016 | Situational leadership practices of principals as perceived by teachers at Pondok Modern, Gantor, Indonesia. In: Institut Terjemahan & Buku Malaysia Berhad, ISBN: 978-967-460-202-4, pp. 171-211 |
| 2016 | Situational leadership practices of principals as perceived by teachers at Pondok Modern, Gantor, Indonesia. In: Institut Terjemahan & Buku Malaysia Berhad, ISBN: 978-967-460-202-4, pp. 171-211 |
| 2016 | Teachers' perspectives on the methods of the performance appraisal: implications for school leaders. In: Institut Terjemahan & Buku Malaysia Berhad, ISBN: 978-967-460-202-4, pp. 213-232 |
| 2016 | Teachers' perspectives on the methods of the performance appraisal: implications for school leaders. In: Institut Terjemahan & Buku Malaysia Berhad, ISBN: 978-967-460-202-4, pp. 213-232 |
| 2016 | The learning culture in selected secondary schools in Kuala Lumpur. In: Institut Terjemahan & Buku Malaysia Berhad, ISBN: 978-967-460-202-4, pp. 125-170 |
| 2016 | The learning culture in selected secondary schools in Kuala Lumpur. In: Institut Terjemahan & Buku Malaysia Berhad, ISBN: 978-967-460-202-4, pp. 125-170 |
| 2016 | The learning culture in selected secondary schools in Kuala Lumpur. In: Institut Terjemahan & Buku Malaysia Berhad, ISBN: 978-967-460-202-4, pp. 125-170 |
| 2016 | The learning culture in selected secondary schools in Kuala Lumpur. In: Institut Terjemahan & Buku Malaysia Berhad, ISBN: 978-967-460-202-4, pp. 125-170 |
| 2016 | The roles of school administrators in motivating the aided high school teachers: a case study of Malappuram Educational District, India. In: Institut Terjemahan & Buku Malaysia Berhad, ISBN: 978-967-460-202-4, pp. 257-294 |
| 2016 | The roles of school administrators in motivating the aided high school teachers: a case study of Malappuram Educational District, India. In: Institut Terjemahan & Buku Malaysia Berhad, ISBN: 978-967-460-202-4, pp. 257-294 |
| 2016 | The school personnel's perceptions of a successful school management and effective leadership behaviour in Southern Thailand. In: Institut Terjemahan & Buku Malaysia Berhad, ISBN: 978-967-460-202-4, pp. 233-253 |
| 2016 | The school personnel's perceptions of a successful school management and effective leadership behaviour in Southern Thailand. In: Institut Terjemahan & Buku Malaysia Berhad, ISBN: 978-967-460-202-4, pp. 233-253 |
| 2016 | The school personnel's perceptions of a successful school management and effective leadership behaviour in Southern Thailand. In: Institut Terjemahan & Buku Malaysia Berhad, ISBN: 978-967-460-202-4, pp. 233-253 |
| 2016 | The school personnel's perceptions of a successful school management and effective leadership behaviour in Southern Thailand. In: Institut Terjemahan & Buku Malaysia Berhad, ISBN: 978-967-460-202-4, pp. 233-253 |
| 2011 | An investigation of post graduate students and academic staff affectionate relationship. In: IIUM Press, ISBN: 9789674180126, pp. 89-98 |
| 2011 | Crime scene prevention: a study of effective security management at International Islamic University Malaysia (IIUM). In: IIUM Press, ISBN: 9789674180126, pp. 21-31 |
| 2011 | Islamic behaviors among Muslim teachers in the public primary schools in the Southern Thailand. In: IIUM Press, ISBN: 9789674180133, pp. 15-25 |
| 2011 | Leadership and Islamic management: basis for quality education. In: IIUM Press, ISBN: 9789674180126, pp. 33-49 |
| 2011 | Scale validation of teacher attributes in infusing Islamic manners (adab) in the classroom. In: IIUM Press, ISBN: 9789674180133, pp. 51-60 |
| 2011 | Students' satisfaction toward service quality in Admission and Records Department, Center for Foundation Studies, International Islamic University Malaysia. In: IIUM Press, ISBN: 9789674180126, pp. 99-118 |
| 2011 | Students' satisfactions towards library service quality at a local higher learning institution. In: IIUM Press, ISBN: 9789674180126, pp. 119-137 |
| 2011 | Teachers's time management in the classrooms. In: IIUM Press, ISBN: 9789674180133, pp. 147-175 |
| 2011 | The effect of teacher followership styles on achievement of school vision and mission. In: IIUM Press, ISBN: 9789674180133, pp. 85-96 |
| 2011 | The practices of strategic planning for school excellence. In: IIUM Press, ISBN: 9789674180133, pp. 121-138 |
| 2011 | The quest for quality services: does SERVQUAL perfectly measure the university services?. In: IIUM Press, ISBN: 9789674180126, pp. 155-167 |
| 2011 | The relationship between strategic leadership and followership styles of Malaysian National Primary (NPS) heads. In: IIUM Press, ISBN: 9789674180133, pp. 61-84 |
| 2011 | What customers expect and perceive from a university services?. In: IIUM Press, ISBN: 9789674180126, pp. 169-188 |
| 2011 | What the students expect and perceive about trustworthiness?. In: IIUM Press, ISBN: 9789674180126, pp. 1-10 |
| 2011 | What you see is not what you get: a case of the quality of services. In: IIUM Press, ISBN: 9789674180126, pp. 69-88 |
Monograph