Staff Directory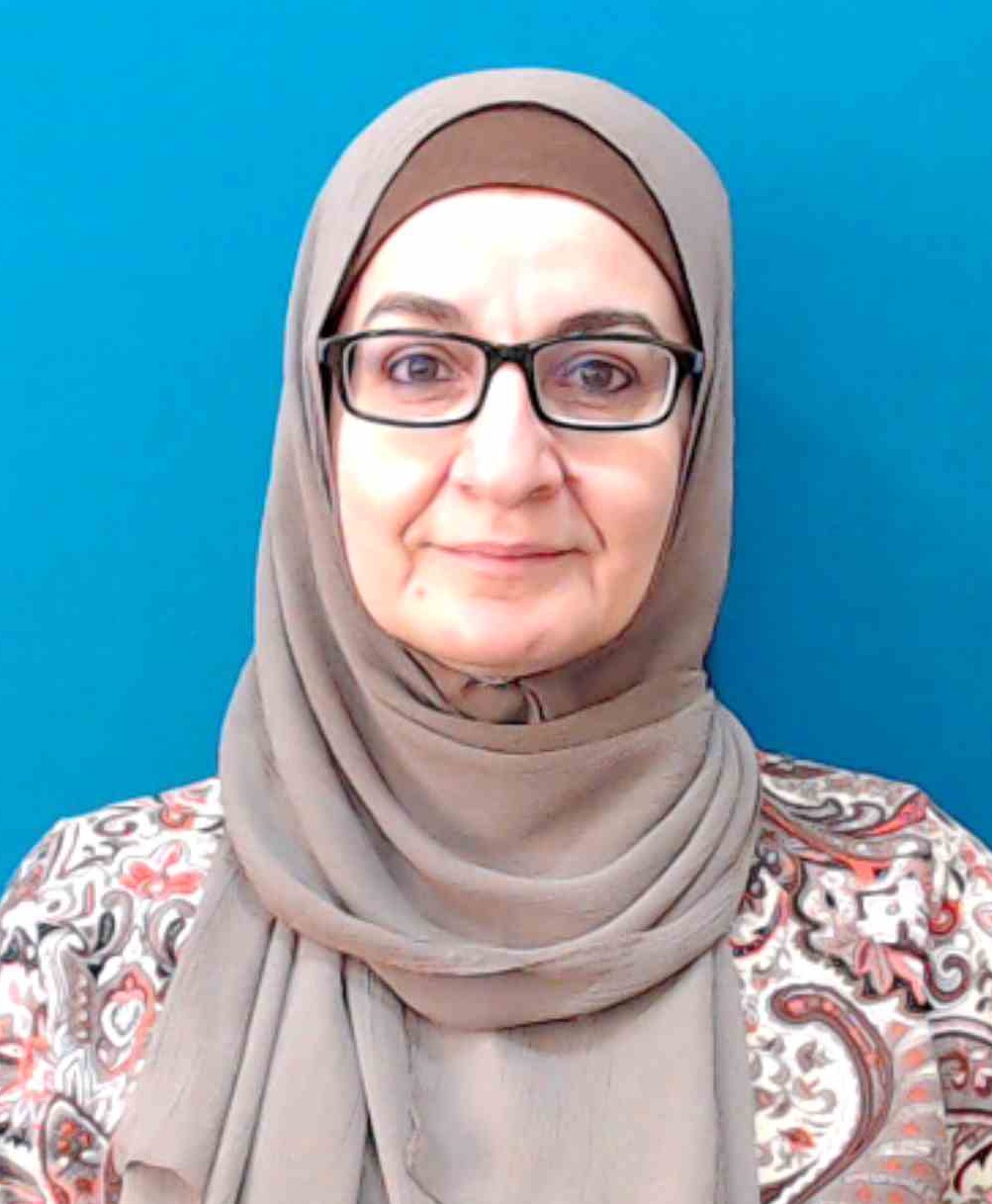 Academic Qualification
Fellowship of Iraqi Medical Specialization O&G - Masters Degree (Clinical Specialist), Iraqi Board for Medical Specialization
M.B.Ch.B - Bachelor Degree, University of Baghdad
Muna Khaleel Dheyab Al-Kubaisi (Assoc. Prof. Dr.)
Associate Professor
IIUM Kuantan Campus
KULLIYYAH OF MEDICINE
---
mkubaysi@iium.edu.my
4624
Expert Profile
Dr.Muna Kh. Al-kubaisi graduated from Baghdad Medical College in 1988 and started working as a house officer in Al-Karama Teaching Hosp. Baghdad - Iraq in General Surgery, Medicine, Pediatrics, Gynaecology and other medical branches, from September 1988 to October 1990. She was appointed as a general practitioner in Abu-Ghrabe Hosp. In Al-Anbar Health Directorate / Iraq from October 1990 to October 1991. In 1991, she started her postgraduate studies under the Iraq commission for medical specialization in Gynaecology & Obstetrics, Baghdad University, and was awarded the FICMS in April 1996. She presented her first research in the safe motherhood conference under the title "Maternal Mortality in Baghdad Hospitals" and she got the award for Best Research and Presentation. She practised after becoming a Specialist in Gynaecology and Obstetrics from April 1996 to January 1999. She developed an interest in the academic work and joined the university as an Assistant Professor in Al-Karamah Teaching Hospital, Baghdad.She left for Yemen and continued serving as an Assistant Professor and Head, Department of Gynaecology & Obstetrics in the College of Medicine in the University of Science & Technology in Sana`a city (private) from October 2000 to October 2006. She was responsible for preparing the O&G curriculum for the KOM and also had administrative work besides teaching the undergraduate students and her clinical practice. At the medical college annual conference held on 3-5 June 2003 she was awarded a Merit certificate for best performance as HOD and best academic performance in Obstetrics & Gynaecology. She presented her second paper in the FIMA Conference 2005 entitled "Anemia among pregnant women in Sana`a City".
She then departed to UAE (United Arab Emirates) to practise in the governmental sector as Specialist A, Head of Department, Gynaecology & Obstetrics in Dibba Hospital from July 2006 to Oct 2009. Besides her administrative responsibility as Head of Department she was practising clinical work including clinics, ultrasound imaging, ward rounds and surgeries. She passed MRCOG Part One during her stay in UAE and attended many courses in O&G.
She returned to her academic work as an Assistant professor in Obstetrics & Gynaecology at International Islamic University Malaysia (IIUM). During this period, she presented many papers in different conferences in Malaysia and Singapore. She is involved in teaching the undergraduates and postgraduates under the O&G Master's programme. She is also involved in publication in the field of anemia, diabetes in pregnancy and breastfeeding and involved as an examiner for the undergraduate and postgraduate candidates.
Area of Specialisation
Medical And Health ~ Medical And Health Sciences ~ Clinical Medicine ~ Obstetrics - Antenatal Care
Professional Membership
1988: Member of Profesional Body / Association, Iraqi Medical Association
Teaching Responsibilities
| | |
| --- | --- |
| CLINICAL POSTGRADUATE OBSTETRICS AND GYNAECOLOGY I | 2020/2021 2019/2020 |
| CLINICAL POSTGRADUATE OBSTETRICS AND GYNAECOLOGY II | 2020/2021 2019/2020 |
| CLINICAL POSTGRADUATE OBSTETRICS AND GYNAECOLOGY III | 2020/2021 2019/2020 |
| CLINICAL POSTGRADUATE OBSTETRICS AND GYNAECOLOGY IV | 2019/2020 2020/2021 |
| GENERAL PAEDIATRICS | 2013/2014 |
| PAEDIATRICS INCLUDING NEONATOLOGY | 2013/2014 |
| WOMEN'S HEALTH AND DISEASES I | 2017/2018 2019/2020 2016/2017 2015/2016 2020/2021 2010/2011 2011/2012 2014/2015 2018/2019 |
| WOMEN'S HEALTH AND DISEASES II | 2010/2011 2019/2020 2016/2017 2015/2016 2011/2012 2020/2021 2017/2018 2018/2019 2014/2015 |
Research Projects
Completed
| | |
| --- | --- |
| 2015 - 2019 | Assessment of emotional disturbances in different modes of delivery of pregnant women |
| 2012 - 2012 | Knowledge, Attitude and Practice about Breastfeeding |
| 2011 - 2013 | RU 2011 - Leptin and Fasting Insulin Level in Diabetic Pregnant Women in Relation to BMI |
On-Going
| | |
| --- | --- |
| 2019 - Present | THE ASSOCIATION OF ANTROPOMETRIC CHARACTERISTICS, HORMONAL ALTERATION AND OVARIAN VOLUME IN POLYCYSTIC OVARIAN SYNDROME |
Award & Recognition
| | | |
| --- | --- | --- |
| 01 Jan, 2013 | Quality Award - IREP 2013 | University |
Publications
Article
| | |
| --- | --- |
| 2020 | Co-expression of Leptin and Leptin Receptor in Adenocarcinoma of the Colon in Malay Population. International Journal of Innovative Research in Medical Science (IJIRMS), 5 (2) pp. 71-77 |
| 2020 | Interpretation of modified glucose tolerance test among pregnant Malaysian women. International Journal of Innovative Research in Medical Science, 5 (8) pp. 309-313 |
| 2019 | Assessment of peripartum psychological disturbances in relation to modes of delivery. Makara Journal of Health research, 23 (1) pp. 1-6 |
| 2019 | Assessment of psychological distress among nursing undergraduate students in Malaysia. SSRG International Journal of Medical Science (SSRG-IJMS), 6 (10) pp. 1-4 |
| 2019 | The correlation of maternal childbirth experience satisfaction with postnatal depression, anxiety and stress scoring. International Journal of Innovative Research in Medical Science (IJIRMS), 4 (7) pp. 435-440 |
| 2018 | Correlation of leptin with clinico-pathological features of breast cancer. Asian Journal of Pharmaceutical and Clinical Research, 11 (9) pp. 17 |
| 2018 | Serum leptin might be causally correlated to invasive ductal breast carcinoma. Journal of Clinical & Experimental Oncology, 7 (1) pp. 1-5 |
| 2018 | The leptin transduction pathway may be targeted against invasive ductal carcinoma of breast. American Association For Cancer Research (AACR), 17 (1) pp. |
| 2018 | Translation and validation study of the Malaysian version of the childbirth experience questionnaire - CEQ. Journal of International Dental and Medical Research, 11 (1) pp. 357-361 |
| 2016 | Serum leptin in intraductal carcinoma of the breast. Journal of Cancer Science & Therapy, 8 (11 (supp.)) pp. 54 |
| 2016 | Subcellular localization of leptin and leptin receptor in breast cancer detected in an electron microscopic study. Biochemical and Biophysical Research Communications, 482 (4) pp. 1102-1106 |
| 2015 | Is there any effect (S) of fenugreek seeds aqueous extract on the regularity of estrous cycle and quantity of ovarian follicles of female rats? . International Medical Journal Malaysia, 14 (supp.) pp. 10-11 |
| 2015 | The effect of diet control on the leptin levels in diabetic pregnant women. The International Medical Journal Malaysia, 14 (1) pp. 59-63 |
| 2015 | The effect of diet control on the leptin levels in diabetic pregnant women. International Medical Journal Malaysia, 14 (1) pp. 59-63 |
| 2014 | Physiological adjustment of hemoglobin level for anemic pregnant women living in Sana'a City-Yemen. Sana'a University Journal Of Medical Sciences, 9 (1) pp. 13-20 |
| 2013 | Knowledge, attitude and practice towards breastfeeding among mothers in Kuantan, Malaysia. Malaysian Journal of Obstetrics & Gynaecology, 8 (22) pp. 83-83 |
Conference or Workshop Item
| | |
| --- | --- |
| 2019 | Depression, anxiety and stress in relation to modes of delivery. In: International Congress of the Obstetrical and Gynaecological Society of Malaysia, |
| 2019 | Possible role of leptin and leptin receptor in breast carsinogenesis. In: International Conference on Oncology and Virology 2019, |
| 2018 | Correlation of leptin with clinico-pathological features of breast cancer. In: 3rd International Conference on Molecular Diagnostics Biomarker & Discovery (MDBD 2018), |
| 2017 | Haemoglobin level among pregnant women living at high altitude; Does it need adjustment. In: 24th Regional Congress of Perinatal Society of Malaysia, |
| 2016 | Interpretation of modified glucose tolerance test in Malaysia population. In: 12th Asia Pasific Congress in Maternal Fetal Medicine 2016, |
| 2016 | Translation and cultural adaptation of the childbirth experience questionnaire. In: 12th Asia Pasific Congress in Maternal Fetal Medicine 2016, |
| 2015 | Is there any effect (s) of fenugreek seeds aqueous extract on the regularity of estrous cycle and quantity of ovarian follicles of female rats…?. In: Medical Research Symposium 2015, |
| 2014 | Leptin levels in diabetic pregnant women on diet control. In: 10th Asia Pacific Congress in Maternal Fetal Medicine, |
| 2013 | Knowledge, attitude and practice towards breastfeeding among mothers in Kuantan, Malaysia. In: 22nd Malaysian International Congress of Gynaecology and Obstetrics, |
| 2013 | Reproductive medicine: infertility in Yemen, causes, diagnosis and outcome of assisted reproductive treatment . In: IIUM Research, Invention and Innovation Exhibition (IRIIE) 2013, |
| 2012 | The influence of premenopausal hysterectomy on bone mineral density. In: 10th International Scientific Congress of the Royal College of Obstetricians and Gynaecologists, |
Book