Staff Directory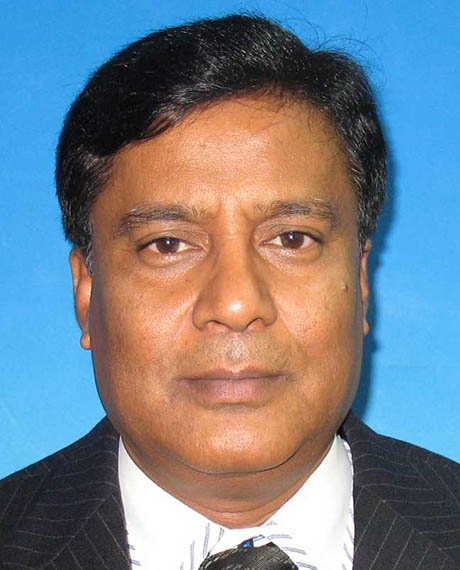 Academic Qualification
Doctor of Philosophy - Doctor of Philosophy, Universiti Sains Malaysia (USM)
M.Sc in Biochemistry - Masters Degree, Rajshashi University
Master of Science in Food Analysis - Masters Degree, Universiti Sains Malaysia (USM)
B.Sc (Honors) Biochemistry - Bachelor Degree, Rajshashi University
Md. Zaidul Islam Sarker (Prof. Dr.)
Professor
IIUM Kuantan Campus
KULLIYYAH OF PHARMACY
---
Expert Profile
Professor Dr. Md. Zaidul Islam Sarker who obtained his Ph.D from University Science Malaysia in 2003 started his career as a research associate in Tohoku University at the Research Center of Supercritical Fluids (Sendai, Japan) from 2003 to 2005. In 2005, he was awarded the prestigious Fellowship of Japan Society for the Promotion of Science (JSPS) for conducting research at the National Food and Agricultural Research Organization at Hokkaido, Japan. In 2007, he joined the University Putra Malaysia as an Associate Professor.
In 2010, he joined as a Professor at the International Islamic University Malaysia (IIUM) where he is presently working at the Department of Pharmaceutical Technology, Faculty of Pharmacy. During the past two years, he has held the position of Head of Research, the Faculty of Pharmacy. Professor Sarker is currently engaged in many international collaborations and consultancies. In 2015 he was a visiting professor of the Department of Food Science and Nutrition at King Saud University, Riyadh, under the Ministry of Higher Education of Saudi Arabia.
Professor Sarker has supervised 15 postgraduate (M.Sc & Ph.D) students as a main and co-supervisor, and currently, he is supervising seven PhD and three M.Sc students. He has supervision experience of three postdoctoral fellows and several research assistants, and is supporting five graduate research assistants in his research grants. Professor Sarker recently secured several research grants under Fundamental (FRGS), Exploratory (ERGS) and Prototype (PRGS) Research Grant Scheme as a Principal Researcher of the Ministry of Education (MOE) Malaysia.
Professor Sarker's speciality is in food science and he has an interest in developing nutritional foods through processing or isolation of natural products that can have pharmacological value. He has expertise in supercritical fluid extraction, marine food products, food processing and food properties, bioactive compounds, fats and oils, pharmaceutical and nutraceutical formulations and rheological properties with over 250 publications in ISI and Scopus indexed journals, patents, books, reports and presentations at international conferences. Professor Sarker was the winner of the American Chemical Society (ACS) Young Scientist Award at PACIFICHEM 2010 and the Gold Medal Winner as the main and a co-inventor in several exhibitions at the national level including the Malaysia Technology Expo 2014 (MTE-2014). Professor Sarker won the Outstanding Researcher Award at the university level in 2013 and 2014.
Area of Specialisation
Biotechnology ~ Biotechnology ~ Biopharmacy Biotechnology ~ Biopharmaceuticals - Pharmaceutical study during PhD, supervised post-graduate students, subject taught, and on-going research
Biotechnology ~ Biotechnology ~ Biopharmacy Biotechnology ~ Other Biopharmacy Biotechnology n.e.c. - Supervised post-graduate students on Other Bioactive Products, and on-going research
Natural Science ~ Biological Sciences ~ Biochemistry ~ Bioenergetics - Rheological Properties study, supervised post-graduate students, subject taught and on-going research
Agricultural ~ Agricultural Science And Technology ~ Food Sciences and Nutrition ~ Food Processing - B.Sc and M.Sc in Biochemistry, and M.Sc and postdoc in Food Chemistry, Functional Foods, Carbohydrates, Rheology, subject taught, and on-going research
Agricultural ~ Agricultural Science And Technology ~ Nutraceuticals and Cosmetics ~ Bioactive and Phenolic Compound - Bioactive research during Master, supervised post-graduate students, subject taught, and on-going research
Engineering Tech ~ Applied Sciences And Technologies ~ Process Technology ~ Separation Technology (Including Membrane Technology) - Ph.D & Post Doctoral studies, on-going research on Separation Process and Separation Technology
Engineering Tech ~ Applied Sciences And Technologies ~ Process Technology ~ Supercritical Fluid Technology - Ph.D in Supercritical Fluid Technology, supervised post graduate students, and on-going research
Engineering Tech ~ Applied Sciences And Technologies ~ Resource-Based Technology ~ Oils and Fats - Researched on Oils And Fats and Nutraceuticals during PhD study, supervised post-graduate students, subject taught, and on-going research
Natural Science ~ Marine Sciences ~ Marine Biochemistry ~ Marine Natural Products - Marine Food Products study during Master, supervised post-graduate students, subject taught, and on-going research
Professional Membership
2008 - 2020: Member of Profesional Body / Association: (Member), American Oil Chemists? Society (AOCS)
2010 - 2013: Member of Profesional Body / Association: (Member), Japan Society for Bioscience, Bitechnology and Agrochemistry (JSBBA).
2010 - 2014: Member of Profesional Body / Association: (Member), The Society of Chemical Industry (SCI), UK.
2010 - 2012: Member of Profesional Body / Association: (Member), Canadian Institute of Food Science and Technology (CIFST).
2011 - 2012: Member of Profesional Body / Association: (Member), European Federation of Food Science and Technology (EFFoST).
2015 - 2020: Member of Profesional Body / Association: (Member, Malaysian Natural Products Society (Member ID B0334)), Malaysian Natural Products Society
Teaching Responsibilities
| | |
| --- | --- |
| DISPERSE SYSTEMS | 2014/2015 |
| MEDICAL BIOCHEMISTRY | 2014/2015 2016/2017 2015/2016 2013/2014 2017/2018 2011/2012 2012/2013 |
| NATURAL MEDICINAL PRODUCT | 2015/2016 2013/2014 |
| NUTRACEUTICAL | 2019/2020 2016/2017 2017/2018 2020/2021 2018/2019 |
| PHARMACEUTICAL ANALYSIS I | 2012/2013 |
| PHARMACEUTICS I : PHYSICOCHEMICAL PRINCIPLES | 2020/2021 2019/2020 |
| PHARMACEUTICS II : DISPERSE SYSTEMS | 2021/2022 2020/2021 |
| PHYSICAL PHARMACY 1 | 2017/2018 2016/2017 2018/2019 2014/2015 2015/2016 2013/2014 |
| PHYSICAL PHARMACY II | 2015/2016 2018/2019 2017/2018 2019/2020 2013/2014 2016/2017 |
| RESEARCH METHODOLOGY & BIOSTATISTICS | 2011/2012 |
| RESEARCH PROJECT 1 | 2017/2018 2016/2017 2013/2014 2015/2016 |
| RESEARCH PROJECT-LITERATURE SEARCH | 2018/2019 2016/2017 2012/2013 |
Research Projects
Completed
| | |
| --- | --- |
| 2018 - 2021 | Identification of ?-Glucosidase Inhibitors from Psychotria malayana Leaf Extract using Liquid Chromatography-Mass Spectrometry-Based Metabolomics and Protein-Ligand Interaction with Molecular Docking |
| 2016 - 2018 | Isolation and characterization of Potential a-glucosidase inhibitors from Clinacanthus Nutans |
| 2016 - 2018 | Species Diversity and Seasonal Distribution of Fishes and Water Quality in Tropical River, Pahang, Malaysia |
| 2016 - 2018 | Stereospermum Fimbriatum (Chicha) - Prospects of Antimicrobial Agent for Skin Infection |
| 2016 - 2019 | Influence of multiple reaction monitoring (MRM) on the separation of amlodipine and perindopril in pharmaceutical dosage form and plasma |
| 2015 - 2015 | Application of Supercritical Fluid in Food, Nutraceutical and Antioxidant |
| 2015 - 2017 | Upscaling the Production of Novel Fucoxanthin from Malaysian Brown Algae for food and Pharmaceutical Applications |
| 2015 - 2017 | Influence of Carbon Dioxide at Supercritical Phase Separating the Omega 3 Fish Oil from Sardine Wastes following Shariah Compliant |
| 2015 - 2015 | The Visiting Professor Collaboration Program at King Saud University |
| 2015 - 2015 | The Visiting Professor Collaboration Program at King Saud University |
| 2014 - 2016 | Influence of Co-Solvent in Solubility of Phalerin and Mahkoside-A from Mahkota dewa (Phaleria macrocarpa) with Carbon Dioxide as a Solvent |
| 2014 - 2017 | Enhancement of Drug Loading with Dry Surface Coated Active Ingredient in Direct Compression: An Approach to Prepare Tablet in a Time Saving Cost Effective Manner |
| 2014 - | Proposal Evaluation for National Centre for Science and Technology Evaluation, Kazakhstan |
| 2013 - 2016 | Continuous Micronization and Particle Formation of Malaysian Medicinal Extracts Using Different Supercritical Antisolvent Techniques |
| 2013 - 2015 | Extraction of Fatty Acids From The Phaleria Macrocarpa Seeds Using Supercritical Carbon |
| 2013 - 2016 | Production of Premium Grade Cocoa Butter Replacers Blends with Stearic and Pleic Acids and time Based Palm Kernel Oil Fractions of Continuous Supercritixcal Fluid Extraction Technique |
| 2012 - 2014 | Supercritical Fluid Extraction ( SFE )of Bioactive Compounds from Pereskia Bleo using Various Technique |
| 2012 - 2014 | Synthesis and Characterization of Insulin Loaded Poly (D, L-Laclide-co-glycolide)(PLGA) Based Magnetic Nanoparticles |
| 2012 - 2015 | Ultrapure Activated Carbon (charcoal) as an Adsorbent of Toxins from Human stomach |
| 2011 - 2013 | (RU2011) Supercritical carbon dioxide extraction and fractionation of mango seeds and peel oils from mango wastes as cocoa butter replacers |
| - 2019 | Extraction of fatty acids from leaves, stems and roots of Raja Berangkat plant using supercritical fluids. |
On-Going
| | |
| --- | --- |
| 2020 - Present | Development of High Quality Nutraceuticals and Functional Foods from Date (Phoenix dactylifera) Fruit using Innovative Methods |
| 2019 - Present | Investigation of the pharmacokinetic interaction of sulfonylurea and calcium channel blocker in diabetic and hypertensive rats |
| 2019 - Present | Extraction and identification of bioactive compounds from Cassia angustifolia using conventional and non-conventional methods. |
| 2019 - Present | Probing the cellular and molecular mechanisms of skin barrier repair in atopic dermatitis by Benincasa hispida seed extract |
| 2018 - Present | Mechanism of amide coupling interaction for eliminating organic solvent from generic pharmaceuticals with supercritical CO2. |
| 2018 - Present | SEPARATION AND IDENTIFICATION OF BIOACTIVE COMPOUNDS FROM ANISOPHYLLEA DISTICHA USING SUPERCRITICAL FLUID METHOD |
| 2017 - Present | Analytical and Biological Activity Analysis of Malaysian leeches Saliva Extract of Both Green and Brown Types |
Award & Recognition
| | | |
| --- | --- | --- |
| 16 Oct, 2020 | Top 2% of Scientists in the World in the Field of Biotechnology - Stanford University, https://journals.plos.org/plosbiology/article?id=10.1371/journal.pbio.3000918 | International |
| 11 Aug, 2020 | Top 3 Academic Staff with Highest h-Index - KOP, IIUM | KCDIO |
| 09 Jul, 2020 | Highest Citation in Indexed Journal Award (Medical & Health Sciences) - IIUM Takrim Day 2020 | University |
| 09 Jul, 2020 | Top 30 Contributors to IIUM'sTakrim Research Performance (MyRA) - IIUM Takrim Day 2020 | University |
| 24 Jul, 2019 | Highest Citation in Indexed Journal Award (Medical & Health Sciences) - IIUM Takrim Day 2019 | University |
| 24 Jul, 2019 | Highest Number of Publications (Indexed Journal Articles) at Kulliyyah Level - IIUM Takrim Day 2019 | University |
| 24 Jul, 2019 | Top 30 Contributors to IIUM's Research Performance (MyRA) - IIUM Takrim Day 2019 | University |
| 13 Jul, 2018 | Highest Citation in Indexed Journal Award (Medical and Health Sciences) - IIUM Quality Day 2018 | University |
| 13 Jul, 2018 | Highest Number of Publications Award (Indexed Journal Articles) at Kulliyyah Level - IIUM Quality Day 2018 | University |
| 13 Jul, 2018 | Top 30 Contributors to IIUM's Research Performance (MyRA) in 2017 - IIUM Quality Day 2018 | University |
| 24 Feb, 2018 | Gold Medal - Malaysian Association of Research Scientist | National |
| 24 Feb, 2018 | The Best Award - Malaysian Association of Research Scientist | National |
| 18 Jul, 2014 | Quality Award - International Islamic University Malaysia | University |
| 24 Feb, 2014 | Bronze Medal - Others | National |
| 20 Feb, 2014 | Bronze Medal for The Invention And innovation of "Supercritical Fluid Extraction of Oil from Phaleria macrocarpa (Mahkota dewa) seeds" in Malaysian Technology Expo 2014 - MTE-2014: Malaysia Technology Expeo Organized by Malaysian Association of Research Scienctist | National |
| 20 Feb, 2014 | Gold Medal for The Invention And innovation of "Production of Premier grade cocoa butter replacer blends from palm oil and palm kernel oil fractions using supercritical fluid" in Malaysian Technology Expo 2014 - MTE-2014: Malaysia Technology Expo Organized by Malaysian Association of Research Scientist | National |
| 20 Feb, 2014 | Gold Medal for The Invention And innovation of "SCCO2 Mango Fat Hard CBR" in Malaysian Technology Expo 2014 - MTE-2014: Malaysia Technology Expo Organized by Malaysian Association of Research Scientists | National |
| 19 Nov, 2013 | Silver medal as Principle researcher for "Cocoa Butter Replacers Abtained By Blending Of Supercritical Caron Dioxide Extracted Mango Seed Fat With Palm Oil Fraction And Palm Stearin" - 24th International Invention, Innovation and Technology Exibition (ITEX, 2013) | International |
| 09 May, 2013 | Malaysian Innovative Product Award, 2013 as Principle Researcher for "New Method For Changing Fish Wastes Into Omega-3 Fish Oil As A Valuable Health Product Using Supercritical Co2" - 24th International Invention, Innovation and Technology Exibition (ITEX, 2013) | National |
| 14 Mar, 2013 | Quality Award - International Islamic University Malaysia | University |
| 20 Feb, 2013 | Gold Medal at IRIIE-2013 - International Islamic University Malaysia | University |
| 20 Feb, 2013 | Gold Medal at IRIIE-2013 - International Islamic University Malaysia | University |
| 19 Jul, 2011 | Silver winner as a co-researcher; 2011 UPM Invention, Research and Innovation Award - Universiti Putra Malaysia (UPM). | University |
| 01 Jun, 2011 | USA Green Card under the Alien of Extraordinary Ability (Approved in 2011). - US Government | International |
| 04 Feb, 2011 | Silver winner as a project leader;2011 Malayisa Technology Expo (MTE) Kuala Lumpur, Research and Innovation Award. - The Malaysian Association of Research Scientists (MARS) formed on 30th January 2008. | University |
| 31 Dec, 2010 | Excellent Service Award of Universiti Putra Malaysia (2008-2010) - Universiti Putra Malaysia (UPM) | University |
| 15 Dec, 2010 | Young Scientist Award of American Chemical Society (ACS) - By PACIFICHEM 2010.,(Sponsored jointly by the American Chemical Society (ACS), the Canadian Society for Chemistry (CSC), the Chemical Society of Japan (CSJ), the New Zealand Institute of Chemistry (NZIC), the Royal Australian Chemical Institute (RACI), the Korean Chemical Society (KCS), and the Chinese Chemical Society (CCS). (http://www.pacifichem.org/youngscholars/). | International |
| 04 Feb, 2010 | Silver winner as a project leader; 2010 Malayisa Technology Expo (MTE) Kuala Lumpur, Research and Innovation Award. - The Malaysian Association of Research Scientists (MARS) formed on 30th January 2008. | University |
| 01 Feb, 2010 | Gold winner as a co-researcher, 2010 UPM Invention, Research and Innovation Award.For"Risk assessment of contaminants in malaysian high temperature cooked foods." - Universiti Putra Malaysia (UPM). | University |
| 01 Feb, 2010 | Silver winner as a co-researcher, 2010 UPM Invention, Research and Innovation Award: For "Recovery of squalene from palm fatty acid distillates using supercritical fluid extraction." - Universiti Putra Malaysia (UPM). | University |
| 01 Feb, 2010 | Silver winner as a co-researcher, 2010 UPM Invention, Research and Innovation Award:For "Effect of meat preheating and wrapping on the levels of polycyclic aromatic hydrocarbons in charcoal-grilled meat." - Universiti Putra Malaysia (UPM). | University |
| 01 Feb, 2010 | Bronze winner as a co-researcher, 2010 UPM Invention, Research and Innovation Award: For "Novel nano liposomal gene delivery formulation." - Universiti Putra Malaysia (UPM). | University |
| 01 Feb, 2010 | Silver winner as a project leader; 2010 UPM Invention, Research and Innovation Award. - Universiti Putra Malaysia (UPM). | University |
| 01 Dec, 2009 | Bronze winner as a project leader, 2009 UPM Invention, Research and Innovation Award: For "Extraction and fractionation of PUFAs (Omega-3, 6: EPA-DHA) from Ikan Kembong (Indian Mackerel) using various techniques of supercritical fluids." - Universiti Putra Malaysia (UPM). | University |
| 01 Dec, 2009 | Silver winner as a co-researcher, 2009 UPM Invention, Research and Innovation Award: For "Carbon dioxide supercritical extraction of flavonoid from selected herbs (Eg. Stobhilanthes Crispu (Pecah Kaca)." - Universiti Putra Malaysia (UPM). | University |
Publications
Article
| | |
| --- | --- |
| 2021 | A review on functional and nutritional properties of noni fruit seed (Morinda citrifolia L.) and its oil. Food Bioscience, 41 () pp. 1-9 |
| 2020 | Antimicrobial and antioxidant activities of a Malaysian medicinal plant Anisophyllea Disticha (Jack) Baill. and quantification of its phenolic constituents. Bangladesh Journal of Botany, () pp. |
| 2020 | Comparison of disintegrant-addition methods on the compounding of orodispersible tablets. International Journal of Pharmaceutical Compounding, 24 (2) pp. 148-155 |
| 2020 | Dataset on applying HPMC polymer to improve encapsulation efficiency and stability of the fish oil: in vitro evaluation. Data in Brief, 32 () pp. 1-9 |
| 2020 | Effect of processing methods on xylitol-starch base co-processed adjuvant for orally disintegrating tablet application. Pakistan Journal of Pharmaceutical Sciences, 33 (2) pp. 551-559 |
| 2020 | Effect of processing methods on xylitol-starch base co-processed adjuvant for orally disintegrating tablet application. Pakistan Journal of Pharmaceutical Sciences, 33 (2) pp. 551-559 |
| 2020 | Effects of drying methods on oxidative stability of roselle seed oil (Hibiscus Sabdariffa): an optimization approach. Journal of Food Science and Technology, () pp. |
| 2020 | Enrichment of antibacterial compound from the stem bark of Stereospermum fimbriatum using supercritical carbon dioxide extraction. Separation Science and Technology (Philadelphia), 55 (9) pp. 1656-1666 |
| 2020 | Extraction and characterization of fatty acids from the leaves and stems of Clinacanthus nutans using supercritical carbon dioxide and Soxhlet method. Natural Products Journal, () pp. |
| 2020 | Formulation development of paracetamol instant jelly for pediatric use. Drug Development and Industrial Pharmacy, 46 (8) pp. 1373-1383 |
| 2020 | Functional and nutritional properties of rambutan (Nephelium lappaceum L.) seed and its industrial application: a review. Trends in Food Science and Technology, 99 () pp. 367-374 |
| 2020 | Investigation of filler effects on the compounding of freeze-dried orodispersible tablets containing Annona muricata extract. International Journal of Pharmaceutical Compounding, 24 (6) pp. 513-518 |
| 2020 | Investigations of amphiphilic butylglyceryl-functionalized dextran nanoparticles for topical delivery. Journal of Applied Polymer Sciences, 38 (16) pp. 1-10 |
| 2020 | Isolation and characterization of novel antibacterial compound from an untapped plant, Stereospermum fimbriatum. Natural Product Research, 34 (5) pp. 629-637 |
| 2020 | Kamlet taft parameters: A tool to alternate the usage of hazardous solvent in pharmaceutical and chemical manufacturing/synthesis - A gateway towards green technology. Analytical Chemistry Letter, 10 (5) pp. 550-561 |
| 2020 | Phenolic compounds of aqueous and Methanol extracts of Hypsizygus tessellatus (brown and white var.) and Flammulina velutipes caps: antioxidant and antiproliferative activities. Pharmaceutical Chemistry Journal, 54 (2) pp. 170-183 |
| 2020 | Strategy for sustainable and green chromatographic separation science: innovation, technology and application. Current Chromatography, 7 (1) pp. 5-16 |
| 2020 | Supercritical fluid technology and its pharmaceutical applications: a revisit with two decades of progress. Indian Journal of Pharmaceutical Education and Research, 54 (2 (April-June)) pp. s1-s11 |
| 2020 | Taste masking of paracetamol encapsulated in chitosan-coated alginate beads. Journal of Drug Delivery Science and Technology, 56 (Part A) pp. 1-10 |
| 2019 | Biological activities and extraction technologies of Pheonix dactylifera: a review.. The Natural Products Journal, 9 (1) pp. 3-13 |
| 2019 | Effective treatment of palm oil mill effluent using FeSO4.7H2O waste from titanium oxide industry: Coagulation adsorption isotherm and kinetics studies. Journal of Cleaner Production, 219 () pp. 86-98 |
| 2019 | Effects of drying methods on the characteristics of rambutan (Nephelium lappaceum L.) seed fat: an optimisation approach. Engineering Reports, () pp. 1-12 |
| 2019 | Hard fats improve the physicochemical and thermal properties of seed fats for applications in confectionery products. Food Reviews International, () pp. |
| 2019 | The superioty of supercritical fluid extraction over steam distillation and solvent extraction methods for the extraction of aroma from Salacca zalacca (Gaernt..)Voss.. Oriental Journal of Chemistry, 35 (6) pp. 1669-1677 |
| 2019 | Thermal properties, triglycerides and crystal morphology of bambangan (Mangifera pajang) kernel fat and palm stearin blends as cocoa butter alternatives. LWT, 107 () pp. 64-71 |
| 2019 | Valuable components of bambangan fruit (Mangifera pajang) and its co-products: a review. Food Research International, 115 () pp. 105 -115 |
| 2019 | Valuable components of bambangan fruit (Mangifera pajang) and its coproducts: A review. Food Research International, 115 () pp. 105 -115 |
| 2018 | A clinical update on antibiotic resistance gram-negative bacteria in Malaysia-a review. Journal of International Pharmaceutical Research, 45 () pp. 270-283 |
| 2018 | Bambangan (Mangifera pajang) kernel fat: a potential new source of cocoa butter alternativ. International Journal of Food Science and Technology, 53 () pp. 1689-1697 |
| 2018 | Bambangan (Mangifera pajang) kernel fat: a potential new source of cocoa butter alternative. International Journal of Food Science and Technology, 53 (7) pp. 1689-1697 |
| 2018 | Corrigendum to "Supercritical carbon dioxideextraction of bioactive flavonoid from Strobilanthescrispus (Pecah Kaca)". Food and Bioproducts Processing, 107 () pp. 131 |
| 2018 | Effect of various food processing and handling methods on preservation of natural antioxidants in fruits and vegetables. Journal of Food Science and Technology, 55 (10) pp. 3872-3880 |
| 2018 | Enrichment, in vitro, and quantification study of antidiabetic compounds from neglected weed Mimosa pudica using supercritical CO2 and CO2-Soxhlet. Separation Science and Technology, 53 (2) pp. 243-260 |
| 2018 | In vitro evaluation of cuscuta reflexa roxb. for thrombolytic, antioxidant, membrane stabilizing and antimicrobial activities. Natural Product Research, () pp. |
| 2018 | Multiplex PCR to discriminate bovine, porcine, and fish DNA in gelatin and confectionery products. LWT - Food Science and Technology, 92 () pp. |
| 2018 | Optimisation of squalene recovery from palm oil by-product using integrated ScCO2-pressure swing. Journal of Oil Palm Research, 30 (4) pp. 570-578 |
| 2018 | Optimization of fat yield of bambangan (Mangifera pajang) kernel using response surface methodology and its antioxidant activities. Journal of Food Measurement and Characterization, 12 (2) pp. 1427-1438 |
| 2018 | Physicochemical properties of cocoa butter replacers from supercritical carbon dioxide extracted mango seed fat and palm oil mid-fraction blends. International Food Research Journal, 25 (1) pp. 143-149 |
| 2018 | Techniques for the extraction of phytosterols and their benefits in human health: a review. Separation Science and Technology, 53 (14) pp. 2206-2223 |
| 2018 | Universal mini COI barcode for the identification of fish species in processed products. Food Research International, 105 () pp. 19-28 |
| 2017 | α-glucosidase inhibitors isolated from Mimosa pudica L.. Natural Product Research, 33 (10) pp. 1495-1499 |
| 2017 | Current analytical methods for amlodipine and its formulations: A review. Journal CleanWAS, 1 (1) pp. 17-22 |
| 2017 | Development and validation of short-amplicon length PCR assay for macaques meat detection under complex matrices. International Journal of Food Properties, 20 (1) pp. 231-245 |
| 2017 | Effect of accelerated storage on chemical compositions of mango seed fat and palm oil mid-fraction blends as cocoa butter replacers. LWT - Food Science and Technology, 84 () pp. 551-554 |
| 2017 | Effect of medium-high energy emulsification condition on physicochemical properties of β-sitosterol multiple emulsion. Food Bioprocess Technology, 10 (9) pp. 1642-1654 |
| 2017 | Effect of pistachio seed hull extracts on quality attributes of chicken burger. CyTA -Journal of Food, 15 (1) pp. 9-14 |
| 2017 | Extraction of α-glucosidase inhibitory compounds from Phaleria macrocarpa fruit flesh using solvent, sonication, and subcritical carbon dioxide soxhlet methods. Journal of Food Biochemistry, 41 (5) pp. 1-11 |
| 2017 | Identification of bioactive compounds with GC–Q-TOF–MS in the extracts from clinacanthus nutans using subcritical carbon dioxide extraction. Separation Science and Technology, 52 (5) pp. 852-863 |
| 2017 | In vitro antioxidant and, α-glucosidase inhibitory activities and comprehensive metabolite profiling of methanol extract and its fractions from Clinacanthus nutans. BMC Complementary and Alternative Medicine, 17 (1) pp. 1-10 |
| 2017 | Microencapsulation of fish oil using supercritical antisolvent process. Journal of food and drug analysis, 25 (3) pp. 654 -666 |
| 2017 | Microencapsulation of fish oil using supercritical antisolvent process. Journal of Food and Drug Analysis, 25 (3) pp. 654-666 |
| 2017 | Mimosa pudica L.: a comparative study via in vitro analysis and GC Q-TOF MS profiling on conventional and supercritical fluid extraction using food grade ethanol. Indian Journal of Natural Products and Resources, 8 (1) pp. 54-62 |
| 2017 | Mimosa pudica L.: A comparative study via in vitro analysis and GC Q-TOF MS profiling on conventional and supercritical fluid extraction using food grade ethanol. Indian Journal of Natural Products and Resources (IJNPR), 8 (1) pp. 54-62 |
| 2017 | Nutritional composition, extraction, and utilization of wheat germ oil: A review. European Journal of Lipid Science and Technology, 119 (7) pp. 1-9 |
| 2017 | Phytochemical composition, biological activities and processing method of genus anisophyllea: a review. The Natural Products Journal, 7 (3) pp. 176-185 |
| 2017 | Rapid investigation of a-glucosidase inhibitory activity of Phaleria macrocarpa extracts using FTIR-ATR based fingerprinting. Journal of Food and Drug analysis, 25 (2) pp. 306-315 |
| 2017 | Subcritical water extraction as a modern green extraction technique of hydroxychavicol from piper betle linn. leaves. Malaysian Journal of Pharmacy, 3 (1 (Supplement)) pp. 24-24 |
| 2017 | Targeting double genes in multiplex PCR for discriminating bovine,buffalo and porcine materials in food chain. Food Control, 73 () pp. 175-184 |
| 2016 | A novel aqueous micellar two phase system composed of surfactant and mannitol for purification of polygalacturonase enzyme from durio zibethinus murry and recycling phase components. Separation Science and Technology, 51 (6) pp. 968-975 |
| 2016 | A review on nanocellulosic fibres as new material for sustainable packaging: process an applications. Renewable and Sustainable Energy Reviews, 64 () pp. 823-836 |
| 2016 | Biosorption of Pb and Cu from aqueous solution using banana peel powder. Desalination and Water Treatment, 57 (1) pp. 303-314 |
| 2016 | Characterization of valuable compounds from winter melon (benincasa hispida (thunb.) Cogn.) seeds using supercritical carbon dioxide extraction combined with pressure swing technique. Food and Bioprocess Technology, 9 (3) pp. 396-406 |
| 2016 | Clinacanthus nutans: a review of the medicinal uses, pharmacology and phytochemistry. Asian Pacific Journal of Tropical Medicine, 9 (4) pp. 402-409 |
| 2016 | Double gene targeting multiplex polymerase chain reaction–restriction fragment length polymorphism assay discriminates beef, buffalo, and pork substitution in frankfurter products. Journal of Agricultural and Food Chemistry, 64 (32) pp. 6343-6354 |
| 2016 | Duplex real-time PCR assay using SYBR Green to detect and quantify Malayan box turtle (Cuora amboinensis) materials in meatballs, burgers, frankfurters and traditional Chinese herbal jelly powder. Food Additives and Contaminants - Part A Chemistry, Analysis, Control, Exposure and Risk Assessment, 33 (11) pp. 1643-1659 |
| 2016 | Effect of different fat replacers and drying methods on thermal behaviour, morphology and sensory attributes of reduced-fat coffee creamer. LWT - Food Science and Technology, 72 () pp. 330-342 |
| 2016 | Effect of hydrolysis treatment on cellulose nanowhiskers from oil palm (Elaeis guineesis) fronds: morphology, chemical, crystallinity, and thermal characteristics.. BioResources, 11 (3) pp. 6742-6755 |
| 2016 | Extraction of omega 3 fatty acids from sardine byproducts using supercritical carbon dioxide (SC-CO2). The International Medical Journal of Malaysia, 15 () pp. 112-112 |
| 2016 | Immunopotentiality of Ayurvedic polyherbal formulations "Saribadi" and "Anantamul Salsa" with augmentation of IgM production and lymphocytes proliferation: A preliminary study. Asian Pacific Journal of Tropical Biomedicine, 6 (7) pp. 568-573 |
| 2016 | Lab-on-a-chip-based PCR-RFLP assay for the detection of Malayan box turtle (Cuora amboinensis)in the food chain and traditional Chinese medicines. PLOS One, 11 (10) pp. 1-27 |
| 2016 | Microencapsulation of fish oil using hydroxypropyl methylcellulose as a carrier material by spray drying. Journal of Food Processing and Preservation, 40 (2) pp. 140-153 |
| 2016 | Optimisation of ultrasound-assisted extraction of pectinase enzyme from guava (Psidium guajava) peel: Enzyme recovery, specific activity, temperature and storage stability. Preparative Biochemistry and Biotechnology, 46 (1) pp. 91-99 |
| 2016 | Optimization of ultrasound-assisted extraction of pectinase enzyme from guava (Psidium guajava) peel: enzyme recovery, specific activity, temperature, and storage stability. Preparative Biochemistry and Biotechnology, 46 (1) pp. 91-99 |
| 2016 | Screening of various parts of phaleria macrocarpa plant for α-glucosidase inhibitory activity. Journal of Food Biochemistry, 40 (2) pp. 201-210 |
| 2016 | Simultaneous extraction and fractionation of fish oil from tuna by-product using supercritical carbon dioxide (SC-CO2). Journal of Aquatic Food Product Technology, 25 (2) pp. 230-239 |
| 2016 | Soy protein–gum karaya conjugate: emulsifying activity and rheological behavior in aqueous system and oil in water emulsion. Journal of the American Oil Chemists' Society, 93 (1) pp. 1-10 |
| 2016 | Stereospermum fimbriatum as a potential source of phytochemicals: a review of stereospermum genus. Current Pharmaceutical Biotechnology, 17 (12) pp. 1024-1035 |
| 2016 | The effect of flow rate at different pressures and temperatures on cocoa butter extracted from cocoa nib using supercritical carbon dioxide. Journal of Food Science and Technology, 53 (5) pp. 2287-2297 |
| 2015 | A novel liquid/liquid extraction process composed of surfactant and acetonitrile for purification of polygalacturonase enzyme from durio zibethinus. Journal of chromatography. B, Analytical technologies in the biomedical and life sciences, 993-94 () pp. 1-8 |
| 2015 | Analyses and profiling of extract and fractions of neglected weed mimosa pudica Linn. traditionally used in Southeast Asia to treat diabetes. South African Journal of Botany, 99 () pp. 144-152 |
| 2015 | Bioactive compounds and advanced processing technology: Phaleria macrocarpa (sheff.) Boerl, a review. Journal of Chemical Technology and Biotechnology, () pp. 981-991 |
| 2015 | Bioactive compounds and advanced processing technology: Phaleria macrocarpa (sheff.) Boerl, a review. Journal of Chemical Technology and Biotechnology, 90 (6) pp. 981-991 |
| 2015 | Effect of supercritical fluid extraction on the reduction of toxic elements in fish oil compared with other extraction methods. Journal of Food Protection, 78 (1) pp. 172-179 |
| 2015 | Effect of the polymer composition on the physicochemical properties of microencapsulated fish oil using spray drying. Drying Technology, () pp. 1-44 |
| 2015 | Environmental durability of vinyl ester composites filled with carbonized jatropha seed shell . BioResources, 10 (2) pp. 2350-2359 |
| 2015 | Ethanol modified supercritical carbon dioxide extraction of antioxidant rich extract from Pereskia bleo. Journal of Industrial and Engineering Chemistry, 21 () pp. 1314-1322 |
| 2015 | Identification of angiotensin I converting enzyme inhibitory and radical scavenging bioactive peptides from sea cucumber (Stichopus vastus) collagen hydrolysates through optimization. International Food Research Journal, 22 (3) pp. 1074-1082 |
| 2015 | Impact of chitosan composites and chitosan nanoparticle composites on various drug delivery systems: a review. Journal of Food and Drug Analysis, 23 (4) pp. 619-629 |
| 2015 | Mango (Mangifera indica L.) by-products and their valuable components: a review. Food Chemistry, 183 () pp. 173-180 |
| 2015 | Multivariate analysis of PRISMA optimized TLC image for predicting antioxidant activity and identification of contributing compounds from Pereskia bleo. Biomedical Chromatography, 29 (12) pp. 1826-1833 |
| 2015 | Optimization of high pressure homogenization parameters for the isolation of cellulosic nanofibers using response surface methodology. Industrial Crops and Products, 74 () pp. 381-387 |
| 2015 | Optimization of supercritical carbon dioxide extraction parameters of cocoa butter analogy fat from mango seed kernel oil using response surface methodology. Journal of Food Science and Technology, 52 (1) pp. 319-326 |
| 2015 | Phytosterols and their extraction from various plant matrices using supercritical carbon dioxide: a review. Journal of the Science of Food and Agriculture, 95 (7) pp. 1385-1394 |
| 2015 | Rheological properties and emulsifying activity of gum karaya (sterculia urens) in aqueous system and oil in water emulsion: heat treatment and microwave modification. International Journal of Food Properties, 19 (3) pp. 662-679 |
| 2015 | Suitable coating material for microencapsulation of spray-dried fish oil. Journal of Food Science and Technology, 52 (7) pp. 4441-4449 |
| 2014 | Biochemical and radical-scavenging properties of sea cucumber (Stichopus vastus) collagen hydrolysates. Natural Product Research , 28 (16) pp. 1302-1305 |
| 2014 | Characterization of crystallization and melting profiles of blends of mango seed fat and palm oil mid-fraction as cocoa butter replacers using differential scanning calorimetry and pulse nuclear magnetic resonance. Food Research International, 55 (1) pp. 103-109 |
| 2014 | Cocoa butter replacers from blends of mango seed fat extracted by supercritical carbon dioxide and palm stearin. Food Research International, 65 () pp. 401-406 |
| 2014 | Experimental design of supercritical fluid extraction: a review. Journal of Food Engineering, 124 () pp. 105-116 |
| 2014 | Hard cocoa butter replacers from mango seed fat and palm stearin. Food Chemistry, 154 () pp. 323-329 |
| 2014 | High-pressure enzymatic hydrolysis to reveal physicochemical and thermal properties of bamboo fiber using a supercritical water fermenter. BioResources, 9 (4) pp. 7710-7720 |
| 2014 | Investigators at University of Malaya describe findings in ethanol. Life Science Weekly, () pp. 544 |
| 2014 | Optimisation of the supercritical extraction of toxic elements in fish oil. Food Additives & Contaminants: Part A, 31 (10) pp. 1712-1722 |
| 2014 | Optimization of oil yield of Phaleria macrocarpa seed using response surface methodology and its fatty acids constituents. Industrial Crops and Products, 52 () pp. 405-412 |
| 2014 | Orthogonal partial least squares model for rapid prediction of antioxidant activity of Pereskia bleo by fourier transform infrared spectroscopy. Analytical letters, 47 (12) pp. 2061-2071 |
| 2014 | Particle formation and micronization using non-conventional techniques- review. Chemical Engineering and Processing: Process Intensification, 86 (2014) pp. 47-52 |
| 2014 | Quality of tuna fish oils extracted from processing the by-products of three species of neritic tuna using supercritical carbon dioxide . Journal of Food Processing and Preservation, () pp. |
| 2014 | Reduction of gelatinization temperatures of starch blend suspensionswith supercritical CO2 treatment. The Journal of Supercritical Fluids, 95 () pp. 499-505 |
| 2014 | Storage stability and quality of polyunsaturated fatty acid rich oil fraction from longtail tuna (thunnus tonggol) head using supercritical extraction. CyTA - Journal of Food, 12 (2) pp. 183-188 |
| 2014 | Studies of the impact of occupational exposure of pharmaceutical workers on the development of antimicrobial drug resistance. Journal of Occupational Health, 56 (4) pp. 260-270 |
| 2014 | Supercritical carbon dioxide extraction and studies of mango seed kernel for cocoa butter analogy fats = Extracción mediante dióxido de carbono supercrítico y estudios del núcleo de la semilla de mango para obtener grasas análogas a la mantequilla de cacao. CyTA - Journal of Food, 12 (1) pp. 97-103 |
| 2014 | Supercritical carbon dioxide extraction of highly unsaturated oil from Phaleria macrocarpa seed. Food Research International, 65 (C) pp. 394-400 |
| 2014 | Weeds as alternative useful medicinal source: Mimosa pudica Linn. on diabetes mellitus and its complications. Advanced Materials Research, 995 () pp. 49-59 |
| 2013 | Cocoa butter fat replacers are processing, but more work needed, say researchers. confectionarynews.com, () pp. |
| 2013 | Cocoa butter fats and possibilities of substitution in food products concerning cocoa varieties, alternative sources, extraction methods, composition, and characteristics. Journal of Food Engineering, 117 (4) pp. 467-476 |
| 2013 | Determination of fluoranthene, benzo[b]fluoranthene and benzo[a]pyrene in meat and fish products and their intake by Malaysian. Food Bioscience, 1 () pp. 73-80 |
| 2013 | Effects of moisture and pH on supercritical fluid extraction of cocoa butter. Food and Bioprocess Technology, 6 (9) pp. 2455-2465 |
| 2013 | Effects of polar cosolvents on cocoa butter extraction using supercritical carbon dioxide. Innovative Food Science & Emerging Technologies, 20 () pp. 152-160 |
| 2013 | Formulation and substantiation of homemade complementary baby food by selective feeding trial. Journal of Food, Agriculture & Environment, 11 (3/4) pp. 346-353 |
| 2013 | Infectious risk assessment of unsafe handling practices and management of clinical solid waste. International Journal of Environmental Research and Public Health, 10 (2) pp. 556-567 |
| 2013 | Modification of a gas chromatography-mass spectrometry method for the determination of acrylamide in fried snacks. Journal of Food, Agriculture & Environment, 11 (3-4) pp. 217-220 |
| 2013 | Pharmacological relevance of primitive leafy Cactuses Pereskia. Research Journal of Biotechnology, 8 (12) pp. 134-142 |
| 2013 | Physicochemical and biochemical properties of pepsin-solubilized collagen isolated from the integument of Sea Cucumber (Stichopus vastus). Journal of Food Processing and Preservation, () pp. XX-XX |
| 2013 | Rheological behavior of starch-based biopolymer mixtures in selected processed foods. Starch - Stärke, 65 (1-2) pp. 73-81 |
| 2013 | Supercritical carbon dioxide extraction of oil from Thunnus tonggol head by optimization of process parameters using response surface methodology. Korean Journal of Chemical Engineering, 30 (7) pp. 1466-1472 |
| 2013 | Supercritical Carbon Dioxide Extraction of Seed Oil from Winter Melon (Benincasa hispida) and Its Antioxidant Activity and Fatty Acid Composition. Molecules, 18 (1) pp. 997-1014 |
| 2013 | Techniques for extraction of bioactive compounds from plant materials: a review. Journal of Food Engineering, 117 (4) pp. 426-436 |
| 2013 | The impact of biopolymers on thermal behavior of meat-biopolymer mixtures-Differential scanning calorimetry (DSC) study. Journal of Food, Agriculture & Environment, 11 (3-4) pp. 566-571 |
| 2013 | Ultrasound-assisted extraction of valuable compounds from winter melon (Benincasa hispida) seeds. International Food Research Journal, 20 (1) pp. 331-338 |
| 2012 | Antioxidant activity of winter melon (Benincasa Hispida) seeds using conventional soxhlet extraction technique. International Food Research Journal, 19 (1) pp. 229-234 |
| 2012 | Application of supercritical fluid extraction (SFE) of palm oil and oil from natural sources. Molecules , 17 (2) pp. 1764-1794 |
| 2012 | Effect of some biopolymers on the rheological behavior of surimi gel. Molecules , 17 (5) pp. 5733-5744 |
| 2012 | Effects of marinating on the formation of polycyclic aromatic hydrocarbons (benzo[a]pyrene, benzo[b]fluoranthene and fluoranthene) in grilled beef meat. Food Control, 28 (2) pp. 420-425 |
| 2012 | Fish oil recovery from viscera of Indian mackerel (Rastrelliger kanagurta) by supercritical fluid: an optimization approach. Journal of the Chinese Chemical Society, 59 (11) pp. 1421-1429 |
| 2012 | Isolation and characterization of pepsin-solubilized collagen from the integument of sea cucumber (Stichopus vastus). Journal of the Science of Food and Agriculture, () pp. |
| 2012 | Mixed biopolymer systems based on starch. Molecules , 17 (1) pp. 584-597 |
| 2012 | Optimization of serine protease purification from mango (Mangifera indica Cv. Chokanan) peel in polyethylene glycol/ dextran aqueous two phase system. International Journal of Molecular Sciences, 13 () pp. 3636-3649 |
| 2012 | Optimization of supercritical carbon dioxide extraction of bioactive flavonoid compounds from spearmint (Mentha Spicata l.) leaves by using response surface methodology . Food and Bioprocess Technology, 5 (3) pp. 912-920 |
| 2012 | Optimization of supercritical CO2 extraction of fish oil from viscera of African Catfish (Clarias gariepinus). International Journal of Molecular Sciences, 13 (9) pp. 11312-11322 |
| 2012 | Optimization of ultrasound-assisted extraction of crude oil from winter melon (Benincasa hispida) seed using response surface methodology and evaluation of its antioxidant activity, total phenolic content and fatty acid composition. Molecules , 17 (10) pp. 11748-11762 |
| 2012 | Purification of serine protease from mango (Mangifera Indica Cv. Chokanan)peel using an alcohol/salt aqueous two phase system. Food Chemistry, 132 (3) pp. 1382-1386 |
| 2012 | Role of health hazardous ethephone in nutritive values of selected pineapple, banana and tomato. Journal of Food, Agriculture & Environment, 10 (2) pp. 247-251 |
| 2012 | Role of health hazardous ethephone on nutritive values of selected pineapple, banana and tomato. Journal of Food, Agriculture & Environment, 10 (2) pp. 247-251 |
| 2012 | Sensitivity of colletotrichum gloeosporioides to sodium bicarbonate on the development of anthracnose in papaya (Carica papaya L. cv. Frangi). Australian Journal of Crop Science, 6 (1) pp. 17-22 |
| 2012 | Squalene recovery from palm fatty acid distillate using supercritical fluid extraction. International Food Research Journal, 19 (4) pp. 1661-1667 |
| 2012 | Treatment of clinical solid waste using steam autoclave as a possible alternative technology of incineration . International Journal of Environmental Research and Public Health, 9 (3) pp. 855-867 |
| 2011 | Direct purification of pectinase from Mango (Mangifera Indica Cv. Chokanan) peel using a PEG/Salt-based aqueous two phase system. Molecules , 16 (10) pp. 8419-8427 |
| 2011 | Effects of annual fluctuation of environmental factors on starch properties in potato tuber development. Starch , 64 (3) pp. 229-236 |
| 2011 | Optimization of the conditions for extraction of serine protease from Kesinai plant (Streblus asper) leaves using Response Surface Methodology. Molecules , 16 (11) pp. 9245-9260 |
| 2011 | Profile of Parkia speciosa hassk metabolites extracted with SFE using FTIR- PCA method. Journal of Chinese Chemical Society, 58 (6) pp. 1-8 |
| 2011 | Screening of selected Malaysian plants against several food borne pathogen bacteria. International Food Research Journal, 18 (3) pp. 1195-1201 |
| 2011 | Studies on analgesic and anti inflammatory effect of the ethanolic leaf extract of momordica charantia L in animal model. International Journal of Contemporary Research and Review, 2 (8) pp. 1-8 |
| 2011 | Supercritical carbon dioxide fractionation of pithecellobium jiringan jack seed compositions using fast gas chromatography time of flight mass spectrometry. Journal of Food Process Engineering, 34 (5) pp. 1746-1758 |
| 2011 | Use of prebiotics in oral delivery of bioactive compounds: a nanotechnology perspective. Die Pharmazie -International Journal of Pharmaceutical Sciences, 66 (5) pp. 319-324 |
| 2010 | Application of two dimensional thin layer chromatography pattern comparison for fingerprinting the active compounds in the leaves of Vitex trifolia Linn possessing anti-tracheospasmolytic activity. Journal of Liquid Chromatography & Related Technologies, 33 (2) pp. 214-224 |
| 2010 | Determination of polycyclic aromatic hydrocarbons in grilled meat. Food Control, 21 (5) pp. 606-610 |
| 2010 | Extraction of fish oil from the skin of Indian mackerel using supercritical fluids. Journal of Food Engineering, 99 (1) pp. 63-69 |
| 2010 | Fatty acid compositions of fish oil extracted from different parts of Indian mackerel (Rastrelliger kanagurta) using various techniques of supercritical CO2 extraction. Food Chemistry, 120 (3) pp. 879-885 |
| 2010 | Hydrolysis of granular starch at sub-gelatinization temperature using a mixture of amylolytic enzymes. Food and Bioproducts Processing, 88 (1) pp. 47-54 |
| 2010 | Optimization of arecoline extraction from areca nut using supercritical carbon dioxide.. Journal of Food and Drug Analysis, 18 (1) pp. 1-7 |
| 2010 | Supercritical carbon dioxide extraction of bioactive flavonoid from strobilanthes crispus (Pecah kaca). Food and Bioproducts Processing, 88 (2-3) pp. 319-326 |
| 2009 | Application of supercritical CO2 in lipid extraction – A review. Journal of Food Engineering, 95 (2) pp. 240-253 |
| 2009 | Effects of supercritical carbon dioxide extraction parameters on virgin coconut oil yield and medium-chain triglyceride content. Food Chemistry, 116 (1) pp. 193-197 |
| 2009 | Enzymatic hydrolysis of granular native and mildly heat-treated tapioca and sweet potato starches at sub-gelatinization temperature. Food Hydrocolloids, 23 (2) pp. 434-440 |
| 2009 | Identification of possible compounds posessing adenosine A1 receptor binding activity in the leaves of orthosiphon stamineus using TLC and multivariate data analysis.. Journal of Liquid Chromatography & Related Technologies, 32 (19) pp. 2906-2916 |
| 2009 | Identification of possible compounds possessing adenosine A1 receptor binding activity in the leaves of orthosiphon stamineus using TLC and multivariate data analysis. Journal of Liquid Chromatography & Related Technologies, 32 () pp. 2906-2916 |
| 2009 | Optimization of SC–CO2 extraction of zerumbone from Zingiber zerumbet (L) Smith. Food Chemistry, 114 (2) pp. 702-705 |
| 2009 | Optimization of supercritical CO2 extraction of Anastatica hierochuntica. Food and Bioproducts Processing, 87 (2) pp. 152-158 |
| 2009 | Yam contributes to improvement of glucose metabolism in rats. Plant Foods for Human Nutrition, 64 (3) pp. 193-198 |
| 2008 | Comparison of phenolic compositions between common and tartary buckwheat (Fagopyrum) sprouts. Food Chemistry, 110 (4) pp. 814-820 |
| 2008 | DSC study of mixtures of wheat flour and potato, sweet potato, cassava, and yam starches. Journal of Food Engineering, 86 (1) pp. 68-73 |
| 2008 | Dual modification of starch via partial enzymatic hydrolysis in the granular state and subsequent hydroxypropylation. Journal of Agricultural and Food Chemistry, 56 (22) pp. 10901-10907 |
| 2008 | Factors affecting the digestibility of raw and gelatinized potato starches. Food Chemistry, 110 (2) pp. 465-470 |
| 2008 | Sterilization and extraction of palm oil from screw pressed palm fruit fiber using supercritical carbon dioxide. Separation and Purification Technology, 60 (3) pp. 272-277 |
| 2008 | Thermal analysis of mixtures of wheat flour and potato starches. Food Hydrocolloids, 22 (4) pp. 499-504 |
| 2007 | A time-course study of flavonoids in the sprouts of tartary (Fagopyrum tataricum Gaertn.) buckwheats. Scientia Horticulturae, 115 (1) pp. 13-18 |
| 2007 | Blending of supercritical carbon dioxide (SC-CO2) extracted palm kernel oil fractions and palm oil to obtain cocoa butter replacers. Journal of Food Engineering, 78 (4) pp. 1397-1409 |
| 2007 | Palm kernel oil isolation. INFORM: International News on Fats, Oils and Related Materials, 18 (6) pp. 395-395 |
| 2007 | SCE for palm kernel oil. inform: Magazine of AOCS, 18 (5) pp. 333 |
| 2007 | Separation of palm kernel oil from palm kernel with supercritical carbon dioxide using pressure swing technique. Journal of Food Engineering, 81 (2) pp. 419-428 |
| 2007 | Structural identification of anthocyanins and analysis of concentrations during growth and flowering in buckwheat (Fagopyrum esculentum Moench) petals. Journal of Agricultural and Food Chemistry, 2007 (55) pp. 9571-9575 |
| 2007 | Supercritical carbon dioxide (SC-CO2) extraction of palm kernel oil from palm kernel. Journal of Food Engineering, 79 (3) pp. 1007-1014 |
| 2006 | Separation/fractionation of triglycerides in terms of fatty acid constituents in palm kernel oil using supercritical CO2. Journal of the Science of Food and Agriculture, 86 (7) pp. 1138-1145 |
| 2006 | Supercritical carbon dioxide (SC-CO2) extraction and fractionation of palm kernel oil from palm kernel as cocoa butter replacers blend. Journal of Food Engineering, 73 (3) pp. 210-216 |
| 2004 | A farinograph study on the viscoelastic properties of sago/wheat flour dough systems. Journal of the Science of Food and Agriculture, 84 (7) pp. 616-622 |
| 2004 | Supercritical enhancement for separation of lauric acid and oleic acid in palm kernel oil (PKO). Separation and Purification Technology, 35 (1) pp. 55-60 |
| 2003 | Gelatinization properties of sago and wheat flour mixtures. ASEAN Food Journal, 12 (4) pp. 199-209 |
| 2003 | Stress relaxation test for sago–wheat mixtures gel. International Journal of Food Properties, 6 (3) pp. 431-442 |
Conference or Workshop Item
| | |
| --- | --- |
| 2020 | Developmental toxicity evaluation of sub-CO2 extract of Phaleria macrocarpa fruit flesh in Danio rerio embryo. In: International Research Conference on Pharmaceutical and Allied Sciences, |
| 2019 | A novel antibacterial compound from an untapped plant: Stereospermum fimbriatum. In: AIMST International Pharmacy Conference (AIPC) 2019: Challenges and Opportunities in Pharmaceutical Sciences, Technology and Practice, |
| 2019 | Optimization of bio-active compounds from stem of Anisophyllea disticha using supercritical fluid extraction technique. In: AIMST International Pharmacy Conference (AIPC) 2019: Challenges and Opportunities in Pharmaceutical Sciences, Technology and Practice, |
| 2018 | Cytotoxicity and thrombolytic potential of seven different medicinal plant leaves extract. In: 4th International Pharmaceutical Research Conference 2018, |
| 2018 | Determination of total phenolic content, membrane stabilizing and thrombolytic activities of crataeva nurvala bark extract. In: 4th International Pharmaceutical Research Conference 2018, |
| 2018 | Effect of polymer composition on the physiochemical properties of microencapsulated fish oil using spray drying. In: 4th International Pharmaceutical Research Conference 2018, |
| 2018 | Identification and comparison of volatile aroma constituents of Salacca zalacca (Gaertn.) voss extracted by steam distillation, solvent extraction and supercritical fluid extraction methods. In: 34th International Conference on Natural Products (ICNP 2018), |
| 2018 | Phenolic content and antioxidant activity of methanolic extracts from different parts of Anisophyllea disticha. In: The International Symposium on Bioremediation, Revegetation, Biomaterial and Conservation (ISBIOREV), |
| 2017 | Antioxidant activity and phenolic profile of four Saudi Arabia date palms (Phoenix dactylifera L.) varieties. In: the 6th International Conference on Advancement in Science and Technology (iCAST 2017)., |
| 2017 | Application of supercritical fluids in extraction and enrichment of bioactive compounds from medicinal plants: a green procesing model. In: International Conference on Pharmacology & Regulatory Affairs, |
| 2017 | Green processing of bioactive compounds from tropical medicinal plants using subcritical and supercritical fluids. In: International Conference on Pharmacology and Regulatory Affairs (ICPR 2017), |
| 2017 | Phenolic content and antioxidant activity of methanolic extracts of different parts of Anisophyllea disticha. In: 6th International Conference on Advancement in Science and Technology, |
| 2016 | Antimicrobial potential of various solvent extracts from leaf, stem and root of Raja Berangkat (Anisophyllea disticha). In: 2nd International Conference on Industrial Pharmacy (ICIP 2016), |
| 2016 | Antioxidant capacities and phenolic profile of four Saudi Arabia date palms (Phoenix dactylifera L.) varieties. In: 2nd International Conference on Industrial Pharmacy (ICIP 2016), |
| 2016 | Enriched extracts of anti-diabetic compounds from neglected weed M. Pudica using supercritical and subcritical carbon dioxide extractions and the corresponding in vitro study for diabetes mellitus. In: 2nd International Conference on Industrial Pharmacy (ICIP 2016), |
| 2016 | Extraction of omega 3 fatty acids from sardine byproducts using supercritical carbon dioxide. In: Medical Research Symposium & Pacific Partnership in conjunction with Kuantan Research Day 2016, |
| 2016 | Pharmacological activities and comprehensive metabolite profiling of Clinacanthus nutans extract and fractions. In: 2nd International Conference on Industrial Pharmacy (ICIP 2016), |
| 2016 | Potential of untapped local species, "Chicha" (Stereospermum fimbriatum), as an alternative for skin infection treatment. In: The 14th Symposium of Malaysian Society of Applied Biology (MSAB 2016), |
| 2016 | Process validation for pilot-scale production of Betamethasone 17-valerate emulsions using palm olein as topical drug delivery vehicle. In: 2nd International Conference On Industrial Pharmacy 2016 (ICIP 2016), |
| 2016 | Subcritical carbon dioxide extraction of stereospermum fimbriatum's stem bark and the extract's potential as an anti-dermal infection agent. In: 2nd International Conference on Industrial Pharmacy (ICIP 2016), |
| 2015 | Bioactivity guided isolation of antidiabetic compounds from common weed Mimosa pudica L. using diabetic enzyme inhibitory assay. In: ASIAN Congress on Biotechnology 2015, |
| 2015 | Optimization of DPPH and ABTS radical scavenging activity of Phaleria Macrocarpa seed oil using response surface methodology. In: International Conferences on Fluids and Chemical Engineering, |
| 2015 | Screening of various parts of phaleria macrocarpa plants for α-glucosidase inhibitory activity. In: International Conference on Natural Product 2015 (ICNP), |
| 2014 | Antioxidant activity of pereskia herb by infrared spectroscopy. In: 22nd RACI Research and Development Topics Conference in Analytical and Environmental Chemistry., |
| 2014 | Antioxidant activity of pereskia herb by infrared spectroscopy. In: 22nd RACI Research and Development Topics Conference in Analytical and Environmental Chemistry., |
| 2014 | Supercritical fluid extraction of high grade oil from Mahkota dewa (Phaleria macrocarpa) seeds. In: 2nd International Conference on Biological and Chemical Process (ICBCP14), |
| 2014 | Supercritical fluid extraction of oil from Mahkota dewa seed. In: 2014 International Science and Technology Conference (ISTEC), |
| 2014 | Turning weeds into drugs: The prospect of Mimosa pudica for Diabetes mellitus in-vitro. In: 1st International Conference on Industrial Pharmacy (ICIP) 2014, |
| 2013 | A green process for extraction of omega 3 fish oil from tuna byproducts. In: Sustainable Development Conference 2013, |
| 2013 | Extraction of fish oil from longtail tuna head waste using various method of supercritical carbon dioxide . In: International Conference on Separation Technology (ICoST)2013, |
| 2013 | Oleanolic acid from peel of Vitis labrusca B. grape and its in vitro biological properties. In: 6th International Congress of Chemistry and Environment (ICCE 2013) and 2nd International Society BioTechnology Conference (ISBT 2013), |
| 2013 | Supercritical carbon dioxide (SC-CO2) extraction of mango seed kernel contain cocoa butter analogy fats. In: 10th Conference on Supercritical Fluids and Their Applications, |
| 2012 | Effects of cultivars and starch preparation methods on Japanese potato starch properties. In: 6th International Conference on Starch Technology, |
| 2012 | Factors influencing starch digestibility . In: International Conference on Science, Technology & Social Science (ICSTSS2012), |
| 2012 | Simultaneous extraction and fractionation of pufa from tropical tuna (thunnus tongol) head using pressure swing technique of supercritical CO2 (SC-CO2). In: 2012 Pacific Fisheries Technologists Conference (PFT), |
| 2012 | Supercritical Carbon Dioxide Extraction of Cocoa Butter Analogy Fat from Mango Seed Kernel Oil: An Optimization Approach of Response Surface Methodology . In: International Conference of Science Technology and Social Sciences., |
| 2012 | Supercritical co2 extraction of African catfish (Clarias Gariepinus) oil and its fatty acid profile. In: Malaysian International Conference on Trends in Bioprocess Engineering (MICOTriBE) 2012, |
Book Section
| | |
| --- | --- |
| 2020 | Avenues in supercritical carbon dioxide extraction and fractionation of lipids.. In: Elsevier, ISBN: 978-0-12-815782-4, pp. 586-596 |
| 2018 | In vitro antioxidant activities of black cumin seeds oil and computational evaluation of thymoquinone and thymohydroquinone as inhibitors of EGFR tyrosine kinase. In: Elsevier, ISBN: 978-0-08-101892-7, pp. 173-192 |
| 2018 | Mimosa pudica: a weed with medicinal importance. In: IIUM Press, International Islamic University Malaysia, ISBN: 978-967-418-454-4, pp. 64-90 |
| 2017 | Bioactive compounds and extraction techniques. In: John Wiley & Sons, ISBN: 978-111-916-882-9, pp. 35-53 |
| 2015 | Cellulosic nanocomposites from natural fibers for medical applications: a review. In: Springer Berlin Heidelberg, ISBN: 978-3-642-45231-4 (P), 978-3-642-45232-1 (O), pp. 475-511 |
| 2011 | PUFA in fish: extraction and fractionation methods. In: IIUM Press, ISBN: 9789674180751, pp. 51-63 |