Staff Directory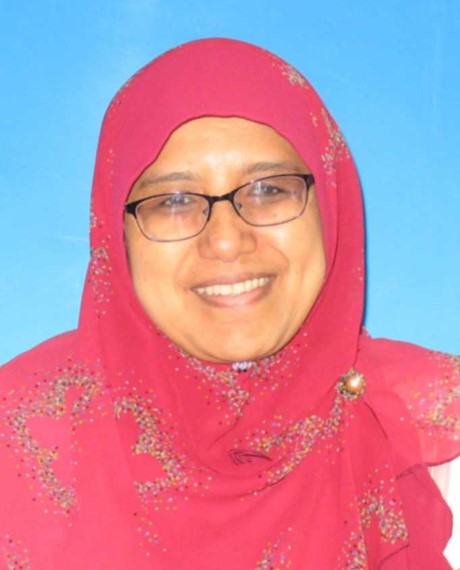 Academic Qualification
Ph.D in Linguistics - Doctor of Philosophy, University of Wisconsin
Master in English Language Teaching - Masters Degree, University of Warwick
Bachelor in Linguistics - Bachelor Degree, Monash University, Melbourne
Postgraduate Cert. in Education - Certificate, Maktab Perguruan Lembah Pantai, Kuala Lumpur
Certificate in Australian H.S.C - Certificate, Highett High School, Melbourne
Zahariah Bt Pilus (Assoc. Prof. Dr.)
Associate Professor
IIUM Gombak Campus
KULLIYYAH OF ISLAMIC REVEALED KNOWLEDGE AND HUMAN SCIENCES
---
zahariahp@iium.edu.my
6036
Expert Profile
Associate Professor Dr. Zahariah Pilus

Kulliyyah of Islamic Revealed Knowledge and Human Sciences 
                                                              

Academic/Professiona
l Qualifications
PhD (and M.A)

 

in Linguistics, University of Wisconsin-Madison, USA

                                                  
M.A. in English Language Teaching. University of Warwick, UK

Diploma in Translation, Persatuan Penterjemah Malaysia/
Dewan Bahasa dan Pustaka, Kuala Lumpur

Postgraduate Certificate in Teaching, Maktab Perguruan Lembah Pantai,
Kuala Lumpur
B.A (Hons) in Linguistics, Monash University, Australia



Expertise

Phonetics, English Language Teaching and Learning, Sociolinguistics,

 

 





Research Interests

Phonetics, ESL, Sociolinguistics, Interlanguage Phonology, Pragmatics, World Englishes. CALL and Discourse
Analysis.

E-mail

: zahariahp@iium.edu.my





Profile

 


Dr. Zahariah Pilus is an associate professor at the Department of English Language and Literature, Kulliyyah of Islamic Revealed Knowledge and Human Sciences, IIUM.

 

She has taught English language proficiency courses at secondary and tertiary levels as well as linguistics courses to undergraduate and postgraduate students. She is an editor of the Asian EFL Journal and an editorial committee member of Asiatic, an online journal of the English Department, IIUM.

 

 



Zahariah's main area of research is phonetics, focusing on second or foreign language speech. She is fascinated by sounds and rhythm, and how they move, delight and orchestrate

 

lives. Her most recent research concentrates on English accents, language attitudes and identity in an ESL context. Zahariah has also developed special interests in sociolinguistics, pragmatics, discourse analysis and all aspects of English language teaching and learning. Zahariah has supervised research related to phonetics, loanwords, translation, and ESL such as pronunciation learning strategies, listening, speaking anxiety and computer mediated communication in language learning.

She has written a number of articles and presented papers at conferences in her areas of interests.

Outside her teaching and research, Zahariah enjoys experimenting with natural herbs and alternative healing methods, all of which her two children and several colleagues can testify to. 








Teaching Responsibilities
| | |
| --- | --- |
| (PEAS II)PRE-SESS.ENG.FOR ARABIC EXEMPTED II | 1994/1995 |
| (PEAS III)PRE.SES.ENG.FOR ARABIC EXEMPTED III | 1994/1995 |
| ADVANCED ENGLISH FOR HUMAN SCIENCES | 1994/1995 |
| ADVANCED ENGLISH II | 1995/1996 |
| ADVANCED ENGLISH WRITING | 1994/1995 1993/1994 |
| CCU FOR ARABIC EXEMPTED | 1995/1996 |
| COMPUTER ASSISTED LANGUAGE LEARNING | 2019/2020 2018/2019 |
| CORE COMPETENCE LOWER | 1995/1996 |
| CORE COMPETENCE UPPER | 1995/1996 |
| ENGLISH PHONETICS & PHONOLOGY | 2005/2006 2004/2005 2009/2010 2008/2009 2007/2008 2006/2007 2003/2004 2010/2011 |
| ENGLISH PHONETICS AND PHONOLOGY | 2012/2013 2011/2012 2014/2015 2013/2014 2017/2018 2015/2016 2016/2017 |
| FINAL YEAR PROJECT I | 2020/2021 |
| FINAL YEAR PROJECT II | 2020/2021 |
| INTEN.REMEDIAL PRE.SES.ENG.FOR ARABIC EXE.III | 1994/1995 |
| INTRODUCTION TO LINGUISTICS | 2003/2004 |
| INTRODUCTION TO SOCIOLINGUISTICS | 2010/2011 2011/2012 2015/2016 2016/2017 |
| PCC/CCL FOR ARABIC EXEMPTED | 1995/1996 |
| PHONETICS & PHONOLOGY OF ENGLISH | 2003/2004 2005/2006 2004/2005 2006/2007 2007/2008 2002/2003 |
| PHONETICS AND PHONOLOGY | 2008/2009 2012/2013 2017/2018 2006/2007 2009/2010 2013/2014 2007/2008 2018/2019 2020/2021 2014/2015 |
| PHONOLOGY FOR ENGLISH LANGUAGE TEACHER | 2007/2008 2010/2011 2008/2009 |
| PRE-SESSIONAL ENGLISH LEVEL II | 1993/1994 |
| PRE-SESSIONAL ENGLISH LEVEL III | 1993/1994 1994/1995 |
| PSYCHOLINGUISTICS | 2004/2005 2003/2004 |
| REMEDIAL PSES ENGLISH FOR POSTGRADUATE | 1995/1996 |
| RESEARCH METHODOLOGY | 2021/2022 2020/2021 |
| RESEARCH PAPER 1 | 2017/2018 |
| RESEARCH PAPER 1 (LANGUAGE STUDIES) | 2017/2018 |
| RESEARCH PAPER 2 | 2018/2019 |
| RESEARCH PAPER I (APPLIED LINGUISTIC | 2015/2016 2016/2017 |
| RESEARCH PAPER II (APPLIED LINGUISTIC) | 2013/2014 2015/2016 2018/2019 |
| SEMANTICS AND PRAGMATICS | 2020/2021 2019/2020 2021/2022 |
| SOCIAL AND CULTURAL DISCOURSE | 2018/2019 |
| SPECIAL ENGLISH FOR ARABIC MAJOR II | 1993/1994 |
| SPECIAL ENGLISH FOR ARABIC MAJOR III | 1993/1994 |
| SPECIAL ENGLISH FOR ARABIC MAJOR IV | 1993/1994 |
| SPEECH AND ARTICULATORY SYSTEM | 2018/2019 2019/2020 |
| TEACHING LISTENING AND SPEAKING | 2010/2011 2004/2005 |
| TEACHING LISTENING AND SPEAKING IN SECONDARY SCHOOLS | 2005/2006 |
Research Projects
Completed
| | |
| --- | --- |
| 2016 - 2020 | Tone Units, Stress and Prominence in the Speech of Malay ESL Speakers |
| 2016 - 2020 | Tone Choices in the Speech of Malay ESL Learners |
| 2014 - 2019 | The Development of English Proficiency by English Majors in an Intensive ESL Environment |
| 2012 - 2014 | Spelling and Decoding Skills of Arab ESL Learners |
| 2010 - 2011 | Pronunciation Learning Strategies of ESL Learners: A Case Study Sek. Men. Keb. Tanah Merah |
| 2010 - 2015 | Pronunciation Learning of Malay as A Second Language Learners |
On-Going
| | |
| --- | --- |
| 2016 - Present | Profiling the Malaysian English Accent: Evidence from the Vowel Space |
| 2015 - Present | Applying the Emotional Freedom Technique (EFT) and Islamic Anxiety Reduce Technique (I-ART) to Reduce Communication Apprehension (CA) Experienced by Malaysian Undergraduates in Delivering Oral Presentation |
| 2011 - Present | A Protracted Study of the Effect of Reading-Listening on English Language Proficiency Among Students from Rural Schools in Malaysia |
Publications
Article
| | |
| --- | --- |
| 2020 | #WelcomeRefugees: a critical discourse analysis of the refugee resettlement initiative in Canadian news. GEMA Online® Journal of Language Studies, 20 (4) pp. 30-54 |
| 2019 | International students' perspectives of Malaysian English teachers' spoken English. Indonesian Journal of Applied Linguistics, 8 (3) pp. 555-566 |
| 2019 | International students' perspectives of Malaysian English teachers' spoken English. Indonesian Journal of Applied Linguistics, 8 (3) pp. 554-566 |
| 2019 | Stretching the boundaries: Malaysian ESL learners' evaluative reactions to inner circle English accents. Journal of Asian Pacific Communication, 29 (2) pp. 300-321 |
| 2019 | Stretching the boundaries: Malaysian ESL learners' evaluative reactions to inner circle English accents. Journal of Asian Pacific Communication, 29 (2) pp. 300-321 |
| 2018 | Metadiscourse in the academic writing of local and international students at a university in Malaysia. International Journal of Education and Practice, 6 (4) pp. 227-238 |
| 2017 | –Ed Allomorphs and linguistic knowledge of Malay speakers of English: a descriptive and correlational study. Indonesian Journal of Applied Linguistics, 7 (2) pp. 445-454 |
| 2017 | Learning English in a Third Space? Malay Students in an English-Speaking University in Malaysia. Pertanika Journal of Social Science and Humanities, 25 (3) pp. 1167-1180 |
| 2016 | Validation study of the Malay version of the Myasthenia Gravis Quality of Life (MGQOL)15 and Myasthenia Gravis Activities of Daily Living (MGADL) questionnaires. Neurology Asia, 21 (1) pp. 33-39 |
| 2013 | Exploring ESL learners' attitudes towards English accents. World Applied Sciences Journal 21 (Special Issue of Studies in Language Teaching and Learning) 2013, 21 () pp. 143-152 |
| 2013 | Phonological assimilation in the English of native and non-native speakers' reading and spontaneous speech. Journal of Modern Languages, 23 (1) pp. 57-67 |
| 2005 | Perception of voicing in English word-final consonants: examining the perceptual assimilation model. Malaysian Journal of ELT Research, Inaugr () pp. 1-12 |
| 2000 | Voicing contrast in word-final stops: A preliminary study of Malay English. LSO Working Papers in Linguistics, 1 () pp. |
Conference or Workshop Item
| | |
| --- | --- |
| 2020 | The rise tone in short story narration: A case study of Malay ESL learners. In: International Conference on Language and Literature 2020, |
| 2018 | Level tones in the speech of Malay ESL learners. In: International Conference on Language, Culture & Society 2018 (ICLCS 2018), |
| 2018 | The functions of the level tone in Malay ESL learners' speech. In: 2nd International Connect Malaysia (Connect'M) Conference 2018, |
| 2018 | The representation of Syrian refugees in Canadian online media: a corpus-assisted CDA. In: International Conference on Language, Culture & Society (ICLCS) 2018: Asia and Beyond, |
| 2018 | Tone choices in the speech of Malay ESL learners. In: Postgraduate Colloquium Presentation 2018, |
| 2018 | Use of interactional markers by Malay and native writers of English in the results and discussion section of English language studies research articles.. In: International Conference on Language, Culture & Society 2018, |
| 2016 | Language vitality: Insights from young speakers of the Bidayuh Language. In: DELL Postgraduate Research Symposium 2016, |
| 2016 | Native English: ESL learners' perceptions of female speakers' accents. In: 2nd International Conference on the Institutional Leadership, Learning and Teaching (ILLT), |
| 2016 | The –ed allomorphs of Malay speakers of English and linguistic knowledge types. In: Third International Conference on Language, Literature & Society 2016, |
| 2016 | The use of hedges by Malay writers: a study on the discussion section of theses in English language and applied linguistics. In: 10th International Language for Specific Purposes Seminar (LSP 2016), |
| 2016 | Use of verbs in museum exhibition texts. In: DELL Postgraduate Research Symposium 2016, |
| 2015 | International students' perceptions of classroom Malaysian English variety. In: DELL Postgraduate Research Symposium 2015, |
| 2015 | Listening to the accents of male native English speakers: ESL learners' perceptions. In: International Conference on Languages (ICL 2015), |
| 2015 | The effects of listening-reading programme on the pronunciation of English words by form one students from a secondary school in Pahang. In: DELL Postgraduate Research Symposium 2015, |
| 2014 | Attitudes of Malaysian university students towards six English accents. In: TESOL ACTA 2014 Meeting the Challenge International Conference, |
| 2014 | Spelling and pronunciation skills of Arab ESL learners . In: 3rd International Language Conference (ILC) 2014, |
| 2013 | Politeness in request forms as perceived by Malay second language learners of English. In: International Language for Communication Conference, |
| 2012 | Pronunciation learning strategies of Malay ESL learners. In: EWRF Education Conference, |
| 2011 | Novice ESL learners' perception of English accents: an exploratory study. In: The 2nd International Language Conference, 2011, |
| 2009 | If snakes 'hiss' and cows 'moo' when they are awake, what sounds do gorillas and chickens make? : creating learners' awareness of four English vowels. In: 18th MELTA International Conference, |
| 2008 | Creating awareness of the orthographic representations of [i] and [ɪ]. In: English and Asia 2008, First international conference on language and linguistics, |
| 2004 | The perception of voicing in English word-final consonants: examining the perceptual assimilation model. In: MELTA Conference - Focus on Oracy, |
Book
Book Section