Staff Directory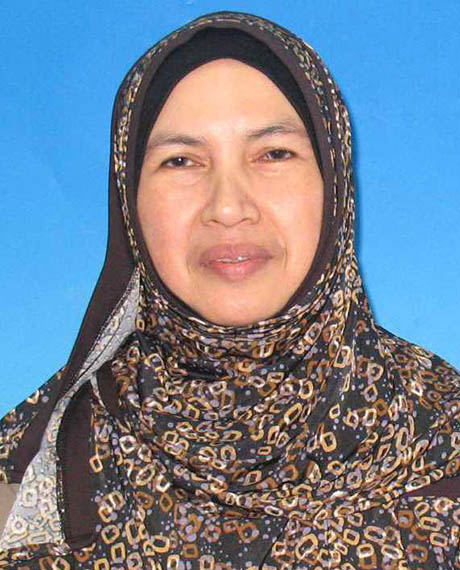 Academic Qualification
Ph.D (Mathematics Education) - Doctor of Philosophy, Curtin University of Technology
Master of Arts - Masters Degree, University of Pittsburgh
B. Sc - Bachelor Degree, University of Adelaide
Madihah Binti Khalid (Assoc. Prof. Dr.)
Associate Professor
IIUM Gombak Campus
KULLIYYAH OF EDUCATION
---
madihahkhalid@iium.edu.my
6365
Expert Profile
Dr. Madihah Khalid graduated with degrees in Mathematics & Statistics at Bachelor and Master levels from Adelaide University, Australia and the University of Pittsburgh, USA respectively. She then completed her PhD in Mathematics Education at Curtin University of Technology, Australia. Her research interests are mainly related the area of curriculum and Instruction such as curriculum development, Curriculum and Instruction, and Assessment. Her more specific research areas are in to Mathematics Education, especially in lesson study, mathematics creativity, teaching and learning of mathematics including misconceptions and Instructional design.
Dr. Madihah is actively involved in a few mathematics associations – she was a former member of Mathematics Education Research Group of Australasia (MERGA) and American Educational Research Association (AERA) and is a life time member of Persatuan Sains Matematik Malaysia (PERSAMA). She was also an active member of APEC funded ˜Innovations in Teaching and Learning of Mathematics through Lesson Study™ group, and promotes effective learning of both teachers and students through lesson study.
Dr. Madihah had the experience of teaching mathematics at secondary and tertiary level. She also collaborate with teachers from the primary level in lesson study. She has written various papers about the enhancement in teaching and learning of mathematics through teacher participation in lesson study that effected both teachers and students positively.
Dr. Madihah has secured more than RM1 million worth of various grants, both in the past and present researches. She is very passionate in upgrading the quality of teaching and learning especially in the subject of Mathematics and promotes the practice of alternative assessment among colleagues and teachers, especially performance assessment in assessing and evaluating students learning.
Area of Specialisation
Natural Science ~ Mathematical Sciences ~ Mathematical Science for Education ~ Curriculum Development and Teaching Methods - Tertiary, Secondary and Primary Mathematics Education
Natural Science ~ Mathematical Sciences ~ Mathematics and Statistics for Science and Engineering ~ Social Sciences and Humanities - Statistics for research
Social Science ~ Social Science ~ Education ~ Curriculum Development - Mathematics Education, Lesson Study
Social Science ~ Social Science ~ Education ~ Teacher Education - Assessment, Curriculum and Instruction
Professional Membership
2013 - 2013: Member of Profesional Body / Association: (Ordinary member), MERGA
2016 - 2016: Member of Profesional Body / Association: (Ordinary member), PERSAMA
2019 - 2019: Member of Profesional Body / Association: (member), American Educational Research Association
2020: Member of Profesional Body / Association: (member), Persatuan Sains Matematik Malaysia(PERSAMA)
Teaching Responsibilities
| | |
| --- | --- |
| CONTEMPORARY MORAL ISSUES | 2015/2016 |
| CURRICULUM AND INSTRUCTION | 2021/2022 2014/2015 2013/2014 |
| CURRICULUM THEORY & ORGANIZATION | 2021/2022 2019/2020 |
| EDUCATION MEASUREMENTS AND STATISTICS | 2016/2017 |
| EDUCATIONAL MEASUREMENT AND STATISTICS | 2020/2021 |
| EDUCATIONAL MEASUREMENTS AND STATISTICS | 2018/2019 |
| INTRODUCTION TO EDUCATION | 2020/2021 2019/2020 2018/2019 2017/2018 2016/2017 2015/2016 2014/2015 2013/2014 |
| INTRODUCTION TO STATISTICS | 2020/2021 2019/2020 2018/2019 2017/2018 2016/2017 2015/2016 2014/2015 2013/2014 |
| ISSUES IN CURRICULUM & INSTRUCTION | 2019/2020 2018/2019 2017/2018 2016/2017 2015/2016 2014/2015 |
| ISSUES IN CURRICULUM AND INSTRUCTION | 2020/2021 |
| ISSUES IN CURRICULUM AND INSTRUCTION | 2021/2022 |
| MICRO TEACHING | 2022/2023 2017/2018 |
| PRACTICE OF TEACHING | 2021/2022 2018/2019 2017/2018 2016/2017 2015/2016 2014/2015 2013/2014 |
| PRACTISE OF TEACHING | 2020/2021 2019/2020 |
| SCHOOL TESTING PROGRAMME | 2015/2016 |
| TEACHING METHODOLOGY FOR MATHEMATICS 2 | 2017/2018 2014/2015 |
| TEACHING METHODOLOGY FOR MATHEMATICS I | 2017/2018 2014/2015 |
| TESTING AND ASSESSMENT IN EDUCATION | 2018/2019 2017/2018 2015/2016 2014/2015 |
| THE METHODOLOGY OF TEACHING MATHEMATICS IN SECONDARY SCHOOL | 2022/2023 2021/2022 2020/2021 |
| THE SCHOOL AND THE COMMUNITY | 2017/2018 2014/2015 |
Research Projects
Completed
| | |
| --- | --- |
| 2016 - 2018 | Fostering Creativity in School Children by Teaching of Mathematics through creative Problem Solving |
| 2016 - 2020 | Towards Realizing Malaysia's Science, Technology, Engineering and Mathematics (STEM) Initiatives: Profiling Students' Conceptual Understanding of "Operations on Integers". |
| 2016 - 2019 | Investigation of Malaysian Teachers? Instructional and Assessment Methods for Critical Thinking Skills (CTS) and the Development, Implementation and Evaluation of Specific Training Modules for Enhancement of CTS |
| 2015 - 2019 | Inculcating Values in Mathematics Classroom via Problem Solving: Using Lesson Study Approach to Help Teachers Design Meaningful Lessons |
| 2015 - 2019 | Values Transmission through the English Textbooks for Secondary School Students and its Influence on their Perception of the Islamic Identity |
| 2015 - 2019 | Developing Charter School Model Curriculum for Disaster Affected Areas: Lessening the MOE Expenditure and Addressing Educational Imbalance |
On-Going
| | |
| --- | --- |
| 2021 - Present | Supporting the STEM Initiative: A Constructivist Framework to Foster Mathematical Thinking of Secondary School Students. |
| 2019 - Present | Correlating the effect of emotion-based teaching pedagogy in regulating the socio-emotion of ASD children (Project 4) |
| 2019 - Present | A Psychological-Educational Framework for Fostering a Healthy and Active Lifestyle in the Prevention of Type 2 Diabetes. |
Award & Recognition
| | | |
| --- | --- | --- |
| 04 Oct, 2017 | Best Paper Award - Universiti Sains Islam Malaysia (USIM) | National |
| 09 May, 2002 | Book Award PERSAMA-TELEKOM 2001-2002 - PERSAMA-TELEKOM | National |
Publications
Article
| | |
| --- | --- |
| 2021 | Technology-assisted emotion recognition for autism spectrum disorder (ASD) children: a systematic literature review. IEEE Access, 9 () pp. 33638-33653 |
| 2021 | The impact of future economic stability and family influence on students' motivation for higher education: a study on IIUM students. IIUM Journal of Educational Studies, 9 (4) pp. 20-36 |
| 2021 | Translation, validation and cross-cultural adaptation of the Malay Emotion Regulation Checklist (ERC-M): a preliminary study. Medical Journal of Malaysia, 76 (5) pp. 680-684 |
| 2020 | Behavioural intention to use building Information modelling (BIM) among community college students in Malaysia. IIUM Journal of Educational Studies, 8 (1) pp. 4-17 |
| 2020 | Challenges to parental involvement in children's education at a primary school: a rasch analysis. IIUM JOURNAL OF EDUCATIONAL STUDIES,, 7 (1) pp. 47-57 |
| 2020 | Emphasizing Concrete Representation to Enhance Students' Conceptual Understanding of Operations on Integers. Turkish Journal of Computer and Mathematics Education (TURCOMAT), 11 (2) pp. 762-773 |
| 2020 | Enhancing creativity and problem solving skills through creative problem solving in teaching mathematics. Creativity Studies, 13 (2) pp. 270-291 |
| 2020 | Implementation of wavelet analysis on thermal images for affective states recognition of children with autism spectrum disorder. IEEE Access, 8 () pp. 120818-120834 |
| 2020 | Sources and Possible Causes of Errors and Misconceptions in Operations of Integers. International Electronic Journal of Mathematics Education, 15 (2) pp. 1-13 |
| 2020 | Year 7 Students' Interpretation of Letters and Symbols in Solving Routine Algebraic Problems. The Qualitative Report, 25 (11) pp. , 4167-4181 |
| 2018 | Aplikasi Pedagogi Hikmah bagi Pengajaran Bahasa Malaysia dan Bahasa Inggeris Abad ke-21 = The application of the Hikmah (wisdom) pedagogy in the teaching of Malay and English language in the 21st Century. Jurnal Pendidikan Malaysia, 43 (2) pp. 37-47 |
| 2018 | Development of character and life skills through Islamic methods of teaching acquired science subjects at Islamic International Schools in Malaysia. IIUM Journal of Educational Studies (IJES), 6 (1) pp. 3-17 |
| 2018 | MUSLIM STUDENTS' PERCEPTION OF WESTERN VALUES AS PRESENTED IN ENGLISH TEXT BOOKS: INTERNATIONAL ISLAMIC SCHOOL MALAYSIA (SECONDARY) AS A CASE STUDY1. AL-SHAJARAH JOURNAL OF ISLAMIC THOUGHT AND CIVILIZATION OF THE INTERNATIONAL ISLAMIC UNIVERSITY MALAYSIA (IIUM, () pp. 241-266 |
| 2018 | Muslim students' perception of western values as presented in English text books: International Islamic school Malaysia (Secondary) as a case study. Al-Shajarah, Special Issue (Special Issue: Education, 2018) pp. 241-266 |
| 2018 | TEACHING ISLAMIC VALUES THROUGH PROBLEM SOLVING IN MATHEMATICS: A CASE STUDY. AL-SHAJARAH JOURNAL OF ISLAMIC THOUGHT AND CIVILIZATION OF THE INTERNATIONAL ISLAMIC UNIVERSITY MALAYSIA (IIUM), Special Issue Education 2018 () pp. 217-240 |
| 2018 | Teaching Islamic values through problem solving in mathematics: a case study. Al-Shajarah, Special Issue (Special Issue: Education, 2018) pp. 217-239 |
| 2018 | The impact of hikmah (Wisdom) pedagogy on 21st century skills of selected primary and secondary school students in Gombak district Selangor Malaysia. Journal of Education and Learning, 7 (6) pp. 100-110 |
| 2017 | Fostering problem solving and performance assessment among Malaysian mathematics teachers. Sains Humanika, 9 (1-2) pp. 51-55 |
| 2017 | Framework for inculcating Islamic values through problem solving in mathematics and lesson study approach. Al-Shajarah, Special Issue Education () pp. 197-218 |
| 2017 | Teachers' Perspectives on Task-Based Language Teaching: A Case Study at International Islamic University Malaysia. IUM JOURNAL OF EDUCATIONAL STUDIES, 5:1(2017) 62-75, 5 (1) pp. 62-75 |
| 2016 | Inculcating tsunami awareness in a mathematics lesson: improving students' collaborative problem solving via lesson study. Southeast Asian Mathematics Education Journal, 6 (1) pp. 19-32 |
| 2016 | Inculcating tsunami awareness in a mathematics lesson: improving students' collaborative problem solving via lesson study. Southeast Asian Mathematics Education Journal, 6 (1) pp. 19-32 |
| 2016 | Teachers' beliefs on the benefit of collaboration in lesson study. IIUM Journal of Educational Studies, 4 (2) pp. 1-20 |
| 2014 | Problem-based learning to enhance students' understanding and motivation for learning mechanics. IIUM Journal of Educational Studies, 2 (1) pp. 56-66 |
| 2011 | Mathematics teachers' perception of lesson study as a continuous professional development programme. Journal of Science and Mathematics in Southeast Asia, 34 (1) pp. 67-89 |
| 2008 | A brief look at teaching and assessing mathematical thinking in Brunei. SMTE-Science, Mathmatics & Technical Education, (20) pp. 11-17 |
| 2007 | Assessing classroom environment and attitude of technical students towards mathematics and the association between them. International Journal of Learning, 14 (4) pp. 127-134 |
| 2006 | Investigating the role of mathematics in Brunei culture. Studies in Education, 11 () pp. 32-39 |
| 2003 | Making sense of radian measure: experiences with technical students in Brunei Darussalam. Journal of Science and Mathematics Education in Southeast Asia, 26 (1) pp. 129-152 |
Conference or Workshop Item
| | |
| --- | --- |
| 2021 | Auditory brainstem response using psychological task in Autism Spectrum Disorder (ASD) children. In: International Evoked Response Audiometry Study Group Biennial Symposium 2021, |
| 2021 | Evaluation of sound-working memory therapy intervention in Autism Spectrum Disorder (ASD) children using Auditory Brainstem Response (ABR) sensory gating. In: International Evoked Response Audiometry Study Group Biennial Symposium 2021, |
| 2021 | Suppression Distortion Product Otoacoustic Emission (Suppression DPOAE) using Various Contralateral Suppressors among Autism Spectrum Disorder Children. In: International Evoked Response Audiometry Study Group Biennial Symposium 2021, |
| 2020 | Exploration of the low arithmetic achievement on primary students: Teacher's perspectives. In: The 2nd Joint International Conference on Emerging Computing Technology and Sports (JICETS) 2019, |
| 2018 | A preliminary study on form 1 students' errors and misconception in operations of integers. In: Seminar Kebangsaan Majlis Dekan Pendidikan Universiti Awam [MEDC 2018], |
| 2017 | Aplikasi pedagogi hikmah bagi kemahiran abad ke-21 di sekolah-sekolah di Gombak: kajian bagi subjek sains dan pendidikan Islam. In: Seminar Kebangsaan Majlis Dekan Universiti Awam 2017, |
| 2017 | Contemporary global trends in instructional design: the role of lesson study in designing meaningful lessons among teachers. In: 1st International Conference of Educational and Psychological Studies (ICOEPS 2017), |
| 2017 | IIUM TESL pre-service teachers' motivation to integrate critical thinking in their teaching. In: International Language and Education Conference 2017, |
| 2017 | Parental involvement and student academic achievement: a cross-sectional study. In: Sintok International Conference on Social Science and Management (SICONSEM 2017), |
| 2017 | Parental involvement in children's education: A study among Muslim minority. In: International Conference on Lifelong Learning for Islamic Education (ICLLIE) 2017, |
| 2017 | TESL pre-service teachers' motivation to integrate critical thinking in their teaching. In: International Language and Education Conference 2017 (iLEC2017), |
| 2017 | The use of Quranic and Prophetic Teaching Methods (QPTMs) in teaching non-religious subjects in Islamic international schools in Malaysia. In: International Conference on Lifelong Learning for Islamic Education (ICLLIE) 2017, |
| 2017 | The Use of Quranic and Prophetic Teaching Methods (QPTMs) in Teaching Non-Religious Subjects in Islamic International Schools in Malaysia. In: International Conference on Lifelong Learning for Islamic Education (ICLLIE) 2017, |
| 2016 | Cooperative learning strategies to develop and assess values and soft skills among technical and vocational students. In: International Conference on Education towards Global Peace 2016, |
| 2015 | Memupuk penyelesaian masalah dan penilaian prestasi di kalangan guru matematik Di Malaysia. In: Simposium Kebangsaan Sains Matematik 2015 (SKSM2015) = 2015 National Symposium of Mathematical Sciences, |
| 2014 | Innovation in education through lesson study: incorporating disaster risk reduction in mathematics lesson to inculcate tsunami awareness . In: International Research, Invention and Innovation Exhibition 2014 (IRIIE2014), |
| 2014 | The impact of lesson study on primary mathematics teachers' instructions in Brunei Darussalam . In: International Conference on Education in Mathematics, Science and Technology (ICEMST2014), |
| 2012 | Using performance assessment to assess and develop understanding of probability. In: 12th International Congress on Mathematical Education (ICME 2012), |
| 2011 | The role of text-books and ICT in designing and implementing effective lessons: examining curriculum recommendations and teachers' practices. In: APEC - Tsukuba International Conference V, |
| 2010 | Improvement of teaching from improvement of assessment test: challenges. In: Fourth APEC - Tsukuba International Conference, |
| 2008 | Investigating communication in primary three Bruneian classroom. In: APEC-Khon Kaen International Symposium on Innovative Teaching in Mathematics through Lesson Study III, |
| 2008 | Using the jar model to improve students' understanding of operations on integers. In: 11th International Congress on Mathematical Education (ICME 11), |
| 2007 | Communication in mathematics: the role of language and its consequences for English as second language students. In: APEC-TSUKUBA International Conference III, |
| 2007 | Incorporating mathematical thinking in addition and subtraction of fraction: real issues and challenges. In: APEC- KHON KAEN International Conference on Innovative Teaching of Mathematics through Lesson Study (II), |
| 2006 | Mathematical thinking in Brunei curriculum: implementation issues and challenges . In: APEC-TSUKUBA International Conference, |
| 1992 | Pembelajaran matematik: faktor kelemahan pelajar. In: Simposium Kebangsaan Sains Matematikke-V, |
Book
| | |
| --- | --- |
| 2021 | 2020 tracer study report. IIUM, ISBN: 978-967-26178 |
| 2019 | 2019 Tracer Study Report. Alumni Relations Division, International Islamic University Malaysia, ISBN: 2710-737X (ISSN) |
| 2019 | Fostering Creativity in School Children by Teaching of Mathematics Through Creative Problem Solving. National Child Development Research Centre (NCDRC), ISBN: 9789670638935 |
| 2000 | Kalkulus dan geometri analisis. UTM Press, ISBN: 983-52-0140-4 |
| 1993 | Kaedah matematik dalam sains fizikal. Dewan Bahasa dan Pustaka, ISBN: 9789836237613 |
| 1993 | Kaedah matematik dalam sains fizikal. Dewan Bahasa dan Pustaka, ISBN: 9789836237613 |
| 1992 | Penelahan siri masa: konsep satuan dan perlaksanaan komputer. Dewan Bahasa dan Pustaka, ISBN: 9789836230270 |
| 1992 | Penelahan siri masa: konsep satuan dan perlaksanaan komputer. Dewan Bahasa dan Pustaka, ISBN: 9789836230270 |
| 1989 | Buku sifir. Dewan Bahasa dan Pustaka, ISBN: 983-62-0716-3 |
Book Section
| | |
| --- | --- |
| 2021 | Auditory brainstem response with cognitive interference in normal and autism spectrum disorder children - understanding the auditory sensory gating mechanism. In: IntechOpen, ISBN: 978-1-80355-189-0, pp. |
| 2020 | IIUM TESL pre-service teachers' motivation to integrate critical thinking in their teaching. In: USIM Press, ISBN: 978-967-440-845-9, pp. 142-154 |
| 2020 | Teachers' conception and classroom practice of assessment for learning. In: Penerbit Universiti Sains Malaysia, ISBN: 9789674614096, pp. 155-178 |
| 2018 | Probability. In: IIUM Press, ISBN: 978-967-418-464-3, pp. 69-78 |
| 2016 | Issues and challenges associated with assessment reform in Malaysia, with particular focus on mathematics assessment. In: Institut Terjemahan & Buku Malaysia Berhad, ISBN: 978-967-460-203-1, pp. 103-114 |
| 2016 | Issues and challenges associated with assessment reform in Malaysia, with particular focus on mathematics assessment. In: Institut Terjemahan & Buku Malaysia Berhad, ISBN: 978-967-460-203-1, pp. 103-114 |
| 2016 | Reminiscing the lesson study journey in Brunei. In: The Sultan Hassanal Bolkiah Institute of Education, ISBN: 978-99917-1-308-3, pp. 100-104 |
| 2016 | Reminiscing the lesson study journey in Brunei. In: The Sultan Hassanal Bolkiah Institute of Education, ISBN: 978-99917-1-308-3, pp. 100-104 |
| 2016 | The impact of different stages of lesson study on teachers' learning: the Bruneian context. In: The Sultan Hassanal Bolkiah Institute of Education, ISBN: 978-99917-1-308-3, pp. 113-129 |
| 2016 | The impact of different stages of lesson study on teachers' learning: the Bruneian context. In: The Sultan Hassanal Bolkiah Institute of Education, ISBN: 978-99917-1-308-3, pp. 113-129 |
| 2015 | Everyday mathematics: profit and loss, cost price and selling price. In: National Council of Teachers in Mathematics (NCTM), ISBN: 978-0-87353-746-9, pp. 25-31 |
| 2015 | Everyday mathematics: profit and loss, cost price and selling price. In: National Council of Teachers in Mathematics (NCTM), ISBN: 978-0-87353-746-9, pp. 25-31 |
| 2014 | Making pink-rose drink. In: NCTM - National Council of Teachers of Mathematics, ISBN: 978-0-87353-744-5, pp. 57-63 |
| 2014 | Making pink-rose drink. In: NCTM - National Council of Teachers of Mathematics, ISBN: 978-0-87353-744-5, pp. 57-63 |
| 2012 | The perceptions and attitudes of vocational and technical students towards the application of mathematics. In: Education Technology Centre, University Brunei Darussalam, ISBN: 978-99917-1-245-3, pp. 84-93 |
| 2010 | Brunei Darussalam. In: SEAMO REgional Centre for Education in Science and Mathematics, ISBN: 978-967-930-018-5, pp. 30-44 |
| 2009 | Investigating students' common errors in integers. In: Education Technology Centre, Universiti Brunei Darussalam, ISBN: 99917-1-232-1, pp. 233-250 |
| 2006 | Investigating decimal misconceptions among primary students in Brunei: a preliminary study. In: Education Technology Centre, Universiti Brunei Darussalam, ISBN: 99917-1-175-9, pp. 193-201 |
| 2003 | The mathematics learning environments of some technical students in Brunei Darussalam. In: Education Technology Centre, Universiti Brunei Darussalam, ISBN: 99917-1-109-0, pp. 192-201 |
Monograph