Staff Directory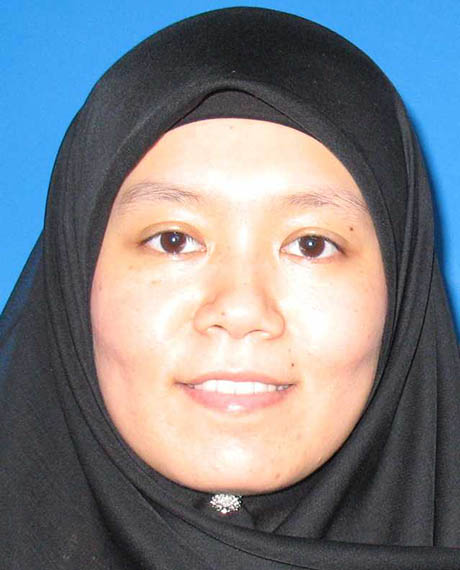 Academic Qualification
Biosensors / BioMEMS - Doctor of Philosophy, Purdue University / West Lafayette, IN
Microtechnology and bioMEMS - Masters Degree, University of Minnesota Twin Cities, MN
Electrical Engineering (Microtechnology) - Bachelor Degree, University of Minnesota Twin Cities, MN
Wan Wardatul Amani Binti Wan Salim (Assoc. Prof. Dr.)
Associate Professor
IIUM Gombak Campus
KULLIYYAH OF ENGINEERING

Other's position:
Deputy Director, Research Management Centre
---
Expert Profile
Wan Wardatul Amani Wan Salim received her B.Sc. and M.Sc. in Electrical Engineering from the University of Minnesota Twin Cities in 2001 and 2003, respectively, and her Ph.D in BioMEMS and Microelectronics from the Weldon School of Biomedical Engineering at the Purdue University in 2009. She conducted her first postdoctoral research in the School of Engineering Education at Purdue University where she studied problem formulation in model-eliciting-activities of first-year engineering students.
She continued her postdoctoral research training at the Department of Biological Engineering, where she was the Principal Investigator of SporeSat, an autonomous, free-flying three-unit (3U) spacecraft funded by NASA (www.sporesat.org). In 2012, Dr Amani received the Thora Halstead Young Investigator's award for her work on the Cell-Electrophysiology Lab-on-a-chip, an interdisciplinary project joining biology and fluid physics at the national conference for the American Society for Gravitational and Space Research (ASGSR). Dr. Amani has published in various journals, including Langmuir, Analytical Chemistry and Nanotechnology. Dr. Amani received postdoctoral research award from Sigma Xi and a Fellowship Recognition from Eta Kappa Nu Electrical Engineering Honours Society.
Area of Specialisation
Engineering Tech ~ Applied Sciences And Technologies ~ Nanotechnology ~ Nano Devices and Systems - BioMEMS; Nanotechnology
Professional Membership
Member of Profesional Body / Association: (Member), Young Scientist Network
2015 - 2019: Member of Profesional Body / Association: (Member), Materials Research Society (MRS)
2015 - 2019: Member of Profesional Body / Association: (Member), American Chemical Society (ACS)
2015 - 2020: Member of Profesional Body / Association: (Member), Institute of Biological Engineering (IBE)
2019 - 2020: Member of Profesional Body / Association: (Member), Young Scientist Network
Teaching Responsibilities
| | |
| --- | --- |
| BIO NANOTECHNOLOGY | 2018/2019 2019/2020 2020/2021 |
| BIO NANOTECHNOLOY | 2019/2020 |
| BIONANOTECHNOLOGY | 2014/2015 2015/2016 2016/2017 2017/2018 |
| BIOSENSORS | 2014/2015 2015/2016 |
| BIOTECHNOLOGY ENGINEERING LAB II | 2019/2020 2020/2021 |
| FINAL YEAR PROJECT II | 2018/2019 |
| FOOD BIOTECHNOLOGY | 2019/2020 |
| MEMBRANE TECHNOLOGY | 2019/2020 2018/2019 2020/2021 |
| NANOBIOTECHNOLOGY | 2015/2016 2017/2018 2016/2017 |
| RESEARCH METHODOLOGY & SEMINAR IN BTE ENG (MIXED MODE) | 2017/2018 2015/2016 2016/2017 |
| RESEARCH METHODOLOGY & SEMINAR IN BTE ENG (RESEARCH MODE) | 2016/2017 2017/2018 2015/2016 |
| RESEARCH METHODOLOGY AND SEMINAR | 2017/2018 |
| RESEARCH METHODOLOGY IN BIOTECHNOLOGY ENGIN | 2015/2016 2014/2015 2016/2017 |
| TECHNOLOGY ENTREPRENEURSHIP | 2020/2021 |
| THERMODYNAMICS | 2014/2015 |
Research Projects
Completed
| | |
| --- | --- |
| 2018 - 2020 | Investigation of Electrosprayed Carbon-based Nanomaterials as Electrodes in Energy Storage Devices for Improved Microbial Fuel Cell |
| 2018 - 2019 | Development and Clinical Trial Study of a Graphene-based Non-invasive Glucose Sensor |
| 2018 - 2019 | Validation of Biosensor Technology Performance in Quantifying Pathogenic and Chemical Contamination for Assessment of Water Filtration System in Kelantan, Malaysia. |
| 2017 - 2020 | Investigation of Electrosprayed Carbon-based Nanomaterials as Electrodes in Energy Storage Devices for Improved Microbial Fuel Cell |
| 2017 - 2020 | Fundamental study of blood glucose solution models using a novel stepped impedance RF sensor for improved continuous monitoring of diabetic patients |
| 2016 - | A Qualitative Study on the Novel use of Electrical Stimulation for the Prevention of Pressure Ulcers due to Immobility |
| 2016 - 2020 | Storage Capacity Studies of Carbon Nanotubes (CNT) in Energy Storage Applications |
| 2016 - 2020 | Development of bionanocomposite reinforced with sugarcane bagasse nanocellulose and incorporated with natural antimicrobial agent for food packaging applications |
| 2016 - 2019 | Validation Study of a Portable Biosensor Technology in Quantifying E. Coli in Filtered River Water |
| 2015 - 2018 | Novel Theoretical Model of an electrochemical nanobiosensor for rapid detection of dengue |
| 2015 - 2019 | Study of Three Dimensional Graphene Composites for Lead-supercapacitor Hybrid Battery System |
| 2015 - 2017 | Graphene-based Immuno-Biosensor for In-situ Water Assessment |
| 2014 - 2017 | Electrochemical Characterization of Graphene-Nanoparticles-Cellulose Nanofibers Composites for the Development of Wearable Sensors |
| 2014 - 2017 | Conducting Polymer Nanocomposite as Transducer Layer for a Robust Biochemical Microsensor |
On-Going
| | |
| --- | --- |
| 2021 - Present | Nanotech COVID19 Rapid Test Kit Clinical Validation Testing, Process, and Scaling Up: Trials Design, Supervision, Oversight, and Advisory |
| 2020 - Present | Building an Entrepreneurial Mindset among Malaysian Leaders and Educators |
| 2020 - Present | Investigation of Extracellular Calcium Ion of Mosquito Larvae Using Ion-Selective Electrodes |
| 2019 - Present | Investigating the Detection of Antibiotic Residual in Dairy Product using Printed Electrodes |
| 2018 - Present | Engineering ultrasmall gold-silver alloy nanoparticles for antimicrobial application. |
| 2017 - Present | Investigating the development of ion selective electrode for e.coli O157:H7 detection |
| 2017 - Present | Effectiveness of highly purified ANAE,a plant-esterase immobilized on Multi-walled Carbon Nanotube-Screen Printed Electrode as portable biosensor for the inhibition-based electrochemical detection of pesticides. |
| 2016 - Present | Magnetic Blood Cells Microseparator for Seggeregating and Harvesting of Single Cell on Lab on Chip Platform |
| - | Structure-based Virtual Interactions of SARS-CoV-2 Spike protein for Molecular Diagnostic & Drug Repurposing |
| - | High-efficiency hydrogel-based solar vapor for water purification |
Award & Recognition
| | | |
| --- | --- | --- |
| 09 Nov, 2020 | MIT Solve Community Award - | International |
| 08 May, 2019 | Community Engagement Award - KOE TAKRIM 2019 | KCDIO |
| 15 Sep, 2018 | Leadership Award (Second Runner up) - The Iclif Leadership and Governance | National |
| 22 Sep, 2017 | Hijrah Inovasi Award Penang State - Penang State Government | National |
| 31 Dec, 2016 | IIUM MYRA AUDIT EXERCISE 2016 - IIUM | National |
| 02 Sep, 2016 | Promising Researcher Award - | University |
| 13 Mar, 2016 | Tokoh Puteri Islam Kebangsaan 2016 - Puteri Islam Kebangsaan | National |
| 07 Dec, 2015 | Best Presenter Award - Internatioanl Conference for Innovation in Engineering and Life Science (ICIBEL) 2015 | National |
| 04 Dec, 2015 | Great Women of our Time 2015 - Women's Weekly | National |
| 15 Sep, 2015 | Fellowship for Women in Science - Loreal UNESCO | National |
Publications
Article
| | |
| --- | --- |
| 2020 | Characterization, antibacterial and anti-Inflammatory activities of electrospun poly (vinyl alcohol) (PVA) containing Aquilaria Malaccencis Leaf Extract (ALEX) nanofibers. International Journal of Recent Technology and Engineering (IJRTE), 9 (3) pp. 541-548 |
| 2020 | Comparative study of cyclic voltammetry and cycle stability of electropolymerized poly (3,4-ethylenedioxythiophene) poly(sodium 4-styrenesulfonate) on screen-printed carbon and platinum electrodes in aqueous media. Test Engineering and Management, 83 (May-June) () pp. 1033-1040 |
| 2020 | Morphology of electrospun PVA nanofibers enhanced with graphene oxide, Poly (3,4 ethylenedioxythiophene):polystyrene sulfonate (PEDOT:PSS), and multiwalled carbon nanotubes. Experimental and Theoretical Nanotechnology, 4 (3) pp. 235-248 |
| 2020 | Reduced graphene oxide on screen-printed carbon electrodes as biosensor for escherichia coli O157:H7 detection. MDPI, 60 (1) pp. 1-8 |
| 2020 | Risk prediction analysis for classifying type 2 diabetes occurrence using local dataset. Biological and Natural Resources Engineering Journal, 3 (1) pp. |
| 2020 | Tailoring the electrochemical and morphological properties of electropolymerized and dropcast reduced graphene oxide-poly(3,4-ethylenedioxythiophene):polystyrenesulfonate transducers for ion-selective sensors. Proceedings IECB 2020, 60 (1) pp. 1-10 |
| 2019 | Battery characterization of hybrid car. International Journal of Recent Technology and Engineering, 7 (6) pp. 143-146 |
| 2019 | Cyclic voltammetric and electrical impedance spectroscopy studies of graphene- and conductive polymer–based enzyme electrodes. International Journal of Integrated Engineering, 11 (3) pp. 70-80 |
| 2019 | Preliminary study on the effect of reduced graphene oxide, gold nanoparticles, and nafion® concentration on redox peak current for electrochemical biosensing. Journal of Engineering Science and Technology (JESTEC), 14 (1) pp. 48-58 |
| 2019 | Solid-state rGO-PEDOT:PSS transducing material for cost-effective enzymatic sensing. Biosensors, 9 (1) pp. 1-15 |
| 2018 | Effect of gold nanoparticles and electrode drying time on reduced graphene oxide–based composite with respect to peak current of cyclic voltammetry. ARPN Journal of Engineering and Applied Sciences, 13 (4) pp. 1420-1426 |
| 2018 | Effect of gold nanoparticles and electrode dryingtime on reduced graphene oxide-based compositewith respect topeak current of cyclic voltammetry. ARPN Journal of Engineering and Applied Sciences, 13 (4) pp. 1420-1426 |
| 2018 | Effectiveness of multi-walled carbon nanotubes and activated carbon for capturing E. coli 0157:H7 for application in water filtration. Journal of Engineering and Applied Sciences, 13 (10) pp. 3582-3586 |
| 2018 | Enzyme-based biosensors for electrochemical detection of pesticides - a mini review. Indonesian Journal of Electrical Engineering and Informatics (IJEEI), 6 (2) pp. 161-171 |
| 2018 | Study of electropolymerized PEDOT:PSS transducers for application as electrochemical sensors in aqueous media. Sensing and Biosensing Research, 17 () pp. 18-24 |
| 2017 | An autonomous lab on a chip for space flight calibration of gravity-induced transcellular calcium polarization in single-cell fern spores. Lab on a chip, 17 (6) pp. 1095-1103 |
| 2017 | Electrochemical characterization of polylactic acid-block-poly (2-vinylpyridine)/gold nanoparticle composites for glucose biosensor development. IIUM Engineering Journal, 18 (2) pp. 34-41 |
| 2017 | Nanomaterial biocompatibility and antimicrobial effects on Escherichia coli. Asia-Pacific Journal of Molecular Biology and Biotechnology, 25 (1) pp. 1-4 |
| 2017 | Pedot: PSS–modified platinum microelectrodes for measurements in aqueous media: Effect of polymer surface area on long-term anodic peak current stability. IIUM Engineering Journal, 18 (2) pp. 11-15 |
| 2016 | An overview of drug delivery vehicles for cancer treatment: Nanocarriers and nanoparticles including photovoltaic nanoparticles. Journal of Photochemistry & Photobiology, B: Biology, (164) pp. 151-159 |
| 2013 | Emerging technologies for non-invasive quantification of physiological oxygen transport in plants. Planta : An International Journal of Plant Biology, 238 (3) pp. 599-614 |
| 2013 | Lab-on-a-chip approaches for space-biology research . Recent Patents on Space Technology , 3 (1) pp. 24-39 |
| 2013 | Lab-on-a-chip approaches for space-biology research . Recent Patents on Space Technology , 3 (1) pp. 24-39 |
| 2013 | Multi-analyte biochip (MAB) based on all-solid-state Ion-selective electrodes (ASSISE) for Physiological Research. Journal of Visualized Experiments, 74 () pp. |
| 2012 | Problem Formulation within open-ended problems: looking through the structure, behavior, function (SBF) and novice-expert (NE) frameworks. Procedia Social and Behavioral Sciences Journal, 56 () pp. 160-174 |
| 2012 | Transforming the first-year engineering experience through authentic problem-solving: taking a models and modeling perspective.. Procedia Social and Behavioral Sciences Journal, 56 () pp. 314-332 |
| 2010 | Squeeze-film hydrogel deposition and dry micropatterning. Analytical Chemistry, 82 (8) pp. 3377-3382 |
| 2009 | Micromachined adjustable hydrogel stamper for soft printing of biomolecules with adjustable-feature dimensions.. Analytical Chemistry, 81 (11) pp. 4551-4554 |
| 2009 | Selective nanofibers patterning via electric field-enhanced electrospinning. Langmuir Letter, 25 (17) pp. 9648-9652 |
| 2008 | Selective nanofiber deposition via electrodynamic focusing. Nanotechnology, 19 (37) pp. 1-8 |
Conference or Workshop Item
| | |
| --- | --- |
| 2020 | Fabrication and characterization of graphene oxide-polymer nanocomposite membrane as adsorbent for lead removal. In: Kulliyyah of Engineering Research, Innovation and Commercialization Exhibition (KERICE), |
| 2020 | Fabrication of an all-solid-state ammonium ion– selective electrode by a two-step process using cyclic voltammetry. In: 1st International Electronic Conference on Biosensors (IECB 2020), |
| 2020 | Nanomaterial-modified electrodes for biosensing. In: The Proceedings of the 5 th International Conference on Management, Engineering, Science, Social Science and Humanities (iCon-MESSSH'20), |
| 2020 | Reduced graphene oxide on screen-printed carbon electrodes as biosensor for Escherichia coli O157:H7 detection. In: The 1st International Electronic Conference on Biosensors (IECB 2020), |
| 2020 | Tailoring the electrochemical and morphological properties of electropolymerized and Dropcast rGO:PSS-PEDOT:PSS transducers for ion-selective sensors. In: The 1st International Electronic Conference on Biosensors (IECB 2020), |
| 2019 | Biosensors for water quality monitoring. In: Gender Summit 16 – Asia Pacific "Diversity and Gender in Science: Enhancing the Value of Research and Innovation", |
| 2019 | Characterisation of electrochemical transducers for biosensor applications. In: 8th International Conference on Science and Mathematics Education (CoSMED 2019), |
| 2019 | Cyclic voltammetry and charge/discharge cycles of conductive polymer on screen-printed carbon and platinum electrodes in aqueous media. In: "4th International Conference on Advances in Manufacturing and Materials Engineering 2019", |
| 2019 | Cyclic voltammetry and electrochemical impedance spectroscopy of partially reduced graphene oxide - PEDOT:PSS transducer for biochemical sensing. In: 2018 IEEE EMBS Conference on Biomedical Engineering and Sciences )IECBES 2018), |
| 2019 | Cyclic voltammetry study of reduced graphene oxide-PEDOT:PSS composite for electrochemical devices. In: 2nd International Conference on Intelligent Systems Engineering 2018 ( ICISE ), |
| 2019 | Development of effective lead removal from wastewater by graphene oxide. In: Graphene Malaysia 2019, |
| 2019 | Electrospun pva-graphene oxide-pedot: PSS nanofibers for wound healing. In: ACS on Campus 2019, |
| 2019 | Electrospun PVA-grapheneoxide-PEDOT:PSS nanofibers for wound healing. In: IIUM Kuantan Research Day 2019, |
| 2019 | My experience leading NASA SporeSat : a lab on chip device for single-cell study. In: 2nd Annual Women in Engineering Conference 2019: Breaking the Boundaries, |
| 2019 | My experience leading NASA SporeSat: a lab-on-chip device for single-cell study. In: Minggu Sains Negara Fasa 2 Peringkat Negeri Melaka, |
| 2019 | SporeSat: a lab on a chip for single cell study and translation to ground applications. In: 8th International Conference on Science and Mathematics Education, |
| 2019 | Stable conductive polymer in liquid media for continuous monitoring. In: ACS on Campus 2019, |
| 2019 | Thermodynamics and kinetics of electron transfer between electrolyte and nanocomposite modified electrode for sensor application (work in progress). In: IIUM Kuantan Research Day 2019, |
| 2018 | Characterization of enzymatic glucose biosensor in buffer solution, in artificial saliva, and in potassium ferricyanide by linear sweep voltammetry. In: 3rd International Sciences, Technology & Engineering Conference (ISTEC) 2018 - Material Chemistry, |
| 2018 | Electricity generation in Microbial Fuel Cell (MFC) by bacterium isolated from rice paddy field soil. In: 1st International Conference on Civil and Environmental Engineering (CENVIRON 2017), |
| 2018 | Electrospun Poly (Vinyl Alcohol) (PVA) fiber mats as carriers for extract from agarwood branch. In: International Conference on Halal Innovation in Products and Services 2018 (i-CHIPS 2018), |
| 2018 | Quantifying E. coli O157:H7 via linear sweep voltammetry in phosphate buffered saline and tap water. In: Proceedings of the International Conference Biotechnology Engineering, ICBioE '18, |
| 2017 | Design and fabrication of biochemical sensors: Innovative materials that enhance electrochemical transduction. In: Short Courses on Contaminated Land and Water, University of Manchester, UK, |
| 2017 | Finding PASSION by DOing the things you do WELL. In: Women's Forum, |
| 2017 | Nanomaterial/nano-based sensors for the halal industries. In: Thailand Halal Assembly 2017, |
| 2017 | Portable and versatile sensors for field work and humanitarian use. In: 3rd ISTIC Biennial International Conference on Women in Science, Technology, and Innovation (STI). Innovative Solution by Women for UN Sustainable Development Goals 2016-2030, |
| 2016 | Characterizing graphene-modified electrodes for interfacing with Arduino®-based devices. In: 38th Annual International Conference of the IEEE Engineering in Medicine and Biology Society, |
| 2016 | Electrochemical characterization of Graphene-based transducers for biosensor development. In: 4th International Conference on Biotechnology Engineering 2016 (ICBioE 2016), |
| 2016 | Electrochemical characterization of polylactic acid-block-poly(2-vinylpyridine)/gold nanoparticle (aunp) composites for glucose biosensor development. In: 4th International Conference on Biotechnology Engineering 2016 (ICBioE 2016), |
| 2016 | Ion-selective electrode biochip for applications in a liquid environment. In: International Conference for Innovation in Biomedical Engineering and Life Sciences (ICIBEL2015), |
| 2016 | Ion-selective electrode biochip for applications in a liquid environment. In: International Conference for Innovation in Biomedical Engineering and Life Sciences (ICIBEL2015), |
| 2016 | Nanomaterial biocompatibility and antimicrobial effects on Escherichia coli. In: 4th International Conference on Biotechnology Engineering 2016 (ICBioE 2016), |
| 2016 | PEDOT: PSS composite deposited on a microplatinum electrode as a robust biosensor transducer for applications in liquid media. In: 4th International Conference on Biotechnology Engineering 2016 (ICBioE 2016), |
| 2016 | Portable Arduino® platform for electrochemical sensors. In: 4th International Conference on Biotechnology Engineering 2016 (ICBioE 2016), |
| 2015 | Electrochemical characterization of graphene nanocomposites for development of robust biosensor. In: 12th Asian Congress on Biotechnology (ACB 2015) , |
| 2015 | Electrochemical sensor centrifuge platform for single-cell study . In: 12th Asian Congress on Biotechnology (ACB 2015) , |
| 2015 | Extraction of microcrystalline cellulose (mcc) from cocoa pod husk via alkaline pretreatment combined with ultrasonication. In: 28th Symposium of Malaysian Chemical Engineers (SOMChE 2015), |
| 2015 | Low-cost microcontact printing for direct enzyme patterning on paper . In: 12th Asian Congress on Biotechnology (ACB 2015) , |
| 2014 | Operation of mobile sensors for monitoring municipal drinking water distribution systems. In: 2014 World Environmental and Water Resources Congress Water Without Borders, |
| 2014 | Sporesat: a nanosatellite platform lab-on-a-chip system for investigating gravity threshold of fern-spore single-cell calcium ion currents . In: Workshop on Solid-State Sensors, Actuators, and Microsystems, |
| 2013 | Enhancing water distribution system security through water quality mobile sensor operation. In: World Environmental and Water Resources Congress 2013: Showcasing the Future, |
| 2013 | Self-powered mobile sensor for in-pipe potable water quality monitoring. In: The 17th International Conference on Miniaturized Systems for Chemistry and Life Science,, |
| 2010 | Graduate teaching assistants' assessment of students' problem formulation within model-eliciting activities. In: American Society of Engineering Education (ASEE) International Conference, |
| 2008 | A hydrogel stamper with expandable height and built-in reservoirs for patterning biomolecules on 3D topologies. In: 2007 IEEE 20th International Conference on Micro Electro Mechanical Systems (MEMS), |
| 2005 | An adjustable force soft-contact lithography for patterning biomolecules on 3D topologies. In: 18th IEEE International Conference on Micro Electro Mechanical Systems, 2005. MEMS 2005., |
| 2005 | Inductive link modeling and design guidelines for optimum power transfer in implantable wireless microsystems. In: Proceedings of the 25th Annual International Conference of the IEEE Engineering in Medicine and Biology Society (IEEE Cat. No.03CH37439), |
| 2004 | A hydrogel-actuated microvalve for smart flow control. In: Proceedings of the IEEE Engineering Medical Biology Society(EMBS), |
Book
Book Section
| | |
| --- | --- |
| 2020 | Components of all-solid-state ion-selective electrodes. In: Springer, ISBN: 978-3-030-45488-3, pp. 351-366 |
| 2020 | Graphene synthesis and antibody immobilization techniques for iImmunosensors. In: Springer Singapore, ISBN: 978-981-15-4741-6, pp. 21-34 |
| 2018 | Characterization of electrochemical transducers for biosensor applications. In: Springer Nature, ISBN: 978-981-13-2256-3, pp. 119-138 |
| 2018 | Cyclic voltammetry and electrical impedance spectroscopy of electrodes modified with PEDOT:PSS-reduced graphene oxide composite. In: Intech Open, ISBN: , pp. 1-10 |
| 2018 | Electrochemical methods to characterize nanomaterial-based transducers for the development of noninvasive glucose sensors. In: Springer International Publishing AG, ISBN: 978-3-319-99601-1, pp. 423-439 |
| 2018 | Polymers in biosensors. In: Springer Nature, ISBN: 978-981-13-2256-3, pp. 151-166 |
| 2015 | Hybrid metallic nanoparticles: enhanced bioanalysis and biosensing via carbon nanotubes, graphene, and organic conjugation. In: Springer, ISBN: 978-4-431-55189-8, pp. 137-166 |