Staff Directory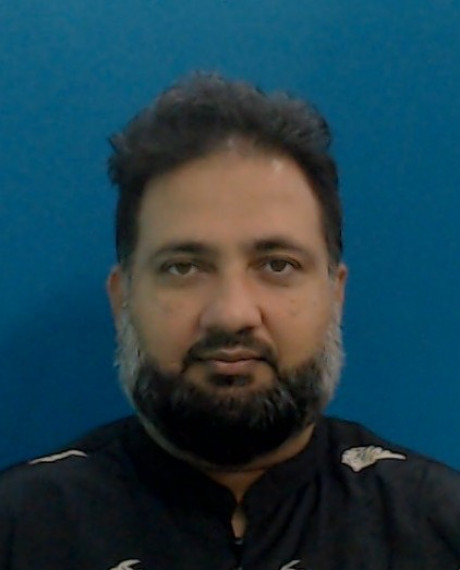 Academic Qualification
PhD Islamic Civilization - Doctor of Philosophy, International Islamic University Malaysia
Master of Arts (Islamic Civilisation) - Masters Degree, International Institute of Islamic Thought & Civilization (IIUM ISTAC)
Specialization in Higher Islamic Studies and Jurisprudence - Advanced Diploma, Jamia Ashrafia Lahore
Mohammed Farid Ali (Dr.)
Assistant Professor
IIUM Gombak Campus
KULLIYYAH OF ISLAMIC REVEALED KNOWLEDGE AND HUMAN SCIENCES
---
abumariyah@iium.edu.my
6129
Expert Profile
Dr. Mohammed Farid Ali obtained his 'Alamiyah in Arabic and Islamic studies from Jamia Ashrafi Lahore in which he studied various subjects ranging from language to Qur'an, Sunnah, and Fiqh for eight years with ijazah. Then he obtained his training in issuing fatwa (Ifta) under the supervision of Ra'is al-mufti of the Darul-ifta Mufti Hameedullah Jan. In this programme he studied Usul al-Ifta and wrote the required number of fatwas in various matters to obtain permission to issue fatwa. After that he returned to Fiji and joined Fiji Muslim League as their religious advisor, mufti, imam and khatib.
In 2003, he came to Malaysia and pursued Master's in Islamic Civilization from ISTAC, IIUM. He wrote his thesis on "Urf as a source of Islamic Jurisprudence in Ibn Abidin's Works". Then, he obtained his Doctorate with his dissertation "Principles to Issue Fatwa in Hanafi Legal School: An Annotated Translation and Analysis of Sharh Uqud Rasm al-Mufti of Ibn Abidin al-Shami."
After his university studies, he held the position of Research Fellow at the International Institute of Advanced Islamic Studies (IAIS) Malaysia from 2011 to 2013. He worked in the area of specific Islamic Legal Objectives (Maqasid al-Shari'ah) of contracts and transactions, and in the area of Islamic Legal Objectives of Philanthropy (tabarru'at) such as endowment (waqf) and gift contract (hibah). He also did research on the Islamic concept of contentment (qana'at) and its role in overcoming environmental and social issues. He worked in various committees of the institute such as Research Committee, Library Committee, and IAIS Bulletin editorial committee.
He is currently working at the Research and Publication Unit, International Institute of Islamic Thought and Civilization, IIUM as an Academic Fellow from July 2014. He translated a classical Arabic text "KasÉd al-Nuqūd (Currency depreciation)" of al-TamartÉshi (d. 1596 CE), did work on critical edition (takhrÊj al-aÍÉdÊth) and translation of Mulla Jami's 40 Hadith, Cataloguing of Qur'an and hadith related to Persian and Urdu manuscripts, and other publication assignments.
Area of Specialisation
Social Science ~ Social Science ~ Sociology ~ Fatwa and Society - Principles of Issuing Fatwa in Hanafi Legal School
Humanities ~ Humanities ~ Religious Studies ~ Religion and Civilisation - World Contemporary Muslim Issues
Humanities ~ Humanities ~ Philosophy ~ Ethics - Ilm al-Akhlaq and social and environmental issues
Humanities ~ Humanities ~ Arts and Culture ~ Islamic Calligraphy - Various styles of Arabic Calligraphy
Social Science ~ Social Science ~ Syariah Law ~ Islamic Law of Transaction - Maqasid Studies (Islamic Finance and Transactions)
Teaching Responsibilities
| | |
| --- | --- |
| BASIC PHILOSOPHYAND ISLAMIC WORLDVIEW | 2021/2022 |
| ETHICS & FIQH FOR EVERYDAY LIFE | 2017/2018 2016/2017 |
| ETHICS AND FIQH IN EVERYDAY LIFE | 2017/2018 |
| ETHICS AND FIQH OF CONTEMPORARY ISSUES | 2021/2022 |
| FINAL YEAR PROJECT I | 2020/2021 2019/2020 |
| FINAL YEAR PROJECT II | 2021/2022 2020/2021 |
| INTRODUCTION TO FIQH | 2017/2018 |
| ISLAM, KNOWLEDGE & CIVILIZATION | 2016/2017 2015/2016 |
| ISLAM,KNOWLEDGE AND CIVILIZATION | 2015/2016 |
| ISLAMIC JURISPRUDENCE | 2020/2021 2019/2020 2018/2019 |
| ISLAMIC WORLDVIEW | 2017/2018 2015/2016 |
| ISLAMIZATION OF KNOWLEDGE | 2018/2019 2017/2018 |
| KNOWLEDGE & CIVILIZATION IN ISLAM | 2021/2022 |
| PRINCIPLES OF ISLAMIC JURISPRUDENCE | 2020/2021 2019/2020 |
| QADAYA FIQHIYYAH MU'ASIRAH: CONTEMPORARY JURISTIC ISSUES | 2018/2019 2017/2018 |
| RESEARCH PAPER 1 | 2018/2019 |
| RESEARCH PAPER I | 2018/2019 |
| RESEARCH PAPER II | 2018/2019 |
| SUSTAINABLE DEVELOPMENT: ISSUES, POLICIES AND PRACTICES | 2020/2021 |
| THE ISLAMIC WORLDVIEW | 2016/2017 2015/2016 |
Research Projects
Completed
| | |
| --- | --- |
| 2020 - 2020 | Taiwan-INHART Halal Certification Authority (TIHCA) |
| 2018 - 2021 | Re-modelling concept of wellness towards senior citizens in Malaysia and institutional modality of intergenerational relationships, analytical study from Islamic perspective |
| 2018 - 2021 | The Local Fiqh Framework in Malaysia: Identifying its Characteristics in Islamic Family Law |
| 2017 - 2020 | Revisiting Ideas of Bediuzzaman Said Nursi pertaining to the Muslim Youth (Hayrat Foundation, Turkey) |
| 2017 - 2021 | Contemporary Issues in Islam : for Undergraduate Students |
| 2016 - 2019 | Modern Application of Bai'Murabahah, Bai'Mu'ajjal And Bai'al-Sarf in the Light of Maqasid Shariah |
| 2016 - 2019 | Rights of Detainees and Prisoners in Islam |
| 2016 - 2018 | Peaceful Coexistence Between Muslims and Buddhist in Myanmar; Looking into Singapore as the Role-Model |
| 2012 - | Contemporary Fiqh Research Unit (CFRU) |
On-Going
| | |
| --- | --- |
| 2020 - Present | Islamization and Contextualization of Islam to the Contemporary World |
| 2018 - Present | The Influences of Islamic Civilization on Malay Muslim Women and Their Contributions in Malay Archipelago. |
| 2018 - Present | Forty Hadith Collection Series on Contemporary Fundamental Issues of Malaysia |
| 2017 - Present | Maqasid Shari'ah Approach for measuring Key Intangible Performance in Islamic Academic institutions: |
| 2017 - Present | Amanah (Trust) in Islam, Its Dimensions and Implications |
Publications
Article
| | |
| --- | --- |
| 2022 | Lack of Amanah (Trust) and its implications in governance: issues of corruption in Malaysia. Epistemology, 11 (12) pp. |
| 2022 | Maqasid al-Shari'ah Theoretical Framework for Teaching and the Parameters for Measuring Key Intangible Performance (KIP) in Teaching. Specialusis Ugdymas, () pp. |
| 2022 | The misconceptions of religious pluralism and religious plurality held by muslims in Malaysia. TAFHIM: IKIM Journal of Islam and the Contemporary World, 15 (1) pp. 23-49 |
| 2021 | Imposition of divine obligations (Taklif) as a trust (Amanah) entrusted to mankind and the wisdom behind it: an exposition of Verse 72 & 73 of Al-Ahzab in Shah Wali Allah Al-Dehlawi's Hujjat Allahi Al-Balighah (Part 1). Journal of Islam in Asia, 18 (2) pp. 159-165 |
| 2021 | ظاهرة اختلاف العلماء المعاصرين في تأويل النصوص القرآنية والحديثية = The phenomenon of Differences of Contemporary Scholars of Islam in Interpreting the Texts of the Quran and Hadith. Journal of Islam in Asia, 18 (2) pp. 93-121 |
| 2020 | Interpretation of youth from the thinking of Badiuzzaman said Nursi. Journal of Islam in Asia, 17 (4) pp. 220-239 |
| 2020 | Modern application of Bain al-Sarf (Currency Exchange) from Maqasid al-Shari'ah perspective: A scoping review. Journal of Islam in Asia, 17 (2) pp. 291-297 |
| 2020 | Precautionary measures in dealing with Covid-19 pandemic: learning from the Prophet's tradition. The Companion, () pp. |
| 2020 | The theoretical framework for measuring Key Intangible Performance (KIP) in research and publication using Maqasid al-Shar'iah (MS). Intellectual Discourse, 28 (2) pp. 409-432 |
| 2020 | Women's rights in the Qur'an, sunnah and heritage of Islam. Journal of Islam in Asia, 17 (3) pp. 321-331 |
| 2019 | Cultural-globalization and its external and internal impact on Muslim marriage = العولمة وتأثيرها الخارجي والداخلي على زواج المسلمين. Journal of Shari'ah Sciences and the Arabic Language, 4 (2) pp. 521-533 |
| 2019 | Modern applications of profit-sale (bay murabahah) from a maqasid Shari' ah perspective. Al-Shajarah, 24 (1) pp. 49-66 |
| 2019 | Modern applications of profit-sale (Bayʿ murābaḥah) from a Maqāsid Sharīʿah perspective. Al-Shajarah, 24 (1) pp. 1-16 |
| 2019 | Transformation of Myanmar Muslim community: Singapore as a role-model. Journal of Muslims Minority Affairs-Transformation of Myanmar Muslim Community: Singapore as a Role-Model, 39 () pp. 1-20 |
| 2019 | Violations of basic rights of prisoners in conventional and Islamic law: theory and practice. Intellectual Discourse, 27 (2) pp. 455-474 |
| 2019 | منهجية مراعاة حقوق المسجون في التشريع الجنائي الإسلامي المعاصر = The methodology of protecting the rights of the prisoner in contemporary Islamic criminal law. At-Tajdid, 45 () pp. 1-23 |
| 2018 | Brief on waqf, its substitution (Istibdāl), and selected resolutions of Islāmic Fiqh Academy India: a maqāṣid al-sharī'ah perspective. Intellectual Discourse, 26 (Special Issue) pp. 1093-1108 |
| 2018 | Deferred sale (Bai' Mu'ajjal/Bai' bi Thaman Ajil (BBA)): its origin and validity from a Maqasid Shari'ah perspective. Intellectual Discourse, 26 (1) pp. 255-261 |
| 2018 | Imam Farahi's view on rationality: a framework for modernity discourse. Al-Burhan: Journal of Quran and Sunnah Studies, 3 (1) pp. 1-15 |
| 2018 | Muslim feminists' reading of the Qur'an: a juristic analysis on family law issues. MAZAHIB: Jurnal Pemikiran Hukum Islam, 17 (1) pp. 1-22 |
| 2018 | Philanthropy (tabarru'at) in Islam and its four shari'ah objectives. World Journal of Islamic History and Civilization, 8 (2) pp. 49-56 |
| 2018 | The universal condemnation on the practice of riba = Pengutukan universal terhadap pengamalan riba. Journal of Islam in Asia, 15 (2) pp. 520-534 |
| 2018 | Waqf, its substitution (istibdal), and selected resolutions of Islamic Fiqh Academy India : a maqasid al-shari'ah perspective. Intellectual Discourse, 26 (Special Issue) pp. 1093-1108 |
| 2018 | الأمانة في العقود المالية وجريمة خيانتها بين الفقه والقضاء المصري الإجارة والوديعة نموذجا = Amanah (Trust) in financial contracts and the crime of deceit in Islamic and Egyptian law: lease and deposit as specimen. Al-Qalam, () pp. 1-24 |
| 2017 | Agree to disagree: towards a peaceful co-existence amongst multi-religious community = Setuju untuk tidak bersetuju: kearah kehidupan aman bersama dikalangan masyarakat berbilang agama. Journal of Islam in Asia, 14 (1) pp. 248-267 |
| 2017 | Beliefs about Prophet Isa in Islam: a critical refutation of Mirza Ghulam Ahmad's claims in the light of Qur'an and Sunnah. Al-Burhan: Journal of Qur'an and Sunnah Studies, 1 (1) pp. 1-19 |
| 2017 | The mportance of considering Custom (Urf/Adat) in issuing Fatwa (Ifta') in Ibn Abidin's Sharh 'Uqud Rasm al-Mufti = Kepentingan menimbang Adat (ÑURF/ÑÓDAT) dalam mengeluarkan Fatwa (IFTĀ') Dalam Ibn ÑÓbidin's SharÍ ÑUqËd Rasm al-Mufti. Journal of Islam in Asia, 14 (1) pp. 268-288 |
| 2016 | Contentment as a dimension of human character. Malaysia Nur, () pp. 1-8 |
| 2016 | Salam (Forward sale) and Istisna' (Manufacture contract) in modern applications: a Maqasid al-shari'ah perspective. International Journal of Business, Economics and Law, 9 (5) pp. 65-73 |
| 2015 | Modern applications of hibah in the light of shari'ah objectives of gift and donation contracts (al-tabarru'at). Islamic Sciences , 13 (1) pp. 27-42 |
| 2014 | A translation and commentary of Ibn `Ābidīn's Al-`Ilm Al-Ẓāhir Fī Naf`I Al-Nasab Al-Ṭāhir (Evident knowledge on the benefit of pure lineage). Al-Shajarah , 19 (1) pp. 1-20 |
| 2014 | Abu l-Hassan Ali al-Nadawi's approach to renewal and reform (Tajdid wa Islah). Islam and Civilisational Renewal (ICR), 5 (1) pp. 125-128 |
| 2014 | Contentment (Qana'ah) and its role in curbing social and environmental problems. Islam and Civilisational Renewal (ICR), 5 (3) pp. 430-445 |
| 2014 | The good-wholesome life (hayātan tayyibah) as an Islamic lifestyle standard. Islam and Civilisational Renewal (ICR), 5 (4) pp. 591-594 |
| 2013 | Imam Shawkani: taqlid's foe, ijtihad's friend. IAIS Website: Architects of Civilisation, () pp. |
| 2012 | The creative mufti: Ibn Abidin (d.1252 AH/1836 CE). Architects of Civilisation, () pp. 1-7 |
Conference or Workshop Item
| | |
| --- | --- |
| 2021 | Issues related to Death Sakarat al-Maut (The Agonies of Death). In: JANAZAH MANAGEMENT AWARENESS 01/21, |
| 2021 | Qadr and Akhirah as the articles of faith. In: Islamic Input in Medical Prorammed (IIMP), |
| 2021 | Triple talaq: revocable or irrevocable? an analysis in the light of Maqasid approach. In: INTERNATIONAL CONFERENCE ON FAMILY LAW, FAMILY JUSTICE AND MAQASID AL SHARIAH (ICFL 2020), |
| 2020 | Breastfeeding, kinship, milk bank in Islam and contemporary challenges. In: 12th Islamic Clinico-Pathological Conference (iCPC 12, 2020) on "Breastfeeding and Milk Bank in Islamic and Modern Perspective", |
| 2020 | Covid-19 from the perspective of Islamic theology and spirituality. In: IAIS Malaysia Online Discussion Series, |
| 2020 | Islamic Input in Medical Programme (IIMP): Qadr and akhirah as the articles of faith (Part 1). In: Islamic Input in Medical Programme (IIMP): Qadr and Akhirah as the Articles of Faith (Part 1), |
| 2020 | ظاهرة اختلاف المعاصرين في تأويل النصوص القرآنية والحديثية. In: The Inaugural Jamalullalil Chair for Prophetic Sunnah International Conference (JCICI), |
| 2019 | Lack of amanah (trust) and its Implication in governance: issues of corruption in Malaysia. In: International Conference On Religion, Governance And Sustainable Development (ICRGD2019), |
| 2018 | Family planning and the rulings of Islam. In: Family Planning: Islamic Concept of Divine Destiny, |
| 2018 | The role of waqf properties in the development of the Islamic institutions in the Philippines: Issues and challenges.. In: INTERNATIONAL CONFERENCE ON HISTORY AND GOVERNANCE OF AWQAF IN SOUTH AND SOUTHEAST ASIA (ICHGA 2018), |
| 2018 | Waqf, its substitution ( istibdal) and maqasid al-shariah. In: International Conference On History and Governance of AWQAF (ICHGA), |
| 2017 | Contemporary issues in Islam: for undergraduate students. In: KIRKHS-IIIT Islamisation Conference 2017, |
| 2016 | Essentiality of custom ('urf/'adat) in issuing fatwa (Ifta'): a special reference to Ibn Abidin's Sharh Uqud Rasm al-Mufti. In: International Seminar on Fatwa (IsFatwa 2016), |
| 2016 | Salam (Forward sale) and Istisna' (Manufacture contract) in modern applications: a Maqasid al-shari'ah perspective. In: Kuala Lumpur International Islamic Studies and Civilisations (KLiISC) 2016, |
| 2012 | Contentment as a dimension of human character: with special reference to Bediuzzaman Sa'id Nursi's Risale-I Nur. In: International Conference on The Role of Science and Art in (Islamic) Civilisational Renewal : Science and Culture as Key Dimensions of Civilisational Renewal: "The Thoughts of Said Nursi", |
Book
Book Section
| | |
| --- | --- |
| 2021 | Juridical impact of urf on family law: an applied juristic framework for local fiqh. In: Contemporary Fiqh Research Unit (CFRU) &Islamic Book Trust, ISBN: 978967052683-6, pp. 36-53 |
| 2021 | Juridical impact of urf on family law: an applied juristic framework for local fiqh. In: Contemporary Fiqh Research Unit (CFRU) &Islamic Book Trust, ISBN: 978967052683-6, pp. 36-53 |
| 2021 | Talaq through electronic medium under Islamic and Malaysian law: The impact on 'iddah and ruju'. In: Contemporary Fiqh Reserach Unit (CFRU), IRKHS In Collaboration with Islamic Book Trust, ISBN: 978-967-0526-83-6, pp. 89-107 |
| 2021 | Triple talaq: revocable or irrevocable? an analysis in the light of Maqasid approach. In: Department of Syariah Judiciary Malaysia & Ahmad Ibrahim Kulliyyah of Laws, IIUM, ISBN: 978-967-0870-86-1, pp. 89-109 |
| 2021 | Triple talaq: revocable or irrevocable? an analysis in the light of Maqasid approach. In: Department of Syariah Judiciary Malaysia & Ahmad Ibrahim Kulliyyah of Laws, IIUM, ISBN: 978-967-0870-86-1, pp. 89-109 |
| 2021 | Vaccination practices and preferences among muslim parents of young children : trends and misunderstandings. In: Contemporary Fiqh Research Unit IIUM & Islamic Book Trust, ISBN: 978-967-0526-83-6, pp. 369-389 |
| 2021 | Vaccination practices and preferences among muslim parents of young children : trends and misunderstandings. In: Contemporary Fiqh Research Unit IIUM & Islamic Book Trust, ISBN: 978-967-0526-83-6, pp. 369-389 |
| 2018 | Attainment of human wellness and preservation of ecological balance in the light of revelation: insights for policy making through Islamic principals pertaining to nature. In: IIUM Press, International Islamic University Malaysia, ISBN: 978-967-491-010-5, pp. 255-269 |
| 2018 | Muhammad Amin Ibn Abidin (1784-1836CE). In: Pelanduk Publications Sdn. Bhd., ISBN: 978-967-978-989-8, pp. 240-245 |
| 2018 | Muhammad b. Ali Al-Shawkani (1759-1839CE). In: Pelanduk Publications Sdn. Bhd., ISBN: 978-967-978-989-8, pp. 246-251 |
| 2017 | Ethical axioms of learning in Islam: special reference to Abu Al-Hasan Al-Mawardi's adab al-'ilm. In: International Institute of Islamic Thought East and South East Asia Malaysia and International Islamic University Malaysia, ISBN: 978-967-15622-6-0, pp. 79-97 |
| 2017 | Ethical axioms of learning in Islam: special reference to Abu Al-Hasan Al-Mawardi's adab al-'ilm. In: International Institute of Islamic Thought East and South East Asia Malaysia and International Islamic University Malaysia, ISBN: 978-967-15622-6-0, pp. 79-97 |