Staff Directory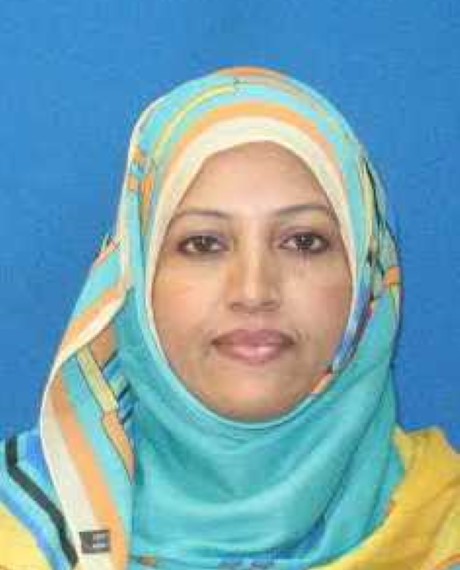 Academic Qualification
Doctor of Philosophy (Environmental Technology) - Doctor of Philosophy, Universiti Sains Malaysia (USM)
Master in Fisheries Management - Masters Degree, Bangladesh Agricultural University
Bachelor in Fisheries - Bachelor Degree, Bangladesh Agricultural University
Sahena Ferdosh (Dr.)
Assistant Professor
IIUM Kuantan Campus
KULLIYYAH OF SCIENCE
---
Expert Profile
Sahena Ferdosh obtained her Ph.D from University Science Malaysia in 2014. After completing the MSc degree, she was awarded the Postgraduate Training Fellowship from Organization for Women in Science for the Developing World (OWSD), Italy. She started her career as a short term research scholar at the University of Alaska Fairbank in 2011. In 2014, she joined as an Assistant Professor at the International Islamic University Malaysia (IIUM) where she is presently working at the Department of Plant Science, Faculty of Science.
Dr. Sahena has an interest in developing green extraction methods of supercritical fluids for separation and fractionation of natural products from local medicinal plants. She has expertise in supercritical fluid extraction, fats and oils, bioactive compounds and marine by-products with over 100 publications in ISI and Scopus indexed journals, patents, books, and international conference proceedings. Dr. Sahena was the winner of the Innovative Product Award of ITEX-2013, and also won was a Gold and Silver Medals as the main and co-inventor at the national level, Malaysian Technology Expo 2014 (MTE-2014) and MTE-2018. Dr. Sahena is currently supervising four Ph.D and three M.Sc students as a co- /main supervisor.
Dr. Sahena, an active member of the American Chemical Society, has received worldwide recognition in press releases of major news sources such as HighBeam Research Newspaper, Breaking News on Confectionery & Biscuit Processing and Food VerticalNews.
Professional Membership
2015 - 2021: Member of Profesional Body / Association: (Member), American Chemical Society
2019 - 2021: Member of Profesional Body / Association: (Member), Organization for Women In Science for the Developing World
Teaching Responsibilities
| | |
| --- | --- |
| FINAL YEAR PROJECT 2 | 2020/2021 |
| GENERAL CHEMISTRY | 2021/2022 2016/2017 2014/2015 2015/2016 2020/2021 2018/2019 2019/2020 2017/2018 |
| HERBS AND MEDICINAL PLANTS | 2016/2017 2018/2019 2019/2020 2017/2018 2015/2016 2020/2021 |
| HERBS AND NATURAL SUPPLEMENTS | 2017/2018 |
| INSTRUMENTATION AND TECHNIQUES IN PLANT SCIENCES I | 2018/2019 2016/2017 2015/2016 2017/2018 |
| LABORATORY AND FIELD TECHNIQUES IN PLANT SCIENCES | 2017/2018 2016/2017 2018/2019 |
| MEDICINAL PLANT PRODUCTS | 2017/2018 |
| NUTRACEUTICALS AND COSMECUETICALS | 2017/2018 2019/2020 |
| PHYTOCHEMISTRY | 2018/2019 2019/2020 2017/2018 2020/2021 |
| PLANT BIOCHEMISTRY | 2014/2015 2015/2016 2016/2017 2019/2020 2020/2021 2017/2018 2021/2022 2018/2019 |
| PLANT DIVERSITY | 2014/2015 |
| PRINCIPLES OF PLANT SCIENCE | 2014/2015 |
Research Projects
Completed
| | |
| --- | --- |
| 2019 - 2021 | Extraction and identification of bioactive compounds from Cassia angustifolia using conventional and non-conventional methods. |
| 2016 - 2018 | Isolation and characterization of Potential a-glucosidase inhibitors from Clinacanthus Nutans |
| 2016 - 2018 | Stereospermum Fimbriatum (Chicha) - Prospects of Antimicrobial Agent for Skin Infection |
| 2015 - 2017 | Influence of Carbon Dioxide at Supercritical Phase Separating the Omega 3 Fish Oil from Sardine Wastes following Shariah Compliant |
| 2014 - 2016 | Influence of Co-Solvent in Solubility of Phalerin and Mahkoside-A from Mahkota dewa (Phaleria macrocarpa) with Carbon Dioxide as a Solvent |
| 2013 - 2016 | Production of Premium Grade Cocoa Butter Replacers Blends with Stearic and Pleic Acids and time Based Palm Kernel Oil Fractions of Continuous Supercritixcal Fluid Extraction Technique |
| 2013 - 2016 | Continuous Micronization and Particle Formation of Malaysian Medicinal Extracts Using Different Supercritical Antisolvent Techniques |
| - 2019 | Extraction of fatty acids from leaves, stems and roots of Raja Berangkat plant using supercritical fluids. |
On-Going
| | |
| --- | --- |
| 2020 - Present | Development of High Quality Nutraceuticals and Functional Foods from Date (Phoenix dactylifera) Fruit using Innovative Methods |
| 2018 - Present | SEPARATION AND IDENTIFICATION OF BIOACTIVE COMPOUNDS FROM ANISOPHYLLEA DISTICHA USING SUPERCRITICAL FLUID METHOD |
| 2018 - Present | Mechanism of amide coupling interaction for eliminating organic solvent from generic pharmaceuticals with supercritical CO2. |
Award & Recognition
| | | |
| --- | --- | --- |
| 03 Mar, 2018 | OUTSTANDING WOMAN IN SCIENCE AWARD 2018 - Venus International Foundation | International |
| 09 May, 2013 | Malaysian Innovative Product Award - ITEX-2013 | National |
| 09 May, 2013 | Silver medal winner - ITEX-2013 | National |
| 19 Feb, 2013 | Gold medal winner - IIUM Research Invention and Innovation Exhibition | University |
Publications
Article
| | |
| --- | --- |
| 2020 | Antibacterial activity of compounds from Azolla pinnata extracted using Soxhlet and Supercritical Fluid (SFE) methods. Science Heritage Journal (GWS), 4 (1) pp. 9-12 |
| 2020 | Antimicrobial and antioxidant activities of a Malaysian medicinal plant Anisophyllea Disticha (Jack) Baill. and quantification of its phenolic constituents. Bangladesh Journal of Botany, () pp. |
| 2020 | Dataset on applying HPMC polymer to improve encapsulation efficiency and stability of the fish oil: in vitro evaluation. Data in Brief, 32 () pp. 1-9 |
| 2020 | Enrichment of antibacterial compound from the stem bark of Stereospermum fimbriatum using supercritical carbon dioxide extraction. Separation Science and Technology (Philadelphia), 55 (9) pp. 1656-1666 |
| 2020 | Extraction and characterization of fatty acids from the leaves and stems of Clinacanthus nutans using supercritical carbon dioxide and Soxhlet method. Natural Products Journal, () pp. |
| 2020 | Isolation and characterization of novel antibacterial compound from an untapped plant, Stereospermum fimbriatum. Natural Product Research, 34 (5) pp. 629-637 |
| 2020 | Kamlet taft parameters: A tool to alternate the usage of hazardous solvent in pharmaceutical and chemical manufacturing/synthesis - A gateway towards green technology. Analytical Chemistry Letter, 10 (5) pp. 550-561 |
| 2019 | Biological activities and extraction technologies of Pheonix dactylifera: a review.. The Natural Products Journal, 9 (1) pp. 3-13 |
| 2019 | Valuable components of bambangan fruit (Mangifera pajang) and its co-products: a review. Food Research International, 115 () pp. 105 -115 |
| 2019 | Valuable components of bambangan fruit (Mangifera pajang) and its coproducts: A review. Food Research International, 115 () pp. 105 -115 |
| 2018 | Effect of various food processing and handling methods on preservation of natural antioxidants in fruits and vegetables. Journal of Food Science and Technology, 55 (10) pp. 3872-3880 |
| 2018 | Enrichment, in vitro, and quantification study of antidiabetic compounds from neglected weed Mimosa pudica using supercritical CO2 and CO2-Soxhlet. Separation Science and Technology, 53 (2) pp. 243-260 |
| 2018 | In vitro evaluation of cuscuta reflexa roxb. for thrombolytic, antioxidant, membrane stabilizing and antimicrobial activities. Natural Product Research, () pp. |
| 2018 | Physicochemical properties of cocoa butter replacers from supercritical carbon dioxide extracted mango seed fat and palm oil mid-fraction blends. International Food Research Journal, 25 (1) pp. 143-149 |
| 2018 | Techniques for the extraction of phytosterols and their benefits in human health: a review. Separation Science and Technology, 53 (14) pp. 2206-2223 |
| 2017 | α-glucosidase inhibitors isolated from Mimosa pudica L.. Natural Product Research, 33 (10) pp. 1495-1499 |
| 2017 | Extraction of α-glucosidase inhibitory compounds from Phaleria macrocarpa fruit flesh using solvent, sonication, and subcritical carbon dioxide soxhlet methods. Journal of Food Biochemistry, 41 (5) pp. 1-11 |
| 2017 | Identification of bioactive compounds with GC–Q-TOF–MS in the extracts from clinacanthus nutans using subcritical carbon dioxide extraction. Separation Science and Technology, 52 (5) pp. 852-863 |
| 2017 | In vitro antioxidant and, α-glucosidase inhibitory activities and comprehensive metabolite profiling of methanol extract and its fractions from Clinacanthus nutans. BMC Complementary and Alternative Medicine, 17 (1) pp. 1-10 |
| 2017 | Microencapsulation of fish oil using supercritical antisolvent process. Journal of food and drug analysis, 25 (3) pp. 654 -666 |
| 2017 | Microencapsulation of fish oil using supercritical antisolvent process. Journal of Food and Drug Analysis, 25 (3) pp. 654-666 |
| 2017 | Mimosa pudica L.: a comparative study via in vitro analysis and GC Q-TOF MS profiling on conventional and supercritical fluid extraction using food grade ethanol. Indian Journal of Natural Products and Resources, 8 (1) pp. 54-62 |
| 2017 | Mimosa pudica L.: A comparative study via in vitro analysis and GC Q-TOF MS profiling on conventional and supercritical fluid extraction using food grade ethanol. Indian Journal of Natural Products and Resources (IJNPR), 8 (1) pp. 54-62 |
| 2017 | Phytochemical composition, biological activities and processing method of genus anisophyllea: a review. The Natural Products Journal, 7 (3) pp. 176-185 |
| 2017 | Rapid investigation of a-glucosidase inhibitory activity of Phaleria macrocarpa extracts using FTIR-ATR based fingerprinting. Journal of Food and Drug analysis, 25 (2) pp. 306-315 |
| 2016 | Clinacanthus nutans: a review of the medicinal uses, pharmacology and phytochemistry. Asian Pacific Journal of Tropical Medicine, 9 (4) pp. 402-409 |
| 2016 | Extraction of omega 3 fatty acids from sardine byproducts using supercritical carbon dioxide (SC-CO2). The International Medical Journal of Malaysia, 15 () pp. 112-112 |
| 2016 | Screening of various parts of phaleria macrocarpa plant for α-glucosidase inhibitory activity. Journal of Food Biochemistry, 40 (2) pp. 201-210 |
| 2016 | Simultaneous extraction and fractionation of fish oil from tuna by-product using supercritical carbon dioxide (SC-CO2). Journal of Aquatic Food Product Technology, 25 (2) pp. 230-239 |
| 2016 | Stereospermum fimbriatum as a potential source of phytochemicals: a review of stereospermum genus. Current Pharmaceutical Biotechnology, 17 (12) pp. 1024-1035 |
| 2015 | Analyses and profiling of extract and fractions of neglected weed mimosa pudica Linn. traditionally used in Southeast Asia to treat diabetes. South African Journal of Botany, 99 () pp. 144-152 |
| 2015 | Bioactive compounds and advanced processing technology: Phaleria macrocarpa (sheff.) Boerl, a review. Journal of Chemical Technology and Biotechnology, () pp. 981-991 |
| 2015 | Bioactive compounds and advanced processing technology: Phaleria macrocarpa (sheff.) Boerl, a review. Journal of Chemical Technology and Biotechnology, 90 (6) pp. 981-991 |
| 2015 | Impact of chitosan composites and chitosan nanoparticle composites on various drug delivery systems: a review. Journal of Food and Drug Analysis, 23 (4) pp. 619-629 |
| 2015 | Mango (Mangifera indica L.) by-products and their valuable components: a review. Food Chemistry, 183 () pp. 173-180 |
| 2015 | Optimization of supercritical carbon dioxide extraction parameters of cocoa butter analogy fat from mango seed kernel oil using response surface methodology. Journal of Food Science and Technology, 52 (1) pp. 319-326 |
| 2015 | Phytosterols and their extraction from various plant matrices using supercritical carbon dioxide: a review. Journal of the Science of Food and Agriculture, 95 (7) pp. 1385-1394 |
| 2014 | Characterization of crystallization and melting profiles of blends of mango seed fat and palm oil mid-fraction as cocoa butter replacers using differential scanning calorimetry and pulse nuclear magnetic resonance. Food Research International, 55 (1) pp. 103-109 |
| 2014 | Experimental design of supercritical fluid extraction: a review. Journal of Food Engineering, 124 () pp. 105-116 |
| 2014 | Hard cocoa butter replacers from mango seed fat and palm stearin. Food Chemistry, 154 () pp. 323-329 |
| 2014 | Optimization of oil yield of Phaleria macrocarpa seed using response surface methodology and its fatty acids constituents. Industrial Crops and Products, 52 () pp. 405-412 |
| 2014 | Orthogonal partial least squares model for rapid prediction of antioxidant activity of Pereskia bleo by fourier transform infrared spectroscopy. Analytical letters, 47 (12) pp. 2061-2071 |
| 2014 | Particle formation and micronization using non-conventional techniques- review. Chemical Engineering and Processing: Process Intensification, 86 (2014) pp. 47-52 |
| 2014 | Quality of tuna fish oils extracted from processing the by-products of three species of neritic tuna using supercritical carbon dioxide . Journal of Food Processing and Preservation, () pp. |
| 2014 | Storage stability and quality of polyunsaturated fatty acid rich oil fraction from longtail tuna (thunnus tonggol) head using supercritical extraction. CyTA - Journal of Food, 12 (2) pp. 183-188 |
| 2014 | Supercritical carbon dioxide extraction and studies of mango seed kernel for cocoa butter analogy fats = Extracción mediante dióxido de carbono supercrítico y estudios del núcleo de la semilla de mango para obtener grasas análogas a la mantequilla de cacao. CyTA - Journal of Food, 12 (1) pp. 97-103 |
| 2013 | Cocoa butter fats and possibilities of substitution in food products concerning cocoa varieties, alternative sources, extraction methods, composition, and characteristics. Journal of Food Engineering, 117 (4) pp. 467-476 |
| 2013 | Determination of fluoranthene, benzo[b]fluoranthene and benzo[a]pyrene in meat and fish products and their intake by Malaysian. Food Bioscience, 1 () pp. 73-80 |
| 2013 | Effects of moisture and pH on supercritical fluid extraction of cocoa butter. Food and Bioprocess Technology, 6 (9) pp. 2455-2465 |
| 2013 | Rheological behavior of starch-based biopolymer mixtures in selected processed foods. Starch - Stärke, 65 (1-2) pp. 73-81 |
| 2013 | Supercritical carbon dioxide extraction of oil from Thunnus tonggol head by optimization of process parameters using response surface methodology. Korean Journal of Chemical Engineering, 30 (7) pp. 1466-1472 |
| 2013 | Techniques for extraction of bioactive compounds from plant materials: a review. Journal of Food Engineering, 117 (4) pp. 426-436 |
| 2013 | The impact of biopolymers on thermal behavior of meat-biopolymer mixtures-Differential scanning calorimetry (DSC) study. Journal of Food, Agriculture & Environment, 11 (3-4) pp. 566-571 |
| 2012 | Application of supercritical fluid extraction (SFE) of palm oil and oil from natural sources. Molecules , 17 (2) pp. 1764-1794 |
| 2012 | Effect of some biopolymers on the rheological behavior of surimi gel. Molecules , 17 (5) pp. 5733-5744 |
| 2012 | Fish oil recovery from viscera of Indian mackerel (Rastrelliger kanagurta) by supercritical fluid: an optimization approach. Journal of the Chinese Chemical Society, 59 (11) pp. 1421-1429 |
| 2012 | Optimization of supercritical CO2 extraction of fish oil from viscera of African Catfish (Clarias gariepinus). International Journal of Molecular Sciences, 13 (9) pp. 11312-11322 |
| 2011 | Profile of Parkia speciosa hassk metabolites extracted with SFE using FTIR- PCA method. Journal of Chinese Chemical Society, 58 (6) pp. 1-8 |
| 2011 | Supercritical carbon dioxide fractionation of pithecellobium jiringan jack seed compositions using fast gas chromatography time of flight mass spectrometry. Journal of Food Process Engineering, 34 (5) pp. 1746-1758 |
| 2010 | Extraction of fish oil from the skin of Indian mackerel using supercritical fluids. Journal of Food Engineering, 99 (1) pp. 63-69 |
| 2010 | Fatty acid compositions of fish oil extracted from different parts of Indian mackerel (Rastrelliger kanagurta) using various techniques of supercritical CO2 extraction. Food Chemistry, 120 (3) pp. 879-885 |
| 2009 | Application of supercritical CO2 in lipid extraction – A review. Journal of Food Engineering, 95 (2) pp. 240-253 |
| 2009 | Optimization of SC–CO2 extraction of zerumbone from Zingiber zerumbet (L) Smith. Food Chemistry, 114 (2) pp. 702-705 |
| 2009 | Optimization of supercritical CO2 extraction of Anastatica hierochuntica. Food and Bioproducts Processing, 87 (2) pp. 152-158 |
Conference or Workshop Item
| | |
| --- | --- |
| 2020 | Developmental toxicity evaluation of sub-CO2 extract of Phaleria macrocarpa fruit flesh in Danio rerio embryo. In: International Research Conference on Pharmaceutical and Allied Sciences, |
| 2019 | Optimization of bio-active compounds from stem of Anisophyllea disticha using supercritical fluid extraction technique. In: AIMST International Pharmacy Conference (AIPC) 2019: Challenges and Opportunities in Pharmaceutical Sciences, Technology and Practice, |
| 2018 | Determination of total phenolic content, membrane stabilizing and thrombolytic activities of crataeva nurvala bark extract. In: 4th International Pharmaceutical Research Conference 2018, |
| 2018 | Effect of polymer composition on the physiochemical properties of microencapsulated fish oil using spray drying. In: 4th International Pharmaceutical Research Conference 2018, |
| 2018 | Phenolic content and antioxidant activity of methanolic extracts from different parts of Anisophyllea disticha. In: The International Symposium on Bioremediation, Revegetation, Biomaterial and Conservation (ISBIOREV), |
| 2017 | Antioxidant activity and phenolic profile of four Saudi Arabia date palms (Phoenix dactylifera L.) varieties. In: the 6th International Conference on Advancement in Science and Technology (iCAST 2017)., |
| 2017 | Phenolic content and antioxidant activity of methanolic extracts of different parts of Anisophyllea disticha. In: 6th International Conference on Advancement in Science and Technology, |
| 2017 | Phytochemical analysis and antibacterial activity of Anisophylliea disticha extracts. In: International Conference on Pharmacology and Regulatory Affairs (ICPR 2017), |
| 2016 | Antimicrobial potential of various solvent extracts from leaf, stem and root of Raja Berangkat (Anisophyllea disticha). In: 2nd International Conference on Industrial Pharmacy (ICIP 2016), |
| 2016 | Antioxidant capacities and phenolic profile of four Saudi Arabia date palms (Phoenix dactylifera L.) varieties. In: 2nd International Conference on Industrial Pharmacy (ICIP 2016), |
| 2016 | Enriched extracts of anti-diabetic compounds from neglected weed M. Pudica using supercritical and subcritical carbon dioxide extractions and the corresponding in vitro study for diabetes mellitus. In: 2nd International Conference on Industrial Pharmacy (ICIP 2016), |
| 2016 | Extraction of omega 3 fatty acids from sardine byproducts using supercritical carbon dioxide. In: Medical Research Symposium & Pacific Partnership in conjunction with Kuantan Research Day 2016, |
| 2016 | Pharmacological activities and comprehensive metabolite profiling of Clinacanthus nutans extract and fractions. In: 2nd International Conference on Industrial Pharmacy (ICIP 2016), |
| 2015 | Bioactivity guided isolation of antidiabetic compounds from common weed Mimosa pudica L. using diabetic enzyme inhibitory assay. In: ASIAN Congress on Biotechnology 2015, |
| 2015 | Optimization of DPPH and ABTS radical scavenging activity of Phaleria Macrocarpa seed oil using response surface methodology. In: International Conferences on Fluids and Chemical Engineering, |
| 2015 | Screening of various parts of phaleria macrocarpa plants for α-glucosidase inhibitory activity. In: International Conference on Natural Product 2015 (ICNP), |
| 2015 | Screening of various parts of phaleria macrocarpa plants for alpha glucosidase inhibitory activity. In: International Conference on Natural Product , |
| 2014 | Supercritical fluid extraction of oil from Mahkota dewa seed. In: 2014 International Science and Technology Conference (ISTEC), |
| 2013 | A green process for extraction of omega 3 fish oil from tuna byproducts. In: Sustainable Development Conference 2013, |
| 2013 | Extraction of fish oil from longtail tuna head waste using various method of supercritical carbon dioxide . In: International Conference on Separation Technology (ICoST)2013, |
| 2012 | Supercritical Carbon Dioxide Extraction of Cocoa Butter Analogy Fat from Mango Seed Kernel Oil: An Optimization Approach of Response Surface Methodology . In: International Conference of Science Technology and Social Sciences., |
| 2012 | Supercritical co2 extraction of African catfish (Clarias Gariepinus) oil and its fatty acid profile. In: Malaysian International Conference on Trends in Bioprocess Engineering (MICOTriBE) 2012, |
Book Section