Staff Directory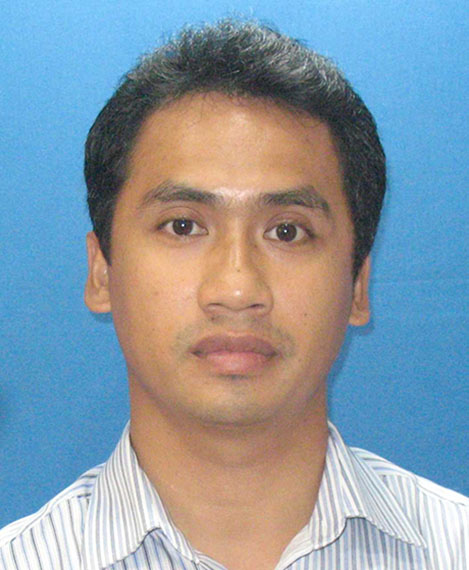 Academic Qualification
Doctor of Medical Science - Doctor of Philosophy, The University of Tokyo
Doctor of Medical Science - Doctor of Philosophy, The University of Tokyo
Doctor of Engineering (Functional Systems Engineering) - Doctor of Engineering, University of Tokushima
Master of Engineering (Electrical and Electronic Engineering) - Masters Degree, University of Tokushima
Bachelor of Engineering (Electrical and Electronic Engineering) - Bachelor Degree, University of Tokushima
Associate Degree - Diploma, Others
Azran Azhim b. Noor Azmi (Assoc. Prof. Dr.)
Associate Professor
IIUM Gombak Campus
KULLIYYAH OF ENGINEERING
---
azranazhim@iium.edu.my
5042
Expert Profile
Dr. Azran Azhim obtained his BEng, MEng in Electrical & Electronic Engineering and Dr.Eng in System Engineering from the University of Tokushima, Japan. Upon completion of his Ph.D, he joined the Tokyo Denki University, Japan in 2008 as an Assistant Professor. For his outstanding pioneering work in Bio-signal and Tissue Engineering in Japan, he was the recipient of the Young Investigator Award, Japanese Society for Medical and Biological Engineering in November 2011.
In 2012, he joined Malaysia-Japan International Institute of Technology, University Technology Malaysia, Kuala Lumpur as a senior lecturer, where he focused on working on decellularization of tissue to prepare bio-scaffolds using novel sonication treatment method. As of 2014, he has patented his invention on Apparatus and Method for Decellularizing Biological Tissues. In 2014, he received his second Ph.D in Medical Sciences from the University of Tokyo, Japan. His continuous effort towards this area received widespread recognition and he was awarded the 2014 Takeda Young Entrepreneurship Award by Takeda Foundation, Japan in February 2015.
His work has been profiled in more than 80 publications including Journal of Medical and Biological Engineering, Journal of Biomaterials Applications and Journal of Biomaterials and Tissue Engineering. He has consulted for a number of private and public sector clients, both local and international and continues to be available for short-term projects. When he was at UTM Kuala Lumpur, he received and lead ten national grants, two industry grants and one international grant.
Presently, Dr. Azran Azhim is an Associate Professor at the Department of Biomedical Sciences, Kulliyyah of Allied Health Sciences and Deputy Dean (Kuantan Campus) of Centre for Postgraduate Studies. His current research interests are on Regenerative Medicine, Tissue Engineering and Biomedical Engineering.
Area of Specialisation
Biotechnology ~ Biotechnology ~ Medical Biotechnology ~ Regenerative Technology
Biotechnology ~ Biotechnology ~ Medical Biotechnology ~ Biomaterial - Regenerative Medicine
Engineering Tech ~ Engineering And Technology ~ Biomedical Engineering ~ Biomedical Systems - Bioelectronics, Biomaterials, Regenerative Medicine
Engineering Tech ~ Engineering And Technology ~ Biomedical Engineering ~ Biomedical Signals
Engineering Tech ~ Applied Sciences And Technologies ~ Engineering Materials ~ Biomaterial
Teaching Responsibilities
| | |
| --- | --- |
| ADVANCES IN BIOMEDICAL TECHNOLOGY | 2019/2020 |
| CELL & TISSUE CULTURE | 2021/2022 2020/2021 2019/2020 |
| COMMUNITY SERVICE | 2020/2021 |
| COMPUTER IN SCIENCE | 2017/2018 2016/2017 2015/2016 |
| CONCEPTUAL ENGINEERING DESIGN | 2022/2023 |
| ELECTRIC CIRCUITS | 2022/2023 |
| ELECTRICAL ENGINEERING LAB 1 | 2022/2023 |
| EPIDEMIOLOGY & RESEARCH METHODOLOGY | 2021/2022 2020/2021 2019/2020 2018/2019 |
| EPIDEMIOLOGY AND RESEARCH METHODOLOGY | 2021/2022 2020/2021 2019/2020 |
| FINAL YEAR RESEARCH PROJECT 1 | 2018/2019 |
| FUNDAMENTALS OF ELECTRICAL AND ELECTRONIC | 2022/2023 |
| INTEGRATED DESIGN PROJECT | 2022/2023 |
| RESEARCH METHODOLOGY | 2017/2018 2016/2017 2015/2016 |
| RESEARCH PROJECT 1 | 2021/2022 |
Research Projects
Completed
| | |
| --- | --- |
| 2019 - 2020 | DEVELOPMENT OF SUSTAINABLE TAQWA VILLAGE OF KAMPUNG SG.LAKIT, GUA MUSANG: SURVEY AND INITIAL PLANNING |
| 2018 - 2018 | Malaysian Market Study on Commercialization of Biomedical Devices |
| 2017 - 2020 | Study on histological properties of recellularized bioscaffolds from decellularized tissues for vessel regenerative application |
| 2016 - 2020 | Characterization of Decellularized Scaffolds for Cartilage Tissue Engineering |
| 2016 - 2020 | The Feasibility of using a Combination of Chondrocyte-Specific Transcription Factors and Telomerase Reverse Transcriptase Genes Transfer and Tissue Engineering Technique for Articular Cartilage Regeneration |
| 2016 - 2020 | A study on Ethical and Legal Issues in Tissue Engineering and Regenerative Medicine : A Step Towards Developing Comprehensive Ethico-legal Framework |
| 2016 - 2019 | Development of Sonication Decellularization Prototype to Engineer Bioscaffolds for Regenerative Medicine |
| 2015 - 2018 | Study on Biomechanical Properties of Decellularized Tissue Scaffolds for Cardiovascular Tissue Engineering |
| 2015 - 2018 | Development of Sub-critical Water Treatment in Malaysia |
| 2015 - 2015 | Commercialization of Biomedical Devices in Malaysia: Survey on Market Opportunity |
| 2015 - 2017 | Development of Biomedical Devices for Health Care Application |
On-Going
| | |
| --- | --- |
| 2019 - Present | DEVELOPMENT OF ADVANCED SONICATION DECELLULARIZATION PROTOTYPE TO ENGINEER BIOSCAFFOLDS |
Award & Recognition
| | | |
| --- | --- | --- |
| 17 Apr, 2017 | The Most Productive Researcher Award (Science and Technology) - International Islamic University Malaysia | University |
| 02 Feb, 2015 | Entrepreneur of the Takeda Young Entrepreneurship Award - Takeda Foundation | International |
| 17 Mar, 2008 | Research and Education Fellowship Award - The University of Tokushima | University |
| 10 Jan, 2008 | Young Investigator Award - SICE Symposium on Biological and Physiological Engineering | International |
| 04 Dec, 2006 | Outstanding Paper Award - International Conference on Biomedical and Pharmaceutical Engineering 2006 | International |
| 18 Sep, 2006 | IEEE Best Presentation Award - Shikoku-Section Joint Convention of the Institute of Electrical and Related Engineers 2006 | International |
Publications
Article
| | |
| --- | --- |
| 2022 | An Islamic ethico-legal framework for articular cartilage tissue engineering research. Malaysian Journal of Medicine and Health Sciences, 18 (19) pp. 186-192 |
| 2022 | Ethical issues in tissue engineering: a systematic review. Malaysian Journal of Medicine & Health Sciences, 18 (1) pp. 275 -289 |
| 2021 | Relevant local fatwā on the issues of using human tissues in articular cartilage tissue engineering experimentation. International Medical Journal Malaysia (IMJM), 20 (1) pp. 127-135 |
| 2020 | A survey on relevant Malaysian fatwā about cadaver concerning tissue engineering research. Pertanika Journal-Social Sciences and Humanities, 28 (2) pp. 1451-1466 |
| 2020 | Legal aspects of articular cartilage tissue engineering experimentation: a review on Malaysian acts, regulations and guidelines. Malaysian Journal of Medicine and Health Sciences, 16 (3) pp. 272-284 |
| 2019 | A review of Malaysian experience in tissue engineering research and development: an online database study using Scopus. International Journal Of Allied Health Sciences, 2 (3) pp. 507-516 |
| 2019 | Characterization and in vivo study of decellularized aortic scaffolds using closed sonication system. Organogenesis, () pp. |
| 2019 | Development of decellularized meniscus using closed sonication treatment system: as potential scaffolds for orthopedics tissue engineering applications. International Journal of Nanomedicine, 14 () pp. 5491 -5502 |
| 2019 | Engineered meniscus scaffolds using sonication decellularization treatment system. International Journal of Integrated Engineering, 11 (3 Special Issue 2019: Electrical and Electronic Engineering) pp. 81-89 |
| 2019 | Structural and functional properties of neocartilage construct engineered in poly (Lactic-co-Glycolic Acid) (PLGA) based scaffolds. International Journal of Integrated Engineering, 11 (3) pp. 109-118 |
| 2018 | Role of exosomes as a proinflammatory mediator in the development of EBV-associated lymphoma. Blood, 131 (23) pp. 2552-2567 |
| 2018 | Tissue and cell donation for articular cartilage tissue engineering experimentation from Islamic perspective. Regenerative Research, 7 (1) pp. 138 |
| 2018 | Tissue engineering and the challenges of "playing god": a theological analysis. Regenerative Research, 7 (1) pp. |
| 2017 | Artifact tolerance test for capacitive wearable chest-belt electrocardiograph - Effect of electrode configuration. IEEJ Transactions on Electronics, Information and Systems, 137 (4) pp. 607-615 |
| 2017 | Characterization based on biomechanical properties for meniscus scaffolds by sonication decellularization treatment. Journal of Biomaterials and Tissue Engineering, 7 (3) pp. 223-232 |
| 2017 | Chondrocytes-induced SOX5/6/9 and TERT genes for articular cartilage tissue engineering: hype or hope?. Transactions of Persatuan Genetik Malaysia (TPGM), (7) pp. 151-160 |
| 2017 | Current trends in gene-enhanced tissue engineering for articular cartilage regeneration in animal model. Transactions of the Persatuan Genetik Malaysia (TPGM), (7) pp. 201-210 |
| 2017 | Imbalanced expression of polycistronic miRNA in acute myeloid leukemia. International Journal of Hematology, () pp. 1-9 |
| 2017 | The application of gene transfer technology in articular cartilage tissue engineering: An insight. Transactions of the Persatuan Genetik Malaysia (TPGM), (7) pp. 211-216 |
| 2016 | Abundance of sulfur-degrading bacteria in a benthic bacterial community of shallow sea sediment in the off-Terengganu coast of the South China Sea. MicrobiologyOpen, 5 (6) pp. 967-978 |
| 2016 | Fluorescence multispectral imaging-based diagnostic system for atherosclerosis. BioMedical Engineering OnLine, 15 (98) pp. 1-10 |
| 2016 | The impact of visceral fat and blood flow velocity in hypertensive subjects running head: The impact of visceral fat and blood flow velocity. Health Science Journal, 10 (2:6) pp. 1-6 |
| 2015 | Decellularization of aorta tissue using sonication treatment as potential scaffold for vascular tissue engineering . Journal of Medical and Biological Engineering, 35 (2) pp. 258-269 |
| 2015 | Photodynamic therapy mediates innate immune responses via fibroblast-macrophage interactions. Human Cell, () pp. |
| 2015 | Simulation and experimental measurement of acoustic intensity on sonication parameters and decellularization using sonication treatment . Journal of Signal Processing, 19 (4) pp. 179-182 |
| 2015 | Statistical parametric evaluation on new corpus design for malay speech articulation disorder early diagnosis. American Journal of Applied Sciences, 12 (7) pp. 452-462 |
| 2015 | The impact of acoustic intensity on solution parameters and decellularization using sonication treatment. Journal of Biomaterials and Tissue Engineering , 5 (xx) pp. 1-9 |
| 2015 | The real-time monitoring system of blood flow velocity using Doppler ultrasound for healthcare application . Journal of Signal Processing, 19 (4) pp. 175-178 |
| 2014 | A novel animal model for subcutaneous soft tissue infection. Biomedical Engineering, 52 () pp. 285-286 |
| 2013 | The use of sonication treatment to completely decellularize aorta tissue. World Congress on Medical Physics and Biomedical Engineering, 39 () pp. 1987-1990 |
| 2011 | Development of a module for cell culture based on a decellularized vascular tissue scaffold. Transactions of Japanese Society for Medical and Biological Engineering , 49 (3) pp. 508-515 |
| 2011 | Evaluation of blood flow velocity envelope in common carotid artery for reference data. Biomedical Signal Processing and Control , 6 (2) pp. 209-215 |
| 2009 | Development of blood flow velocimeter of vessel position trace type and measurement of its velocity in the elbow flexor and extensor movement. IEICE TRANSACTIONS on Information and Systems , J92-D (1) pp. 162-175 |
| 2007 | Changes in the common carotid blood velocity waveform for exercise training. World Congress on Medical Physics and Biomedical Engineering 2006 , 14 () pp. 3484-3487 |
| 2007 | Exercise improved age-associated changes in the carotid blood velocity waveforms. Journal of Biomedical & Pharmaceutical Engineering , 1 (1) pp. 17-26 |
Conference or Workshop Item
| | |
| --- | --- |
| 2021 | An Islamic Ethico-legal Framework for Articular Cartilage Tissue Engineering Research: A Focus on Harm Reduction. In: 3rd World Congress on Integration and Islamicisation 2021, |
| 2019 | Histological and biochemical evaluations of decellularized meniscus tissues using sonication treatment system. In: 2018 IEEE EMBS Conference on Biomedical Engineering and Sciences )IECBES 2018), |
| 2019 | Physical properties and biocompatibility of 3D hybrid PLGA based scaffolds. In: 2018 IEEE EMBS Conference on Biomedical Engineering and Sciences )IECBES 2018), |
| 2019 | Structural integrity of aortic scaffolds decellularized by sonication decellularization system. In: "2018 IEEE EMBS Conference on Biomedical Engineering and Sciences, IECBES 2018", |
| 2018 | Characterization of 3d (65:35) poly(lactic-co-glycolic acid) incorporated with fibrin and atelocollagen scaffolds using scanning electron microscopy, porosity and swelling tests. In: World Congress of the Tissue Engineering and Regenerative Medicine International Society, Inc. (TERMIS), |
| 2018 | Evaluation of cartilaginous extracellular matrix production in in vitro "cell-scaffold" construct. In: 2018 IEEE EMBS Conference on Biomedical Engineering and Sciences )IECBES 2018), |
| 2018 | Inflammatory response of bioscaffolds decellularized by sonication treatment. In: 2nd International Conference for Innovation in Biomedical Engineering and Life Sciences ICIBEL 2017 (in conjunction with APCMBE 2017), |
| 2018 | Muslim jurists' opinions on the permissibility of tissue engineering experimentation: analysis of selected examples. In: 2018 TERMIS World Congress, |
| 2018 | Tissue engineering practices and the issue of "playing God": a yheological exposition. In: World Congress of the Tissue Engineering and Regenerative Medicine International Society, Inc. (TERMIS), |
| 2017 | Evaluation of histological and biomechanical properties on engineered meniscus tissues using sonication decellularization. In: 39th Annual International Conference of the IEEE Engineering in Medicine and Biology Society (EMBC 201), |
| 2017 | Evaluation of recellularization on decellularized Aorta Scaffolds engineered by ultrasonication treatment. In: 39th Annual International Conference of the IEEE Engineering in Medicine and Biology Society (EMBC 2017), |
| 2015 | A novel animal model for subcutaneous soft tissue infection using temporally neutropenic lys-EGFP mice. In: The 10th Asian Control Conference (ASCC 2015), |
| 2015 | Decellularized bovine meniscus in morphological assessment prior to bioscaffold preparation. In: The 10th Asian Control Conference (ASCC 2015), |
| 2015 | Development of diagnostic system for atherosclerosis based on intrinsic fluorescence using multispectral imaging. In: The 10th Asian Control Conference (ASCC 2015), |
| 2015 | In vitro recellularization of aorta scaffolds prepared by sonication treatment. In: The 10th Asian Control Conference (ASCC 2015), |
| 2015 | Potential of deep seawater mariculture for economic transformation in Sabah, Malaysia. In: The 10th Asian Control Conference (ASCC 2015), |
| 2015 | The kinetics of neutrophils in photodynamic theraphy as anti-tumor. In: The 10th Asian Control Conference (ASCC 2015), |
| 2014 | Assessment of first derivative of doppler blood flow velocity in vascular aging. In: » The 15th International Conference on Biomedical Engineering , |
| 2014 | Behaviour and fate of trace metal element in seawater: an overview. In: Regional Conference On Science, Technology & Social Sciences (RCTSS 2014), |
| 2014 | Heavy metal concentration in sediment of Sarawak seawater. In: Fundamental Science Congress 2014, |
| 2014 | Immune response of implanted aortic scaffolds decellularized by sonication treatment. In: The 15th International Conference on Biomedical Engineering IFMBE, |
| 2014 | Measurement of solution parameters on sonication decellularization treatment. In: 35th Annual International Conference of the IEEE Engineering in Medicine and Biology Society (EMBC'13), |
| 2013 | Determinants of the first derivative of doppler blood flow velocity in common carotid artery. In: International Conference on Simulation Technology, |
| 2013 | In vivo study of implanted aortic scaffolds decelluraized by sonication treatment. In: The MJIIT-JUC Joint International Symposium 2013 (MJJIS2013), |
| 2013 | Independent factors of flow velocity indices in common carotid artery. In: World Congress on Medical Physics and Biomedical Engineering, |
| 2013 | Ocean thermal energy conversion: the promise of a clean future. In: 2013 IEEE Conference on Clean Energy and Technology (CEAT), |
| 2013 | Preparation of decellularized meniscal scaffolds using sonication treatment for tissue engineering. In: The 35th Annual International Conference of the IEEE Engineering in Medicine and Biology Society (EMBC'13), |
| 2011 | The use of sonication treatment to completely decellularize blood arteries: a pilot study. In: 33rd Annual International Conference of the IEEE EMBS, |
| 2010 | Decellularization of living tissue using microwave chemical process for tissue-engineered scaffold applications. In: 6th World Congress of Biomechanics (WCB 2010), |
| 2010 | Decellularization of meniscal tissue using ultrasound chemical process for tissue-engineered scaffold applications. In: 6th World Congress of Biomechanics (WCB 2010), |
| 2009 | Evaluation on envelope waveforms of velocity in common carotid artery: age-, gender- and regular exercise-related effect. In: World Congress on Medical Physics and Biomedical Engineering, |
| 2009 | Influence of respiration on variability of peak systolic blood flow velocity in common carotid artery: preliminary study. In: World Congress on Medical Physics and Biomedical Engineering 2009, |
| 2008 | Wireless blood velocity spectra measurement system for healthcare evaluation: reference data. In: 30th Annual International IEEE EMBS Conference, |
| 2007 | Detection of a maximum blood flow velocity variation in the carotid artery during physical exercise using BPNN. In: World Congress on Medical Physics and Biomedical Engineering 2006 - IFMBE Proceedings, |
| 2007 | Effect of gender on blood flow velocities and blood pressure: role of body weight and height. In: 29th Annual International Conference of the IEEE Engineering in Medicine and Biology Society, 2007 (EMBS 2007), |
| 2007 | Effects of aging and exercise training on the common carotid blood velocities in healthy men. In: Proceedings of the 29th Annual International Conference of the IEEE EMBS, |
| 2007 | Measurement and analysis of carotid blood flow and ECG in cardiac. In: World Congress on Medical Physics and Biomedical Engineering 2006 - IFMBE Proceedings, |
| 2006 | Blood flow velocities in common carotid artery changes with age and exercise study by using of telemetry method . In: International Conference on Biomedical and Pharmaceutical Engineering 2006 (ICBPE 2006), |
| 2006 | Exercise training improved blood flow velocity and autonomic nervous activity. In: International Conference on Biomedical and Pharmaceutical Engineering 2006 (ICBPE 2006), |
| 2006 | Measurement of blood flow velocity waveforms in the carotid, brachial and femoral arteries during postural change. In: International Conference on Biomedical and Pharmaceutical Engineering, ICBPE 2006., |
| 2005 | A change of blood flow during strenuous physical exercises using cycle ergometer. In: Proceedings of the 2005 IEEE Engineering in Medicine and Biology 27th Annual Conference, |
| 2005 | Monitoring carotid blood flow and ECG for cardiovascular disease in elder subjects. In: 27th Annual International Conference of the IEEE Engineering in Medicine and Biology Society (IEEE-EMBS 2005), |
| 2004 | Variations of the maximum blood flow velocity in the carotid, brachial and femoral arteries in a passive postural changes by a Doppler ultrasound method. In: 26th Annual Conference of IEEE Engineering in Medicine and Biology Society (EMBS2004), |
Book
Book Section
| | |
| --- | --- |
| 2016 | Simulation of neural behavior. In: InTech, ISBN: 978-953-51-2564-8, pp. 51-74 |
| 2010 | Change of blood flow in common carotid artery during physical exercise stress: evaluation for aerobic exercise intervention. In: Nova Science Publisher, ISBN: 9781608768578, pp. 99-122 |
| 2009 | Arterial blood velocity measurement by portable wireless system for healthcare evaluation: the related effects and significant reference data. In: Austria In-Tech, ISBN: 978-953-307-004-9, pp. 413-432 |
| 2009 | Arterial blood velocity measurement by portable wireless system for healthcare evaluation: the related effects and significant reference data. In: Austria In-Tech, ISBN: 978-953-307-004-9, pp. 413-432 |
| 2009 | Biomedical telemetry: technology and applications. In: Nova Science Publisher, ISBN: 978-1-60692-509-6, pp. 1-35 |
Monograph