Staff Directory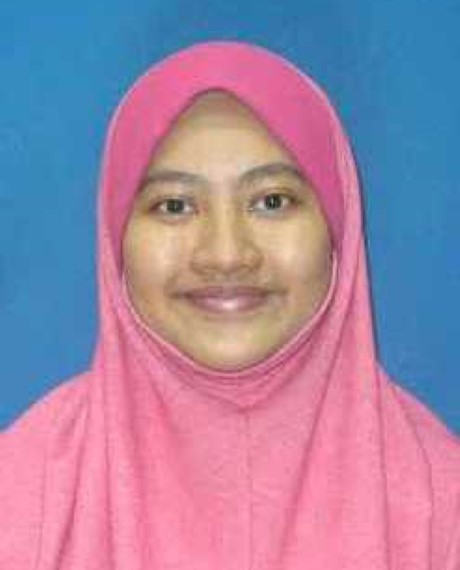 Academic Qualification
DOCTOR OF PHILOSOPHY (MATHEMATICS) - Doctor of Philosophy, Universiti Teknologi Malaysia (UTM)
- Bachelor Degree, Universiti Teknologi Malaysia
Nurul Farahain Binti Mohammad (Dr.)
Assistant Professor
IIUM Kuantan Campus
KULLIYYAH OF SCIENCE
---
farahain@iium.edu.my
5080
Expert Profile
Nurul Farahain Mohammad obtained her BSc and PhD degrees from Universiti Teknologi Malaysia in Mathematics. She had joined the International Islamic University Malaysia (IIUM) as an Academic Trainee in 2012. Upon completion of her PhD, she has continued to serve IIUM as an Assistant Professor at the Department of Computational and Theoretical Sciences.

She is actively engaged in research especially in the field of Applied Mathematics. She authored and co-authored more than 50 articles in journals and conference proceedings, 2 book chapters and articles in magazine. Her published works received over 300 citations. Apart from that, she also received several awards and recognitions. Among them are 
Gold Medal at Kimia Invensi dan Inovasi Malaysia 2022, 
Pemenang Utama Anugerah Rencana Popular from the Malaysian Mathematical Science Society 2021, 
Top 30 Contributors to IIUM's Research Performance 2020.
Dr Farahain also has keen interest on the areas of data science and AI. She has professional certifications in:

AI-102. Microsoft Certified: Azure AI Engineer Associate,

AI-900. Microsoft Certified: Azure AI Fundamentals,
Fusionex Data Science Analyst Program,

Fusionex Data Engineering Associate Program.
Currently she is leading a fluid mechanics research project under Fundamental Research Grant Scheme (FRGS) funded by the Ministry of Higher Education, and a digital transformation research project under Jamalullail Research Grant Scheme funded by MAIPs. She is also enjoy teaching Mathematical Methods, Advanced Mathematical Methods, Computational Mathematics & Calculus for Biotechnology, and incorporate programming elements using Python and Jupyter Notebook.

Area of Specialisation
Natural Science ~ Mathematical Sciences ~ Mathematics and Statistics for Science and Engineering ~ Fluid Mechanics - Boundary layer flow, MHD effect, micropolar fluid
Natural Science ~ Mathematical Sciences ~ Applied Mathematics ~ Ordinary Differential and Partial Differential Equations
Professional Membership
2012: Member of Profesional Body / Association: (Life Member), Persatuan Sains Matematik Malaysia (PERSAMA)
2016 - 2022: Member of Profesional Body / Association: (Outreach member), Society for Industrial and Applied Mathematics (SIAM)
Teaching Responsibilities
| | |
| --- | --- |
| ADVANCED MATHEMATICAL METHODS | 2022/2023 2021/2022 2020/2021 2019/2020 2018/2019 2017/2018 2016/2017 2015/2016 |
| CALCULUS FOR BIOLOGY | 2021/2022 2020/2021 |
| CALCULUS FOR BIOTECHNOLOGY | 2016/2017 |
| COMPUTATIONAL MATHEMATICS | 2019/2020 2018/2019 2017/2018 2016/2017 |
| FINAL YEAR PROJECT | 2020/2021 |
| FINAL YEAR PROJECT 1 | 2021/2022 2020/2021 |
| FINAL YEAR PROJECT II | 2021/2022 |
| INDUSTRIAL TRAINING | 2017/2018 2016/2017 |
| MATHEMATICAL METHODS | 2021/2022 2020/2021 2019/2020 2018/2019 2017/2018 2016/2017 2015/2016 |
| NUMERICAL ANALYSIS | 2019/2020 |
Research Projects
Completed
| | |
| --- | --- |
| 2018 - 2022 | Heat transfer enhancement in convective flow of micropolar nanofluids with single and multiple wall Carbon Nanotubes. |
| 2017 - 2020 | Field measurements and numerical approach of rip current hazards at the selected recreational beaches along Pahang coastline |
| 2015 - 2018 | Mathematical Modelling of Magnetohydrodynamics on Unsteady Boundary Layer Flow over Bluff Body in a Micropolar Fluid |
On-Going
| | |
| --- | --- |
| 2022 - Present | Kempen Memupuk Kesedaran Pengumpulan E-Sisa di Kalangan Penduduk Selangor |
| 2021 - Present | Perlis Islamic e-Cemetery (PIe): The Digital Transformation of Cemetery Management in Perlis |
| 2020 - Present | Towards a sustainable economic growth: A case of a correlation network of Malaysian market using Triangulated maximally filtered graph (TMFG) |
| 2020 - Present | Impact of sea level rise due to storm surge influence through coastal morphodynamics |
| 2019 - Present | Automated Solution Technique for Computational Fluid Mechanics and Heat Transfer of Nanofluid with Real Experiment Validation |
| 2016 - Present | Humanoid Robotic Arm Control using Robust Neural Network Approach |
Award & Recognition
| | | |
| --- | --- | --- |
| 27 Jul, 2022 | Best Teaching Innovation in Virtual Learning - International Islamic University Malaysia | University |
| 25 May, 2022 | Gold Medal - Institut Kimia Malaysia | National |
| 29 Jul, 2021 | Hadiah Utama Kategori Rencana Popular - Persatuan Sains Matematik Malaysia | National |
| 09 Jul, 2020 | Top 30 Contributors to IIUM's Research Performance - International Islamic University Malaysia | University |
| 24 Jul, 2019 | Highest Number of Publications Award (Indexed Journal Articles) Kulliyyah Level - International Islamic University Malaysia | University |
| 24 Jul, 2019 | Promising Researcher Award - International Islamic University Malaysia | University |
| 29 Nov, 2018 | Hadiah Sanjungan Kategori Makalah Ilmiah - Persatuan Sains Matematik Malaysia | National |
Publications
Article
| | |
| --- | --- |
| 2022 | DiMaCe: Digital Management of Cemetery. IIUM Journal of Orofacial and Health Sciences, 3 (Supplement 1) pp. |
| 2022 | Financial network (FiNe): a web application to assist investors in avoiding herding behaviour in stock market. IIUM Journal of Orofacial and Health Sciences, 3 (Supplement 1) pp. 4-4 |
| 2022 | Free convection boundary layer flow from a vertical truncated cone in a hybrid nanofluid. Malaysian Journal of Fundamental and Applied Sciences, 18 (2) pp. 257-270 |
| 2021 | Effects of heat generation/absorption on a stagnation point flow past a stretching sheet carbon nanotube water-based hybrid nanofluid with Newtonian heating. Malaysian Journal of Applied Sciences, 6 (2) pp. 34-47 |
| 2020 | Application of fractional derivative without singular and local kernel to enhanced heat transfer in CNTs nanofluid over an inclined plate. Symmetry, 12 (5) pp. |
| 2020 | Convective transport of fluid–solid interaction: A study between non-newtonian Casson model with dust particles. Crystals, 10 (9) pp. |
| 2020 | MHD mixed convective flow of power-law nanofluid in a lid-driven cavity with heat generation and chemical reaction effects: Buongiorno's model. Malaysian Journal of Fundamental and Applied Sciences, 16 (5) pp. 576-584 |
| 2020 | Mixed convection of micropolar fluid on a permeable stretching surface of another quiescent fluid. Malaysian Journal of Fundamental and Applied Sciences, 16 (4) pp. 487-492 |
| 2020 | Optimization of supercritical fluid extraction of asiaticoside from Centella asiatica using Central Composite Design (CCD). Separation Science and Technology, 56 (16) pp. 2766-2774 |
| 2020 | Optimization of supercritical fluid extraction of asiaticoside from Centella Asiatica using Central Composite Design (CCD). Separation Science and Technology, () pp. |
| 2020 | Perang melawan COVID-19 menggunakan matematik: Model SIR. Majalah Sains, () pp. |
| 2019 | Effect of constant heat flux on forced convective micropolar fluid flow over a surface of another quiescent fluid. Universal Journal of Mechanical Engineering, 7 (4) pp. 198-205 |
| 2019 | Forced convective of micropolar fluid on a stretching surface of another quiescent fluid. MATEMATIKA, 35 (3) pp. 397-413 |
| 2019 | Unsteady MHD free convective flow past a vertical plate: An automated solution approach. Annals of Mathematical Modeling, 1 (2) pp. 81-88 |
| 2018 | Influence of viscous dissipation on the flow and heat transfer of a Jeffrey fluid towards horizontal circular cylinder with free convection: A numerical study. Malaysian Journal of Fundamental and Applied Sciences, 14 (1 (January-March)) pp. 40-47 |
| 2018 | Mathematical model of mixed convection boundary layer flow over a horizontal circular cylinder filled in a Jeffrey fluid with viscous dissipation effect = Model matematik bagi aliran lapisan sempadan olakan campuran melalui silinder bulat mengufuk diisi dalam bendalir jeffrey dengan kesan pelesapan likat. Sains Malaysiana, 47 (7) pp. 1607-1615 |
| 2018 | On dissipative MHD mixed convection boundary layer flow of Jeffrey fluid over an inclined stretching sheet with nanoparticles: Buongiorno model. Thermal Science, 2018 () pp. 1-16 |
| 2018 | Science@iium. science@iium, () pp. 1-40 |
| 2018 | science@iium. science@iium, (December 2018) pp. 1-40 |
| 2017 | Aligned magnetic field on dusty casson fluid over a stretching sheet with newtonian heating. Malaysian Journal of Fundamental and Applied Sciences, 13 (3) pp. 244-247 |
| 2017 | Impact of nonlinear thermal radiation on stagnation-point flow of a Carreau nanofluid past a nonlinear stretching sheet with binary chemical reaction and activation energy. Proceedings of the Institution of Mechanical Engineers, Part C: Journal of Mechanical Engineering Science, () pp. |
| 2017 | Influence of radiation and viscous dissipation on magnetohydrodynamic Jeffrey fluid over a stretching sheet with convective boundary conditions. Malaysian Journal of Fundamental and Applied Sciences, 13 (3 (July - September)) pp. 279-284 |
| 2017 | MHD Jeffrey nanofluid past a stretching sheet with viscous dissipation effect. Journal of Physics: IOP Conference Series, 890 () pp. 012002-1 |
| 2017 | Numerical solution on mixed convection boundary layer flow past a horizontal circular cylinder in a Jeffrey fluid with constant heat flux. AIP Conference Proceedings, 1870 () pp. 040034-1 |
| 2017 | Separation time analysis of transient magnetohydrodynamic mixed convection flow of nanofluid at lower stagnation point past a sphere. Malaysian Journal of Fundamental and Applied Sciences, 13 (3) pp. 151-154 |
| 2016 | Influence of slip velocity on convective boundary layer flow of Jeffrey fluid under convective boundary conditions. ARPN Journal of Engineering and Applied Sciences, 11 (18) pp. 10950-10953 |
| 2014 | Separation times analysis of unsteady magnetohydrodynamics mixed convective flow past a Sphere. AIP Conference Proceedings , 1605 () pp. 349-354 |
| 2013 | Unsteady MHD mixed convection stagnation-point flow in a micropolar fluid on a vertical surface in a porous medium with soret and dufour effects. Heat Transfer Research , 44 (7) pp. 603-620 |
Conference or Workshop Item
| | |
| --- | --- |
| 2022 | Chessbot: a chemical safety and security telegram chatbot in Bahasa Malaysia. In: Kimia Invensi dan Inovasi Malaysia 2022, |
| 2020 | Effects of co-solvent, temperature and pressure on asiaticoside content in supercritical fluid extraction of Centella Asiatica. In: 3rd International Conference on Chemistry, Chemical Process and Engineering, |
| 2019 | Unsteady boundary layer flow of sphere filled with nanofluid in the present of magnetic fields. In: 6th International Conference on Solid State Science and Technology (ICSSST2017), |
| 2018 | Aligned magnetic field flow of Williamson fluid over a stretching sheet with convective boundary condition. In: 2nd International Conference on Material Engineering and Advanced Manufacturing Technology, MEAMT 2018, |
| 2018 | Boundary layer flow over a moving plate in MHD Jeffrey nanofluid: A revised model. In: 2nd International Conference on Material Engineering and Advanced Manufacturing Technology, MEAMT 2018, |
| 2018 | MHD forced convective flow past a vertical plate: an automated solution approach. In: 25th National Symposium on Mathematical Sciences (SKSM25), |
| 2017 | Aligned magnetic field of two-phase mixed convection flow in dusty Casson fluid over a stretching sheet with Newtonian heating. In: 1st International Conference on Applied and Industrial Mathematics and Statistics 2017 (ICoAIMS 2017), |
| 2017 | Boundary layer flow of dusty fluid on a stretching sheet of another quiescent fluid. In: 37th International Conference on Quantum Probability and Related Topic (QP37), |
| 2017 | Influence of aligned MHD on convective boundary layer flow of viscoelastic fluid. In: The 3rd ISM International Statistical Conference 2016 (ISM-III): Bringing Professionalism and Prestige in Statistics, |
| 2017 | MHD free convective flow past a vertical plate. In: 1st International Conference on Applied & Industrial Mathematics and Statistics 2017 (ICoAIMS 2017), |
| 2017 | Mixed convection boundary layer flow over a horizontal circular cylinder in a Jeffrey fluid. In: The 3rd ISM International Statistical Conference 2016 (ISM-III): Bringing Professionalism and Prestige in Statistics, |
| 2017 | The aligned magnetic field of a dusty fluid Flow over a stretching sheet. In: 24th National Symposium On Mathematical Sciences: Mathematical Sciences Exploration for the Universal Preservation, |
| 2017 | The aligned magnetic field with convective boundary conditions over a stretching sheet in a viscous fluid. In: 3rd ISM International Statistical Conference 2016: Bringing Professionalism and Prestige in Statistics, ISM 2016, |
| 2017 | Unsteady boundary layer flow over a sphere in a porous medium. In: 24th National Symposium on Mathematical Sciences (SKSM24), |
Book
Book Section
Monograph