Staff Directory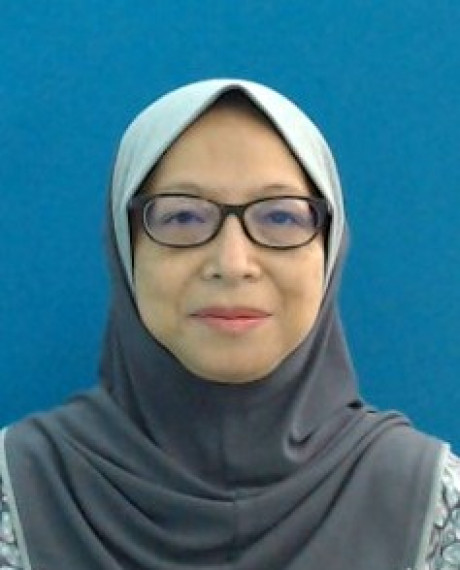 Academic Qualification
Ph.D in New Literature in English - Doctor of Philosophy, University of Flinders, South Australia
Master in Eng. Renaissance Literature - Masters Degree, University of Liverpool
Bachelor in Eng & American Literature - Bachelor Degree, University of Waikato
Diploma in English & Bahasa Malaysia - Diploma, International Islamic University Malaysia
Nor Faridah Bt. Abdul Manaf (Prof. Dr.)
Professor
IIUM Gombak Campus
ABDULHAMID ABUSULAYMAN KULLIYYAH OF ISLAMIC REVEALED KNOWLEDGE AND HUMAN SCIENCES
---
nfaridah@iium.edu.my
6026
Expert Profile
Professor Nor Faridah Abdul Manaf, currently the Deputy Rector of Internationalisation and Global Network at IIUM, has over 31 years of teaching experience. She is also a bilingual creative writer whose short stories and poems are studied both in Malaysia and abroad.
Her research and publication include those on women's writing, prison writing, Islamisation of Knowledge, English Renaissance Literature and post-colonial studies. Some of her books include
Imagined communities revisited: critical essays on Asia-Pacific literatures and cultures
(co-edited, 2009), 
Writing a nation: essays in Malaysian literature
(co-edited, 2011),
Tirai Besi: Anthologi cerpen dari penjara
(2016), 
Islamisation of English Literary Studies in the Age of Islamophobia and Westernophobia
(co-edited, 2016),
Bridge: Emerging writers from Malaysia and Pakistan
(co-edited, 2019) and
Travel Poetry
(2019). A historical novel entitled
Wanita Rawa Terakhir
is in the pipeline.
Prof Faridah won Gold award for leadership by Kulliyyah of Islamic Revealed Knowledge and Human Sciences in 2020.She is also actively involved in community services working with urban poor and underprivileged communities and have been organising forums on Islam and women, Black Lives Matter, Islam and environmentalism and in the pipeline, topics on Islamic legal framework to protect women's rights and issues on domestic violence and sexual harassment.
Area of Specialisation
Humanities ~ Humanities ~ Arts and Culture ~ Culture, Gender and Sexuality
Humanities ~ Humanities ~ Arts and Culture ~ Post and Colonial and Global Culture Studies
Humanities ~ Humanities ~ Linguistics and Literature ~ Asian Languages and Literature (Including ASEAN Languages) - Malaysian &Singapore Literature
Humanities ~ Humanities ~ Philosophy ~ Islamisation of Knowledge - Islamisation of English Language and Literature
Humanities ~ Humanities ~ Linguistics and Literature ~ Applied Linguistics - 16th century English Literature,Women's Writing,World Literature
Teaching Responsibilities
| | |
| --- | --- |
| BRITISH LITERATURE UP TO THE 19TH CENTURY | 2014/2015 |
| COMPARATIVE/WORLD LITERATURE | 2003/2004 |
| CREATIVE WRITING | 2021/2022 2020/2021 2018/2019 2017/2018 2016/2017 |
| ENGLISH LITERATURE III | 2001/2002 2000/2001 1999/2000 1998/1999 |
| ENGLISH RENAISSANCE LITERATURE | 2011/2012 2010/2011 2009/2010 2008/2009 2007/2008 2006/2007 2005/2006 2004/2005 2003/2004 |
| FINAL YEAR PROJECT I | 2021/2022 2020/2021 |
| FINAL YEAR PROJECT II | 2021/2022 2020/2021 |
| ISLAMISATION OF ENGLISH STUDIES | 2021/2022 2020/2021 2019/2020 |
| ISLAMIZATION OF KNOWLEDGE | 2011/2012 |
| ISSUES IN WORLD LITERATURE | 2019/2020 2018/2019 2017/2018 |
| LANGUAGE AND LITERATURE | 1999/2000 |
| LITERARY CRITICISM | 2001/2002 |
| LITERARY GENRES I : POETRY | 1997/1998 |
| LITERARY GENRES II : INTRODUCTION TO DRAMA | 2000/2001 1998/1999 |
| LITERATURE & THE ART OF PERFORMANCE | 1998/1999 |
| MALAYSIAN & SINGAPOREAN LITERATURE | 2017/2018 2016/2017 2015/2016 2014/2015 2007/2008 2006/2007 2005/2006 2004/2005 2003/2004 2001/2002 |
| RESEARCH METHODOLOGY (LITERARY STUDIES) | 2014/2015 2013/2014 |
| RESEARCH PAPER 2 | 2021/2022 2018/2019 |
| RESEARCH PAPER II (LITERARY STUDIES) | 2017/2018 |
| RESTORATION & 18TH CENTURY ENGLISH | 2001/2002 |
| STUDIES ON ISLAMIZATION IN LANGUAGE & LITERATURE | 2015/2016 2013/2014 2012/2013 2009/2010 |
| STUDIES ON ISLAMIZATION IN LANGUAGE&LITERATUR | 2011/2012 2010/2011 2009/2010 2008/2009 2007/2008 2001/2002 |
| THEORY OF LITERARY CRITICISM | 2017/2018 |
| WOMEN IN ASIAN LITERATURE | 2010/2011 |
| WOMEN'S WRITING AROUND THE WORLD | 2000/2001 |
| WORLD LIT.III:WOMEN'S WRITING AROUND THE WORL | 2010/2011 2009/2010 2008/2009 2007/2008 2006/2007 2005/2006 2004/2005 2003/2004 |
| WORLD LITERATURE | 2015/2016 2003/2004 |
| WORLD LITERATURE II | 2016/2017 2004/2005 |
| WORLD LITERATURE II : WOMEN'S WRITING AROUND THE WORLD | 2018/2019 |
| WORLD LITERATURE II:MAJOR AUTHORS & WORKS | 1998/1999 |
| WORLD LITERATURE III: WOMEN'S WRITING AROUND THE WORL | 2017/2018 2016/2017 2013/2014 2012/2013 2011/2012 |
| WORLD LITERATURE IN ENGLISH | 2007/2008 2006/2007 2005/2006 2003/2004 2001/2002 2000/2001 1999/2000 1998/1999 |
Research Projects
Completed
| | |
| --- | --- |
| 2021 - 2022 | IMPACT STUDY IN LMS EDUCATION PERAK DISTRICT |
| 2018 - 2018 | Islamicisation of Knowledge and English Literary Studies in the Age of Islamophobia and Westernophobia |
| 2016 - 2017 | A Critical Analysis of Bloom's Taxonomy in Teaching Creative and Critical Thinking Skills in English Literature Classes in Selangor |
| 2014 - 2016 | Development of Faith-Based Creative Writing Module for Female Inmates |
| 2014 - 2017 | Muslim Diaspora in the West: A Postcolonial Study of Selected Post - 9/11 Literary Works |
| 2014 - 2015 | A Preliminary Survey on Employees' Expectation of IIUM Bachelor of Human Sciences (English Language & Literature) / BENL Graduates |
| 2011 - 2015 | Farid ud- Din Attar's Conference of the Birds, Digitalised in English: A Multicultural Lesson for the Asia-Pacific Rim (RU 2011) |
| 2011 - 2012 | Imagined Communities Revisited: Asia Pacific Literature And Cultures (KVC Project 2011) |
| 2010 - 2012 | The Politics of Boarding: Promotion of Selected Muslim Writers in Malaysia, Indonesia and Brunei |
| 2009 - 2010 | In the Absence of a Mystic Voice "Contemporary Muslim Writers Problematising the Ummah" |
| 2008 - 2010 | In defense of national literature: The Malaysian, Thai and Filipino experiences |
| 2006 - 2008 | Gender, Ethnicity and Nationalism in Malaysian Post-colonial Literature |
| 2005 - 2008 | The Changing Structure of Urban Families in Post Independent Malaysia |
On-Going
| | |
| --- | --- |
| 2021 - Present | ONLINE POETRY WRITING PROGRAMME FOR THE DEVELOPMENT OF LITERACY AND CREATIVITY IN UNDERPRIVILEGED CHILDREN AND ORPHANS |
| 2016 - Present | Reinterpreting Malaysian History through Historical Analysis of early Rawa Settlers in Malay Peninsula in the 19th century |
| 2010 - Present | Malaysian Literature & Culture Research Unit (MLCRU) |
| - | Women for Progress Research Unit (WPRU) |
Award & Recognition
| | | |
| --- | --- | --- |
| 18 May, 2018 | Outstanding Performance 2017/18 - KIRKHS | KCDIO |
| 18 May, 2018 | Outstanding Performance - KIRKHS | KCDIO |
| 16 Oct, 2012 | IRIE Silver Medalist for Research - IRIE | University |
| 19 Aug, 2005 | Best Teacher Award for English Language and Literatre Dept for 2004/5 - Kulliyyah of IRKHS | University |
| 30 Nov, 2000 | Consolation Writing Prize - Public Bank-Utusan Malaysia | National |
| 28 Nov, 1997 | Literary Writing Award - Public Bank-Utusan Malaysia | National |
| 30 Nov, 1995 | Consolation Writing Prize - Public Bank-Utusan Malaysia | National |
Publications
Article
| | |
| --- | --- |
| 2021 | Cerpen Koronavirus: seni dan refleksi. Dewan Sastera, 51 (3) pp. 58-63 |
| 2020 | Sajak. Jurnal Melayu, 19 (1) pp. 169-169 |
| 2019 | Editorial. Special Issue. Kemanusiaan: The Asian Journal of Humanities, 26 (supp. 1) pp. v-vi |
| 2018 | Negotiating Muslim women's rights and identity in American diaspora space: an Islamic feminist study of Kahf's the girl in the tangerine scarf. Kemanusiaan: The Asian Journal of Humanities, 25 (1) pp. 43-67 |
| 2018 | Rawa migration to the Malay peninsula in the 19th century: the case of Pahang, Perak, and Selangor. Al-Shajarah: Journal of the International Institute of Islamic Thought and Civilization (ISTAC), Special Issue: Migration and Refugee Studies () pp. 27-50 |
| 2017 | A critical analysis of Bloom's taxonomy in teaching creative and critical thinking skills in Malaysia through English literature. English Language Teaching, 10 (9) pp. 245-256 |
| 2016 | Book Review of "Space and Place in Children's Literature, 1789 to the Present, edited by Maria Sachiko Cecire, Hannah Field, Kavita Mudan Finn and Malini Roy (Routledge, 2015)". Transnational Literature, Vol. 9 (no. 1) pp. |
| 2016 | Cerpen-cerpen air mata. Dewan Sastera, August () pp. 63-65 |
| 2016 | Helping women cope with life behind bars. European Journal of Social Sciences Education and Research, () pp. 139-146 |
| 2016 | Hidup mati cerpenis kita. Dewan Sastera, () pp. 60-62 |
| 2015 | Syd Harrex: A tribute. Asiatic, 9 (1) pp. 11-12 |
| 2014 | Perception, attitude and impact change after watching faith-based films: a comparative study. Journalism and Mass Communication, 4 (8) pp. 496-509 |
| 2014 | The mediating effect of attitude on perception towards impact change after watching Islamic films. Journal of Modern Education Review, 4 (9) pp. 651-662 |
| 2011 | Introducing a Brunei woman writer: an interview with Dayang Hajah Norsiah Abdul Gapar. Asiatic, 5 (2) pp. 118-121 |
| 2011 | Rozlan Mohd Noor, 21 immortals: Inspector Mislan and the Yee Sang murders. Asiatic, 5 (1) pp. 148-150 |
| 2009 | Arah tuju nasionalisme Asia Tenggara. Utusan Malaysia, () pp. 13 |
| 2009 | Kesusasteraan Inggeris galak pelajar berfikiran kritis, kreatif . Berita Harian Online, () pp. |
| 2009 | Notions of home for diasporic Muslim women writers. European Journal of Social Sciences, 9 (4) pp. 545-556 |
| 2008 | Human rights and national literature: a comparative study of the experiences in Malaysia, Thailand and the Philippines. Asiatic, 2 (2) pp. 77-89 |
| 2007 | On becoming good women: a study on 'the fragmented self' in Malaysian Muslim women's writing in English. Feminist Studies in English Literature, 15 (2) pp. 113-133 |
| 2006 | Tamu dari medan perang: Dinsman Kembali!. Pentas, 1 (2) pp. 50-51 |
| 2005 | Beyond grammar: religious and cultural awareness in language communication. Muslim Education Quarterly, 22 (1 & 2) pp. 22-29 |
| 2004 | Dis/connected: Malaysian identity 'crisis' in Malaysian poetry in English. Ideya: Journal of the Humanities, 5 (2) pp. 46-58 |
| 2003 | Tarik-Ulur: 'krisis' identitas puisi-puisi Malaysia berbahasa Inggeris. Kolong Budaya, 2 () pp. 31-45 |
| 2002 | The influence of Farid Al- Din Attar's mantiq al-tayr (the conference of the birds) on Western writers: from Caucher to Peter Brook. The Islamic Quarterly, XLVI (3) pp. 247-258 |
| 2001 | Reshaping the future: a survey on nationalist literature in Malaysia. Malay Literature Journal, 14 (2) pp. 25-35 |
| 2000 | Islamizing the "feminine, feminist and female" voices in three Malaysian short stories by Anglophone women writers. Intellectual Discourse, 8 (2) pp. 223-236 |
| 1999 | Land beneath the wind (short review). The Gombak Review , 4 (2) pp. 180-182 |
| 1995 | More than just a woman: an interview with Shirley Lim. Tenggara : Journal of Southeast Asian literature, (34) pp. 75-86 |
Conference or Workshop Item
Book
| | |
| --- | --- |
| 2019 | The bridge: writings from emerging writers from Pakistan and Malaysia. Silverfish Books, ISBN: 978-983-3221-95-0 |
| 2019 | Travel poetry. Silverfish Books, ISBN: 978-983-3221-96-7 |
| 2016 | Antologi cerpen di balik tirai besi. Institute Terjemahan & Buku Malaysia Berhad, ISBN: 978-967-460-282-6 |
| 2016 | Islamicisation of knowledge and English literary studies: in the age of Islamophobia and Westernophobhia. One Global Publications Sdn. Bhd. and The International Institute of Islamic Thought, ISBN: 978-967-14480-0-7 |
| 2011 | Imagined communities revisited : critical essays on Asia-Pacific literatures and cultures. IIUM Press, ISBN: 9789674182151 |
| 2009 | Writing a nation: essays in Malaysian literature. IIUM Press, ISBN: 9789833855940 |
| 2006 | The art of naming: a Muslim woman's Journey. Awards Publishing, ISBN: 983-42784-0-3 |
| 2004 | An Islamic interpretation of tragic hero in Shakespearean tragedies. IIUM Research Centre , ISBN: 983-2957-25-7 |
| 2003 | Colonial to global: Malaysian women's writing in English, 1940s-1990s. Research Centre,IIUM, ISBN: 983-9727-83-4 |
Book Section
| | |
| --- | --- |
| 2020 | Yang tunduk itu berilmu, yang berbudi itu bahasa. In: UMK Press, ISBN: 9789672229841, pp. 71-76 |
| 2019 | And Race is my name. In: Silverfish Books, ISBN: 978-983-3221-95-0, pp. 73-74 |
| 2017 | Southeast Asian women in the age of risk: potrayal of women in selected works by Singaporean and Cambodian women writers. In: Silverfish Books, ISBN: 978-983-3221-64-6, pp. 139-169 |
| 2016 | An introduction to Islamicisation of knowledge. In: One Global Publications Sdn. Bhd. in colaboration with The International Institute of Islamic Thought, ISBN: 978-967-14480-0-7, pp. 2-12 |
| 2016 | Does group therapy work on inmates' self belief and psychological well being? a study at a Malaysian women prison. In: Institut Terjemahan & Buku Malaysia, ISBN: 978-967-460-209-3, pp. 171-198 |
| 2014 | Pengantarabangsaan sastera Malaysia: Menyusun strategi pemasaran. In: Institut Terjemahan dan Buku Malaysia Berhad, ISBN: 978-967-430-744-8, pp. 261-268 |
| 2014 | Pengantarabangsaan sastera Malaysia: Menyusun strategi pemasaran. In: Institut Terjemahan dan Buku Malaysia Berhad, ISBN: 978-967-430-744-8, pp. 261-268 |
| 2011 | Representation of women in Malaysian literature in English. In: UPENA, UiTM Trengganu, ISBN: 978-983-41527-3-4, pp. 132-146 |
| 2011 | Representation of women in Malaysian literature in English. In: UPENA, UiTM Trengganu, ISBN: 978-983-41527-3-4, pp. 132-146 |
| 2011 | The politics of branding in Southeast Asian literature: understanding the "other". In: IIUM Press, ISBN: 9789674182151, pp. 10-17 |
| 2009 | In defence of Islam: American Muslim women write back. In: IIUM Press, ISBN: 978-983-3855-99-5, pp. 55-76 |
| 2009 | In defence of Islam: American Muslim women write back. In: IIUM Press, ISBN: 978-983-3855-99-5, pp. 55-76 |
| 2009 | In defense of Islam: American Muslim women write back. In: IIUM Press and IIMU, ISBN: 9789833855995, pp. 55-76 |
| 2009 | Introduction. In: IIUM Press, ISBN: 9789833855940, pp. 1-8 |
| 2009 | Nation, identity and justice: a comparative study of American and Malaysian Muslim poets, Daniel Abdal Hayy Moore and Wong Phui Nam (a.k.a. Razali Abdullah). In: IIUM Press, International Islamic University Malaysia, ISBN: 9789833855940, pp. 189-210 |
| 2009 | Strong women in post-independence Malaysian literatures: imagined or real?. In: IIUM Press, ISBN: 9789833855865, pp. 257-277 |
| 2009 | Strong women in post-independence Malaysian literatures: imagined or real?. In: IIUM Press, ISBN: 9789833855865, pp. 257-277 |
| 2006 | Mahakarya Melayu dalam abad 21. In: Persatuan Penulis National Malaysia, ISBN: 983425783X, 9789834257835, pp. 149-161 |
| 2005 | Topeng putih, kulit hitam: arah tuju pascakolonialisme pada alaf baru. In: Dewan Bahasa dan Pustaka, ISBN: 983628527X, pp. 139-143 |
| 1997 | A woman in her own write. In: Kumpulan Utusan, Galeri Melora, ISBN: 983-9463-01-2, pp. 95-100 |
Monograph