Staff Directory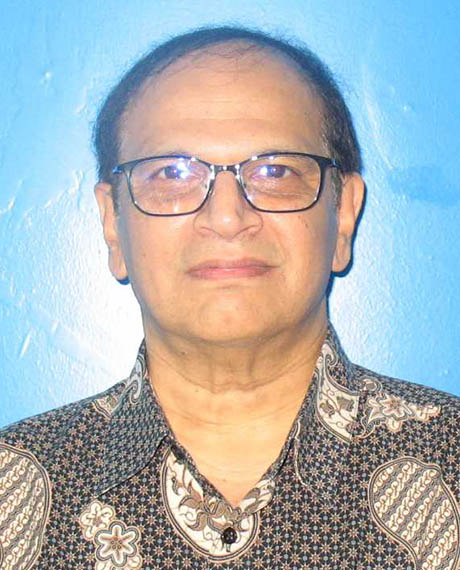 Academic Qualification
Doctor of Philosophy - Doctor of Philosophy, Temple University, Philadelphia
Imtiaz Ahmed Shaukat Ali Yusuf (Assoc. Prof. Dr.)
Associate Professor
IIUM KL Campus
INTERNATIONAL INSTITUTE OF ISLAMIC THOUGHT AND CIVILISATION

Other's position:
Coordinator, International Institute of Islamic Thought and Civilisation
---
Expert Profile
Dr. Imtiyaz Yusuf is Associate Professor and the Coordinator for the Islamization of Knowledge Programme and also Islam and Buddhism Programme at the International Institute of Islamic Thought and Civilisation (ISTAC-IIUM) in Kuala Lumpur, Malaysia.

Dr. Yusuf is currently non-Resident Research Fellow at the Center for Contemporary Islamic World (CICW), Shenandoah University, Leesburg, USA and former Senior Fellow at the Prince Alwaleed Bin Talal Center for Muslim-Christian Understanding, (ACMCU) Georgetown University, Washington D.C., USA. He is also the former Director, Center for Buddhist-Muslim Understanding, College of Religious Studies, Mahidol University, Salaya, Thailand. He specializes in the study of Religion with a focus on Muslim-Buddhist relations and dialogue, Islam in Thailand and Southeast Asia.

Dr. Yusuf's most recent publications are: "Nūr Muḥammadī, Muhammadan Light, and Amitābha/Amida Buddha, the Buddha of Infinite Light - A Muslim's Comparative Theological Perspective." Buddhist-Christian Studies, vol. 42, October 2022, p. 347-358(Scopus and Web of Science (WOS) Indexed); "Muslims as Thailand's Largest Religious Minority" in Routledge Handbook of Islam in Southeast Asia edited by Syed Muhammad Khairudin Aljunied (London: Routledge, 2022) pp. 234-249; "Building Muslim-Buddhist Understanding: The Parallels of Taqwa/Allah Consciousness in the Qur'an and Satipatthana/Mindfulness in Anapanasati Sutta" in Overcoming Orientalism - Essays in Honor of John L. Esposito edited by Tamara Sonn (New York: Oxford University Press, 2021) pp. 173-190; "Islamic Theology of Religious Pluralism:  Building Islam-Buddhism Understanding" in Pluralism in Islamic Contexts - Ethics, Politics and Modern Challenges edited by Mohammed Hashas, (Springer Nature Switzerland AG, 2021) pp. 201-219; Essential Writings Ismail Al Faruqi  (Kuala Lumpur: Center for Islam in the Contemporary World at Shenandoah University, USA and Islamic Book Trust, Malaysia, 2021); "A Muslim's Reflections on Saddharamapundariksutra—The Lotus Sutra" in Buddhist-Christian Studies 40 (2020)  pp. 79 –104 (Scopus and Web of Science (WOS) Indexed).        

Area of Specialisation
Humanities ~ Humanities ~ Religious Studies ~ Islamic Studies - Islam in Southeast Asia, Thailand, Muslim-Buddhist Relations
Teaching Responsibilities
| | |
| --- | --- |
| BASIC PHILOSOPHY AND ISLAMIC WORLDVIEW | 2021/2022 |
| BASIC PHILOSOPHYAND ISLAMIC WORLDVIEW | 2021/2022 |
| ISLAMIC REVIVALISM: CHALLENGES AND PROSPECTS | 2020/2021 |
| ISLAMIC REVIVALISM:CHALLENGES AND PROSPECTS | 2022/2023 2021/2022 2020/2021 2019/2020 |
Research Projects
Completed
On-Going
| | |
| --- | --- |
| 2020 - Present | Islam and Buddhism in Myanmar and Malaysia |
Publications
Article
| | |
| --- | --- |
| 2022 | Nūr Muḥammadī, Muhammadan light, and Amitābha/Amida Buddha, the Buddha of infinite light - a muslim's comparative theological perspective. Buddhist-Christian Studies, 42 (Annual one issue per year) pp. 347-358 |
| 2021 | Parti Islam Se-Malaysia (PAS) in Malaysia politics: a history of Tuan Guru Nik Aziz's scholarship and leadership in establishing an Islamic state in Kelantan. Ulumuna: Journal of Islamic Studies, 25 (1) pp. 108-136 |
| 2020 | A Muslim's reflections on Saddharamapundariksutra: the Lotus Sutra. Buddhist-Christian Studies, 40 (Annual (2020)) pp. 79-104 |
| 2020 | Sanctity of human life, corpse's reverence and abortion in Islam and Buddhism: comparative study. Research Journal ĪQĀN, 02 () pp. 27-38 |
| 2020 | Shaykh Ahmadou Bamba: a peacemaker for our time. Al-Shajarah, 25 (1) pp. 210-214 |
| 2019 | Book Review - Charles Fletcher. Muslim-Christian engagement in the twentieth century: the principles of Inter-faith dialogue and the work of Ismail al-Faruqi.(London: I. B. Tauris, 2015.). Islamic Studies, 58 (1) pp. 155-158 |
| 2019 | The nabi-rasul in Arabian/semitic religious tradition: Qur'anic monotheism, Prophet Muhammad and the shaping of Muslim world view. Islamic Studies, 58 (4) pp. 519-533 |
Conference or Workshop Item
Book
Book Section
| | |
| --- | --- |
| 2022 | Ismail Raji al-Faruqi. In: Brill, ISBN: 978-90-04-46463-6, pp. 37-41 |
| 2022 | Muslims as Thailand's largest religious minority. In: Routledge, ISBN: 9780367225377, pp. 234-249 |
| 2021 | Building Muslim-Buddhist understanding: the parallels of Taqwa/Allah consciousness in the Qur'an and satipatthana/mindfulness in Anapanasati Sutta. In: Oxford University Press, ISBN: 978-0-19-005415-1, pp. 173-190 |
| 2021 | Islamic theology of religious pluralism: building Islam-Buddhism understanding. In: Springer, Cham, ISBN: 978-3-030-66088-8, pp. 210-219 |
| 2019 | Ismail al Faruqi: the link between Tudor and the Muslim world. In: iPub Global Connection, LLC, ISBN: 9781948575225, pp. 179-199 |