Staff Directory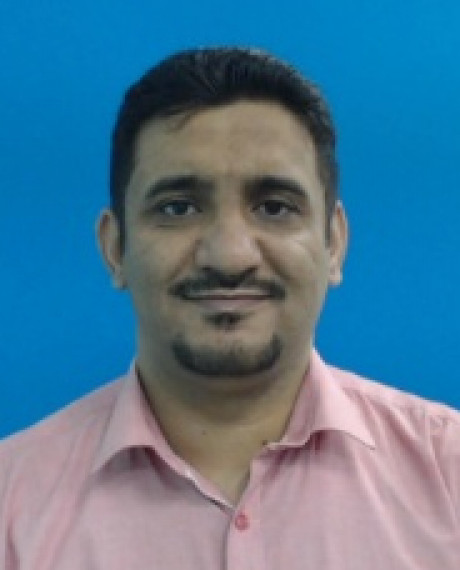 Academic Qualification
PhD of Education - Doctor of Philosophy, IIUM
Education - Bachelor Degree, King Abdulaziz University
Abdulmajid Mohammed Abdulwahab Aldaba (Dr.)
Assistant Professor
IIUM Gombak Campus
KULLIYYAH OF EDUCATION
---
Expert Profile
Abdulmajid Mohammed Aldaba earned his Bachelor's Degree in Education from King Abdulaziz University in Saudi Arabia in 2009.
Upon his completion of his Bachelor's degree, he returned to Yemen to join Ministry of Education as a secondary school teacher.
However, getting scholarship from Yemeni government encouraged him to further his Masters in educational leadership in Kulliyyah of education, IIUM.  
Upon his completion of his Masters, he returned to Yemen and worked as a coordinator at the technical office of Ministry of Education in Sana'a.
The environment encouraged him to pursue his Ph.D which he completed in 2019. Currently, he is an Assistant Professor at the Department of Social Foundation and Educational Leadership Kulliyyah of Education. Additionally, as a trainer in quantitative data analysis, he has conducted several workshops in SPSS, and structural equation modelling (AMOS and Smart-PLS).   
Area of Specialisation
Social Science ~ Social Science ~ Education ~ Administration
Social Science ~ Social Science ~ Education ~ e-Learning - E-Learning
Social Science ~ Social Science ~ Education ~ Education Policy, Management and - Educational Leadership
Natural Science ~ Mathematical Sciences ~ Applied Statistics ~ Other Applied Statistics n.e.c. - Structural Equation Modelling
Professional Membership
2020 - 2021: Member of Profesional Body / Association: (Member ), Qualitative Research Association of Malaysia
2021 - 2023: Member of Profesional Body / Association: (Member), The International Academic Forum (IAFOR)
Teaching Responsibilities
| | |
| --- | --- |
| CONTEMPORARY MORAL ISSUES | 2019/2020 |
| DATA ANALYSIS AND INTERPRETATION | 2016/2017 |
| MANAGEMENT & LEADERSHIP IN TERTIARY EDUCATION | 2020/2021 2019/2020 |
| MORAL DEVELOPMENT FROM THE PSYCHOLOGICAL PERSPECTIVE | 2021/2022 2020/2021 |
| MORAL DEVELOPMENT FROM THE SOCIOLOGICAL PERSPECTIVE | 2020/2021 2019/2020 |
| RESEARCH METHODOLOGY | 2022/2023 2021/2022 2020/2021 2019/2020 |
| SOCIOLOGY OF EDUCATION | 2019/2020 |
| SOCIOLOGY OF EDUCATION | 2021/2022 2020/2021 |
| STATISTICS FOR ISLAMIC STUDIES | 2017/2018 |
| SUSTAINABLE DEVELOPMENT: ISSUES, POLICIES AND PRACTICES | 2021/2022 2020/2021 |
| SUSTAINABLE DEVELOPMENT: ISSUES, PRINCIPLES AND PRACTICES | 2022/2023 |
| TESTING AND ASSESSMENT IN EDUCATION | 2019/2020 |
Research Projects
Completed
On-Going
| | |
| --- | --- |
| 2020 - Present | The Adoption of Gamification in ESL for Social Presence and Learning Engagement |
| 2020 - Present | A Conversation Analysis Study on Interaction Patterns During Online Classroom |
| 2020 - Present | Validating and Profiling Lifelong Learning Attributes (LLLA) Among Academic Staff of Islamic Tertiary Education Institutions |
Publications
Article
| | |
| --- | --- |
| 2022 | An integration of game-based learning in a classroom: an overview (2016 - 2021). International Journal of Academic Research in Progressive Education and Development, 11 (1) pp. 1207 -1221 |
| 2022 | Gamifying ESL classrooms through Gamified Teaching and learning. Arab World English Journal, Special Issue on CALL (8) pp. 177-191 |
| 2022 | أثر أبعاد الرضا الوظيفي لدى معلمي مدارس التعليم الأساسي بسلطنة عمان على تماثلهم التنظيمي = The impact of job satisfaction dimensions on organizational identification among schools' teachers (5-10) in sultanate of Oman. المجلة العربية للعلوم التربوية والنفسية, 6 (25) pp. 255-284 |
| 2021 | Effect of organizational identification on organizational commitment among primary Omani schools: empirical study. Journal of Educational and Psychological Sciences, 5 (10) pp. 1-30 |
| 2021 | Electronic management and its role in improving administrative work in public schools in Al Buraimi and Al Dhahirah, Sultanate of Oman. Journal of Educational and Psychological Sciences, 5 (26) pp. 1-26 |
| 2021 | Exploring the acceptance of augmented reality among TESL teachers and students and its effects on motivation level: a case study in Kuwait. Advances in Social Sciences Research Journal, 8 (12) pp. 23-34 |
| 2021 | Influence of participatory decision making on job satisfaction: evidence from an Islamic tertiary institution with moderating role of staff experience. IIUM Journal of Educational Studies, () pp. |
| 2021 | Influence of participatory decision making on job satisfaction: the moderating effect of staff experience. IIUM Journal of Educational Studies (IJES), 9 (4) pp. 58-76 |
| 2021 | Omani educational supervisors' perceptions of 7th and 8th grades' cambridge mathematics curriculum in light of knowledge-based economy and its relationship with their attitudes towards the curriculum. Journal of Educational and Psychological Sciences, 5 (22) pp. 60-74 |
| 2021 | التماثل التنظيمي لدى معلمي مدارس التعليم الأساسي في سلطنة عمان:الممارسة والفرق الديمغرافية = Organizational Identification (OI) among basic education school teachers in Oman: prevalence and demographic differences. IIUM Journal of Educational Studies, 9 (1 (Arabic Special Issue)) pp. 94-115 |
| 2021 | العلاقة بين أساليب المعاملة الأبوية والصحة النفسية لدى طلبة جامعة المرقب في ليبيا = The relationship between parental styles and psychological well-being among undergraduate students at the Al-Marqab University, Libya. IIUM Journal for Educational Studies (IJES), 9 (1 (Arabic Special Issue)) pp. 71-93 |
| 2020 | The State of Internet-Assisted Language Learning (IALL) Knowledge among English Major Students in a Yemeni Public University. IIUM Journal of Education Studies, 8 (1) pp. 18-31 |
| 2020 | اثر الرضا الوظيفي لدى معلمي مدارس التعليم الأساسي، الحلقة الثانية (5-10) بسلطنة عمان = The effect of job satisfaction on organizational commitment among schools' teachers (5-10) in Oman. المجلة الالكترونية الشاملة متعددة المعرفة لنشر الابحاث العلمية و التربوية, 22 () pp. 1-41 |
| 2018 | Exploration of English teachers' understandings and practices of communicative language teaching (CLT) at pre-university level of Islamic tertiary educational organization. International Journal of Asian Social Science, 8 (7) pp. 320-331 |
| 2014 | An Analysis of Administrative Staff's Participatory Decision Making through Syura at International Islamic Tertiary Institution. International Journal of Humanities Social Sciences and Education (IJHSSE), 1 (9) pp. 33-39 |
| 2014 | An analysis of administrative staff's participatory decision making through syura at international Islamic tertiary institution. International Journal of Humanities Social Sciences and Education, 1 (9) pp. 33-39 |
Conference or Workshop Item