Staff Directory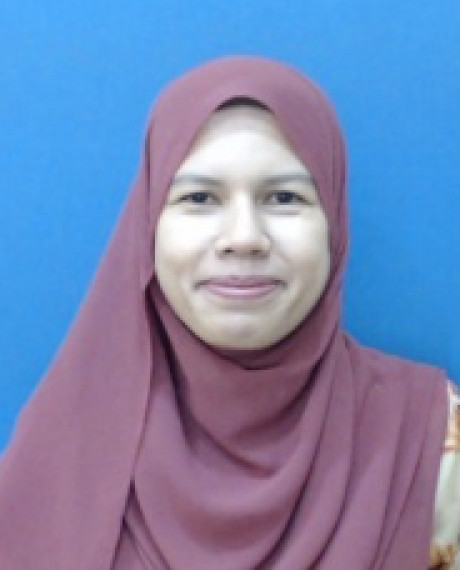 Academic Qualification
Doctor of Philosophy - Doctor of Philosophy, University of Nottingham
Master of Nursing Science - Masters Degree, Universiti Malaya (UM)
in Islamic Studies - Post Graduate Diploma, International Islamic University Malaysia
Bachelor of Health Sciences (Hons) (Nursing) - Bachelor Degree, Universiti Sains Malaysia (USM)
Post basic in Psychiatric Nursing - Certificate,
Nurasikin Binti Mohamad Shariff (Dr.)
Assistant Professor
IIUM Kuantan Campus
KULLIYYAH OF NURSING

Other's position:
Head, Kulliyyah of Nursing
---
nurasikin@iium.edu.my
7287
Expert Profile
Nurasikin was trained to become specialised in mental health nursing to fill the position in Department of Special Care Nursing. She is currently an Assistant Professor at the Kulliyyah of Nursing. She has published few articles in the field of mental health, particularly on the topics of spirituality, religiosity and mental health. Her Ph.D. research project entitled 'Spiritual recovery in people diagnosed with bipolar disorder in Malaysia' in which she explored the spiritual resources in that studied population with the application of Bourdieu's symbolic capital. She further expands the work of Bourdieu's symbolic capital into spiritual capital. She  is currently very much inspired by Bourdieu's trinity concept of habitus, capital and field. She is keen to expand her research interest into social phenomenon of any kind of disorder and related to well-being such as spiritual distress and smoking issues.
Area of Specialisation
Medical And Health ~ Medical And Health Sciences ~ Nursing Education ~ Other Nursing Education n.e.c.
Social Science ~ Social Science ~ Sociology ~ Social Theory - Bourdieu's symbolic capital
Medical And Health ~ Medical And Health Sciences ~ Nursing ~ Mental Health - Spirituality and mental health
Professional Membership
2020: Member of Profesional Body / Association: (life member), Malaysia Nurses Association
Teaching Responsibilities
| | |
| --- | --- |
| BIOSTATISTICS AND EPIDEMIOLOGY | 2022/2023 |
| COMMUNITY HEALTH NURSING PRACTICE | 2019/2020 |
| DISCOVERY OF SPECIALIZATION IN NURSING | 2021/2022 2020/2021 |
| FINAL YEAR RESEARCH PROJECT I | 2022/2023 2021/2022 2020/2021 2019/2020 |
| FINAL YEAR RESEARCH PROJECT II | 2022/2023 2021/2022 2020/2021 |
| INNOVATION IN NURSING | 2021/2022 2020/2021 |
| INTEGRATED NURSING PRACTICE (FINAL PROFESSIONAL EXAMINATION) | 2022/2023 2021/2022 |
| INTEGRATED NURSING PRACTICE(FINAL PROFESSIONAL EXAMINATION) | 2020/2021 2019/2020 |
| INTEGRATED NURSING SCIENCES(FINAL PROFESSIONAL EXAMINATION) | 2021/2022 2020/2021 |
| MEDICAL SOCIOLOGY, PSYCHOLOGY AND TRANSCULTURAL NURSING | 2022/2023 |
| MENTAL HEALTH NURSING | 2022/2023 2021/2022 2020/2021 |
| MENTAL HEALTH NURSING PRACTICE | 2022/2023 2021/2022 2020/2021 2019/2020 |
Research Projects
Completed
| | |
| --- | --- |
| 2021 - 2022 | Knowledge transfer program of long-term care management among the community volunteers of Felda in Kuantan. |
| 2019 - 2022 | `I smoke everyday but I think I am healthy?: An application of Bourdeau?s theory in a study of health perception and health practice behavior among smokers in Malaysia (A mixed methods approach) |
On-Going
| | |
| --- | --- |
| 2022 - Present | Holistic spiritual care needs among hospitalized patients in a Shari'ah compliance hospital Previous title: Holistic spiritual care needs among in-patients that in-line with Shari'ah compliance hospital |
| 2021 - Present | COVID-19 Impact and Mental Wellness |
| 2021 - Present | COVID-19 Impact and Mental Wellness |
| 2020 - Present | The influence of music on the psychological well-being of communities in a public university |
| 2020 - Present | Development of home-based physical exercise and mental training to reduce the risk of progression from mild cognitive impairment to dementia in older adults. |
Award & Recognition
| | | |
| --- | --- | --- |
| 17 Dec, 2021 | Special recognition award national immunisation programme (vaccinator) - Kulliyyah of Nursing | KCDIO |
| 03 Dec, 2020 | LONG SERVICE AWARD - KULLIYYAH OF NURSING | KCDIO |
Publications
Article
| | |
| --- | --- |
| 2022 | "I need help": a study of spiritual distress among people diagnosed with bipolar disorder in Malaysia. Malaysian Journal of Medicine and Health Sciences, 18 (Supp 19) pp. 38-42 |
| 2022 | Impact, effectiveness and satisfaction of online learning among undergraduate students during the Covid-19 pandemic. International Journal of Care Scholars, 5 (3) pp. 12-20 |
| 2022 | Islamic music listening, spiritual well-being and burnout of employees in Islamic university. Al-Irsyad: Journal of Islamic and Contemporary Issues, 7 (2) pp. 915-923 |
| 2022 | Smokers' perception of their health status and health-seeking behaviour: a narrative review. International Journal of Care Scholars (IJCS), 5 (3) pp. 38-43 |
| 2022 | The mental health benefits of religion and spirituality in people living with bipolar disorder in Malaysia. Malaysian Journal of Medicine and Health Sciences, 18 (Supp 19) pp. 55-59 |
| 2021 | "I need help": a study of spiritual distress among people diagnosed with bipolar disorder in Malaysia. Malaysian Journal of Medicine and Health Sciences, 17 (SUPP 5) pp. 95-95 |
| 2021 | Perceived stress level and its stressors among Malaysian undergraduate nursing students during COVID-19 pandemic. International Journal of Care Scholars, 4 (Supplementary 1) pp. |
| 2021 | The mental health benefit of religion and spirituality in people living with bipolar disorder in Malaysia. Malaysian Journal of Medicine and Health Sciences, 17 (5 (Supp)) pp. 75-75 |
| 2021 | The mental health benefit of religion and spirituality in people living with bipolar disorder in Malaysia. Malaysian Journal of Medicine and Health Sciences, 17 () pp. 75-75 |
| 2021 | The need of muslim chaplain in hospital-based services in Malaysia: a scoping review of literature. International Journal of Care Scholars, 4 (2) pp. 78-82 |
| 2020 | Qualitative research approach for the conceptual understanding of spirituality for healthcare service users: a methodological guide. International Journal of Care Scholar, 3 (1) pp. 17-22 |
| 2018 | Children's experience in healthcare decisions: an overview. International Journal of Care Scholar, 1 (2) pp. 37-41 |
| 2018 | The need to particularise the concept of spirituality within mental health services in Malaysia. International Journal of Care Scholar, 1 (1) pp. 44-49 |
| 2012 | Factorial validation of the Malay version of multidimension scale of perceived social support among a group of psychiatric patients. Malaysian Journal of Psychiatry, 21 (2) pp. 17-26 |
| 2012 | Religiousness, religious coping methods and distress level among psychiatric patients in Malaysia. International Journal of Social Psychiatry, 0 (0) pp. 1-7 |
Conference or Workshop Item
| | |
| --- | --- |
| 2021 | "I need help": a study of spiritual distress among people diagnosed with bipolar disorder in Malaysia. In: Third World Congress on Integration and Islamicisation 2021, |
| 2021 | Self-care and its association with anxiety among undergraduate nursing students during Covid-19 pandemic. In: INTERNATIONAL VIRTUAL CONFERENCE ON QUALITY OF LIFE IN SOCIETY, PSYCHOLOGY AND EDUCATION, |
| 2021 | Spiritual care in grieve and loss. In: Spiritual Care Awareness Program, |
| 2021 | The mental health benefit of religion and spirituality in people living with bipolar disorder in Malaysia. In: 3rd World Congress on Integration and Islamicisation 2021, |
| 2021 | The mental health benefit of religion and spirituality in people living with bipolar disorder in Malaysia. In: 3rd World Congress on Integration and Islamicisation 2021, |
| 2021 | The mental health benefit of religion and spirituality in people living with bipolar disorder in Malaysia.. In: Third World Congress on Integration and Islamicisation 2021, |
| 2019 | Spiritual care for patient with mental health problem. In: Penyakit mental dan gangguan makhluk halus, mitos vs realiti, |
| 2017 | Spiritual recovery of people with bipolar disorder in Malaysia. In: 19th International Conference on Mental Health, |
| 2011 | Health promotion : chronic disease. In: Health Awareness Programme, |
| 2011 | Religious commitment, religious coping and distress level in psychiatic patients. In: International Health Conference IIUM 2011 , |
| 2011 | Religiousness, religious coping methods and distress level among the psychiatric patients in Malaysia. In: International Health Conference IIUM 2011 , |
Book
Book Section
Monograph