Staff Directory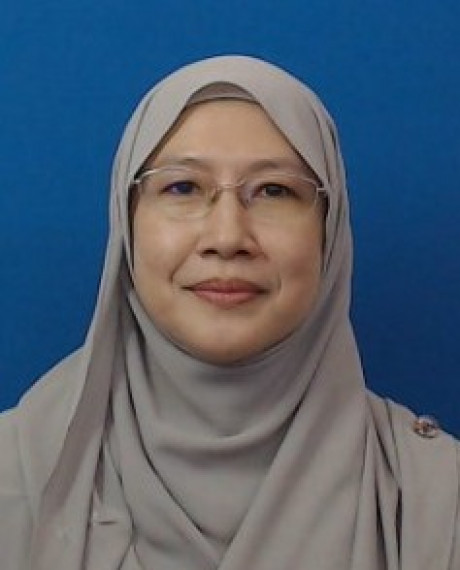 Academic Qualification
Ph.D in Corporate Governance of Public Listed Companies - Doctor of Philosophy, Bond University
Masters of Comparative Law - Masters Degree, International Islamic University Malaysia
Bachelor of Laws - Bachelor Degree, International Islamic University Malaysia
Matriculation - Certificate, International Islamic University Malaysia
Aiman @ Nariman Binti Mohd. Sulaiman (Prof. Dr.)
Professor
IIUM Gombak Campus
AHMAD IBRAHIM KULLIYYAH OF LAWS
---
Expert Profile
Aiman Nariman bt Mohd Sulaiman is attached to the Faculty of Law, and has been a faculty member since graduating from IIUM in 1993 with a First Class (Hon). She obtained her doctoral degree (SJD) on Corporate Law and Corporate Governance from Bond University, Australia in 2000.
She was a key figure in the Malaysian Corporate Law Reform Programme (2004-2008), firstly in proposing for a comprehensive corporate law review which led to the establishment and functioning of the Corporate Law Reform Committee and the Corporate Law Reform Project; subsequently, as a consultant for the Corporate Law Reform Project. She was a recipient of the Australian Government's Endeavour Fellowship ( November 2012-March 2013) analysing the enforcement strategies for conflict of interest and related party transation where she was attached to the School of Law, Bond University as a Visiting Professor. She was a recipient of the IIUM Quality Award for Reseacrh in 2008. She is a member of the Corporate Law Teachers' Association (CLTA) based in Australia and a member of the Society of Legal Scholars (SLS) based in the UK.
She is currently a member of the Listing Committee of Bursa Malaysia (2014-present); having held the same position between 2008-2012. She is the Chairperson and Director of IIUM Corporate Management Sdn Bhd, a subsidiary of IIUM Holdings Sdn Bhd. Dr. Aiman Nariman was also a member of audit committee of the IIUM between 2010-2012 and is presently serving in the same position.
Area of Specialisation
Economics, Business And Management ~ Economics, Business And Management ~ Islamic Finance ~ Islamic Corporate Governance
Social Science ~ Social Science ~ Law ~ Governance - financial institutions, corporations and other business vehicles
Social Science ~ Social Science ~ Law ~ Corporations and Associations Law - capital market and securities regulation
Social Science ~ Social Science ~ Law Enforcement ~ Other Law Enforcement n.e.c.
Economics, Business And Management ~ Economics, Business And Management ~ Finance ~ Capital Market
Economics, Business And Management ~ Economics, Business And Management ~ Management ~ Business Ethics
Social Science ~ Social Science ~ Law ~ Legal Practice and Ethics - corporate law , corporate governance and enforcement issues
Professional Membership
2019 - 2020: Member of Profesional Body / Association: (member of ethics standards board), ethics standards board
Teaching Responsibilities
Research Projects
Completed
| | |
| --- | --- |
| 2020 - 2021 | Study on Gap Analysis and on the Adoption of Chapter 11 of US Bankruptcy Code Related to Corporate Rescue Mecganism in Malaysia |
| 2014 - 2018 | Mis-Selling of Financial Products in the Financial Services Industry - Formulating Comprehensive Investor Protection Mechanism And Enforcement Framework |
| 2014 - 2018 | Issuers' and Directors' Liability for Ongoing or Continuous Disclosure Obligation in the Capital Market |
| 2011 - 2014 | Shareholders' Empowerment and Responsibility Framework Addressing the Gap between Theory and Practice |
| 2011 - 2016 | Formulation of Governance Framework for Limited Liability Partnership (LLP) in Malaysia |
| 2011 - 2013 | Jawatankuasa Penyemak dan Meminda Akta Institusi Pendidikan Tinggi Swasta 1996 (AKTA 555) |
| 2011 - 2014 | Financial Reporting Failures - Enforcement Trends, Challenges and Lessons for Malaysia |
| 2010 - 2011 | Directors' Fiduciary Duty to Disclose Misconduct |
| 2008 - 2010 | Enforcement of Financial Misreporting and Securities Fraud |
| 2008 - 2011 | Independent Non-executive Directors and Liability Risks |
| 2008 - 2010 | The Development of the Concept of the Independent Director in Malaysia |
| 2007 - 2010 | Stock Options for Non-Executive Directors - Shareholders Voting and Features of Options Scheme |
| 2005 - 2006 | The Cross Jurisdictional Study Of The Capital Maintenance Regime With Special Focus On The Financial Assistance Legislative Framework-Reforming Malaysian Company Law |
On-Going
| | |
| --- | --- |
| 2019 - Present | Pelaksanaan Program Pembangunan Rang Undang-undang Pendidikan tinggi Negara |
| 2009 - Present | Corporate, Financial Law & Regulation Research Unit |
Award & Recognition
| | | |
| --- | --- | --- |
| 01 Nov, 2013 | Endeavour Fellowship Award - Government of Australia | International |
| 01 May, 2008 | Quality Award - Ahmad Ibrahim Kulliyyah of Law | University |
| 01 May, 2008 | Quality Award - INternational Islamic University Malaysia | University |
| 01 May, 2003 | Quality Award - Ahmad Ibrahim Kulliyyah of Laws | University |
| 04 Mar, 2003 | Excellent Researcher Award - International Islamic University Malaysia | Kulliyyah |
Publications
Article
| | |
| --- | --- |
| 2020 | Cooperatives for prosperity. The Star, () pp. |
| 2020 | Liability risks in shareholders' engagement via electronic communication and social media. International Journal of Law and Management, 62 (6) pp. 539-555 |
| 2020 | Maintain trust in business. the Star, 25th September 2020 () pp. |
| 2019 | Expanding shareholders' power: an analysis of reform proposals in Malaysia. Review of Law and Economics, 15 (1) pp. |
| 2018 | Expanding shareholders' power: An analysis of reform proposals in Malaysia. Review of Law & Economics, () pp. |
| 2018 | The use of floating charge as an Islamic collateral instrument: a shariah compatibility analysis. Al-Shajarah, Special Issue (Special Issue: Islamic Banking and Finance) pp. 191-224 |
| 2017 | Shareholder primacy, controlling shareholders and Malaysia's Companies Act 2016. Journal of Corporate Law Studies, 17 (1) pp. 203-224 |
| 2017 | When arbitration clause and oppression claim collide. Commonweallth Law Bulletin, 43 (1) pp. 33-47 |
| 2016 | Of Ponzi schemes and investment scams: a case study of enforcement actions in Malaysia. Journal of Financial Crime, 23 (1) pp. 231-243 |
| 2013 | "But we had obtained professional / legal advice!" the disclosure conundrum and diectors' dilema. Journal of Financial Crime, 20 (3) pp. 312-323 |
| 2013 | Controlling shareholders: issues and challenges for shareholders' empowerment in directors' remuneration in corporate Malaysian . Asian Journal of Comparative Law, () pp. |
| 2013 | Financial reporting failures, board's competency and effectiveness. International Journal of Disclosure and Governance, 10 (2) pp. 155-174 |
| 2013 | Misleading announcement to the stock exchange and director's breach of duty of care: Centro, James Hardie and Fortescue. The Company Lawyer, (7) pp. 233-228 |
| 2011 | Internalising corporate social responsibility (CSR) –looking beyond directors' duties. Journal of Applied Sciences Research, 7 (13) pp. 2411-2420 |
| 2010 | Strengthening the independence criteria: a comparison of the United Kingdom, Malaysia, Hong Kong and Singapore. International Company and Commercial Law Review, 21 (7) pp. 239-252 |
| 2009 | Directors' reliance and responsibility to supervise and auditors' duty of care: Planassurance PAC formerly known as Patrick Lee Pac V Gaelic Inns Pte Ltd. Malayan Law Journal Articles, 4 (44) pp. i-xiv |
| 2008 | Financial misreporting and securities fraud — public and private enforcement. Australian Journal of Corporate Law, 22 () pp. 31-50 |
| 2007 | Challenges of public and/or private enforcement of the Corporate Governance code. International Corporate and Comparative Law Journal , 6 (1) pp. 15-38 |
Conference or Workshop Item
| | |
| --- | --- |
| 2021 | Law and digitalization. In: DIFCON 2021: The 1st International Conference on Law and Digitalization (ICLD) VIRTUAL CONFERENCE: June 21-23, 2021, |
| 2017 | Companies Act 2016 versus Companies Act 1965. In: The Companies Act 2016 – Moving Forward 27 July 2017, |
| 2017 | Directors' accountability under the Companies Act 2016. In: Seminar Pengarah, |
| 2017 | Mis-selling of financial products and investors enforcement mechanism-whither Malaysia?. In: Asian Law Institute Conference, |
| 2016 | Companies act 2016: the game changer. In: The MIA International Accountants Conference 2016, |
| 2016 | Empowered shareholder or interfering shareholder-balancing rights and accountability in governance and decision making. In: Companies Bill 2015: Doing business will not be the same anymore, |
| 2016 | Mastering the new corporate finance rules-rights and accountability; rules and process. In: Companies Bill 2015: Doing business will not be the same anymore, |
| 2016 | Minority share holders' rights- protection and enforcement. In: Malaysian Corporate Law and Case Law on Protection of Minority Shareholders, |
| 2016 | Shareholders activism and shareholders power to instruct. In: 5th International Conference on Law and Society (ICLAS V) 2016, |
| 2016 | The regulation of equity crowdfunding in Malaysia.. In: 5th International Conference on Law and Society (ICLAS V) 2016, |
| 2015 | Consumer protection in Indonesian banking industry. In: The 8th UUM International Legal Conference 2015, |
| 2015 | Extending the scope of proprietary remedies to recovery of pure profits from successful investment of bribes: the endgames in Lister v Stubbs. In: The 8th UUM International Legal Conference 2015, |
| 2015 | Pengharmonian Akta Kontrak 1950 dan prinsip-prinsip shariah. In: Persidangan Meja Bulat Pengharmonian Undang-undang-Kajian Undang-undang Bertulis, |
| 2015 | When arbitration clause and oppression claims collide. In: 4th International Conference on Law & Society (ICLAS IV) 2015 , |
| 2014 | Public and private enforcement strategies in regulating market misconduct and continuous disclosure- an overview of issues and challenges in Malaysia. In: Comparative Enforcement of Corporate and Securities Law in Asia 2014, |
| 2013 | Bribes and the scope for the imposition of constructive trusts - the way forward for Malaysia. In: International Conference on Commercial Laws (ICCL 2013), |
Book
| | |
| --- | --- |
| 2021 | Malaysia Company Law: principles and practices , 3rd edition. Wolters Kluwer, ISBN: 978-967-2875-00-0 |
| 2018 | Malaysia company law: principles and practice. Wolters Kluwer, ISBN: 9789670853505 |
| 2015 | Malaysia company law: principles and practices. Commerce Clearing House Sdn Bhd (Wolters Kluwer), ISBN: 978-967-0853-05-5 |
| 2011 | Corporations and partnerships in Malaysia. Kluwer Law International, ISBN: 9789041137876 |
| 2011 | Governance of corporations and business associations: issues and recent developments. IIUM Press, ISBN: 9789674181093 |
| 2008 | Commercial applications of company law in Malaysia, 3rd. ed.. Commerce Clearing House Sdn Bhd (Wolters Kluwer), ISBN: 9789814228343 |
| 2005 | Commercial applications of company law in Malaysia, 2nd ed.. Commerce Clearing House Sdn Bhd (Wolters Kluwer), ISBN: 9789814180870 |
| 2002 | Commercial applications of company law in Malaysia. Commerce Clearing House Sdn Bhd (Wolters Kluwer), ISBN: 9810463375 |
| 2002 | Commercial applications of company law in Malaysia. Commerce Clearing House Sdn Bhd (Wolters Kluwer), ISBN: 9810463375 |
| 2002 | The Annotated Statutes of Malaysia: companies commission of Malaysia Act 2001 (Act 614) - 2002 issue. Malayan Law Journal Sdn Bhd, ISBN: 967-962-430-7 |
Book Section
| | |
| --- | --- |
| 2019 | Protection of minority investors in the capital market: public enforcement and shareholders' litigation. In: Cambridge University Press, ISBN: 9781107108608, pp. 944-986 |
| 2018 | Malaysia. In: Kluwer Law International BV, ISBN: 978-90-654-4946-7, pp. 13-184 |
| 2017 | Company law and corporate governance in Malaysia- harmonisation of Shariah and the common law. In: Routledge, Taylor & Francis, ISBN: 978-1-3157-6701-7, pp. 228-244 |
| 2016 | Company law and corporate governance in Malaysia: harmonisation of Shariah and the Common law. In: Routledge Taylor & Francis, ISBN: 978-1-1387-8689-9, pp. 228-244 |
| 2016 | Company law and corporate governance in Malaysia: harmonisation of Shariah and the Common law. In: Routledge Taylor & Francis, ISBN: 978-1-1387-8689-9, pp. 228-244 |
| 2011 | Constructive trusts. In: IIUM Press, ISBN: 9789674182236, pp. 87-108 |
| 2011 | Recent developments on directors' remuneration: lessons for Malaysia. In: IIUM Press, ISBN: 9789674181093, pp. 95-118 |
Monograph