Staff Directory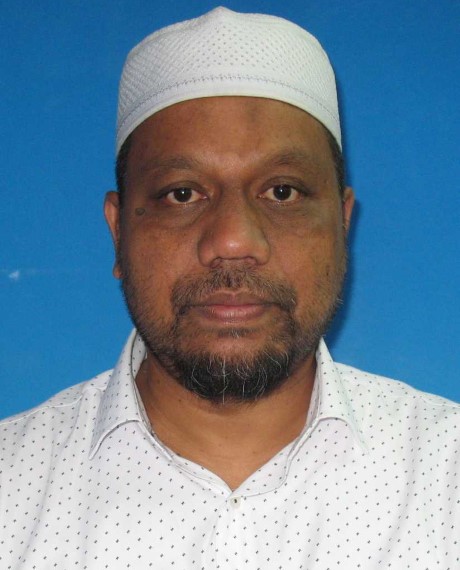 Academic Qualification
Ph.D in Islamic Law (Usul Fiqh) - Doctor of Philosophy, University of Wales
Master in Syariah - Masters Degree, University of Cairo
Bachelor in Syariah Islamiyah - Bachelor Degree, University Al-Azhar, Cairo
Empat Thanawi - Certificate, Madrasah Nahdah Alor Setar, Kedah
Muhammad Naim Bin Omar (Dr.)
Assistant Professor
IIUM Gombak Campus
AHMAD IBRAHIM KULLIYYAH OF LAWS
---
Expert Profile
Dr Muhammad Naim is an Assistant Professor and Head of Department of Islamic Law, Ahmad Ibrahim Kulliyyah of Laws. He joined the university in 1994. He obtained his first degree from the Faculty of Shariah, Azhar University in 1992 and Master's from Cairo University in 1999. In 2006, he was awarded Ph.D by the University of Wales,Lampeter.
He has been actively involved in research, including those funded by Bank Muamalat Malaysia Berhad. The research was entitled: "An Empirical Study of the Effectiveness of the Shariah Governance Framework (SGF) 2010" and "Identifying and Managing Shariah Risks".
Besides, he has also been appointed as a member of Shariah Committee for OCBC Al- Amin, Takaful Ikhlas and Lembaga Zakat Selangor.
Area of Specialisation
Economics, Business And Management ~ Economics, Business And Management ~ Islamic Finance ~ Other Islamic Finance n.e.c.
Humanities ~ Humanities ~ Religious Studies ~ Islamic Studies
Economics, Business And Management ~ Economics, Business And Management ~ Islamic Finance ~ Islamic Banking
Economics, Business And Management ~ Economics, Business And Management ~ Finance ~ Insurance
Teaching Responsibilities
| | |
| --- | --- |
| AL-MU'AMALAT AL-MALIYYAH FI AL-SHARI'AH AL-ISLAMIYYAH II | 2021/2022 |
| AL-NUSUS AL-FIQHIYYAH FI AHKAM AL-USRAH I (LEGAL TEXTS ON FAMILY LAW I | 2021/2022 |
| CONTEMPORARY ISSUES IN ISLAMIC JURISPRUDENCE | 2015/2016 |
| ISLAM & GOVERNMENT II | 2007/2008 |
| ISLAM AND GOVERNMENT | 2008/2009 2006/2007 2007/2008 |
| ISLAMIC INSURANCE LAW (TAKAFUL) | 2011 2010/2011 |
| ISLAMIC JURISPRUDENCE (USUL FIQH) | 2008/2009 2009 2010/2011 2009/2010 |
| ISLAMIC LAW OF TRANSACTION | 2013 |
| ISLAMIC LAW OF TRANSACTIONS | 2016/2017 |
| ISLAMIC LEGAL MAXIMS | 2017/2018 2020/2021 2019/2020 2021/2022 2018/2019 2015/2016 2016/2017 |
| ISLAMIC LEGAL MAXIMS (ARABIC) | 2009/2010 2008/2009 2011/2012 2015/2016 2013/2014 |
| ISLAMIC LEGAL MAXIMS(ARABIC) | 2009/2010 2002/2003 |
| ISLAMIC LEGAL SYSTEM | 2013 |
| ISLAMIC LEGAL SYSTEM I (ARABIC) | 2006/2007 |
| KAEDAH-KAEDAH FEQAH | 2015/2016 2018/2019 2019/2020 2017/2018 |
| LEGAL TEXTS I (ARABIC) | 2020/2021 2009/2010 2012/2013 2016/2017 2008/2009 2006/2007 2010/2011 2013/2014 2007/2008 2011/2012 2017/2018 2014/2015 |
| LEGAL TEXTS II (ARABIC) | 2017/2018 2019/2020 2018/2019 |
| QURANIC AYAT & HADITH ON LAW I (ARABIC) | 2009/2010 2005/2006 2008/2009 2007/2008 2006/2007 2010/2011 |
| QURANIC AYAT & HADITH ON LAW III (ARABIC) | 2007/2008 |
| QURANIC AYAT & HADITH ON LAW IV (ARABIC) | 2009/2010 2008/2009 |
| TEKS UNDANG-UNDANG | 2017/2018 2020/2021 2012/2013 2013/2014 2011/2012 |
| TEKS UNDANG-UNDANG I | 2008/2009 2009/2010 2010/2011 |
| TEKS UNDANG-UNDANG II | 2006/2007 2008/2009 |
| TEKS UNDANG-UNDANG II (ARABIC) | 2010/2011 2009/2010 |
| TRANSACTION IN ISLAMIC LAW II (ARABIC) | 2020/2021 2018/2019 2019/2020 |
| TRANSACTIONS IN ISLAMIC LAW I | 2015/2016 2012/2013 2011/2012 2013/2014 2014/2015 |
| TRANSACTIONS IN ISLAMIC LAW I (ARABIC) | 1999/2000 |
| TRANSACTIONS IN ISLAMIC LAW II (ARABIC) | 2000/2001 2001/2002 1999/2000 |
| TRANSACTIONS IN ISLAMIC LAW II(ARABIC) | 2000/2001 |
| USUL AL FIQH I(ARABIC) | 2001/2002 |
| USUL AL FIQH III (ARABIC) | 2001/2002 |
| USUL AL FIQH IV (ARABIC) | 2016/2017 2001/2002 |
| USUL FIQH I (ARABIC) | 2000/2001 2001/2002 |
Research Projects
Completed
| | |
| --- | --- |
| 2012 - 2015 | Legal and shari'ah remedies for islamic banks in islamic house financing |
On-Going
| | |
| --- | --- |
| 2017 - Present | Islamic Legal Maxims Relating to Riba and Their Applications On The Modern Transactions |
| 2016 - Present | A Study on the Application of Qawa'id Fiqhiyyah (Islamic Legal Maxims) by the Shari'ah Committee in Approving Islamic Banking and Takaful Products in Malaysia |
| 2016 - Present | A Study on the Maxim and Its Application in Islamic Banking and Takaful Industries |
| 2016 - Present | A Study on the Rules of Priority Applicable to the 'Asabah Heir in the Islamic Inheritance |
| 2011 - Present | A Critical Study on bab al-Khiyar on the Book Magni al-Muhtaj (RU 2011) |
| 2009 - Present | Shakhsiyyah I'Tibariyyah (Legal Personality) in islamic Law and its Application in the present Islamic Commercial practices |
Award & Recognition
| | | |
| --- | --- | --- |
| 11 Jun, 2014 | iriiei - iium | University |
Publications
Article
Conference or Workshop Item
| | |
| --- | --- |
| 2021 | The concept of Wasatiyyah under Islamic law perspective: a manifestation of just and balanced rule�. In: Online Roundtable Discussion Harmonisation of Shariah and Law: Issues and Challenges, |
| 2015 | Shariah risk management process for Islamic financial institutions in the context of Shariah Governance Framework 2010. In: The 8th UUM International Legal Conference 2015, |
| 2014 | Remedies available to Malaysian Islamic banks upon default of monthly payment by the customer in Musharakah Mutanaqisah (diminishing partnership) house financing. In: Islamic Business Management Conference (IBMC 2014), |
| 2013 | Enhancement programmes conducted by Malaysian Islamic banks towards the implementation of Shariah compliance. In: International Conference on Commercial Laws (ICCL 2013) , |
| 2013 | Shariah governance for Islamic financial institutions in Malaysia on the independency of Shariah committee and efficiency on its Shariah decisions. In: 7th WSEAS International Conference on Management, Marketing and Finance (MMF '13), |
| 2013 | Study on awareness and adoption of Shariah Governance Framework 2010 (SGF 2010) by the Islamic financial institutions (IFIs) in Malaysia. In: IIUM Research, Invention and Innovation Exhibition (IRIIE) 2013, |
| 2013 | Study on enhancement programmes conducted by Malaysian Islamic financial institutions. In: 4th International Conference on Business and Economic Research (4th ICBER 2013), |
| 2013 | Survey on implementation of internal Shariah compliance function in Malaysian Islamic banks and takaful companies. In: 7th WSEAS International Conference on Management, Marketing and Finance (MMF '13), |
Book
Book Section