Staff Directory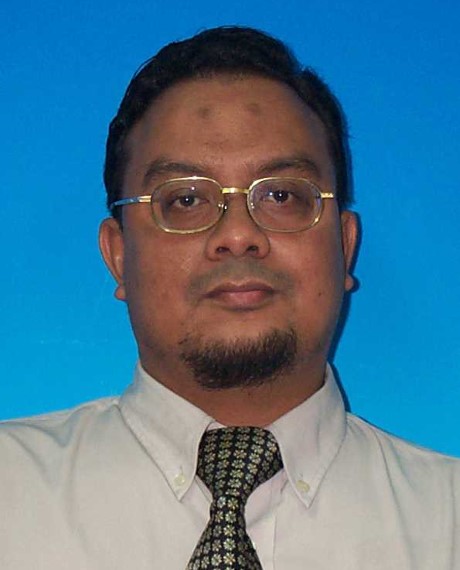 Academic Qualification
Doctor of Philosophy in Accounting - Doctor of Philosophy, University of Lancaster
Master in Accounting and Finance - Masters Degree, University of Lancaster
Bachelor of Accounting (Honours) - Bachelor Degree, International Islamic University Malaysia
English and Arabic Language - Certificate, Kolej Ugama Sultan Zainal Abidin (KUSZA)
Hafiz-Majdi Bin Ab Rashid (Assoc. Prof. Dr.)
Associate Professor
IIUM Gombak Campus
KULLIYYAH OF ECONOMICS AND MANAGEMENT SCIENCES
---
Expert Profile
Dr. Hafiz Majdi started his career as an audit assistant at a public accounting firm in Kuala Lumpur in 1994. However, due to his passion for teaching, he resigned and joined the International Islamic University Malaysia in 1995 as an Assistant Lecturer. He then left for England in September 1995 to pursue his Master's degree in Accounting and Finance at Lancaster University. He obtained a distinction in his Master's degree and then, continued his Ph.D study at the same university. His Ph.D thesis focuses on the influence of information disclosure and cost of capital (i.e. both cost of equity and cost of debt).
Since he came back after the completion of his Ph.D in 2000, he has been very much involved in teaching of the higher level courses in the undergraduate (e.g. Accounting Theory and Policy) and postgraduate programmes (e.g. Financial Accounting and Reporting, and Quantitative Methods). Due to his strong exposure to the quantitative research design during his Ph.D at Lancaster University, he has always been required to teach quantitative research methods. Administratively, he has held positions including Deputy Dean (Postgraduate), Postgraduate Coordinator and Head of Accounting Department.
Dr. Hafiz Majdi has published research papers in international refereed journals in the areas of disclosure, intellectual capital and corporate governance, and supervised more than thirty postgraduate students at both Master's and Ph.D levels. He is currently writing a book on Accounting Theory where he comprehensively compares the Accounting Frameworks between the Conventional view and the Shariah perspective. He is presently an Associate Professor at the Department of Accounting.
Area of Specialisation
Economics, Business And Management ~ Economics, Business And Management ~ Accounting ~ International Accounting
Economics, Business And Management ~ Economics, Business And Management ~ Finance ~ Capital Market - Published articles
Economics, Business And Management ~ Economics, Business And Management ~ Accounting ~ Financial Reporting (Including Accounting Regulation, Accounting Standards, Accounting Theory, Standard-Setting Process, Financial Reporting in Private and Public Sector Organisations)
Economics, Business And Management ~ Economics, Business And Management ~ Accounting ~ Corporate Governance (Including Accountability, Ethics, Integrity) - Published articles
Research Projects
Completed
| | |
| --- | --- |
| 2019 - 2021 | Perakaunan dan Pelaporan Kewangan Islam bagi Institusi Baitulmal, Zakat dan Wakaf di Malaysia Fasa 4 2019 |
| 2018 - 2018 | Penyelidikan Perakaunan dan Pelaporan Kewangan Islam Bagi Institusi Wakaf, Zakat dan Baitulmal di Malaysia (FASA 3) |
| 2018 - 2019 | Earnings Quality and Mandatory Adoption of IFRS with Pre-Adoption Divergence Environment: The Case of Nigeria |
| 2017 - 2017 | Perakaunan dan Pelaporan Kewangan Islam bagi Institut Zakat, Wakaf dan Baitulmal di Malaysia Fasa 2 2017 |
| 2017 - 2018 | Towards Providing the Innovative Takaful Products in Malaysia: The Perspective of Consumers, Takaful Operators and Shari'ah Advisors |
| 2016 - 2016 | Perakaunan dan Pelaporan Kewangan Islam bagi Institusi, Wakaf, Zakat dan Baitulmal di Malaysia |
| 2015 - 2019 | Governance of Malaysian Listed Companies |
| 2012 - 2015 | Modelling for Shareholder Value Creating Boards of Malaysian Listed Firms: Do Board Structure and Activities Matter? |
| 2011 - 2015 | Economics and Social Dynamic: Implications on CG Practices in Malaysian Listed Companies (RU 2011) |
On-Going
| | |
| --- | --- |
| 2016 - Present | Conceptualization of Accounting Framework for Waqf and Zakah in Malaysia |
| 2015 - Present | Board Diversity, Religiousity And Firms? Value: Analysis Of Shariah Approved Companies, Islamic Financial Instituition (Ifls) |
Publications
Article
| | |
| --- | --- |
| 2019 | Overlapping memberships on the audit and other board committees: impacts on financial reporting quality. Asian Journal of Accounting Perspectives, 12 (1) pp. 49-77 |
| 2019 | The stakeholders ecosystem of waqf institutions in Malaysia. Jurnal Syariah, 27 (2) pp. 281-300 |
| 2018 | Awareness and knowledge of takaful in Malaysia: a survey of Malaysian consumers. International Journal of Business and Social Science, 9 (11) pp. 45-53 |
| 2018 | Examining the innovative minds of Takaful consumers: the case of Malaysia. Indian Journal of Public Health Research & Development, 9 (12) pp. 2652-2655 |
| 2018 | Intellectual capital efficiency and corporate book value: evidence from Nigerian economy. Journal of Intellectual Capital, 19 (3 (Special Issue: Intellectual Capital of Africa: Issues, Programmes, Perspectives)) pp. 644-668 |
| 2018 | Pengiktirafan dan pengukuran aset-aset di Majlis Agama Islam Negeri (MAIN): amalan dan cabaran. IPN Journal of Research and Practice in Public Sector Accounting and Management, 8 () pp. 23-48 |
| 2018 | The impact of internal forces on acceptance of takaful by insurance policy-holders in India. Journal of Islamic Accounting and Business Research, 9 (5) pp. 673-686 |
| 2017 | Awareness and knowledge of insurance and Takaful in India: A survey on Indian insurance policy holders. Man in India, 97 (11) pp. 127-140 |
| 2017 | Board characteristics and real performance in Malaysian state-owned enterprises (SOEs). International Journal of Productivity and Performance Management, 66 (8) pp. 1064-1086 |
| 2017 | Determinant of human capital disclosure in the post IFRS regime: An examination of listed firms in Nigeria. Malaysian Accounting Review, 16 (1) pp. 1-20 |
| 2017 | Does intense monitoring matter? A quantile regression approach. Borsa Istanbul Review, 17 (2) pp. 75-85 |
| 2017 | Financial reporting of intangible assets in Islamic finance. ISRA International Journal of Islamic Finance, 9 (2) pp. 190-195 |
| 2017 | Intellectual capital disclosure and corporate market value: Does board diversity matter?. Journal of Accounting in Emerging Economies, 7 (3) pp. 369-398 |
| 2017 | Managing the impact of international financial reporting standards on audit and non-audit fees: Some empirical findings and ethical discussions. International Journal Business Management, 2 (2) pp. 1-17 |
| 2017 | Perakaunan Baitul mal: pengajaran dari tamadun awal Islam. IPN Journal of Research and Practice in Public Sector Accounting and Management, 7 () pp. 29-40 |
| 2017 | The moderating effect of board homogeneity on the relationship between intellectual capital disclosure and corporate market value of listed firms in Nigeria. International Journal of Economics, Management and Accounting, 25 (1) pp. 71-103 |
| 2016 | Accounting and accountability of waqf, zakat and Baitul Mal (WZB) in Malaysia: A review of literature. IPN Journal of Research and Practice in Public Sector Accounting and Management, 6 () pp. 1-14 |
| 2016 | Intellectual capital and information asymmetry: recent evidence from Nigerian economy. Malaysian Journal of Business and Economics, 3 (2) pp. 61-77 |
| 2015 | An investigation of the control role and effectiveness of independent non-executive directors in Malaysian public listed companies. Managerial Auditing Journal, 30 (6/7) pp. 582-609 |
| 2015 | Corporate governance mechanisms and unmanaged earnings: evidence from Government Linked Companies (GLCs). Corporate Board: Role, Duties & Composition, 11 (2) pp. 98-111 |
| 2015 | The effect of award on CSR disclosures in annual reports of Malaysian PLCs. Social Responsibility Journal, 11 (4) pp. 831-852 |
| 2014 | Is the GCC Islamic banks' financial performance affected by the 2007/2008 financial crisis?. Journal of Islamic Economics, Banking and Finance, 10 (3) pp. 74-88 |
| 2012 | Corporate governance and earnings management in Malaysian government linked companies: the impact of GLCs transformation policy. Asian Review of Accounting, 20 (3) pp. 241-258 |
| 2012 | Impact of corporate governance on social and environmental information disclosure of Malaysian listed banks: panel data analysis. Asian Journal of Finance & Accounting, 4 (1) pp. 1-24 |
| 2011 | A panel data analysis on the relationship between corporate governance and bank efficiency. Journal of Accounting, Finance and Economics, 1 (1) pp. 1-15 |
| 2011 | An exploratory study on the usefulness of intellectual capital information: academic' perception. International Journal of Accounting and Finance (IJAF), 3 (2) pp. 177-192 |
| 2011 | Corporate governance and risk management information disclosure in Malaysian listed banks: panel data analysis. International Review of Business Research Papers, 7 (4) pp. 159-176 |
| 2011 | Effects of intellectual capital information disclosed in annual reports on market capitalization: evidence from Bursa Malaysia. Journal of Human Resource Costing & Accounting, 15 (2) pp. 85-101 |
| 2011 | Effects on intellectual capital information disclosed in annual reports on market capitalisation: evidence from Bursa Malaysia. Journal of Human Resource Costing & Accounting, 15 (2) pp. 85-101 |
| 2011 | Usefulness of intellectual capital information: preparers' and users' views. Journal of Intellectual Capital, 12 (3) pp. 430-445 |
| 2011 | Useless of intellectual capital information:preparer's and user's views. Journal of Intellectual Capital, 12 (3) pp. 430-445 |
| 2010 | Critical review of literature on corporate governance and the cost of capital:the value creation perspective. African Journal of Business Management, 4 (11) pp. 2198-2204 |
| 2010 | Motivations of paying zakat on income: evidence from Malaysia. International Journal of Economics and Finance, 2 (3) pp. 76-84 |
| 2005 | Factors influencing auditor independence: Malaysian loan officers' perceptions. Managerial Auditing Journal, 20 (8) pp. 804-822 |
| 2004 | Al Wakalah and its impact on the growth and performance of Takaful companies: a Malaysian case. The European Journal of Management and Public Policy, 3 (1) pp. 82-117 |
Conference or Workshop Item
| | |
| --- | --- |
| 2019 | Directors' remuneration in listed small and medium scale firms: does corporate governance matter?. In: 5th International Conference on Accounting and Finance 2019, |
| 2017 | Disclosure of Shariah related information in Islamic cooperatives: a case study on Baitul Maal Wat Tamwil (BMT). In: 4th International Conference on Management and Muamalah 2017 (ICoMM 2017), |
| 2013 | The impact of IFRS adoption on audit fees: Evidence from Malaysian listed companies. In: The 14th FourA (Asian Academic Accounting Association) Annual Conference 2013, |
| 2011 | A panel data analysis on the relationship between corporate governance and bank efficiency . In: Global Accounting, Finance and Economic Conference, |
| 2011 | Corporate governance and risk management information disclosure in Malaysian listed banks: panel data analysis. In: Global Accounting, Finance and Economics Conference, |
| 2011 | Corporate governance and strategic information disclosure in Malaysian listed banks : panel data analysis. In: Global Economics, Finance and Management Conference, |
| 2011 | The impact of corporate governance on the social and environmental information disclosure of Malaysian listed banks: panel data analysis. In: IIUM International Accounting Conference V (INTAC V), |
| 2011 | The impact of corporate governance on the voluntary accounting information disclosure in Malaysian listed banks. In: Global Economics, Finance and Management Conference, |
| 2010 | Government linked companies: The impact of GLCs transformation policy. In: International Accounting and Finance Conference, |
| 2010 | Panel data analysis of Malaysian listed banks on corporate gevernance and risk. In: The 2nd International Conference on Business and Economy-Constantza, |
| 2010 | The relationship between intangible assets and firm value. In: The International Conference on Business and Economic Research, |
| 2010 | Towards Islamic worldview based corporate governance framework. In: International Conference on Islamic Banking & Finance "Cross Border Practices and litigations, |
Book
Book Section
| | |
| --- | --- |
| 2021 | Humanizing education through Consumerism Advocacy and Vegetable Garden Project. In: Meso Publishing, ISBN: 978-967-19814-5-0, pp. 68-74 |
| 2021 | Humanizing education with tazkiyah al-nafs – the roots of humanized education. In: Kuliyyah of Economics and Management Sciences, International Islamic University Malaysia, ISBN: 978-967-26219-1-1, pp. 10-15 |
| 2021 | Reflection of Sabr in Teaching Principles and Practice of Management. In: Meso Publishing, ISBN: 978-967-19814-6-7, pp. 37-44 |
| 2021 | Reflection on Edu-Action of the Prophetic Attributes with Ta'awun Approach. In: Meso Publishing, ISBN: 978-967-19814-5-0, pp. 27-32 |
| 2019 | Disclosure of Shariah related information in Islamic cooperatives: a case study on Baitul Maal Wat Tamwil (BMT). In: USIM Press, ISBN: 9789674406660, pp. 362-466 |
| 2011 | Better corporate governance and risk in dual banking environment : evidence from Malaysia.. In: IIUM Press, ISBN: 978-967-022-590-6, pp. 138-159 |
Monograph
| | |
| --- | --- |
| 2020 | Cadangan pelaksanaan perakaunan dan pelaporan kewangan Islam bagi Institusi Baitulmal, zakat dan wakaf di Malaysia (Zon 3). In: , |
| 2020 | Perakaunan dan pelaporan kewangan Islam bagi Institusi Baitulmal, Zakat dan Wakaf Di Malaysia Fasa 4 (Zon 3). In: , |
| 2019 | The impact of corporate governance on executive directors' remuneration of listed small and medium scale firms in Malaysia. In: , |
| 2018 | Perakaunan dan pelaporan kewangan Islam bagi institusi wakaf, zakat dan baitulmal di Malaysia fasa 2, 2017 (Zon 3). In: , |
| 2017 | Perakaunan dan pelaporan kewangan Islam bagi Institusi Wakaf, Zakat dan Baitulmal di Malaysia. In: , |