Staff Directory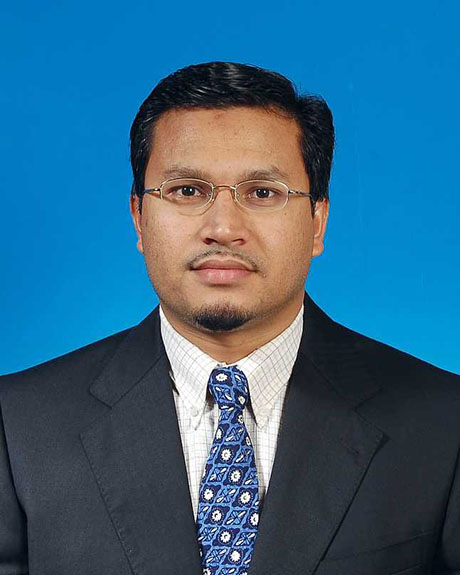 Academic Qualification
Doctor of Philosophy in Law - Doctor of Philosophy, University of Wales, Lampeter
Master in Syariah - Masters Degree, University of Cairo
Bachelor of Arts in Syariah Islamiah - Bachelor Degree, University Al-Azhar, Cairo
Aznan Bin Hasan (Prof. Dr.)
Professor
IIUM KL Campus
INSTITUTE OF ISLAMIC BANKING AND FINANCE
---
Expert Profile
Dr. Aznan Hasan is an Associate Professor in Islamic Law and the former Head of Islamic Law Department, Ahmad Ibrahim Kulliyyah of Laws, IIUM. He is currently the President of the Association of Shariah Advisors in Islamic Finance (ASAS), and the Deputy Chairman of Shariah Advisory Council, Securities Commission. He was a member of Shariah Advisory Council (SAC) of Bank Negara Malaysia for two terms (2006-2008, 2010-2013). Prior to joining SAC of Bank Negara Malaysia, he was the Chairman of Shariah Advisory Board, ACR Retakaful MEA, Bahrain and SEA, Malaysia, where he was instrumental in the setting up of ACR Retakaful Model from Shariah point of view.
Currently, he is the Chairman of Shariah Committee, Maybank also serves as the Chairman of Shariah Advisory Board, Barclays Capital (DIFC, Dubai), a member of Shariah Advisory Board, ABSA Islamic Bank (South Africa), FNB Bank (South Africa), European International Islamic Bank (EIIB) (London) Yasaar Limited (London), Khalij Islamic (London), Cordoba Capital (Dubai), Amanah raya Berhad, Amanah Raya Investment Bank Labuan, Employee Provident Fund (EPF) and some other financial institutions and corporate bodies at both local and international levels.
He also serves as a Shariah consultant to Maybank Investment Bank and Hong Leong Islamic Bank. He is a registered Shariah Advisor for the Islamic Unit Trust Scheme and Islamic securities (Sukuk), Securities Commission of Malaysia and a member of Shariah Supervisory Board and Investment Committee, Waqaf Foundation, a corporate entity formed by the Government to oversee the application of Waqaf in Malaysia.
Dr Aznan had been involved in the advisory and structuring of various Islamic financial products, including banking products, capital market products and takaful products. He also provides advisory services in Islamic wealth management, waqaf and zakat. Dr. Aznan Hasan received his first degree in Shariah from the University of al-Azhar, and then successfully completed his Master's degree in Shariah from Cairo University with distinction. He then obtained his Ph. D from the University of Wales, Lampeter, United Kingdom.
Area of Specialisation
Humanities ~ Humanities ~ Religious Studies ~ Islamic Studies - Jurisprudence, Zakat & Waqaf
Economics, Business And Management ~ Economics, Business And Management ~ Islamic Finance ~ Islamic Insurance - Islamic Insurance (Takaful)
Economics, Business And Management ~ Economics, Business And Management ~ Islamic Finance ~ Islamic Banking
Economics, Business And Management ~ Economics, Business And Management ~ Investment ~ Islamic Investment Instrument
Research Projects
Completed
| | |
| --- | --- |
| 2021 - 2023 | EXPLORING THE POTENTIAL OF USING ZAK?T COLLECTION FOR THE PURPOSE OF EXTENDING MICRO FINANCE TO THE RECIPIENTS OF ZAK?T |
| 2016 - 2018 | Kajian Hukum Wakaf Unit Amanah Menurut Perspektif Syarak Dalam Konteks Pelaksanaannya di Malaysia |
| 2014 - 2017 | Family Waqf in Islamic Law: An Analysis of its Socio Legal Significance and Its Abolishment in Arab States and India |
| 2013 - 2014 | Mudarabah Capital from Multiple Investors: Scope and Consequences on the Liability of Investors and the Entrepreneur in Islamic Law |
| 2013 - 2017 | Modelling Regulation of Zakat Administration in Malaysia : A Triangulation Study |
| 2004 - 2017 | Pentadbiran Undang-Undang Zakat di Malaysia |
On-Going
| | |
| --- | --- |
| 2023 - Present | The Potential Sukuk Structures for the Issuance of Sukuk Waqf in Malaysia |
| 2023 - Present | The Processes of Issuing Sukuk Waqf in Malaysia and the Role of Majlis Agama Islam and Securities Commission |
| 2023 - Present | An Exploratory Research on the Issuance of Sukuk Waqf in Malaysia |
| 2023 - Present | A Bibliometric Analysis of Sukuk Waqf |
| 2023 - Present | The Potential Shariah, Legal and Practical Issues in the Issuance of Sukuk Waqf in Malaysia |
| 2020 - Present | Cash Waqf and Its Implementation in the Modern Islamic Finance |
| 2019 - Present | Shariah Governance an Financial Performance of Islamic Banks in Malaysia (Bank Pembangunan Malaysia Berhad Research Grant) |
| 2010 - Present | Ibra' and Its Application in Islamic Banking in Malaysia |
| 2004 - Present | The Use of Hiyal (Legal Devices) in Islamic Banking System with Particular Reference To Bay 'Al-Inah and Bay' Al-Tawarruq |
Publications
Article
| | |
| --- | --- |
| 2023 | Remodeling Qard Hasan with cash waqf fund: economic stability solution post Covid-19. AZKA International Journal of Zakat and Social Finance, 4 (2 (Special Issue)) pp. 1-23 |
| 2023 | The influence of Basel III on Islamic bank risk. Journal of Islamic Monetary Economics and Finance, 9 (1) pp. 167-198 |
| 2023 | Weightages and income sharing ratio practice for profit distribution in Islamic banks: Bangladesh scenario. Journal of Islamic Finance Accountancy (JOIFA), 8 (1) pp. 22-37 |
| 2023 | مدى التزام المصارف الإسلامية الكويتية بضوابط الاستثمار في الصكوك الإسلامية وفقا لهيئة المحاسبة والمراجعة للمؤسسات المالية الإسلامية = The extent of commitment of Kuwaiti Islamic Banks to investment controls in Islamic Sukuk according to the accounting and auditing organization for Islamic financial institutions. Al-Qanatir: International Journal of Islamic Studies., 30 (1) pp. |
| 2022 | Basel iii capital regulation framework and Islamic bank's risk. IIUM Law Journal, 30 (S2) pp. 93-128 |
| 2022 | Islamic smart city innovation, concept, application and Shari'ah parameters: a theoretical assessment and technological advancement in artificial intelligence. Global Journal of Researches in Engineering: J General Engineering, 22 (1) pp. |
| 2022 | The significant role of Shariah Advisory Council (SAC) in dispute resolution mechanisms: the evolution of regulatory framework in Malaysia. Transnational Dispute Management, 19 (6) pp. |
| 2022 | صيغة الإجارة كأداة من أدوات التمويل الشرعي للشركات الصناعية في ليبيا دراسة حالة مصرف التنمية الصناعية في ليبيا = Ijarah formula as a tool of Sharia financing for industrial companies in Libya: case study of the industrial development bank in Libya. Al-Qanatir: International Journal of Islamic Studies, 28 (1) pp. 59-81 |
| 2022 | وقف النقود يف التاريخ اإلسالمي: دراسة استكشافية. Humanities & Natural Sciences Journal, 3 (9) pp. |
| 2021 | Ar-Rahnu: isu dan penyelesaian semasa. Malaysian Journal of Syariah and Law, 9 (1) pp. 47-60 |
| 2021 | Classification of Defaulter in the Payment of Debt in Islamic Banking Practices from Sharī'Ah Perspective. Al-Shajarah, () pp. 85-103 |
| 2021 | Determining the appropriate investment strategy and identify the leading monetary system before and during the Covid-19 pandemic crisis: a case study of crypto-currency, gold standard, and fiat money. Journal of Information Technology Management (JITM), 13 (2) pp. 25-50 |
| 2020 | An analysis of residue net estate distribution to bayt al-mal in Singapore. ISRA International Journal of Islamic Finance, 12 (1) pp. 49-67 |
| 2020 | An integrated approach of unit trust and waqf as a sustainable investment conceptual model in the Covid-19 era. International Journal of Liberal Arts and Social Science, 8 (12) pp. 30-41 |
| 2020 | البنوك الإسلامية بين المعايير الشرعية والقوانين المطبقة: تجربة ماليزيا. المجلة الدولية للدراسات الاقتصادية, 3 (11) pp. 138-146 |
| 2020 | الترجمة الانجليزية للمصطلحات المالية الواردة في صحيح البخاري: دراسة نقدية لإسهامات الدكتور محسن خان = English translation of financial terminologies in Ṣaḥīḥ Al-Bukhārī: critical study of Mushin Khan's work. مجلة الدراسات الإسلامية المعاصرة, 2 (1) pp. 108-128 |
| 2020 | المعايير الخاصة بحوكمة المصارف الإسلامية دراسة تطبيقية على المصارف الإسلامية القطرية = Special standards corporate governance of Islamic banks: an applied study on Islamic banks in Qatar. International Journal of Fiqh and Usul al-Fiqh Studies, 4 (1) pp. 6-22 |
| 2020 | المقاصة في الحقوق: دراسة فقهية تحليلية = Debt Offset Related To Settling Rights: A Juristic and Analytical Study. International Journal of Al-Turath In Islamic Wealth and Finance, 1 (1) pp. 88-111 |
| 2020 | تطوير مبادئ حوكمة المؤسسات الوقفية بالاستفادة من مبادئ حوكمة الشركات = The development of governance principles for Waqf Institutions in line with the corporate governance principles = Pengembangan prinsip tadbir urus untuk Institusi Wakaf sejajar dengan prinsip tadbir urus korporat. Journal of Islam in Asia, 17 (2) pp. 39-66 |
| 2020 | صكوك المضاربة والمرابحة المختلطة: دراسة فقهية تأصيلية تحليلية = Mudharaba and Murabaha mixed sukuk: a fiqhi structural analysis = Mudharaba dan murabaha sukuk campuran: analisis struktur fiqhi. Journal of Islam in Asia, 17 (2) pp. 21-38 |
| 2020 | منهج المفتي محمد تقي العثماني في استعراض النوازل المالية كتاب البيوع في "صحيح البخاري" نموذجاً = The methodology of Muftī Muhammad Taqi Usmani in presenting unprecedented financial issues: Book of Sale of Ṣaḥīḥ Al-Bukhārī as a case study = Metodologi kajian Mufti Muhammad Taqi Usmani dalam membincangkan permasalahan baru dalam sistem kewangan: bab di dalam Kitab Jual-Beli Sahih Bukhari sebagai kajian kes. Journal of Islam in Asia, 17 (2) pp. 67-89 |
| 2019 | A proposed human resource management model for zakat institutions in Malaysia. ISRA International Journal of Islamic Finance, 11 (1) pp. 98-109 |
| 2019 | Proposed models for unit trust waqf and the parameters for their application. ISRA International Journal of Islamic Finance, 11 (1) pp. 62-81 |
| 2019 | Proposing models of Unit Trust Waqf. ISRA International Journal of Islamic Finance, () pp. 62-81 |
| 2019 | Unit Trust Waqf: in the light of contemporary Fatwa = Unit amanah: sorotan fatwa semasa. Al-Qanatir: International Journal of Islamic Studies, 13 (2 (Special Edition)) pp. 1-13 |
| 2019 | دراسة مقارنة بين تعليمات الحوكمة الصادرة من مصرف قطر المركزي ونظام الحوكمة الصادر من هيئة قطر للأسواق المالية = A comparison study between governance instructions issued by Qatar Central Bank and governance system issued by Qatar financial markets authority. Journal of Islam in Asia, () pp. 1-27 |
| 2019 | صكوك المرابحة السيادية وإمكانية تنفيذها في ليبيا = Sovereign Murabaha sukuk and the possibility of implementing it in Libya. International Journal of Economic Studies, 6 () pp. 231-249 |
| 2018 | Complying with the requirements for issuance of SRI sukuk: the case of Khazanah's Sukuk Ihsan. Journal of Islamic Accounting and Business Research, 9 (3) pp. 415-433 |
| 2018 | Pembangunan Wakaf Kontemporari Menerusi Kerangka Konseptual Wakaf Unit Amanah: Sorotan Fatwa Semasa. Jurnal Muamalat, (11) pp. 55-74 |
| 2018 | The roles of the Shariah committee in the implementation of value-based intermediation. Islamic Finance News, 15 (41) pp. 25-26 |
| 2018 | Zakat on legal entities (Shakhsiyyah I'tibariyyah): a shari'ah analysis. Al-Shajarah, Special Issue: Islamic Banking and Finance 2018 () pp. 255-282 |
| 2018 | الحلول الشرعية لمشكلة السيولة في المصارف الاسلامية. مجلة كلية دار العلوم, 35 (117) pp. 51-82 |
| 2017 | Classification of defaulters in the payment of debt in Islamic banking practices. Al-Shajarah, 2017 (Special Issue: Islamic Banking and Finance) pp. 85-103 |
| 2017 | Dynamism of Waqf of Unit Trusts from Shariah Perspective. Shariah Journal, 25 (2) pp. 157-186 |
| 2017 | Islamic structured investment products. ISRA Islamic Commercial Law Report 2017, () pp. |
| 2017 | Maqāṣid al-Sharīʿah and the online banking system: Implications for service delivery. International Journal of Fiqh and Usul al-Fiqh Studies, 1 (1) pp. 91-99 |
| 2017 | The mitigation of liquidity risk in Islamic banking operations. Banks and Bank Systems, 12 (3) pp. 154-165 |
| 2017 | The Strategy of Sustainable Waqf Development and Investment from the Perpective of Shariah. Jurnal Syariah, 24 (2) pp. 237-270 |
| 2017 | مقاصة الديون في الفقه الإسلامي وتطبيقاتها المستحدثة في البنوك الإسلامية Setting of debts in Islamic jurisprudence and it novel application in Islamic Banks. at-Tajdid, 21 (42) pp. 127-154 |
| 2017 | مقاصد الشريعة ونظام الصيرفة عبر الإنترنت: آثارهما في تقديم الخدمات = Maqāṣid al-Sharīʿah and the online banking system: implications for service delivery. International Journal of Fiqh and Usul al-Fiqh Studies, 1 (1) pp. 91-99 |
| 2016 | Innovation in Islamic finance: The way forward. Al-Shajarah, 21 (3 Special Issue) pp. 1-20 |
| 2016 | Modus operandi of the Islamic money market: a proposal for holistic shariah adaptation. University of Sharjah Journal, 13 (Special Issue) pp. 42-67 |
| 2016 | PELABURAN SECARA PENGUMPULAN DANA MASYARAKAT (CROWDFUNDING) DAN ISU-ISU SYARIAH YANG BERKAITAN. Jurnal Muamalat, (9) pp. 22-36 |
| 2016 | Pembangunan dan pelaburan lestari harta wakaf dari perspektif Islam = Sustainable development and investment of waqf assets from the Islamic perspective). Jurnal Kanun, 28 (1) pp. 68-100 |
| 2016 | Socio-legal significance of family waqf in Islamic Law: Its degradation and revival. IIUM Law Journal, 24 (2) pp. 309-334 |
| 2016 | The quest for effective regulation of Islamic money market: an appraisal of the applicable laws in Malaysia. Journal of Islamic Legal Studies, 2 (1) pp. 55-72 |
| 2016 | The use of islamic real estate investment trust (I-REITs) as a contemporary instrument in developing Waqf assets: potential structure, issues and challenges. Intellectual Discourse, 24 () pp. 521-520 |
| 2015 | Analysis on the development of legislations governing Shariah advisory council of Bank Negara Malaysia. Jurnal Syariah, 23 (2) pp. 325-342 |
| 2015 | Islamic interbank money market: a comparative legal study between Malaysia and some notable jurisdictions. CLJ Shariah Law Report, 1 () pp. vi-xxxviii |
| 2015 | Kehendak shariah dalam akta perkhidmatan kewangan Islam 2013 (AKTA 759): satu tinjauan . CLJ Legal Network Series, 1 (xxiii) pp. 1-31 |
| 2015 | Kehendak Shariah dalam akta perkhidmatan kewangan Islam 2013 (Akta 759): satu tinjauan. Legal Network Series, 1 () pp. 1-33 |
| 2015 | Non-interest (Islamic) liquidity management in the Nigerian non-interest banking: a legal study from the experience of Malaysia. SHR, SHARIAH REPORT (A Journal on Islamic Law, Banking & Finance), Malaysian Current Law Journal (MCLJ), 1 () pp. cxxvii-cxl |
| 2015 | Non-Interest (Islamic) liquidity management in the Nigerian non-interest banking: a legal study from the experience of Malaysia. Shariah Reports, 1 () pp. cxxvii-cxl |
| 2015 | Optimal shari'ah governance model in Islamic finance regulation. International Journal of Education and Research, 3 (4) pp. 243-258 |
| 2015 | Optimal shari'ah governance model in Islamic finance regulation. International Journal of Education and Research, 3 (4) pp. 243-258 |
| 2015 | Replication of short selling In Islamic finance. Al-Shajarah, () pp. 41-66 |
| 2015 | Shari'ah compliant liquid commodity market: {an expositional study on Bursa Suq al-Sil'ah in Malaysia}. Journal of Emerging Economies and Islamic Research, 3 (2) pp. 2-11 |
| 2015 | Transformasi Pembangunan Harta Wakaf Menerusi Mekanisme Dana Amanah Hartanah Islam. Jurnal Muamalat, (8) pp. 29-52 |
| 2015 | الرقابة الداخلية في شركات المساهمة ومهامها في الإشراف على أعمال مجلس الإدارة في ظل قواعد الحوكمة: دراسة قانونية في القانون البحريني مقارنة بالشريعة الإسلامية = Internal control in the joint stock companies and their duties in supervising the work of the board of directors under the rules of governance: a legal study in Bahraini law in comparison to Islamic law. Journal of Islamic Studies and Thought for Specialized Researches, 1 (3) pp. 74-92 |
| 2015 | انتخاب أعضاء مجلس إدارة شركة المساهمة وشروط العضوية فيه في ظل قواعد الحوكمة: دراسة في القانون البحريني مقارنة بالشريعة الإسلامية. The Journal of Sharia Fundamentals for Specialized Researches, 1 (3) pp. 123-146 |
| 2015 | مفهوم نظام حوكمة شركات المساهمة: النظرة القانونية مقارنة بالشريعة الإسلامية = Corporate Governance in Shareholding Companies: Comparing Legal Perspective and Position of Shari'ah . Global Journal Al-Thaqafah, 5 (2) pp. 123-135 |
| 2014 | Tawarruq practice for liquidity management: comparative study between komoditi syariah Indonesia and bursa suq al sila` Malaysia. International Journal of Excellence in Islamic Banking & Finance, 4 (1) pp. 1-16 |
| 2013 | Resolusi syariah oleh majlis penasihat shariah Bank Negara Malaysia: tinjauan perspektif undang-undang. Kanun- Jurnal Undang-Undang Malaysia, 25 (2) pp. 220-237 |
| 2012 | The Application of choice of law and choice of forum clauses to Islamic banking and Financial Cross Border Transactions. Australian Journal of Basic and Applied Sciences (AJBAS), 11 (6) pp. 370-380 |
| 2012 | The current practices of Islamic Build Operate Transfer (BOT) financing contracts: A legal analysis. Pertanika Journal of Social Science and Humanities, 20 (spec.) pp. 73-85 |
| 2011 | Al-Dhaman fi al-Mudharabah wa al-Musharakah wa Tatbiqatuhu al-Mu'asirah (Guaranteed in Mudharabah and Musharakah and Their Contemporary Application in Islamic Banks. Majallat Isra al-Dawliyyah li al-Maliyah al-Islamiyyah, 2 (1) pp. |
| 2011 | Isu-Isu Syariah Dalam Kewajipan Menunaikan Zakat Ke Atas Entiti Korporat. Jurnal Muamalat, (4) pp. 208-234 |
| 2011 | Shari'ah Issues in The Operation of Retakaful and Reinsurance: A preliminary Exploration From Shari'ah Perspective. IIUM Law Journal, 19 (2) pp. 149-178 |
| 2011 | Shariah principles in Halal products. Shariah Law Reports, 2 () pp. xxix-lii |
| 2007 | Undang-Undang Pentadbiran Zakat di Malaysia", Siri Perkembangan Undang-undang di Malaysia, Undang-Undang Keluarga Islam, Jil. 1, Mahmat Ariffin, et al. Pentadbiran Undang-undang Islam Di Malaysia, 12 () pp. 207-254 |
| 2006 | Kaifiyyat Taqwim al-Makhzun al-Sal'i li Gharad Muhasabat al-Zakat fi al-Fiqh al-Islami (Commodities Stock Evaluation For Zakat Accounting). al-Tajdid, 10 (19) pp. 105-126 |
| 2004 | A Comparative Study of Islamic Legal Maxims in Majallat al-Ahkam al-'Adliyyah, Jordanian Civil Code, and United Arab Emirates Law of Civil Transaction. The Islamic Quarterly, 48 () pp. 47-68 |
| 2003 | An Introduction to Collective Ijtihad: Concept and Application. American Journal of Islamic Social Sciences, 20 (2) pp. 26-49 |
| 2003 | Granting Khul' For Non-Muslim Couple in Egyptian Personal Status Law: Generosity or Laxity?, . Arab Law Quarterly, 18 (1) pp. 81-88 |
Conference or Workshop Item
| | |
| --- | --- |
| 2023 | Islamic Peer-to-peer (P2P) Financing as an alternate Model of MSME financing in Nigeria. In: International Conference on Islamic Finance and Banking (ICIFB'2023), |
| 2022 | Islamic Smart City innovation, concept, application and Shari'ah parameters: a theoretical assessment and technological advancement in Artificial Intelligence. In: Ahlia University Conference on Business and Technology, |
| 2021 | Waqf-linked unit trust fund: recent development within the Malaysian Islamic capital market framework. In: International Conference on Economics, Entrepreneurship and Management 2021 (ICEEM2021), |
| 2020 | Combating climate change in Malaysia: critical appraisal on Sukuk as an Islamic social finance instrument. In: Islamic Social Outreach Programme (ISFO 2020), |
| 2020 | Conceptual model of unit trust waqf based on fixed unit trusts structure. In: 4th International Virtual Conference on Zakat, Waqf and Islamic Philantrophy 2020, |
| 2020 | Cryptor currency, cryptor asset and fiat money: a critical appraisal from the shari'ah perspective. In: Islamic Social Finance: Pandemic Crisis and Possible Solutions (ISFPCPS 2020), |
| 2020 | Digital Asset and its Regulation in Malaysian Islamic Capital Market. In: 8th ASEAN Universities International Conference on Islamic Finance (AICIF 2020), |
| 2020 | Dinamisme pembangunan harta wakaf menerusi mekanisme amanah pelaburan hartanah Islam (Islamic Real Estate Investment Trust I-REIT) di Malaysia. In: Seminar Kebangsaan Penyelidikan Pengurusan Hal Ehwal Islam Di Malaysia, |
| 2020 | Integrated Approach of Unit Trust and Waqf as Sustainable Investment Conceptual Model in the Covid-19 Era. In: 3rd International Seminar on Islam and Science 2020 (SAIS 2020), |
| 2020 | Legal Documentations on Sukuk Wakalah bi al-Istithmar. In: Islamic Law Talk-Bar Council, |
| 2020 | Waqaf sukuk innovative structures using the blockchain technology: its role to sustainable food security in post Covid-19 pandemic. In: 8th ASEAN Universities International Conference on Islamic Finance (8th AICIF) 2020, |
| 2020 | المصلحة وضوابطها في تطبيقات المعاملات المالية والمصرفية المعاصرة. In: 15th International Sharīʿah Scholars Forum (2020), |
| 2020 | مؤشر اللايبور واقعة وانعكاسات إلغاءه على المصارف الإسلامية، دراسة في التأثير والبدائل: معدل العائد الاسلامى (Islamic Rate of Return) نموذجا. In: مؤتمر الآيوفي الهيئات الشرعية الثامن عشر في مملكة البحرين خلال الفترة, |
| 2019 | The role of digital world and its effect in achieving the objective of Islamic economic. In: 5th Doha International Conference on Islamic Finance, |
| 2019 | Unlocking the Value of Waqf Assets via Islamic Real Estate Investment Trusts (Islamic REIT): A Deliberation on the Preliminary Framework. In: 8th International Islamic Economic System Conference 2019 (I-iECONS 2019), |
| 2019 | دور العالم الرقمي وأثره في تحقيق أهداف الاقتصاد الإسلامي. In: مؤتمر الدوحة الخامس للمال الإسلامي, |
| 2018 | Sukuk issuance for Meeting Basel III Capital Adequacy Requirements: a shariah analysis of Maybank Tier 1 sukuk. In: 6th ASEAN Universities International Conference on Islamic, Finance (6th AICIF), |
| 2018 | Waqf scheme for government expenditure. In: 1st Global Conference on Islamic Economics and Finance 2018 (GCIEF 2018), |
| 2016 | Liquidity Risk Management in Islamic Banks: Issues and Challenges. In: 4th Asean International Conference on Islamic Finance (4th AICIF 2016), |
| 2016 | The Concept of Qalb Al-Dayn (Debt Restructuring) and its Contemporary Issues in Islamic Banking Practices. In: 4th ASEAN International Conference on Islamic Finance (AICIF 2016), |
| 2015 | Identifying critical factors towards building a viable sadaqa house model in Malaysia. In: Sadaqah House Seminar, |
| 2015 | The appointment of members to the shariah advisory council of Central Bank of Malaysia: legal issues. In: The 8th UUM International Legal Conference 2015, |
| 2013 | Innovation in Islamic finance the way forward. In: International Conference on Islamic Commercial Law 2013 (ICCL 2013), |
| 2013 | Innovation in Sukuk market: the case of Abu Dhabi perpetual Sukuk. In: 1st ASEAN International Conference on Islamic Finance, |
| 2013 | Islamic Capital Market and Waqf. In: 1st ASEAN International Conference on Islamic Finance (1st AICIF), |
| 2013 | Replication of short selling in Islamic Finance: potential structures and issues. In: 1st ASEAN International Conference on Islamic Finance (1st AICIF), |
| 2012 | Latest development in Islamic finance. In: Islamic Law Talk- Bar Council, |
| 2012 | Latest trend in the issuance of sukuk: Sukuk Wakalah bi al-Istithmar. In: Islamic Law Talk- Bar Council Malaysia, |
| 2012 | الحكومة الشرعية في المؤسسات المصرفية الإسلامية في مختلف الولايات القضائية: دراسة تحليلية مقارنة. In: 7th International Shari'ah Scholars Forum (ISSF 2012), |
| 2011 | Analysis on Shariah governance in Islamic banking: a comparative perspective. In: International Conference on Shariah Governance in Islamic Banking Across Jurisdiction, |
| 2011 | KEWANGAN ISLAM ALTERNATIF TERBAIK MENDEPANI KRISIS KEWANGAN GLOBAL. In: Perundangan Islam Dalam Masyarakat Kontemporari (ISLAC) 2011, |
| 2011 | PRODUK KEWANGAN ISLAM UNTUK PEMBIAYAAN SEKTOR BERTEKNOLOGI TINGGI: KEPENTINGAN PERKONGSIAN RISIKO BAGI MENGGALAKKAN PENYERTAAN UMAT ISLAM. In: Kesan Sistem Kewangan Islam di Malaysia Terhadap Kekuatan Ekonomi Ummah – Satu Penilaian, |
| 2011 | ZAKAT ON SHAKHSIYYAH 'ITIBARIYYAH (LEGAL ENTITY). In: Zakat and Its Application in Islamic Banks , |
| 2010 | Faith and Finance: Multicultural Banks Versus Islamic Banks. In: Ninth Harvard University Forum on Islamic Finance, |
| 2010 | Mekanisma Perlindungan Nilai Dalam Kewangan Islam (Islamic Hedging Mechanism in Islamic Financial system) . In: The Shariah Scholars Forum, 5th Kuala Lumpur International Islamic Finance Forum (KLIFF), |
| 2010 | Perlaksanaan Tanazul Di Dalam Kontrak Berdasarkan Musharakah: Perspektif Syarak. In: Seminar on Shariah Issues in Musharakah and Mudharabah, Joint Conference Between Shariah Advisory Council BNM and Shariah Advisory Council SC, |
| 2009 | Al-Siyasah al-Naqdiyyah fi Daw' al-Sharia'at al-Islamiyyah (Monetary Policy From Shariah Perspective). In: 4th International Shariah Scholars Dialogue,, |
| 2009 | Institusi kewangan dan perbankan Islam: antara motif keuntungan dan tanggungjawab sosial. In: Keadilan Sosial: Kea rah Peningkatan Kesaksamaan Peluang Di Kalangan Anggota Masyarakat, |
| 2009 | PEMILIKAN DAN PEMBANGUNAN HARTANAH SECARA ISLAM DI MALAYSIA. In: Seminar Pembangunan Hartanah Kebangsaan Menurut Perspektif Islam, |
| 2009 | SHARIAH PRINCIPLES IN HALAL PRODUCTS. In: 3rd IMT-GT International Symposium on Halal Science and Management 2009, |
| 2008 | KEWAJIPAN ZAKAT ATAS ENTITI KORPORAT. In: Persidangan Zakat dan Cukai Peringkat Kebangsaan 2008, |
| 2007 | THE ROLE OF THE SHARIAH ADVISORS IN THE DEVELOPMENT AND ENHANCEMENT OF ISLAMIC SECURITIES. In: International Colloquium on Islamic Securities, |
| 2004 | Kerangka Undang-undang Transaksi Maya (Online Transaction) Menurut Perspektif Islam. In: Seminar Undang-undang dan Teknologi: Pembangunan Undang-undang dan Teknologi Dalam Era Baru, |
| 2003 | The Concept Of Takhayyur And Its Application In Islamic Banking And Finance: An Appraisal. In: 2nd International Law and Commerce Conference,, |
| 2003 | The Influence of Majallat al-Ahkam al-cAdliyyah Upon Jordanian Civil Code and United Arab Emirates Law of Civil Transactions in the Interpretation and Binding Force of Contract. In: International Conference on Harmonisation of Shariah and Civil Law, |
Book
Book Section
| | |
| --- | --- |
| 2021 | Combating climate change in Malaysia: Green Sukuk and its potentials. In: IGI Publisher, ISBN: 9781799868118, pp. 264-279 |
| 2020 | Alternative commercial and operational solutions in Islamic banking: the contribution of Mufti Taqi Usmani. In: Springer Nature, ISBN: , pp. 1-10 |
| 2019 | Contemporary structuring of corporate waqf via Islamic real estate investment trusts (i-reits): is it viable?. In: USIM Press, ISBN: 978-967-440-666-0, pp. 254-272 |
| 2019 | Contemporary structuring of corporate waqf via Islamic real estate investment trusts (i-reits): is it viable?. In: USIM Press, ISBN: 978-967-440-666-0, pp. 254-272 |
| 2019 | The potential of sharī'ah-compliant equity crowdfunding as a source of fund for new entrepreneurs in Malaysia. In: IIiBF, International Islamic University of Malaysia, ISBN: 978-983-44568-4-9, pp. 179-196 |
| 2019 | The potential of sharī'ah-compliant equity crowdfunding as a source of fund for new entrepreneurs in Malaysia. In: IIiBF, International Islamic University of Malaysia, ISBN: 978-983-44568-4-9, pp. 179-196 |
| 2019 | Waqf Unit Trust: sharī'ah issues and applications. In: IIiBF, International Islamic University of Malaysia, ISBN: 978-983-44568-4-9, pp. 327-344 |
| 2016 | Islamic interbank money market: contracts, instruments and their pricing. In: Palgrave Macmillan, ISBN: 978-3-319-33990-0, pp. 67-100 |
| 2011 | Asset as a key element in the development of financial products. In: IIUM Press, ISBN: 9789674180607, pp. 86-101 |
| 2011 | Classification of wealth in Islamic financial system. In: IIUM Press, ISBN: 9789674180607, pp. 31-47 |
| 2011 | Functions of financial markets. In: IIUM Press, ISBN: 9789674180607, pp. 69-77 |
| 2011 | The concept of assets for the Islamic financial institutions. In: IIUM Press, ISBN: 9789674180607, pp. 103-112 |
| 2011 | The concept of wealth. In: IIUM Press, ISBN: 9789674180607, pp. 5-18 |
| 2011 | The position of money market. In: IIUM Press, ISBN: 9789674180607, pp. 50-67 |
| 2011 | The suitability of assets and criteria for the development of financial products. In: IIUM Press, ISBN: 9789674180607, pp. 113-130 |
| 2011 | الحالات القانونية لتصفية شركات المساهمة العامة في القانون اليمني وفي ضؤ الفقه الإسلامي. In: IIUM Press, ISBN: , pp. 1-36 |
| 2010 | Islamic Structured Products: Issues and Challenges", Current Issues in Islamic Banking and Finance. In: World Scientific Publishing , ISBN: 9789812833921, pp. 189-227 |
| 2010 | Islamic Structured Products: Issues and Challenges", Current Issues in Islamic Banking and Finance. In: World Scientific Publishing , ISBN: 9789812833921, pp. 189-227 |
| 2007 | Undang-Undang Pentadbiran Zakat di Malaysia", Pentadbiran Undang-undang Islam di Malaysia, Jil. 12, Mahmat Ariffin, et al. In: Dewan Bahasa Dan Pustaka, ISBN: , pp. 207-254 |
| 2007 | Undang-Undang Pentadbiran Zakat di Malaysia", Pentadbiran Undang-undang Islam di Malaysia, Jil. 12, Mahmat Ariffin, et al. In: Dewan Bahasa Dan Pustaka, ISBN: , pp. 207-254 |
Monograph