Staff Directory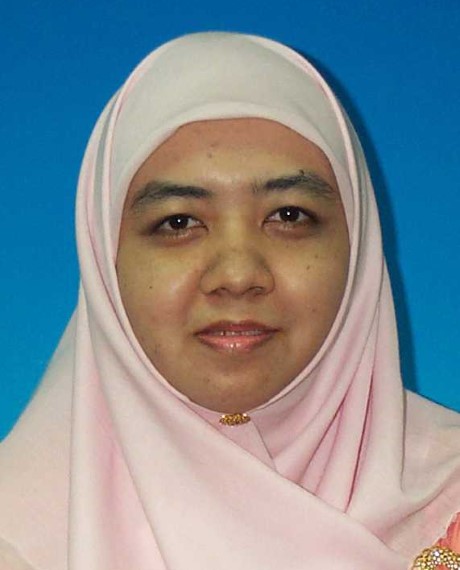 Academic Qualification
Doctor of Philosophy in Accounting & Finance - Doctor of Philosophy, University of Lancaster
Master in Accounting & Finance - Masters Degree, University of Lancaster
Bachelor of Accounting (Honours) - Bachelor Degree, International Islamic University Malaysia
Fatima Bt Abdul Hamid (Assoc. Prof. Dr.)
Associate Professor
IIUM Gombak Campus
KULLIYYAH OF ECONOMICS AND MANAGEMENT SCIENCES
---
Expert Profile
Fatima was indeed blessed to have graduated with a Bachelor of Accounting (Honours) [BAcc] degree from the IIUM. Owing to the tutelage of her dedicated lecturers, she was awarded the Best Student Award for BAcc in her graduating class, including the award sponsored by Guthrie Group. Soon after joining IIUM as an Assistant Lecturer at the Department of Accounting (DOA), Kulliyyah of Economics and Management Sciences (KENMS), she was fortunate to receive a scholarship from IIUM to pursue her Masters and Ph.D studies at Lancaster University. Her Ph.D thesis was entitled "The Essays on a True and Fair View". She was privileged to have been supervised by Professor Ken Peasnell, Dr. Pelham Gore, and earlier by Professor Peter Pope, who are well-respected in their fields.
Upon returning with a doctorate, the DOA assigned Fatima to specialize in Financial Reporting, and later Auditing. Fatima was truly fortunate to receive the Best Teacher Award of the Department in 2008. She is also honored to have been entrusted with various academic administrative positions, a few of which are Industrial Training Coordinator and Postgraduate Coordinator of the DOA, and Deputy Dean (Academic) at the faculty. Her current responsibility is as the Head of Research of the KENMS.
Fatima has supervised postgraduate students from several South East Asian countries, Africa and the Middle East. Working with these budding local and international researchers as well as colleagues has fueled her research interests and publications in the areas of Intellectual Capital, Ethics, Audit Quality and Accounting Education.
Other opportunities given to Fatima were as a member of Sub-Committee for Halatuju 2 and 3, one of the external reviewers for the inaugural accreditation review by the Malaysian Institute of Accountants (MIA) of the Bachelor of Accounting Degree, University Malaya and as an Honorary Auditor for the financial statements of the Institute of Public Accountants (Malaysia branch).
Teaching Responsibilities
| | |
| --- | --- |
| ACADEMIC WRITING AND LIBRARY SEARCH | 2015/2016 |
| ACCOUNTING ANALYSIS FOR DECISION MAKING | 2004/2005 |
| ACCOUNTING RESEARCH FRAMEWORK | 2022/2023 |
| ACCOUNTING RESEARCH METHODS | 2019/2020 2018/2019 2017/2018 2014/2015 2005/2006 2004/2005 2003/2004 |
| ACCOUNTING THEORY | 2021/2022 2020/2021 |
| ACCOUNTING THEORY & POLICY | 2019/2020 2018/2019 2017/2018 2016/2017 2015/2016 2014/2015 2012/2013 2008/2009 2007/2008 2006/2007 |
| ACCOUNTING THEORY AND POLICY | 2010/2011 2006/2007 |
| ADVANCED ACCOUNTING | 2006/2007 |
| AUDITING FUNDAMENTALS | 2015/2016 2014/2015 2013/2014 2012/2013 2011/2012 2010/2011 2009/2010 2008/2009 2007/2008 |
| BUSINESS ETHICS & CORPORATE GOVERNANCE | 2022/2023 2021/2022 2020/2021 2019/2020 |
| CONTEMPORARY ISSUES IN ACCOUNTING | 2008/2009 |
| FINANCIAL ACCOUNTING & REPORTING 1 | 2022/2023 2016/2017 |
| FINANCIAL ACCOUNTING & REPORTING 5 | 2021/2022 2020/2021 |
| FINANCIAL ACCOUNTING 6 | 2005/2006 |
| FINANCIAL ACCOUNTING FUNDAMENTALS | 2007/2008 |
| FINANCIAL ACCOUNTING I | 2004/2005 |
| FINANCIAL ACCOUNTING II | 2002/2003 |
| FINANCIAL ACCOUNTING IV | 2004/2005 2003/2004 2002/2003 |
| FINANCIAL ACCOUNTING VI | 2005/2006 2003/2004 |
| ISSUES IN AUDITING | 2013/2014 2012/2013 2011/2012 2009/2010 2008/2009 2007/2008 |
| LITERATURE REVIEW | 2011/2012 |
| PRACTICAL TRAINING(BACC) | 2003/2004 2002/2003 |
| QUANTITATIVE METHODS | 2012/2013 |
| RESEARCH METHODOLOGY | 2022/2023 2021/2022 |
| RESEARCH METHODS | 2018/2019 |
Research Projects
Completed
| | |
| --- | --- |
| 2019 - 2021 | Perakaunan dan Pelaporan Kewangan Islam bagi Institusi Baitulmal, Zakat dan Wakaf di Malaysia Fasa 4 2019 |
| 2017 - 2017 | Kajian Persepsi Integriti Nasional (KPIN) |
| 2015 - 2020 | A Model on Disclosure Expectation Gap in Malaysian Islamic Financial Institutions |
| 2015 - 2018 | Modelling A New Ethical Work Climate Framework For Public Sector Auditors In Malaysia |
| 2011 - 2012 | A Systematic Of Accounting Education Research |
On-Going
| | |
| --- | --- |
| 2019 - Present | Critical Inquiry on Shari'ah Compliance of Islamic Banks in Malaysia |
| 2011 - Present | Audit Quality Influencing Factors : A Comparison Between Islamic And Conventional Banks In Malaysia |
| 2007 - Present | Islamic Accounting and Accountability Research Unit (IAARU) |
Publications
Article
| | |
| --- | --- |
| 2023 | The interaction effect of auditor industry specialisation and board governance on financial reporting timeliness: evidence from the UAE. Journal of Economic and Administrative Sciences, () pp. |
| 2022 | Ethical work climate and its influence on work-related ethical behaviour among the Malaysian public sector auditors. International Journal of Ethics and Systems, 38 (4) pp. 720-741 |
| 2022 | Royal family members and corporate governance characteristics: the impact on earnings management in UAE. International Journal of Business and Society, 23 (2) pp. 689-713 |
| 2021 | Royal family members and financial reporting timeliness: evidence from UAE. UNIMAS Review of Accounting and Finance, 5 (1) pp. 1-20 |
| 2021 | Shariah disclosure expectation gap between shariah practitioners and Islamic banks' customers in Malaysia. Asian Journal Of Accounting Perspectives, 4 (2) pp. 1-23 |
| 2021 | Shariah disclosure practices in Malaysian Islamic banks using the shariah disclosure index. International Journal of Islamic Economics and Finance (IJIEF), 4 (Special Issue) pp. 63-86 |
| 2019 | Earnings management in Malaysian companies during the global financial crisis and the coincidental effect of IFRS adoption. Australasian Accounting Business and Finance Journal, 13 (1) pp. 4-26 |
| 2019 | The quest for morally competent future Muslim accountants. Journal of Islamic Accounting and Business Research, 10 (2) pp. 297-314 |
| 2019 | The relationship between intellectual capital information and firms' market value: a study from an emerging economy. Measuring Business Excellence, 24 (1) pp. 39-51 |
| 2019 | Validation of Arnaud's ethical climate index by public sector auditors in Malaysia. International Journal of Ethics and Systems, 35 (3) pp. 345-358 |
| 2019 | Validation of Arnaud's ethical climate index by public sector auditors in Malaysia. International Journal of Ethics and Systems, 35 (3) pp. 345-358 |
| 2018 | Timeliness of financial reporting and audit committee effectiveness: evidence from UAE. UNIMAS Review of Accounting and Finance, 1 (1) pp. 99-112 |
| 2016 | A comprehensive analysis of corporate internet reporting practice in Malaysia. International Business Management, 10 (18) pp. 4243-4249 |
| 2016 | Corporate internet reporting within malaysian economic sectors. International Journal of Economics and Management, 10 (2) pp. 379-389 |
| 2016 | The perception of public sector auditors on performance audit in Malaysia. Asian Review of Accounting, 24 (1) pp. 90-104 |
| 2015 | Analysis of the true and fair view concept: an Islamic perspective . International Journal of Managerial and Financial Accounting , 7 (1) pp. 38-61 |
| 2015 | Corporate Internet reporting in emerging economic countries: the Malaysian perspective. Pertanika Journal of Social Science & Humanities, 23 (September) pp. 73-88 |
| 2015 | Environmental disclosure quality: examining the impact of the stock exchange of Malaysia's listing requirements. Social Responsibility Journal, 11 (4) pp. 904-922 |
| 2015 | Intellectual capital and financial performance of Islamic banks. International Journal of Learning and Intellectual Capital, 12 (1) pp. 1-15 |
| 2015 | The determinants of intellectual capital disclosure: a meta-analysis review. Journal of Asia Business Studies, 9 (3) pp. 232-250 |
| 2014 | An Islamic perspective on the true and fair view override principle. Journal of Islamic Accounting and Business Research, 5 (2) pp. 142-157 |
| 2014 | Determinants of environmental reporting quality in Malaysia. International Journal of Economics, Management and Accounting, 22 (1) pp. 63-90 |
| 2014 | Firms' financial and corporate governance characteristics association with earnings management practices: a meta-analysis approach. Economic Review - Journal of Economics and Business, XII (2) pp. 49-72 |
| 2014 | Malaysian accounting educators' perceptions on ethics education in the accounting curriculum. Malaysian Accounting Review, 13 (1) pp. 1-25 |
| 2014 | Malaysian accounting educators' perceptions on ethics education in the accounting curriculum . Malaysian Accounting Review, 13 (1) pp. 1-25 |
| 2013 | Student-centred learning in a passive learning environment: students' perception and performance. International Journal of Economics and Management, 7 (1) pp. 84-107 |
| 2011 | An exploratory study on the usefulness of intellectual capital information: academic' perception. International Journal of Accounting and Finance (IJAF), 3 (2) pp. 177-192 |
| 2011 | Effects of intellectual capital information disclosed in annual reports on market capitalization: evidence from Bursa Malaysia. Journal of Human Resource Costing & Accounting, 15 (2) pp. 85-101 |
| 2011 | Effects on intellectual capital information disclosed in annual reports on market capitalisation: evidence from Bursa Malaysia. Journal of Human Resource Costing & Accounting, 15 (2) pp. 85-101 |
| 2011 | Usefulness of intellectual capital information: preparers' and users' views. Journal of Intellectual Capital, 12 (3) pp. 430-445 |
| 2010 | Factors influencing voluntary disclosure: empirical evidence from Shariah approved companies. Malaysian Accounting Review, 9 (1) pp. 85-103 |
| 2010 | Voluntary disclosure by Shariah approved companies: an exploratory study . Journal of Financial Reporting and Accounting, 1 (1) pp. 35-49 |
| 2008 | Budgetary participation and performance: some Malaysian evidence. International Journal of Public Sector Management, 21 (6) pp. 658-673 |
| 2007 | Accounting students' perceptions of effective teaching methods and instructor characteristics: some Malaysian evidence. Malaysian Accounting Review, 6 (1) pp. 101-128 |
Conference or Workshop Item
Book Section
Monograph