Staff Directory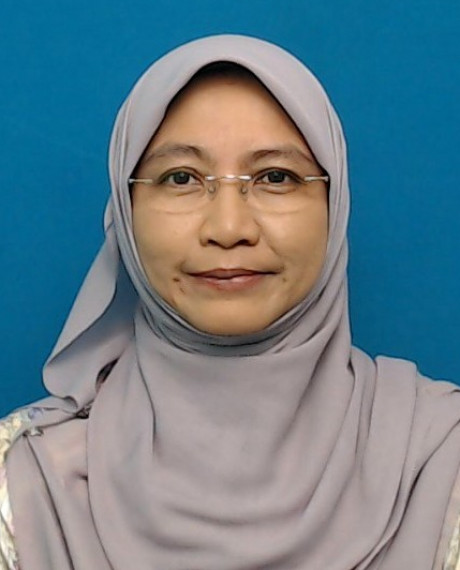 Academic Qualification
Ph.D in Arabic Language and Literature - Doctor of Philosophy, University of Jordan
Master in Arabic Language and Literature - Masters Degree, International Islamic University Malaysia
Bachelor of Human Sciences (Arabic Language and Literature) - Bachelor Degree, International Islamic University Malaysia
Matriculation - Certificate, International Islamic University Malaysia
Haslina Binti Hassan (Assoc. Prof. Dr.)
Associate Professor
IIUM Gombak Campus
ABDULHAMID ABUSULAYMAN KULLIYYAH OF ISLAMIC REVEALED KNOWLEDGE AND HUMAN SCIENCES

Other's position:
Director, Academic Management and Admissions Division
---
haslina.h@iium.edu.my
4030
Expert Profile
Haslina Hassan secured her Bachelor and Master's degrees from International Islamic University Malaysia (IIUM) in Arabic Language and Literature. She then pursued her Ph.D. at the University of Jordan and returned to the Department of Arabic Language & Literature, IIUM in 2004 to begin her career as lecturer.
As she started her first degree in the field of Arabic Language and Literature in a non- native Arabic speaking country, i.e. Malaysia, she understands that to master the Arabic Language one has to put a lot of effort to be able to reach the required standard of Arabic proficiency. This led her to write a Master's thesis on "Connectives in Arabic Language" and a Ph.D. thesis on "Connectives in Malay and Arabic: a Comparative Study", that have become references by students, teachers and researchers of Arabic.
She continues to uplift the standard of Arabic among the students and her research interest in Corpus Linguistics has led her to invent an Arabic learning and teaching tool namely Al Munaqqib Al 'Arabi (Arabic Concordancer) which won a Gold Medal at the International Research, Invention and Innovation Exhibition (IRIIE) in 2012. The tool has been copyrighted in 2014 and has attracted the attention of Arabic teachers and researchers inside and outside the country. Among her other researches that won Gold Medals are: Common Words amongst Advanced Students of Arabic - a corpus-based study, Common Arabic Verbs Used in Arabic Newspapers- a corpus-based study, Compiling Arabic Academic Corpus at IIUM, Developing an Arabic Concordancer (Al Munaqqib Al 'Arabi).
Presently, Dr. Haslina Hassan is an Associate Professor at the Department of Arabic Language & Literature and Deputy Director of Academic and Management Division (AMAD) at the IIUM.
Area of Specialisation
Unspecified ~ Arts & Literature ~ Arts & Literature ~Arts & Literature - Corpus Linguistics, Comparative Lingustics
Humanities ~ Humanities ~ Linguistics and Literature ~ Comparative Literature - Comparative Linguistics
Humanities ~ Humanities ~ Linguistics and Literature ~ Applied Linguistics - Applied Linguistics
Humanities ~ Humanities ~ Linguistics and Literature ~ Computer-Assisted Language Learning (CALL) - Computer Assisted Language Learning
Research Projects
Completed
| | |
| --- | --- |
| 2021 - 2023 | Intelligent Modeling System of Characteristics (Sifaat) Without Opposite for Tajweed Teaching and Learning |
| 2014 - 2016 | Compiling Arabic Textbooks of Malaysian Secondary Schools |
| 2013 - 2016 | New Model of Islamic Art in Public Spaces in Promoting the Concept of Al-Wasatiyyah for the IIUM Campus : Garden of Knowledge and virtue |
| 2012 - 2015 | A Prototype Development of a Mobile (Android and i-Phone Based) Application for enhancing eFolio (electronic Portfolio) service |
| 2011 - 2014 | Formulating Readability Check for Arabic Text and Development of its Online Version |
| 2009 - 2012 | Web-Based Electronic Portfolio Assessment for Students Majoring Arabic and Islamic Studies: Development, Implementation and Evaluation |
| 2009 - 2011 | Connectives in L2 Tertiary Learner Corpora |
| 2009 - 2012 | Mobile Learning in the Teaching of Reading |
| 2009 - 2011 | Compiling Arabic Corpus at IIUM |
| 2008 - 2011 | Developing and Validating and Analytic Scoring Rubric for Electronic Portfolio: a Model for Assessing L2 Students? Process Writing English for Academic Writing Classroom |
| 2008 - 2011 | Incalculating Responsibility Through Peer e-Editing |
| - 2010 | Area of Specialization / Field of Study: Arabic Applied Linguistic |
On-Going
| | |
| --- | --- |
| 2022 - Present | Second Series (2022) of Specialised Studies in the Field of Teaching Arabic for its Non-Native Speakers |
| 2007 - Present | Computer Assisted Language Learning Research Unit (CALLRU) |
Award & Recognition
| | | |
| --- | --- | --- |
| 09 Jun, 2023 | Merit Award for Scholarship of Teaching and Learning - AHAS IRKHS | KCDIO |
| 10 Jun, 2022 | Leadership Award - AHAS IRKHS | KCDIO |
| 06 Nov, 2019 | Best Paper Award - SEIPTI BRUNEI 2019 | International |
| 19 Feb, 2013 | Gold Award Invention and Innovation Exhibition (IRIIE 2013) - IIUM | University |
| 22 Feb, 2012 | Gold Award IIUM Research, Invention and Innovation Exhibition 2012 - IIUM | University |
| 22 Feb, 2012 | Gold Award IIUM Research, Invention and Innovation Exhibition 2012 - IIUM | University |
| 26 Jan, 2010 | IIUM Research, Invention and Innovation Exhibition 2010 - IIUM | University |
| 24 Jul, 2008 | IIUM E-learning awards - IIUM | University |
Publications