Staff Directory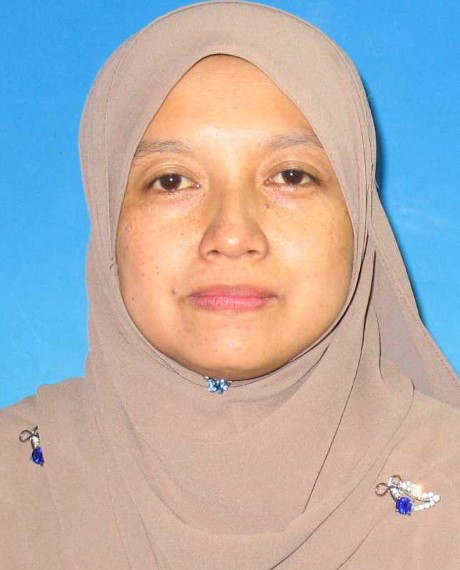 Academic Qualification
Doctor of Philosophy in Communication - Doctor of Philosophy, University of Queensland
Master of Human Sciences (Communication) - Masters Degree, International Islamic University Malaysia
Bachelor of Islamic Revealed Knowledge and Heritage - Bachelor Degree, International Islamic University Malaysia
Aini Maznina Binti A. Manaf (Assoc. Prof. Dr.)
Associate Professor
IIUM Gombak Campus
ABDULHAMID ABUSULAYMAN KULLIYYAH OF ISLAMIC REVEALED KNOWLEDGE AND HUMAN SCIENCES

Other's position:
Deputy Dean, AbdulHamid AbuSulayman Kulliyyah of Islamic Revealed Knowledge and Human Sciences
---
Expert Profile
Aini Maznina A.Manaf is currently an Associate Professor at the Department of Communication, Kulliyyah of Islamic Revealed Knowledge and Human Sciences, International Islamic University Malaysia (IIUM). She started her career in IIUM as an Assistant Lecturer in 1999. She obtained her Bachelor and Masters degrees from the IIUM in 1998 and 2002, respectively. She then pursued her study at the doctorate level at the University of Queensland, Australia in 2008 and completed it in 2012.
Dr. Aini Maznina holds several professional memberships at the international level. She is currently a member of the International Academy for Intercultural Research and Asian Media Information and Communication Centre, AMIC. Previously, she also held a membership in the Australia and New Zealand Communication Association for two years. She also has experience in reviewing articles for the International Journal of Intercultural Relations.
Dr. Aini Maznina has conducted several researches on media in Islam and is also involved in political communication and new media research. Her interests include organizational communication, intercultural communication, communication in Islam and media studies.
Area of Specialisation
Humanities ~ Humanities ~ Linguistics and Literature ~ Science of Communication - Organizational communication, intercultural communication and communication in Islam
Professional Membership
2009 - 2012: Member of Profesional Body / Association: (Member), Australia and New Zealand Communication Association (ANZCA)
2011: Member of Profesional Body / Association: (Member), International Academy for Intercultural Research
2012 - 2014: Member of Profesional Body / Association: (Member), Pacific Asian Communication Association (PACA)
2018: Member of Profesional Body / Association: (Lifetime member), Persatuan Pendidik Komunikasi Malaysia
Teaching Responsibilities
| | |
| --- | --- |
| ADVANCED ORGANIZATIONAL COMMUNICATION | 2023/2024 2022/2023 |
| COMMUNICATION IN THE QURAN AND SUNNAH | 2023/2024 |
| FINAL YEAR PROJECT I | 2022/2023 2021/2022 2020/2021 2019/2020 |
| FINAL YEAR PROJECT II | 2022/2023 2021/2022 2020/2021 2019/2020 |
| FOUNDATION OF COMMUNICATION IN ISLAM | 2022/2023 2021/2022 2020/2021 2019/2020 2018/2019 2017/2018 |
| FOUNDATIONS FOR COMMUNICATION IN THE QUR'AN & SUNNAH | 2017/2018 2016/2017 2015/2016 2014/2015 2013/2014 2012/2013 2011/2012 |
| HUMAN RELATIONS: PRINCIPLES & PRACTICES | 2012/2013 2011/2012 2006/2007 |
| INTER-CULTURAL COMMUNICATION | 2005/2006 2004/2005 |
| INTERCULTURAL COMMUNICATION | 2006/2007 |
| INTERPERSONAL COMMUNICATION | 2005/2006 2004/2005 2003/2004 2002/2003 |
| INTRODUCTION TO MASS COMMUNICATION | 2011/2012 2006/2007 2005/2006 2004/2005 2003/2004 2002/2003 2001/2002 |
| INTRODUCTION TO ORGANIZATIONAL COMMUNICATION | 2016/2017 2015/2016 2014/2015 2013/2014 2012/2013 2011/2012 |
| ISSUES & METHODOLOGIES: ISLAMIZATION OF COMMUNICATION | 2017/2018 2016/2017 2015/2016 2014/2015 2013/2014 |
| ISSUES IN ISLAMIZATION OF KNOWLEDGE | 2013/2014 |
| ORGANIZATION COMMUNICATION: CASE STUDIES | 2015/2016 |
| PRINCIPLES & PRACTICES OF MANAGERIAL COMMUNICATION | 2006/2007 |
| RESEARCH PAPER I | 2018/2019 |
| STRATEGIC HUMAN RELATIONS | 2023/2024 |
Research Projects
Completed
| | |
| --- | --- |
| 2022 - 2022 | Publics Current Perceptions of Government Programmes and Issues |
| 2022 - 2022 | Public's Perceptions of Government Programmes and Current Issues |
| 2020 - 2022 | Developing a framework on health information management among the Malaysian public during the COVID-19 pandemic |
| 2019 - 2019 | Research on Identifying Social and Economic Issues of the Bumiputras |
| 2019 - 2019 | Perception of Issues and Media Usage among Factory Workers in Malaysia |
| 2017 - 2019 | Public Perceptions Towards Current Issues and Government Policies |
| 2016 - 2018 | Media Usage, Life and Job Satisfaction: A Study among Factory Workers in Malaysia |
| 2016 - 2019 | Examining the Relationship between Parasocial Interaction, Religiosity and Motivation to use Twitter among Followers of Islamic Reality Shows in Malaysia |
| 2016 - 2017 | A Study on "Kesejahteraan Sosial dan Penggunaan Media di Kalangan Penduduk Sabak Bernam" |
| 2015 - 2017 | Media Usage and Political Behavior: A Study among Youth in Malaysia (2015 Malaysian Election Research) |
| 2015 - 2017 | Kajian Terhadap Media dan Mobiliti Sosial di Perupok, Kelantan |
| 2015 - 2017 | Social Mobility and Media in Marang, Terengganu |
| 2015 - 2015 | The Perception of the Public towards Government Policies 2015 |
| 2015 - 2017 | Kajian Terhadap Pekerja Industri |
| 2014 - 2015 | Research on Perception of the Public Towards Government Policies in Sarawak |
| 2014 - 2016 | Textbook Project, International Institute of Islamic Thought (IIIT, USA) |
| 2014 - 2014 | Pilihanraya Kecil (PRK) Dun Kajang 2014 |
| 2005 - 2005 | Perceived Media Freedom In Malaysia |
| 2004 - 2005 | E-Transaction Among Internet Users: A Meso-Paradigm Analysis |
On-Going
| | |
| --- | --- |
| 2023 - Present | Food Operator/Restaurant's Readiness for the Changing of Choice Environment of the Food Delivery Applications. |
| 2021 - Present | Preventing and Controlling Disease Outbreaks and Dealing with Emergencies |
| 2021 - Present | Understanding Communication: An Islamic Approach |
| 2017 - Present | Language and Ancient Civilization from Muslim's Perspective; A Documentary |
| 2012 - Present | Culture and Ethnic Diversity in Work Group: A Scenario in Malaysian Organizations |
Award & Recognition
| | | |
| --- | --- | --- |
| 21 Jun, 2021 | Global Prominence Award - TACK 2020 (Kulliyyah of Islamic Revealed Knowledge and Human Sciences) | KCDIO |
Publications
Article
| | |
| --- | --- |
| 2022 | Countering Islamophobia through webcomics on Instagram. IIUM Journal of Religion and Civilisational Studies, 5 (2) pp. 220-242 |
| 2022 | The relationship between Instagram usage, social comparison, and self-esteem among young adults during the Covid-19 pandemic in Malaysia. Jurnal Pengajian Media Malaysia, 24 (1) pp. 93-108 |
| 2022 | Unravelling the roles of social media usage, individual well-being, and working environment on happiness at the workplace. Intellectual Discourse, () pp. 395-417 |
| 2022 | Using the theory of motivated information management to understand direct information seeking on COVID-19 from close contacts. IIUM Medical Journal Malaysia, 21 (3) pp. 138-145 |
| 2021 | Eco-activist social media influencers (SMI) on Twitter: does credibility matter?. IIUM Journal of Human Sciences, 3 (2) pp. 15-26 |
| 2021 | Factors influencing confidence in the government during Tun Dr Mahathir's leadership era among industrial workers. Jurnal Komunikasi: Malaysia Journal of Communication, 37 (4) pp. 142-160 |
| 2021 | Happiness, demographic variables, and self-perception as predictors of job satisfaction among factory employees in Malaysia. SEARCH Journal of Media and Communication Research, 13 (2) pp. 21-36 |
| 2021 | Substantiating remote teaching during the COVID-19 pandemic. IIUM Today, () pp. |
| 2020 | Developing a framework to improve the training of medical practitioners in doctor-patient communication toward enhancing societal well being. IIUM Medical Journal Malaysia, 18 (Supplementary Issue No 2) pp. 5-5 |
| 2020 | Malaysian female users' purchase intentions of celebrity-endorsed products on Instagram: A parasocial interaction perspective. Search Journal of Media and Communication Research, 12 (1) pp. 93-109 |
| 2020 | The mediating effect of employee's job satisfaction on the relationship between transformational leadership style and employee well-being among Malaysian academics. Human Communication Journal, 3 (1) pp. 18-35 |
| 2020 | Towards adabic intercultural communication. Journal of Islamic, Social, Economics and Development, 5 (31) pp. 35-49 |
| 2020 | Upholding the right work ethic when working from home during COVID-19 pandemic. IIUM Emotional and Psychological Support Site, () pp. |
| 2019 | Celebrity-fan engagement on Instagram and its influence on the perception of hijab culture among Muslim women in Malaysia. Jurnal Komunikasi: Malaysian Journal of Communication, 35 (1) pp. 286-302 |
| 2019 | Factors driving the intention to adopt a tobacco-free policy among employees in a public higher education institution. Intellectual Discourse, 27 (2) pp. 431-453 |
| 2019 | The influence of media on hijab wearing in Malaysia: a study among Malays = Pengaruh media terhadap pemakaian hijab di Malaysia: satu kajian di kalangan orang Melayu. Journal of Islam in Asia, 16 (1 Special Issue: Islam in the China Seas) pp. 325-350 |
| 2019 | The relationship of individual well-being and working environment with job satisfaction among factory workers in Malaysia. Intellectual Discourse, 27 (1) pp. 221-243 |
| 2018 | Dakwah melalui media baharu di Malaysia: peluang atau cabaran?. Al Hikmah, 10 (1) pp. 119-128 |
| 2018 | Perception of issues by factory workers in Malaysia : the role of media. International Journal of Arts and Humaniities, 2 (11) pp. 604-614 |
| 2018 | Religiosity and its impact on Twitter use and viewing of Islamic reality television shows among university students in Malaysia. Journal of Islam in Asia, 15 (3 Special Issue) pp. 356-382 |
| 2018 | Situational social support groups for information sharing in times of disaster: a case of 2014 floods in Malaysia. Human Communication: A Journal of the Pacific and Asian Communication Association, 1 (1) pp. 1-15 |
| 2018 | The mediating effect of reading on the relationships between awareness, perception and attitude towards satisfaction with IIUM Today campus newspaper. Forum Komunikasi, 13 (2) pp. 33-52 |
| 2018 | Usage of mobile phones among flood victims in Malaysia. Malaysian Journal of Media Studies, 20 (2) pp. 1-12 |
| 2017 | Following Islamic reality show personalities on twitter: a uses and gratification approach to understanding parasocial interaction and social media use. Intellectual Discourse, 25 (Special Issue) pp. 637-659 |
| 2017 | Media agenda and public agenda: A study of issues during the 13th general election. Jurnal Komunikasi (Malaysian Journal of Communication), 33 (2) pp. 13-26 |
| 2017 | Mixed method in political communication research: the study of media usage & voting behavior as a case analysis. E-Bangi: Journal of Social Sciences and Humanities, Special Issue (1) pp. 24-33 |
| 2015 | Exploring the use of social media during the 2014 flood in Malaysia. Procedia Social and Behavioral Sciences, 211 () pp. 931-937 |
| 2015 | Framing Islam-related issues during GE13: an analysis of Malaysian mainstream newspapers. Intellectual Discourse, 23 (1) pp. 7-30 |
| 2014 | Hijab wearing phenomenon among Muslim women in Malaysia: a quantitative study . Kulliyyah Research Bulletin, 5 (2) pp. 4-8 |
| 2013 | The acceptance of TV Islamic reality shows by the Malay community . Ulum Islamiyyah - The Malaysian Journal of Islamic Sciences, 10 () pp. 93-116 |
Conference or Workshop Item
| | |
| --- | --- |
| 2022 | "Do we really have to talk about that?": avoiding covid-19 topics with close contacts. In: 28th AMIC Annual Conference, |
| 2022 | Netflix binge-watching, parasocial interaction, and loneliness among Malaysian university students during the COVID-19 pandemic. In: 4th Communication Research Seminar 2022 (CORENA22), |
| 2021 | Are you happy at work? Unraveling the roles of social media usage, individual wellbeing and working environment. In: 2021 ANPOR-APCA Annual Conference Program, |
| 2021 | Countering Islamophobia through Webcomics on Instagram. In: ANPOR-APCA Annual Conference, |
| 2021 | Do we really have to talk about that? Avoiding COVID-19 topics with close contacts.. In: 28th AMIC Annual Virtual Conference (Science Communication: Managing the Now and the Future), |
| 2021 | The role of university in managing the teaching and learning community post COVID-19 pandemic: The experience of IIUM. In: e International Webinar on The Roles Of University In Responding To Psychosocial Issues In The Community 2021 (ISRUPIC 2021), |
| 2021 | Understanding the role of family communication in managing challenges of working from home among female academics during COVID-19 Pandemic. In: Communication Research Seminar (CORENA 2021), |
| 2020 | Do differences make a difference? Understanding the dynamics of diversity in university community engagement workgroups. In: Communication Research Webinar (CORENA) 2020, |
| 2020 | Factors influencing confidence in the government during Tun Mahathir's leadership era among industrial workers. In: WAPOR Asia 3rd Annual Conference, |
| 2020 | Managing social media health information seeking on COVID-19: The perspective of staff and students from a Malaysian public university. In: WAPOR Asia 3rd Annual Conference:, |
| 2020 | Managing social media INFORMATION during the Covid-19 pandemic: The TMIM perspective. In: Communication Research Seminar (CORENA 2020), |
| 2020 | Social media use in managing COVID-19 pandemic in higher educational institutions. In: International Seminar on the Roles of Universities in Responding to Psychosocial Issues in Community (ISRUPIC 2019), |
| 2019 | Managing diversity: enhancing team experience in university community engagement (UCE). In: International Seminar on the Roles of Universities in Responding to Psychosocial Issues in Community (ISRUPIC 2019), |
| 2019 | Media of da'wah (Wasā'il-al-da'wah): The case of Islamic reality TV shows. In: International Conference on Religion, Culture and Spirituality for Muslim Society, |
| 2019 | Predictors of voting behavior & support towards Malaysian leaders: A study among factory workers in Malaysia. In: Communication Research Seminar (CORENA) 2019, |
| 2019 | The adoption of Korean popular culture among IIUM students. In: LCE International 2019: The 1st International Language, Culture and Education, |
| 2019 | The impact of leadership style and staff well-being on job satisfaction among academic staff in a Malaysian public university. In: International Conference of Religion, Governance and Sustainable Development (ICRDG 2019), |
| 2018 | Celebrity fan-engagement on Instagram and how it influences perceptions on hijab culture among young Muslim women in Malaysia. In: International Seminar on Media and Communication (ISMEC 2018), |
| 2018 | The relationship between individual well-being, working environment and job satisfaction among factory workers in Malaysia. In: International Seminar on Media and Communication (ISMEC 2018), |
| 2017 | Factors influencing reading of IIUM today: a campus newspaper. In: 1st Melaka International Conference on Social Sciences 2017 (MELICOSS'17)., |
| 2017 | The mediating effect of reading IIUM today on the relationships among awareness, perception, and attitude with satisfaction. In: International Conference on Media and Communication 2017 (MENTION2017), |
| 2016 | Usage of mobile phones among victims during the 2014 flood in Malaysia. In: The 9th Malaysia International Conference on Languages, Literatures and Cultures (MICOLLAC 2016), |
| 2015 | Exploring the use of social media for information sharing during the 2014 flood in Malaysia. In: 2nd Global Conference on Business and Social Sciences (GCBSS 2015), |
| 2015 | Media and politics: a study among youth in Malaysia. In: 2015 Asian Network for Public Opinion Research (ANPOR) Annual Conference, |
| 2014 | Attitude and impact changes of hijab wearing among Muslim Malay women in Malaysia. In: 10th Biennial Convention of the Pacific and Asian Communication Association (PACA 2014), |
| 2014 | Perception of issues by factory workers in Malaysia: the role of media. In: 2014 Asian Network for Public Opinion Research (ANPOR) Annual Conference, |
| 2013 | Exposure and impact of TV Islamic reality show among Malay community. In: 1st World Congress on Integration and Islamicisation of Acquired Human Knowledge (FWCII 2013), |
| 2013 | Hijab wearing among Malay women in Malaysia: media or social influence?. In: Biennial International Conference on Media & Communication (MENTION) 2013, |
| 2013 | Media coverage of Islam-related news during General Election 13: Analysis of mainstream newspapers. In: International Seminar on GE13: An Analysis and Aftermath, |
| 2013 | Newspapers and politics in Malaysia: the coverage of Islam-related news during the 13th General Election. In: Biennial International Conference on Media & Communication (MENTION 2013), |
| 2012 | The acceptance of TV Islamic reality shows by the Malay community. In: 21st Annual Media Institute of Communication Conference (AMIC) Annual Conference, |
| 2011 | The dynamics of communication in ethnically diverse groups: the experiences of academics. In: ANZCA 2011, |
| 2010 | Exploring facilitators and inhibitors of communication in ethnically diverse groups: the experience of academician. In: Ethnographic and Qualitative Research Conference 2010, |
| 2009 | Communicating in ethnically diverse groups: the Malaysian experience. In: Australia and New Zealand Communication Conference 2009, |
Book
Book Section
Monograph