Staff Directory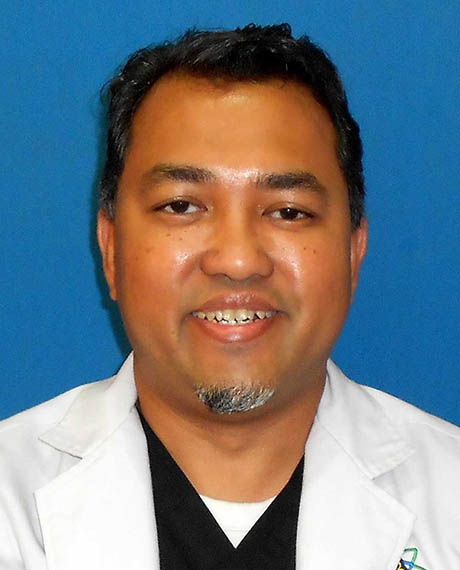 Academic Qualification
Master of Surgery (Opthalmology) - Masters Degree (Clinical Specialist), Universiti Kebangsaan Malaysia (UKM)
Basic Medical Degree - Bachelor Degree, University of Queensland
Khairidzan Mohd. Kamal (Assoc. Prof. Dato' Dr.)
Associate Professor
IIUM Kuantan Campus
KULLIYYAH OF MEDICINE
---
khairidzan@iium.edu.my
4551
Expert Profile
Dr Khairidzan is currently an Associate Professor and Head of the Department of Ophthalmology in the Faculty of Medicine, International Islamic University Malaysia (IIUM).
Dr Khairidzan received his MBBS from the University of Queensland in 1997, and obtained the Masters of Surgery (Ophthalmology) from the National University of Malaysia (UKM) in 2004. He then joined IIUM as a lecturer, and was appointed to his current post as Head, Department of Ophthalmology the following year. Dr Khairidzan spent a year as an Adjunct Clinical Instructor and International Fellow in Cornea, External Disease and Refractive Surgery at UCLA in 2008. Â Â 
Dr Khairidzan has published 10 articles in scientific journals and made 157 other scientific presentations. In addition to receiving seven awards from the IIUM for quality research, he also won the Best Poster Award at the Malaysia Singapore Ophthalmology Joint Meeting in 2009.He contributes his expertise on the Malaysian Dry Eye Advisory Board and was an invited member to the Ministry of Health taskforce meetings on postgraduate training modules and laser refractive surgery advertisement.
Area of Specialisation
Medical And Health ~ Medical And Health Sciences ~ Clinical Medicine ~ Surgery - Corneal, Ecternal Disease & Refractive Surgery
Teaching Responsibilities
| | |
| --- | --- |
| PHASE II (YEAR 3) | 2023/2024 |
Research Projects
Completed
| | |
| --- | --- |
| 2019 - 2023 | Cellular behaviour and cornea stromal response as a clinical predictor of visual performance after excimer laser refractive surgery |
| 2018 - 2022 | Prototype development of comprehensive pterygium prediction software utilizing multiple pterygium morphologies |
| 2018 - 2020 | Application of Machine Learning Techniques on Biomedical Images |
| 2017 - 2019 | Impact of multiple types of pterygium on the anterior corneal curvature and changes in ocular surface features |
| 2017 - 2021 | The Effect of Short-term Smartphone Usage on Tear Film Dynamics and Visual System |
| 2016 - 2020 | Assessment of Ocular Profiles in Laser Refractive Surgery |
| 2014 - 2017 | Characterizing Pterygium Fibrovascular Tissue using Hybrid Feature Selection Technique |
| 2010 - 2012 | Prevalence of Diabetic Retinopathy (DR) in Primary Care Clinic by using Non-Mydriatic Retinal Camera |
| 2008 - | IIUM Kuantan Eye Screening (IKES) |
| 2006 - 2009 | Primary Ptergium Exercision Using Fibrin Sealant (Tissel?) in Conjunctival Autograft Technique |
On-Going
| | |
| --- | --- |
| 2021 - Present | Cellular Morphological Changes at The Ocular Surface in Cataract Patients with Dry Eye Disease and its Relationship to Dry Eye Symptoms and Tear Function Tests |
| 2021 - Present | Cellular Morphology and Vasculature Changes on Ocular Surface in Pediatric Ocular Allergy |
| 2019 - Present | Optimisation of corneal stromal lenticules in vitro using retinoid acid-supplemented medium |
| 2012 - Present | Ocular Surface Disease Index (OSDI) Questionnaire among Normal and Dry Eye Patients in IIUM Eye Specialist Clinic (IESC) |
| 2011 - Present | RU 2011 -Clinical Assessment of Tear Film Dynamic using aterior segment video in dry eye patient. |
| 2011 - Present | RU 2011 -IIUM Kuantan Eye Screening II- Relationship between retinal vessels diameter with optic disc parameter and retinal nerve fiber thickness. |
Award & Recognition
| | | |
| --- | --- | --- |
| 17 Mar, 2018 | Achievement Award, Certification of Appreciation for Contribution to the Society - Malaysian Society of Ophthalmology | National |
Publications
Article
| | |
| --- | --- |
| 2022 | Clinical features of lid margin, meibomian gland and tear film changes in patients with primary pterygium. Journal of Ophthalmic Research and Ocular Care, 5 (1) pp. 92-96 |
| 2022 | Deeply embedded corneal foreign bodies with fungal keratitis secondary to "rambutan" fruit fall. The Cureus Journal of Medical Sciences, 14 (2) pp. 1-4 |
| 2021 | Mesopic pupillometry in pre-LASIK patients by a placido-disc topographer and hartmann-shack aberrometer. Malaysian Journal of Medicine and Health Sciences, 17 (2) pp. 197-202 |
| 2021 | Postsurgery classification of best-corrected visual acuity changes based on Pterygium Characteristics using the Machine Learning Technique. The Scientific World Journal, 2021 () pp. 1-7 |
| 2021 | Reliability analysis of subjectively graded real-image pterygium based on its translucence appearance between young and experienced clinicians. Journal of Ophthalmic Research and Vision Care, 1 (1) pp. |
| 2021 | Repeatability and reproducibility of pterygium grading based on clinical translucence appearance. Journal of Ophthalmic Research and Vision Care, 1 (1) pp. 1-6 |
| 2020 | Association of net pterygium tissue mass (dryweight) in determining changes in oculovisual functions and anterior corneal curvature relative to pterygium types. International Journal of Allied Health Sciences, 4 (1) pp. 1042-1048 |
| 2020 | Correlation of visual recovery time after laser refractive surgery with preoperative keratometry and astigmatism among myopic astigmatism patients. International Journal of Allied Health Sciences, 4 (1) pp. 1028-1041 |
| 2020 | Effectiveness of PTechSIA questionnaire in quantifying phacoemulsification surgical technique variations: a pilot study. International Journal of Allied Health Sciences, 4 (1) pp. 1057-1062 |
| 2020 | Effects of different types of primary pterygium on changes in oculovisual function = Jenis pterigium primari dan kesannya pada perubahan fungsi okulovisual). Sains Malaysiana, 49 (2) pp. 383-388 |
| 2020 | Pterygium recurrence and corneal stabilization point after pterygium excision using the controlled partial avulsion fibrin glue technique. Makara Journal of Health Research, 24 (2) pp. 140-146 |
| 2020 | Refractive surprise in post-cataract surgery in post Epi-LASIK patient : a lesson learnt. IIUM Medical Journal Malaysia, 19 (2) pp. 98-101 |
| 2020 | Reliability of Pterygium Redness Grading Software (PRGS) in describing different types of primary pterygia based on appearance = Kebolehpercayaan Perisian Penggredan Kemerahan Pterigium (PRGS) dalam mengelaskan pelbagai jenis pterigium berdasarkan perawakan. Sains Malaysiana, 49 (5) pp. 1015-1020 |
| 2019 | Changes in apical corneal curvature in unilateral primary Pterygium and normal adults using simulated-K and corneal irregularity measurement. International Journal Of Allied Health Sciences (IJAHS), 3 (2) pp. 588-594 |
| 2019 | Comparison of visual acuity and contrast sensitivity between unilateral primary Pterygium and normal adults utilizing computerized M&S smart system II. International Journal Of Allied Health Sciences (IJAHS), 3 (2) pp. 643-648 |
| 2019 | Corneo-pterygium total area measurements utilising image analysis method. Journal of Optometry, 12 (4) pp. 272-277 |
| 2019 | Face and content validation of Phacoemulsification techniques related to surgically induced astigmatism questionnaire. International Journal of Research in Pharmaceutical Sciences, 10 (4) pp. 2696-2700 |
| 2019 | Reliability analysis of subjectively graded real-image pterygium based on its translucence appearance between two experienced clinicians preliminary report. Journal of Optometry, Eye and Health Research (JOEHR), 1 (1) pp. |
| 2019 | Tear film and lid margin changes in patients with different types of primary pterygium. Sains Medika, () pp. |
| 2019 | The comparison of Shape factor and mean toric keratometry between pterygium and normals. International Journal of Allied Health Sciences (IJAHS), 3 (4) pp. 848-853 |
| 2019 | The measurement of lower tear meniscus height using Anterior segment digital imaging and keratography. Journal of Optometry, Eye and Health Research (JOEHR), 1 (1) pp. |
| 2019 | Topographic changes as predictor for determining anterior corneal curvature stabilization point subsequent to pterygium excision using controlled partial avulsion fibrin glue technique. International Journal Allied Health Sciences (IJAHS), 3 (2) pp. 734-740 |
| 2019 | Utilization of anterior segment optical coherence tomography enhanced high resolution corneal in measuring pterygium thickness. Journal of Medicine and Health (Sains medika), xx (xx) pp. 1-13 |
| 2018 | Corneal curvature measurements utilizing a new swept-source optical coherence tomography Tomey OA-2000® and comparison with IOLMaster® 500 in pterygium patients. Sains Medika: Jurnal Kedokteran dan Kesehatan, 9 (1) pp. |
| 2018 | Measurement of contrast sensitivity using the M&S smart system II compared with the standard Pelli–Robson chart in patients with primary pterygium. Makara Journal of Health Research, 22 (3) pp. 167-171 |
| 2018 | Prevalence of Diabetic Retinopathy (DR) and its associated factors among diabetes patients in Primary Care Clinics, Kuantan, Pahang. International Medical Journal of Malaysia (IMJM), 17 (2) pp. 11-16 |
| 2017 | Appearance of lipid floating and tear film stability in non-dry and dry eye subjects. Journal of Health and Translation Medicine, Special issue 2017 () pp. 110-110 |
| 2017 | Prediction of changes in visual acuity and contrast sensitivity function by tissue redness after pterygium surgery. Current Eye Research, 42 (6) pp. 852-856 |
| 2017 | Prediction of changes in visual acuity and contrast sensitivity function by tissue redness after pterygium surgery. Current eye research, 42 (6) pp. 852-856 |
| 2017 | The relationship between symptomatic assessment and clinical signs of dryness in dry eye subjects. International Medical Journal Malaysiayia, 16 (supp issue 1) pp. 47-47 |
| 2017 | The value of aqueous assessment in diagnosing dry eye. The International Medical Journal Malaysia (IMJM), 16 (supp. 1) pp. 14 |
| 2016 | A comparative study on the inter-session and inter-examiner reliability of corneal power measurement using various keratometry instruments. International Medical Journal Malaysia, 15 (1) pp. 69-74 |
| 2016 | Benchmarked pterygium images for human and machine graders. Journal of Engineering and Applied Sciences, 11 (11) pp. 2378-2382 |
| 2016 | Inter-grader reliability of a supervised pterygium redness grading system. Advanced Science Letters, 22 (10) pp. 2885-2888 |
| 2016 | New modified equation of contact lens method in determining post myopic laser refractive surgery corneal power. International Medical Journal Malaysia, 15 (1) pp. 61-68 |
| 2015 | GLCM texture analysis on different color space for pterygium grading. ARPN Journal of Engineering and Applied Sciences, 10 (15) pp. 6410-6413 |
| 2009 | Classic lattice corneal dystrophy associated with monoclonal gammopathy following exclusion of a TGFBI mutation . Cornea, 28 (1) pp. 97-98 |
| 2009 | Epithelial debridement and Bowman's layer polishing for visually significant epithelial irregularity and recurrent corneal erosions. Cornea, 28 (10) pp. 1085-1090 |
Conference or Workshop Item
| | |
| --- | --- |
| 2023 | Synthetic pterygium images using Style Generative Adversarial Networks (SGANs). In: 4th Optometry Scientific Conference, |
| 2021 | In-Vivo Confocal Microscopy: Keratocytes cell density (KCD) Regeneration between Femtosecond LASIK (FS-LASIK) and Photorefractive Keratectomy (PRK). In: International Optometry and Vision Science Conference (e-IOVIC) 2021, |
| 2021 | Rambutan related ocular trauma. In: Medical Research Symposium 2021, |
| 2021 | Surgeon Techniques in Non-Femtosecond Laser-Assisted Cataract Surgery (TechNoFLACS) Questionnaire: Face and Content Validation. In: International Optometry and Vision Science Conference (e-IOVIC) 2021, |
| 2021 | The outcome of Descemet membrane endothelial keratoplasty (DMEK) with different tamponade material.. In: Conjoint Ophthalmology Scientific Conference 2020, |
| 2021 | The technique of impression cytology in dry eye disease: A review. In: International Optometry and Vision Science Conference (e-IOVIC) 2021, |
| 2019 | Comparison and evaluation of five different surgically induced astigmatism calculators outcome and analysis reports. In: 2019 ASCRS ASOA Annual Meeting, |
| 2019 | Comparison between predicted and actual surgically induced astigmatism (SIA) on the toric IOL calculation outcome using two toric intraocular lens (IOL) calculators. In: 10th MSO Annual Scientific Meeting in conjunction with 34th Malaysia-Singapore Joint Ophthalmic Congress 2019, |
| 2019 | Corneo-pterygium total area measurements utilizing image analysis method. In: 10th MSO Annual Scientific Meeting in conjunction with the 34th Malaysia-Singapore Joint Ophthalmology Congress, |
| 2019 | Correlation between variation in phacoemulsification surgical techniques and predictability of surgical induced astigmatism. In: 3rd Ophthalmology Scientific Conference 2019, |
| 2019 | Demystifying the controversies and outcome : toric intraocular lens implantation in cataract patients with corneal astigmatism post pterygium surgery. In: 7th USM Ophthalmology Symposium in conjunction with the 9th Conjoint Ophthalmology Scientific Conference, |
| 2019 | Evaluation of four calculators in determining surgically induced astigmatism values. In: 10th MSO Annual Scientific Meeting in conjunction with 34th Malaysia-Singapore Joint Ophthalmic Congress 2019, |
| 2019 | In-vivo confocal microscopy: comparison of Keratocytes cell density (KCD) between Femtosecond LASIK (FS-LASIK) and Photorefractive keratectomy (PRK) at one month follow-up. In: 7th USM Ophthalmology Symposium in conjunction with the 9th Conjoint Ophthalmology Scientific Conference, |
| 2019 | Reliability measurement of corneal wavefront aberrations using corneal videokeratograph Atlas 9000. In: 5th Medical Research Symposium, |
| 2019 | Reliability measurement of total aberrations using Galilei G4 Dual Scheimpflug Analyzer. In: 7th USM Ophthalmology Symposium in conjunction with the 9th Conjoint Ophthalmology Scientific Conference, |
| 2019 | Repeatability and reproducibility of pterygium thickness measurement using OCT imaging modality of Anterior Segment Optical Coherence Tomography (AS-OCT). In: 10th MSO Annual Scientific Meeting in conjunction with the 34th Malaysia-Singapore Joint Ophthalmology Congress 2019, |
| 2019 | Utilization of clinical videography technique in the assessment of tear meniscus rising speed. In: The 10th MSO Annual Scientific Meeting in conjunction with the 34th Malaysia-Singapore Joint Ophthalmic Congress Secretariat, |
| 2018 | Comparison of surgically induced astigmatism after superotemporal and superonasal clear corneal incisions in post phacoemulsification. In: 3rd Ophthalmology-Optometry Conference 2018, |
| 2017 | Comparison of higher-order aberration values between different aberrometry technologies in preoperative laser refractive surgery patients. In: Medical Research Symposium 2017, |
| 2016 | New contact lens method formula for post laser refractive surgery corneal power. In: 6th Conjoint Ophthalmology Scientific Conference 2016, |
| 2015 | Comparative analysis of subjective and objective clinical pterygium grading based on its redness appearance. In: The 23rd Symposium of the International Colour Vision Society (ICVS) 2015, |
| 2015 | Deriving a modified equation for contact lens method in calculating corneal power in post myopic laser refractive surgery patient. In: International Symposium of Health Sciences (i-SIHAT) 2015, |
| 2015 | Refractive surgery nightmare. In: 28th Annual Meeting of the Asia-Pacific Association of Cataract & Refractive Surgeons, |
| 2014 | Fibrovascular redness grading using Gaussian process regression with radial basis function kernel. In: 2014 IEEE Conference on Biomedical Engineering and Sciences (IECBES 2014), |
| 2014 | Supervised pterygium fibrovascular redness grading using generalized regression neural network. In: 13th International Conference on New Trends in Intelligent Software Methodology Tools, and Techniques (SoMeT_14), |
| 2012 | Prevalence of diabetic retinopathy and its associated factors among diabetic patients in primary care clinic. In: IIUM Research, Invention and Innovation Exhibition IRIIE 2012, |
| 2011 | Prevalence of diabetic retinopathy and its associated factors among diabetic patients in primary care clinics, Kuantan, Pahang. In: 3rd International Conference on Rural Medicine 2011 " Health Transformation During Challenging Economies", |
Monograph