Staff Directory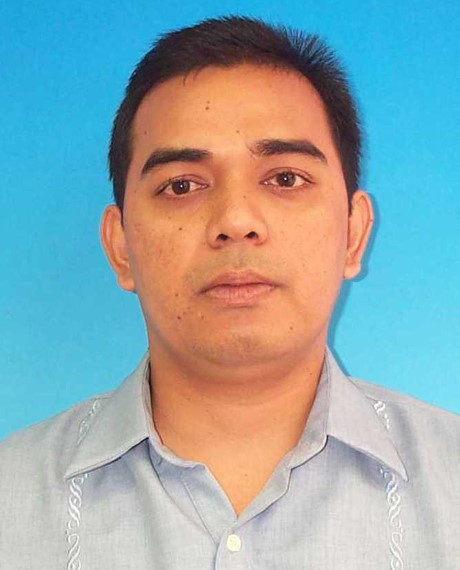 Academic Qualification
DOCTOR OF PHILOSOPHY (BUILT ENVIRONMENT) - Doctor of Philosophy, International Islamic University Malaysia
Master of Environment - Masters Degree, Universiti Putra Malaysia (UPM)
Bachelor of Planning - Bachelor Degree, University of Manchester
Bachelor of Arts in Town and Country Planning - Bachelor Degree, University of Manchester
Muhammad Faris Bin Abdullah (Assoc. Prof. Dr.)
Associate Professor
IIUM Gombak Campus
KULLIYYAH OF ARCHITECTURE AND ENVIRONMENTAL DESIGN

Other's position:
Director, Office for Strategy & Institutional Change
---
Expert Profile
Muhammad Faris began his career as a town planning officer in a private urban planning firm before joining IIUM as an academic staff. He has worked on various consulting jobs including preparation of urban development plan, preparation of environmental management plan and development of planning support systems for both private and public clients.
Area of Specialisation
Engineering Tech ~ Engineering And Technology ~ Biomedical Engineering ~ Decision Support Systems - Spatial planning and decision support systems, dynamic modeling.
Natural Science ~ Environmental Sciences ~ Environment Technology/Industry ~ Geographical Information System (GIS) - GIS application in urban and regional planning.
Natural Science ~ Environmental Sciences ~ Environmental Issues and Assesment ~ Other Environmental Issues and Assesment n.e.c. - Strategic environmental assessment, sustainability assessment.
Engineering Tech ~ Applied Sciences And Technologies ~ Architecture ~ Other Architecture n.e.c. - Executive information systems for development plan, development plan monitoring systems, development impact assessment systems.
Social Science ~ Social Science ~ Habitat and Human Settlement ~ Land Use Planning and Management - Land use planning, environmental studies, public facilities siting analysis.
Professional Membership
2007 - 2017: Member of Profesional Body / Association: (Graduate Member), Malaysian Institute of Planners
2014 - 2017: Member of Profesional Body / Association: (Graduate Member), Lembaga Perancang Bandar Malaysia
2017 - 2020: Member of Profesional Body / Association: (Corporate Member), Malaysian Institute of Planners
2018 - 2020: Member of Profesional Body / Association: (Registered Town Planner), Lembaga Perancang Bandar Malaysia
Teaching Responsibilities
| | |
| --- | --- |
| USRAH IN ACTION 2 | 2023/2024 |
Research Projects
Completed
| | |
| --- | --- |
| 2021 - 2021 | Perkhidmatan mengindeks kertas-kertas penyelidikan IRERS 2021 |
| 2021 - 2023 | UNITED NATIONS HUMAN SETTLEMENT PROGRAMME (UN-HABITAT) ? GLOBAL FUTURE CITY PROGRAMME (IMPLEMENTATION PHASE) PUBLIC TRANSPORTATION MASTER PLAN AND GREEN MOBILITY CORRIDOR FOR THE CITY OF MELAKA |
| 2021 - 2023 | Humanising Leadership |
| 2021 - 2023 | Kajian Pelan Induk Bersepadu Guna Tanah Laluan Rel Pantai Timur East Coast Rail Link - ECRL (Sektor Ekonomi) |
| 2020 - 2021 | Kajian Impak Pembangunan Sebelum dan Selepas Pembubaran DARA |
| 2020 - 2021 | Kajian Mengenai Perancangan dan Pembangunan bagi Kawasan di Bawah LKWJ |
| 2020 - 2023 | United Nations Human Settlement Programme (Unhabitat) - Implementation Phase and Project for Iskandar Malaysia |
| 2019 - 2023 | Kajian Pelan Induk Perancangan Bersepadu Gunatanah Laluan MRT Sungai Buloh-Serdang-Putrajaya (Selangor-Kuala Lumpur-Putrajaya) (Laluan SSP) (Laluan 2) - Sektor Pengurusan dan Pelaksanaan |
| 2019 - 2023 | Kajian Rancangan Fizikal Negara Ke-4 (RFN Ke-4) dan Rangka Kerja Pembangunan Wilayah Bersepadu (RWB) |
| 2018 - 2019 | INTERNATIONAL REAL ESTATE RESEARCH SYMPOSIUM (IRERS) PROGRAM, INSPEN |
| 2018 - 2018 | Kajian dan Pembangunan Standard Industri Pembinaan Perumahan Kebangsaan |
| 2017 - 2017 | Kajian Kebolehlaksanaan Penyampaian Perkhidmatan Alternatif (ASD) Dalam Perkhidmatan Penjagaan Warga Emas dan Pemulihan Penagihan Dadah |
| 2017 - 2018 | Kajian Semula Dasar Perumahan Negara Bagi Tahun 2018-2022 |
| 2016 - 2017 | Dasar Perumahan Negara 2018-2022 |
| 2015 - 2015 | Kaji Selidik Persepsi Awam Mengenai Isu Utama dan Keperluan Golongan Belia Dalam Pembangunan 1Malaysia Youth Cities |
| 2015 - 2015 | Kaji Selidik Persepsi Awam Mengenai Jarak Keselamatan Keluarga dan Kanak-Kanak |
| 2015 - 2016 | Kajian Pelan Tindakan Khas Kg. Baru Sg. Buloh, Seksyen U4 & U19, Shah Alam |
| 2015 - 2018 | THE DEVELOPMENT OF NATURAL SUSTAINABLE RIVER ECOLOGY MODEL SYSTEM INTO THE URBAN BLUE GRIDS OF THE URBAN ECOSYSTEM |
| 2015 - 2015 | Kaji Selidik Persepsi Awam Terhadap Konsep Pembangunan komuniti Berpagar dan Kejiranan Berpengawal |
| 2015 - 2017 | A Study on Housing Stock: Demand and Supply in Perak |
| 2015 - | Expansion, Improvement and Upgrading the IIUM Spatial Information and Facilities and Asset Management System Web-Based (I-SPACE) |
| 2015 - 2017 | A Study on Illegal Factories in Perak: Toward an Effective Legalisation of Non-Conforming Industrial Activities and Establishment |
| 2015 - 2017 | A Study on Illegal Occupation and Illegal Operation of Landuse Categories in Perak: A Case Study of State Land |
| 2015 - 2019 | The Preparation of Feasibility Study for the Establishment of an International Islamic University in Afghanistan |
| 2015 - 2019 | Evaluating the impacts of land use pattern on neighbourhoods? wellbeing |
| 2014 - 2015 | Kajian Khas Program Pemutihan Kilang Tanpa kebenaran Di Negeri Selangor |
| 2013 - 2016 | The Provision of Research Consultancy for Bako Master Plan Study |
| 2012 - 2013 | An Infrastructure Master Plan for Developing Pulau Pangkor as a New Eco-Tourism Tourist Destination |
| 2010 - 2011 | Sistem Pemantauan Pencapaian Pelan Bandaraya Kuala Lumpur 2020 (SPP PBRKL2020) - Dewan Bandaraya Kuala Lumpur |
| 2004 - 2008 | Evaluating The Use of A Desktop Geographical Information System (GIS) Software In Developing Students Residential information System (SRIS) |
| 2004 - 2005 | Evaluating the Level of Knowledge Related to Spatial Planning and Decision Support System (SPDSS) Among Malaysian Professional Town Planners |
On-Going
| | |
| --- | --- |
| 2023 - Present | Projek Pemerkasaan Jenama AKEPT 2023 |
| 2022 - Present | Consultancy to develop the National SDG Roadmap Phase II, 2021-2025 |
| 2022 - Present | Kajian Mengoptimumkan Penggunaan Kuarters Guru Tidak Berpenghuni Milik Kementerian Pendidikan Malaysia |
| 2021 - Present | Kajian Perancangan Strategik Wilayah Bagi Pembangunan Laluan Rel Pantai Timur (East Coast Rail Link - ECRL) |
| 2021 - Present | Kajian Pelan Induk Bersepadu Guna Tanah Laluan Rel Pantai Timur East Coast Rail Link - ECRL (Sektor Pengurusan dan Pelaksanaan) |
| 2020 - Present | Kajian Mengenai Isu dan Kekangan Pemajuan Tanah Wakaf di Selangor |
| 2020 - Present | Kajian Mengenai Strategi dan Impak ECER Terhadap Pembangunan di Wilayah Pahang dan Jengka |
| 2020 - Present | Penyediaan Piawaian Perancangan bagi Pembangunan Tanah Wakaf |
| 2019 - Present | KAJIAN PENGGUBALAN PINDAAN AKTA PEMAJUAN PERUMAHAN (AKTA 118) DAN PERATURAN-PERATURAN |
| 2019 - Present | KAJIAN PEMBANGUNAN PERUMAHAN TERBENGKALAI DI MALAYSIA |
| 2019 - Present | THE DEVELOPMENT OF IIUM SEJAHTERA INDEX |
| 2019 - Present | KAJIAN DAN PENGGUBALAN AKTA SEWAAN KEDIAMAN (RESIDENTIAL TENANCY ACT ? RTA) |
| 2019 - Present | KAJIAN IMPAK PASARAN PERUMAHAN MAMPU MILIK DARI PERSPEKTIF PENGHUNI DI MALAYSIA |
| 2018 - Present | Modelling Of Development Planning Framework For Neighbouring Cities In Peninsular Malaysia |
| 2012 - Present | Eco-Friendly Campus |
| - | modelling transit oriented development (TOD) for the effectiveness and integration of urban sustainable livelihood |
Publications
Article
| | |
| --- | --- |
| 2023 | AI: kawan atau lawan?. Utusan Malaysia, () pp. 17-17 |
| 2023 | Validation of a sejahtera living index using the Rasch model. Intellectual Discourse, 31 (1) pp. 7-30 |
| 2023 | Values-based leadership in higher education institutions. New Straits Times, 26 November 2023 () pp. |
| 2022 | IIUM flagships: sharing and learning of knowledge with the community. PIMA Bulletin, (41 - March 2022) pp. 31-34 |
| 2021 | Aktiviti akademik era pandemik. Utusan malaysia, 21 January 2021 () pp. 16-16 |
| 2021 | Ensuring quality education during a pandemic. New Straits Times, 27th January 2021 () pp. |
| 2021 | Environmental impact assessment for Malyasian bauxite mining industry. International Journal of the Analytic Hierarchy Process, 13 (1) pp. 2-26 |
| 2021 | Issues faced by tenants in high-rise strata residential: case study of Klang Valley. Planning Malaysia, 19 (5) pp. 180-191 |
| 2021 | Residents' perception on the impact of urban development on water quality in Kabul City, Afghanistan. International Journal of Academic Research In Business And Social Sciences, 11 (6) pp. 818-827 |
| 2020 | An assessment of housing affordability index at districts level in Kelantan. Planning Malaysia, 18 (1) pp. 24-34 |
| 2020 | Bahagia, harmoni cetus produktiviti. Utusan Malaysia, 10 December 2020 () pp. 16 |
| 2020 | Better to send university students home. The Sun Daily, () pp. |
| 2020 | Covid-19 and higher education institutions: addressing sustainable university agenda through university community engagement. Journal Of Built Environment, Technology And Engineering (JBETE), 8 () pp. 120-128 |
| 2020 | Investigation on neighbouring cities; boundary, hierarchy, indicators and issues. Journal of Education and Social Sciences, 15 (2) pp. 1-9 |
| 2020 | Investigation on the planning and development of selected neighbouring cities. International journal of multidisciplinary research and analysis, 3 (Issue 12 December 2020) pp. 276-284 |
| 2020 | It's about practising the right kind of normals. New Straits Times, () pp. |
| 2020 | Murni lagikah kita selepas ini?. Utusan Malaysia, () pp. |
| 2020 | No student must be left behind. The Sun Daily, () pp. 8 |
| 2020 | Staying on campus during MCO a strain on students. New Straits Times, () pp. |
| 2019 | Assessment of the groundwater quality and pollution in Kabul City, Afghanistan. Advanced journal of technical and vocational education, 3 (2) pp. 20-26 |
| 2019 | Empowering community movement: empirical evidence. Planning Malaysia, 17 (2) pp. 280-289 |
| 2019 | Personal empowerment as determinants of organizational opportunity. Planning Malaysia, 17 (2) pp. 302-311 |
| 2019 | Predictability of positive relationship through personal empowerment. Planning Malaysia, 17 (2) pp. 302-311 |
| 2018 | Factors influencing parents in selecting school for children with special education needs. Planning Malaysia: Journal of the Malaysian Institute of Planners, 16 (2) pp. 207-216 |
| 2018 | Perception of quality of life among community in Selangor. Planning Malaysia: Journal of the Malaysian Institute of Planners, 16 (2) pp. 12-20 |
| 2018 | Perceptual study on conventional quality of life indicators. Planning Malaysia, Volume 16, Issue 1, 2018 (1) pp. 303-313 |
| 2018 | Profiling intercity bus drivers of Malaysia. Planning Malaysia, 16 (1) pp. 324-333 |
| 2017 | A conceptual framework of Maqasidic human wellbeing index. International Journal of Advanced Biotechnology and Research (IJBR), 8 (Special Issue 3) pp. 220-225 |
| 2017 | A review of legalisation of illegal factories program: case study of Selangor, Malaysia. Advanced Science Letters, 23 (1) pp. 7-10 |
| 2017 | A review on sustainable wellbeing indicators for human interrelationships with the environment. Planning Malaysia: Journal of the Malaysian Institute of Planners, 15 (1) pp. 357-368 |
| 2017 | A theoretical assessment on sustainable wellbeing indicators for people interrelationships. Planning Malaysia: Journal of the Malaysian Institute of Planners, 15 (1) pp. 21-30 |
| 2017 | Assessment of gated community and guarded neighbourhood from public perspective. Advanced Science Letters, 23 (7) pp. 6057-6059 |
| 2017 | Assessment on public perception towards the development of 1Malaysia youth cities. Advanced Science Letters, 23 (7) pp. 6102-6105 |
| 2017 | Character-defining elements of shophouses buildings in Taiping, Perak. Journal of Design and Built Environment, 17 (Special Issue : Livable Built Environment) pp. 139-149 |
| 2017 | Housing affordability in the state of Johor. Planning Malaysia :Journal of the Malaysian Institute of Planners, 15 (1) pp. 347-356 |
| 2017 | Housing affordability in the state of Melaka. Planning Malaysia: Journal of the Malaysian Institute of Planners, 15 (1) pp. 255-260 |
| 2017 | Housing affordability index for districts in Perak. Advanced Science Letters, 23 (7) pp. 6049-6052 |
| 2017 | Human wellbeing index based on Maqasid al-Shari'ah (the objectives of Islamic law). International Journal of Advanced Biotechnology and Research (IJBR), 8 (Special Issue 3) pp. 226-232 |
| 2017 | Illegal occupation of state land in Perak: A review of the states legalisation program (PATUH). Advanced Science Letters, 23 (7) pp. 6040-6043 |
| 2017 | Parents' perception on children safe distance: A case study of Kuala Lumpur and Selangor. Advanced Science Letters, 23 (7) pp. 6083-6086 |
| 2017 | Perception of parents and guardians on safe distance for children to travel to public areas. Planning Malaysia Journal, 15 (1) pp. 201-208 |
| 2017 | Public bus level of service performance in Peninsular Malaysia: Correlation analyses on level of service (LOS) and passengers' satisfaction level. Planning Malaysia : Journal of the Malaysian Institute of Planners, 15 (1) pp. 229-234 |
| 2017 | Unlawful occupation of state land in Malaysia and its implications. Advanced Science Letters, 23 (1) pp. 444-447 |
| 2016 | Application of ecological attributes in the contemporary landscape assessment research. Journal of Scientific Research and Development, 3 (4) pp. 133-137 |
| 2016 | Monitoring the performance of state structure plan in delivering output using dynamic model. Planning Malaysia: Journal of the Malaysian Institute of Planners, Special issue IV-2016 () pp. 411-426 |
| 2016 | Sustainable well-being: an empirical exploration on human needs and human interdependency. Planning Malaysia: Journal of the Malaysian Institute of Planners, XIV () pp. 29-38 |
| 2015 | Assessing the urban and rural stage bus services disparities in peninsula Malaysia. PLANNING MALAYSIA - Journal of the Malaysian Institute of Planners, 13 () pp. 65-84 |
| 2014 | Constrained model predictive control for proton exchange membrane fuel cell. Journal of Mechanical Science and Technology, 28 (9) pp. 3855-3862 |
| 2014 | Fuel cell starvation control using model Predictive technique with laguerre and exponential weight functions. Journal of Mechanical Science and Technology, 28 (5) pp. 1995-2002 |
| 2014 | Geospatial analysis in monitoring land use encroahment into heritage site in Bujang Valley. Journal of Architecture, Planning and Construction Management, 4 (2) pp. 77-91 |
| 2014 | Historical influences to present legal setting of planning law in Malaysia. PLANNING MALAYSIA - Journal of the Malaysian Institute of Planners, 3 () pp. 67-80 |
| 2011 | Application of GIS-planning decision support system in predicting development impact assessment . International Archives of the Photogrammetry, Remote Sensing and Spatial Information Sciences, XXXVII (4-C21) pp. 51-58 |
| 2009 | Bandar mesra ekologi. Era Hijau, (1) pp. 6-7 |
| 2009 | Modelling the reality in planning: SPDSS experiences in Malaysia. Malaysian Journal of Environmental Management, 10 (1) pp. 119-132 |
| 2005 | A study on the demand of spatial planning and decision support system in Malaysia. PLANNING MALAYSIA - Journal of the Malaysian Institute of Planners, 3 () pp. 47-60 |
| 2004 | Application of landuse approaches in controlling industrial wastewater discharge into rivers. PLANNING MALAYSIA - Journal of the Malaysian Institute of Planners, 2 () pp. 69-84 |
| 2003 | Incorporating sustainable development objectives into development plans through strategic environmental assessment . PLANNING MALAYSIA - Journal of the Malaysian Institute of Planners, 1 () pp. 1-18 |
| 2003 | Managing urban development process by using spatial information system: a case study of i-space. Journal of the Malaysian Institute of Planners, 1 () pp. 71-92 |
Conference or Workshop Item
| | |
| --- | --- |
| 2019 | Assessment of the groundwater quality and pollution in Kabul City, Afghanistan. In: Kedah International Multidisciplinary Conference 2019, |
| 2019 | Social impact analysis of urban riverfront regeneration; River of Life (RoL), Kuala Lumpur City Hall (KLCH). In: 8th Asian Conference on Environment-Behaviour Studies AcE-Bs2019LangkawiIsland, Malaysia, 18-19 Dec 2019, |
| 2018 | A GIS model analysis on the prediction of socio economic impacts. In: 39th Asian Conference on Remote Sensing (ACRS) 2018, |
| 2017 | A conceptual framework of Maqasidic human wellbeing index. In: MDSG Conference 2017, |
| 2017 | Factors influencing parents in selecting school for children with special education needs. In: International Conference on Housing, Planning, Environment and Social Sciences, |
| 2017 | Selected peer-reviewed articles from the International Conference on Architecture and Built Environment 2016 (ICABE 2016), Kuala Lumpur, Malaysia, 5–6 October, 2016. In: ICABE2016 International Conference on Architecture & Built Environment, |
| 2016 | A review of legalisation of illegal factories program: case study of Selangor, Malaysia. In: Advanced Research on Business, Management and Humanities (ARBUHUM2016), |
| 2016 | A study on illegal occupation and operation of landuse categories in Perak: a case of state land. In: Seminar Penyelidikan Tahunan Idr Ketiga 2016 Dan Pangkor Dialogue Exposè Tahun 2016, |
| 2016 | Assessment of gated community and guarded neighbourhood from public perspective. In: International Conference on Architecture & Built Environment (ICABE 2016), |
| 2016 | Housing affordability index for Districts in Perak. In: International Conference on Architecture & Built Environment (ICABE 2016), |
| 2016 | Housing stock study: demand and supply in Perak. In: Seminar Penyelidikan Tahunan IDR Ketiga 2016 dan Pangkor Dialogue Expos Tahun 2016, |
| 2016 | Illegal occupation of state land in Perak: a review of the state's legalisation Program (PATUH). In: International Conference on Architecture & Built Environment (ICABE 2016), |
| 2016 | Unlawful occupation of state land in Malaysia and its implications. In: 2016 Advanced Research on Business, Management and Humanities (ARBUHUM2016), |
| 2015 | Monitoring the performance of state structure plan in delivering output using dynamic model. In: 13th International Congress of Asian Planning Schools Association (APSA 2015), |
| 2012 | The contribution of GIS in predicting impact assessment : towards managing urban planning sustainably. In: 10th International Urban Planning and Environment Symposium , |
| 2012 | The delivery system of development impact assessment using GIS-based technology: Towards sustainable urban environment. In: IFKAD and KCWS 2012 International Forum on Knowledge Asset Dynamics, |
| 2009 | GIS application in monitoring development plan implementation in Malaysia: Weaknesses and potential. In: 11th International Conference on Computers in Urban Planning and Urban Management, |
| 2007 | Promoting knowledge cities agenda through institutionalization of spatial planning and decision support system in Malaysia. In: The 2nd International Symposium on Knowledge Cities, |
| 2006 | Planning support system for sustainable development in Malaysia: a case analysis of Selangor State, Malaysia. In: 18th International Conference on Multiple-Criteria Decision Making, |
| 2004 | Collaborative decision support for spatial planning and asset management: IIUM total spatial information system. In: 11th International Symposium on Spatial Data Handling, |
| 2004 | Geographical information system (GIS) in Malaysian planning education. In: 7th International Seminar on GIS for Developing Countries, |
| 2004 | SPDSS demand in Malaysia. In: International Conference on Spatial Planning and Decision Support System 2004, |
| 2002 | Integrating the objectives of sustainable development into development plans through strategic environmental assessment. In: International Conference on Environmental Issues & Sustainable Development, |
| 2002 | Spatial information system as a tool in managing urban development process. In: 18th EAROPH World Planning Congress, |
Book
Book Section
| | |
| --- | --- |
| 2020 | Equity and quality in education. In: Centre for Professional Development (CPD), International Islamic University Malaysia., ISBN: , pp. 7-8 |
| 2016 | Application of 3D modeling in managing planning control in Kuala Lumpur metropolitan area. In: IIUM Press, ISBN: 978-967-418-419-3, pp. 109-126 |
| 2011 | GIS application in monitoring development plan implementation in Malaysia: weaknesses and potential . In: IIUM Press, ISBN: 9789674180461, pp. 37-48 |
| 2011 | Kuala Lumpur draft city plan 2020 local inquiry: an analysis of its shortcomings. In: IIUM Press, ISBN: 9789674180379, pp. 61-66 |
| 2011 | Preferred fence design: a case study of selected communities in the Klang valley . In: IIUM Press, ISBN: 978-967-418-036-2, pp. 19-29 |
| 2011 | Residents' perception of safety of backlanes at terraced-housing areas in Kuala Lumpur . In: IIUM Press, ISBN: 978-967-418-038-6, pp. 8-18 |
| 2010 | GIS implementation in Malaysian statutory development plan system. In: IGI Global, ISBN: 9781615209293, pp. 435-454 |
| 2010 | GIS implementation in Malaysian statutory development plan system. In: IGI Global, ISBN: 9781615209293, pp. 435-454 |
| 2009 | Institutionalisation of spatial planning and decision support systems for planning and governance in Malaysia. In: Arah Publications, ISBN: 9789833718535, pp. 155-166 |
| 2009 | Institutionalisation of spatial planning and decision support systems for planning and governance in Malaysia. In: Arah Publications, ISBN: 9789833718535, pp. 155-166 |
| 2007 | Promoting knowledge cities agenda through institutionalization of spatial planning and decision support system in Malaysia. In: Scholar Press, ISBN: 9789833813179, pp. 44-55 |
| 2004 | "I-SPACE" - university's assets and facilities management support system. In: Bureau of Consultancy and Entrepreneurship, International Islamic University Malaysia, ISBN: 9834087268, pp. 71-84 |
Monograph