Staff Directory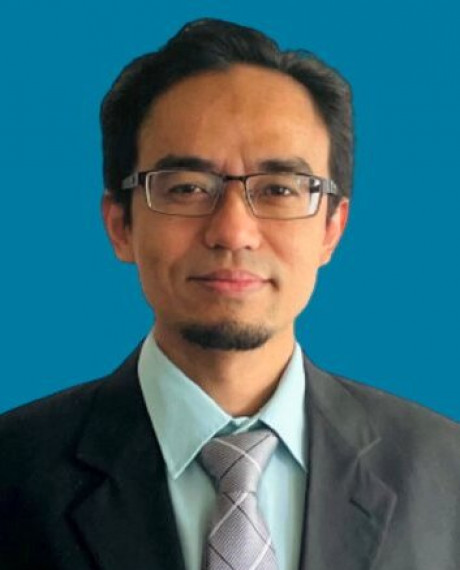 Academic Qualification
Doctor of Philosophy (Economics and Finance) - Doctor of Philosophy, University of Tasmania
Master of Economics - Masters Degree, International Islamic University Malaysia
Bachelor of Economics - Bachelor Degree, International Islamic University Malaysia
Mohd. Nahar Bin Mohd. Arshad (Assoc. Prof. Dr.)
Associate Professor
IIUM Gombak Campus
KULLIYYAH OF ECONOMICS AND MANAGEMENT SCIENCES
---
ma.nahar@iium.edu.my
4708
Expert Profile
Mohd Nahar Mohd Arshad obtained his Bachelor of Economics (2000) and Master of Economics (2002) from the International Islamic University Malaysia (IIUM). In 2012, he obtained his PhD from the University of Tasmania Australia in Economics.
Dr. Nahar started his academic career as an assistant lecturer, upon completion of his BEcons from IIUM. Then, he served as a lecturer at IIUM, after completing his Master's degree.
Presently Dr. Nahar is an Associate Professor at the Department of Economics. He is also the current Head of the Department. Dr. Nahar is also a Research Fellow at the Centre for Islamic Economics, IIUM.
He is currently working on modelling Digital Economy for Social Transition in Malaysia, writing a textbook on Islamic Economics and developing a Third Sector Socioeconomic Model.
Area of Specialisation
Economics, Business And Management ~ Economics, Business And Management ~ Economics/Applied Economics ~ Labour Economics - Labor economics
Economics, Business And Management ~ Economics, Business And Management ~ Economics/Applied Economics ~ Islamic Economics - Islamic Economics
Economics, Business And Management ~ Economics, Business And Management ~ Economics/Applied Economics ~ Welfare Economics - Voluntary sector
Teaching Responsibilities
| | |
| --- | --- |
| ASSHARI'AH, ECONOMICS AND SOCIETY | 2017/2018 2015/2016 2014/2015 2013/2014 2012/2013 2011/2012 |
| FOUNDATION OF ISLAMIC ECONOMICS | 2022/2023 2021/2022 2020/2021 2019/2020 2018/2019 2017/2018 2016/2017 2015/2016 2014/2015 2013/2014 2012/2013 2011/2012 2006/2007 2005/2006 2004/2005 2003/2004 |
| FOUNDATIONS OF ISLAMIC ECONOMICS | 2013/2014 |
| HUMAN RESOURCE DEVELOPMENT | 2022/2023 2021/2022 2020/2021 2019/2020 2018/2019 2017/2018 2016/2017 2015/2016 2014/2015 2013/2014 |
| INTRODUCTORY ECONOMICS FOR ENGINEERING | 2012/2013 2011/2012 2005/2006 2004/2005 2003/2004 2002/2003 |
| LABOUR ECONOMICS | 2022/2023 2021/2022 2020/2021 2019/2020 2017/2018 2016/2017 2015/2016 2014/2015 2013/2014 2012/2013 |
| PRINCIPLE OF MICROECONOMICS | 2014/2015 2013/2014 |
| PRINCIPLES OF MACROECONOMICS | 2012/2013 2011/2012 2006/2007 2005/2006 2004/2005 2003/2004 2002/2003 |
Research Projects
Completed
| | |
| --- | --- |
| 2018 - 2020 | Foundation Of Islamic Economics |
| 2016 - 2021 | Household Debt in Malaysia: Economic, Physiological, Health and Social Impacts and the Role of Religiosity |
| 2015 - 2019 | Formulating a Measure of Daruriyyat (Necessities) based on the Frameworks of Demand for and Supply of Charity |
| 2015 - 2019 | Conceptualising an Integrated Framework for Social Responsibility of Islamic Finance within a Three-Sector Economic Model |
| 2013 - 2022 | Socio Economic Impact of Shari'ah Compliant Hospitality and Services on Malaysia and Muslim Communities |
| 2013 - 2016 | Exploring the Conceptual and Practical Dimensions of a 3 Sector Socio-Economic Transformation Model (3s SETM) for Malaysia |
| 2013 - | Islamic Economic Framework for Waqf: Lessons from History,Comparative Best Practices and Developing Contemporary Models |
| 2013 - 2014 | Secondary Education Investment: How Efficient is the OIC Countries? |
| 2012 - 2017 | A Critical Assessment of PSPTN's Contribution to the Malaysian Economy |
| 2011 - 2012 | An Estimation of Technical Efficiency of Secondary Education in Malaysia: A Cross-country Analysis (RU 2011) |
| 2011 - 2016 | Exploring the Conceptual & Practical Dimensions of A 3 Sector Socio-Economic Transformation Model |
On-Going
Award & Recognition
| | | |
| --- | --- | --- |
| 20 Feb, 2013 | Bronze Medal in IUM Research, Invention and Innovation Exhibition 2013 - International Islamic University Malaysia | University |
Publications
Article
| | |
| --- | --- |
| 2021 | Covid-19 pandemic and addressing digital divide in Malaysia. Journal of Information Systems and Digital Technologies, 3 (2) pp. 29-49 |
| 2021 | The multi‑dimensional effect of household debt on urban individual well‑being in Klang Valley Malaysia. Social Indicators Research, 158 (1) pp. 23-44 |
| 2020 | Estimations of business exposure to corruption in Malaysia. Journal of Financial Crime, 27 (4) pp. 1273-1287 |
| 2020 | Household debt and household spending behavior: evidence from Malaysia (hutang isi rumah dan tingkah laku perbelanjaan isi rumah: Bukti dari Malaysia). Jurnal Ekonomi Malaysia, 54 (1) pp. 111-120 |
| 2020 | The association between household debt and marriage satisfaction in the context of urban household in Klang Valley, Malaysia. Journal of Emerging Economies & Islamic Research, 8 (1) pp. 12-22 |
| 2019 | Komponen utama gaji kehidupan wajar. TAFHIM: IKIM Journal of Islam and the Contemporary World, 12 (2) pp. 99-119 |
| 2017 | The informal economy: A neglected area in Islamic economics. International Journal of Economics, Management and Accounting, 25 (2 (Special Issue)) pp. 285-314 |
| 2016 | Determinants of charitable giving in Malaysia. Humanomics, 32 (4) pp. 459-473 |
| 2016 | Return to education by ethnicity: A case of Malaysia. International Journal of Economics and Management, 10 (1) pp. 141-154 |
| 2016 | Third sector socio economic models: how waqf fits in?. Institutions and Economies, 8 (2) pp. 72-90 |
| 2015 | Market failure: notes on teaching microeconomics with Islamic perspective. International Journal of Economics, Management And Accounting, 23 (2) pp. 263-270 |
| 2015 | Quality of human capital and labor productivity: a case of Malaysia. International Journal of Economics, Management and Accounting, 23 (1) pp. 37-55 |
| 2015 | Returns to education and wage differentials in Malaysia. The Journal of Developing Areas, 49 (5) pp. 213-223 |
| 2014 | Efficiency of secondary education of a selected OIC countries. Global Education Review, 1 (4) pp. 53-75 |
| 2013 | How efficient is Malaysia's secondary education? (Bagaimanakah keberkesanan pendidikan menengah di Malaysia). Malaysian Journal of Education , 38 (1) pp. 25-40 |
| 2013 | Kesan jerebu ke atas ekonomi. Utusan Malaysia, () pp. |
| 2013 | Memahami simptom-simptom stress dalam kewangan. Utusan Malaysia, () pp. |
| 2012 | Estimation issues and mathematical derivation of educational production function. International Journal of Economics, Management And Accounting, 20 (2) pp. 149-186 |
| 2012 | Ke arah kualiti hidup yang lebih tinggi realisasikan Wawasan 2020. Utusan Malaysia, () pp. |
| 2012 | Menjelang bajet 2013: harapan menyeluruh rakyat terhadap Kerajaan Pusat. Utusan Malaysia, () pp. |
| 2012 | Merungkai logik erti keberkatan. Utusan Malaysia, () pp. |
| 2012 | Transformasi perumahan negara. Utusan Malaysia, () pp. |
| 2011 | Harapan pada Belanjawan 2012. Utusan Malaysia, () pp. |
| 2011 | Sektor ketiga lengkap transformasi ekonomi. Utusan Malaysia, () pp. |
| 2009 | Mentaliti dalam tingkatkan nilai modal insan. Utusan Malaysia, () pp. |
Conference or Workshop Item
| | |
| --- | --- |
| 2017 | Kejayaan konsep filantropi barat: satu panduan kepada pengurusan wakaf. In: Seminar Filantropi dan Derma Bakti Islam: Pendekatan Korporat Dalam Konsep Wakaf, |
| 2015 | Essentials of Islamic economics: keys to socioeconomic justice. In: Islamic Economics Symposium 2015, |
| 2014 | Third sector socio-economic models: how awaqf fits in?. In: 2014 Thematic Workshop on the Revival of Waqf for Socio Economic Development , |
| 2014 | How competitive is the secondary education of the OIC countries?. In: International Research, Invention and Innovation Exhibition 2014 (IRIIE2014), |
| 2014 | The economics of voluntarism. In: Half - Day Workshop Briefing on P1 , The Three Sector Economy and Introduction to Effective Bibliographic Surveys, |
| 2013 | How efficient was Malaysia's secondary education? . In: IIUM Research, Invention and Innovation Exhibition (IRIIE) 2013, |
| 2012 | An estimation of technical efficiency of secondary education in Malaysia: A cross-country analysis. In: Labuan International Conference on Educational Research: , |
| 2012 | Panel Data Models: Theoretical Insights. In: Workshop on Panel Data Analysis (Basic-Level), |
| 2012 | Secondary Education: How Malaysian Students Fare Internationally. In: Department of Economics Seminar Series, |
| 2010 | An estimation of educational production function: the case of Tasmanian public schools . In: 2010 PhD Conference in Economics and Business, |
Book
Book Section
Monograph