Staff Directory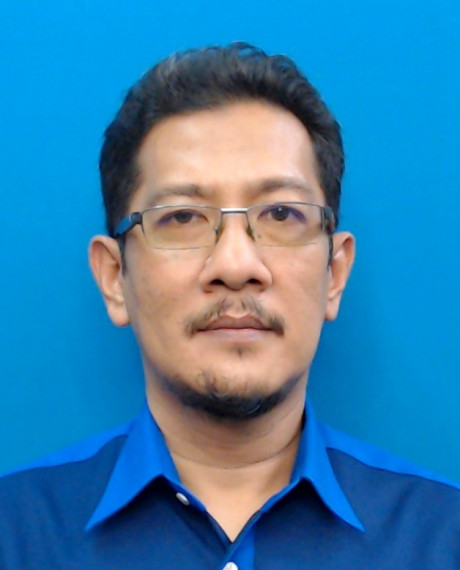 Academic Qualification
Master of Philosophy - Masters Degree, Warwick University
Master of Science (Information Technology) - Masters Degree, Universiti Putra Malaysia (UPM)
Islamic Revealed Knowledge & Heritage - Bachelor Degree, International Islamic University Malaysia
Muhd. Rosydi Bin Muhammad
Matriculation Lecturer
IIUM Gombak Campus
KULLIYYAH OF INFORMATION AND COMMUNICATION TECHNOLOGY
---
Expert Profile
Muhd Rosydi Muhammad started his career with a geology-based company, GeoEnTech Sdn Bhd as a researcher in 1998. Upon completion of his Master degree, he took up an academic position at the International Islamic University Malaysia (IIUM) in 2000. Later, he pursued his postgraduate study at the University of Warwick (UK) in 2005.
Muhd Rosydi has published articles and book chapters in areas of e-government, e-commerce, e-learning, and ICT and Islam. He has taught Information Systems courses, Cyber Laws & Ethics, ICT & Islam, and Islamic Worldview, IT & Society at both undergraduate and postgraduate levels. Having an academic background in Islamic studies, he focuses research in the areas of ICT and ethical issues in the context of Shari'ah/Islam. Muhd Rosydi is on the Editorial Board for Journal of Information Systems Research and Innovation (JISRI), Technical Committee of the International Arab Journal of e-Technology (IAJeT) and Academic Member of Association of Information Systems (AIS).

He has won awards at several research exhibitions; Bronze Medal in IIUM Research, Invention and Innovation Exhibition (2014 and 2012) and 2011 Exhibition & Innovation Showcase for ICRIIS (Bronze Medal).

Since July 2013, Rosydi has been a faculty member at the Department of Information Systems and Deputy Director (Infrastructure Services) at the Information Technology Division.
Area of Specialisation
ICT ~ Information, Computer And Communications Technology (ICT) ~ ICT Applications ~ E-Government
ICT ~ Information, Computer And Communications Technology (ICT) ~ ICT Applications ~ Finance and Insurance - FinTech, Blockchain
ICT ~ Information, Computer And Communications Technology (ICT) ~ ICT Applications ~ E-Commerce - EC Issues and Islam
ICT ~ Information, Computer And Communications Technology (ICT) ~ ICT Policy and Social Impact ~ ICT Ethics - ICT and Islamic Ethics
Teaching Responsibilities
| | |
| --- | --- |
| CYBER LAW & ETHICS | 2013/2014 2015/2016 2016/2017 2014/2015 |
| E- COMMERCE | 2004/2005 |
| ELECTRONIC COMMERCE | 2004/2005 |
| FINAL YEAR PROJECT 1 | 2017/2018 |
| FINAL YEAR PROJECT I | 2021/2022 2010/2011 2015/2016 2012/2013 2016/2017 2011/2012 2014/2015 2013/2014 2003/2004 2020/2021 2017/2018 |
| FINAL YEAR PROJECT II | 2019/2020 2012/2013 2016/2017 2003/2004 2011/2012 2017/2018 2020/2021 2013/2014 2010/2011 2015/2016 2014/2015 |
| INDUSTRIAL ATTACHMENT | 2016/2017 2015/2016 2011/2012 2014/2015 2012/2013 2013/2014 |
| INFORMATION TECHNOLOGY | 2003/2004 2016/2017 |
| INTERNET APPLICATIONS | 2002/2003 2000/2001 2001/2002 2004/2005 |
| ISLAMIC WORLDVIEW, IT AND SOCIETY | 2010/2011 2011/2012 |
| IT AND ISLAM | 2016/2017 2010/2011 2018/2019 2009/2010 2019/2020 2021/2022 2011/2012 2017/2018 2012/2013 2020/2021 |
| MANAGEMENT INFORMATION SYSTEM | 2002/2003 2011/2012 2009/2010 |
| PRACTICAL TRAINING | 2009/2010 2010/2011 2013/2014 |
| SYSTEM ANALYSIS & DESIGN | 2001/2002 2004/2005 |
| SYSTEMS ANALYSIS | 2001/2002 2000/2001 |
Research Projects
Completed
| | |
| --- | --- |
| 2011 - 2016 | E-Government And Interaction Of Task , Technology And People : A Case Study On E-Government System In Malaysia |
| 2011 - 2016 | Service Quality: Implications for Management Practice in Higher Education Institution (Focus Group with Students) |
| 2011 - 2012 | Mobile Hajj Dictionary (Arabic, Malay and English Based) |
On-Going
| | |
| --- | --- |
| 2020 - Present | Kajian Hukum Mengenai Kesan Permainan Digital Terhadap Masyarakat |
| - | THE ADOPTION OF SOCIAL SUSTAINABLE BANK FRAMEWORK IN THE STATE OF PERLIS |
Award & Recognition
| | | |
| --- | --- | --- |
| 22 Feb, 2012 | Bronze Medal, IIUM Research, Invention and Innovation Exhibition 2012 (IRIIE2012) - International Islamic University Malaysia | University |
| 24 Nov, 2011 | Bronze Medal, Exhibition & Innovation Showcase at the International Conference on Research & Innovation in Information Systems 2011 (ICRIIS?11) - International Conference on Research & Innovation in Information Systems 2011 (ICRIIS?11) | International |
Publications
Article
Conference or Workshop Item
Book
Book Section
| | |
| --- | --- |
| 2020 | Analisis syariah terhadap bitcoin. In: Institut Kefahaman Islam Malaysia (IKIM), ISBN: 978-983-2718-80-2, pp. 57-87 |
| 2011 | 1 Government, many agencies and the Malaysian student integrated system. In: IIUM Press, ISBN: 9789674181024, pp. 1-9 |
| 2011 | 1 touch I-care system: collaborative web-based solution. In: IIUM Press, ISBN: 9789674181024, pp. 57-66 |
| 2011 | A concept study on community-based disaster management system in Malaysia. In: IIUM Press, ISBN: 9789674181024, pp. 118-127 |
| 2011 | Al-Islam Hospital human resource system. In: IIUM Press, ISBN: 978-967-418-112-3, pp. 58-70 |
| 2011 | Collaboration system towards Program Anak Emas in Malaysia (SPANE). In: IIUM Press, ISBN: 9789674181024, pp. 220-229 |
| 2011 | Collaborative decision making in university selection. In: IIUM Press., ISBN: 9789674181024, pp. 89-98 |
| 2011 | Collaborative disaster management system: an exploratory for landslide in Malaysia. In: IIUM Press, ISBN: 9789674181024, pp. 179-188 |
| 2011 | Collaborative healthcare system: a citizen-centric and whole-of-government approach in healthcare. In: IIUM Press, ISBN: 9789674181024, pp. 38-48 |
| 2011 | e-Ladies: a website that collaborate with woman organizations. In: IIUM Press, ISBN: 9789674181024, pp. 230-237 |
| 2011 | e-Life web-based application of birth and death certificate. In: IIUM Press, ISBN: 9789674181024, pp. 238-247 |
| 2011 | Eco-friendly products: a case study of level of awareness in International Islamic University Malaysia (IIUM). In: IIUM Press, ISBN: 9789674181024, pp. 138-146 |
| 2011 | End-to-end enhancement of International Islamic Digital Library at the National Library of Malaysia. In: IIUM Press, ISBN: 9789674181024, pp. 210-219 |
| 2011 | Health-care Collaborative System:(HCCS): a concept. In: IIUM Press, ISBN: 9789674181024, pp. 189-198 |
| 2011 | Integration of ICT in education : an Islamic perspective.. In: IIUM Press, ISBN: 978-967-418-105-5, pp. 61-71 |
| 2011 | Management disaster for charity donation system to Malaysian community. In: IIUM Press, ISBN: 9789674181024, pp. 147-156 |
| 2011 | Parents and children relationships in social networking : an analysis from Islamic perspective.. In: IIUM Press, ISBN: 978-967-418-105-5, pp. 95-102 |
| 2011 | Potential of using ICT in Islamic-based education.. In: IIUM Press, ISBN: 978-967-418-105-5, pp. 79-86 |
| 2011 | Real time information sharing and remote sensing for disaster management and prevention. In: IIUM Press, ISBN: 9789674181024, pp. 199-209 |
| 2011 | Social networks in education : survey on students at the International Islamic University Malaysia (IIUM).. In: IIUM Press, ISBN: 978-967-418-105-5, pp. 103-112 |
| 2011 | Super Authentication Security System (SASS) to Malaysian community for safety management. In: IIUM Press., ISBN: 9789674181024, pp. 248-256 |
| 2011 | The influence of information technology towards better Muslims community.. In: IIUM Press, ISBN: 978-967-418-105-5, pp. 73-78 |
| 2011 | The use of social networks in education : challenges and opportunities.. In: IIUM Press, ISBN: 978-967-418-105-5, pp. 87-94 |
| 2011 | Understanding fit between technology, organization and people (F-TOP) factors in e-government : the case of judicial information systems.. In: IIUM Press, ISBN: 9789674180034, pp. 1-22 |