Staff Directory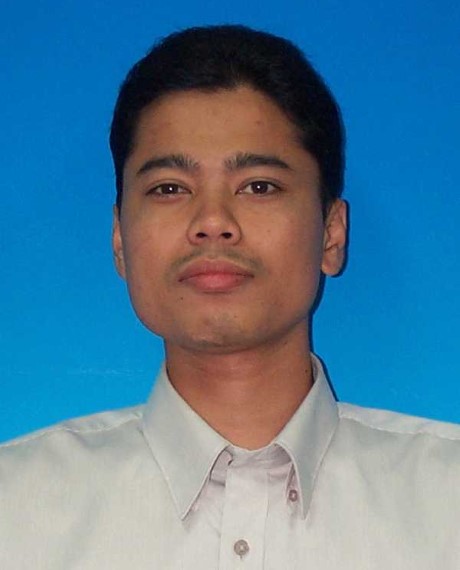 Academic Qualification
Doctor of Philosophy in Islamic Finance - Doctor of Philosophy, Durham University
Master of Economics - Masters Degree, Universiti Malaya (UM)
Bachelor of Economics - Bachelor Degree, International Islamic University Malaysia
Mohd. Nizam Bin Barom (Assoc. Prof. Dr.)
Associate Professor
IIUM Gombak Campus
KULLIYYAH OF ECONOMICS AND MANAGEMENT SCIENCES
---
mohdnizam@iium.edu.my
4623
Expert Profile
Mohd Nizam Barom obtained his B. Economics (Hons) from IIUM in 2000 and M. Economics from University of Malaya in 2003. He then completed his PhD from Durham University in the area of Islamic economics and finance in 2013.
Presently Dr Mohd Nizam is an Assistant Professor at the Department of Economics, Kulliyyah of Economics and Management Sciences, and a Research Fellow at the Centre for Islamic Economics (CIE), International Islamic University Malaysia. Among the courses that he has taught at IIUM include Principles of Microeconomics, Principles of Macroeconomics, Managerial Economics, Foundation of Islamic Economics and Malaysian Economy at the undergraduate level, and Islamic Capital Market, Ethics and Values for Managers and Comparative Business Ethics at the post-graduate level. Since 2013, he was appointed as an Academic Advisor at KENMS.
His research interests are in the area of giving behaviour, voluntary/third sector, ethics in Islamic finance, and Islamic economics education. He joined the Centre for Islamic Economics as a Research Fellow in 2013 and actively involved in various research activities as principal and co-researcher. Some of the ongoing projects include 'Analysis of Giving Behaviour and Donors' Perception Towards Financing Higher Education' (part of LRGS programme), 'Socioeconomic Impact of Shari'ah Compliant Hospitality and Services for Malaysia and Muslim Communities (NRGS), 'Exploring the Conceptual & Practical Dimensions of a 3 Sector Socio-Economic Transformation Model (3SETM) for Malaysia' (ERGS), and 'Conceptualising an Integrated Framework for Social Responsibility of Islamic Finance in a Thre-Sector Economic Model' (RIGS).
He is also involved in a series of regional workshops on Islamic economics education organised by CIE involving higher learning institutions in Southeast Asia, and currently assisting in the publication of CIE's series on Islamic Economics Education in Southeast Asia since 2013.
Teaching Responsibilities
| | |
| --- | --- |
| COMPARATIVE BUSINESS ETHICS | 2014/2015 |
| ETHICS AND VALUES IN MANAGEMENT | 2014/2015 2013/2014 |
| FOUNDATION OF ISLAMIC ECONOMICS | 2017/2018 2016/2017 |
| INTRODUCTION TO ECONOMICS | 2006/2007 2005/2006 2004/2005 2003/2004 2002/2003 |
| INTRODUCTORY ECONOMICS FOR ENGINEERING | 2005/2006 2003/2004 |
| ISLAMIC CAPITAL MARKETS | 2021/2022 2020/2021 2019/2020 2018/2019 2017/2018 2014/2015 |
| MALAYSIAN ECONOMY | 2021/2022 2017/2018 2015/2016 2014/2015 2013/2014 |
| MANAGERIAL ECONOMICS | 2017/2018 2014/2015 2013/2014 |
| PRINCIPLE OF MICROECONOMICS | 2017/2018 2014/2015 |
| PRINCIPLES OF MACROECONOMICS | 2021/2022 2020/2021 2019/2020 2018/2019 2017/2018 2016/2017 2013/2014 2012/2013 2011/2012 2006/2007 |
| PRINCIPLES OF MICROECONOMICS | 2020/2021 2019/2020 2018/2019 2016/2017 2015/2016 2014/2015 2013/2014 2012/2013 2011/2012 2005/2006 2004/2005 2003/2004 2002/2003 |
Research Projects
Completed
| | |
| --- | --- |
| 2019 - 2020 | Innovative Financing for Sustainable Development Goals |
| 2019 - 2020 | Kajian Peluang Pekerjaan Orang Kurang Upaya (OKU) di Malaysia |
| 2018 - 2020 | PRINCIPLE OF MICROECONOMICS FROM ISLAMIC PERSPECTIVES |
| 2016 - 2020 | Student's Decision Making in Class Selection and Enrolment |
| 2015 - 2019 | Conceptualising an Integrated Framework for Social Responsibility of Islamic Finance within a Three-Sector Economic Model |
| 2013 - 2016 | Exploring the Conceptual and Practical Dimensions of a 3 Sector Socio-Economic Transformation Model (3s SETM) for Malaysia |
| 2013 - | Islamic Economic Framework for Waqf: Lessons from History,Comparative Best Practices and Developing Contemporary Models |
On-Going
| | |
| --- | --- |
| 2019 - Present | Review of Influential Works in Islamic Economics |
| 2013 - Present | Socio Economic Impact of Shari'ah Compliant Hospitality and Services on Malaysia and Muslim Communities |
Publications
Article
| | |
| --- | --- |
| 2021 | Financial inclusion and the goal of distributive justice in Islamic economics. Journal of Muamalat and Islamic Finance Research, 18 (1) pp. 66-77 |
| 2019 | A critical analysis of social development: features, definitions, dimensions and frameworks. Asian Social Science, 16 (1) pp. 14-21 |
| 2019 | Framing the Social Responsibility Role of Islamic Financial Institutions within a Three-sector Economic Model. Humanities and Social Sciences Reviews, 7 (1) pp. 180-188 |
| 2019 | Islamic business coaching from the perspective of Indonesian coaches. International Journal of Modern Trends in Social Sciences, 2 (8) pp. 174-187 |
| 2019 | Students' decision making in class selection and enrolment. International Journal of Educational Management, 33 (4) pp. 587-603 |
| 2019 | Towards the definition and analysis of social component of sustainable development. International Journal of Asian Social Science, 9 (4) pp. 318-326 |
| 2019 | Understanding socially responsible investing and its implications for Islamic investment industry. Journal of Emerging Economies and Islamic Research, 7 (1) pp. 1-13 |
| 2019 | Understanding the motivation to invest: a profile analysis of Islamic funds' investors. The Journal of Muamalat and Islamic Finance Research, 16 (2) pp. 48-59 |
| 2018 | Conceptualizing a unified normative framework for social responsibility in Islamic Economics. International Journal of Economics, Management and Accounting, 26 (2) pp. 329-363 |
| 2013 | Conceptualizing a strategic framework of social responsibility in Islamic economics. International Journal of Economics, Management and Accounting, 21 (1) pp. 65-95 |
Conference or Workshop Item
Book
Book Section
| | |
| --- | --- |
| 2016 | Conceptualizing a strategic framework of social responsibility in Islamic economics. In: Kulliyyah of Economics and Management Sciences, International Islamic University Malaysia (IIUM) and Islamic Research and Training Institute (IRTI) @Islamic Development Bank, ISBN: 978-983-44368-1-8, pp. 139-172 |
| 2016 | Essential perspectives in Islamic economics and finance: an introduction. In: Kulliyyah of Economics and Management Sciences, International Islamic University Malaysia (IIUM) and Islamic Research and Training Institute (IRTI) @Islamic Development Bank, ISBN: 978-983-44368-1-8, pp. 1-24 |
| 2016 | Screening strategies for social responsibility concern in Islamic equity investment. In: Kulliyyah of Economics and Management Sciences, International Islamic University Malaysia (IIUM) and Islamic Research and Training Institute (IRTI) @Islamic Development Bank, ISBN: 978-983-44368-1-8, pp. 397-420 |
| 2015 | Social responsibility dimension in Islamic investment: a survey of investors' perspective in Malaysia . In: Bloomsbury Qatar Foundation, ISBN: 978-9927-118-24-1, pp. 91-104 |
| 2015 | Social responsibility dimension in Islamic investment: a survey of investors' perspective in Malaysia . In: Bloomsbury Qatar Foundation, ISBN: 978-9927-118-24-1, pp. 91-104 |
| 2013 | Islamic economics education in Southeast Asian universities: an introduction. In: Centre for Islamic Economics, International Islamic University Malaysia & International Institute of Islamic Thought, ISBN: 9789834460013, pp. 1-9 |
| 2013 | Selected issues in Islamic economics education and the way forward. In: Centre for Islamic Economics, International Islamic University Malaysia & International Institute of Islamic Thought, ISBN: 9789834460013, pp. 291-302 |
Monograph