Staff Directory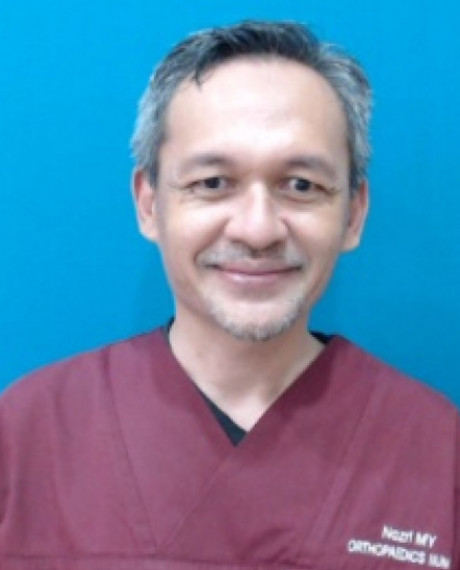 Academic Qualification
Master of Medicine (Orthopaedics) - Masters Degree (Clinical Specialist), Universiti Sains Malaysia (USM)
Bachelor of Medicine and Bachelor of Surgery - Bachelor Degree, Universiti Malaya (UM)
Nazri Bin Mohd. Yusof (Prof. Dr.)
Professor
IIUM Kuantan Campus
KULLIYYAH OF MEDICINE

Other's position:
Deputy Director, Research Management Centre
---
nazriyusof@iium.edu.my
4657
Expert Profile
Dr. Nazri Mohd Yusof obtained his Bachelor of Medicine and Bachelor of Surgery (MBBS) from University of Malaya (UM) and Master of Medicine (M.Med) from Science University of Malaysia (USM) in Orthopedics. Throughout his career, his additional experience was gained from various trainings and fellowships in both local and oversea universities in Germany, Turkey, South Korea, England, Italy, Australia and Switzerland.
Upon graduation in Orthopedics, he won the Best Orthopedic Master's Student Award and received the N Subramanian Award 2002 from the Malaysian Orthopedic Association (MOA). In 2007, International Islamic University of Malaysia (IIUM) awarded him the Promising Researcher Award (Kulliyyah Level) on Quality Day for his enthusiasm and contribution in IIUM research projects. He was the Head, Department of Orthopedics, Traumatology and Rehabilitation, IIUM for the period of 2010 - 2012.
He teaches both undergraduate and postgraduate orthopedic students and is also a visiting lecturer for the Faculty of Medicine, University Sultan Zainal Abidin Kuala Terengganu. Other than that, he is an examiner for Conjoint Board of Orthopedic exam which assesses doctors before they become orthopedic surgeons.
Since 2002, he received many grants for research projects and has published numerous articles in both local and international journals. Besides, he serves as a Consultant of Orthopedic Surgeon in Advanced Trauma and Limb Reconstruction at Tengku Ampuan Afzan Hospital (HTAA) Kuantan, IIUM Specialist Clinic and Darul Makmur Medical Centre Kuantan. He is also an active member of various medical and orthopedic associations including MOA, Asia Pacific Orthopedic Association (APOA), AO Trauma and International Society of Orthopedic and Traumatology Surgery (SICOT).
He is currently a Deputy Director (Publication) in Research Management Centre (RMC), Kuantan campus, IIUM.
Area of Specialisation
Medical And Health ~ Medical And Health Sciences ~ Health Care System ~ Other Health Care System n.e.c. - Advanced Trauma
Teaching Responsibilities
| | |
| --- | --- |
| USRAH IN ACTION 2 | 2023/2024 |
Research Projects
Completed
| | |
| --- | --- |
| 2021 - 2022 | ILIZAROV CURRICULLUM AND PRACTICAL MODULES: DEVELOPMENT AND OUTCOME |
| 2021 - 2022 | THE MAQASID-GUIDED MEDICAL DECISION MAKING: THE CASE OF COVID-19 PANDEMIC |
| 2020 - 2022 | SMART ORGANIC BIO COMPOST (SOB) FOR SUSTAINABLE WASTE MANAGEMENT PRACTICE OF PERBADANAN KEMAJUAN PERTANIAN NEGERI PAHANG (PKPP) |
| 2020 - 2022 | PEMELIHARAAN DAN PEMULIHARAAN TASIK DI KOMPLEKS YAYASAN PAHANG DAN KAWASAN SEKITAR |
| 2020 - 2021 | Elucidation on the Antimicrobial Property of Rosadiflora Species towards Human Pathogen |
| 2019 - 2019 | Trauma & Limb Reconstruction Course using TL & TL-HEX |
| 2017 - 2020 | Antimicrobial Susceptibility of Etiological Pathogen in Early Infection of Open Fracture in Orthopedics |
| 2016 - 2020 | Inventing and validating tools to measure the ability for Muslim to pray |
| 2016 - | Safety and Efficacy of Oral Emulsion and Implanted Beads of N. sativa-Gentamicin Antibiofilm Fusion for Osteomyelitis |
| 2016 - 2019 | Review On Ethico-legal fictions of advanced bioengineering in the context of islamic medical philosophy |
| 2013 - 2016 | TRANS DISCIPLINARY PROGRAM: MAIN TITLE: FUSION CONCEPT BETWEEN CONTEMPORARY MEDICINE (GENTAMICIN) AND PROPHETIC MEDICINE (N.SAATIVA) FOR FUTURE 'GREENER' PHARMACEUTICAL Project Title:Effect of Gentamicin-N.Sativa Fusion Medicine on Osteoblast Cell Lines for Use in Osteo-Healing Applications |
| 2013 - 2015 | TRANS DISCIPLINARY PROGRAM: MAIN TITLE: FUSION CONCEPT BETWEEN CONTEMPORARY MEDICINE (GENTAMICIN) AND PROPHETIC MEDICINE (N.SAATIVA) FOR FUTURE 'GREENER' PHARMACEUTICAL Project Title: Characterisation of Physiochemical Properties and Compatibility Testing of Gentamicin-N-Sativa Fusion |
| 2013 - 2016 | IIUM Ibadah Disability Score (IIDS): A Systematic Scoring for the Evaluation of Muslim Trauma Patients' Ability to Perform Religious Physical Cleansing and Prayer |
| 2012 - 2016 | Pre-Clinical Evaluations of Malaysian-Made "Osteopaste" an Injectable Self-Hardened Synthetic Bone Cement |
| 2012 - 2014 | Immediate and Long-term Psychological Impacts among Amputees in Diabetics Patients ; A Prospective Study |
| 2011 - 2014 | The Functional outcome and Quality of Life After Open Tibial Diaphyseal Fracture Treated in Hospital Tengku Ampuab Afzan, Kuantan in the Year 2009 |
| 2009 - 2011 | A Prospective Study of Paediatric Fractures Requiring Inpatient Management to Hospital Tengku Ampuan Afzan, Kuantan |
| 2008 - 2011 | Compression Fracture of the Thoracolumbar Spine: A Prospective Study Comparing Radiographic Results Between Early Ambulation with and without Lumbar Orthosis |
| 2008 - 2011 | A prospective study of Open Fracture Treated in Hospital Tengku Ampuan Afzan Kuantan. A Pilot Study for Open Fracture Registry |
On-Going
| | |
| --- | --- |
| 2022 - Present | Development of an additive manufacturing (AM) biodegradable biocomposite scaffold as a controlled antibiotic delivery system in a rabbit osteomyelitis model |
| 2021 - Present | Unravelling the integration of Islamic principles in the clinical practices: Study on orthopaedic doctors consultation, decision making and holistic care in the sharia-compliant hospital. |
| 2021 - Present | Exploring nurses? challenges and developing Islamic adaptation strategies in caring for patients with COVID-19 in the Intensive Care setting during the pandemic in Malaysia |
| 2021 - Present | Development of Ibadah Disability Scale: A Fundamental Needs Assessment for Customised Assistance for Hospitalised Muslim Patients |
| 2019 - Present | Prototype for Smart Green Composting Machine (SMART COMP) |
| 2019 - Present | A patient-centered approach in supporting the implementation of Ibadah Friendly Hospital Program. |
| 2017 - Present | Clinical Consultant for Promoting and Marketing Synthetic Bone Construct |
| 2012 - Present | Orthopaedics, Musculoskeletal and Bioethical Research Unit |
| 2012 - Present | Orthopaedic Research Laboratory, UIAM Bionexus Partners Programme (BNP) Phase 4 |
| 2011 - Present | (RU2011) EPIDEMIOLOGY OF DIABETIC FOOT PROBLEMS AND PREDICTIVE FACTORS FOR LIMB LOSS IN HOSPITAL TENGKU AMPUAN AFZAN (HTAA) KUANTAN |
| 2008 - Present | Perception of the Final Year Medical Students Towards the Islamic Input Medical Program of Kulliyyah of Medicine, IIUM |
| 2007 - Present | Advanced Delivery System Using Locally - Produces Implantable Antibiotics- Incorporated Apatite Beads For Bone Repair -BioDDS |
Publications
Article
| | |
| --- | --- |
| 2023 | A rare case of Salter-Harris Type I growth plate injury in a patient undergoing limb-lengthening procedure. Cureus Journal of Medical Science, 15 (8) pp. 1-6 |
| 2023 | A rare case of Salter-Harris type i growth plate injury in a patient undergoing limb-lengthening procedure. Cureus, 15 (8) pp. 1-6 |
| 2023 | A systematic literature review of intensive care unit (ICU) nurses' experience during Covid-19. The Malaysian Journal of Nursing (MJN), 15 (2) pp. 154-165 |
| 2023 | Islamic medical practice: a holistic approach to patient care in Sharia-compliant hospitals. IIUM Medical Journal of Malaysia, 22 (1) pp. 110-111 |
| 2023 | The evolving management approach to musculoskeletal infection. IIUM Medical Journal of Malaysia, 22 (3) pp. 1-2 |
| 2023 | The integration of Islamic values in daily clinical practice among healthcare professionals: a scoping review. IIUM Medical Journal of Malaysia, 22 (3) pp. 33-40 |
| 2022 | A prospective multicenter randomized controlled trial to evaluate the efficacy of chitosan hydrogel paste in comparison to commercial hydroactive gel as a wound bed preparation. Indian Journal of Plastic Surgery, 55 () pp. |
| 2022 | A prospective multicenter randomized controlled trial to evaluate the efficacy of chitosan hydrogel paste in comparison to commercial hydroactive gel as a wound bed preparation. Indian Journal of Plastic Surgery, 55 () pp. |
| 2022 | Development and Validation of the Muslim Prayer Ability Scale (MPAS) Among Patients' With Diabetic Foot Problem. Malaysian Journal of Medicine and Health Sciences doi:10.47836/mjmhs.18.s19.3, 18 (19) pp. 16-21 |
| 2022 | Development and validation of the Muslim Prayer Ability Scale (MPAS) among patients' with diabetic foot problem. Malaysian Journal of Medicine and Health Sciences, 18 (Supp 19) pp. 16-21 |
| 2022 | Functional outcome and quality of life following treatment for post-traumatic osteomyelitis of long bones. Singapore Medical Journal, 63 (5) pp. 251-255 |
| 2022 | Mono-lateral external fixation for treatment of femoral osteomyelitis. Orthopedic Research and Reviews, 14 () pp. 437-443 |
| 2022 | Staged reconstruction for humeral osteomyelitis after severe crush injury of the shoulder: a case report. Malaysian Orthopaedic Journal, 16 (2) pp. 140-144 |
| 2021 | Clinical outcome of infected tibial nonunion treated with ilizarov external fixator: two-center experience. International Journal of Allied Health Science, 5 (1) pp. |
| 2021 | Clinical outcome of infected tibial nonunion treated with ilizarov external fixator: two-center experience. International Journal of Allied Health Science, 5 (1) pp. 2145 |
| 2021 | Modifying local environment in managing osteomyelitis. International Journal of Allied Health Science, 5 (4) pp. 2284-2284 |
| 2021 | Non-vascularized Fibula graft in deformity correction of a young child. International Journal of Allied Health Science, 5 (4) pp. 2301 |
| 2021 | Quality of life & functional outcome of open tibial fracture managed with Ilizarov external fixator as definitive management. International Journal of Allied Health Science (IJAHS), 5 (4) pp. 2308 |
| 2021 | Revisiting the pedicled gastrocnemius flap for orthoplastic limb reconstruction. IIUM Medical Journal Malaysia, 20 (2) pp. 97-102 |
| 2021 | Tibialization of fibula, conquering tibia nonunion with large bony defect. International Journal of Allied Health Science (IJAHS), 5 (4) pp. 2294 |
| 2020 | From Islamic input in Medical Program to Islamic medical practice: the journey from Kulliyyah of Medicine to IIUM Medical Centre. IIUM Medical Journal Malaysia, 19 (1) pp. 121-124 |
| 2020 | Functional outcome and quality of life following treatment for post-traumatic osteomyelitis of long bones. Singapore Medical Journal, () pp. 1-15 |
| 2019 | End-of-life: old age in contemporary society, self-perception of aging and 'An' Islamic perspective. International Journal of Human and Health Sciences (IJHHS), 3 (2) pp. 64-73 |
| 2019 | Femur open wedge corrective osteotomy and gradual deformity correction. American Journal of Biomedical Science & Research, 3 (5) pp. 442-445 |
| 2019 | Microbiological study of etiological pathogen in early infection of open fracture in orthopedics. Malaysian Orthopaedic Jornal, 13 (Supplement A) pp. |
| 2019 | Outcome of islanded gastrocnemius musculocutaneous flap in orthopaedic practice. Malaysian Orthopaedic Journal, 13 (1) pp. 25-29 |
| 2019 | Quality of life of diabetes amputees following major and minor lower limb amputations. The Medical Journal of Malaysia, 74 (1) pp. 25-29 |
| 2019 | Radiological and functional outcome post fixation in unstable proximal femur fracture: comparison between proximal femoral nail antirotation (PFNA) and proximal femoral locking compression plate (PFLCP). Malaysian Orthopaedic Journal, 13 (Supplement A) pp. |
| 2019 | Retrospective study on the microbial drug resistance profile and predictive risk factors in early infection of open fractures. IIUM Medical Journal Malaysia, 18 (3) pp. 96-103 |
| 2019 | The development of praying ability scale for Muslim with diabetic foot problem. International Journal of Allied Health Sciences, 3 (3 Special Issue) pp. 773-773 |
| 2019 | The nature of forensic ethics in bioanalytical science. Revelation and Science, 9 (1) pp. 9-17 |
| 2018 | Bone and joint reconstruction using ilizarov circular external fixation device. International Medical Journal Malaysia, 17 (Supplementary Issue No 1) pp. 64-64 |
| 2018 | Calcium phosphate based Synthetic Bone Construct (SBC) as a temporary spacer for bone defect before bone transport. Malaysian Orthopaedic Journal, 12 (Supplement A) pp. 1-1 |
| 2018 | Early functional and radiological outcomes between plaster cast and fiberlass cast in stable thoracolumbar burst fracture. The International Medical Journal Malaysia, 17 (1) pp. 121-126 |
| 2018 | Islanded gastrocnemius musculocutaneous flap for coverage of large wound in the leg and knee. Malaysian Orthopaedic Journal, 12 (supplement A) pp. FT02 |
| 2018 | Microbiological study of etiological pathogen in early infection of open fracture in orthopedics. The International Medical Journal Malaysia, 17 (Supplementary Issue No. 1) pp. 22-22 |
| 2018 | Model of critical size defect in the New Zealand White rabbit's tibia. The International Medical Journal Malaysia, 17 (1) pp. 13-18 |
| 2018 | The question of Identity between the restorative and regenerative organ transplantations. Revelation and Science, 8 (2) pp. 13-20 |
| 2018 | Tibia malunion with angular deformity: Corrective osteotomy and intramedullary fixation with the chipping technique. Biomedical Journal of Scientific and Technical Research, 2 (1) pp. 1-4 |
| 2017 | 15 years review of gastrocnemius flap done in Department Of Orthopaedics, Hospital Tengku Ampuan Afzan, Kuantan. International Medical Journal Malaysia (IMJM), 16 (S1) pp. 10 |
| 2017 | Construct and criterion validity of the Malay Language of Lower Extremity Functional Scale (LEFS). Asia-Pacific Journal of Sport Medicine, Arthroscopy, rehabilitation and Technology, 10 () pp. 8-11 |
| 2017 | Integration and Islamisation program for clinical post graduate students in International Islamic University of Malaysia (IIUM). The International Medical Journal of Malaysia, 17 (Special Issue 1) pp. 91-96 |
| 2017 | Letter to the editor: Perforators in the leg: why it is important for orthopaedic surgeons to know. Malaysian Orthopaedic Journal, 11 (1) pp. 85-87 |
| 2017 | Outcome following treatment of diaphyseal femoral osteomyelitis using a monolateral external fixation system. Journal Limb Lengthening and Reconstruction, 3 (Supp. 1) pp. 84 |
| 2016 | 10 years review of endowment fund for research in IIUM Kuantan. international Medical Journal of Malaysia, 15 (Supplement Issue) pp. 25-25 |
| 2016 | Acute vascular complications (flap necrosis and congestion) with one stage and two stage distally based sural flap for wound coverage around the ankle. Medical Journal of Malaysia, 71 (2) pp. 47-52 |
| 2016 | Model of a critical size defect in the New Zealand White rabbit's tibia. The International Medical Journal Malaysia ( IMJM ), 15 (Supplement Issue) pp. 43 |
| 2016 | The functional outcome and quality of life following open diaphyseal tibial fractures. International Medical Journal Malaysia, 15 (Supplement Issue) pp. 20 |
| 2015 | Confocal laser scanning microscope analysis on post-biofilm assessment of biofilmproducing osteomyelitic staphylococcus aureus treated with new gentamicin-nigella sativa fusion emulsion (GNFE). Malaysian Journal of Microscopy, 11 () pp. 68-73 |
| 2015 | Isolation of the biofilm producing bacteria from osteomyelitis patients at Hospital Tengku Ampuan Afzan (HTAA), Kuantan. Malaysian Journal of Microbiology, 11 (4) pp. 317-323 |
| 2015 | Predictors of major lower limb amputation among type II diabetic patients admitted for diabetic foot problems. Singapore Medical Journal, 56 (11) pp. 626-631 |
| 2014 | Allergic reaction following insertion of vancomycin loaded in bone cement. The International Medical Journal Malaysia, 13 (1) pp. 61-64 |
| 2014 | Formulation and stability testing of Gentamicin-N. sativa fusion emulsions for osteo-healing application. International Journal of Pharmacy and Pharmaceutical Sciences, 6 (11) pp. 171-176 |
| 2014 | Primary fixation of AO type-C fracture of the distal radius with volar locking plates. A cross-sectional study of patient rated outcomes at Hospital Tengku Ampuan Afzan. The International Medical Journal Malaysia, 13 (2) pp. 3-6 |
| 2013 | Factors associated with the outcome of open tibial fractures. Malaysian Journal of Medical Sciences , 20 (5) pp. 47-53 |
| 2012 | Outcomes of infected grade IIIB open tibial fractures. Singapore Medical Journal, 53 (9) pp. 591-594 |
| 2012 | Stage protocol in the management of infection following plating of the tibia. International Medical Journal Malaysia, 11 (1) pp. 41-46 |
| 2011 | Ankle fractures: the operative outcome. Malaysian Orthopaedic Journal, 5 (1) pp. 40-43 |
| 2011 | In vitro elution and dissolution of tobramycin and gentamicin from calcium phosphate. African Journal of Pharmacy and Pharmacology, 5 (20) pp. 2283-2291 |
| 2009 | Percutaneous plating in paediatric tibial fractures . Injury, 40 (12) pp. 1286-1291 |
| 2008 | An in vivo implantation study in New Zealand white rabbits for granular hydroxyapatite. European Cells and Materials, 16 (supp 2) pp. 55 |
| 2007 | Contralateral posterior interosseous flap used to cover large soft tissue defect in the fingers. A case report . International Medical Journal Malaysia, 6 (1) pp. 1-9 |
| 2007 | Distal tibial reconstruction with use of a circular external fixator and an intramedullary Nail. the combine technique. The Journal of Bone and Joint Surgery, 89 () pp. 2218-2224 |
| 2006 | Bilateral olecranon fracture in adult. A case report.. International Medical Journal Malaysia, 5 (1) pp. 1-4 |
| 2006 | Infection Following Internal Fixation Of Closed Fractures. International Medical Journal Malaysia, 5 (1) pp. 1-8 |
| 2005 | Cycle spokes and chain related injuries in children - emerging injuries in Malaysia. The Medical journal of Malaysia, 60 (Supp C) pp. 11-13 |
| 2004 | Outcome of infection following internal fixation of closed fractures . Med J Malaysia, 59 (5) pp. 665-669 |
| 2004 | Practical Islamic input in Orthopaedics Undergraduate Medical Curricula. International Medical Journal Malaysia, 3 (2) pp. E2 |
| 2003 | Quadriparesis with lower motor neuron signs and absent sensory involvement. International Medical Journal Malaysia, 2 (1) pp. |
Conference or Workshop Item
| | |
| --- | --- |
| 2023 | Fracture related infection : approach to diagnosis. In: 52 Nd Malaysian Orthopaedic Association Annual Scientific Meeting / Annual General Meeting 2023, |
| 2023 | Implant related infection: to retain or remove. In: 5th Malaysian-International ASAMI-LLRS Scientific Meeting 2023, |
| 2023 | Management of severe open fracture of lower limbs with external fixation. In: International Faculty at 36th International Pak Orthocon 2023, |
| 2023 | Open fracture tibia: How I debride and stabilise. In: 52 Nd Malaysian Orthopaedic Association Annual Scientific Meeting / Annual General Meeting 2023, |
| 2023 | Problems and solutions of using monorail external fixation in the femur. In: International Faculty at 36th International Pak Orthocon 2023, |
| 2022 | Ankle arthrodesis. In: Clinical tips and tricks in Limb Reconstruction A Masterclass Symposium in treatment strategies, techniques and decision-making, |
| 2022 | Charcot disease: diagnosis and management goal. In: 42nd SICOT Orthopaedic World Congress, |
| 2022 | Distraction osteogenesis: Basic science, principles and development. In: 42nd SICOT Orthopaedic World Congress, |
| 2022 | Kuantan chapter river of life flagship. In: The 1st International Conference on River Sustainability 2021 (ICRS 2022), |
| 2022 | Local antibiotics and bone substitutes for treating osteomyelitis. In: A Masterclass Symposium in treatment strategies, techniques and decision-making, |
| 2022 | Non vascularized fibular strut graft at the docking site following tibial bone transport. In: 42nd SICOT Orthopaedic World Congress, |
| 2022 | The maqasid-guided medical decision making: the case of covid-19 pandemic. In: Symposium on IIIT-Strategic Research Project (SRP) 2020, |
| 2021 | Combined Ilizarov frame and flap in the tibia. In: 9th ASAMI Bangladesh International Conference 2021, |
| 2021 | Development and validation of the Muslim Prayer Ability Scale (MPAS). In: 3rd World Congress on Integration and Islamicisation 2021: Mental Health and Well-Being in the 4th Industrial Revolution, |
| 2021 | Management of Blount's Disease in adolescent using hexapod system. In: 2nd International Conference of Orthopaedic Dept, AlAzhar University Assiut, |
| 2021 | Use of flap in the bone reconstruction procedure. In: 50th Malaysian Orthoapedic Association Annual Scientific Meeting 2021, |
| 2020 | Advanced trauma and limb reconstruction services in the east coast of Malaysia. In: The 64th Annual Congress of the Korean Orthopaedic Association - Hybrid Live and Virtual Congress, |
| 2020 | Bone-graft interface in New Zealand White rabbit's model: a novel Malaysian-made biomaterial, "osteopaste". In: Malaysia Terchnology Expo 2020, |
| 2019 | Bone-graft interface in New Zealand White rabbit's model: a novel Malaysian-made biomaterial, "osteopaste". In: 28th Scientific Conference of Microscopy Society Malaysia, |
| 2019 | Ilizarov bone transport for the treatment of segmental tibial bone defect. In: 4th Combined Congress of the ASAMI-BR & ILLRS Societies, |
| 2019 | In vivo performance of injectable self-hardened synthetic bone cement (osteopaste) as a filler for bone defects. In: SIRIM Invention, Innovation & Technology Expo (SI2TE) 2019, |
| 2019 | Treatment of osteomyelitis using local bio degradable antibiotic pellets. In: 2019 eCM XIX: Orthopaedic Infection, |
| 2018 | Challenges in the treatment of femoral osteomyelitis. In: 39th SICOT Orthopaedic World Congress 2018, |
| 2018 | Fibula fracture during bone transport using ilizarov external fixator. In: 48th Malaysian Orthopaedic Association Annual Scientific Meeting / Annual General Meeting 2018, |
| 2018 | Flap and frame for the treatment of open or infected tibial plateau fracture. In: SICOT Orthopaedic World Congress 2018, Montreal, Canada, |
| 2018 | Injectable self-hardened synthethic bone cement (Osteopaste) as a filler for bone defects: A histological result from experimental study in New Zealand white rabbit's tibia. In: Malaysia Technology Expo 2018, |
| 2018 | Injectable self-hardened synthetic bone cement (osteopaste) as a filler for bone defects: A histological result from experimental study in New Zealand White rabbit's tibia. In: 48th Malaysian Orthopaedic Association Annual Scientific Meeting/Annual General Meeting 2018, |
| 2018 | Microbiological study of etiological pathogen in early infection of open fracture in orthopedics. In: Medical Research Symposium 2018, |
| 2018 | Model of critical size defect in New Zealand white rabbit's tibia. In: Malaysia Technology Expo 2018, |
| 2018 | Multidisciplinary approach in management of popliteal artery injury. In: 48th Malaysian Orthopaedic Association Annual Scientific Meeting / Annual General Meeting 2018, |
| 2018 | The ethical concerns of bioanalytical chemistry: the case of forensic science. In: International Conference of Analytical Sciences 2018 (SKAM 31), |
| 2018 | Tibia malunion with angular deformity: corrective osteotomy and intramedullary fixation with the chipping technique. In: 48th Malaysian Orthopaedic Association Annual Scientific Meeting / Annual General Meeting 2018, |
| 2016 | Functional outcome and quality of life of patient with post traumatic osteomyelitis of the femur and tibia. In: 3rd AOTrauma Asia Pacific Scientific Congress and TK Experts' Symposium, |
| 2016 | Gastrocnemius myocutaneous flap for prevention and treatment of osteomyelitis. In: 3rd AOTrauma Asia Pacific Scientific Congress and TK Experts' Symposium, |
| 2016 | Is sural flap a reliable option for wound coverage around the ankle?. In: 3rd AOTrauma Asia Pacific Scientific Congress & TK Experts' Symposiium 2016, |
| 2016 | Post traumatic osteomyelitis of the femur or tibia: An evaluation of the clinical outcome, functional outcome, and quality of life. In: 35th European Bone and Joint Infection Society (EBJIS) Conference, |
| 2016 | The efficacy of tobramycin pellet as a local drug delivery in the treatment of osteomyelitis. In: 3rd AOTrauma Asia Pacific Scientific Congress and TK Experts' Symposium, |
| 2015 | Antibiotic-Nigella Sativa Fusion (ANF) as a novel approach intended for the treatment against bacteria forming biofilm in osteomyelitis. In: Eurobiofilms 2015: Fourth European Congress on Microbial Biofilms, |
| 2015 | Confocal laser screening microscope analysis on post-biofilm assessment of biofilm-producing osteomyelitic staphylococcus aureus treated with new Gentamicin-nigella sativa Fusion Emulsion (GNFE). In: 24th Scientific Conference of The Microscopy Society of Malaysia (SCMSM 2015), |
| 2015 | Management of tibial bone defect in Malaysian public hospital . In: British Limb reconstruction Society Annual Meeting, |
| 2015 | Medical ethics in a multicultural country: differences in principles and practices among Muslims and Buddhists. In: 2nd International Conference on the Qur'an and Sunnah (ICQS2) 2015, |
| 2015 | Model of a critical size defect in the New Zealand white rabbit's tibia. In: 45th Malaysian Orthopaedic Association Annual Scientific Meeting 2015, |
| 2015 | Perforator-base flaps for closure of wound at ankle and distal tibia. In: 45th Malaysian Orthopaedic Association Annual Scientific Meeting 2015, |
| 2015 | Pre-clinical in vivo evaluation of Malaysian-made "osteopaste" – an injectable self-hardened synthetic bone cement in critical size bone defects. In: 45th Malaysian Orthopaedic Association: Annual Scientific Meeting , |
| 2015 | Pre-clinical in vivo evaluation of Malaysian-made östeopaste"- an injectable self-hardened synthetic bone cement in critical size bone defects. In: Malaysian Technology Expo (MTE 2015), |
| 2015 | The potential of novel gentamicin-black seed oil (GBSO) fusion emulsion in treating biofilm infection . In: Eurobiofilms 2015: Fourth European Congress on Microbial Biofilms, |
| 2015 | Unexpected case of ankle tuberculosis in a young professionals leading to delay in diagnosis. In: 36th SICOT Orthopaedic World Congress, |
| 2014 | Clinical and functional outcomes following reconstruction of tibial bone defect using Ilizarov bone transport and plating with autologous bone graft. In: 2nd AOTrauma Asia Pasific Scientific Congress and TK Experts' Symposium, |
| 2014 | Compatibility characterization of Gentamicin-Nigella sativa fusion as a future greener pharmaceutical intended for ortheopaedic infection. In: 1st International Conference on Industrial Pharmacy, |
| 2014 | Formulation and stability testing of gentamicin-Nigella sativa emulsions for osteo-healing application . In: 1st International Conference of Industrial Pharmacy (ICIP 2014), |
| 2014 | In vitro antimicrobial effect of Gentamicin-N.sativa fusion emulsion against biofilm producing strain S.aureus, P.aeruginosa and S.epidermidis . In: 1st International Conference on Industrial Pharmacy, |
| 2014 | Infection following plate osteosynthesis of femoral fractures treated with limb reconstruction system (LRS). In: 2nd AOTrauma Asia Pasific Scientific Congress and TK Experts' Symposium, |
| 2014 | Preparation and characterization of gentamicin-nigella sativa oil fusion microemulsions for future greener pharmaceutical. In: International Conference on Natural Products 2014, |
| 2014 | Psychological impacts among diabetic amputee patients in Tengku Ampuan Afzan Hospital, Kuantan. In: 44th Malaysian Orthopaedic Association (MOA) Annual General Meeting / Annual Scientific Meeting 2014 incorporating 11th CAOS Asia Meeting, |
| 2014 | Review of factors affecting limb salvage surgery in civilian population. In: 15th Congress of Asian Society for Vascular Surgery , |
| 2014 | Synergistic effects of new gentamicin-N.sativa emulsion against gentamicin-resistant, biofilm bacteria of osteomyelitis . In: 15th Asia-Pacific Congress on Clinical Microbiology and Infection, |
| 2014 | The downside of damage control orthopaedics: a case of open tibial fracture with injury of anterior tibial artery after external fixation stabilization. In: 44th Malaysian Orthopaedic Association (MOA) Annual General Meeting / Annual Scientific Meeting 2014 incorporating 11th CAOS Asia Meeting, |
| 2014 | The use of LRS in the management of severe open fracture and infection of femur. In: 8th International ASAMI conference 2014, |
| 2013 | Doctor-patient relationship in the light of the syari'ah: excerpts from the Fiqh Muamalat in Medicine Workshop 2013. In: Seminar on Islamization of Medical Curriculum and Practice , |
| 2013 | The efficacy of tobramycin pellet as a local drug delivery in the treatment of osteomyelitis. In: 5th APOA Infection Section Scientific Meeting, |
| 2013 | Workshop in Fiqh Muamalat in Medicine 2013: venturing further collaboration between Kulliyyahs of Medicine and lslamic Revealed Knowledge, IIUM.. In: Seminar on Islamization of Medical Curriculum and Practice, |
| 2012 | A prospective study of paediatric fractures in Hospital Tengku Ampuan Afzan, Kuantan. In: 42nd Malaysian Orthopaedics Association Annual General Meeting/ Annual Scientific Meeting, |
| 2012 | Stage protocol in the management of infection following plating of tibia. In: 1st AO Trauma Asia Pacific Scientific Congress & TK Experts' Symposium, |
| 2011 | Gram negative infection following plating of Tibia resulted with exposed bone and implant. In: SICOT 2011 XXV Triennial World Congress, |
| 2011 | High mortality in cervical fracture with ankylosing spondylitis : case reports. In: 41st Malaysian Orthopaedic Association Annual General Meeting / Annual Scientific Meeting & 5th ASEAN Arthroplasty Association Meeting, |
| 2011 | Modified anatomical reconstruction for symptomatic chronic acromioclavicular joint disruption: surgical technique and case reports. In: Malaysian Orthopaedic Association Annual General Meeting, |
| 2011 | Thoracolumbar compression fracture: should we brace? . In: 41st Malaysian Orthopaedic Association Annual General Meeting / Annual Scientific Meeting & 5th ASEAN Arthroplasty Association Meeting, |
| 2011 | Vaccum assisted closure (VAC) dressing in necrotising fascitis of lower limb. In: Asia Pacific Conference on Diabetic Limb Problems 2011, |
| 2008 | An In Vivo Implantation Study in New Zealand White Rabbits for Granular Hydroxyapatite. In: eCM IX MUSCULOSKELETAL TRAUMA: 50 YEARS OF AO RESEARCH, |
| 2008 | Granules Hydroxyapatite Application In Fractures. In: eCM IX MUSCULOSKELETAL TRAUMA: 50 YEARS OF AO RESEARCH, |
| 2007 | Microsurgical services at the Department of Orthopaedic. In: Fifth SICOT/SIROT Annual International Conference 2007, |
| 2007 | Open achilles tendon rupture. In: Fifth SICOT/SIROT Annual International Conference 2007, |
| 2007 | Replantation services in a Malaysian Public Hospital. In: Fifth SICOT/SIROT Annual International Conference 2007, |
| 2007 | The use of a made-in- Malaysia Hydroxyapatite (HA) granules (GRANUMAS): early clinical results a one year review. In: Fifth SICOT/SIROT Annual International Conference 2007, |
| 2007 | The use of gastrocnemius muscle flap in trauma. In: Fifth SICOT/SIROT Annual Internatinal Conference, |
| 2006 | Local flap for open fracture grade IIIB tibia. In: 36th Malaysian Orthopaedic Association Annual Scientific Meeting & 2nd Asia Pacific Orthopaedic Association Trauma Section Meeting, |
| 2006 | Open achilles tendon rupture: a review of 33 cases. In: 36th Malaysian Orthopaedic Association Annual Garnd Meeting & 2nd Asia Pacific Orthopaedic Association Trauma Section Meeting, |
Book
Book Section
Monograph