Staff Directory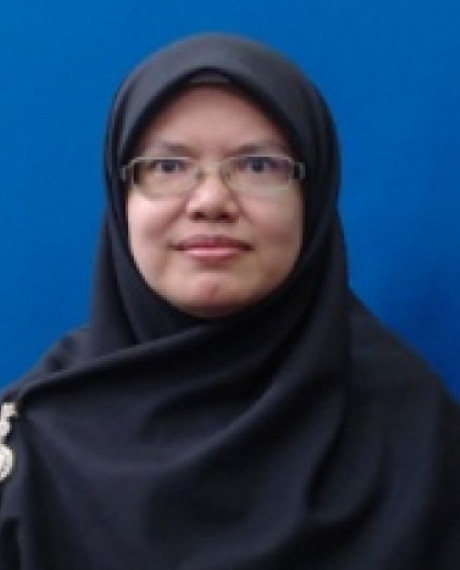 Academic Qualification
Arabic as A Second Language - Masters Degree, International Islamic University Malaysia
Arabic Language and Literature - Bachelor Degree, International Islamic University Malaysia
Raja Munirah Binti Raja Sulaiman
CELPAD Lecturer
IIUM Gombak Campus
CENTRE FOR LANGUAGES AND PRE-UNIVERSITY ACADEMIC DEVELOPMENT

Other's position:
Coordinator, Centre for Languages and Pre-University Academic Development
---
r_munirah@iium.edu.my
3110
Expert Profile
Raja Munirah Raja Sulaiman graduated from International Islamic University Malaysia with a Bachelor of Arabic Language & Literature and Master of Teaching Arabic as a Second Language. She joined IIUM in 2001 as an Arabic language lecturer in Quranic Language Department, CELPAD, Centre for Foundation Studies, IIUM and transferred to Quranic Language Division, CELPAD Gombak in 2018. For the past 21 years, she has held several administrative positions and presently, she is the Coordinator of EDUCALL/IT unit in Quranic Language Division, CELPAD, IIUM Gombak campus. 
She is actively involved in national and international language and education conferences. Her works have appeared in 
Dirasat fi Istiratijiyyat Ta'llum al-Lughah
al-Arabiyyah
 published by IIUM Press and
International Journal of Science Commerce and Humanities
. She is a co-author of al-Farid Dictionary and al-Farid Junior Dictionary published by Telaga Biru Sdn. Bhd. She is also a co-author of the 6 series of Latihan Pengukuhan Bahasa Arab Tahap 1-6 published by al-Hidayah House of Publishers Sdn. Bhd. 
For her outstanding performance as a teacher and staff, she has been awarded with "Best Teacher Award 2007" by IIUM, "Best Teacher Award Semester 1, 2008/2009", "Excellent Performance Award Semester 1, 2010/2011", "Excellent Performance Award Semester 3, 2014/2015" by the Quranic Language Department and 'Techno-Savy Award' during CELPAD Takrim Day 2021.
Her participations in several Innovation Competition have won several medals amonst are; Bronze & Silver medals in IRIIE 2012 (IIUM), Bronze & Silver medals in IRIIE 2013 (IIUM), Bronze medal in i-INOVA 2014 (USIM), Bronze medal in WALD 2017 (UKM), Silver Medal in IUCEL 2018 (IIUM), Silver Medal in WALD 2018 (UKM), Bronze Medal in Knovasi 2019, Gold Medal & Special Award (Gamification) in ICTE 2022 & Silver Award in SUSED 2022 (IIUM).
Area of Specialisation
Social Science ~ Social Science ~ Education ~ Language Literacy (Including English (TESOL, ESL, TEFL) and other Languages) - Teaching Arabic Language to non-native speaker
Award & Recognition
| | | |
| --- | --- | --- |
| 24 Jan, 2019 | Bronze Medal - Universiti Kebangsaan Malaysia (UKM) | National |
| 18 Dec, 2018 | Silver Medal Award - Universiti Kebangsaan Malaysia (UKM) | National |
| 13 Sep, 2018 | Silver Medal Award - International Islamic University Malaysia | National |
| 18 Dec, 2017 | Bronze medal award - Universiti Kebangsaan Malaysia (UKM) | National |
| 02 Dec, 2016 | Award for 15 Years of Service - International Islamic University Malaysia | University |
| 27 May, 2015 | Excellence Performance Award - Quranic Language Department, CELPAD, IIUM | KCDIO |
| 30 Nov, 2014 | Bronze Medal Award (i-INOVA 2014) - Universiti Sains Islam Malaysia (USIM) | National |
| 20 Feb, 2013 | Bronze Medal Award (IRIIE 2013) - International Islamic University Malaysia | University |
| 20 Feb, 2013 | Silver Medal Award (IRIIE 2013) - International Islamic University Malaysia | University |
| 22 Feb, 2012 | Bronze Medal (IRIIE 2012) - International Islamic University Malaysia | University |
| 22 Feb, 2012 | Silver Medal Award (IRIIE 2012) - International Islamic University Malaysia | University |
| 30 Oct, 2010 | Excellent Performance Award - Quranic Language Department, CELPAD | KCDIO |
| 31 Oct, 2008 | Best Teacher Award - Quranic Language Department, CELPAD | KCDIO |
| 02 Mar, 2007 | Pekerja Terbaik - Quality Assurance Unit, IIUM | University |