Staff Directory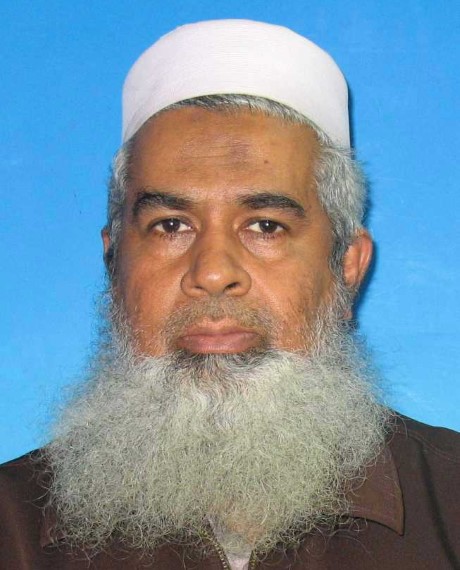 Academic Qualification
Ph.D in Electrical Engineering - Doctor of Philosophy, Universiti Teknologi Malaysia (UTM)
Master in Electrical Engineering - Masters Degree, Universiti Teknologi Malaysia (UTM)
Bachelor in Electrical & Electronics Engineering - Bachelor Degree, Bangladesh University of Engineering & Technology, Dhaka
Md. Rafiqul Islam (Prof. Dr.)
Professor
IIUM Gombak Campus
KULLIYYAH OF ENGINEERING
---
Expert Profile
Professor Md. Rafiqul Islam received his Bachelor of Science in Electrical and Electronic Engineering from Bangladesh University of Engineering & Technology (BUET), Dhaka in 1987, and started his career as a lecturer at Chittagong University of Engineering and Technology in 1988. He received his MSc and Ph.D both in Electrical Engineering from University of Technology Malaysia in 1996 and 2000, respectively.
Prof. Islam is presently a Professor at the International Islamic University Malaysia (IIUM). He was given the Best Lecturer Award in the Faculty of Engineering in 2005 in recognition of his teaching performance. He coordinated to develop a new programme, Master of Science in Communication Engineering at the Department of Electrical and Computer Engineering in 2005. He is very active in research and publication having published more than 250 research papers in national and international journals and conferences.
He has published two books titled as 1) Antennas and Propagation: Modeling, Simulation and Measurements and 2) Dust Storm Attenuation Studies for Microwave Link Design and an author of 25 chapters in other books. More than 40 postgraduate students completed their Ph.D and MSc under his supervision. Since 2001, he has successfully completed 16 research projects funded by MOSTI, MOHE and IIUM. He was in the organizing committee for International Conference on Computer and Communication Engineering ICCCE (1st-6th) and six international conferences since 2006. He was the technical chair of 6th International Conference (ICCCE2016). Prof. Islam has reviewed more than 100 technical papers for international conferences and journals including IEEE Transactions and other high impact journals.
He is currently working in Malaysia 5G Working Group under International Telecommunication Union and supervising several research projects to overcome the effects of Haze, Rain, Dust and Fog on Free Space Optics (FSO) and Hybrid FSO/RF Systems. He is a Life Fellow of the Institute of Engineers Bangladesh (FIEB) and a member of the Institute of Electrical and Electronics Engineers (IEEE) and Institute of Engineering Technology (IET).
Area of Specialisation
Engineering Tech ~ Engineering And Technology ~ Electrical and Electronic Engineering ~ Other Electrical and Electronic Engineering n.e.c. - Electrical
Engineering Tech ~ Engineering And Technology ~ Electrical and Electronic Engineering ~ Other Electrical and Electronic Engineering n.e.c. - Electronic
Professional Membership
2003 - 2023: Member of Profesional Body / Association: (Member), IEEE
2003 - 2023: Member of Profesional Body / Association: (Member), IEEE Antennas & Propagation Society (APS)
2003 - 2020: Member of Profesional Body / Association: (Member), IEEE Communication Society (ComSoc)
2008 - 2025: Member of Profesional Body / Association: (Life Fellow), The Institute of Engineers Bangladesh (Life Fellow, IEB)
2017 - 2021: Member of Profesional Body / Association: (Member), The Institution of Engineering & Technology (IET)
2018 - 2024: Member of Profesional Body / Association: (Graduate Engineer), Board of Engineers Malaysia (BEM)
2018 - 2023: Member of Profesional Body / Association: (Senior Member), Institute of Electrical and Electronics Engineers (Senior Member, IEEE)
Teaching Responsibilities
| | |
| --- | --- |
| COMMUNICATIONS ENGINEERING LAB II | 2023/2024 |
Research Projects
Completed
| | |
| --- | --- |
| 2019 - 2022 | Structural Studies of Glass-Polymer Composite for More Robust Flexible Wearable Antenna via Injection Moulding Process |
| 2018 - 2022 | A hybrid-Discrete Wavelet Transform for New Diversity Technique in Millimeter Wave 5G System with Energy Harvesting |
| 2016 - 2018 | Development of Rain Fading Characteristics for Tropical Stratiform and Convective Events for High Frequency Satellite Link in Malaysia |
| 2016 - 2019 | Modeling of Multiband / Wideband Stack Series Array Antenna Configuration for 5G Application |
| 2016 - 2019 | Real-Time Data Retrieval and Sorting System for the IoT |
| 2016 - 2019 | Derivation of a Modified Free Space Path Loss (FSPL) Formulation for Satellite Links Fade Margin Operating in Malaysia |
| 2016 - 2019 | RF Characterization Enhancement of Material for 3D Printing Application |
| 2015 - 2018 | Performance Enhancement of a UWB Antenna Using Backing Cavity for Improved Wireless Communication Systems |
| 2015 - 2017 | Development of a Revised Free Space Path Loss (FSPL) Formulation for a more Reliable Satellite Link Fade Margin in Tropical Region |
| 2013 - 2015 | Cross Layer and Co-Layer Management of Femtocells Interference |
| 2013 - 2017 | Exploration on CMOS Capacitance Based Structural Health Monitoring by Energy Harvested Wireless Sensor Networks |
| 2012 - 2013 | Investigation of the Effect of Electromagnetic Radiation on Human from Wireless Communication Systems Frequencies 2-2.5GHz |
| 2012 - 2013 | Design of IR-UWB Pulse Generator for 802.11a & WIMAX Interference Avoidance |
| 2012 - 2013 | Fine-Grained Modelling of Interference in Femtocell 4G Wireless Networks |
| 2011 - 2011 | Design And Development Of RFID Tag Antenna For The Use Of Metallic Item |
| 2010 - 2012 | Design and Implementation of a Smart Mobile Phone Jammer |
| 2010 - 2014 | Millimeter Wave Satellite Communications Studies |
| 2010 - 2011 | Development of a Path Loss Model for Mobile Communications in Malaysia |
| 2009 - | Investigation of the Performance of the Existing Propagation Path Loss Models for Mobile Communication in Malaysia |
| 2009 - 2011 | Development of Rain Fade Data Acquisition and Analysis System for MEASET3 Satellite Beacon |
| 2009 - 2011 | Design Microwave Experimental Setup for Attention Measurements under Controlled Weather Conditions |
| 2009 - | Sigma-to-beta Converter Analysis, Simulation and Experimental Details. |
| 2009 - 2011 | Design and Stimulation of Adaptive Beamforming Algorithm and Linear Array Antenna for Smart Antenna System |
| 2009 - 2012 | Developing A Finite Difference Time Domain (FDTD) Software For Solving Large Electromagnetic Problems |
| 2008 - 2011 | Fade Dynamics Modeling for Earth-Satellite links at Ku-Band in Malaysia |
| 2008 - 2010 | Wireless Data Acquisition for Monitoring of Civil Structures with Embedded Sensors - Experimental Results |
| 2008 - 2010 | Characterization of Indoor Powerlines As Data Channels- Experimental Details and Results |
| 2008 - 2009 | Design and Develop a Smart Antenna System |
| 2007 - 2009 | Characterization of Direct Sensor-to-Microcontroller Interfacing |
| 2007 - 2009 | Developing a Finite Difference Time Domain Software for Antenna Design |
| 2006 - 2008 | Design and Fabrication of High Performance RF-MEMS Switches |
| 2006 - 2010 | Measurement of Specific Absorption Rate from Wireless LAN Radiation in International Islamic University Campus |
| 2006 - 2009 | Antenna Design using Advanced Materials for Wireless Communications |
On-Going
| | |
| --- | --- |
| 2021 - Present | Space Radiation Effects on Optical Transceiver System of Satellite at Near Equatorial Low Earth Orbit |
Award & Recognition
| | | |
| --- | --- | --- |
| 25 Jul, 2019 | Best Researcher Award - Kulliyyah Level - IIUM TAKRIM DAY 2019 | University |
| 30 Nov, 2017 | Best Paper Award - 2017 IEEE 4th International Conference on Smart Instrumentation, Measurement and Application (ICSIMA 2017) | International |
| 02 Sep, 2016 | Outstanding Contributor - Journal Articles Indexed in Scopus & WOS - Deputy Rector (Research & Innovation) - CREAM 2016 | University |
| 12 Dec, 2007 | Develop of Analytical Flat Phantom Model for EM Radiation to Evaluate Specific Absorption Rate (SAR) in Human Body - Kulliyyah of Engineering | University |
| 12 Dec, 2007 | Vision i??Based Lane Detection for Driving Assistance System (Silver, Kerie December 12-13, 2007) - Kulliyyah of Engineering | University |
| 15 Jan, 2006 | Power Line Data Transmission (Bronze, KERIE 2006) - Kulliyyah of Engineering | University |
| 07 Mar, 2005 | Quality Award - Best Lecturer, Kulliyyah of Engineering, 2005 | University |
| 15 Jan, 2005 | Radio Link Design Software (Bronze, KERIE 2005) - Kulliyyah of Engineering | University |
| 15 Jan, 2005 | Image Capturing From UAV and Ground Display System (Bronze, KERIE 2005) - Kulliyyah of Engineering | University |