Staff Directory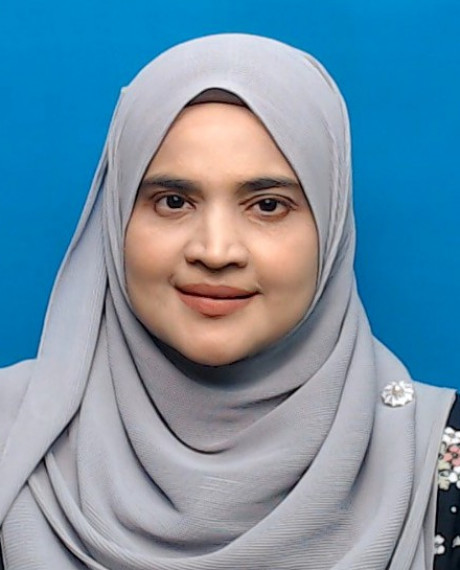 Academic Qualification
Doctor of Philosophy in Information Technology - Doctor of Philosophy, Swinburne University of Technology
Master in Computer Science - Masters Degree, Universiti Putra Malaysia (UPM)
Bachelor Information Technology - Bachelor Degree, Universiti Kebangsaan Malaysia (UKM)
Madihah Bt. S. Abd. Aziz (Dr.)
Assistant Professor
IIUM Gombak Campus
KULLIYYAH OF INFORMATION AND COMMUNICATION TECHNOLOGY

Other's position:
Deputy Director, Centre for Professional Development
---
madihahs@iium.edu.my
5635
Expert Profile

Madihah is a senior lecturer and researcher who has achieved remarkable milestones in the field of User Experience and User Interface Design (UX/UI). Her academic journey began with a Bachelor's Degree in Information Technology from Universiti Kebangsaan Malaysia in 2001, followed by a Master's Degree in Computer Science, sponsored by Skim Latihan Bumiputera (SLAB) Scholarship, from Universiti Putra Malaysia. Her dedication to research and education led her to pursue a Doctoral Degree at Swinburne University of Technology in Melbourne, Australia in 2010, where she received the prestigious Research Fellowship Grant.


Throughout her career, Madihah has been actively involved in lecturing and scholarly activities, specializing in areas such as UX/UI (Human Computer Interaction), Information Visualization and Storytelling, and Creative Multimedia. She has also served as an expert evaluation panel member for both government and private institutions, contributing to the advancement of scholarly work and academic excellence. Her outstanding contributions extend to research, where she has secured an impressive total of 10 research grants, totaling RM376,000 in funding. Notably, she has taken the lead as the Principal Investigator on two of these grants. Her dedication to advancing knowledge is further demonstrated through her publication record, which includes 24 articles and papers published in international indexed journals, non-indexed publications, and indexed conference proceedings, all of which showcase her exceptional scholarly work. Her achievements underscore her commitment to academic excellence and her significant impact on the field of UX/UI design in information visualization and storytelling, design and development of multimedia applications and related disciplines.

Area of Specialisation
ICT ~ Information, Computer And Communications Technology (ICT) ~ Emergent Information Technology ~ Human Computer Interaction (HCI)
ICT ~ Information, Computer And Communications Technology (ICT) ~ ICT Applications ~ Edutainment
ICT ~ Information, Computer And Communications Technology (ICT) ~ ICT Applications ~ Serious Games
ICT ~ Information, Computer And Communications Technology (ICT) ~ Multimedia ~ Interface Design
Professional Membership
2015 - 2021: Member of Profesional Body / Association: (Alumni), Swinburne University of Technology, Melbourne
2016 - 2019: Member of Profesional Body / Association: (Member), Interaction Design Foundation
2018 - 2019: Member of Profesional Body / Association: (Professional Member), Association for Computing Machinery
2018 - 2021: Member of Profesional Body / Association: (Member), PECAMP (Persatuan Capaian Maklumat dan Pengurusan Pengetahuan)
2019 - 2032: Member of Profesional Body / Association: (Lifetime Member), Kuala Lumpur ACM SIGCHI Chapter (MyHCIUX)
2021 - 2022: Member of Profesional Body / Association: (Member), Association for Computing Machinery
2023 - 2025: Member of Profesional Body / Association: (Member), SOCIETY OF INFORMATION RETRIEVAL AND KNOWLEDGE MANAGEMENT MALAYSIA (PECAMP)
2023 - 2024: Member of Profesional Body / Association: (Member), Institute of Electrical and Electronics Engineers (IEEE)
Research Projects
Completed
| | |
| --- | --- |
| 2021 - 2023 | Development of Shariah Compliance Monitoring System for Implementation in Shariah Compliant Hospital Framework |
| 2015 - 2019 | Identifying Design Factors to Increase Islamic Video Games Popularity |
| 2014 - 2020 | Brain Inspired Computational Modelling of Tugboat Master based on User Experience and Situation Awareness |
On-Going
| | |
| --- | --- |
| 2021 - Present | Flagship proposal on Sustainable Social Bank (SSB) |
| 2021 - Present | The Study on the Implementation of Biometric-Computer-on-Card |
| 2021 - Present | THE ADOPTION OF SOCIAL SUSTAINABLE BANK FRAMEWORK IN THE STATE OF PERLIS |
| 2019 - Present | Analysis of Video Game Design Styles on Learning Aptitude Using EEG |
| 2019 - Present | Human Factors Model to Improve Information Visualization Reporting for Big Data Analytics |
| 2016 - Present | Development of an Evolving Neuro-Cognitive Computational Model Based on Event-Related Potentials for Healthy Lifestyle Profiling |
| 2015 - Present | Affective Classification of EEG during Visual Spatial Video Game Play |
Award & Recognition
| | | |
| --- | --- | --- |
| 21 Oct, 2022 | Gold Medal - Malaysia Technology Expo 2022 | International |
| 21 Oct, 2022 | Outstanding Innovation Award - Malaysia Technology Expo 2022 | International |
| 06 Sep, 2022 | First Place in Poster Presentation for the 5th National Conference on Shariah Compliant Hospital 2022 - Others | National |
| 19 Aug, 2021 | Silver Medal - Others | National |
| 19 Dec, 2020 | Best Paper Award - Institute of Electrical and Electronics Engineers (IEEE) | International |
| 13 Oct, 2020 | Machine Learning Using SAS Viya Training - SAS | International |
| 06 Oct, 2020 | Gold Medal - myHCI-UX Kuala Lumpur ACM SIGCHI | National |
| 06 Oct, 2020 | Gold Medal - myHCI-UX Kuala Lumpur ACM SIGCHI | National |
| 19 Jun, 2020 | Tableau Desktop Specialist Training - Quandatics | International |
| 12 Dec, 2019 | KICT Postgraduate Colloqium 2019 - Kulliyyah of ICT, IIUM | KCDIO |
| 02 Dec, 2016 | Award for 15 Years of Service - International Islamic University Malaysia | University |
| 24 Oct, 2010 | Faculty of Design PhD Research Scholarship - Swinburne University of Technology, Melbourne | International |
Publications
Article
| | |
| --- | --- |
| 2023 | Cues to deception in Islamic websites text and design: a case study approach. International Journal on Perceptive and Cognitive Computing (IJPCC), 9 (1) pp. 14-23 |
| 2023 | Investigating user preferences towards visualization types with a focus on neuroticism and its implications on mental health. International Journal of Membrane Science and Technology, 10 (1) pp. 1045-1053 |
| 2023 | Modeling the workflow of bug prioritization tasks descriptively using the past events. International Journal on Perceptive and Cognitive Computing (IJPCC), 9 (2) pp. 14-24 |
| 2023 | Visual design elements for data storytelling based on personality traits: a case of undergraduate students. Journal of Applied Technology and Innovation, 7 (1) pp. 42-51 |
| 2022 | Human factors visualization and storytelling design questionnaire: validity and reliability tests. Journal of Engineering and Science Research, 6 (6) pp. 67-78 |
| 2022 | The cues constitute to deception in Islamic-websites text and design: findings from the interview with experts. International Journal on Perceptive and Cognitive Computing (IJPCC), 8 (2) pp. 61-70 |
| 2021 | Cues to deception in Islamic websites text-based content and design: a systematic literature review. International Journal on Perceptive and Cognitive Computing (IJPCC), 7 (1) pp. 118-124 |
| 2021 | The study of the applications of biometrics systems: a literature review. Journal of Engineering Science and Technology, (Special Issue on ACSAT) pp. 111-119 |
| 2020 | Evaluating the user experience of a Muslimah fashion e-commerce website using heuristic evaluation method. Open International Journal of Informatics (OIJI), Vol.7 (No.2) pp. 1-17 |
| 2020 | Mobile interface design to suit the Algerian culture: first initial design. International Journal on Perceptive and Cognitive Computing (IJPCC), 6 (2) pp. 1-7 |
| 2019 | Exploring the use of digital games as a persuasive tool in teaching Islamic knowledge for Muslim children. International Journal of Advanced Computer Science and Applications, 10 (6) pp. 109-113 |
| 2019 | Revised and extended social commerce technology adoption in e-business of Pakistan. International Journal on Perceptive and Cognitive Computing, 5 (2) pp. 52-58 |
| 2019 | The benefit of digital games from the Islamic perspectives: Views from the Muslim scholars. Journal of Computational and Theoretical Nanoscience, 16 (3) pp. 1104-1107 |
| 2019 | Types of digital games with Islamic values. Journal of Computational and Theoretical Nanoscience, 16 (3) pp. 1100-1103 |
| 2018 | Near field communication enabled mobile payments: preliminary study. International Journal of Engineering & Technology (UAE), 7 (2.34 (Special issue 34)) pp. 60-63 |
| 2018 | The design and evaluation of DACADE visual tool: Theoretical implications. Bulletin of Electrical Engineering and Informatics, 7 (1) pp. 90-95 |
| 2017 | A review on the existing visual tools for design students. Indian of Journal and Science Technology, 10 (48) pp. 1-8 |
| 2017 | Reliability and validity of a questionnaire for empirical analysis of factors influencing IOT-based smart healthcare. Science International, 29 (6 Section B (November-December)) pp. 1201-1206 |
| 2015 | Evaluating a visual tool for systematic data collection and analysis for design students. ARPN Journal of Engineering and Applied Sciences, 10 (23) pp. 17853-17862 |
Conference or Workshop Item
| | |
| --- | --- |
| 2022 | A review on the visual design styles in data storytelling based on user preferences and personality differences. In: IEEE 7th International Conference on Information Technology and Digital Applications (ICITDA 2022), |
| 2022 | Trust reputation in blockchain environment a review. In: The International Conference on Business and Technology (ICBT 2021), |
| 2021 | Personality differences and user preferences in visual design styles for data storytelling: a work in progress. In: 3rd National Symposium on Human Computer Interaction (FUSION 2021), |
| 2020 | Digital storytelling of Prophet Nuh A.S: an Augmented Reality application. In: Creative Industry International Conference 2020 (CIIC 2020), |
| 2020 | Exploring the use of digital storytelling in students motivation to learn Seerah (History of the Prophets) subject. In: 2020 IEEE 7th International Conference on Engineering Technologies and Applied Sciences (ICETAS), |
| 2018 | An empirical study of Internet of Things (IoT) - based healthcare acceptance in Pakistan:pilot study. In: 3rd IEEE International Conference on Engineering Technologies and Social Sciences, ICETSS 2017, |
| 2018 | Identifying cues to deception in Islamic websites text-based content and design. In: 2018 International Conference on Information and Communication Technology for the Muslim World (ICT4M), |
| 2018 | Social commerce in e-business of Pakistan: opportunities, challenges and solutions. In: International Conference on Information and Communication Technology for the Muslim World (ICT4M) 2018, |
| 2018 | The future of data privacy and security concerns in Internet of things. In: 2018 IEEE International Conference on Innovative Research and Development (ICIRD), |
| 2016 | User perceptions of Islamic website (I-webs). In: 2016 6th International Conference on Information and Communication Technology for The Muslim World (ICT4M 2016), |
| 2015 | Evaluating a visual tool for systematic data collection and analysis for design students. In: 4th International Conference on Research and Innovation in Information Systems – 2015 (ICRIIS'15), |
| 2015 | Protecting youth from social media risks through information security practices and Islamic principles. In: 3rd International Conference on Islamic Applications in Computer Science And Technology, |
| 2013 | The design and usability testing of DACADE: a tool supporting systematic data collection and analysis for design students. In: 14th IFIP TC 13 International Conference on Human-Computer Interaction (INTERACT 2013), |