Staff Directory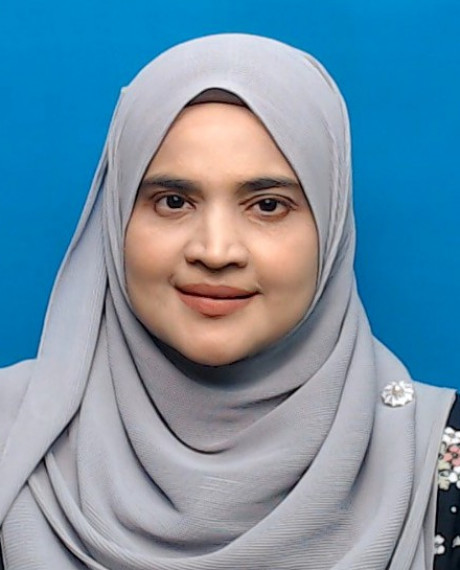 Academic Qualification
Doctor of Philosophy in Information Technology - Doctor of Philosophy, Swinburne University of Technology
Master in Computer Science - Masters Degree, Universiti Putra Malaysia (UPM)
Bachelor Information Technology - Bachelor Degree, Universiti Kebangsaan Malaysia (UKM)
Madihah Bt. S. Abd. Aziz (Dr.)
Assistant Professor
IIUM Gombak Campus
KULLIYYAH OF INFORMATION AND COMMUNICATION TECHNOLOGY

Other's position:
Head, Kulliyyah of Information and Communication Technology
---
madihahs@iium.edu.my
5635
Expert Profile
I was born in Kelantan, Malaysia, the fourth in the family of five siblings, now living in Kuala Lumpur for almost 20 years, happily married with two children.
In 2001, upon completion of the Bachelor Degree in IT (Majoring in Multimedia Studies) in UKM. I applied for a job as a Matric Teacher at the IIUM Matriculation Centre, PJ Campus. This line of the academic world has always been in my mind since as young as I can remember, and therefore, my first job was a Matric Teacher. I truly enjoyed my time there teaching computing to students from various programs. I was also passionately involved with non-academic activities, like being a committee member for various programs, the master of ceremony for major events, and later in 2004, I was appointed as the Deputy Head of the ICT Department. 
In pursuing my dream as an academician, having just a Bachelor Degree is definitely not enough. I decided to apply for a job as the Assistant Lecturer in KICT IIUM (the same organization, but a different faculty) and hopefully looking for a scholarship opportunity to further studies a Master's Degree. I moved to KICT in 2005. One year later, I had a chance to pursue a Masters of Computer Science in the area of Multimedia Systems in UPM, sponsored by the Ministry of Higher Education. I completed the course in three-semesters and graduated with a CGPA of 3.958. 
In 2010, I started my PhD journey overseas, fully sponsored by an Australian University, Swinburne University of Technology. It was an honour to be part of the design team at the School of Health, Art and Design. My PhD research was on the User Experience and User Interface Design and Information Visualization, whereby I design and evaluated a software tool for the use of junior and professional designers. The tool allows them to collect data from their target consumers visually and systematically, that can generate visual results in making informed decisions in developing successful products. It was a meaningful, enjoyable, and memorable experience, studying and learning in Australia. 
I love every minute of my journey as a lecturer, a researcher and a UX/UI designer, challenging but interesting. While teaching and designing are always my passion, I also enjoy research. I have published indexed journal articles and proceedings, secure National and University grants, as the Principal Investigator, and a co-researcher, reviewed conference papers and journal articles, as well as supervising Master and PhD students. I have been nominated as the most promising academician 2019 at the Faculty level. I am grateful. I look forward to more opportunities working with people around the world, sharing the same interests with me, in the area of UX/UI, Multimedia and Information Visualization.
Area of Specialisation
ICT ~ Information, Computer And Communications Technology (ICT) ~ Emergent Information Technology ~ Human Computer Interaction (HCI)
ICT ~ Information, Computer And Communications Technology (ICT) ~ ICT Applications ~ Edutainment
ICT ~ Information, Computer And Communications Technology (ICT) ~ ICT Applications ~ Serious Games
ICT ~ Information, Computer And Communications Technology (ICT) ~ Multimedia ~ Interface Design
Professional Membership
2015 - 2021: Member of Profesional Body / Association: (Alumni), Swinburne University of Technology, Melbourne
2018 - 2019: Member of Profesional Body / Association: (Professional Member), Association for Computing Machinery
2019 - 2024: Member of Profesional Body / Association: (Professional Member), myHCI UX Kuala Lumpur ACM SIGCHI Local Chapter
Teaching Responsibilities
| | |
| --- | --- |
| DATATHON AND BOOTCAMP | 2022/2023 2021/2022 2020/2021 |
| FINAL YEAR PROJECT 1 | 2019/2020 |
| FINAL YEAR PROJECT I | 2021/2022 2020/2021 2017/2018 2016/2017 2015/2016 2014/2015 2008/2009 |
| FINAL YEAR PROJECT II | 2021/2022 2020/2021 2019/2020 2017/2018 2015/2016 2014/2015 2008/2009 |
| HUMAN COMPUTER INTERACTION | 2020/2021 2019/2020 2018/2019 2017/2018 2016/2017 2015/2016 |
| HUMAN COMPUTER INTERACTION AND DESIGN | 2022/2023 |
| INDUSTRIAL ATTACHMENT | 2017/2018 2016/2017 2015/2016 2014/2015 |
| INFORMATION TECHNOLOGY | 2017/2018 2015/2016 2014/2015 |
| INFORMATION VISUALIZATION | 2022/2023 2021/2022 2020/2021 2019/2020 2018/2019 |
| MULTIMEDIA TECHNOLOGY | 2008/2009 2007/2008 |
| PRACTICAL TRAINING | 2008/2009 2007/2008 |
Research Projects
Completed
| | |
| --- | --- |
| 2015 - 2019 | Identifying Design Factors to Increase Islamic Video Games Popularity |
| 2014 - 2020 | Brain Inspired Computational Modelling of Tugboat Master based on User Experience and Situation Awareness |
On-Going
| | |
| --- | --- |
| 2021 - Present | Flagship proposal on Sustainable Social Bank (SSB) |
| 2021 - Present | The Study on the Implementation of Biometric-Computer-on-Card |
| 2021 - Present | THE ADOPTION OF SOCIAL SUSTAINABLE BANK FRAMEWORK IN THE STATE OF PERLIS |
| 2021 - Present | Development of Shariah Compliance Monitoring System for Implementation in Shariah Compliant Hospital Framework |
| 2019 - Present | Analysis of Video Game Design Styles on Learning Aptitude Using EEG |
| 2019 - Present | Human Factors Model to Improve Information Visualization Reporting for Big Data Analytics |
| 2016 - Present | Development of an Evolving Neuro-Cognitive Computational Model Based on Event-Related Potentials for Healthy Lifestyle Profiling |
| 2015 - Present | Affective Classification of EEG during Visual Spatial Video Game Play |
Award & Recognition
| | | |
| --- | --- | --- |
| 19 Dec, 2020 | Best Paper Award - Institute of Electrical and Electronics Engineers (IEEE) | International |
| 13 Oct, 2020 | Machine Learning Using SAS Viya Training - SAS | International |
| 06 Oct, 2020 | Gold Medal - myHCI-UX Kuala Lumpur ACM SIGCHI | National |
| 06 Oct, 2020 | Gold Medal - myHCI-UX Kuala Lumpur ACM SIGCHI | National |
| 19 Jun, 2020 | Tableau Desktop Specialist Training - Quandatics | International |
| 02 Dec, 2016 | Award for 15 Years of Service - International Islamic University Malaysia | University |
| 24 Oct, 2010 | Faculty of Design PhD Research Scholarship - Swinburne University of Technology, Melbourne | International |
Publications
Article
| | |
| --- | --- |
| 2023 | Cues to deception in Islamic websites text and design: a case study approach. International Journal on Perceptive and Cognitive Computing (IJPCC), 9 (1) pp. 14-23 |
| 2023 | Visual design elements for data storytelling based on personality traits: a case of undergraduate students. Journal of Applied Technology and Innovation, 7 (1) pp. 42-51 |
| 2022 | Human factors visualization and storytelling design questionnaire: validity and reliability tests. Journal of Engineering and Science Research, 6 (6) pp. 67-78 |
| 2022 | The cues constitute to deception in Islamic-websites text and design: findings from the interview with experts. International Journal on Perceptive and Cognitive Computing (IJPCC), 8 (2) pp. 61-70 |
| 2021 | Cues to deception in Islamic websites text-based content and design: a systematic literature review. International Journal on Perceptive and Cognitive Computing (IJPCC), 7 (1) pp. 118-124 |
| 2021 | The study of the applications of biometrics systems: a literature review. Journal of Engineering Science and Technology, (Special Issue on ACSAT) pp. 111-119 |
| 2020 | Evaluating the user experience of a Muslimah fashion e-commerce website using heuristic evaluation method. Open International Journal of Informatics (OIJI), Vol.7 (No.2) pp. 1-17 |
| 2020 | Mobile interface design to suit the Algerian culture: first initial design. International Journal on Perceptive and Cognitive Computing (IJPCC), 6 (2) pp. 1-7 |
| 2019 | Exploring the use of digital games as a persuasive tool in teaching Islamic knowledge for Muslim children. International Journal of Advanced Computer Science and Applications, 10 (6) pp. 109-113 |
| 2019 | Revised and extended social commerce technology adoption in e-business of Pakistan. International Journal on Perceptive and Cognitive Computing, 5 (2) pp. 52-58 |
| 2019 | The benefit of digital games from the Islamic perspectives: Views from the Muslim scholars. Journal of Computational and Theoretical Nanoscience, 16 (3) pp. 1104-1107 |
| 2019 | Types of digital games with Islamic values. Journal of Computational and Theoretical Nanoscience, 16 (3) pp. 1100-1103 |
| 2018 | Near field communication enabled mobile payments: preliminary study. International Journal of Engineering & Technology (UAE), 7 (2.34 (Special issue 34)) pp. 60-63 |
| 2018 | The design and evaluation of DACADE visual tool: Theoretical implications. Bulletin of Electrical Engineering and Informatics, 7 (1) pp. 90-95 |
| 2017 | A review on the existing visual tools for design students. Indian of Journal and Science Technology, 10 (48) pp. 1-8 |
| 2017 | Reliability and validity of a questionnaire for empirical analysis of factors influencing IOT-based smart healthcare. Science International, 29 (6 Section B (November-December)) pp. 1201-1206 |
| 2015 | Evaluating a visual tool for systematic data collection and analysis for design students. ARPN Journal of Engineering and Applied Sciences, 10 (23) pp. 17853-17862 |
Conference or Workshop Item
| | |
| --- | --- |
| 2022 | A review on the visual design styles in data storytelling based on user preferences and personality differences. In: IEEE 7th International Conference on Information Technology and Digital Applications (ICITDA 2022), |
| 2022 | Trust reputation in blockchain environment a review. In: The International Conference on Business and Technology (ICBT 2021), |
| 2021 | Personality differences and user preferences in visual design styles for data storytelling: a work in progress. In: 3rd National Symposium on Human Computer Interaction (FUSION 2021), |
| 2020 | Digital storytelling of Prophet Nuh A.S: an Augmented Reality application. In: Creative Industry International Conference 2020 (CIIC 2020), |
| 2020 | Exploring the use of digital storytelling in students motivation to learn Seerah (History of the Prophets) subject. In: 2020 IEEE 7th International Conference on Engineering Technologies and Applied Sciences (ICETAS), |
| 2018 | An empirical study of Internet of Things (IoT) - based healthcare acceptance in Pakistan:pilot study. In: 3rd IEEE International Conference on Engineering Technologies and Social Sciences, ICETSS 2017, |
| 2018 | Identifying cues to deception in Islamic websites text-based content and design. In: 2018 International Conference on Information and Communication Technology for the Muslim World (ICT4M), |
| 2018 | Social commerce in e-business of Pakistan: opportunities, challenges and solutions. In: International Conference on Information and Communication Technology for the Muslim World (ICT4M) 2018, |
| 2018 | The future of data privacy and security concerns in Internet of things. In: 2018 IEEE International Conference on Innovative Research and Development (ICIRD), |
| 2016 | User perceptions of Islamic website (I-webs). In: 2016 6th International Conference on Information and Communication Technology for The Muslim World (ICT4M 2016), |
| 2015 | Evaluating a visual tool for systematic data collection and analysis for design students. In: 4th International Conference on Research and Innovation in Information Systems – 2015 (ICRIIS'15), |
| 2015 | Protecting youth from social media risks through information security practices and Islamic principles. In: 3rd International Conference on Islamic Applications in Computer Science And Technology, |
| 2013 | The design and usability testing of DACADE: a tool supporting systematic data collection and analysis for design students. In: 14th IFIP TC 13 International Conference on Human-Computer Interaction (INTERACT 2013), |