Staff Directory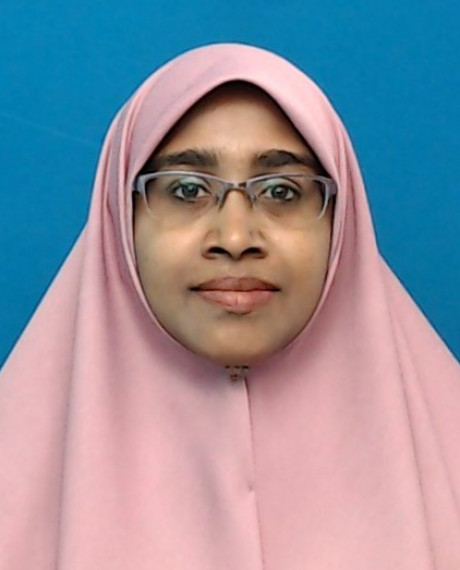 Academic Qualification
Doctor of Philosophy in Computer Science - Doctor of Philosophy, University of Nottingham
Master of Science in Computer Science - Masters Degree, University of London
Bachelor of Management Information System - Bachelor Degree, International Islamic University Malaysia
Noor Azizah Bt. Mohamadali (Dr.)
Assistant Professor
IIUM Gombak Campus
KULLIYYAH OF INFORMATION AND COMMUNICATION TECHNOLOGY
---
Expert Profile
Noor Azizah received her Bachelor of Management in Information System (BMIS) from IIUM in 2001. She was a recipient of Dean's List awards for six semesters. In 2004, she continued her studies in Imperial College, London and obtained MSc in Computing Science. In 2013, she was awarded a Ph.D by the University of Nottingham. To date, she has been teaching various courses including Information Technology, Management of Information Systems, Database and Statistics.
At the faculty, her role includes supervision of students' research projects, serving academic review committees and being academic advisor.
righttop
She is a recipient and principal researcher for two research grants, Endowment B, awarded by IIUM and Research Acculturation Grant Scheme (RAGS), awarded by the Ministry of Higher Education. Her current research focuses on the development of information seeking behaviour framework among Palliative Care Patients and Careers. She is also working on the development of survival framework for health information system implementation.
Presently, Dr. Noor Azizah is an Assistant Professor at the Department of Information Systems, Faculty of Information and Communication Technology. She joined IIUM as an Assistant Lecturer in 2001 upon completion of her first degree.
Area of Specialisation
ICT ~ Information, Computer And Communications Technology (ICT) ~ Communication ~ Other Communications n.e.c.
Medical And Health ~ Medical And Health Sciences ~ Medical Device, Equipment and System ~ Health Technology Assessments
ICT ~ Information, Computer And Communications Technology (ICT) ~ Security System ~ National Security (Including Health Aspects such as Medicine and Medical Supply, Disaster Preparedness and Imported Diseases) - Health Information System
Economics, Business And Management ~ Economics, Business And Management ~ Management ~ Management Information System
ICT ~ Information, Computer And Communications Technology (ICT) ~ Artificial Intelligence ~ Other Artificial Intelligence n.e.c. - Artificial Intelligence (Intelligent Systems), Web Development, E-Commerce Technology
Teaching Responsibilities
| | |
| --- | --- |
| ADVANCED E- COMMERCE | 2021/2022 2020/2021 2019/2020 |
| BUSINESS FUNDAMENTALS | 2017/2018 |
| DATABASE SYSTEMS I | 2012/2013 |
| E-COMMERCE | 2022/2023 2021/2022 2020/2021 2019/2020 2018/2019 |
| FINAL YEAR PROJECT 1 | 2017/2018 2005/2006 |
| FINAL YEAR PROJECT I | 2021/2022 2020/2021 2019/2020 2017/2018 2016/2017 2015/2016 2014/2015 2013/2014 2012/2013 2006/2007 2004/2005 |
| FINAL YEAR PROJECT II | 2022/2023 2021/2022 2020/2021 2019/2020 2017/2018 2014/2015 2013/2014 2012/2013 2006/2007 2005/2006 2004/2005 |
| FOUNDATION OF QUANTITATIVE ANALYSIS | 2015/2016 2014/2015 2013/2014 2012/2013 |
| INDUSTRIAL ATTACHMENT | 2017/2018 2016/2017 2015/2016 2014/2015 2013/2014 2012/2013 2011/2012 |
| INFORMATION TECHNOLOGY | 2018/2019 2017/2018 2016/2017 2004/2005 |
| INTERNET APPLICATION | 2005/2006 |
| INTERNET APPLICATIONS | 2005/2006 |
| INTRODUCTION TO DATABASE | 2006/2007 |
| MANAGEMENT INFORMATION SYSTEM | 2001/2002 |
| PRACTICAL TRAINING | 2006/2007 |
| PROBABILITY AND STATISTICS | 2018/2019 |
Research Projects
Completed
| | |
| --- | --- |
| 2017 - 2021 | Investigation of the best Information Quality Management Framework for Health Information Systems Big Data |
| 2014 - 2018 | A Survival Model for Health Information System (HIS) Implementation in Malaysia's Hospitals |
| 2014 - 2017 | Modelling Health Information Seeking Behaviour Framework for Palliative Patients and Carers |
| 2006 - 2006 | The Perception Of KICT Graduates Towards KICT Curriculum Structure And Their Employability |
On-Going
| | |
| --- | --- |
| 2020 - Present | Teachers? Behavioral Intention and Acceptance of Technology for the Intervention of Children with Autism Spectrum Disorder (ASD) in Malaysia |
Publications
Article
| | |
| --- | --- |
| 2022 | Covid-19 sparked the e-commerce revolution; some benefited, while others left in cold. International Journal of Computer Science & Information Technology, 14 (3) pp. 111-117 |
| 2021 | Development of model toward predictive analytics use to guide tactical non-clinical decision making in Qatar hospitals. International Journal of Humanities and Social Science, 11 (1) pp. 88-108 |
| 2021 | Freemium multi-sided platform business model: mosque kitchen as a source of free food, employment and empowerment of B40s food-preneurs. Journal of Information Systems and Digital Technologies, 3 (2) pp. 1-10 |
| 2021 | Usage of Predictive Analytics during COVID-19 Pandemic to Support Administrative Decision Making in Health Care. International Journal of Science and Research (IJSR), 10 (1) pp. 889-896 |
| 2020 | Antecedents of overall e-service quality and brand attachment in the banking industry. SEISENSE Journal of Management, 3 (6) pp. 26-34 |
| 2020 | Impact covid19 on E-commerce globally and locally (Libya). International Journal of Management and Commerce Innovation, 8 (1) pp. 391-395 |
| 2020 | The impact of Covid-19 on customer usage of E-Wallet in Indonesia. International Journal of Computer Science and Information Technology Research, 8 (3) pp. 218-222 |
| 2019 | Health Information Systems (HIS) sustainable framework. Journal of Computational and Theoretical Nanoscience, 16 () pp. 941-948 |
| 2019 | Improving information quality requirements for online health information systems: a review on the previous frameworks. Journal of Computational and Theoretical Nanoscience, 16 (9) pp. 3663-3669 |
| 2019 | Improving information quality requirements for online health information systems: a review on the previous frameworks. Journal of Computational and Theoretical Nanoscience, 16 (9) pp. 3663-3669 |
| 2019 | The business intelligence use in healthcare and its enhancement by predictive analytics. International Journal of Computer Trends and Technology, 67 (Issue 7 Number 1) pp. 26-39 |
| 2018 | Impact of E-service quality on brand attachment and willingness to spend more. Sindh University Research Journal (Science Series), 50 (3D) pp. 214-215 |
| 2018 | Information needs and seeking behavior of patients and carers in palliative care: a case study from public hospital Malaysia. Indian Journal of Science and Technology, 11 (20) pp. 1-7 |
| 2017 | The technology factors as barriers for sustainable Health Information Systems (HIS) – a review. Procedia Computer Science, 124 () pp. 370-378 |
| 2015 | Exploring awareness and perception on palliative care - internet as source of knowledge. Advanced Science Letters, 21 (10) pp. 3367-3371 |
| 2015 | ICT intervention and palliative care: A review. Advanced Science Letters, 21 (10) pp. 2963-2966 |
| 2015 | The challenges of human factors for implementation of information systems in the healthcare . ARPN Journal of Engineering and Applied Sciences, 10 (23) pp. 17914-17922 |
Conference or Workshop Item
| | |
| --- | --- |
| 2021 | Business model shifts: masjid kitchens as soup kitchens, jobs employment and empowering asnaf entrepreneurs, and income generation for the masjid. In: International Conference on Information Technology for the Muslim World (ICT4M 2021), |
| 2021 | Cooperative behavior (ta'awun) between mosques and civic organizations in empowering asnafpreneurs through IIUM m-kitchen® project. In: 2nd Kedah International Zakat Conference 2021 (KEIZAC 2021), |
| 2020 | Information technology (IT) based intervention among individuals with ASD (autism spectrum disorder): A review. In: 2nd IEEE International Conference on Innovative Research and Development, ICIRD 2019, |
| 2017 | A novel conceptual framework of Health Information Systems (HIS) sustainability. In: 5th International Conference on Research and Innovation in Information Systems, |
| 2017 | Information needs and seeking behavior of patients and carers in palliative care: a case study from public hospital Malaysia. In: 7th International Conference on Information Technology and Multimedia (ICIMU 2017), |
| 2017 | The organization factors as barrier for sustainable Health Information Systems(HIS): a review. In: 4th Information Systems International Conference 2017, ISICO 2017, |
| 2017 | The technology factors as barriers for sustainable Health Information Systems (HIS): a review. In: 4th Information Systems International Conference 2017, ISICO 2017, |
| 2016 | ScanMed: a mobile medicine adherence application with intake validation using QR code. In: 2016 6th International Conference on Information and Communication Technology for The Muslim World (ICT4M 2016), |
| 2015 | Exploring awareness and perception on palliative care - Internet as source of knowledge . In: 3rd International Conference on Internet Services Technology and Information Engineering 2015, |
| 2015 | ICT intervention and palliative care: a review. In: 3rd International Conference on Internet Services Technology and Information Engineering 2015, |
| 2012 | Including explicitly the question of 'which' in evaluation studies . In: International Conference on Health Informatics (HEALTHINF 2012), |
| 2012 | Understanding and addressing the 'fit' between user, technology and organization in evaluating user acceptance of healthcare technology. In: 5th International Conference on Health Informatics, |
| 2011 | Comparing user acceptance factors between research software and medical software using AHP and Fuzzy AHP. In: The 11th Workshop on Computational Intelligence, |
| 2011 | Modelling students' perception on factors influence acceptance of research related software using multi-criteria decision analysis (MCDA) methods. In: The 11th Workshop on Computational Intelligence, |
| 2010 | A novel evaluation model of user acceptance of software technology in healthcare sector. In: 3rd International Joint Conference on Biomedical Engineering Systems and Technologies, |
| 2009 | A review of selected multi-criteria decision analysis techniques and applications. In: 9th Workshop on Computational Intelligence, |
Book
Book Section
| | |
| --- | --- |
| 2021 | Redesign business model of masjid kitchens as soup kitchens, providing jobs employment and nurturing of asnaf as entrepreneurs, and income generation for the masjid. In: Pusat Islam UTM, ISBN: , pp. 100-111 |
| 2021 | Special education teachers' for Autism Spectrum Disorder children: behavioral intention and use of technology in Malaysia. In: Association for Information Systems Malaysia- MyAIS, ISBN: , pp. 9-18 |
| 2021 | Special education teachers' for autism spectrum disorder children: behavioral intention and use of technology in Malaysia. In: Persatuan Sistem Maklumat Malaysia (MyAIS), ISBN: 9789671774113, pp. 9-18 |
| 2021 | Special education teachers' for autism spectrum disorder children: behavioral intention and use of technology in Malaysia. In: Persatuan Sistem Maklumat Malaysia (MyAIS), ISBN: 9789671774113, pp. 9-18 |