Staff Directory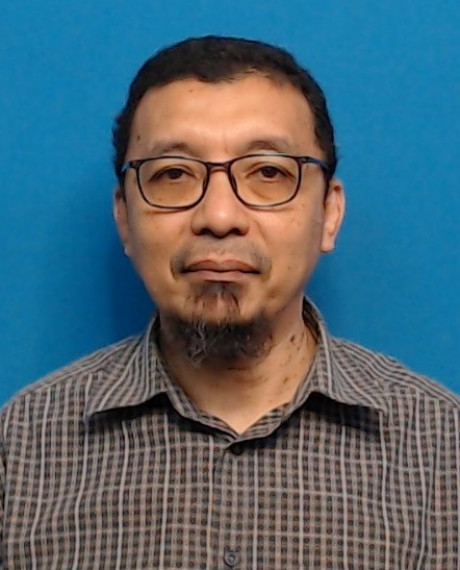 Academic Qualification
Doctor of Philosophy in Management - Doctor of Philosophy, Royal Holloway University of London
Master of Science (Accounting) - Masters Degree, International Islamic University Malaysia
Bachelor of Accounting - Bachelor Degree, International Islamic University Malaysia
Ahmad Zamri Bin Osman@ Hussin (Assoc. Prof. Dr.)
Associate Professor
IIUM Gombak Campus
KULLIYYAH OF ECONOMICS AND MANAGEMENT SCIENCES

Other's position:
Head of Department, Kulliyyah of Economics and Management Sciences
---
Expert Profile
Ahmad Zamri is currently a staff at the Department of Accounting teaching both undergraduate and postgraduate levels. He is normally tasked to teach Zakat Accounting and Audit and Assurance Services at undergraduate level, while at the postgraduate level he is involved as a course instructor for Islamic Accounting & Finance, and Islamic Worldview and Accounting Ethics.
His research interests include waqf management, zakat management, accountability, NGO studies including qualitative research.

Area of Specialisation
Economics, Business And Management ~ Economics, Business And Management ~ Accounting ~ Corporate Social Responsibility Accounting - NGO sector, waqf.
Economics, Business And Management ~ Economics, Business And Management ~ Accounting ~ Corporate Governance (Including Accountability, Ethics, Integrity) - Accountability concept
Teaching Responsibilities
| | |
| --- | --- |
| ACADEMIC WRITING AND LIBRARY SEARCH | 2014/2015 2013/2014 |
| ACCOUNTING, AUDITING & GOVERNANCE OF ISLAMIC FINANCIAL INSTITUTIONS | 2022/2023 2021/2022 2020/2021 |
| AUDITING 2 | 2005/2006 |
| AUDITING AND ASSURANCE SERVICES | 2022/2023 2021/2022 2020/2021 2019/2020 2018/2019 2017/2018 2014/2015 2012/2013 2011/2012 2006/2007 |
| AUDITING I | 2004/2005 2003/2004 |
| AUDITING II | 2005/2006 2004/2005 |
| CONTEMPORARY ISSUES IN ACCOUNTING | 2013/2014 |
| COST ACCOUNTING 1 | 2005/2006 |
| COST ACCOUNTING I | 2006/2007 2005/2006 2004/2005 |
| FINANCIAL ACCOUNTING & REPORTING 1 | 2018/2019 |
| INTERNAL AUDIT | 2022/2023 |
| ISLAMIC ACCOUNTING | 2019/2020 |
| ISLAMIC ACCOUNTING AND FINANCE | 2016/2017 2015/2016 2014/2015 2013/2014 |
| ISLAMIC WORLDVIEW AND ACCOUNTING ETHICS | 2017/2018 2016/2017 2015/2016 2014/2015 2013/2014 |
| LITERATURE REVIEW | 2012/2013 |
| MANAGEMENT ACCOUNTING | 2006/2007 |
| MANAGEMENT ACCOUNTING FUNDAMENTALS | 2021/2022 |
| QUALITATIVE METHODS | 2012/2013 |
| ZAKAT ACCOUNTING | 2022/2023 2020/2021 2019/2020 2018/2019 2017/2018 2016/2017 2015/2016 2014/2015 2013/2014 2012/2013 2011/2012 |
Research Projects
Completed
| | |
| --- | --- |
| 2019 - 2020 | KAJIAN KUTIPAN DAN AGIHAN ZAKAT DI WILAYAH PERSEKUTUAN |
| 2018 - 2018 | Penyelidikan Perakaunan dan Pelaporan Kewangan Islam Bagi Institusi Wakaf, Zakat dan Baitulmal di Malaysia (FASA 3) |
| 2017 - 2017 | Perakaunan dan Pelaporan Kewangan Islam bagi Institut Zakat, Wakaf dan Baitulmal di Malaysia Fasa 2 2017 |
| 2016 - 2016 | Perakaunan dan Pelaporan Kewangan Islam bagi Institusi, Wakaf, Zakat dan Baitulmal di Malaysia |
| 2013 - | Islamic Economic Framework for Waqf: Lessons from History,Comparative Best Practices and Developing Contemporary Models |
| 2013 - 2016 | Involvement of Corporate Entities in Waqaf Management: Experiences of Selected Waqaf Institutions |
On-Going
| | |
| --- | --- |
| 2019 - Present | Financial Management of Zakat in Malaysia |
| 2018 - Present | ZAKAT ACCOUNTING: PRINCIPLES AND PRACTICES |
| 2016 - Present | Conceptualization of Accounting Framework for Waqf and Zakah in Malaysia |
| 2014 - Present | Kajian Faktor-Faktor Motivasi Pembayaran Zakat di Kalangan Professional/Kolar Putih di Wilayah Persekutuan |
| 2012 - Present | The potential of download accountability in improving management of waqf properties |
| 2007 - Present | Islamic Accounting and Accountability Research Unit (IAARU) |
Publications
Article
| | |
| --- | --- |
| 2020 | Internal control practices of mosques in Java, Indonesia. Jurnal Akuntasi dan Keuangan Indonesia, 17 (1) pp. 84-101 |
| 2020 | Privileging downward accountability in waqf management. Journal of Islamic Accounting and Business Research, 11 (3) pp. 533-554 |
| 2020 | Shari'ah governance in Islamic banks: practices, practitioners and praxis. Global Finance Journal, () pp. 1-39 |
| 2019 | Determinants of intention to give zakat on employment income: experience from Marawi city, Philippines. Journal of Islamic Accounting and Business Research, 10 (4) pp. 528-545 |
| 2019 | The stakeholders ecosystem of waqf institutions in Malaysia. Jurnal Syariah, 27 (2) pp. 281-300 |
| 2018 | Pengiktirafan dan pengukuran aset-aset di Majlis Agama Islam Negeri (MAIN): amalan dan cabaran. IPN Journal of Research and Practice in Public Sector Accounting and Management, 8 () pp. 23-48 |
| 2017 | Managing corporate Waqf in Malaysia: perspective of selected SEDCs and SIRCs. Jurnal Syariah, 25 (1) pp. 91-116 |
| 2017 | Perakaunan Baitul mal: pengajaran dari tamadun awal Islam. IPN Journal of Research and Practice in Public Sector Accounting and Management, 7 () pp. 29-40 |
| 2016 | Accounting and accountability of waqf, zakat and Baitul Mal (WZB) in Malaysia: A review of literature. IPN Journal of Research and Practice in Public Sector Accounting and Management, 6 () pp. 1-14 |
Conference or Workshop Item
| | |
| --- | --- |
| 2019 | Exploring perceptions towards policy formulation in Indonesia waqf sector: an organizational legitimacy perspective. In: The 7th ASEAN Universities International Conference on Islamic Finance, |
| 2019 | Perceptions of zakat recipients on zakat disclosure. In: International Conference on Accounting and Business Management (ICAbM) 2019, |
| 2016 | Accounting for waqf: a conceptual rumination. In: Conference on Waqf Higher Education 2016, |
| 2016 | Determinants of intention to give Zakat on employment income: experience from Marawi City, Philippines. In: 2nd International Conference on Islamic Perspective of Accounting, Finance, Economics and Management (IPAFEM), |
| 2016 | Factors influencing intention to give zakat on employment income: the case of Marawi City. In: The 1st ASIAN Researcher Symposium, |
| 2016 | Giving primacy to accountability in waqf accounting. In: International Symposium on Waqf and Higher Education (ISWHE 2016), |
| 2016 | Privileging downward accountability in waqf management. In: The 2nd International Conference on Islamic Perspective of Accounting, Finance, Economics and Management (IPAFEM), |
| 2015 | Accountability of fund management in Mosque Kalimantan Timur, Indonesia. In: 3rd AICIF Asean International Conference on Islamic Finance 2015, |
| 2015 | Determinants of the adoption of good governance: evidences from zakat institutions in Padang, Indonesia. In: First International Conference on Shari'ah Oriented Public Policy in Islamic Economic System (ICOSOPP) 2015, |
| 2013 | Conceptualising individualising accountability: a context for God conscious organisation?. In: 10th International Conference on Tawhid and the World-System, |
| 2010 | Accountability in waqf mangement: learning from praxis of nongovernmental organisation (NGO) . In: Sixth Asia Pacific Interdisciplinary Research in Accounting Conference, |
| 2010 | Accountability in waqf mangement: learning from praxis of nongovernmental organization (NGO) . In: Seventh International Conference- The Tawhidi Epistemology: Zakat and Waqf Economy, |
| 2010 | Accountability of waqf management: insight from praxis of nongovernmental organisation (NGO). In: Seventh International Conference: the Tawhidi Epistemology: Zakat and Waqf Economy, |
| 2008 | Locating waqf in accountability discussion. In: 20th International Congress on Social and Environmental Accounting Research, |
Book
Book Section
| | |
| --- | --- |
| 2021 | Prophetic seerah: an analysis of Prophet Muhammad S.A.W. leadership qualities in selected events. In: CENTRIS IIUM, ISBN: 978-967-25504-1-9, pp. 274-308 |
| 2016 | Accounting for waqf: a conceptual rumination. In: Institute Kajian Zakat Malaysia, Akademi Pengajian Islam Kontemporari, UiTM, ISBN: 978-967-13298-1-8, pp. 115-132 |
| 2016 | Kajian penelitian faktor-faktor motivasi pembayaran zakat di kalangan profesional (kolar putih) di Wilayah Persekutuan. In: Pusat Pungutan Zakat (PPZ), ISBN: 978-967-11042-6-2, pp. 47-139 |
| 2014 | Accounting and reporting practices for Waqf institution: learning from multiple insights. In: Fakulti Pengajian Islam, Universiti Kebangsaan Malaysia, ISBN: , pp. 141-176 |
| 2011 | Case studies in auditing. In: IIUM Press, ISBN: 978-967-418-186-4, pp. 12-16 |
Monograph