Staff Directory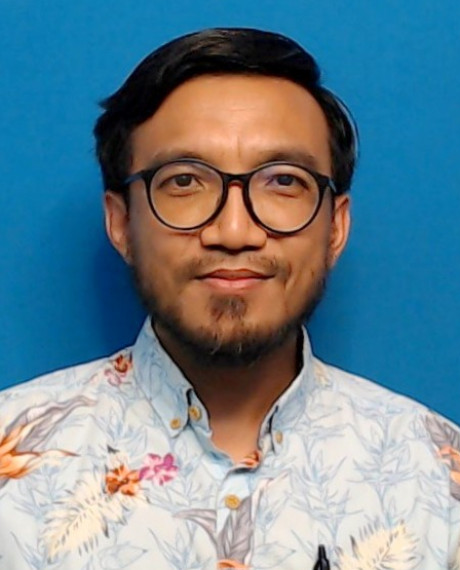 Academic Qualification
Ph.D in Economics - Doctor of Philosophy, Carleton University
Master of Arts (Economics) - Masters Degree, Carleton University, Ottawa
Islamic Revealed Knowledge - Bachelor Degree, International Islamic University Malaysia
Finance - Bachelor Degree, International Islamic University Malaysia
Muhammad Irwan Bin Ariffin (Dr.)
Assistant Professor
IIUM Gombak Campus
KULLIYYAH OF ECONOMICS AND MANAGEMENT SCIENCES

Other's position:
Deputy Director, Academic Management and Admissions Division
---
Expert Profile
Muhammad Irwan Ariffin was conferred the double-degree Bachelor of Economics (Honours) and Bachelor of Islamic Revealed Knowledge and Heritage (Honours) by IIUM in 2004. He received the Best Student in Economics (Academic) Award during his convocation. Upon graduation, he joined the Department of Economics, IIUM, as an Assistant Lecturer. He went to pursue his M.A. and Ph.D in Economics at Carleton University, Canada, from 2006 to 2014 under the financial sponsorship of the Ministry of Education of the Government of Malaysia and IIUM. During this time, he was a teaching assistant and received several awards from Carleton University due to his excellent academic performance. In 2012, the Royal Commonwealth Society of Ottawa awarded him the Arnold Smith Commonwealth Scholarship for being the best student from a Commonwealth country.
Since February 2015 Dr. Irwan has been an Assistant Professor at the Department of Economics and a Research Fellow at the Centre for Islamic Economics, IIUM.
Professional Membership
2017 - 2017: Member of Profesional Body / Association: (Affiliate Researcher), CENTRIS IIUM
Teaching Responsibilities
| | |
| --- | --- |
| BUSINESS ECONOMICS | 2022/2023 2021/2022 2020/2021 |
| BUSINESS MATHEMATICS | 2019/2020 2017/2018 2008/2009 |
| ECONOMICS FOR MANAGERS | 2022/2023 2018/2019 2017/2018 2016/2017 2015/2016 2014/2015 |
| ECONOMICS FOR SUSTAINABLE BUSINESS | 2022/2023 |
| ECONOMICS OF ZAKAT | 2022/2023 |
| FIQH FOR ECONOMIST II | 2019/2020 2018/2019 |
| FIQH FOR ECONOMISTS I | 2018/2019 2017/2018 |
| FOUNDATION OF ISLAMIC ECONOMICS | 2022/2023 2021/2022 2018/2019 2017/2018 2016/2017 2015/2016 2014/2015 |
| INTERMEDIATE MACROECONOMICS I | 2020/2021 2015/2016 |
| MACROECONOMIC THEORY | 2020/2021 2018/2019 2017/2018 2016/2017 2015/2016 2014/2015 |
| MALAYSIAN ECONOMY | 2022/2023 2021/2022 |
| MICROECONOMICS | 2021/2022 2020/2021 2019/2020 |
| MONEY AND BANKING | 2008/2009 |
| OBJECTIVES OF SHARI'AH | 2022/2023 2017/2018 2016/2017 |
| PRINCIPLES OF MACROECONOMICS | 2008/2009 |
| PRINCIPLES OF MICROECONOMICS | 2021/2022 2020/2021 |
| PUBLIC FINANCE | 2021/2022 2020/2021 |
| STATISTICAL METHODS | 2014/2015 2008/2009 |
Research Projects
Completed
| | |
| --- | --- |
| 2016 - 2019 | Debt and Indebtness in the Hadith Literature: The Severity, Rights and Responsibilities |
| 2015 - 2019 | Acquirement of Consumer Perception on the Ethicality and Islamicness of Islamic Finance Products and Services |
| 2015 - 2019 | Principle of Economics in Sahih Al Bukhari |
| 2013 - 2022 | Socio Economic Impact of Shari'ah Compliant Hospitality and Services on Malaysia and Muslim Communities |
On-Going
| | |
| --- | --- |
| 2022 - Present | Maqasid Shariah for Economists |
| 2021 - Present | Partnership for SDG Finance - Undertaking Development Finance Assessment and SDG Budgeting & Costing |
| 2019 - Present | DEVELOPING A CIRCULAR ECONOMIC MODEL BASED MAQASID AL-SHARIAH FRAMEWORK FOR ENVIRONMENTAL SUSTAINABILITY |
| 2019 - Present | Review of Influential Works in Islamic Economics |
Award & Recognition
| | | |
| --- | --- | --- |
| 21 Jun, 2022 | Most Promising Academic Award - Kulliyyah of Economics and Management Sciences | KCDIO |
| 21 Jun, 2022 | Murabbi Award - Kulliyyah of Economics and Management Sciences | KCDIO |
Publications
Article
| | |
| --- | --- |
| 2023 | Islam, western materialism and Malaysian muslims' complex debt behavior: an analysis of the religious experts' viewpoints. International Journal of Academic Research in Business and Social Sciences, 13 (2) pp. 24-43 |
| 2022 | Economic concepts and ideas of Al-Bukhārī: an analysis of the book of sales in Ṣaḥīḥ Al-Bukhārī. The Journal of Muamalat and Islamic Finance Research, 19 (1) pp. 1-20 |
| 2022 | Economic growth, international trade, and environmental degradation in Sub-Saharan Africa. Journal of Economics and Development, 24 (4) pp. 293-308 |
| 2022 | Economic impacts of illegal, unregulated and unreported fishing activities on artisanal fishing in Somalia. Journal of Somali Studies : Research on Somalia and the Greater Horn of African Countries, 9 (1) pp. 33-49 |
| 2022 | The impact of zakat in poverty alleviation and income inequality reduction from the perspective of gender in West Java, Indonesia. International Journal of Islamic and Middle Eastern Finance and Management, 15 (5) pp. 924-942 |
| 2021 | Covid-19 pandemic and addressing digital divide in Malaysia. Journal of Information Systems and Digital Technologies, 3 (2) pp. 29-49 |
| 2021 | Economic impact of maritime piracy on Artisanal fishermen in Somalia. Empirical Economic Letters, 20 (6) pp. 1107-1118 |
| 2021 | Fertility and female labor force participation in Asian countries; panel ARDL approach. Jurnal Ekonomi & Studi Pembangunan, 22 (2) pp. 272-288 |
| 2021 | Transmission channels and indirect effects in the relationship between institutions and environmental degradation in Sub-Saharan Africa. International Journal of Green Economics, 15 (4) pp. 335-358 |
| 2020 | From Islamic input in Medical Program to Islamic medical practice: the journey from Kulliyyah of Medicine to IIUM Medical Centre. IIUM Medical Journal Malaysia, 19 (1) pp. 121-124 |
| 2020 | The paradox between shoe diagram and sound mind. Islamic Renaissance Front (IRF), () pp. |
| 2019 | China-U.S. trade war a chance for Muslim countries to benefit. New Straits Times, () pp. 18 |
| 2018 | Does domestic credit of the banking sector promote economic growth? Evidence from Bangladesh. International Journal of Islamic Business, 3 (1) pp. 33-55 |
| 2018 | IIUM a different type of university. The Star, () pp. 1-2 |
| 2018 | Malaysia's tourism demand: A gravity model approach=Permintaan pelancongan di Malaysia: Pendekatan model graviti. Journal of Business and Social Development, 6 (1) pp. 39-50 |
| 2018 | Malaysia's tourism demand: A gravity model approach= Permintaan pelancongan di malaysia: pendekatan model graviti. Journal of Business and Social Development, 6 (1) pp. 39-50 |
| 2018 | More significant role for Jakim. The Star Online, () pp. |
| 2018 | Waqf fundraising management: a proposal for a sustainable finance of the Waqf institutions. Journal of Islamic Monetary Economics and Finance, 3 (Special Issue) pp. 201-234 |
| 2018 | Zakat for poverty alleviation and income inequality reduction: West Java, Indonesia. Journal of Islamic Monetary Economics and Finance, 4 (1) pp. 85-100 |
| 2017 | Rethinking Islamic economics and finance: paving the way forward. International Journal of Economics, Management and Accounting, 25 (2) pp. 153-171 |
| 2017 | Shariah minds in Islamic finance: an inside story of a Shariah scholar, by Mohd Daud Bakar, Amanie Media, 2016, xl + 322 pp., ISBN 978-967-13789-0-8. International Journal of Economics, Management and Accounting, 25 (1) pp. 141-145 |
| 2017 | The comparison between consumption and production-based zakat distribution programs for poverty alleviation and income inequality reduction. International Journal of Zakat, 2 (2) pp. 11-28 |
| 2016 | Early Islam and the birth of capitalism by Benedikt Koehler, Lexington Books, 2014, vi + 231 pp., ISBN 978-0-7391-9745-5. International Journal of Economics, Management and Accounting, 24 (1) pp. 129-133 |
| 2016 | Heaven's bankers: inside the hidden world of Islamic finance, by Harris Irfan, The Overlook Press, 2015, xx + 347 pp., ISBN 978-1-4683-1047-4. Amity Journal of Economics, 1 (2) pp. 110-114 |
Conference or Workshop Item
| | |
| --- | --- |
| 2023 | Teaching Intermediate Macroeconomics with Islamic inputs: the IIUM Experience. In: Workshop on Teaching Macroeconomics from Islamic Perspective, |
| 2020 | Mercy to the worlds. In: IIUM Library Ibadah Camp 2020, |
| 2020 | Respect. In: IIUM Library Ibadah Camp 2020, |
| 2019 | Maqasid al-Shariah and humanizing education. In: National Education Philosophy - Department of Accounting Staff Development Program 1/2019, |
| 2019 | Maqasid Al-Shariah and sustainable development. In: Islamic Economics Training Camp 2019, |
| 2019 | Teaching of heritage in Islamic economics program at International Islamic University Malaysia. In: Workshop on Islamic Economics Curriculum and Related Disciplines, |
| 2018 | Efficiency evaluation: the case of tourism industry in Malaysia. In: International Business and Economic Conference Kedah (IBecK2018), |
| 2018 | Indebtedness among young Muslims in Malaysia: review of the extant literature. In: 3rd International Social Science Conference, Islamic Thought and Understanding (ISSCITU) 2018, |
| 2018 | Maqasid Al-shariah dan strategi penjagaan pesakit. In: Islamic Jurisprudence in Medicine Seminar, |
| 2018 | Teaching macroeconomics from Islamic perspective. In: Workshop on 'Teaching of Islamic Economics" International Islamic University Malaysia, |
| 2017 | Evolution of rural communities through homestay programs: A case study of Banghuris Homestay. In: 4th International Conference On Rural Development And Entrepreneurship (ICORE2017), |
| 2017 | Malaysia's tourism demand: gravity model approach. In: Global Tourism Conference (GTC) 2017, |
| 2017 | Maqasid Al-Shariah dan aplikasinya dalam perubatan. In: Islamic Medical Association of Malaysia (IMAM) 19th Annual Scientific Conference 2017, |
| 2017 | Teaching Islamic heritage at Department of Economics, Kulliyyah of Economics and Management Sciences, IIUM. In: Workshop on Islamic Economics, Management and Accounting Curriculum (WIEMAC) 2017, |
| 2017 | The impact of currency fluctuations on palm oil exports. In: MPOB International Palm Oil Congress (PIPOC) 2017: Global Economics and Marketing (GEM) Conference, |
| 2017 | The role of zakat for poverty alleviation and income inequality reduction. In: 3rd International Islamic Monetary Economics and Finance Conference (IIMEFC), |
| 2017 | Waqf fundraising management: a proposal for a sustainable finance of the Waqf institutions. In: 3rd International Islamic Monetary Economics and Finance (IIMEFC) 2017, |
| 2016 | Individual decision making: preference and choice. In: International Workshop on Fundamental Concepts of Islamic Economics: Concept of Consumption in Islamic Perspective, |
| 2015 | Teaching macroeconomics from Islamic perspective: The case of IIUM postgraduate students. In: 4th Workshop on Islamic Economics Curriculum: Teaching of Macroeconomics from the Islamic Perspectives in Southeast Asian Universities, |
| 2005 | Towards the expediency and leniency of Islamic finance through Islamic micro credit financing. In: Seminar Ekonomi dan Kewangan Islam (SEKI'05), |
Book
Book Section
| | |
| --- | --- |
| 2021 | Sejahtera heart and spirituality: lessons from selected hadiths. In: Kulliyyah of Economics and Management Sciences, International Islamic University Malaysia, ISBN: 978-967-2621-92-8, pp. 68-81 |
| 2021 | Sejahtera heart and spirituality: lessons from selected hadiths. In: Kulliyyah of Economics and Management Sciences, International Islamic University Malaysia, ISBN: 978-967-2621-92-8, pp. 68-81 |
| 2021 | Sejahtera leadership: an Islamic economics reflection based on Verse 165 of Surah Al-An'am. In: Kulliyyah of Economics and Management Sciences, International Islamic University Malaysia, ISBN: 978-967-2621-94-2, pp. 10-21 |
| 2021 | Sejahtera leadership: an Islamic economics reflection based on Verse 165 of Surah Al-An'am. In: Kulliyyah of Economics and Management Sciences, International Islamic University Malaysia, ISBN: 978-967-2621-94-2, pp. 10-21 |
| 2021 | The Importance of Incentives to Sustain Voluntary Projects. In: Kulliyyah of Economics and Management Sciences, International Islamic University Malaysia, ISBN: 978-967-26219-1-1, pp. 119-129 |
| 2021 | The Importance of Incentives to Sustain Voluntary Projects. In: Kulliyyah of Economics and Management Sciences, International Islamic University Malaysia, ISBN: 978-967-26219-1-1, pp. 119-129 |
| 2018 | Indebtedness among young Muslims in Malaysia: review of the extant literature. In: IIUM Press, International Islamic University Malaysia, ISBN: 978-967-491-008-2, pp. 337-357 |
| 2009 | Ke arah pembangunan ekonomi seimbang dan komprehensif: falsafah dan cabaran. In: Yayasan Ilmuwan, ISBN: 9789834437213, pp. 203-231 |
| 2007 | Towards the realization of divine objectives and moral principles in Islamic finance. In: Universiti Putra Malaysia Press, ISBN: 978-983-3455-82-9, pp. 21-42 |