Staff Directory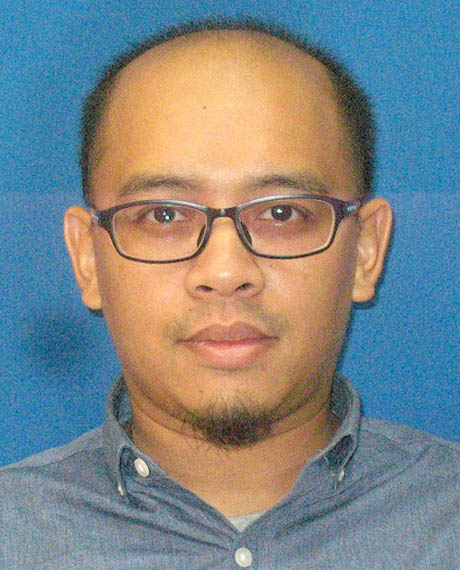 Academic Qualification
Doctor of Philosophy in Bioelectronics - Doctor of Philosophy, University of Glasgow
Master of Science (Physics) - Masters Degree, Universiti Teknologi Malaysia (UTM)
Bachelor of Science (Industrial Physics) - Bachelor Degree, Universiti Teknologi Malaysia (UTM)
Mohd Hazimin Bin Mohd Salleh (Dr.)
Assistant Professor
IIUM Kuantan Campus
KULLIYYAH OF SCIENCE
---
mhazimin@iium.edu.my
5171
Expert Profile
Mohd Hazimin Mohd Salleh started his professional career as a research assistant under Laser Technology Laboratory, Department of Physics, UTM. At the same time, he pursued his MSc at UTM funded by National Science Fund Scholarship. Then, he was appointed as a tutor at Department of Computational and Theoretical Science, International Islamic University Malaysia (IIUM).
After three years of service, he pursued his Ph.D at the University of Glasgow and completed in 2011. Then, he worked as a post-doctoral researcher at the University of Glasgow in 2014. His expertise lies in optical biosensor simulation, device / sensor fabrication and detection. Currently, his research interest is moving towards multidisciplinary fields such as in Environment, Biochemistry, Electronics and Biotechnology. He was also appointed as a member of Sensor Malaysia Association and secured some grants from IIUM and the Malaysian government.
Area of Specialisation
Engineering Tech ~ Engineering And Technology ~ Industrial and Manufacturing Engineering ~ Fabrication Technology (Including Manufacturing of High Speed/ Precision Equipment Fabrication Machinery and Equipment and Standard Supporting Technologies of Fabrication for Metal and Plastic) - Polymer micro/nanofabrication structures
Social Science ~ Social Science ~ Political Sciences and Public Policy ~ Electoral Studies
Agricultural ~ Agricultural Science And Technology ~ Crop Production and Agriculture Information System and Technology ~ Production System (Including micropropagation (tissue culture and bioreactor)) - Sensor and device fabrication
Biotechnology ~ Biotechnology ~ Industrial and Environmental Biotechnology ~ Biosensor - Optical Biosensor
Engineering Tech ~ Applied Sciences And Technologies ~ Nanotechnology ~ Other Nanotechnology n.e.c.
Teaching Responsibilities
| | |
| --- | --- |
| BIOMOLECULAR ELECTRONICS AND INSTRUMENTATION | 2016/2017 2018/2019 2020/2021 2019/2020 2017/2018 |
| BIOPHYSICS I | 2021/2022 2017/2018 2016/2017 2018/2019 2015/2016 2019/2020 2020/2021 |
| BIOPHYSICS II | 2018/2019 2019/2020 2017/2018 2016/2017 2021/2022 |
| CALCULUS | 2004/2005 2005/2006 2006/2007 |
| CALCULUS FOR BIOTECHNOLOGY | 2005/2006 |
| DEVELOPING AND PROTECTING MATHEMATICAL IDEAS | 2004/2005 2005/2006 2006/2007 |
| INTRODUCTION TO OPTICS | 2011/2012 |
| LINEAR ALGEBRA | 2012/2013 2011/2012 |
| MATHEMATICAL METHODS | 2012/2013 |
| MATTER AND WAVES | 2011/2012 |
| NANOMEDICINE | 2020/2021 |
| NANOMEDICINE IN HEALTHCARE | 2014/2015 2017/2018 2018/2019 |
| OPTIC II | 2012/2013 |
| PROBABILITY AND DATA ANALYSIS | 2014/2015 2015/2016 |
| RADIATION BIOPHYSICS | 2017/2018 |
| STATISTICAL PHYSICS I | 2015/2016 |
Research Projects
Completed
| | |
| --- | --- |
| 2020 - 2021 | Predicting Spatial Displacement based on Intraocular Image Design using Convolution Neural Network |
| 2019 - 2021 | IIUM Blue Light Hazard App: Transferring Optical Knowledge on the Circadian and Retinal Hazard of Blue Light to the Malaysian Optometrists |
| 2016 - 2020 | Development of All-Optical Sensing Simulation System Based on Microring Resonator Waveguide |
| 2016 - 2020 | Modelling and fabrication of polymer microfluidic channel for optical biosensor |
| 2012 - 2016 | Design and modelling of polymer multimode interference ( MMI ) waveguide for optical biosensor |
| 2011 - 2012 | Modelling and simulation of evanescent field characteristic of polymer waveguide structure for optical biosensor |
| 2011 - 2016 | (RU2011) Modeling and development of fiber-optic system for optical biosensor device |
On-Going
| | |
| --- | --- |
| 2020 - Present | OPTIMISED UV-VIS WAVELENGTH FOR BACTERIAL AND VIRAL DISINFECTION IN MVAC SYSTEM. |
| 2018 - Present | Numerical formulation and physical investigation of molecules motion for precise controlling of liquid flow on paper-based devices. |
| 2018 - Present | Electro-optics formulation of radiative recombination on heterojunction interlayer for high efficiency LED chip |
| 2004 - Present | Quantum Information Research Unit (QIRU) |
Award & Recognition
| | | |
| --- | --- | --- |
| 06 Dec, 2019 | Award for 15 Years of Service - International Islamic University Malaysia | University |
| 04 Nov, 2018 | Varsity Cycling Challenge (VCC) 2018 : Bronze Medal - UTeM | University |
| 20 Feb, 2013 | IIUM Research, Invention and Innovation Exhibition 2013 (IRIIE 2013) : Bronze Medal * - IIUM | University |
| 22 Feb, 2012 | IIUM Research, Invention and Innovation Exhibition 2012 (IRIIE 2012) : Silver Medal - IIUM | University |
| 15 Sep, 2010 | 2nd Runner Up Prize (Poster Session) GBP 50 - Institute of Physic (IOP), United Kingdom | International |
Publications
Article
Conference or Workshop Item