Staff Directory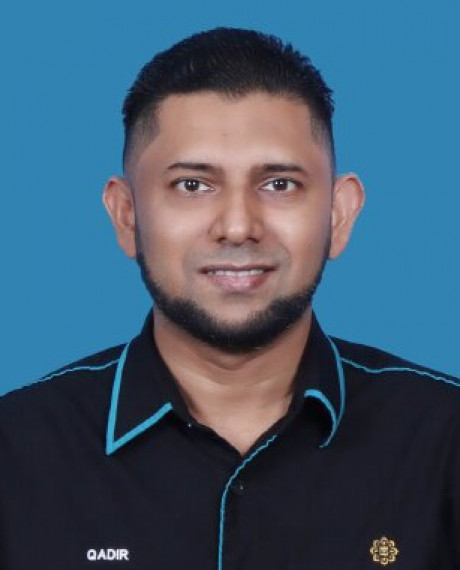 Academic Qualification
PhD in Arabic Languange & International Literature - Doctor of Philosophy, University of Jordan
Master of Human Sciences (Arabic Linguistic Studies) - Masters Degree, International Islamic University Malaysia
Human Science in Arabic Language and Literature - Bachelor Degree, International Islamic University Malaysia
Abdul Kadir Bin Sulaiman (Dr.)
Assistant Professor
IIUM Pagoh Campus
KULLIYYAH OF LANGUAGES AND MANAGEMENT

Other's position:
Head of Department, Kulliyyah of Languages and Management
---
Expert Profile
Abdul Kadir joined IIUM after completing his first degree in 2003. He was a lecturer in the Centre for Languages and Pre-University Academic Development from 2003-2013.Presently Abdul Kadir is a lecturer at the Kulliyyah of Languages and Management.
Abdul Kadir's current research is in the field of Critical Discourse Analysis of Political speeches. He has published articles on Arab Spring political speeches and currently on a study leave as a Ph.D candidate in the University of Jordan.
Area of Specialisation
Social Science ~ Social Science ~ Education ~ Language Literacy (Including English (TESOL, ESL, TEFL) and other Languages) - Master of Human Sciences (Arabic Linguistic Studies)
Teaching Responsibilities
| | |
| --- | --- |
| ADVANCED QURANIC LANGUAGE (BAR,IRK) | 2011/2012 |
| APPLIED LINGUISTICS | 2017/2018 |
| ARABIC AT WORKPLACE | 2020/2021 |
| ARABIC FOR ACADEMIC WRITING | 2016/2017 2017/2018 2018/2019 |
| DISCOURSE ANALYSIS | 2018/2019 2020/2021 2017/2018 2016/2017 2021/2022 2019/2020 |
| ELEMENTARY QURANIC LANGUAGE PART 2 (SCIENCES) | 2011/2012 |
| FINAL YEAR PROJECT | 2016/2017 2017/2018 2019/2020 2020/2021 2018/2019 2021/2022 |
| INTERNSHIP | 2019/2020 2016/2017 2018/2019 2020/2021 2017/2018 |
| INTERNSHIP 1 | 2016/2017 |
| INTERNSHIP 2 | 2018/2019 |
| INTRODUCTION TO LINGUISTICS | 2013/2014 2016/2017 |
| INTRODUCTION TO WORLD LITERATURE | 2017/2018 |
| PRINCIPLES OF APPLIED LINGUISTICS IN ASP | 2017/2018 |
| PROFESSIONAL DISCOURSE IN ASP | 2020/2021 2021/2022 |
| QURANIC LANG. SKILL (WRITING) - BAR,IRK,LAWS | 2011/2012 |
| Quranic Language II | 2012/2013 |
| Quranic Language III & IV | 2012/2013 |
| Quranic Language VI | 2012/2013 |
| SEMANTICS | 2018/2019 2019/2020 2021/2022 2020/2021 |
| SYNTAX 1 | 2017/2018 |
| SYNTAX 2 | 2019/2020 2020/2021 2021/2022 |
| TRANSLATION STUDIES | 2016/2017 |
Research Projects
Completed
On-Going
| | |
| --- | --- |
| 2017 - Present | An Analysis of Image Restoration Strategies used by Malaysian Officials When Communicating MH 370 Crisis. |
| 2013 - Present | Discource Analysis of Persuasive Language Used by Arab Leaders against Protestor |
Publications