Staff Directory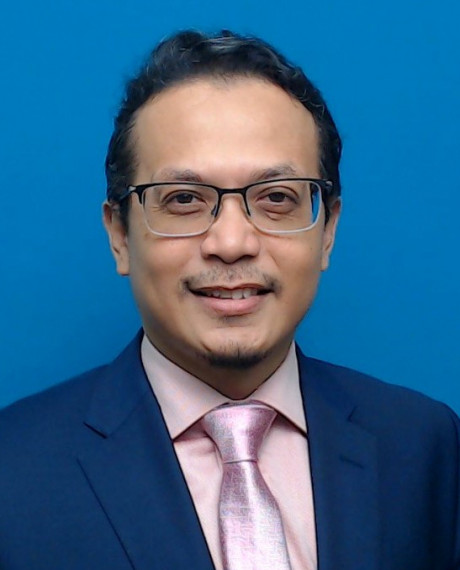 Academic Qualification
Doctor of Philosophy (Muslim World Issues) - Doctor of Philosophy, International Islamic University Malaysia
Master of Human Sciences (Political Science) - Masters Degree, International Islamic University Malaysia
Bachelor of Human Sciences (Political Science) - Bachelor Degree, International Islamic University Malaysia
Ahmad El-Muhammady Bin Muhammad Uthman El-Muhammady (Dr.)
Assistant Professor
IIUM KL Campus
INTERNATIONAL INSTITUTE OF ISLAMIC THOUGHT AND CIVILISATION

Other's position:
Deputy Director, Alumni Relations Division
---
elmuhammady@iium.edu.my
1247
Expert Profile
Dr. Ahmad El-Muhammady 
is an Assistant Professor at the International Institute of Islamic Thought and Civilisation (ISTAC-IIUM). Besides that, he holds various external positions such as Associate Fellow at the International Centre for Counter-Terrorism (ICCT), The Hague, Netherlands; International Advisory Committee Member at Global Peace Institute (GPI), United Kingdom, Associate Research Fellow at the Accounting Research Institute (ARI), Universiti Teknologi MARA (UiTM), Malaysia, and Deputy Director, Alumni Relations Division (ARD), IIUM. 
Since 2011, he works closely with the Special Branch's Counter-Terrorism Division, Royal Malaysia Police and Prison Department to implement the Rehabilitation and Deradicalisation programs for individuals detained under terrorism laws in Malaysia. 
Ahmad is also a member of Deradicalisation Panel and Expert/Specialist appointed by the Ministry of Home Affairs for cases investigated under the Security Offences (Special Measures) Act (SOSMA) 2012 and Prevention of Terrorism Act (POTA) 2015. 
Prior to that, he was a consultant to the United Nations Development Program (UNDP) (2019), and co-authored a report on the return of foreign terrorist fighters in Southeast Asia. Ahmad also served as think-tank member (2014-2019) and consultant (2018-2019) to the Institute for Youth Research Malaysia (IYRES), Ministry of Youth and Sports Malaysia. 
He is now a Co-principal investigator for a two-year research at the IIUM-ISTAC's Extremism Analytical Unit in collaboration with the National Consortium for the Study of Terrorism and Responses of Terrorism (START), University of Maryland (2018-2020) and consultant to the Ministry of Home Affairs (MOHA) to develop National Action Plan for Preventing/Countering Violent Extremism (NAPPCVE) in Malaysia.  
Links:  
Linkedin: https://www.linkedin.com/in/ahmadelmuhammady/ 
Google Scholar: https://scholar.google.com/citations?user=jgU2VSIAAAAJ&hl=en 
Researchgate: https://www.researchgate.net/profile/Ahmad-El-Muhammady 
Academia.edu: https://iium2009.academia.edu/AhmadElMuhammady 
Global Peace Institute:https://globalpeaceinstitute.org/team/dr-ahmad-el-muhammady/ 
ICCT-The Hague: https://icct.nl/people/ahmad-el-muhammady/

Professional Membership
2021 - 2022: Member of Profesional Body / Association: (Associate Fellow), International Centre for Counter-Terrorism (ICCT), The Hague, Netherlands
Teaching Responsibilities
| | |
| --- | --- |
| BASIC POLITICAL SCIENCE | 2020/2021 2019/2020 2014/2015 2013/2014 2012/2013 2011/2012 2010/2011 2009/2010 2008/2009 |
| BASIC THEMES OF AL-QUR'AN | 2013/2014 2012/2013 2009/2010 2008/2009 |
| CONTEMPORARY ISSUES IN THE MUSLIM WORLD | 2013/2014 |
| INTRO. TO CREATIVE & CRITICAL THINKING | 2015/2016 2014/2015 2012/2013 2011/2012 2010/2011 2009/2010 2008/2009 |
| INTRO. TO HUMAN SCIENCES | 2008/2009 |
| ISLAM AND OTHER RELIGIONS | 2017/2018 |
| ISLAMIC REVEALED KNOWLEDGE | 2014/2015 |
| KNOWLEDGE & CIVILIZATION IN ISLAM | 2022/2023 2021/2022 |
| PUBLIC SPEAKING | 2016/2017 2015/2016 |
| RESEARCH METHODOLOGY | 2022/2023 2021/2022 |
| THINKING SKILLS | 2020/2021 2019/2020 2016/2017 2015/2016 |
| UNDERSTANDING ISLAM | 2013/2014 2011/2012 |
| WRITING SKILLS | 2018/2019 2017/2018 |
Research Projects
Completed
On-Going
| | |
| --- | --- |
| 2022 - Present | REBUILD Project: Radicalization Prevention through Resilience Building and Family Empowerment |
| 2022 - Present | Women as Peace Agents (2021-2022): Path, Role and Family Rehabilitation |
| 2022 - Present | Divergent Dimensions of Radicalization Risk: Migration and Violent Extremism in Sabah |
| 2022 - Present | Malaysian Youth as Peace Ambassadors |
| 2018 - Present | Understanding Extremist Discourse, Intervention and Rehabilitation: Bridging the Gap between Stakeholders in Malaysia and Southeast Asia |
Publications
Article
Conference or Workshop Item
| | |
| --- | --- |
| 2022 | Empowering the role of Civil Society Organisations in the context of National Action Plan for Preventing and Countering Violent Extremism (NAPPCVE). In: Policy Brief and Launch Webinar on National Action Plan for Preventing and Countering Violent Extremism, |
| 2022 | Engaging expert in public sector: personal experience as consultant to the government agencies and international organization. In: Organizational Management Symposium 2022, |
| 2022 | Terror landscape threats, challenges & response: South East Asia overview – terrorists systems: methods, capabilities & drivers. In: International Counter Terrorism Conference 2022, |
| 2022 | The state of radicalization, extremism, and violent extremism in Malaysia, 2021-2022. In: ISIS Malaysia Roundtable Discussion on Terrorism and Violent Extremism in Malaysia in conjunction with the UNODC Counter-Terrorism Team Visit to Malaysia, |
| 2022 | Youth roles in sustaining peace post-Covid-19 as a global citizen. In: Virtual Youth Advocacy Sharing Session : Youth Leadership for Peaceful and Inclusive Society in the Post-Pandemic World, |
| 2021 | How do the terrorist influence young people?. In: The Dynamics of Youth and Terrorism: Understanding and Countering the Issues 2021" 24 May 2021,, |
| 2021 | Managing the return of foreign terrorist fighters in Southeast Asia: complexities and challenges. In: ICPVTR Webinar on "Managing the Return of Foreign Terrorist Fighters in Southeast Asia: Complexities and Challenges", |
| 2019 | The important factors of anti-money laundering and counter-terrorism financing education. In: 1st International Conference on Financial Markets 2019 (ICFM), |
Book Section
| | |
| --- | --- |
| 2023 | A 'Blue Ocean' for marginalised radical voices: cyberspace, social media and extremist discourse in Malaysia. In: Palgrave Macmillan, ISBN: 978-981-19-7140-2, pp. 163-192 |
| 2022 | Fahaman sesat dan menyeleweng di media sosial: ancaman dan cabaran. In: Institut Keselamatan Awam Malaysia (IPSOM), ISBN: 9789672609827, pp. 143-158 |
| 2022 | Memahami potensi ancaman keganasan siber di Malaysia. In: Institut Keselamatan Awam Malaysia, ISBN: 9789672609827, pp. 15-27 |
| 2021 | Malaysia: Balancing National Development, National Security and Cybersecurity Policy. In: Routledge, ISBN: 978-0-367-02423-9, pp. 325-336 |
| 2021 | Malaysia: Balancing National Development, National Security and Cybersecurity Policy. In: Routledge, ISBN: 978-0-367-02423-9, pp. 325-336 |
| 2021 | Radicalisation and paramilitary culture: the case of Wanndy's Telegram groups in Malaysia. In: Springer, ISBN: 978-981-16-5587-6, pp. 95-122 |
| 2021 | Radicalisation and paramilitary culture: the case of Wanndy's Telegram groups in Malaysia. In: Springer, ISBN: 978-981-16-5587-6, pp. 95-122 |
| 2020 | Applying Wasatiyyah approach in de-radicalization programs. In: Routledge, ISBN: 978-0-367-42031-4, pp. 150-167 |
| 2020 | Applying Wasatiyyah approach in de-radicalization programs. In: Routledge, ISBN: 978-0-367-42031-4, pp. 150-167 |
| 2020 | Radicalisation model: learning from Malaysian militant-extremists. In: Routledge, ISBN: 978-0-367-27880-9, pp. 155-184 |
| 2019 | Ideologi kumpulan pengganas Daesh/ISIS: asas, formulasi dan implikasi. In: Institut Penyelidikan Pembangunan Belia Malaysia (IYRES), ISBN: 978-96716147-2-3, pp. 20-35 |
| 2018 | The role of universities and schools in countering and preventing violent extremism: Malaysian experience. In: Rajaratnam School of International Studies and Konrad Adenauer Stiftung, ISBN: 978-981-11-8742-1, pp. 95-109 |
| 2016 | Countering the threat of Daesh in Malaysia. In: Konrad Adenauer Stiftung; S. Rajaratnam School of International Studies (RSIS), ISBN: na, pp. 105-122 |
Monograph