Staff Directory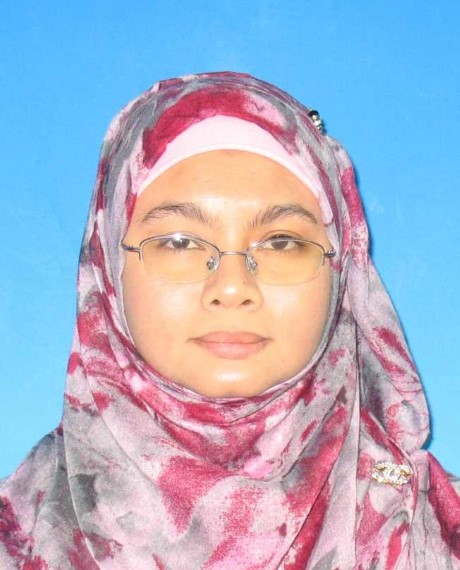 Academic Qualification
Energy and Sustainable Development - Doctor of Philosophy, De Montfort University
Built Environment - Masters Degree, University of Nottingham, United Kingdom
Architecture (LAM Part 2) - Bachelor Degree, Cardiff University
Science in Architectural Studies (LAM Part 1) - Bachelor Degree, Cardiff University
Aliyah Nur Zafirah Bt. Sanusi (Dr.)
Assistant Professor
IIUM Gombak Campus
KULLIYYAH OF ARCHITECTURE AND ENVIRONMENTAL DESIGN
---
Expert Profile
Currently, she is an Assistant Professor at the Kulliyyah of Architecture and Environmental Design (KAED), International Islamic University Malaysia. Aliyah Nur Zafirah Sanusi has an academic background in Architecture, having obtained her B.Sc. in Architectural Studies and Bachelor of Architecture from Cardiff University (UK), which are equivalent to RIBA Part 1 and Part 2. She then furthered her studies and obtained MPhil in Built Environment from the University of Nottingham (UK) and then a Ph.D degree in Energy and Sustainable Development from De Montfort University (UK).
Her research is inclined towards built environment, energy and sustainable environment and environmental analysis through computer modelling. Her research finding is the viability of implementing Earth-to-Air Heat Exchanger System in achieving indoor thermal comfort in buildings in Malaysia. The research was carried out through field measurements and computer simulations.
She is also actively involved with the society through consultancy activities. She has been appointed by Sekolah Kebangsaan Bukit Damansara as a consultant to their Rainwater Harvesting project and she has managed to help secure Shell Sustainable Development Grant 2015 for the Rainwater Harvesting project, which is scheduled to commence in 2015. Dr. Aliyah has also been appointed by SIRIM in 2015, as a member of a Working Group on Passive Design and Strategy to Develop Malaysian Standards.
On the international scene, she is an active member of Elsevier Researcher Panel since February 2014, where she is actively involved in surveys to improve their research and publication methods.
Area of Specialisation
Engineering Tech ~ Applied Sciences And Technologies ~ Energy Technology ~ Other Energy Technology n.e.c. - Energy and Sustainable Development
Professional Membership
2020 - 2020: Member of Profesional Body / Association: (PAM Education Committee Member), Pertubuhan Arkitek Malaysia PAM Education Committee
2022 - 2022: Member of Profesional Body / Association: (Lemabaga Arkitek Malaysia Graduate Architect ), Lemabaga Arkitek Malaysia
Research Projects
Completed
| | |
| --- | --- |
| 2021 - 2021 | KURSUS PEMPROSESAN PELAN MENGGUNAKAN PERISIAN REVIT SECARA ATAS TALIAN UNTUK PEGAWAI KESELAMATAN KEBAKARAN JBPM (PULAU PINANG)) |
| 2021 - 2021 | KURSUS PEMPROSESAN PELAN MENGGUNAKAN PERISIAN AUTO CAD & REVIT UNTUK PEGAWAI KESELAMATAN KEBAKARAN JBPM NEGERI PAHANG |
| 2021 - 2021 | KURSUS PEMPROSESAN PELAN MENGGUNAKAN PERISIAN REVIT SECARA ATAS TALIAN UNTUK PEGAWAI KESELAMATAN KEBAKARAN JBPM PADA 21-23 SEPT 2021 |
| 2019 - 2020 | Planting and SMART Tagging Trees Project for the Malay Enclave in IIUM |
| 2015 - 2019 | Analyzing the Fundamental Eco School/Green School Program in Solving Basic Problems of Sustainability of School Environment in Malaysia |
| 2015 - 2018 | Assessing the Potential of Augmented Reality (Ar) as Attributes of Successful Learning of Heritage Architecture |
| 2014 - 2018 | Exploring Adaptive e-Learning of Architectural Education Using I- Ta'LeEM Platform |
| 2013 - 2020 | Achieving Cooler Soil as a Potential Heat Sink for Earth Pipe Cooling Technology in Malaysia by Various Treatment of Malaysia Soil Surface |
| 2012 - 2016 | The impact of landscape setting vegetation, ground surface materials and the built enviroment on the microclimate : Towards mitigating urban heat island |
| 2011 - 2013 | The Water Issue between Malaysian and Singapore: Colonial Legacy and Post-Colonial Trajectory |
| 2011 - 2015 | RU 2011: Profiling the Impact of Pavement on the Urban Thermal Performance towards Mitigating the Urban Heat Island Effect: A Case Study of Plazas in Putrajaya, Malaysia |
On-Going
| | |
| --- | --- |
| 2021 - Present | Interior Design Consultant for Jeumpa d'Ramo Boutique Hotel |
| 2016 - Present | Enhancing the Green Building Index (GBI) Malaysia with Biomimicry Life's Principles (BLP) in Alleviating the Urban Heat Island (UHI) Effect for the Built Environment |
Award & Recognition
| | | |
| --- | --- | --- |
| 26 Nov, 2020 | Researcer Taskforce for Kajian Halatuju Pendidikan Seni Bina (HPSN) 2030 - Lembaga Arkitek Malaysia | National |
| 26 Aug, 2019 | Silver Medal - PERTANDINGAN REKACIPTA INOVASI NASIONAL-KEJURUTERAAN DAN ALAM BINA (PRIN-KAB) 2019 | International |
| 04 May, 2019 | Silver Medal - ITEX 30TH INTERNATIONAL INVENTION, INNOVATION AND TECHNOLOGY EXHIBITION 2019 | International |
| 20 Feb, 2013 | Bronze for IIUM Research, Invention and Innovation Exhibition (IRIIE) 2013 - International Islamic University Malaysia | University |
Publications
Article
| | |
| --- | --- |
| 2023 | Evaluating the impact of vernacular façade design on indoor thermal performance in Malaysia's modern masjids. International Journal of Environment, Architecture and Societies : Strengthening The Resilience Of Heritage to the Nature of the Environment, Architecture, and Societies, 3 (1) pp. 44-58 |
| 2023 | Inference of Sejahtera Academic Framework (SAF) principles in architecture pedagogy at DoA-KAED, IIUM. International Journal of Advanced Natural Sciences and Engineering Researches (IJANSER), 7 (10) pp. 294-301 |
| 2023 | Innovation of an effective blended learning technology in architectural engineering and its validation by response data analysis. Journal of Advanced Research in Applied Sciences and Engineering Technology, 30 (3) pp. 244-264 |
| 2023 | The paradigm shift from traditional to blended learning methodology in architecture education. Journal of Advanced Research in Applied Sciences and Engineering Technology, 33 (1) pp. 75-91 |
| 2023 | Visual comfort analysis of various window-shadings for office buildings in Kabul, Afghanistan. Journal of Architecture, Planning & Construction Management, 13 (1) pp. 64-76 |
| 2022 | Adaptive isolated personal workstation pod. REIID: Recapitulate Invention, Innovation, and Design, 1 (1) pp. 41-43 |
| 2022 | Parametric design of a turtle rehabilitation centre. REIID: Recapitulate Invention, Innovation, and Design, 1 (1) pp. 79-84 |
| 2021 | A numerical investigation on the impacts of voids combinations on natural ventilation of high-rise residential building. Open House International, 46 (2) pp. 304-324 |
| 2021 | Assessing the insights on experiential learning using the augmented reality exploration. International E-Journal of Advances in Education, 6 (18) pp. 306-314 |
| 2021 | Effective daylight design strategies of colonial mosques in Malaysia. Asian Journal of Environment-Behaviour Studies, 6 (18) pp. 27-45 |
| 2021 | Rethinking good quality of life for high-density urban housing 64 community. HABITAT 2020 MAGAZINE; Housing For All: A Better Urban Future, () pp. 64-66 |
| 2021 | Significant design attributes for outdoor learning environment in higher learning institutions. Journal of Architecture, Planning and Construction Management (JAPCM), 11 (1) pp. 91-99 |
| 2021 | Sustainability of Malay wood craftsmanship symbolism in deciphering Malaysia's architectural identity. Proceedings of DARCH 2021 1st International Conference on Architecture & Design, () pp. 37-56 |
| 2021 | The impacts of introducing voids combinations on indoor ventilation performance in high-rise residential buildings. Engineering, Construction and Architectural Management, () pp. 1-24 |
| 2021 | The role of home pocket garden to achieve quality of life during the pandemic era. Environment-Behaviour Proceedings Journal, 6 (18) pp. 271-281 |
| 2021 | Urban home gardening: inspiring endeavours during the Covid-19 pandemic at a terrace housing area. Habitat Magazine, 12 () pp. 86-89 |
| 2020 | A nosedive into Bertapak Buana. Design Ideals Journal, 2 (1) pp. 8-14 |
| 2018 | Architectural history education: students' perception on mobile augmented reality learning experience. Advanced Science Letters, 24 (11) pp. 8171-8175 |
| 2018 | Design analysis to achieve green/eco school building design typology for Malaysia. Planning Malaysia, 16 (2) pp. 39-49 |
| 2018 | Experimenting technology enhancement active learning with support of mobile device, gamification and augmented reality application. Advanced Science Letters, 24 (11) pp. 7871-7875 |
| 2018 | Mobile augmented reality learning: design exploration toward student learning trends. Advanced Science Letters, 24 (11) pp. 7890-7894 |
| 2017 | Architectural heritage restoration of Rumah Datuk Setia via mobile augmented reality restoration. Planning Malaysia : Journal of the Malaysian Institute of Planners, 15 (1) pp. 139-150 |
| 2017 | Go virtual: exploring augmented reality application in representation of steel architectural construction for the enhancement of architecture education. Advanced Science Letters, 23 (2) pp. 804-808 |
| 2017 | Go virtual: Exploring the potential of adaptive e-learning platform for dissemination of architectural knowledge. Advanced Science Letters, 23 (7) pp. 6318-6321 |
| 2017 | Naturally ventilated colonial school classrooms in Malaysia are conducive to learning environment. Advanced Science Letters, 23 (2) pp. 830-833 |
| 2017 | The implementation of environmental education and green programs in schools to achieve sustainability. Advanced Science Letters, 23 (7) pp. 6261-6265 |
| 2014 | Achieving cooler soil as an effective heat sink for earth-to-air heat exchanger(EAHE)cooling technology in Malaysia tropical climate. Natural Resources, 5 (13) pp. 804-809 |
| 2014 | Seeking underground for potential heat sink in Malaysia for earth air heat exchanger (EAHE) application. Australian Journal of Basic and Applied Sciences, 8 (8) pp. 54-57 |
| 2012 | Passive ground cooling system for low energy buildings in Malaysia (hot and humid climates). Renewable Energy, 49 () pp. 193-196 |
Conference or Workshop Item
| | |
| --- | --- |
| 2023 | Assessment of indoor thermal condition on traditional vernacular masjid: a case study on Masjid Kampung Laut, Malaysia. In: 6th International Conference on Architecture and Civil Engineering, ICACE 2022, |
| 2023 | Assessment of indoor thermal condition on traditional vernacular masjid: a case study on Masjid Kampung Laut, Malaysia. In: 6th International Conference on Architecture and Civil Engineering, ICACE 2022, |
| 2023 | Inference of Sejahtera Academic Framework (SAF) principles in architecture pedagogy at DoA-KAED, IIUM. In: 2nd International Conference on Contemporary Academic Research (ICCAR 2023), |
| 2023 | Pedestrian perception on walkability in the royal town of Klang: a case study of Jalan Tengku Kelana and Jalan Dato Hamzah, Bandar Klang. In: DARCH 2023 April - 4th International Conference On Architecture & Design, |
| 2023 | The assessment of thermal comfort performance in bamboo ecotourism infrastructure in the tropical climate of Malaysia. In: 2nd International Conference on Multidisciplinary Research and Practices (ICMRP-2023), |
| 2023 | The impact of foliage coverage on green facade towards urban heat island in Klang Valley. In: 2nd International Conference on Multidisciplinary Research and Practices (ICMRP-2023), |
| 2023 | The impacts of Muslim funerary practices to the urban heat island (UHI) in metropolitan regions of Malaysia. In: 2nd International Conference on Multidisciplinary Research and Practices (ICMRP-2023), |
| 2023 | The potential of atrium design to maximize the passive cooling effect for low-rise public buildings in Malaysia. In: 2nd International Conference on Multidisciplinary Research and Practices (ICMRP-2023), |
| 2022 | Assessment of architectural research domains among students in Master of Architecture program. In: DARCH 2022- 2nd International Conference on Architecture & Design, |
| 2022 | Evaluation of online teaching pedagogy's (OTP) effectiveness of history and the theory of architecture subject on undergraduates students' active experiential learning and course learning outcomes at KAED, IIUM. In: DARCH 2022- 2nd International Conference on Architecture & Design, |
| 2022 | Evaluation of online teaching pedagogy's (OTP) effectiveness of history and theory of architecture subject on undergraduates students' active experiential learning and course learning outcomes at KAED, IIUM. In: 2nd International Conference on Architecture & Design, |
| 2022 | Integration of environmental BIM analysis with design projects in the pedagogy of architectural education. In: DARCH 2022 - 2nd International Conference on Architecture & Design, |
| 2022 | Passive architectural solutions to reduce energy consumption for chalets at the Kapas Island, Malaysia. In: DARCH 22 2nd International Conference on Architecture & Design, |
| 2022 | Revitalise lost wood carving motifs for Rumah Kutai in KAED, IIUM. In: Recapitulate Invention, Innovation & Design 2021, |
| 2022 | Through his eyes: thoughts of Hajeedar on national architectural identity of Malaysia. In: DARCH 2022- 2nd International Conference on Architecture & Design, |
| 2021 | Passive daylighting design strategies of colonial mosques in Malaysia. In: 9thAsian Conference on Environment-Behaviour Studies, |
| 2021 | Solar power assessment for photovoltaic installation in Malaysia University Campus. In: 2021 Third International Sustainability and Resilience Conference: Climate Change:The Sustainability and Resilience 2021, |
| 2021 | Sustainability of Malay Wood Craftsmanship Symbolism in Deciphering Malaysia's Architectural Identity. In: DARCH2021 1st International Conference on Architecture and Design, |
| 2021 | Sustainability of Malay wood craftsmanship symbolism in deciphering Malaysia's architectural identity.. In: DARCH 2021- 1st International Conference on Architecture & Design, |
| 2021 | The significant impact of home pocket garden on the quality of life during the pandemic era. In: 5th ABRA International Conference on Quality of Life, |
| 2020 | Assessing the insights on experiential learning using the augmented reality exploration. In: ADVED 2020: 6th International Conference on Advances in Education, |
| 2019 | Go green in architecture. In: 2nd International Conference in Chemistry, Industry and Environment 2019, |
| 2019 | Innovative teaching of anthropometric through morphosis dualfunction chair design and build. In: National Innovation Invention in Engineering and Built Environment (PRIN-KAB 2019), |
| 2019 | Interfaced environment for the teaching of subjects on building construction and materials: showcases of two experimentations. In: 2nd. International Conference on Chemistry, Industry and Environment, |
| 2019 | Passive design strategies of colonial mosques in Malaysia. In: Mediterranean Green Forum 5 2019, |
| 2017 | Architectural history education: students' perception on mobile augmented reality learning experience. In: 2017 3rd International Conference on Education, |
| 2017 | Enhancing the environment of paediatric oncology unit the Malaysian way: Review, revive, recommend. In: European Healthcare Design 2017, |
| 2017 | Evolution of infectious disease ward design in Malaysia : Case study. In: International Union of Architects' Public Health Group (UIA-PHG) Annual Meeting, |
| 2017 | Experimenting technology enhancement active learning with support of mobile device, gamification and augmented reality application. In: 2017 3rd International Conference on Education (ICOED 2017, |
| 2017 | Integrating augmented reality visualisation in the implementation of blended learning: showcases of two experimentations. In: International Conference for Blended Learning 2017, |
| 2017 | Mobile augmented reality learning: design exploration toward student learning trends. In: 2017 3rd International Conference on Education (ICOED 2017), |
| 2016 | Architectural heritage restoration of Rumah Datuk Setia via mobile augmented reality restoration. In: International Conference on Architecture & Built Environment (ICABE 2016), |
| 2016 | Go virtual: exploring augmented reality application in representation of steel architectural construction for the enhancement of architecture education. In: 2016 International Conference on Education (ICOED), |
| 2016 | Go virtual: exploring the potential of adaptive e-learning platform for dissemination of achitectural knowledge. In: International Conference on Architecture & Built Environment (ICABE 2016), |
| 2016 | Housing space quality towards quality of life: a case study of double storey terrace houses. In: The 4th International Building Control Conference 2016 (IBCC 2016), |
| 2016 | Naturally ventilated colonial school classrooms in Malaysia are conducive to learning environment. In: 2016 International Conference on Education (ICOED), |
| 2015 | Passive cooling system for a sustainable future in hot-humid climate . In: International Conference on Sustainable Future for Human Security (SustaiN2015), |
| 2014 | A review on contribution of landscape settings in hot-humid region towards modification of outdoor microclimate. In: UMRAN 2014 , |
| 2014 | Extracting the principles of sustainability from the architecture of colonial hospitals in Malaysia: appreciating the past wisdoms as best practices. In: XXVth International Union of Architects World Congress, |
| 2014 | Materials for the earth air pipe heat exchanger (eaphe) system as a passive ground cooling technology for hot-humid climate. In: 2nd International Conference on Emerging Trends In Scientific Research (ICETSR-2014), |
| 2014 | Provision of spaces and space quality in housing area towards quality of life: case study of Taman Melati Mastika, Gombak . In: UMRAN 2014 , |
| 2014 | Seeking underground for potential heat sink in Malaysia for Earth air heat exchanger (EAHE) application. In: The International Conference on Emerging Trends in Scientific Research (ICETSR 2014), |
| 2014 | The impact of landscape setting and architectural element on the outdoor and indoor microclimate: a case study of Masjid Al-Mukarramah, Bandar Sri Damansara . In: UMRAN 2014 Seminar: Fostering Ecosphere in the Built Environment, |
| 2014 | The impact of the outdoor design and architectural dimension of Masjid Shas towards microclimate. In: UMRAN 2014 , |
| 2014 | The quality of housing environment and green open space towards quality of life. In: UMRAN2014: Fostering Eco-Sphere in The Built Environment, |
| 2013 | Assessing the impact of landscape setting on the microclimate of outdoor spaces in hot-humid regions towards mitigating urban heat island - a preliminary investigation . In: International Conference on Architecture and Built Environment 2013 (ICABE2013) , |
| 2013 | ECOTECT analysis: integration of architectural studio project with theory classroom assignment through computer simulation. In: The European Conference on Education ECE 2013 , |
| 2013 | Enlighten architecture students on environmental design through computer simulation. In: Developing Sustainability Knowledge for the Education of Future Architects in the 21st Century, |
| 2013 | Parametric study of earth-to-air heat exchanger in Malaysian climate. In: The Asian Conference on Sustainability, Energy and the Environment 2013, |
| 2012 | Ecotect: as part of the learning experience for young architecture students to raise awareness in environmental responsive building design. In: Malaysian Architectural Education Conference (MAEC) 2012, |
| 2012 | Seeking underground for potential heat sink in Malaysia . In: KAED Presentation Day Series 1/2012, |
| 2012 | The potential of low energy earth pipe cooling in hot and humid Malaysia. In: International Conference on Green in the Built Environment (ICGBE) 2012, |
Book Section
| | |
| --- | --- |
| 2022 | Comparative studies of colonial architecture influences during colonization. In: KAED Universal Design Unit (KUDU), ISBN: 978-983-3142-46-0, pp. 37-48 |
| 2021 | Bamboo: the forgotten versatile materials. In: Springer, Cham, ISBN: 978-3-030-71699-8, pp. 1-17 |
| 2019 | Climatic Adaptations of Colonial School Buildings in Malaysia. In: Springer, ISBN: , pp. 275-292 |
| 2019 | Climatic Adaptations of Colonial School Buildings in Malaysia. In: Springer, ISBN: , pp. 275-292 |
| 2019 | Innovative teaching of anthropometric through morphosis-dual function chair design and build. In: Centre of Engineering and Built Environment Education Research (PeKA) Faculty of Engineering and Built Environment Universiti Kebangsaan Malaysia, ISBN: 9789832982609, pp. 33-38 |
| 2019 | Passive design strategies of colonial mosques in Malaysia. In: Springer, ISBN: , pp. |
| 2015 | Low-energy earth–air heat exchanger cooling system for buildings in hot and humid malaysia. In: Springer, ISBN: 331917777X, 9783319177779, pp. 515-528 |
Monograph