Staff Directory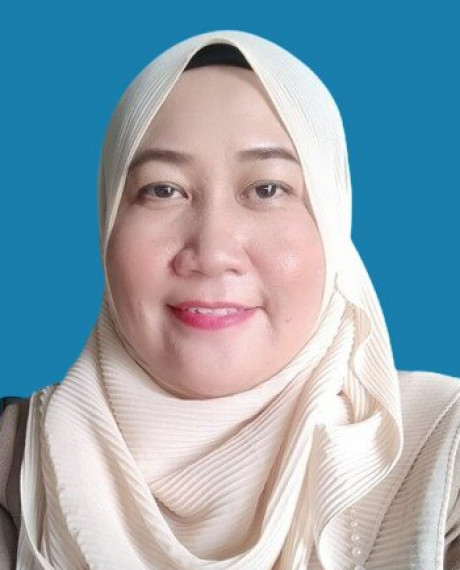 Academic Qualification
Ph.D in Malay Language - Doctor of Philosophy, Universiti Malaya (UM)
Master of Science (Educational Administration) - Masters Degree, Universiti Putra Malaysia (UPM)
Bachelor of Arts (Linguistic & Communication) - Bachelor Degree, Universiti Putra Malaysia (UPM)
Arina Binti Johari (Dr.)
Assistant Professor
IIUM Pagoh Campus
KULLIYYAH OF LANGUAGES AND MANAGEMENT
---
Expert Profile
Arina Johari obtained her
first double major
degree in Malay Language and Linguistics
(1
st
major
) and
Journalism
(2
nd
 major) from University of Putra Malaysia (UPM) in 1999; a
 Master of Science (Executive)
 in
Educational Administration  at the same university in 2002
;
 and a PhD in Pragmatics (Malay Language) at  University of Malaya
 in 2019
.
Arina has approximately 20 years of work experience in the field of Malay language  by starting her career as a journalist at education desk,
Berita Harian Sdn. Bhd. (News Straits Time Press or NSTP) in 1999-2000 and as an Editor at Syarikat Fajar Bakti (2000). She
 was also
started her teaching career in 2002 as a MARA teacher at MARA Junior Science College (MRSM) Gerik in 2002-2003 and MRSM Muar (2003-2004
) while
i
n 2004, she started working as a lecturer at
Centre for Languages and Pre-University Academic Development (
Celpad), IIUM until 2013; and as a senior lecturer at Kulliyyah of Languages and Management (KLM) to date.
Showing an effort and passionate in the  Malay language teaching field, she was appointed as an instructor for the Bahasa Melayu Kerjaya and Public Speaking Course to the Professional Education Officer (Principles) under the Ministry of Education (MOE) at Kulliyyah of Education (KOED) in 2008-2012; and also to non-academic staff in advance courses offered by the IIUM Centre For Continuing Education  (ICCE) in 2011-2012. She is also active as an invited speaker in Public Speaking workshop for principles and teachers; Malay language proficiency
for
students organized by the Bitara Schools and Cluster Schools of Excellence around Gombak (2009-2011) and Muar (2016 -present).
  Apart from teaching, Arina is also actively involve in the assessment of the  Malay language curriculum offered by  the public and private universities upon her appointment as a Panel Assessor by the
Malaysian Qualification Association
 (MQA) since  2011-present. With the expertise, she was appointed as one of the Curriculum Committee to design the content of LM 2023 Bahasa Melayu for Science Social and LM 2027
Bahasa Melayu Science and Technology course (2011) while serves in CELPAD. She was also appointed as the main committee in order to develop the curriculum content of the Bachelor of Malay Language for International Communication (MLCOM) program for the establishment of the KLM in 2012. On the contribution  of this expertise, she has appointed by the university as  an
Academic Quality Assurance Lia
i
son (AQAL) for KLM
 from
13 March 2019 - 30 June 2021 and Member of Curriculum Review Main Committee to monitor/assess the academic quality of four programs offered by the KLM - Bachelor of English for International Communication (ENCOM), Bachelor of Arabic for International Communication (ARCOM), Bachelor of Malay for Academic Communication (MLCOM) and Bachelor of Tourism, Planning and Hospitality Management (TPHM).  
She is currently serves in the department of Malay Language, KLM as an instructor of the MLCOM program; as a Chairperson of Curriculum Review Committee (Undergraduate Program) - MLCOM 2021-2022; and the Department's Person In-Charge for MOU (2021-present).
Area of Specialisation
Humanities ~ Humanities ~ Linguistics and Literature ~ Discourse Studies (Including Critical Linguistics, Text Linguistics, Mediated Discourse Analysis, CDA, Genre Studies, Genre Analysis, Conversation Analysis, Social Interactions Analysis (Macro and Micro), Semiotics) - Pragmatics/ Politeness.
Professional Membership
2021: Member of Profesional Body / Association: (AHLI SEUMUR HIDUP), PERSATUAN LINGUISTIK MALAYSIA
Teaching Responsibilities
| | |
| --- | --- |
| BAHASA MELAYU FOR SCIENCE | 2006/2007 2005/2006 |
| BAHASA MELAYU KERJAYA (SAINS SOSIAL) | 2021/2022 2012/2013 2011/2012 |
| BAHASA MELAYU LANJUTAN | 2008/2009 2007/2008 2005/2006 2004/2005 |
| BAHASA MELAYU UNTUK KERJAYA | 2012/2013 2011/2012 2010/2011 2009/2010 2008/2009 2007/2008 2006/2007 2005/2006 2004/2005 010301 |
| ETIKA SOSIAL, PROTOKOL DAN KOMUNIKASI | 2021/2022 |
| FINAL YEAR PROJECT | 2022/2023 2021/2022 2020/2021 2019/2020 2018/2019 |
| INTERNSHIP | 2022/2023 2021/2022 2020/2021 2019/2020 2018/2019 |
| INTERNSHIP 1 | 2018/2019 2017/2018 |
| INTERNSHIP 2 | 2017/2018 |
| KESANTUNAN BERBAHASA | 2023/2024 2022/2023 2021/2022 2020/2021 2019/2020 2018/2019 |
| KOMUNIKASI ANTARA BUDAYA | 2023/2024 2022/2023 2021/2022 2020/2021 2019/2020 2018/2019 |
| KOMUNIKASI PERNIAGAAN | 2011/2012 2010/2011 2009/2010 2008/2009 |
| MALAY FOR ACADEMIC WRITING | 2018/2019 |
| MORFOLOGI DAN SINTAKSIS | 2019/2020 |
| PRAGMATIK DAN WACANA | 2023/2024 2022/2023 2021/2022 2020/2021 2019/2020 2018/2019 |
| SUSTAINABLE DEVELOPMENT: ISSUES, POLICIES AND PRACTICES | 2021/2022 2020/2021 |
Research Projects
Completed
On-Going
| | |
| --- | --- |
| 2022 - Present | PEMBINAAN MODUL TATABAHASA BAHASA MELAYU BAGI PELAJAR ANTARABANGSA KOLEJ UNIVERSITI ISLAM PERLIS (KUIPs) BERDASARKAN MODEL ADDIE |
| 2016 - Present | A Framework for the Application of Cultural Intelligence's Skills in the Teaching and Learning Among Academics at Malaysian Higher Education Institution |
Award & Recognition
| | | |
| --- | --- | --- |
| 24 Jul, 2022 | BEST TEACHING INNOVATION AWARD - PROJECT-BASED LEARNING - KLM IIUM | KCDIO |
| 24 Sep, 2021 | SAGUHATI SAYEMBARA POSTER KAJIAN 2021 - KEMENTERIAN PENGAJIAN TINGGI DAN DBP | KCDIO |
| 11 Jul, 2021 | BEST ACADEMIC AWARD 2021 - KLM TAKRIM DAY 2021 | KCDIO |
Publications
Article
| | |
| --- | --- |
| 2022 | Motivasi dalam peribahasa Melayu. Pelita Bahasa DBP, Jun 2022 (06) pp. 37-38 |
| 2022 | Pendekatan Pengurusan: Aplikasi Prinsip Kepimpinan dalam Filem Downfall. INTERNATIONAL YOUNG SCHOLARS JOURNAL OF LANGUAGES, 5 (1) pp. 106-117 |
| 2022 | Perancangan rapi dalam Silir Daksina dari perspektif pendekatan pengurusan. Jurnal Pengajian Melayu (JOMAS), 33 (2) pp. 118-145 |
| 2022 | Unsur Konflik Dalam Kartun 'Aku Budak Minang': Kajian Dari Perspektif Teori Humanistik Abraham Maslow. Jurnal Rentas Sastera, Bahasa Dan Budaya Melayu, 1 () pp. |
| 2021 | Fauna dalam peribahasa Melayu. Pelita Bahasa, BIL. 09/2021 () pp. 35-36 |
| 2021 | Perilaku negatif dalam peribahasa Melayu. Pelita Bahasa, (BIL.12/2021) pp. 36-37 |
| 2021 | Teori relevans: analisis makna implisit dalam drama komedi Kampung People 2. International Young Scholars Journal of Languages, 4 (1) pp. 159-176 |
| 2021 | ملامح التداولية في النصوص العربية: مقامات الزمخشري أنموذجًا. دراسات في السردانية العربية, 2 (1) pp. 1-29 |
| 2018 | Kesantunan Melayu: analisis konteks perbualan dalam rancangan bual bicara = Malay politeness: conversational context analysis in talk show. GEMA Online: Journal of Language Studies, 18 (4) pp. 168-185 |
| 2017 | Kesantunan berbahasa dalam rancangan bual bicara di Ikimfm.. International Young Scholars Journal of Languages, 2 (1) pp. 41-48 |
| 2016 | Aplikasi strategi kesantunan dalam rancangan bual bicara motivasi diri radio IKIMfm = Applications of politeness strategies in motivational talk shows on IKIMfm radio. Jurnal Bahasa, 16 (1) pp. 120-152 |
| 2016 | Manifestasi kesantunan Melayu dalam ujaran memberi dan meminta nasihat=Manifestation of Malay politeness in asking and giving advice. GEMA Online Journal of Language Studies, 16 (2) pp. 73-94 |
| 2014 | Dilarang membuang sampah. Dewan Masyarakat, (6) pp. 27-29 |
| 2014 | Errors analysis of Malay compound sentences of foreign language learners. Middle-East Journal of Scientific Research 20 (Language for Communication and Learning), 20 () pp. 118-121 |
| 2014 | Filem kita wajah kita. Dewan Bahasa, (6) pp. 20-23 |
Conference or Workshop Item
| | |
| --- | --- |
| 2022 | APLIKASI PRINSIP PERANCANGAN DALAM KARYA TERPILIH JERMAN, DOWNFALL: SATU BACAAN PENDEKATAN PENGURUSAN. In: Kolokium Bahasa, Budaya & Sastera anjuran Jabatan DOML, KLM IIUM & Institusi Pendidikan Guru Kampus Tuan Abdul Razak Kota Samarahan Sarawak., |
| 2021 | Aplikasi prinsip perancangan dalam filem paskal berdasarkan pendekatan pengurusan. In: Persidangan Antarabangsa Sains Sosial dan Kemanusiaan ke-6 (PASAK6 2021), |
| 2021 | Aspirasi Dakwah dalam Novel 99 Cahaya di Langit Eropa. In: KOLOKIUM KEBANGSAAN PENGAJIAN MELAYU: MEREKAYASA PENYELIDIKAN LINGUISTIK, BAHASA DAN BUDAYA MELAYU, |
| 2021 | Collaborative Online Learning: A Cultural Intelligence Experience (Politeness) Among Malay And Japanese Students. In: 3rd Webinar on Educational Linguistics (Politeness: A Cultural Intelligence Perspectives on Global Practice, |
| 2021 | LAKUAN BAHASA EKSPRESIF SEBAGAI STRATEGI KOMUNIKASI GURU DALAM PENGAJARAN DAN PEMBELAJARAN DI RUMAH (PdPR). In: PERSIDANGAN ANTARABANGSA BAHASA, SASTERA DAN BUDAYA MELAYU (RENTAS) 2021, |
| 2021 | Pengaplikasian teori konseptual kata kunci dalam filem "Perempuan Berkalung Sorban". In: Persidangan Antarabangsa Sains Sosial dan Kemanusiaan ke-6 (PASAK6 2021), |
| 2021 | Pengelasan Gerak Bukan Ruang Berdasarkan Teori Struktur Konseptual. In: PERSIDANGAN ANTARABANGSA BAHASA, SASTERA DAN BUDAYA MELAYU (RENTAS) 2021, |
| 2021 | PENGELASAN GERAK BUKAN RUANG BERDASARKAN TEORI STRUKTUR KONSEPTUAL. In: SEMINAR BAHASA DAN BUDAYA MELAYU, |
| 2021 | Poster Strategi Ketidaksantunan Bahasa Dalam Komunikasi Interaktif Isu Pandemik Covid-19 di Media Sosial. In: SAYEMBARA POSTER KAJIAN 2021 SEMPENA DEKAD BAHASA KEBANGSAAN KPT, |
| 2021 | Representasi argumen kata kerja gerak ruang bersifat arah dalam dialek Perak utara 'PI' berdasarkan teori struktur konseptual. In: 4th International Conference of Languages, Education and Tourism (ICLET) 2021, |
| 2021 | STRATEGI PERANCANGAN DALAM FILEM BUKIT KEPUNG. In: KOLOKIUM KEBANGSAAN PENGAJIAN MELAYU: MEREKAYASA PENYELIDIKAN LINGUISTIK, BAHASA DAN BUDAYA MELAYU, |
| 2021 | TERAPAN PENDEKATAN DAKWAH DALAM LIRIK-LIRIK LAGU DENDANGAN. MAHER ZAIN. In: Persidangan Antarabangsa Sains Sosial dan Kemanusiaan ke-6 (PASAK6 2021) – Dalam Talian 9 & 10 November 2021, |
| 2021 | Unsur Konflik dalam Kartun'Aku Budak Minang'. In: PERSIDANGAN ANTARABANGSA BAHASA, SASTERA DAN BUDAYA MELAYU (RENTAS) 2021, |
| 2020 | Komunikasi visual dalam infografik khidmat masyarakat Covid-19 di media sosial. In: Webinar NARADATA 2020 Bahasa, Sastera dan Budaya Penyelidikan Bahasa, Sastera dan Budaya dalam Era Pandemik, |
| 2020 | Retorik persuasif dalam teks khutbah era pandemik Covid-19. In: Webinar NARADATA 2020 Bahasa, Sastera dan Budaya Penyelidikan Bahasa, Sastera dan Budaya dalam Era Pandemik, |
| 2019 | Relationship between strategies and maxims combination pattern with Malay politeness in radio talk show. In: First International Conference on Advances in Education, Humanities, and Language (ICEL), |
| 2016 | Kursus pengucapan awam. In: KURSUS PENGUCAPAN AWAM, |
| 2013 | Analisis kesalahan umum struktur ayat majmuk oleh pelajar asing. In: International Language for Communication Conference (ILCC 2013): Engaging Global Community: Breaking the Barries to Effective Communication, |
| 2011 | MENINJAU PERSPEKTIF AMALAN KESANTUNAN BERBAHASA BERLANDASKAN ISLAM DI IPT. In: PERSIDANGAN ANTARABANGSA BAHASA, SASTERA DAN BUDAYA MELAYU (RENTAS) 2021, |
Book
Book Section