Staff Directory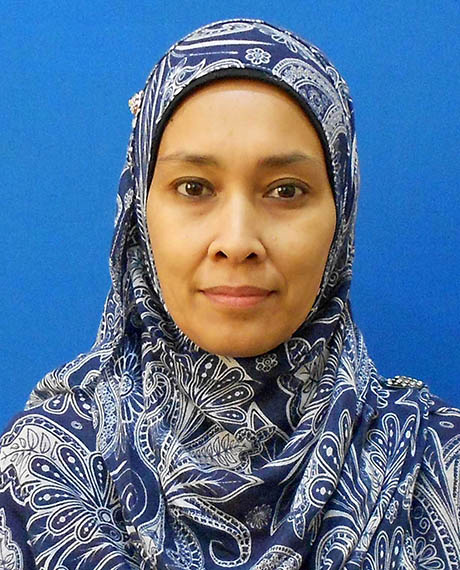 Academic Qualification
Doctor - Doctor of Philosophy, Anglia Ruskin University, UK
Doctor of Philosophy in Optometry - Doctor of Philosophy, Anglia Ruskin University
Master of Health Science (Optometry) - Masters Degree, Universiti Kebangsaan Malaysia (UKM)
Bachelor of Optometry (Honours) - Bachelor Degree, Universiti Kebangsaan Malaysia (UKM)
Norsham Bt Ahmad (Dr.)
Assistant Professor
IIUM Kuantan Campus
KULLIYYAH OF ALLIED HEALTH SCIENCES

Other's position:
Head, Kulliyyah of Allied Health Sciences
---
Expert Profile
Norsham bt Ahmad was awarded a B.Optom (Hons) in 1997 from Universiti Kebangsaan Malaysia (UKM). After her graduation, she worked as an Optometrist at a private practice for almost 10 years. She joined IIUM in 2005 as a lecturer and completed her Master's degree (MHSc) in 2007 at UKM, and Ph.D at the Anglia Ruskin University, Cambridge in 2014.
As one of the pioneer lecturers in the Kulliyyah of Allied Health Sciences, she was appointed as Head of Optometry Department in 2006 till 2007. In 2006, she was appointed by MQA as a panel of assessor for Optometry programmes.
Dr Norsham is currently a consultant optometrist at the Paediatric Optometry clinic and Primary Clinic Optometry within the Optometry Department.
Area of Specialisation
Medical And Health ~ Medical And Health Sciences ~ Optometry ~ Vision Sciences - psychophysics
Professional Membership
Member of Profesional Body / Association: (lifetime member), Association of Malaysian Optometrists
1997: Member of Profesional Body / Association: (lifetime member), Majlis Optik Malaysia
2018: Member of Profesional Body / Association: (Executive member/Founding Fellow), Pertubuhan Akademi Optometri Malaysia (PAOM)
Teaching Responsibilities
| | |
| --- | --- |
| BINOCULAR VISION AND OCULAR MOTILITY | 2019/2020 |
| CASE MANAGEMENT 1 | 2021/2022 2020/2021 2019/2020 2016/2017 2015/2016 |
| CASE MANAGEMENT 2 | 2021/2022 2020/2021 2019/2020 2018/2019 2015/2016 2014/2015 |
| CLINICAL BINOCULAR VISION | 2017/2018 2016/2017 2008/2009 |
| CLINICAL OPTOMETRY 1 | 2016/2017 2015/2016 |
| CLINICAL OPTOMETRY 2 | 2015/2016 2014/2015 |
| CLINICAL OPTOMETRY 3 | 2016/2017 2015/2016 2014/2015 2007/2008 2006/2007 |
| CLINICAL OPTOMETRY 4 | 2008/2009 |
| CONTACT LENS CLINIC 1 | 2018/2019 |
| CONTACT LENS CLINIC 2 | 2018/2019 |
| CRITICAL THINKING IN HEALTHCARE | 2019/2020 |
| INVESTIGATIVE PROJECT 1 | 2022/2023 2021/2022 2020/2021 2019/2020 2017/2018 2016/2017 2015/2016 2014/2015 |
| INVESTIGATIVE PROJECT 2 | 2022/2023 2021/2022 2020/2021 2019/2020 2018/2019 2016/2017 2015/2016 2014/2015 |
| LOW VISION | 2020/2021 |
| MONOCULAR VISUAL PROCESS | 2016/2017 2015/2016 2014/2015 |
| OCULAR ANATOMY | 2015/2016 2014/2015 |
| OCULAR ANATOMY & PHYSIOLOGY 1 | 2018/2019 2017/2018 2016/2017 |
| OCULAR ANATOMY & PHYSIOLOGY 2 | 2021/2022 2020/2021 2019/2020 2018/2019 2017/2018 2016/2017 |
| OCULAR DISEASES 1 | 2006/2007 |
| OCULAR DISEASES 2 | 2007/2008 |
| OCULAR PHYSIOLOGY | 2016/2017 2015/2016 2014/2015 |
| OPHTHALMIC OPTICS & DISPENSING 2 | 2006/2007 |
| OPHTHALMOLOGY POSTING | 2006/2007 |
| OPTICS 2 | 2006/2007 |
| OPTOMETRIC ANALYSIS | 2021/2022 2020/2021 2019/2020 2018/2019 |
| OPTOMETRIC DECISION MAKING | 2022/2023 2021/2022 2020/2021 2019/2020 2018/2019 |
| OPTOMETRY CLINIC 1 | 2017/2018 2015/2016 2014/2015 2006/2007 |
| OPTOMETRY CLINIC 2 | 2018/2019 2017/2018 2016/2017 2015/2016 2014/2015 |
| OPTOMETRY CLINIC 3 | 2018/2019 2017/2018 2016/2017 2015/2016 2014/2015 |
| OPTOMETRY SPECIALIZATION: PEDIATRICS | 2008/2009 2007/2008 |
| ORTHOPTICS | 2007/2008 2006/2007 |
| PAEDIATRIC OPTOMETRY | 2022/2023 2021/2022 2020/2021 2019/2020 2018/2019 2017/2018 2016/2017 2015/2016 2014/2015 |
| PAEDIATRICS AUDIOLOGY AND SPEECH | 2018/2019 |
| Paediatrics for Audiology and Speech Sciences | 2022/2023 |
| PRIMARY OPTOMETRY CLINIC 1 | 2022/2023 2021/2022 2020/2021 2019/2020 2018/2019 |
| PRIMARY OPTOMETRY CLINIC 2 | 2022/2023 2021/2022 2020/2021 2019/2020 |
| PRIMARY OPTOMETRY CLINIC 3 | 2022/2023 2021/2022 2020/2021 2019/2020 |
| PSYCHOLOGY FOR OPTOMETRY | 2006/2007 |
| PUBLIC HEALTH OPTOMETRY | 2020/2021 2017/2018 |
| REFRACTIVE EXAMINATION | 2017/2018 2016/2017 |
| SPECIALISATION CLINICS 1 | 2008/2009 2007/2008 |
| SPECIALISATION CLINICS 2 | 2007/2008 |
| SPECIALIZATION CLINIC A 1 | 2022/2023 2021/2022 2020/2021 2019/2020 |
| SPECIALIZATION CLINIC A 2 | 2021/2022 2020/2021 2019/2020 |
| SPECIALIZATION CLINIC B 1 | 2022/2023 2021/2022 2020/2021 2019/2020 |
| SPECIALIZATION CLINIC B 2 | 2022/2023 2021/2022 2020/2021 2019/2020 |
| SPECIALIZATION CLINICS 1 | 2018/2019 2017/2018 2016/2017 2015/2016 2014/2015 |
| SPECIALIZATION CLINICS 2 | 2018/2019 2015/2016 2014/2015 |
| VISUAL PERCEPTION | 2022/2023 2021/2022 2020/2021 2019/2020 2018/2019 2017/2018 |
Research Projects
Completed
| | |
| --- | --- |
| 2019 - 2021 | IIUM Blue Light Hazard App: Transferring Optical Knowledge on the Circadian and Retinal Hazard of Blue Light to the Malaysian Optometrists |
| 2017 - 2019 | Impact of multiple types of pterygium on the anterior corneal curvature and changes in ocular surface features |
| 2017 - 2021 | The Effect of Short-term Smartphone Usage on Tear Film Dynamics and Visual System |
| 2016 - 2020 | The investigation of factors that affect intraocular pressure (IOP) in a selected healthy Malaysian population. |
| 2016 - 2020 | Modified LogMAR chart: A new insight into visual acuity assessment |
| 2016 - 2020 | Assessment of Ocular Profiles in Laser Refractive Surgery |
| 2015 - 2018 | The Influence of Blood Sugar Level on Visual Functions and Ocular Surface Changes in Diabetes in School Children |
On-Going
| | |
| --- | --- |
| 2020 - Present | Prototype for Multi-purpose Solution (MPS) of Contact Lenses with Advanced Formulation against Acanthamoeba (K-CARE). |
Award & Recognition
| | | |
| --- | --- | --- |
| 02 Sep, 2022 | Dry Eye Certificate Module 4 - Alcon Dry Eye Academy 2022 | National |
| 26 Aug, 2022 | Dry Eye Certificate Module 3 - Alcon Dry Eye Academy 2022 | National |
| 22 Aug, 2022 | Dry Eye Certificate Module 2 - Others | National |
| 28 Dec, 2020 | Silver Medal - Others | National |
| 13 May, 2017 | Best Research Award - Others | University |
| 13 May, 2017 | Best research award - Management & Science University | National |
Publications
Article
| | |
| --- | --- |
| 2021 | An exploratory study of optic nerve head vascular fractal dimension (DF) and its association with diabetes mellitus risk factors. International Journal of Allied Health Sciences (IJAHS), 5 (3 Special Issue) pp. |
| 2021 | The effect of body posture changes and central corneal thickness on the intraocular pressure among healthy Malays. Walailak Journal of Science and Technology, 18 (6) pp. 1-8 |
| 2020 | Binocular vision problem and amblyopia cases in IIUM Optometry Clinic: a retrospective analysis. International Journal of Allied Health Sciences, 4 (1) pp. 988-999 |
| 2020 | Characterizing protection ability of blue blocking lenses using k-means clustering. Journal of Mechanics of Continua and Mathematical Sciences, Special Issue (9) pp. 249-258 |
| 2020 | Effectiveness of PTechSIA questionnaire in quantifying phacoemulsification surgical technique variations: a pilot study. International Journal of Allied Health Sciences, 4 (1) pp. 1057-1062 |
| 2020 | Intraocular pressure : the effect of short-term fasting and its association with fluid and fat status. Malaysian Journal of Medicine and Health Sciences, 16 (2) pp. 180-186 |
| 2020 | Intraocular pressure: the effect of short-term fasting and its association with fluid and fat status. Malaysian Journal of Medicine and Health Sciences, 16 (2) pp. 180-186 |
| 2020 | The association between astigmatic anisometropia with visual acuity and stereopsis. International Journal of Allied Health Sciences, 4 (1) pp. 1092-1098 |
| 2020 | The consistency of retinal image size measurement using smartphone application. Malaysian Journal of Medicine and Health Sciences (MJMHS), 16 (3) pp. 15-20 |
| 2020 | The prevalence of pterygium and pinguecula in a clinic population. International Journal of Allied Health Sciences, 4 (1) pp. 1000-1010 |
| 2020 | Visual functions in pediatrics, adults and elderly in Bandar Indera Mahkota, Kuantan, Pahang: a comparison study. International Journal of Allied Health Sciences (IJAHS), 4 (1 Special Issue: Optometry and Vision Science) pp. 1099-1109 |
| 2020 | Visual functions status in geriatric nursing home Kuantan. International Journal of Allied Health Sciences (IJAHS), 4 (1) pp. 1110-1120 |
| 2019 | Autism and vision. The Health, 2 (14) pp. 26-26 |
| 2019 | Autism and vision (in mandarin). Autism and vision (in mandarin), () pp. 18-18 |
| 2019 | Autisme dan penglihatan. al-Siha, 2 (14) pp. 18-19 |
| 2019 | Eye tracking measurement with headrest in reading aloud study. Journal of Optometry, Eye and Health Research, 1 (1) pp. 1-6 |
| 2019 | Impacts of induced monocular blur on visual functions. International Journal of Allied Health Sciences, 3 (3) pp. |
| 2019 | Peripheral visual attention superiority in athletes and non-athletes. Journal of Optometry, Eye and Health Research, 1 (1) pp. 7-12 |
| 2019 | Reliability of manual vascular segmentation for retinal fractal dimension using peek retinatm. International Journal of Innovative Technology and Exploring Engineering, 8 (9S3) pp. 1560-1564 |
| 2019 | Retinal image quality assessment: Portable eye examination kit retina (Peek Retina)™ versus 3d-printed ophthalmoscope (3dpo). International Journal of Innovative Technology and Exploring Engineering, 8 (9S3) pp. 1555-1559 |
| 2018 | Changes in contrast sensitivity in young adults with diabetes. Makara Journal of Health Research, 22 (1) pp. 22-26 |
| 2018 | Corneal curvature measurements utilizing a new swept-source optical coherence tomography Tomey OA-2000® and comparison with IOLMaster® 500 in pterygium patients. Sains Medika: Jurnal Kedokteran dan Kesehatan, 9 (1) pp. |
| 2017 | Modified LogMAR chart: can we make it real?. International Journal of Allied Health Sciences (IJAHS), 1 (1) pp. 1-1 |
| 2011 | Dioptric blur affects grating acuity more than letter acuity for contrast-modulated stimuli. Journal of Vision, 11 () pp. |
| 2010 | Effects of dioptric blur on foveal acuity and contour interaction for noisy Cs. Journal of Vision, 10 (7) pp. 1330-1330 |
Conference or Workshop Item
| | |
| --- | --- |
| 2021 | Job satisfaction among Malaysian optometrists: are we in dilemma?. In: International Optometry and Vision Science Conference (e-IOVIC) 2021, |
| 2020 | Characterizing protection ability of blue blocking lenses using K-means clustering. In: "6th International Conference on the Life Sciences and Sustainability 2020, |
| 2020 | Development of IIUM knowledge and practices on children eye care questionnaire (IIUM KPC-EYE Q). In: Kuantan Research Day 2020: A National Online Event for E-poster Presentation, |
| 2019 | The evaluation of aniseikonia testing in smartphone application. In: Congress of Optometry & Vision Research 2019 "Current Outlook on Visual Rehabilitation", |
| 2019 | Visual functions in pediatrics, adults and elderly: a comparison study. In: 15th National Symposium on Adolescent Health "Empowering Adolescents", |
| 2018 | Effect of crowding on lag of accommodation in printed text at variable distances. In: NIOS OPTOMETRY CONFERENCE 2018 "Bridging Primary and Secondary Eye Care", |
| 2017 | Management of visual problem in children. In: National Eye Health Awareness (NEHA) Campaign 2017, |
| 2017 | The validation of Bahasa Malaysia translated OSDI. In: 7th Conjoint Ophthalmology Scientific Conference (COSC 2017), |
| 2016 | Optometry And Vision Science: Kitab Al-Manazir revisited. In: 2nd World Congress on Integration and Islamicisation: Focus On Medical and Health Care Sciences, |
| 2016 | The benefits of lowering the gaze in Optometry. In: 2nd World Congress on Integration and Islamicisation: Focus On Medical and Health Care Sciences, |
Monograph