Staff Directory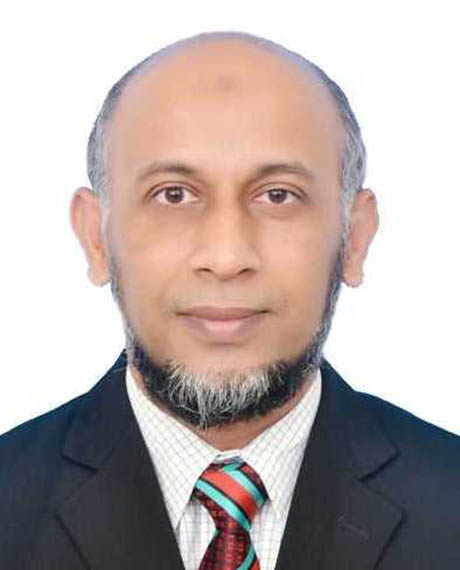 Academic Qualification
Ph.D in Environmental Engineering - Doctor of Philosophy, Universiti Putra Malaysia (UPM)
Master in Environmental Engineering - Masters Degree, Universiti Putra Malaysia (UPM)
Bachelor in Civil Engineering - Bachelor Degree, Bangladesh University of Engineering & Technology, Dhaka
Abdullah Al-Mamun (Prof.)
Professor
IIUM Gombak Campus
KULLIYYAH OF ENGINEERING
---
Expert Profile
Professor Dr. Abdullah Al-Mamun started his engineering professional career in 1993 after graduating from Bangladesh University of Engineering & Technology (BUET). In 1995, he started his MSc. in Environmental Engineering programme at University Putra Malaysia (UPM). After finishing his MSc, he started working as a water resources and environmental engineer at Jurutera Perunding Zaaba Sdn. Bhd., a consulting company located in Kuala Lumpur. Then, he finished his Ph.D in Environmental Engineering and joined the Department of Biotechnology Engineering, Kulliyyah of Engineering in January 2006 as an Assistant Professor. After serving for four years, he was promoted to the post of Associate Professor in 2010, and in 2015 he was promoted to the post of Professor.
Prof. Abdullah has taught several undergraduate courses such as Waste Management and Utilization, Environmental Engineering, Waste Management Engineering, Environmental Biotechnology, Solid Waste Engineering and Biotechnology Engineering Lab. He has also prepared several course outlines for the new Civil Engineering Dept. at IIUM. For the postgraduate level, he has taught Advanced Water Treatment Processes, Wastewater Reclamation and Reuse.
As a practising engineer, he worked for 12 years in various engineering companies before joining IIUM. He has had the opportunity to work with international consultants in the water and environment sectors. As such, he is skilled in planning & conducting water & wastewater sampling, in-situ and lab testing of water and wastewater quality parameters, water pollution control (point & non-point or diffuse sources), surface water quality modelling, water & wastewater treatment, urban stormwater management, hydrological analysis & computer simulation, water resources study, flood mitigation, etc. He was involved in developing several stormwater and drainage design guidelines prepared for the Government of Malaysia.
He is also active in research and acquired total funds of RM 1.484 million (16 grants) till 2015. He has presented 66 papers in conferences, published 38 papers in refereed journals, written one book and 15 chapters, and received 19 awards; 1 patent granted and 2 more patents pending. Besides teaching, he has supervised seven post-graduate students, 44 undergraduate students and examined thesis of nine post-graduate students (six internal and three external examiners). Thus far, he has completed 30 engineering consultancy projects.
Area of Specialisation
ICT ~ Information, Computer And Communications Technology (ICT) ~ Computation Theory and Mathematics ~ Simulation and Modeling - Hydrological analyses and computer simulation.
Natural Science ~ Environmental Sciences ~ Environmental Issues and Assesment ~ Water Pollution - Water quality and pollution control (point and diffuse sources).
Engineering Tech ~ Engineering And Technology ~ Civil Engineering ~ Water Resources Management/ Integrated Water Resources Management - Integrated water resources management.
Natural Science ~ Environmental Sciences ~ Environmental Issues and Assesment ~ Water Quality Simulation Modelling - Urban stormwater management.
Professional Membership
1995: Member of Profesional Body / Association: (Member), International Association of Hydrological Sciences - IAHS
1998: Member of Profesional Body / Association: (Life Fellow), Institution of Engineers Bangladesh ? IEB
2010 - 2012: Member of Profesional Body / Association: (Member), Canadian Association on Water Quality - CAWQ
2012 - 2016: Member of Profesional Body / Association: (Member), Malaysian Nature Society ? MNS
2012 - 2015: Member of Profesional Body / Association: (Member), Environmental Management & Research Association of Malaysia ? ENSEARCH
2012 - 2017: Member of Profesional Body / Association: (Subject Consultant), Department of Environment (DOE) Malaysia
2013 - 2015: Member of Profesional Body / Association: (Member), Malaysian Water Association ? MWA
2013 - 2022: Member of Profesional Body / Association: (Member), American Society of Civil Engineers ? ASCE
2016 - 2019: Member of Profesional Body / Association: (Member), Society of Environmental Engineers (UK) ? SEE
2018: Member of Profesional Body / Association: (Member), Malaysian Capacity Development Network for Sustainable Water Management ? MyCDNet
2019: Member of Profesional Body / Association: (Graduate Member), Board of Engineers Malaysia ? BEM
2020: Member of Profesional Body / Association: (Member), Society of Operations Engineers (UK) ? SOE
2022: Member of Profesional Body / Association: (Associate Member), Malaysian Water Partnership ? MyWP
Teaching Responsibilities
| | |
| --- | --- |
| FINAL YEAR PROJECT I | 2023/2024 |
| URBAN STORMWATER MANAGEMENT | 2023/2024 |
Research Projects
Completed
| | |
| --- | --- |
| 2022 - 2022 | Feasibility study on HORAS 3000 Water Supply Shceme, Selangor Darul Ehsan |
| 2021 - 2022 | Kajian Pelan Pengurusan Bersepadu (IRBM) Lembangan Sungai Selangor 2021-2025 |
| 2020 - 2022 | Rekabentuk Terperinci Pembangunan Lembangan Sungai Bersepadu Sg. Semantan Daerah Temerloh Fasa 1, Pahang Darul Makmur |
| 2020 - 2020 | Penyediaan Pelan Pengurusan Lembangan Sungai Bersepadu (IRBM) Sungai Buloh, WPKL/Selangor D.E. |
| 2019 - 2023 | Development of an improved method for quick estimation of storm runoff peak flow |
| 2018 - 2019 | Pelan Pengurusan Lembangan Sungai Bersepadu (IRBM) Sungai Merbok, Kedah |
| 2018 - 2023 | Underlying molecular mechanism of acacetin-7-O-glycoside (AG) isolated from Premna serratifolia L. against breast cancer cells |
| 2016 - | Storm Drainage Modelling and Design of the Improved System at Bandar Bukit Raja, Kapar, Selangor |
| 2016 - 2021 | Rekabentuk Terperinci Rancangan Tebatan Bandar Merlimau, Melaka |
| 2015 - 2015 | THE DETAIL DESIGN OF RIVER IMPROVEMENT WORKS AND DETENTION POND FOR THE PROPOSED PROJEK PEMBANGUNAN PUSAT KECEMERLANGAN LEMBAGA GETAH MALAYSIA |
| 2015 - 2021 | Investigation of Indigenous Biofilm Technology for Simultaneous Pretreatment and Enhanced Biogas Production From Palm oil Mill Effluent |
| 2015 - 2015 | Kajian Hybrid off River Augmantation Storage (HORAS) di Kg. Sg. Darah, Bestari Jaya Sebagai Sumber Air Untuk Tujuan Bekalan Air |
| 2015 - 2015 | Feasibility Study for Proposed Water Treatment Plant in Labohan Dagang,Daerah Kuala Langat ,Selangor Darul Ehsan. |
| 2014 - 2017 | Development of Novel Microbial Technology to Reduce Turbidity of River Water |
| 2014 - 2017 | Pilot Study on the River Rehabilitation of Sg. Pusu |
| 2014 - 2016 | Swan Lake, Engineered Wetland and Signature Lake at East Ledang, Mukim Pulai, Johor |
| 2012 - 2016 | Consultancy Services for the Updating/Preparation of the Storm Water Drainage Master Plan for Dhaka City, Dhaka Water Supply and Sanitation Project (DWSSP) |
| 2012 - 2016 | Development of National Event Mean Cencentration (EMC) of Storm Runoff Quality Database for the Non-Point Source Pollution Control from Highways in Malaysia |
| 2012 - 2015 | Optimization of Colour Removal from Palm Oil Mill Effluent (POME) by Nanomaterials |
| 2012 - 2014 | Penyediaan Data-Data Hujan dari Stesen Manual (Daily Data) kepada Hujan dengan Interval Hourly untuk Tujuan Rekabentuk Projek Tebatan Banjir |
| 2011 - 2012 | Design of a Sand Filter for Recycling Ablution Water from IIUM Majid |
| 2010 - 2011 | Preparation of Urban Storm Water Management Planning and Design Standard For Malaysia and 2nd Edition of Urban Storm Water Management Manual For Malaysia |
| 2010 - 2010 | Consultancy Services for the Detailed Design and Preparation of Tender Document Flood Mitigation in Setiu River in Terengganu |
| 2009 - 2010 | Water Quality Sampling, Testing, Inventory and River Quality Improvement Option for Buloh River |
| 2009 - 2012 | (RU 2011): Characterization,Composing and Management of food and garden Wastes:IIUM as a case study. |
| 2009 - 2010 | Upgrading of Jimah River System for Flood Mitigation |
| 2009 - 2010 | Study and Detailed Design of Stormwater Detention Pond for Ayer Salak River in Malacca |
| 2009 - 2010 | Adsorption of Heavy Metals from Industrial Wastewater using Carbon Nanomaterial Grown on Granular Activated Carbon |
| 2008 - 2011 | Development of An Integrated Water-Level Sensor and Data Logger System |
| 2008 - 2008 | Preparation of Irrigation and Drainage Manual for Malaysia |
| 2008 - 2011 | Improvement of the Existing Water Quality Indices (WQI) for Various Usages in Malaysia |
| 2008 - 2009 | Flood Mitigation Masterplan Study for Mersing River Basin |
| 2008 - 2009 | River Water Quality Trends and Indexes in the Peninsular Malaysia |
| 2008 - 2012 | Development of Decision Support System to Manage Severe Floods in Kuala Lumpur and Selangor |
| 2007 - 2009 | Optimization of Extraction Process for Useful Bound and Free Bioactive Compounds from Oil Palm Industrial Wastes |
| 2007 - 2011 | CHARACTERIZATION OF SULLAGE |
| 2007 - 2007 | Rehabilitation and Water Treatment of Penang River - Study and Detailed Design |
| 2007 - 2016 | Palm Oil Mill Effluent as Renewable Resource for Bioethenol Production by Single-Step Bioconversion |
| 2007 - 2008 | Preparation of Irrigation and Drainage Manual for Malaysia |
| 2006 - 2007 | Detailed Design of Community Pond at Taman Ria, Sungai Petani, Kedah Darul Aman |
| 2006 - 2012 | Production of Carbon Nanomaterials and Application in Removal of Toxic Heavy Metals From Water and Wastewater |
| 2006 - 2007 | Upgrading of Simin River System for Flood Mitigation |
| - | Study on Vulnerability and Adaptation of Climate Change Impacts on Floods in Selected River Basins |
On-Going
| | |
| --- | --- |
| 2021 - Present | Rekabentuk terperinci bagi rancangan tebatan banjir Sungai Batu Enam Sementa, Daerah Kelang, Selangor |
| 2020 - Present | Development of a Solid-State Bio-Conversion System for the Bulk Production of Myco-Coagulant (My-Coag) for Water Treatment |
| 2019 - Present | A hybrid system of microbial electrolysis cell and anaerobic digestion for high content of biomethane production |
| 2019 - Present | Sedimentation and Total Maximum Daily Load (TMDL) Analysis of Sungai Pusu, IIUM Gombak Campus |
| 2018 - Present | Fundamental Investigation on Non-structural Approach for Sustainable Flood Disaster Management in Malaysia |
| 2004 - Present | Bio-Environmental Engineering Research Centre (BERC) |
| - | ASSESSMENT AND REHABILITATION OF SUNGAI PUSU BY BIO-NANOTECHNOLOGY APPROACH FOR WATER QUALITY IMPROVEMENT |
Award & Recognition
| | | |
| --- | --- | --- |
| 12 Dec, 2022 | Gold Medal - Pahang Commodities Exhibition of Innovation & Technology (PaCEIT?22) | National |
| 01 Nov, 2022 | Silver Medal - International Conference and Exposition on Inventions by Institutions of Higher Learning (PECIPTA, 2022) | National |
| 14 Sep, 2022 | Gold Medal - International Islamic University Malaysia | University |
| 18 Sep, 2019 | Silver Medal - KERICE 2019 | KCDIO |
| 02 Sep, 2016 | Bronze Medal - IRIIE, 2016 | KCDIO |
| 04 Dec, 2015 | Bronze Medal - International Conference and Exposition on Inventions by Institutions of Higher Learning (PECIPTA, 2015) | National |
| 15 Jan, 2009 | Bronze Medal - Engineering Research and Innovative Exhibition | University |
| 15 Jan, 2009 | Gold Medal - Engineering Research and Innovative Exhibition | University |
| 15 Dec, 2007 | Silver Medal - Engineering Research and Innovative Exhibition | University |
| 15 Dec, 2006 | Silver Medal - Engineering Research and Innovative Exhibition | University |